It's fitting that this post is going live right after Mother's Day, because I think as moms, it can be so hard to carve out time for self-care. That's such a buzzword these days, but I get why — so many moms struggle to find the time to care for themselves and that includes beauty routines.
When I was pregnant, a new mom, and all throughout nursing/pumping, self-care was the last thing on my mind, especially when it came to my beauty routine. I was basically using moisturizer as my only form of skin care for almost four years.
At the end of last year and all of this year, I've started a robust skin care regimen focused on reduction of fine lines, evening skin tone, reducing pore size and repairing sun damage. I feel like I'm catching up on lost time, but my skin has been doing great since I've incorporated new products.
Today I'm sharing with you some recent beauty favorites — skin care and makeup products I'm obsessed with, all from Nordstrom. If you don't already shop at Nordstrom for beauty items, they have almost every brand under the sun with free shipping (no minimums) and free returns! A lot of the beauty products come with gifts too, so I always check which brands are having specials to score extra products.
Let's get started with a new discovery: the best $12 lip gloss ever.
This lip conditioning lip tint (I have the color rose) is incredibly moisturizing but also has a beautiful, natural looking color payoff. The rose color has a slight lilac undertone and I tend to favor "cooler" pinks for my lips, so it's perfect with my skin tone. It contains lanolin, which if you're a mom, you know is the main ingredient in most nipple creams. Heck, if we're being real I have totally used nipple cream on my lips. This gloss is a must-have and you'll see the color in the photos throughout this post. It's just gorgeous on – so fresh and summery!
I've also used Clarin's Instant Light Natural Lip Perfector gloss for well over a year now and the color is beautiful. It's one of those colors that just brightens up your natural lip color. I don't ever touch-up my makeup at work, but before a meeting, I find myself reaching for this often to bring a little color to my face. It has a sponge tip squeeze applicator which I really love. This gloss looks like it would read coral, but on my lips it's a perfect pink that gives the "your lips but brighter" vibe.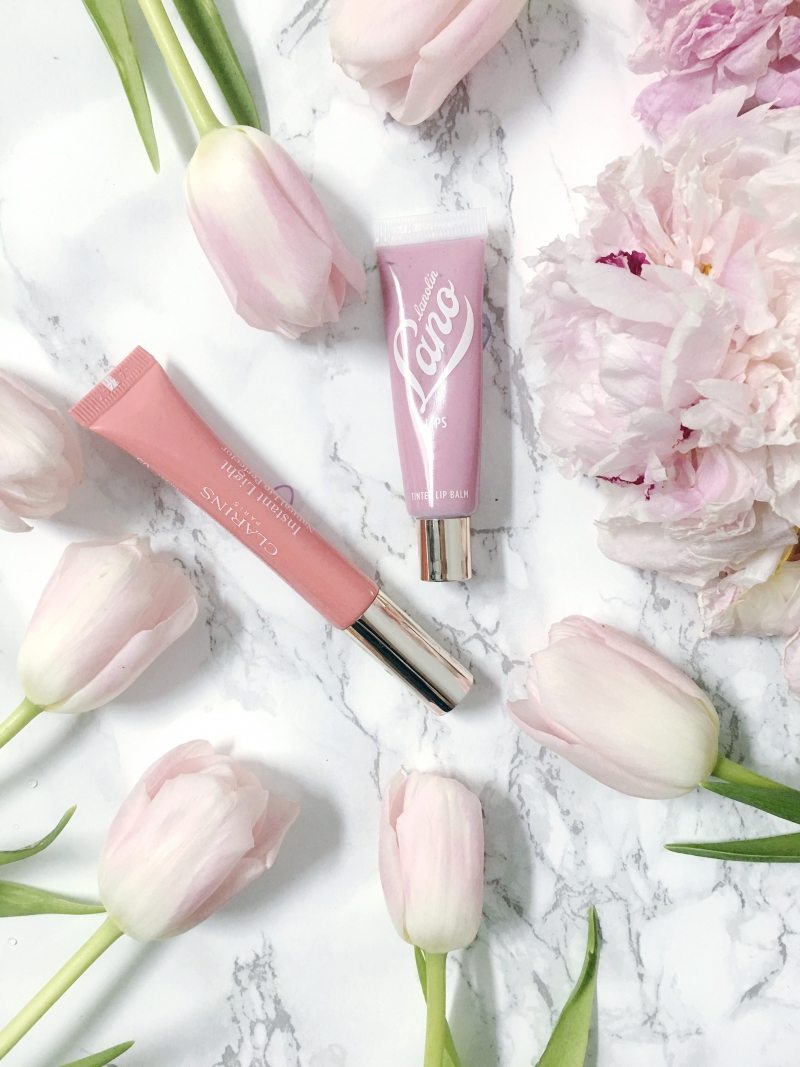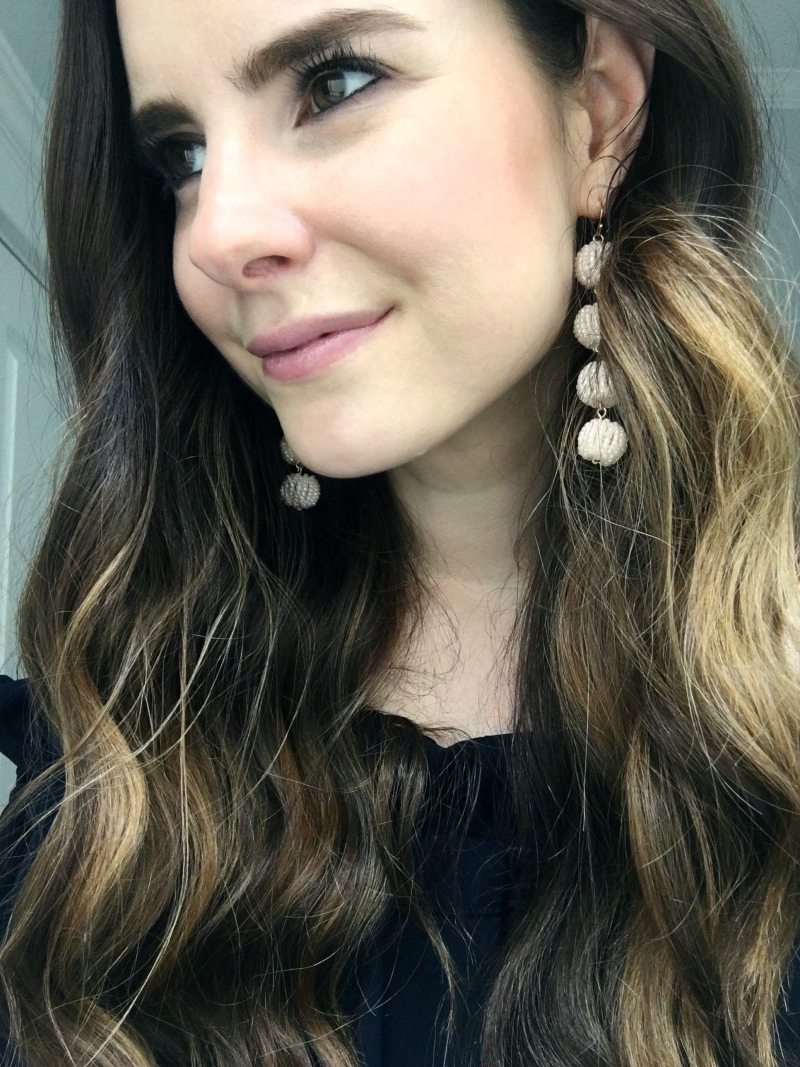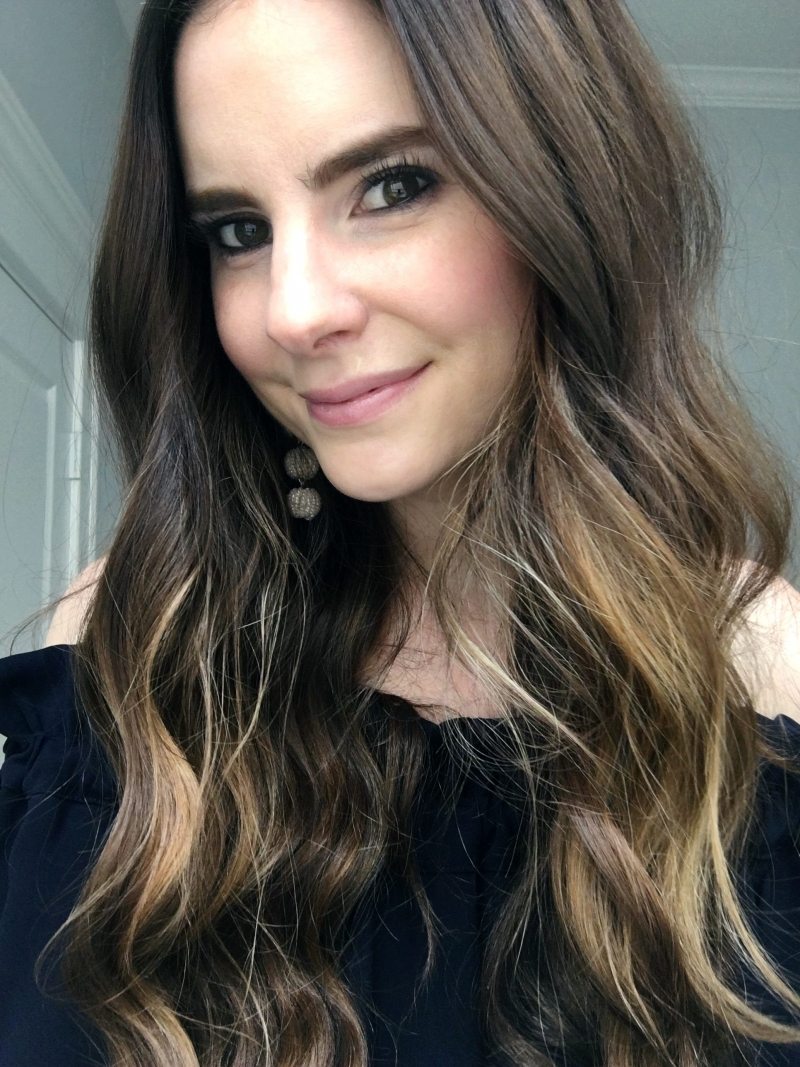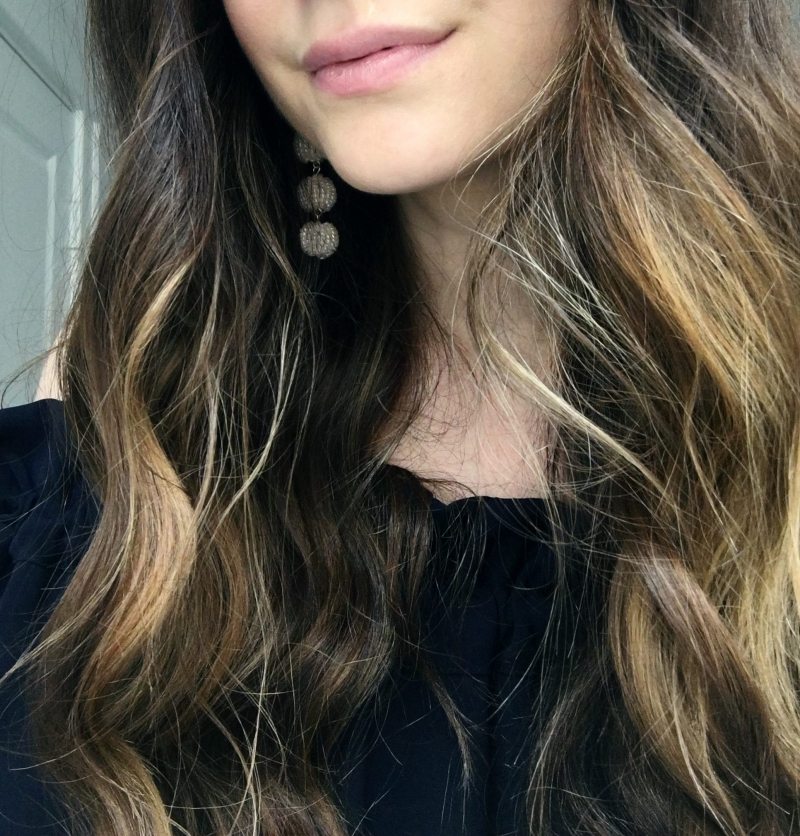 T R E A T M E N T  M A S K S
Patchology Flashmasque Illuminating Mask
Sheet masks have become a favorite in the beauty world, but I have to admit, they kind of feel a little awkward when you first use them (and Kevin always makes references to The Silence of the Lambs when I use a sheet mask, so there's that). However, once you get used to them, the results they deliver are awesome enough that you'll want to continue. Dull skin is definitely a concern of mine and this mask is the 5-minute version of their original illuminating mask. Everyone has five minutes, so if you're short on time but want to brighten and tone your skin, this one's the answer.
Origins Original Skin Retexturizing Mask with Rose Clay
I'm a sucker for all things rose-scented, so when I ordered this online, the pink tube alone sold me (just kidding, I totally read the reviews first). A lot of people said this mask makes your pores disappear so it was one of those "boom! in my cart!" moments. The mask applies like a clay mask, but it has exfoliating beads in it too, which help retexturize your skin, as the product name suggests. I really did notice my pores looked smaller, even after the first time I used it. It smells amazing (obvs) and costs just over $25 which is an incredible price point for the amount of product you get. LOVE.
Fresh Rose Face Mask
Continuing on with my obsession for all things rose, Fresh's rose face mask literally has rose petals in it (I know!!!) This mask is a gel (they're always more on the cooling side, which is nice) and its ingredients add moisture and suppleness back into your skin. It also contains antioxidants which help brighten your skin, all at a $25 price point. I love using this one before bed, at least once per week. Moisturizing masks are more important than ever to me, because the retinol I use can cause dryness and peeling. Masks help infuse that moisture back into skin to keep those side-effects at bay.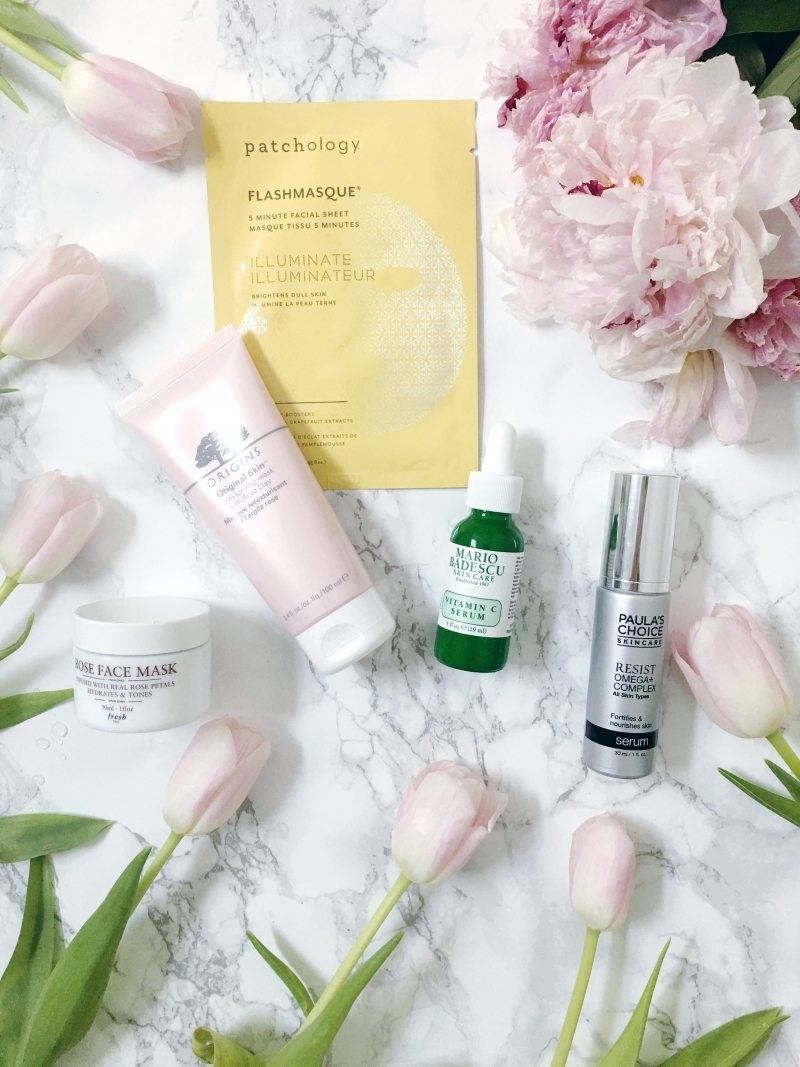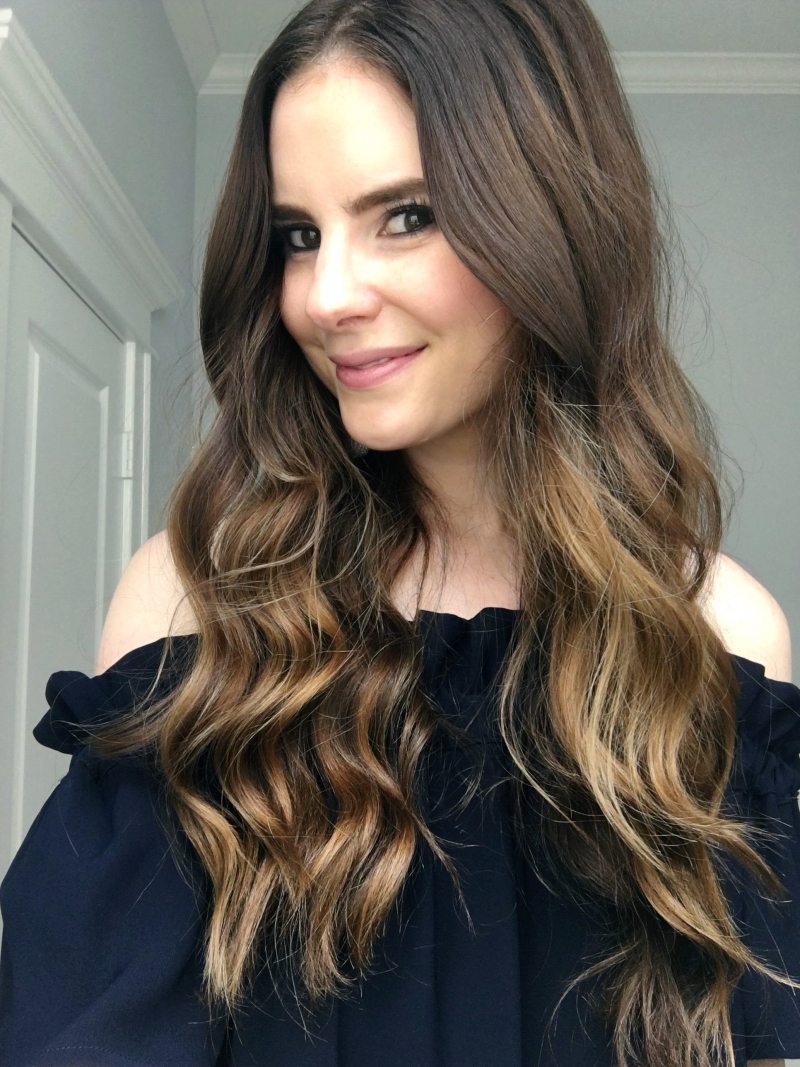 S K I N  S E R U M S

Mario Badescu Vitamin C Serum
So, what's the deal with a vitamin C serum? Before I had used one, I had no idea what it was for or why I needed it. It turns out that Vitamin C has an antioxidant effect on the skin which means brighter, smoother skin. My dermatologist told me to add one into my routine to reduce sun spots/damage and to complement my retinol use. This is a 7.5% ascorbic acid formula and just 2-3 drops cover my entire face. The largest benefit of a vitamin C serum is the difference you will see in the pigmentation and brightness of your skin. As I'm aging, I want to not only protect my skin from damage, but reduce what's already there. This serum is at a $45 price point which is an excellent price point for a C serum. Plus you only used a few drops and I only use it every couple of days, so it lasts a long time. If you're trying to reduce sun spots and have brighter skin, this is a must-have.
Paula's Choice Resist Omega Complex
Paula's Choice is a brand I've always heard people rave about and has a cult following for it's skincare products that users rave deliver real results but at a more affordable price point. When I got the Resist Omega Complex serum, I'll admit I didn't know what it was for, but I wanted to try it because I had heard so many good things about the brand. This serum has a lotion-like texture and is totally non greasy (it actually feels amazing on the skin). It's primarily for people with fine lines and wrinkles and contains Omega 3, 6 and 9 oils. I use this 5-6 nights per week and I LOVE it. It makes my skin feel really smooth and nourished and I wake up feeling like it really makes a difference in how my skin looks and feels. It's like a magical serum that I don't fully understand, but it just makes everything look good. So, it's a unicorn, basically.
S K I N  C L E A N S E R S
Aveda Rosemary Mint Body Polish
Aveda's rosemary mint scent is everything. Over the years I've used the shampoo, conditioner, body wash and lotion in this scent and I cannot rave enough about it. This body polish is something I reach for in the summer when I'm using self tanners more often. I notice that I really need a scrub to slough off dead skin cells before I apply self tanner so I get a nice, even finish. Plus, the scent is so invigorating! Hello Monday mornings.
Dermalogica Special Cleansing Gel + Pre Cleanse
Dermalogica is a new-to-me brand, but one I've also heard a lot of positive things about. Personally, I prefer gel cleansers for my skin. The Special Cleansing Gel contains balm mint and lavender extracts, but it's unscented which is nice for my sensitive skin. I keep this in my shower to wash my face and love it.
I now always use the Dermalogica Pre Cleanse, which is actually an oil cleanser that melts away makeup. It also smells unreal amazing. The smell reminds me of something but I just can't put my finger on it…almost smells nostalgic to me. It's actually a clear cleanser that you massage into dry skin and then it turns into a milky consistency when you add water and wash away your makeup. I really feel like it removes makeup better than a cleanser alone.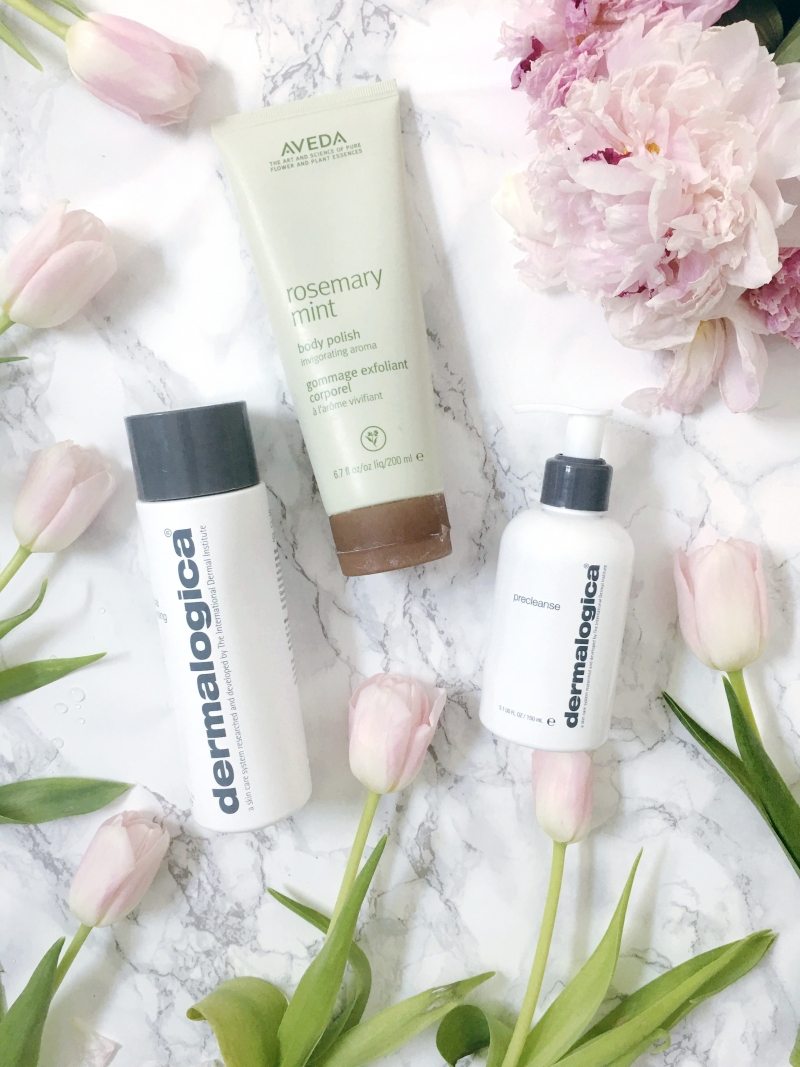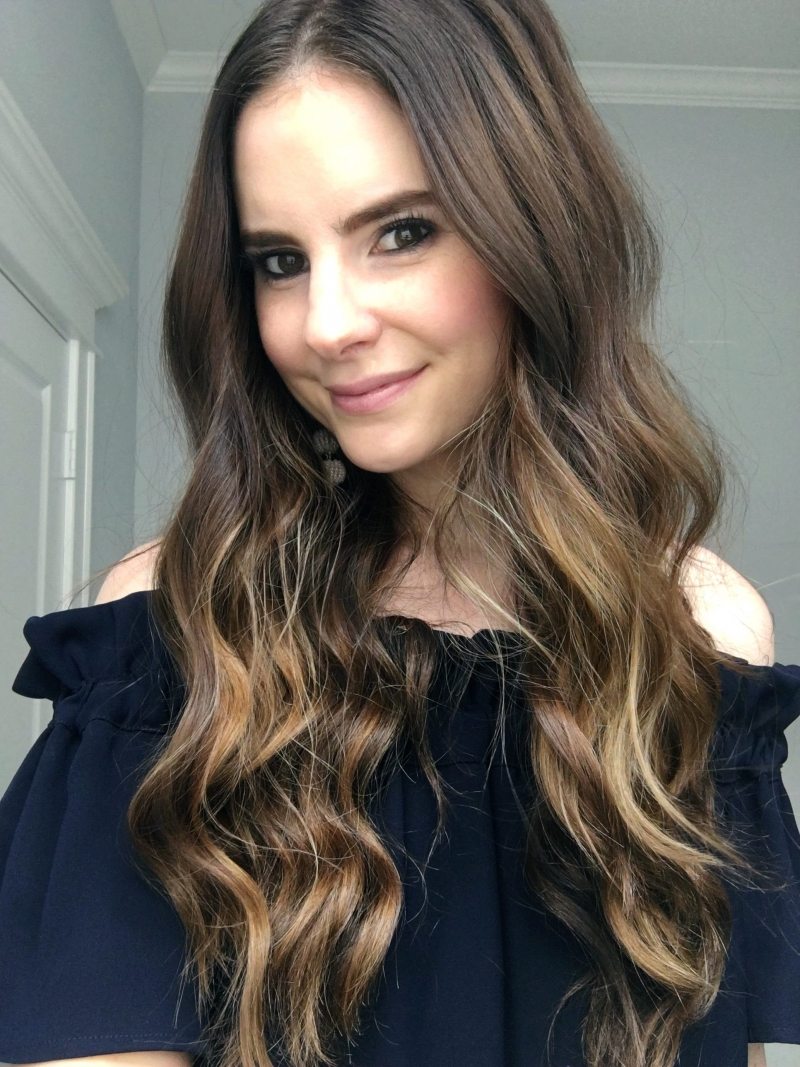 P R E  &  P O S T –  M A K E U P
Supergoop Sunscreen Mousse
I got to meet the Supergoop team at a conference last month and have been wearing their mousse sunscreen under my makeup everyday ever since. My foundation has an SPF 50, but I was told to never rely solely on the SPF in your makeup. You have to use real sunscreen under your makeup to really protect your skin.
Sunscreen is an everyday must (retinol makes your skin more sensitive to the sun- not using sunscreen can actually cause you to get sun spots since skin is thinner/more prone to damage). I'll admit that in the past, I felt the sunscreen in my makeup was sufficient for everyday wear (I would always use sunscreen if I went outdoors or to the pool) but now that my skin is more prone to damage because of retinols, I can't chance it and am a sunscreen devotee, every single day. What I love about this is the mousse texture— it's seriously so easy to apply, non greasy and you only have to use a little bit for full coverage. I adore the texture and how this makes skin look— and it doesn't interfere with your makeup in any way!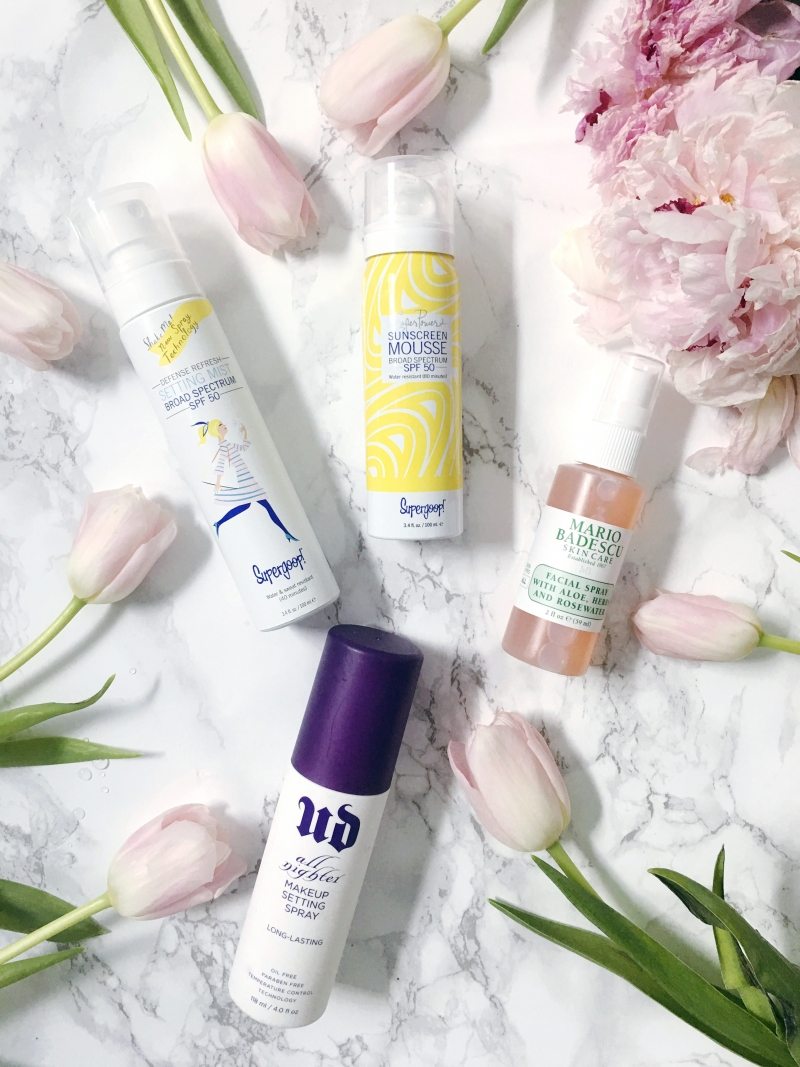 Supergoop Setting Mist  |  Mario Badescu Facial Spray  |  Urban Decay All Nighter Makeup Setting Spray
With summer around the corner, I'm sorry to say it, but I'm going to recommend you add ONE extra step to your beauty routine.
You need a makeup setting spray. I know, I know. But you know how you spend time curling your hair and then you want your curls to hold and look their best so you use hairspray? It's like that, but for your face.
 Mario Badescu Facial Spray
This $7 facial spray has rose water in it (YESSS!) and is such a treat for an amazing price. This is the one to keep at your desk (or wherever you are during the day) and use to infuse moisture back into your skin. This is not a makeup setting spray, but it's one I love anyway because it's so refreshing. Use it as an afternoon pick-me-up! Great for travel too.
Supergoop Setting Mist
A makeup setting spray with SPF? Yes to all of that. It sets makeup, helps control oil and protects your skin from the sun's rays. You should use this every 2 hours if you are out in the sun. I LOVE packing this into our beach bag for pool days— it's a summertime must.
Urban Decay All Nighter Makeup Setting Spray
UD's makeup setting spray has been a holy grail product of mine for years. When temps get into the 90's in Houston, I can't leave my house without using this. It actually helps your makeup not melt off and keeps it looking its best all day. It truly makes a difference in how my makeup wears and looks throughout the day and one bottle lasts for a long time.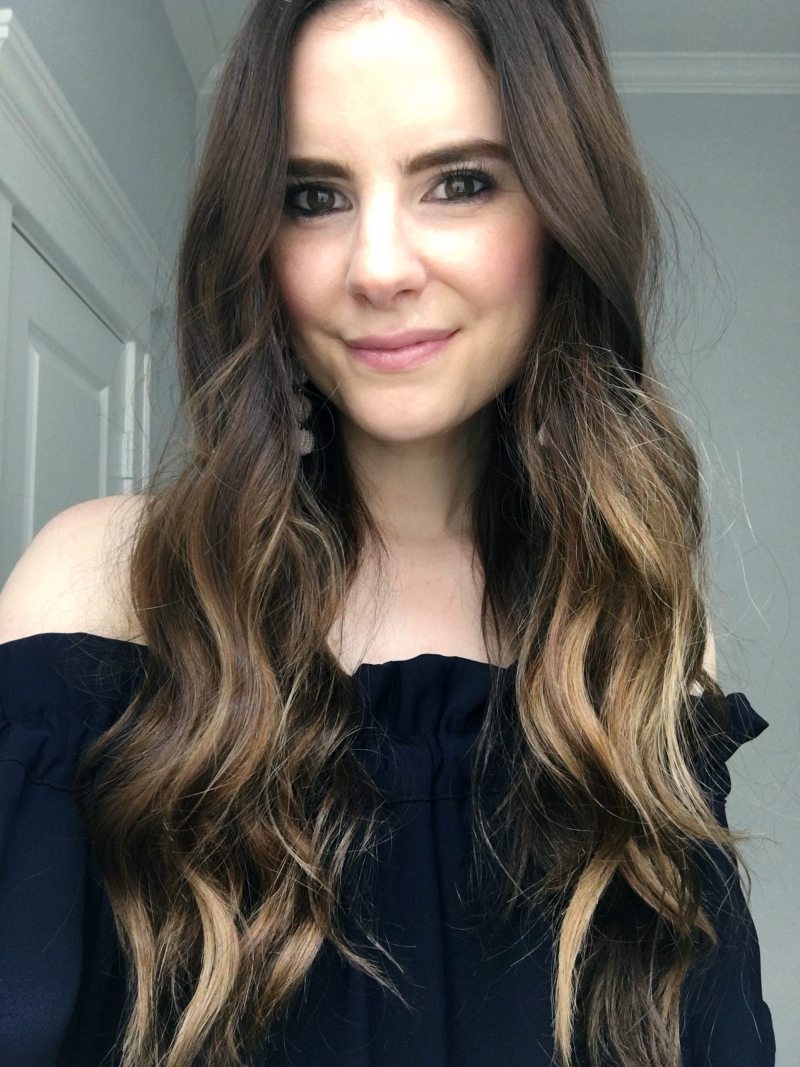 Okay, last but not least, I've been wanting to share these forever and keep forgetting.
Sport Ponytail Holders
Ever since I started working out, my regular elastics weren't cutting it. I found my hair just wasn't staying in place and I was having to adjust the elastic all the time. Then, I found these and they're amazing and hold hair in place even through vigorous exercise. I don't know how or why they work so well, but the material they're made of is thick and just holds hair. I wear my hair in a topknot when I work out, so I need something strong and yet gentle so it won't cause breakage. If you work out or just love to rock the mom bun/topknot, these are a must.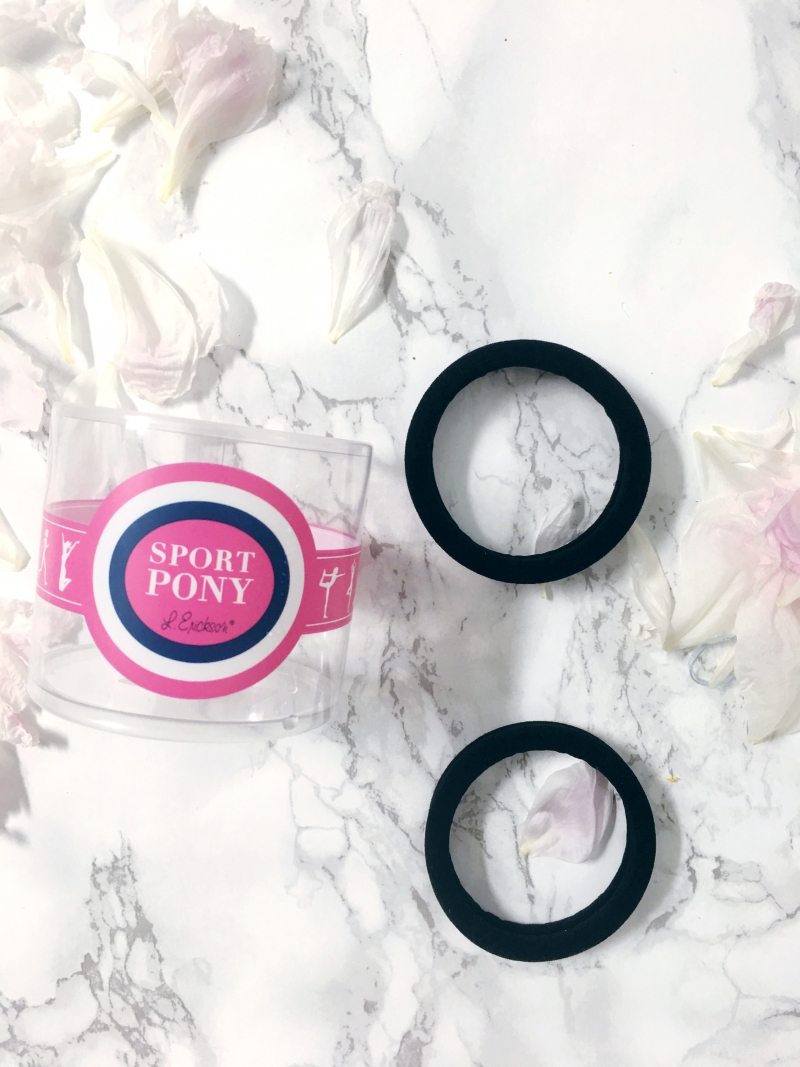 I hope y'all enjoyed my latest beauty recommendations! I love sharing products I truly love with you all.
PS- my curls in this post were created using this curling wand. You can read a full post about it here!
FTC Disclaimer: Thank you to Nordstrom for partnering on this post. Nordstrom is one of my favorite places to shop and I love having the opportunity to partner with brands I love. 
S H O P  T H E  P O S T


Shop the Post