I want to talk about something.
It's a topic I've wanted to blog about for a while, but I wrote a post some time ago and never hit publish because it just wasn't the right time for me. I was in a place where my emotions were too raw and was still in the depths of my PPA.
Interior design blogger Emily Henderson shared a blog post Monday that really resonated with me, so I wanted to share some thoughts here since I've been receiving a higher influx of cruel comments than usual lately (and not just "your shoes are ugly" – those I don't mind at all). It seems like bloggers are speaking out about this more and more lately, including Kristina Braly, who shared this post yesterday. I want to add my voice to this conversation because something alarming is happening with our generation/society on the internet and ignoring what's happening isn't productive.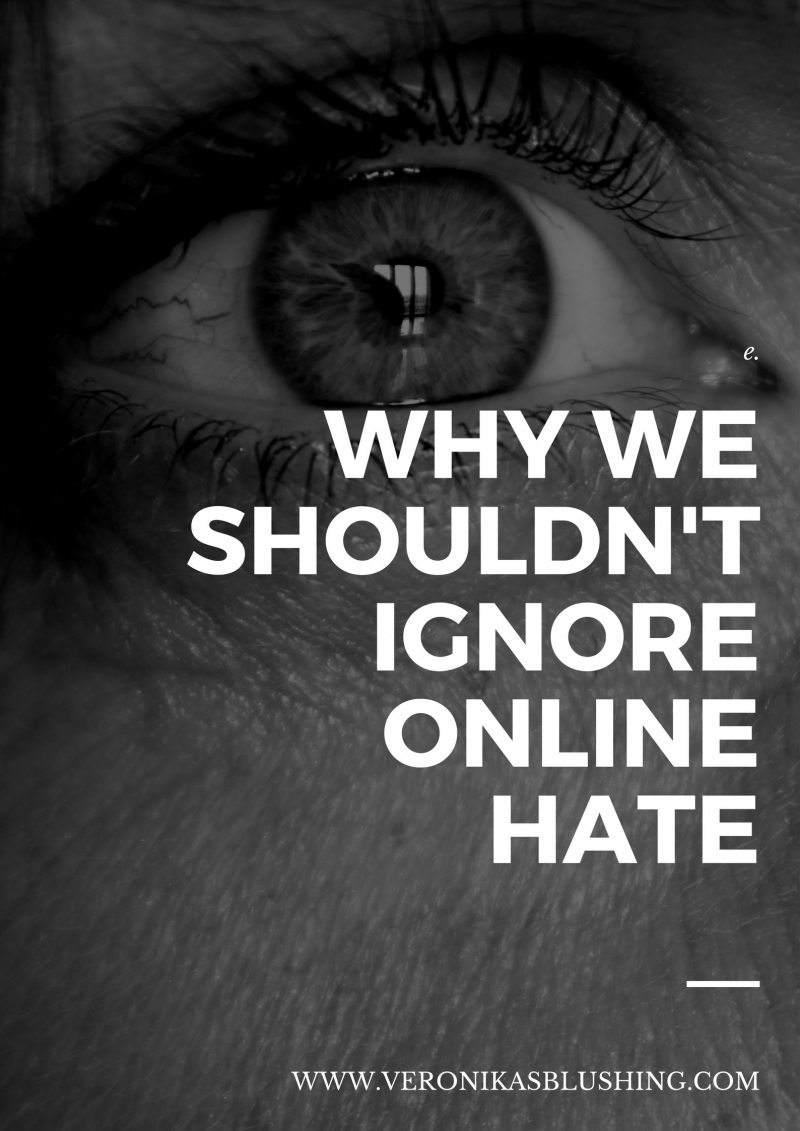 When I shared my struggle with postpartum anxiety, I mentioned that when Lincoln was 6 months old, I stopped reading what people were saying about me in online forums. I made a commitment to myself/my mental health that I would no longer read those comments because at the end of the day, it's detrimental to read them, even if you know they're not true. It's draining, disheartening and sad, and after seven years of blogging, I was done with them. It was one of the best decisions I've ever made.
I've said this to a lot of my blogging friends who experience the same types of comments – it's never about you, and always about the person writing the comment. My favorite way to look at it is like this: people who dislike you will make you into the person they want you to be, to justify their hatred of you. Period. When I used to read those comments about myself online, I never recognized the person they were talking about. None of my family members, friends or co-workers would recognize the woman they were talking about either. It's because the person they're talking about doesn't exist. The woman they're breaking apart, making up lies about, throwing assumptions all over the place – she's simply a "person" they've created in an attempt to justify what they say. But that, of course, doesn't make it hurt any less. Do I have thicker skin now? Absolutely. Do I wish I didn't have to? Of course.
This article by Lindy West on the topic of online trolls spoke to me as well– this quote is from one of her trolls when she communicated with him via email, and I think it hits the nail on the head …"I think my anger towards you stems from your happiness with your own being. It offended me because it served to highlight my unhappiness with my own self." This TIME magazine article is also a great read.
I'm not perfect. I make mistakes. I have regrets and have said and done things I'm not proud of in life, just as all humans have. I'm certainly not above criticism. The online world though, has created an environment where empathy can seem nonexistent and where compassion and kindness are often overshadowed by someone's desire to release their anger, fears and insecurities onto someone else. The ability to remain anonymous while doing so has made it even more appealing, as there are zero consequences or accountability for what someone says, no matter how untrue, unkind or toxic their comment.
It becomes easier to be unkind when multiple people are joining you, egging on one another, as though it's a competition over who can write the most cruel comment. The conversation often takes a "she deserves it for putting herself out there" tone, which, in our society of victim-blaming and shaming, doesn't surprise me. Do women deserve to be trashed, lied about and torn apart in online comments for sharing their outfits and bits and pieces of their lives on their blogs? Are we "asking for it?" A blogger "deserves" to be trashed online just as much as a woman wearing a fitted top "deserves" to be cat-called as she's walking down the street.
Over time, I've learned not to take what I've read about myself in the past too personally, made slightly easier by the fact that I know the comments aren't actually about me (ie: the actual human being, real life me, not the "Veronika" people have created online). It doesn't make it easy, but I try to place logic above emotion and remind myself of another fact: a stranger writing something about someone online doesn't make it true. At all.
One of my blogging friends ended up quitting blogging over the hate she received when she became a mother (comment below shared with permission):
"I was continually harassed over my choices for being a mom. The fact that I didn't breastfeed, the fact that I put him in daycare at 7 weeks, the fact that he had an eye condition and it was probably because I didn't breastfeed, or I didn't take care of myself properly during pregnancy, etc."
I'm a wife, mother, daughter, cousin, friend and co-worker. I strive to be kind, hardworking and compassionate. The people who know me in real life would describe me, I think, the same way I see myself – as imperfect, but always striving to be better, kinder, more patient. I know I'm a good person and I say this with pride and confidence – no individual or online comment can change who I actually am as a person or how I feel about myself.
But even if I feel this way about myself, it doesn't mean I shouldn't care about what's going on with bloggers and online hate. It's not limited to blogs either – have you ever read the comments on Facebook news stories? The poor treatment of people – human-to-human, in the online world, is a horrifying epidemic. Our children are growing up in a society where being angry, mean, rude and overly critical is the norm. We live in a world where stopping to consider someone's feelings as a fellow human being, woman or mother come second to the immediate gratification and desire to tear them down.
Another part of Emily's blog post that hit home was this: "Hate-filled comments close me down. They make me less transparent and I become far less interesting and way less funny (plus nauseous, anxious, and riddled with vulnerability, etc). I find myself not wanting to write the posts, not taking risks, and just apologizing over and over with so many disclaimers trying to reduce the backlash as much as possible."
Over a year ago, when I still read what people wrote about me, it 100% affected how I wrote and quite frankly, took some of the joy out of blogging. I would constantly over-explain and write disclaimers, anticipating every negative comment I would receive with every line I wrote, recognizing that those who dislike me would find a way to misinterpret and twist every word. It was exhausting to write so defensively.
It has been a hugely liberating feeling to write how I want to, without worrying what someone else will say or think. I now blog 3-5 days per week, when before, I barely posted once a week. A large part of it is that I no longer feel the weight of thinking about negative and cruel comments. I just share what I want, when I want, and separate myself from any kind of outside commentary that's going on. My new motto is: if I don't see it, it doesn't exist to me.
Lastly, Emily says in her post "So here is a good method: If you have a criticism of us you feel compelled to write then pretend that an 8 year old, someone who is just learning how people should behave in the world, will read your comment out loud in front of you. If that makes you uncomfortable then perhaps rephrase it. I think this is probably a great way to go about life, actually."
I have always wondered how anonymous commenters would feel if they had to read their comments, aloud, in front of their family, friends, co-workers, congregations, etc. Would they feel proud? Stand by what they said? Feel that the comments are representative of who they are as a person? Feel that the comments set a good example? Would they want their own children to speak about their peers that way?
I'm not suggesting that everyone needs to like me, or any other blogger – that's totally unrealistic and impossible. The beauty of our world is that there are over 7 billion people, and among those, people will find wonderful friends, partners, etc. I simply ask that you think about the human being you're talking about, and try to find it within yourself to not always see the absolute worst in them. And, if you still do, refrain from saying things to that person that you wouldn't say to their face, or in front of a group of your peers and family. Refrain from making assumptions, spreading lies and insulting someone and/or their children.
This post ended up being far longer than I intended, but the bottom line is that our words matter, whether they're typed under the cloak of anonymity or using our real name. How we treat and react to one another is important. As a society, we are more active than ever in the online world and on social media. We have more reach than ever before and have the ability to share our thoughts and opinions with (potentially) millions of people online, from all parts of the world. What kind of digital footprint and impact do you want to have? How can we ensure that we contribute to conversations more respectfully online, even when we are in disagreement? How can we engage ourselves in online activities that foster togetherness and community instead of hate?
I'm eager to hear your thoughts and opinions on this topic. As always, comments that are hateful or mean will be deleted/the IP will be blocked. This is a place for a respectful dialogue. Criticisms and disagreements can be stated in a way that doesn't involve tearing the other person down or insulting their humanity.
I can't quite end this post without taking a moment to acknowledge that the vast majority of you are kind, uplifting, supportive and all-around incredible women. I have enjoyed chatting with many of you over the years in my blog comments, via DM on Instagram, etc. You come to this blog because you like something about me/my content and I'm incredibly thankful for your support. I love this community so much and I am so grateful to have this blog. As with all things in life, there are challenges and I appreciate that you took the time today to read this post, even though it's not an easy or happy topic to write about.