Hello & happy Monday! I've been meaning to write this post forever and finally got around to it since I shot a new workout outfit this weekend. Before I start this post, let me preface it by saying that many of you know that my love for Lululemon ran deep. I even worked there over the holiday season in college. They were the be-all-end all for me in terms of workout wear for many years and I rarely shopped elsewhere. Though I still look there occasionally, I honestly haven't shopped there in a long time.
Over the years, a lot of brands have really stepped up their workout wear — and the quality and prices reflect that and are on par or similar with what you'd see at Lululemon.
That brings me to today's post- sharing my favorite workout leggings. I had only ever purchased one item at Athleta before — some bright green/mint workout crops. I loved them, but then between pregnancy and falling out of a workout routine, I wasn't buying active wear.
When I started working out again this year, I really wanted to find some leggings that weren't crops (not my fave style) but weren't so long that they bunched at the bottom (my LLL wunder unders bunched and I hated that). That's when I discovered Athleta's 7/8 leggings. They're literally the perfect length. They sit just above the ankle, but have the look of a full length pant — without the annoying bunching.
The first pair of leggings I ever bought at Athleta are their salutation leggings in black. I purchased them during a promotion when they were 20% off and wore them to my workout the next morning. I loved them so much that I hauled myself to the store during my lunch hour at work that day to buy another identical pair. Yes, they're that good. The material is amazing, helps suck you in (but not too much compression) and they're so flattering, it feels like they shave a few pounds off. I wear all of my Athleta bottoms in a size small, for reference.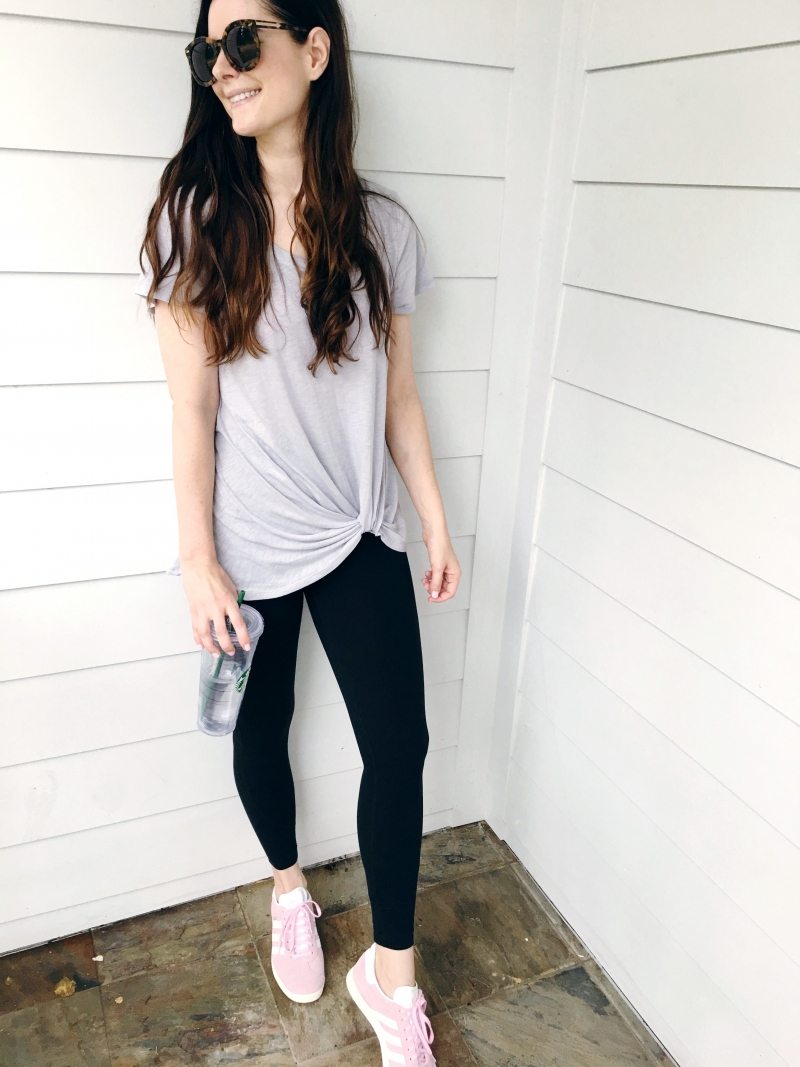 salutation leggings  |  sunnies  | adidas pink shoes  |  twist-front tee
I had the opportunity to partner with Athleta for a social media post sharing some favorites from their new arrivals — but I want to make it clear that this blog post is not sponsored — I'm writing about these leggings because I'm truly obsessed with them, purchased them with my own money and have been wearing them for more than 6 months. I did receive the leggings I'm about to share below as part of the social media promotion (I was provided with a gift card to purchase something I loved), but I purchased the tank myself and am not being compensated in any way for this post.
I highly recommend the salutation leggings — they're better than any other brand I've tried and I can't say enough good things about them. In fact, I get disappointed when I have to wear other leggings in between washing them, haha. I have to say they hold up incredibly well through frequent washings as well — I do pretty intense workouts 3-4 days a week and I wash them on cold/gentle and hang dry and they look almost like new after months of wear.
I just added this third pair to my collection (or fourth, if we're counting the green ones) — these are the high rise sublime 7/8 leggings and the little criss-cross detail on the sides pretty much had me at hello.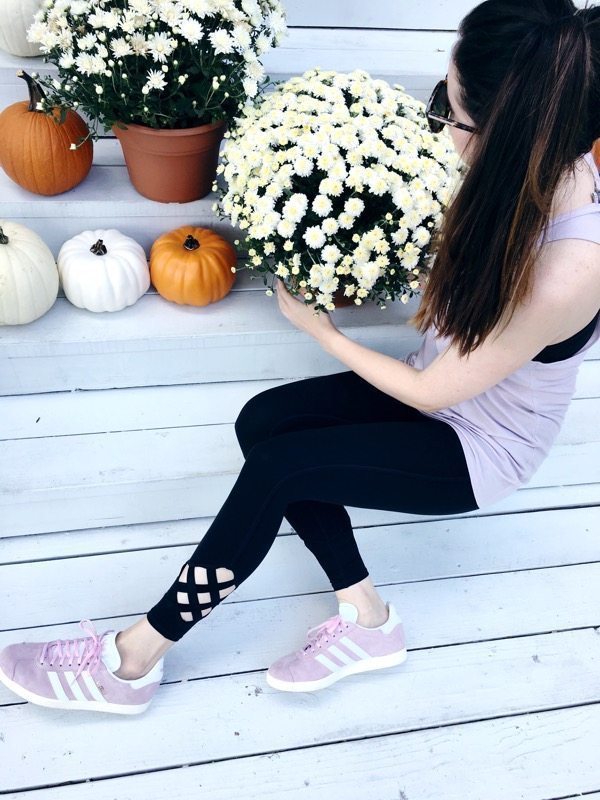 high rise sublime 7/8 leggings   |  ultimate crossback tank  |  sunnies  | adidas pink shoes  |
I was hesitant to try a new style, but I have to say these are also incredible. They're a little less compressive than the  salutation leggings and I feel they sit a little higher on the waist as well. The fabric is a little different too — it's a little less "smooth" and a little thicker but in a stretchy cotton kind of way. It's hard to describe in words.  They're incredibly flattering and I've worn them all day and never want to take them off (don't worry, I will).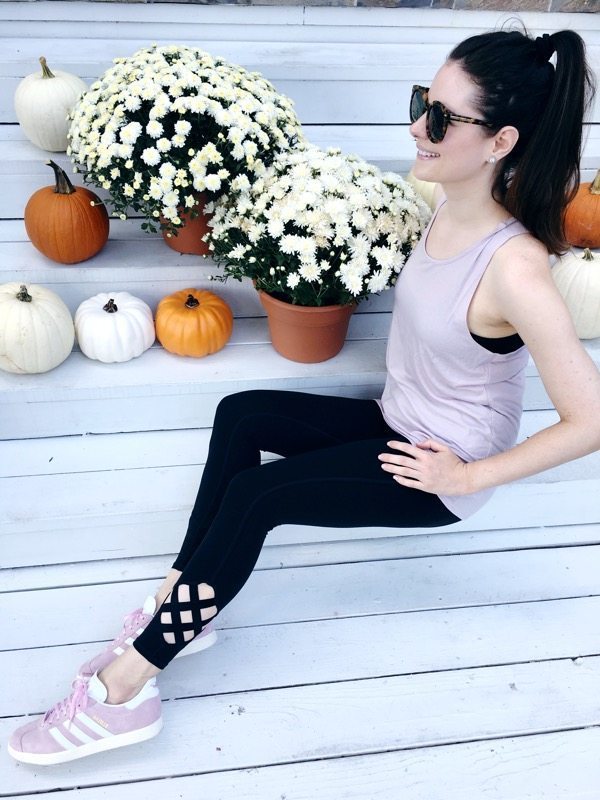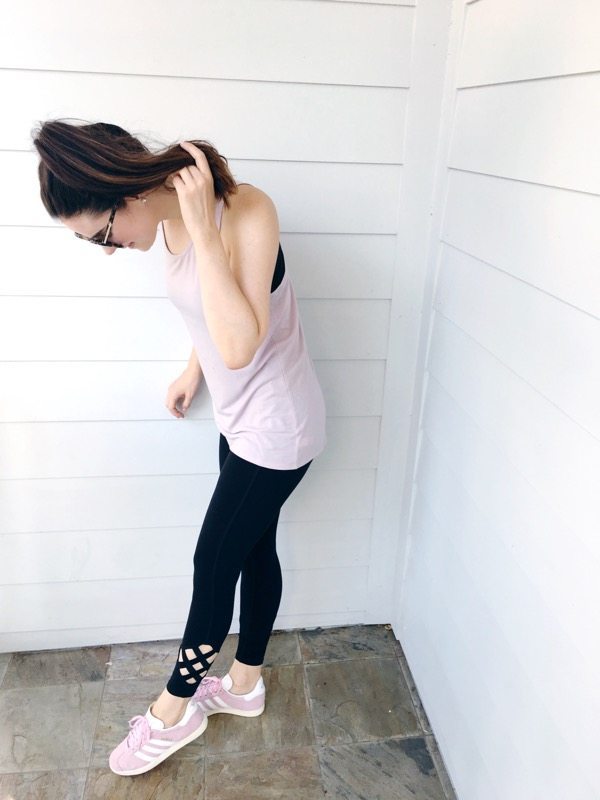 I also have to talk about this crossback tank. Something that really annoys be about LLL and some other brands is how short their workout tanks and tops are. I like to have a little coverage, and as you can see, this  crossback tank. is a fantastic length on my 5'10 figure. This top has the BEST back detailing and is unbelievably soft. I'll have to update you all later when I wash it several times, but I haven't had any issues with Athleta products thus far. This tank comes in three colors, and I opted for the dusty lilac color — it goes nicely with my adidas!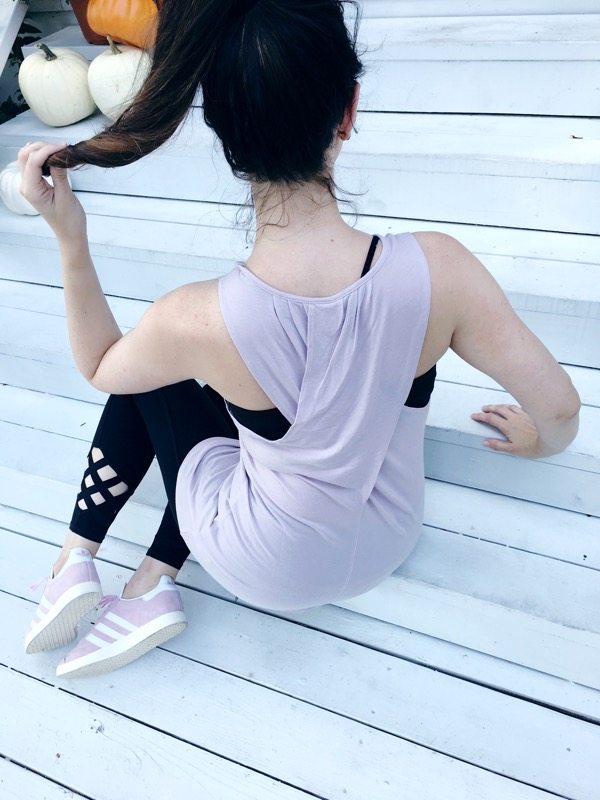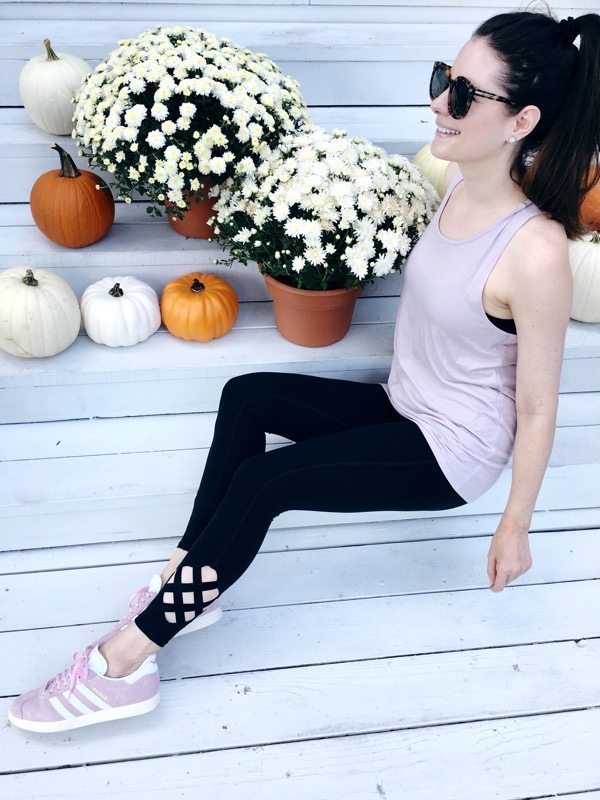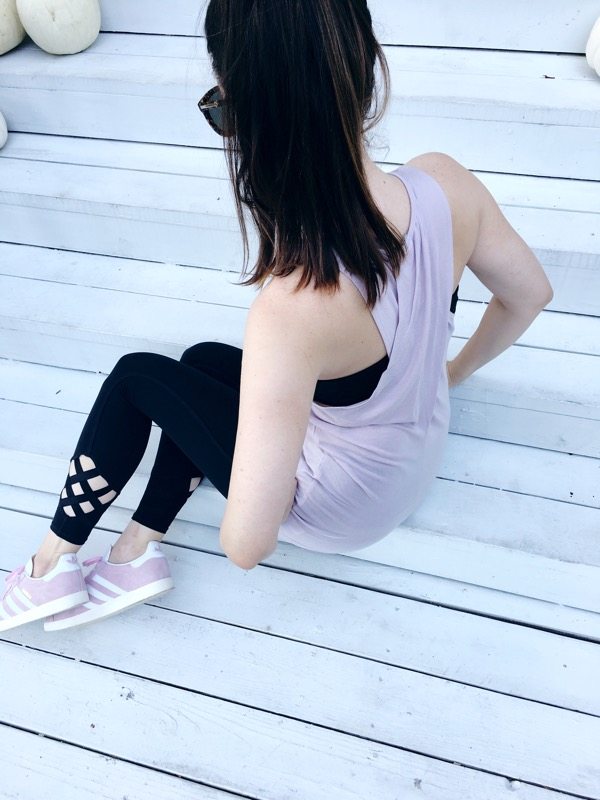 What are your favorite workout leggings? I also love Zella for workout wear and have found some great items at Gap and Target occasionally.
Have a great week!