I get asked all the time how I "do it all" and, spoiler alert, I definitely don't! I don't always stay on top of everything that needs to get done and my endless to-do list, but something I think I've perfected as much as I can is my morning getting-ready-for-work routine.
I always opt to look polished for the office, but my beauty routine has to be simple because I literally don't have time for it to be any other way as a working mom of two.
Many of you have requested that I walk you through my morning beauty/getting ready routine and I'm excited to finally be sharing this post with you and hope you'll find it helpful to see the breakdown — these times are as approximate as I could get them.
Read on to learn how I get from rolled-out-of-bed, to this look…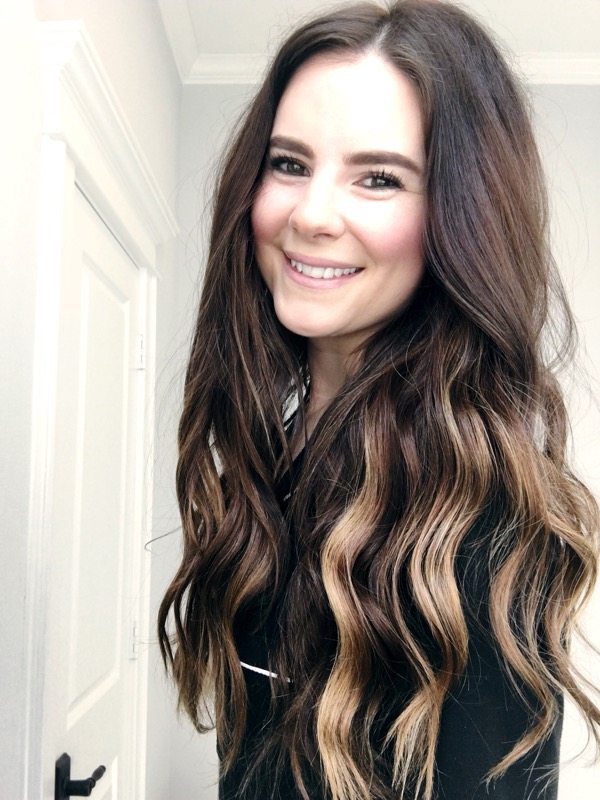 WAKE UP!
6:47 AM (yes, I'm weird)
On mornings I don't exercise, I wake up and immediately head to our master bathroom to get my routine started before anyone else is awake.
First, I brush my teeth and turn on NPR's "Up First" Podcast. I listen to daily news podcasts every morning because I like to be informed and it makes me feel like my morning gets off to the right start. I also listen to the New York Time's "The Daily" Podcast, but don't finish that one until I get in my car.
6:50- 7:05 AM
After brushing my teeth and washing my face, I apply a moisturizer with sunscreen — right now I'm using Dermalogica's dynamic skin recovery which I love because it has an SPF of 50 and helps increase collagen production in your skin — a huge added benefit. It's a splurge, but it feels amazing on and doesn't leave skin greasy at all.
Then, I apply Urban Decay's primer potion (original formula) to my lids.
What follows is the rest of my makeup routine — I'm going to list the products out for you, but for the sake of this post, I want to share some beauty hacks that work as hard as you do — these help me feel my best but don't take a lot of time.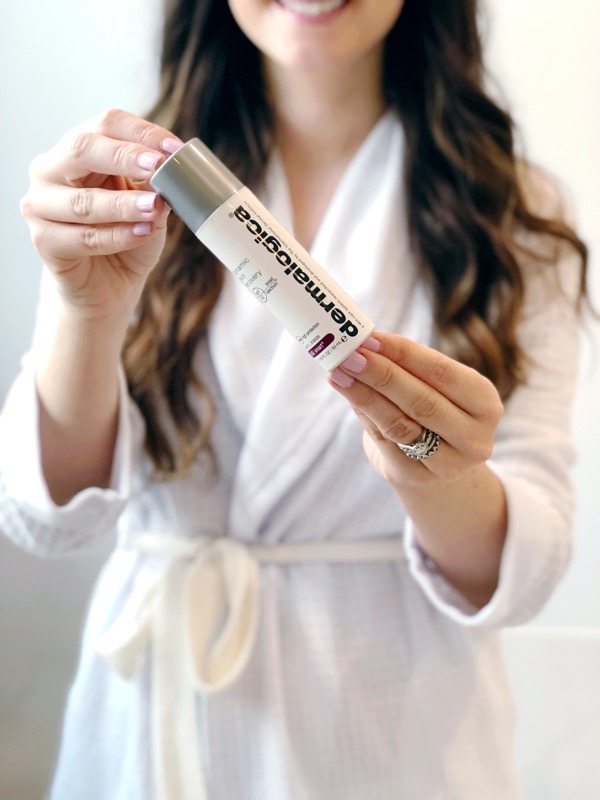 Brighten your eyes
I always use a pink or peach-toned product (yellow ones work too) to brighten my under eye area. This makes your face look awake and brings a welcome lightness to your eye area. Lancome's teint idole camouflage-corrector in peach, here, is part of the incredible Gift With Purchase they're offering which I'll share more about below. I also love Urban Decay's naked skin color correcting fluid in pink, here.
Rethink how you define your eyes
I love defining my eyes — in fact, I think it's the most important part of any makeup routine. But I'm not into heavy/thick lining or shading and using multiple eyeshadow colors on my lids. I like "soft focus" definition (yes, I made that up). I basically use eyeshadow to line my bottom and top lash lines, using a lighter shade on the bottom and a darker one on top. I think this allows eyes to have an open look while being very subtly defined (as opposed to something like a cat eye created with liquid liner or a lot of shadow on the lid). It's just my personal preference, especially for daytime and I think it looks very natural and pretty.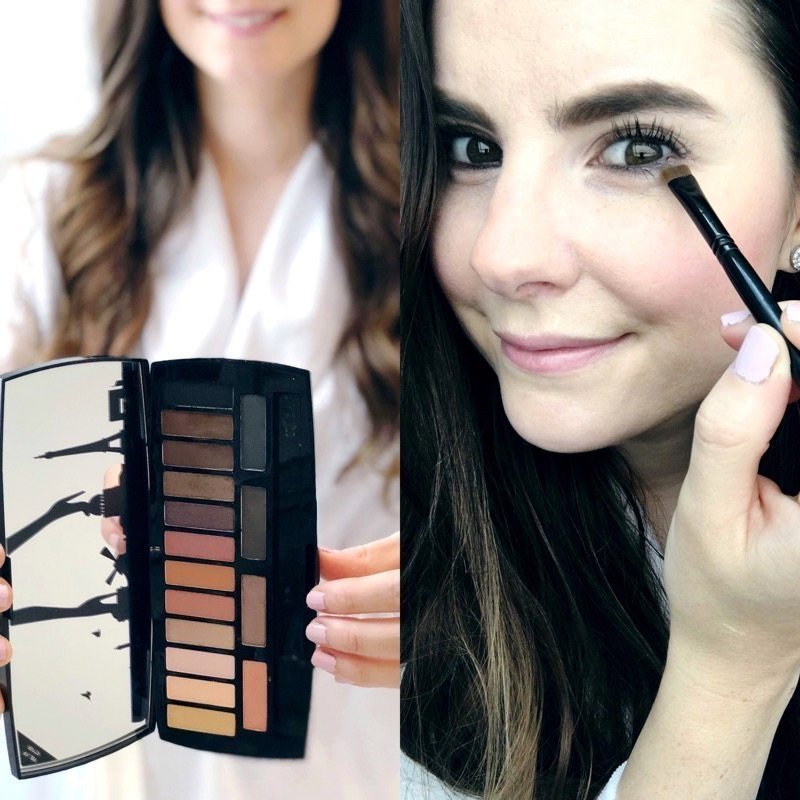 I have several shadow palettes, but for the look in this post, I used Lancome's Auda(city) in Paris palette. I used the fourth from last shade to line my bottom lash line (a medium brownish gray with a slight shimmer) and the second to last shade, a dark brown matte color to line my top lash line.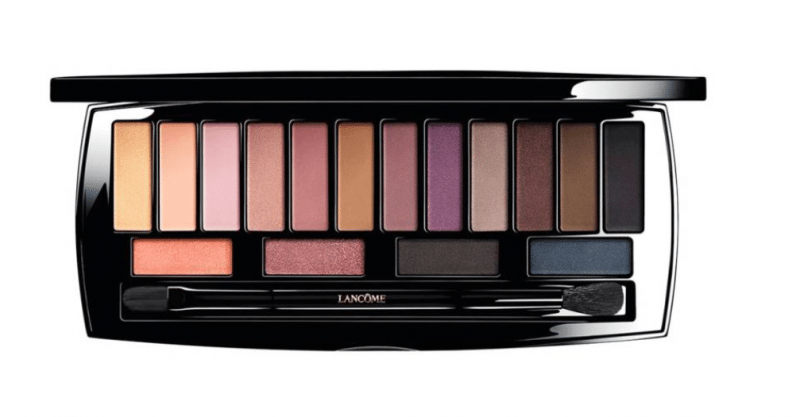 Nordstrom, where I buy a ton of my cosmetics, actually has a promotion right now for a major Gift With Purchase on Lancome products, so it's a good time to scoop up this palette if you're looking to add one to your collection (a $39.50 purchase gets you product worth up to $125 — and the color correcting peach concealer I mentioned earlier in this post is part of the GWP bag + there's lots of great skin care options to choose from!) Today is the last day to take advantage of this promotion, so get those orders in before midnight to score these extras!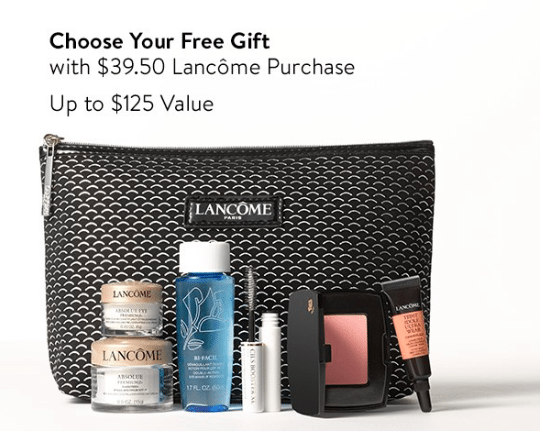 Open your eyes
No makeup look is complete without curling your lashes. I'm actually looking to try some new lash curlers now and this one and this one have great reviews — let me know if you've tried these!
This adds a few seconds to your makeup routine, but it seals the deal and makes your curl last all day (and night!) The trick is to blast your lash curler with a hair dryer for a few seconds (touch it before you curl to ensure it's not too hot). I get asked sometimes if my lashes are real and I swear it's because this technique makes them sky high!
As an aside, I started using the lash growth serum NeuLash again a few weeks ago and my lashes are SO long!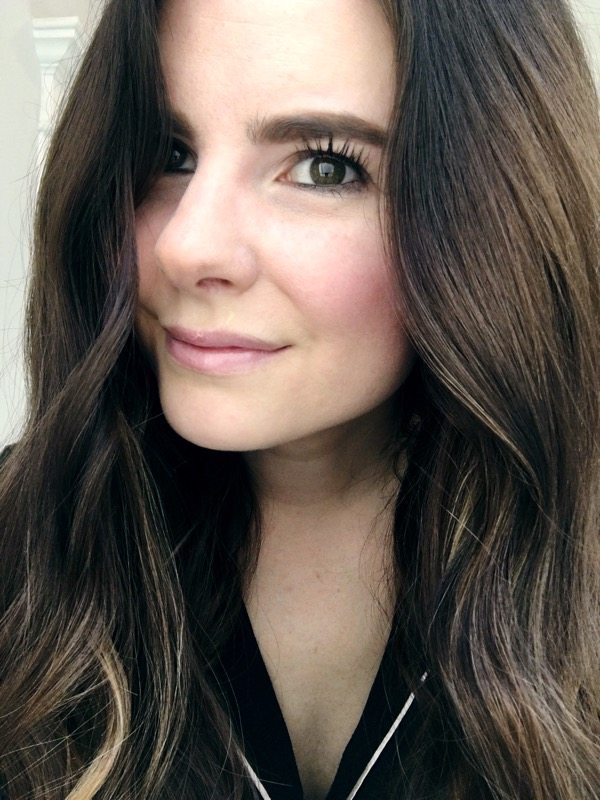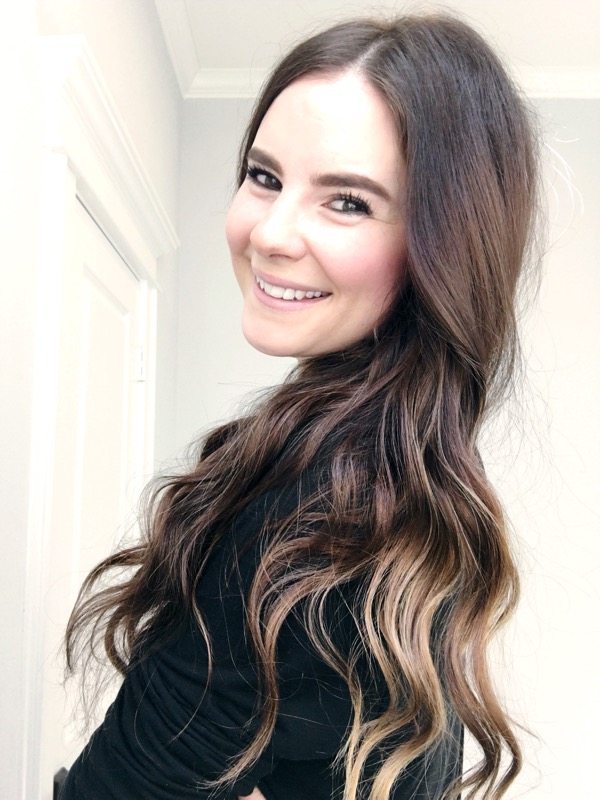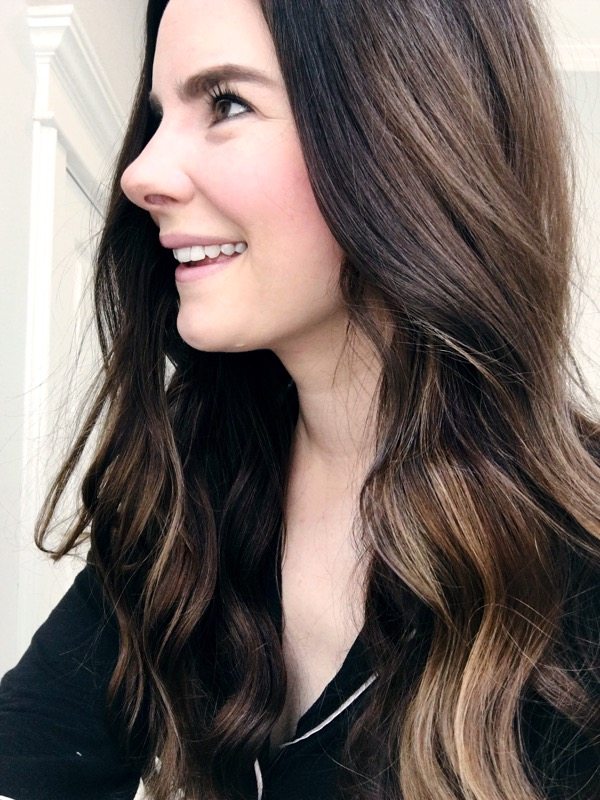 Always use blush AND bronzer
I like to sweep NARS's Laguna bronzer over my cheeks, nose and top of my forehead. I do not contour (ain't nobody got time for that), but I find just sweeping it over those areas brings warmth to your skin and it's so quick! After bronzer, the key is to add a pink blush to the apples of your cheeks. I find this gives your skin a youthful appearance and wakes up your skin. Layered over bronzer, it's the perfect look. I use this brush and this blush in peony is my holy grail and I also own and love this blush in rose paradis. Both look super bright pink in the compact, but I promise they aren't shocking on.
My makeup routine always ends with applying a lip gloss — I've been using this tinted balm by Lanolips for a long time now and it's daily staple.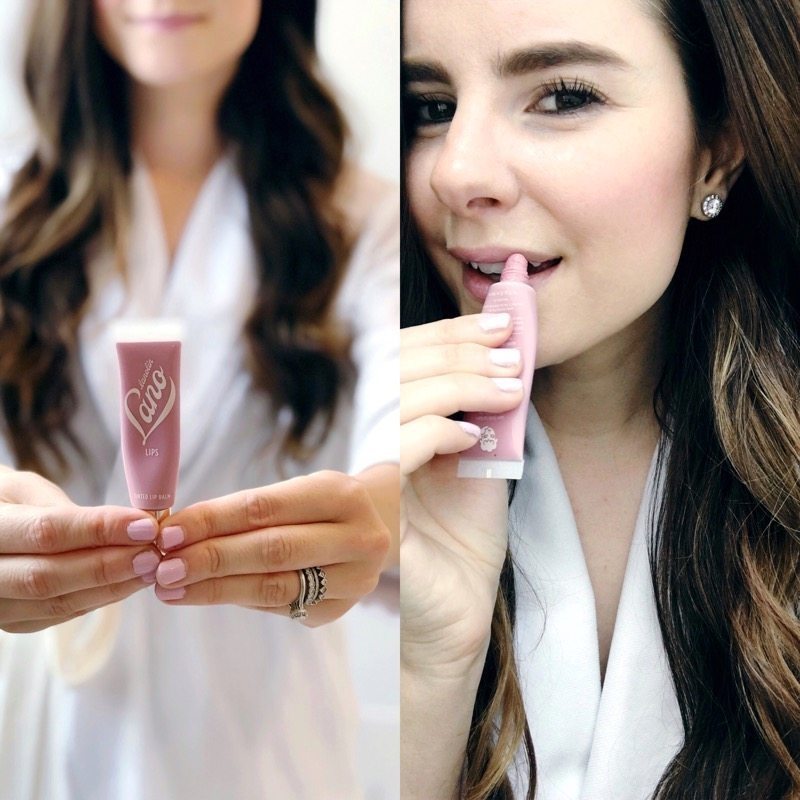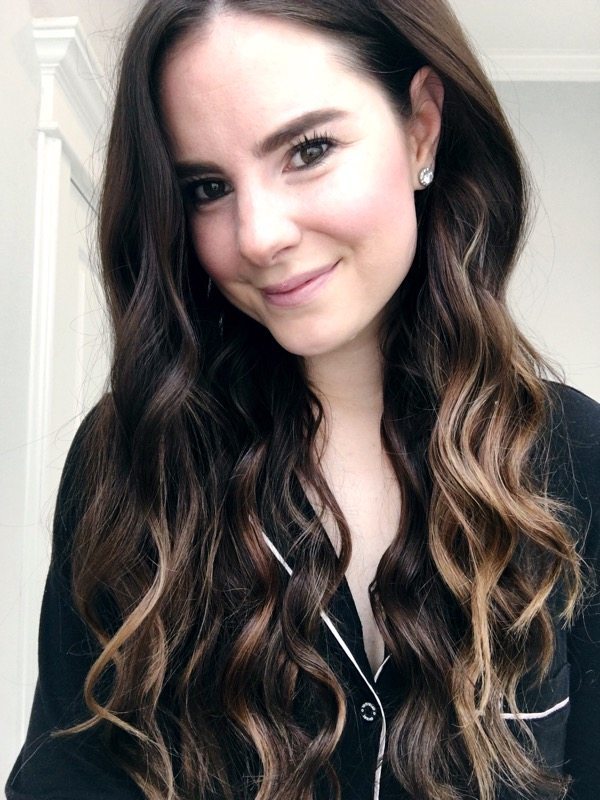 And here are some of my favorite daily products: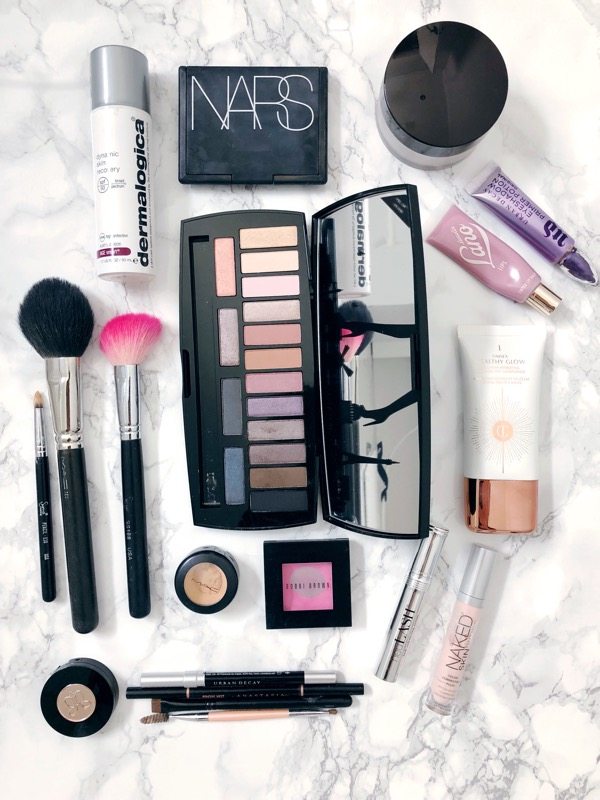 Dermalogica's dynamic skin recovery   |  Urban Decay's primer potion  |  laura mercier transluscent setting powder  |  MAC 150 powder brush  |  Sigma blush brush  |  bobbi brown peony blush  | neulash  |  urban decay eyeliner (color zero)  |  anatasia brow powder   |  MAC studio finish concealer  |  Lancome's Auda(city) in Paris eyeshadow palette  |   Charlotte Tilbury healthy glow moisturizer  |  NARS's Laguna bronzer  |  Lanolips tinted balm
7:05-7:13 AM
I would say it takes about 5-7 minutes for me to curl my hair, which is what I do most days in between washing. If I don't feel like curling it, I brush it out, smooth it down and apply a serum to my ends (I love this one and this one). This way it still has a bendy/tousled look, but takes under a minute to do.
I'm still using (and obsessed with) my T3 whilr trio interchangeable curling wand and I divide my hair into sections to make curling faster/easier. I clip up the top section and do the underneath first. Then, I curl the hair around my face, always curling away from my face. Don't forget to let your curls cool and flip your head upside down to loosen up the waves. You can also brush them out gently with your fingers or a brush.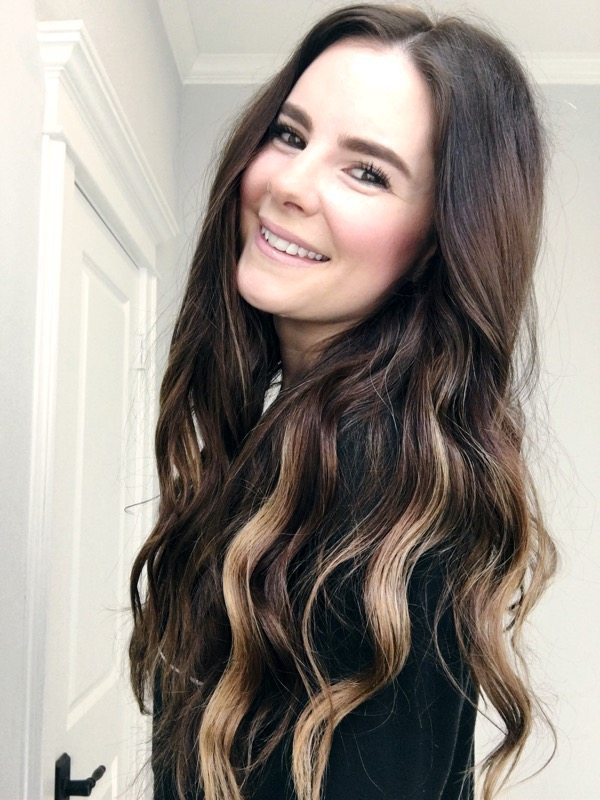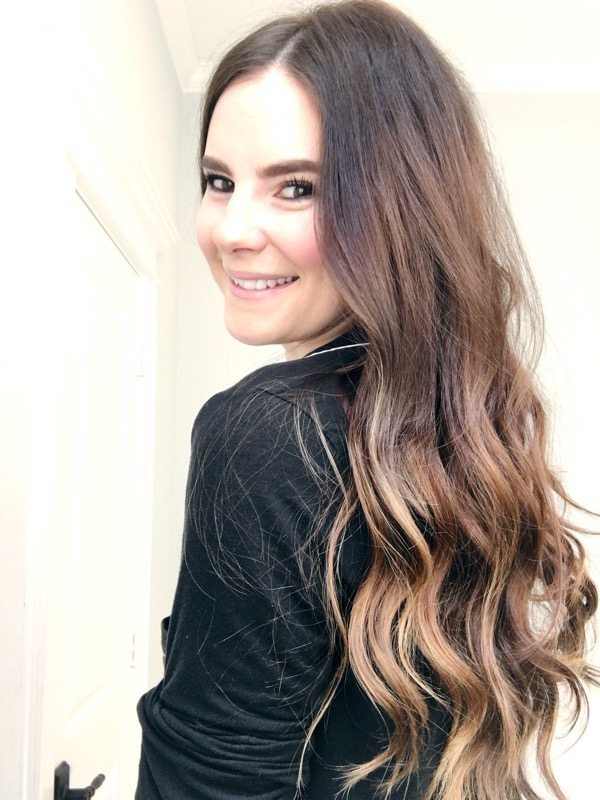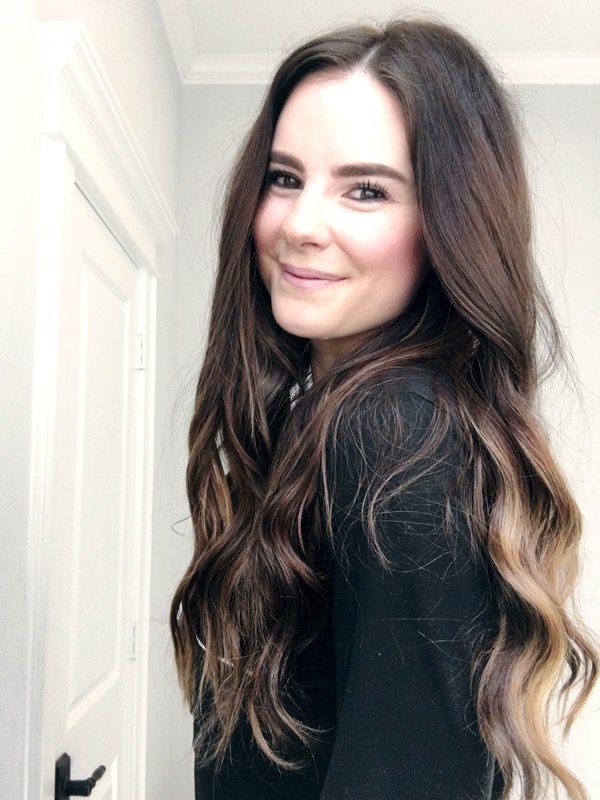 7:13-7:18 AM
After my makeup and hair is complete, I pick out my clothes, get dressed and add jewelry. If I have time, I'll also film a quick outfit of the day for my Instagram stories.
7:18-7:23 AM
When I'm ready, usually the kids are downstairs with Kevin eating breakfast, but sometimes one of them (usually Lincoln) may still be asleep. If they're both awake, I go to their rooms and pick out their clothes for the day and bring them downstairs. If Linc is sleeping, I do the same but also wake him up (gently).
7:23-7:50 AM
The kids eat breakfast and sometimes we put on Curious George on PBS while we get ready to leave the house. I also use this time to post an Instagram post if I was planning to that morning. Sometimes I pre-schedule them at night and publish in the morning and other times I just decide what I'm publishing right then and there.
Then, we get the kids dressed, brush teeth, comb their hair, get their shoes on, etc. Most mornings, there has to be chasing and negotiating in order for this to happen (please tell me we're not alone).
7:50-8:00 AM
We try to leave the house between this time, give or take a few minutes. If I'm dropping the kids off, Kevin helps get everyone in the car with me (and vice versa if he's taking them) and I take them to their classes and head back to my car, turn on a Podcast and drive to the office. Once in a while I stop for Starbucks, but usually that's only one day a week.
8:30-8:45 AM
Depending on when we leave and whether or not I drive the kids to daycare/preschool, I get to work between these times. When I arrive at work, I set down my purse and immediately head to the kitchen to pour myself coffee and make breakfast. I usually have whole grain pita bread with peanut butter (kinda boring, but it works). I also add a powder with 9 grams of protein to my coffee for a morning boost.
I hope you all liked this morning routine post! I thought it would be a fun way to share my beauty routine while also giving a little glimpse into our lives as two full-time working parents with two young children. I feel really lucky that we get to have a little time with the kids in the mornings, as hectic as they are!
Have a great week, and don't forget to check out the  gift with purchase on Lancome products  if you're in the market for mascara, lip gloss (I've used and love juicy tubes!)  or any other products! The Gift With Purchase ends today, so make sure your order your goodies by end of day if you'd like to take advantage of the extras!
S H O P  T H I S  P O S T


Thank you Nordstrom for sponsoring this post!
Shop the Post