CLICK HERE FOR A FREE 15-DAY P.VOLVE TRIAL!
Before we get started on my P.volve review, I want to clarify that this is not a sponsored post, since I got asked a lot of I was paid to promote BBG/the Sweat app. I pay for P.volve with my own money, just like I did with BBG. I'm not paid to endorse this program and, as always, all content on my blog (whether sponsored or not) contains my honest thoughts about a product or service.
Over a month ago, I started doing P.volve workouts via their online streaming service (you can sign up for a free two-week trial, here). I heard about P.volve creator Stephen Pasterino and started to follow him on Instagram and read some articles he was interviewed for. Then I listened to episode #105 of The Skinny Confidential Podcast and I knew I wanted to try his workouts. Stephen has a P.volve studio in NYC and has trained numerous Victoria's Secret models and I like that his program involves toning and tightening the body while focusing on reducing the waist, hips and thighs and creating a perkier butt.
I was a few weeks into my second round of BBG and at the time and thought I would do one P.volve workout a week to switch things up…but the moment I started the workouts, I got hooked, so I stopped doing BBG altogether. Before I get further into this post, I want to reiterate that I love BBG/the Sweat app and think it's a fantastic and highly effective program (in fact, Kevin is using it now for his at-home workouts). I'm glad I completed the full BBG program (12 weeks) prior to starting P.volve because it helped me build up the strength and endurance I needed, while also getting me to my goal weight. You can read my BBG FAQ, here. I've been asked which program I prefer — but they're very different. If your goal is to lose weight, I recommend BBG. If you would like to tone your body without adding bulk and weight loss isn't a focus, I recommend P.volve.
P.volve is an ideal program for women looking to fine tune their musculature, so starting it when I had already lost the weight I wanted to made sense for me. Having said that, you can do P.volve as part of your fitness routine regardless of where you're at and even if you're a beginner.
P.volve workouts are based on physical therapy principles and the toning is very targeted and focused on bringing IN the hips,waist and thighs versus building them UP like some traditional workouts or weight-lifting based programs can do. While you can't spot reduce, you can do movements that help bring things in – you can listen to the Podcast to hear Stephen talk about why some women aren't getting the results they want because of their workouts. If I'm going to spend the time and effort working out, I'd rather do a program that is going to give me the results I want to achieve. That's why I stuck with BBG and that's why I'm now happily doing P.volve.
I didn't realize until doing BBG and this program how much I actually didn't like what I was doing before (traditional weight-lifting gym). I don't enjoy lifting heavier weights and hate CrossFit-like workouts (no offense if you do them – they're just not for me!) I love body weight exercises and more targeted toning using lighter weights. There's nothing wrong with either approach and everyone should do workouts they love and that give them the results they desire – I've just wasted a lot of time over the years doing workouts that weren't a good fit for my body type, lifestyle or the results I wanted and maybe you're like me and looking for something different. If you like pilates and barre workouts, I think you'll love and thrive with P.volve. To be clear, they're very different, but it's the closest comparison I can find.
Here's why I love P.volve…
No gym? No problem!
Not only can you do P.volve at home (it's $19.99/month to stream if you buy a P-ball or $29.99 a month without the promotion – still cheaper than most gyms) but you can select workouts by length of time, type of equipment used, what area you'd like to target, etc. My criteria for all workouts I consider is "can I do this at home?" I have two children, two jobs and a husband and household to care for. If I can't do it at home, it's simply not sustainable. P.volve also films weekly, so new, more challenging workouts are posted as you progress.
Structure OR flexibility
If you thrive on structure or love how BBG lays out which workouts to do, you'll love that functionality in P.volve streaming too. I started with the 30 Day Evolution which lays out all of the workouts and rest days each week (I was flexible with this and if I skipped a day, I would go back and do that workout the next day so I was still going "in order"). You can also do the 6-Day Total Body program or Precision Sculpt. If you like a little more flexibility, simply use the filters to choose a workout based on time, equipment used or area to target.
Minimal-ish equipment
Like BBG, P.volve doesn't require a ton of equipment or a gym. The items you do need are a thick workout mat, gliders (cheaper option here), light ankle weights (here and here), 2 or 3 lb dumbbells and I do recommend the P.volve resistance bands (here and here) and P-ball ($15 and $60 respectively). However – as you get further into the newer workouts, more equipment is sometimes required but it all falls in the under $25 price range (like this step) and I'm OK with investing in it since it can be used for all kinds of workouts if you ever decide to incorporate others into your P.volve routine. It's an initial investment, but well worth it.
Sweat factor
I do break a sweat during P.volve, but it's not the red-faced, dripping-down-your face sweat that you get with BBG. I love that kind of sweating too, but it's nice to feel your muscles burning when doing P.volve but not feeling like you might throw up (haha). I actually LOVE the intensity and sweaty-ness of BBG because it feels good to sweat, but after doing it for over 12 weeks, it was nice to get a little break from that and focus on really targeted "feel the burn" toning. I will say that as the workouts get harder, you may sweat a little more.
8 reps per move
I love that Stephen's method doesn't involve tiring muscles out so that they're "screaming." Every movement is 8 repetitions – but don't mistake that with thinking the moves are easy. With proper form and practice, you will feel the burn – very intensely. It is not by any means an easy workout.
I've got moves you've never seen
While doing the 6 day program recently, I couldn't believe how many moves I was doing that I had never done in any other workout program before and how intensely challenging they were. Don't be fooled by the "small movements." They're often the most difficult!
I love the precision of the movements. Instead of squats and lunges that work a ton of big muscle groups, I love moves that target smaller muscle groups – especially when you concentrate on doing them with good form. It's impossible not to see and feel results.
P.volve is all about functional training (Stephen trained at the Gray Institute, which focuses on functional science, human chain biomechanics and manual therapy). You can read more about it here.
Variety
P.volve has a ton of different workout videos available as part of their streaming service – both one-on-one workouts and group classes and they add new ones weekly, which is a huge bonus. The 30 Day Evolution program is the same few workouts over and over because it focuses on teaching you the movements and form you need to perfect before doing the other videos – but the variety is super appealing and keeps you motivated. I can't wait to try more of the workouts – I've done a few outside of the 30 Day Evolution just because I felt like it and they're fantastic.
Right now I'm doing the 6-day program and it's very challenging. I was actually surprised at how much more challenging it was than the 30-day program – but that's also why I think it's critical to start with the 30-day. You need to learn and understand the movements and positions in order to do the more complex workouts.
Low impact
If you have bad knees or just don't like a lot of jumping, burpees, squats and lunges, this is the program for you! Having said that, just because P.volve is low-impact, it doesn't mean that it's not intense or challenging. It's just different. It's like if all you ever did was lift weights but then you try a spin class – totally different experiences.
Feels like you have a trainer
Stephen talks you through every workout, every move, telling you where you should be feeling the muscles work. It feels like he's right there with you, which I love. The videos are well-filmed and high quality so they're easy to follow. I like how he tells you why a move is important and what areas you will notice changes in if you stay consistent – it's super motivating!
It'll keep you wanting more + results you can see
At this point in my life, I'm looking for a workout program I love to do, is sustainable and that's going to make my body look how I want it to. Yes, I work out for my health (both physical and mental) but I won't invest time in workouts that won't actually accomplish what I want for my body.
I have noticed my body looking trimmer doing P.volve workouts and I can't wait to see more and more tone and definition as I continue the program. A lot of you have even messaged me noticing the difference in my legs and the tone they have — so that's always super encouraging to hear! I can also feel my core getting stronger even though there are NO crunches in the program (yes, really!)
What I love most about P.volve is how motivated I am to do the workouts. I think because they aren't as intense as BBG, I never have to talk myself into them. I would have to sometimes hype myself up for BBG because I knew what was coming – haha! With P.volve, I know I'm going to break a little sweat and get a good burn going and I love feeling all those little muscles I didn't realize I had working to shape my body. Even though the 30 Day Evolution program is repetitive, I know it helped me build the foundation I need to succeed at the more challenging P.volve workouts I'm doing now.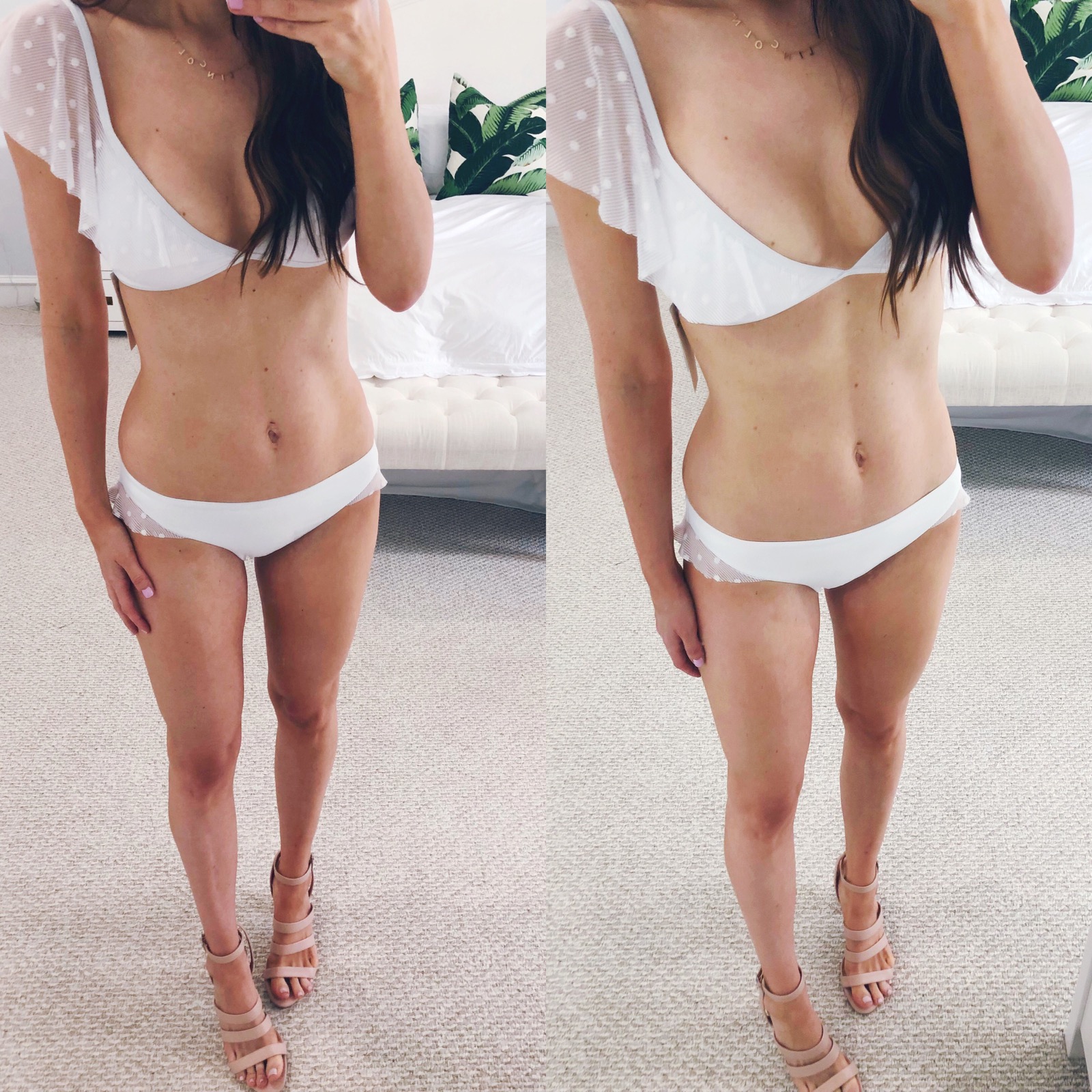 (Stephen always talks about that line you get down the middle of your stomach and I think mine is starting to form!) SHOP MY WHITE BIKINI HERE
If I had to share any downsides about the program, they're these:
You do need a larger screen like a laptop or iPad (IMO) to be able to see the workouts well. I don't mind this at all, but just something to be aware of – it's really small if you use your phone to stream.
If your goal is weight loss, this program isn't built for that and doesn't have cardio or plyometric components like BBG does. If you're trying to lose weight, in addition to looking at your diet, you will need to add some cardio to your routine – here are some forms of cardio recommended in conjunction with P.volve.
If you really like heavy weight lifting, lunges, squats, burpess, etc, then you will basically be "undoing" what P.volve is trying to do…so you may not see the same results as someone only doing P.volve (again, Stephen explains in detail on the podcast about how certain exercises can hinder your goals).
You may not enjoy the workout format in general if you're into CrossFit-type workouts — but you never know!
The workouts are longer – there are some 20-30 minute workouts but most are closer to 45-50 mins. However, it goes by fast because you have to concentrate so much on the movements.
The initial cost of the equipment needed may seem high if you don't already own some of the items.
If you're interested in trying a cost-effective workout that focuses on really targeted toning and small movements, that you can do at home, I highly recommend P.volve.
CLICK HERE FOR A FREE 15-DAY P.VOLVE TRIAL!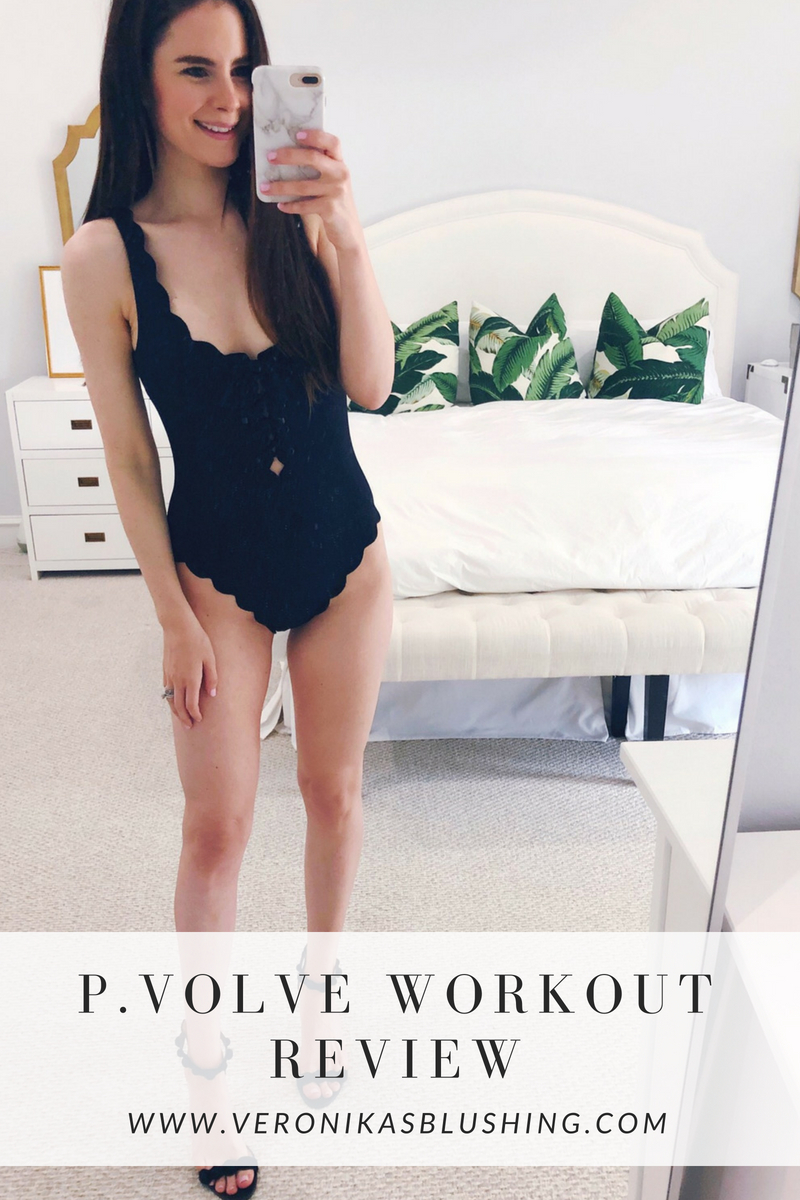 SHOP MY BLACK ONE PIECE HERE
Shop the Post