Lately I've been so determined to finish spaces in our home that it's all I can think about! Other than the Nordstrom Anniversary Sale, I haven't been browsing clothing much…I'm all about home décor sites at the moment.
I'm currently getting quotes to shiplap a wall of our master bath (more on that later) and to replace our home's stairs leading up to our front porch. I wish I could have changed some of this when building, but it always costs way more to do it through the builder so we opted to wait. We've already had our front path redone and replaced all of our porch railings to a style we love more. We had our landscaping redone too, and it's amazing what a difference it makes!
LINCOLN'S ROOM UPDATES
Lincoln's big boy bed is ordered (we went with the black Jenny Lind) and I also ordered this navy and white bedding for him – the Euro shams, boudoir pillow (which I plan to have monogrammed for that Southern touch) and duvet cover. I also ordered these construction truck bed sheets – I know he will love them and they're kind of "hidden" under the rest of the bedding so the room will still remain clean and classic. I'd also like to get a set of these light blue striped sheets. Blue is one of my favorite colors to decorate with, so it's no surprise that Lincoln's room will have lots of touches of blue. You can see my inspiration board for his room here. I haven't decided yet what I'll do with the existing framed art in his room. I may keep it as-is, I may keep some and add other pieces. One thing that's without a doubt staying? The massive plush giraffe (also here for under $100) He wears a bow tie now and it's quite charming.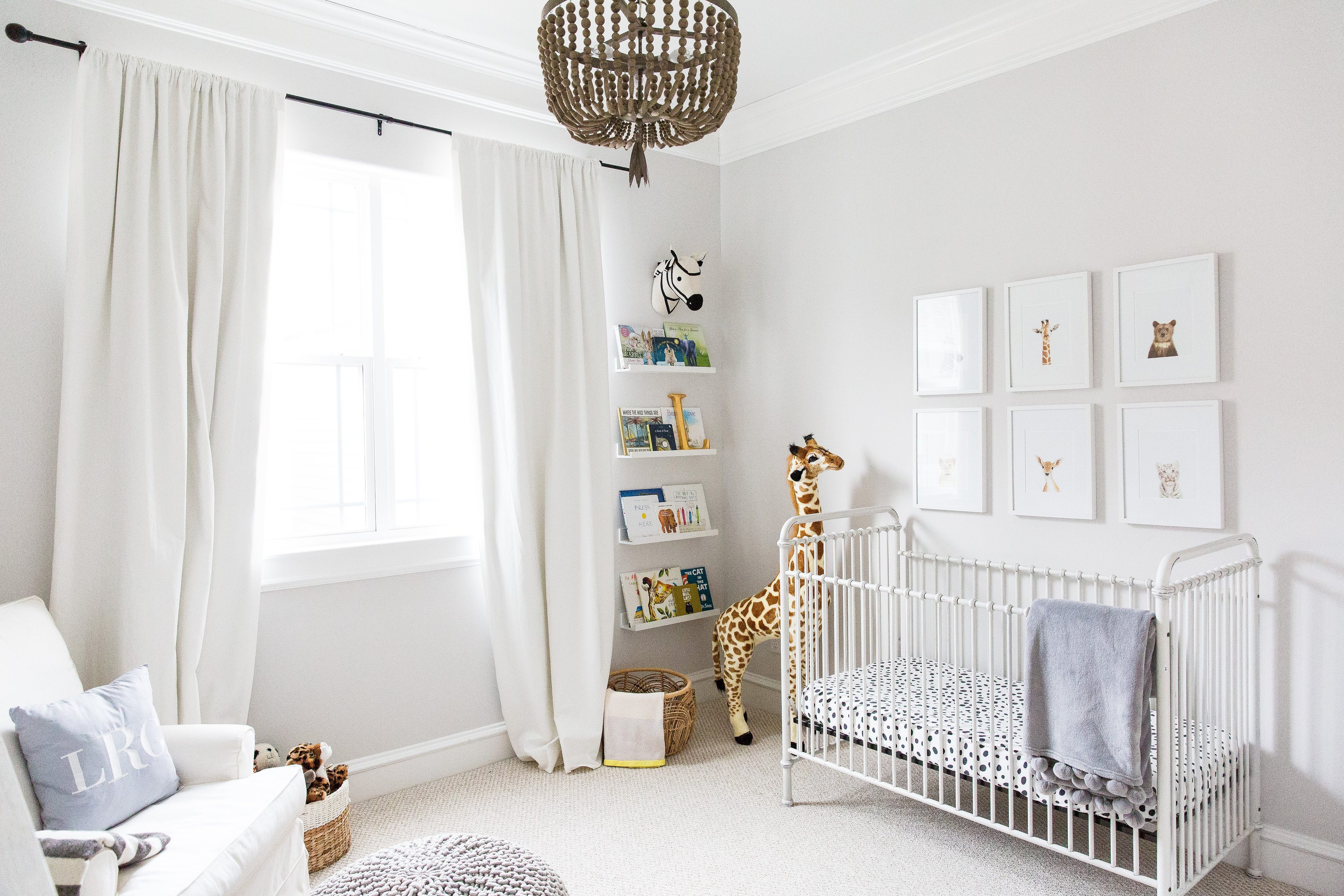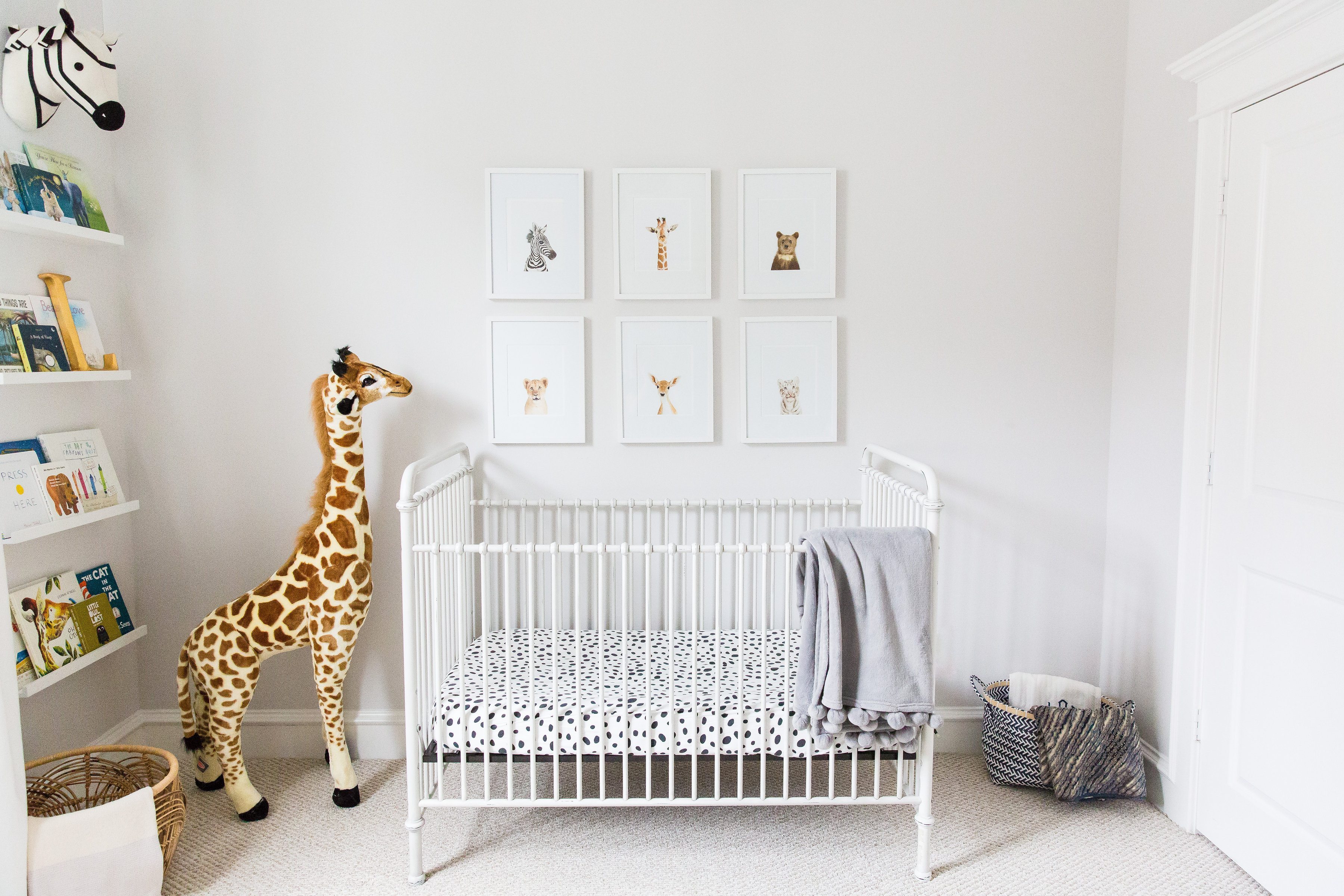 (see Lincoln's full nursery reveal here)
KITCHEN PENDANT LIGHTS
Our kitchen pendant lights were installed last Friday and they're a game-changer. I'm literally kicking myself for not having them installed sooner because our home is so much lighter and brighter now – I literally can't stop talking about it and have to pause a few times a day to say "can you believe how much brighter it is in here?!" The children and Kevin love hearing it all day, really (I hope the sarcasm is palpable here).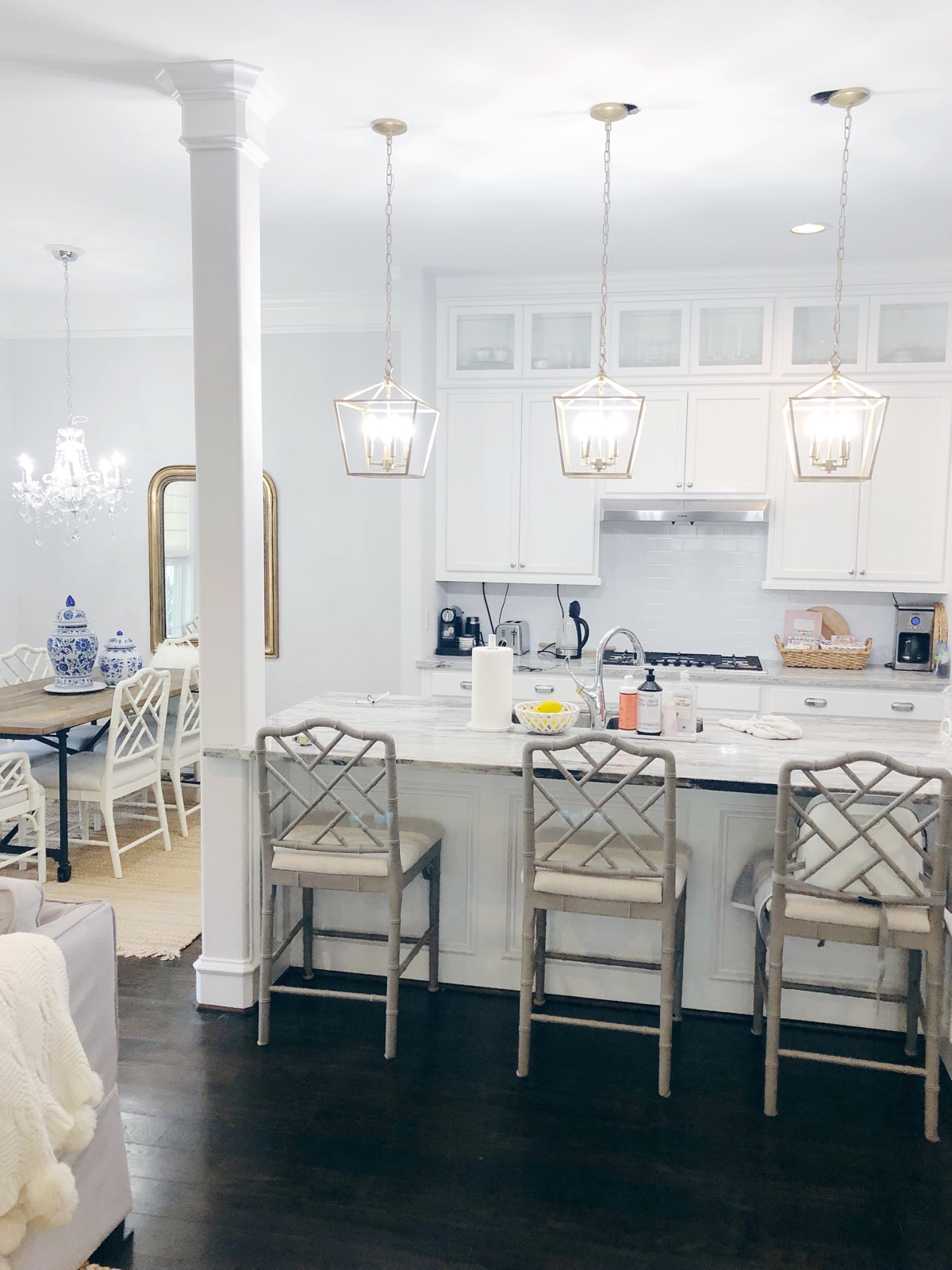 Originally I had planned to hang two light fixtures – but I soon realized the 10 ft. ceilings and double long island would allow for three fixtures to be hung quite nicely, even with the support beams flanking mid-points of our island.
The backstory on this lighting situation: when we built our home, I knew we wanted to add lighting over the island but I hated all of the options the builder had available. I asked them to simply pre-wire the lights over the island and blank-plate them until we decided on our lighting. We moved into our home when I was 8 months pregnant and it was no time for light fixture shopping so we lived with the recessed lighting we had. Maybe a year after moving in, I ordered our lights from Wayfair and when they arrived, they were the wrong color (not brass as described and pictured online). So they sent me three more lights due to the error but those were wrong too. So I decided to spray paint the lights but had only done two of them. Then it took me forever to find the motivation to spray the third one. And so, here we are, three years later, with our pendant lights finally hung. Wayfair has replaced our listing with these pendants that look like they're actually gold, so no spray paint needed if you're interested in ordering them for your home.
I now know more than ever before the importance of lighting in a space. I both literally and figuratively SEE THE LIGHT.
DINING ROOM LIGHT FIXTURE
Speaking of lighting, we had the chandelier from our old house hung over our dining area before we moved in – but I knew I wanted to swap it out. It just wasn't the right fit for our new space. I've explored different lighting options over time, but most of the fixtures I loved were too expensive to purchase for a home we know we won't live in long-term. Don't worry – we aren't moving any time soon, I just hesitate to spend a ton on a fixture when we know a new buyer would likely want to keep it. Seriously, this is one of my biggest stressors about investing in anything that is wall-hung or ceiling-hung (more on that below). I purchased this IKEA Sinnerlig light fixture for under $100 and I think it's lovely – but I'm not sure it's a right fit for our space. The other one on my list is this one for under $500, which feels reasonable and I love that it ties in the brass from our other fixtures. See this fixture in another space here.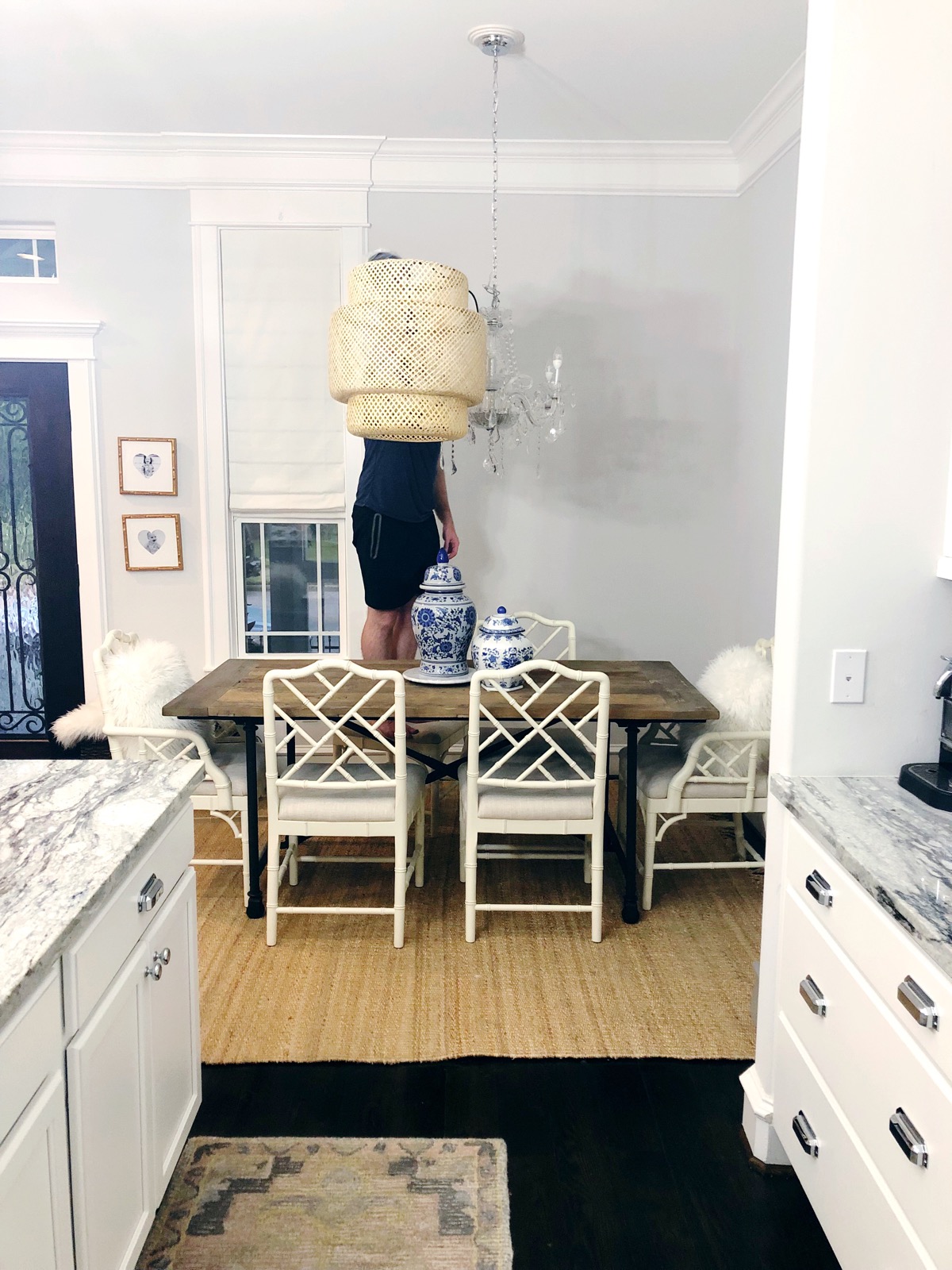 GALLERY WALL – UPSTAIRS HALLWAY
I purchased all of the gold frames for our gallery wall – I can't wait to hang them! I also have this laser leveler on its way over to help us hang this gallery wall evenly. I think I'm going to go with all black and white photos for the wall – do any of y'all have advice for where to print our photos at the 11 X 14 size? I'd like them printed matte, not glossy. I have used drugstore printers before but find the quality to be "eh." My inspiration images for our gallery wall are here, here and here. Originally I was going to use my black IKEA Ribba frames for the gallery but gold is where my heart is so I decided to splurge on this one to make it exactly how I've always dreamed a gallery wall would be.
NSALE HOME DECOR PURCHASES
I'm going to be honest with y'all – the "marble" tissue box cover I ordered from the Nsale was not good IRL. It was ceramic and had this weird graphic printed on it to make it look like marble. I guess for $21 it is what it is – but I'm returning it. Instead, I ordered this one and it's on its way – I sprang for the real thing, as I should have from the start – you'll save $25 buying it now versus when the Nsale is over. But let's focus on the positive here. This Donna Karan blush throw blanket is amazing. The perfect color and works well in bedrooms, living rooms, guest rooms. LOVE. It's machine-washable, too.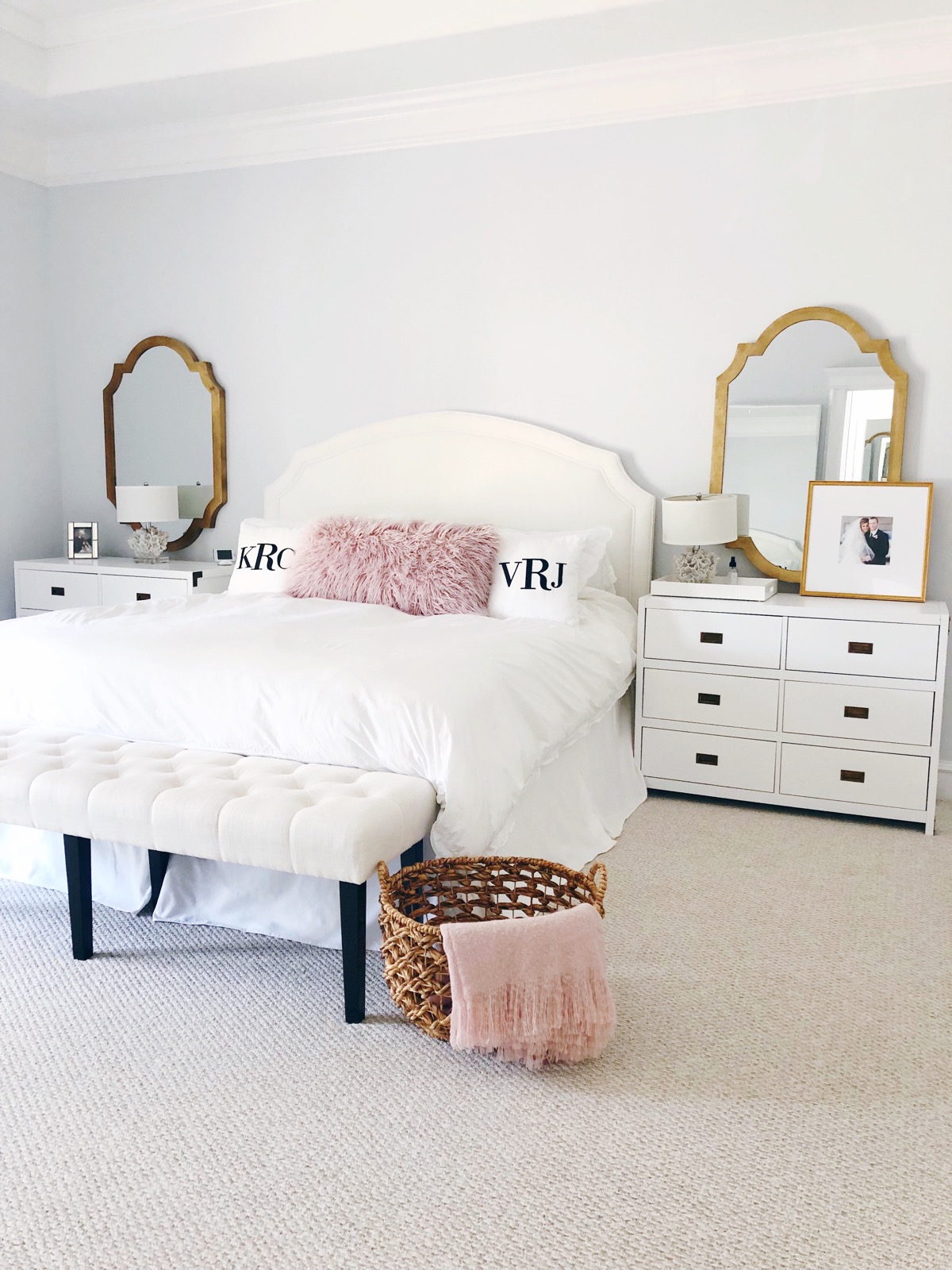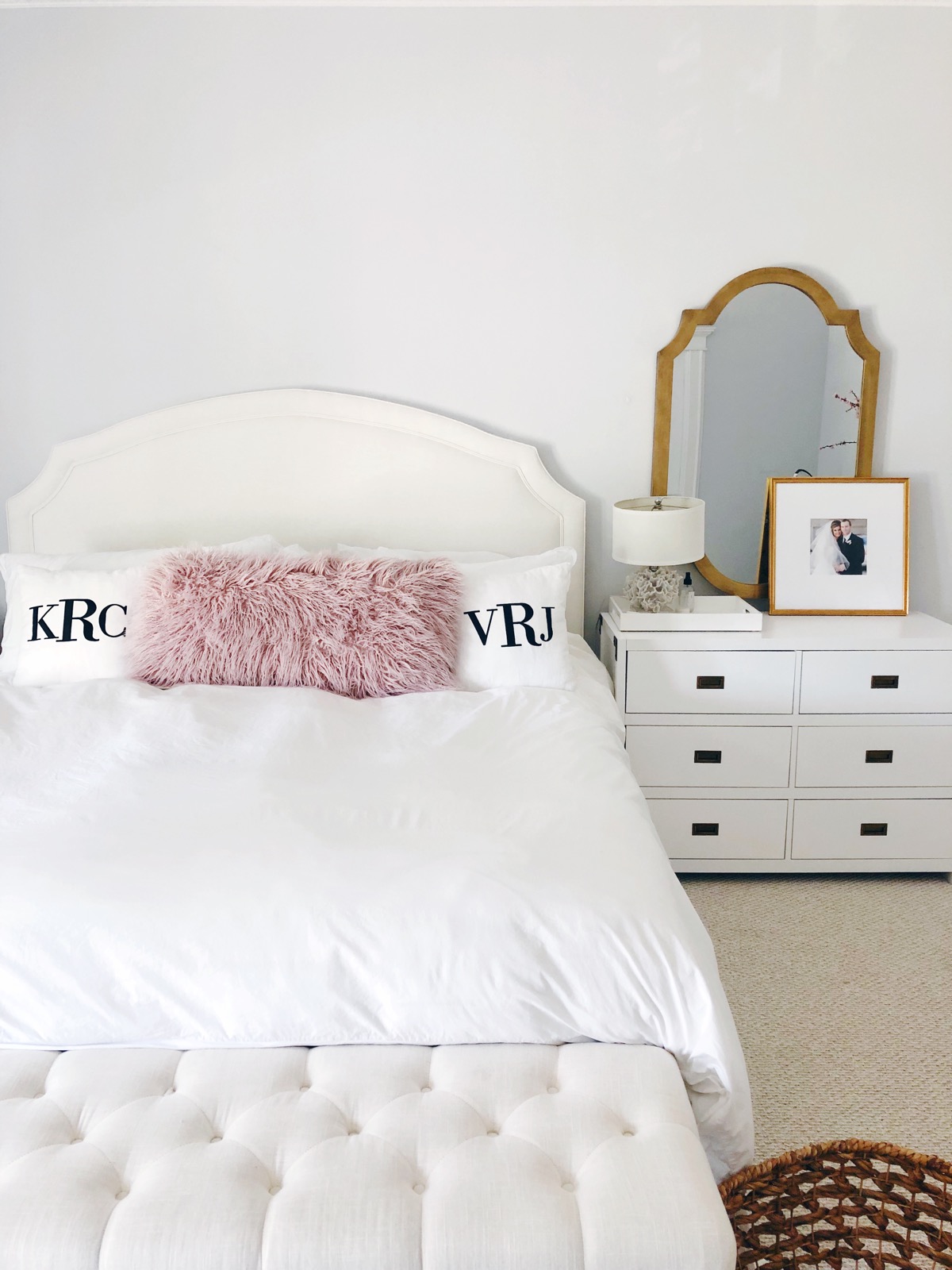 MASTER BATH SHIPLAP WALL
I've seen way too many gorgeous bathrooms with clean, white shiplap that I finally got a woodworker out to our home to quote us to do the main wall of our bathroom – inspiration photos here and here.
As you can see this isn't the farmhouse style shiplap with distressing. It's very clean and modern and I hope we will be able to move forward with doing an accent wall in our master bath especially since it will be visible from our bedroom as you're looking into the bathroom.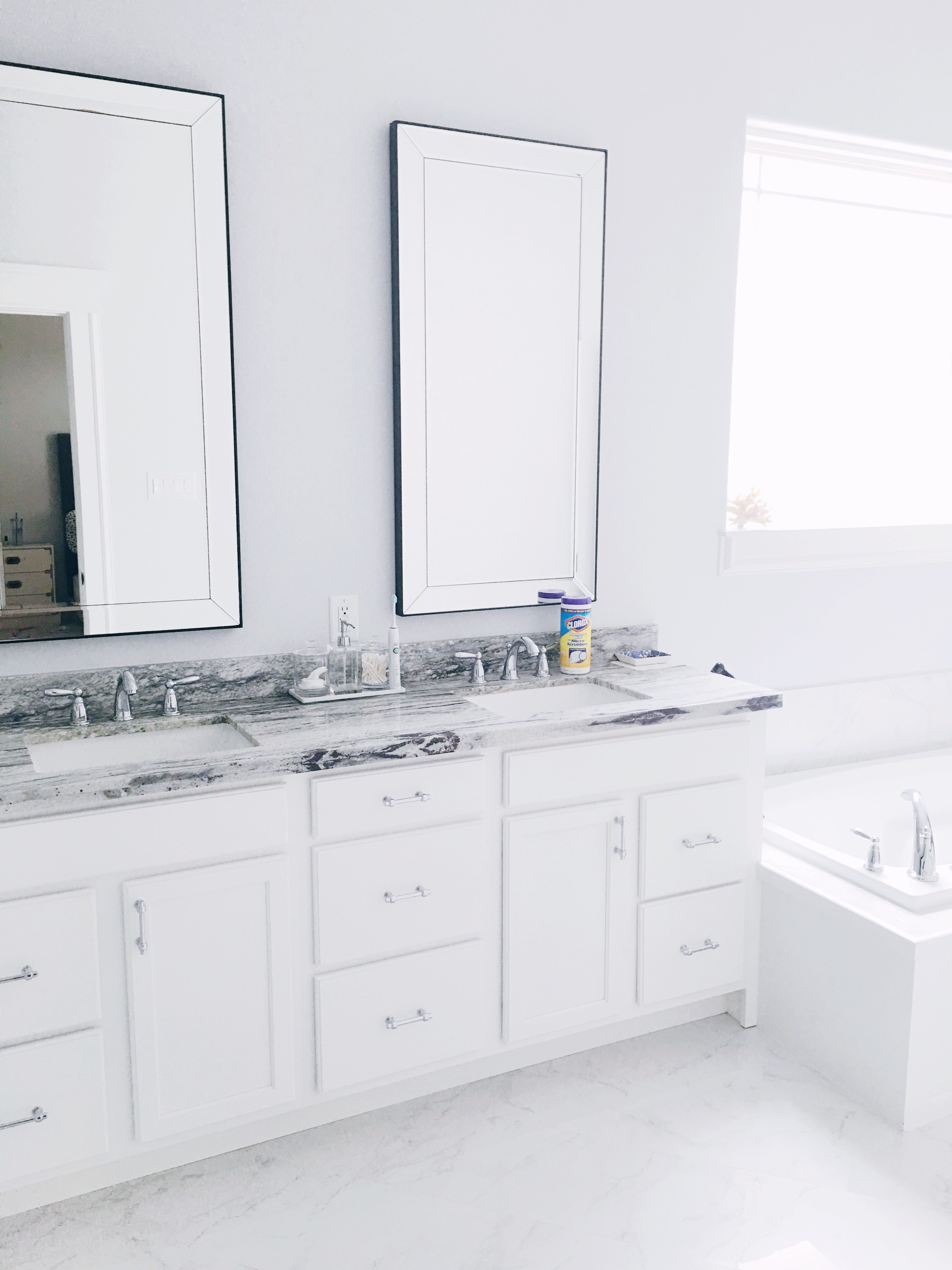 BUYERS, SELLERS AND HOME FIXTURES
Now that I'm on the subject – how do you guys feel about selling homes and taking fixtures with you? For example, I don't want to leave my mirrors that hang above our night stands, my Serena & Lilly mirror in the kids bathroom or the curtains we purchased for the kids rooms – would this turn you off as a buyer, or would you just buy new mirrors?
We were able to take some curtains and lighting from our last home with us, but the buyers did ask that we leave the IKEA curtains, which we were happy to do. But a pricey chandelier or mirror? I'm not really down with that. I think because we picked all of the mirrors and lighting for our home and didn't use any of the builder options, I'm more attached to them. This is so silly, but I think I'm going to be "that buyer" that puts the "mirror/light not included" contingency in the listing.
I realize tastes and home styles changes over time, but there are some classic pieces I would want to use in other spaces were we to move. Sigh. What are your thoughts – from both the buyer and seller's perspective? To me, there's a big difference between a builder-grade mirror that is literally glued to the wall and doesn't have any framing to a mirror that was purchased by the owners to fit their style. Would you expect those items to be included in the sale of the home? What about a $2,000 light fixture that did not come with the home and was purchased by the owners? I'm curious to hear your thoughts!