Keeping a clean and clutter-free home is important to me. Though I don't always accomplish this goal, I have a lot of tools and strategies that help us stay on top of things (caveat: most of the time). Since Kevin and I both work full time outside of the home, have two children, run this blog and have a slew of other home-related responsibilities, we try to be thoughtful about the ways we can make everyday tasks quicker and easier for our family so we're not spending the limited time we have consumed with home upkeep. Today I'm specifically talking about the products and appliances that make our busy family life and home maintenance tasks more manageable.
DYSON V8 STICK VACUUM
Though we've only had it for about a month, it's our most-used vacuum, by far. Though we love our Shark vacuum for deeper cleans and carpets, the Dyson hangs out in our pantry (it comes with a wall mount charging unit) and is ready to go whenever we need it (which is often). It's lightweight, easy to use and the best tool to keep our dark hardwoods looking great in a pinch! It seriously takes less than two minutes to vacuum under our bar stools and our general kitchen/living area. It's pricey, but I got a refurbished model which was a little less expensive. You can buy our exact model here, here and here.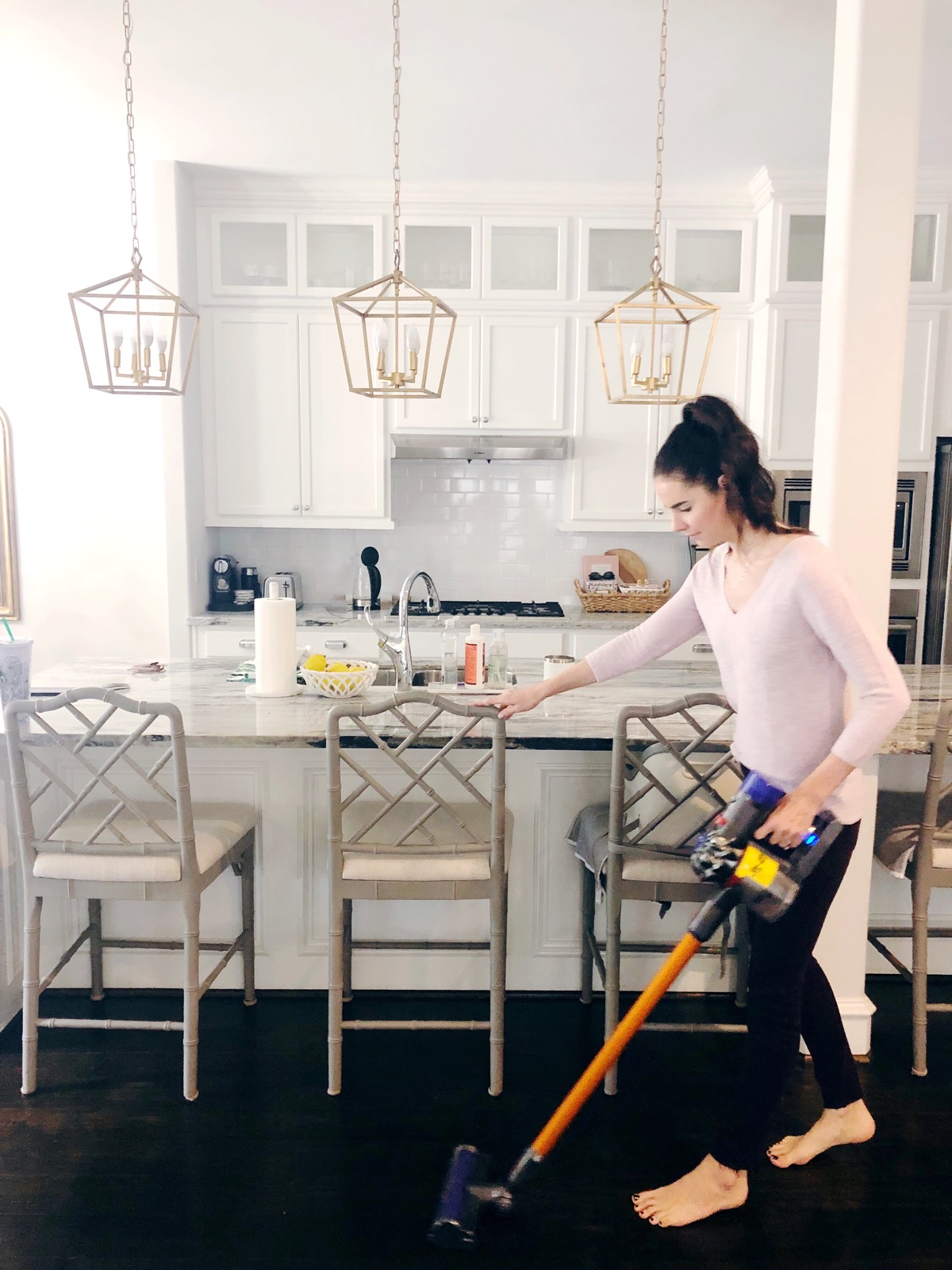 counter stools  |  brass light fixtures 
SAMSUNG FlexWash and FlexDry
* this washer and dryer system was gifted to us by Samsung, but this is not a sponsored post – I am a Samsung partner and am brining you this content to share our experience with the product and am not being compensated for this post.

We've had our Samsung washer and dryer for several months now and they're a game-changer for our family. So many of y'all have asked for an update about them so I thought I'd break down the features that make them such a great fit for our family. The FlexWash has both a front loading and top loading washer — yes, that's right! You can do a full load of laundry in the front opening washer and simultaneously run a small load on top. I can't tell you how many times I've had some clothes come back from daycare stained but didn't have a full load of laundry to do — the smaller top-loading washer makes it easy to do smaller loads quickly. I also like to use the top loader for more delicate items. Our Samsung washer/dryer has a lot of settings which I love because I truly do use different ones for every load — whether it's towels, bedding, delicates or just everyday clothes, there are special wash and dry settings for several different categories. There's also a "sanitize" cycle which I rarely use, but it's nice to have it as an option (and if you cloth diaper, it would be an essential, I imagine).
I love how large the washer is (5.0 cu. ft.) — we're able to do much larger loads now than in our old washer, which also saves us a lot of time. Plus, it has a speed wash cycle that's just 30 minutes (and it doesn't compromise how clean your laundry gets).
The FlexDry dryer is also both front and top loading, with the bottom dryer being the regular dryer and the top items such as flat-dry delicates and sweaters. I tend to hang dry most of my clothes, but I love this option for items I would rather dry because they wrinkle, but not have in the regular dryer. The bottom dryer does have a steam option for removing wrinkles and static also.
We're thrilled with our FlexWash and FlexDry so far and it's made doing laundry so much more enjoyable (though, if someone could invent something that also puts it all away, that'd be great!) Now that we have front-loaders, the kids have been helping me with laundry which has been a nice way to get them into the mindset of every family member contributing to chores. The kids will help sort the laundry by color and then put things into the washer and help take clean clothes out and put them in the dryer. We're also working on having them help put their own laundry away. I think Lincoln loves it more and sees it as a game…hopefully that will last awhile longer, ha!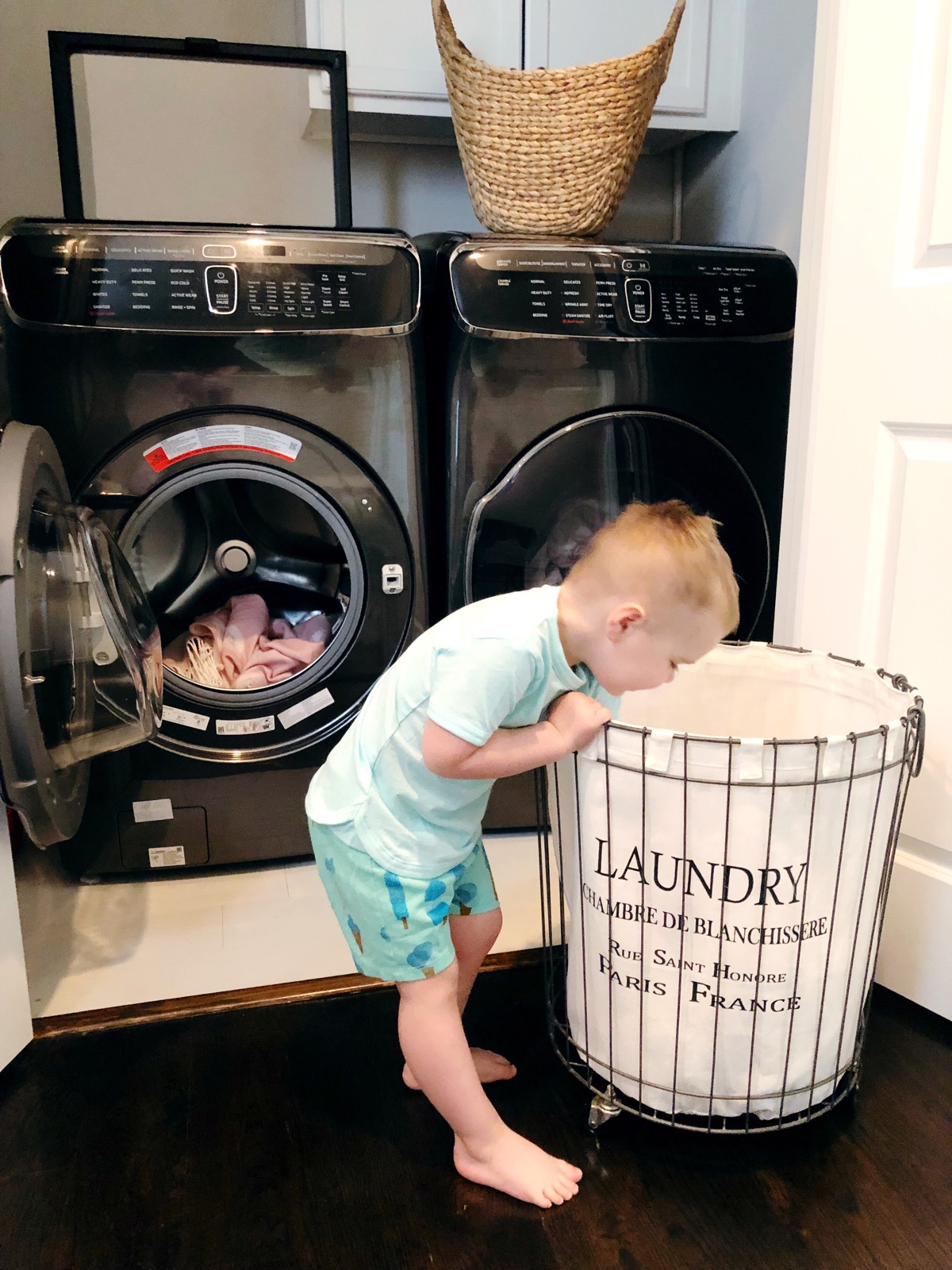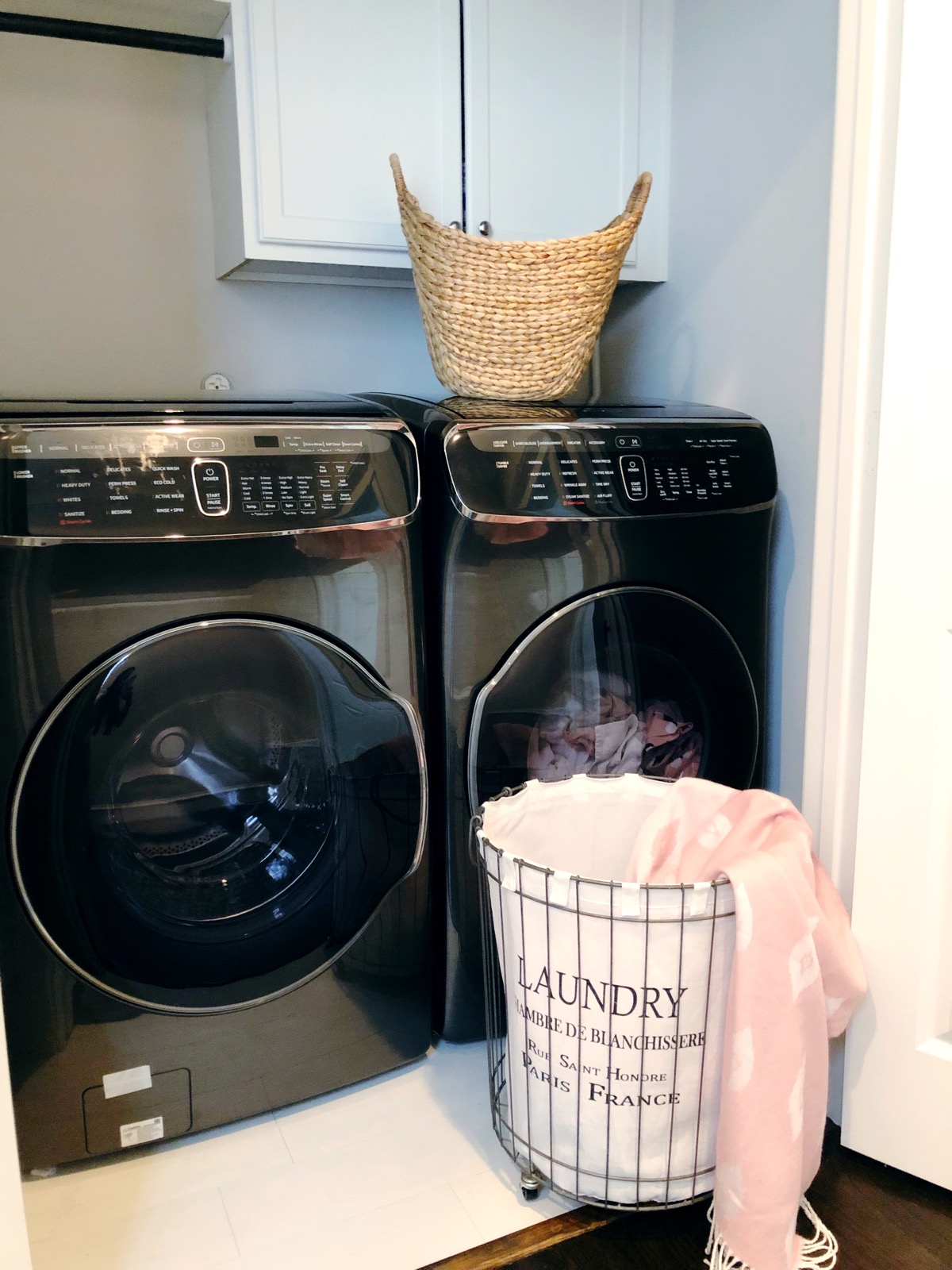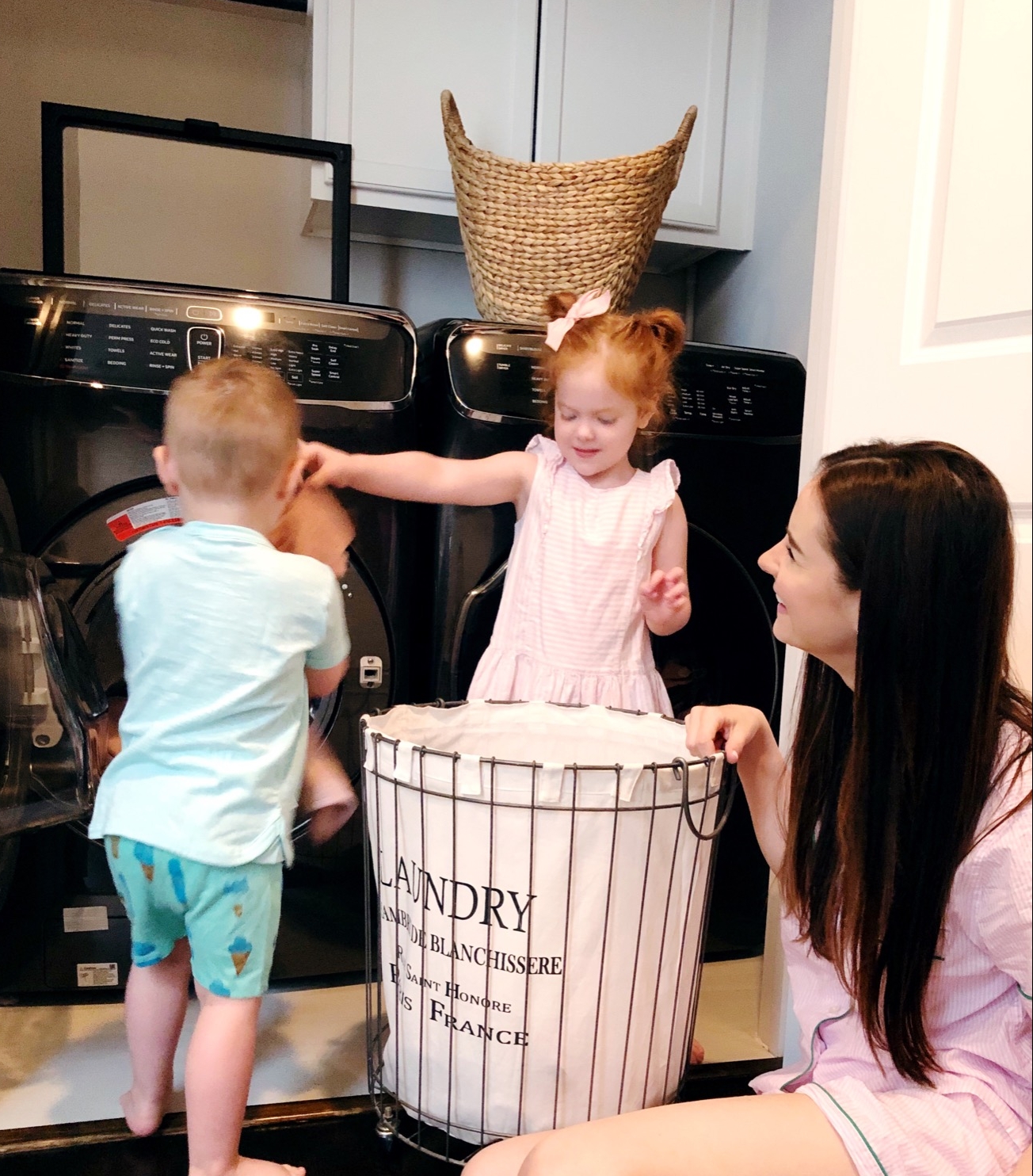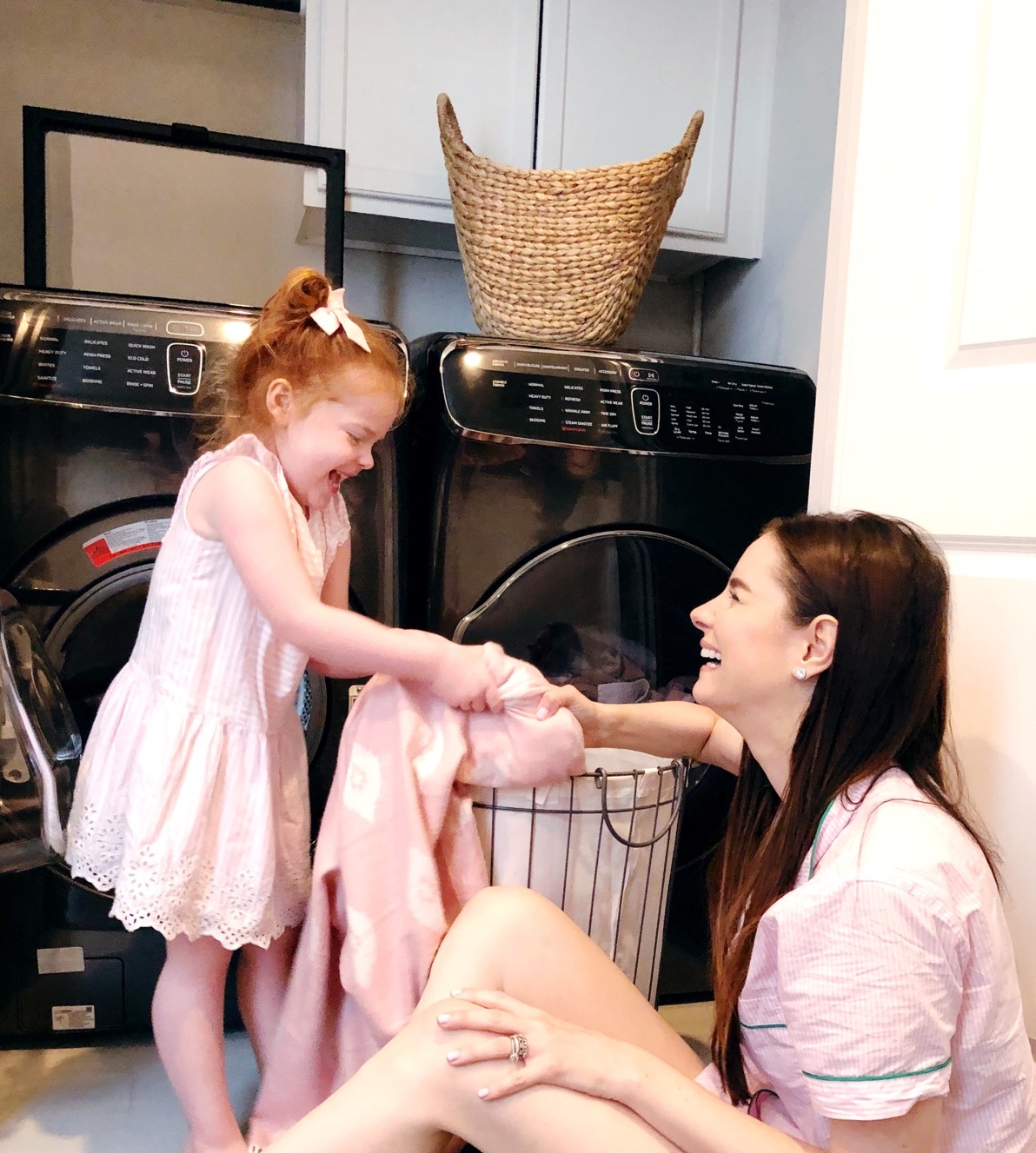 BASKETS, EVERYWHERE
Speaking of putting laundry away, we recently started a basket system where I use these baskets to divide up laundry by person and then I place that basket outside of their room. I used to use carry a load of clean clothes and dump them onto the floor to be put away (if I couldn't put them away in that moment) – but that felt chaotic and I also often do laundry Friday nights, so I leave the basket outside of the children's rooms and can put it away the next day. It's such an easy way to organize and sort your laundry and visually, it's more pleasing than random piles everywhere.
My husband always jokes that we're just one decorative basket or pillow away from "irreconcilable differences," and though he may be right about the pillows, storage baskets are a Godsend for a busy family. Not only are they great for storing away items like kids toys and books, we also use them on the landing of our stairs to collect laundry that needs to be brought up (like our white kitchen towels and the kid's pajamas – we change them into their school clothes after breakfast). If you have a two-story home, consider keeping a transport basket at the top and bottom of your steps to bring items from downstairs up, or vice-versa. Other baskets I love: here, here, here and here.
MR. CLEAN MAGIC ERASER
Do you ever see a mark on the wall or something that looks hard to clean? Mr. Clean Magic Eraser is the answer! I primarily use it to remove scuff marks from walls, but truly, it can be used to clean almost any stain on many surfaces. I usually buy the multi-pack to ensure we are Magic Eraser ready at all times.
SHARK VACUUM
When I purchased our Dyson, I got a bunch of DMs asking why I got it if we have the Shark? They're for two totally different purposes – the Dyson stays in our pantry for quick kitchen cleanups (hardwoods) and the Shark stays on our second floor for our bedrooms and playroom, which have carpet.
We have light Berber carpet in all of our bedrooms and our playroom, so we needed a vacuum with great suction power. We previously owned two other vacuums that stopped working  a year or two after purchasing them (and to be honest, the results were never super impressive). So one day, I asked in a Facebook moms group about vacuums, and many people recommended I try this Shark vacuum.
I read the reviews on amazon (there are 8,000 + and most are very positive), added it to my cart and waited two days (thank you, Prime shipping!) Then, it arrived. I was abnormally excited to try it out and feverishly picked up our playroom so I could vacuum our carpet.
What followed was both horrifying and satisfying to the core. Our carpets have never looked better – they were cleaner and brighter and totally refreshed from one vacuuming session. I was thoroughly impressed, while simultaneously disgusted at what I saw in the vacuum's canister. It contained so much grey dust and filth that I questioned how our other vacuums could have left so much behind (I'm still horrified at the amount our Roomba picks up, also).
How could our carpets have been holding so much? We vacuumed pretty regularly up there and yet, it looked like we hadn't vacuumed in a year. This, my friends, is the suction power of the Shark. It literally got everything our other vacuum missed.
I remember gazing at the cartridge in disbelief…but I was also really happy we finally found a vacuum cleaner that WORKS and didn't cost $600. If you follow my Instagram stories, you saw the stories I shared the first time I used the Shark. Many of you own it as well and your reassuring DMs that it was normal to be "totally horrified" at what came out of your carpets the first time you used it seriously warmed my soul.
The vacuum has a removable canister which makes it easier to do stairs and other small areas. It also has a microfiber attachment for hardwoods, but I usually just use the regular vacuum. This vacuum is great for hardwoods and tile, but it really excels with carpet and rugs. That's where you'll be in awe of what is happening right before your eyes. The Shark has suction power like you wouldn't believe, and it's really getting that embedded dirt and dust you don't even know is there.
Bottom line: The Shark is an excellent vacuum cleaner and for just $200, it's a steal and a great investment to keep your floors clean. I couldn't be any happier with this purchase – money well spent!
ROOMBA
I know, I know. I mean, how many vacuums does one really need? But, my friends, we love our Roomba and aren't afraid to shout it from the mountains. I will say that our Roomba has gotten less use since we got the Dyson, however, there's nothing more satisfying than knowing that at any moment you can start the Roomba and it will clean an entire space all by itself, no supervision required. You can even set it to go at a certain time. You'll be amazed at all it picks up. It can clean while you work, while you sleep, while you watch TV. Any time, really. We've had our Roomba for several years now and though it's not something we use daily, we don't regret it – it's a nice "in between" cleaning tool and with dark hardwoods like ours, it's well worth it.
WHITE KITCHEN TOWELS
If you read my post about how we have white in our home with kids, then you're familiar with my affinity for white hand towels. Buy them in bulk, my friends. The white hand towel is your ticket to freedom. How do we use them? Let me count the ways. We use them as actual hand towels in bathrooms, we use them as kitchen towels, to clean, wipe up messes and throw them over the kid's barstools so the fabric isn't stained if they drop or spill something. The towels are easy to wash and sanitize in the laundry (and bleach) and I find them to be great for so many different tasks, more so than paper towel (they may be more environmentally friendly too – though we still use both). We keep a ton of white hand towels under our kitchen sink so they're always ready for the next task or mess. Just this past weekend, we had a large tub of spring water get a leak and it flooded the floor of our pantry – our white towels sopped up that mess—fast!
What are products, tools or tech you use at home that help make home maintenance and family life more manageable?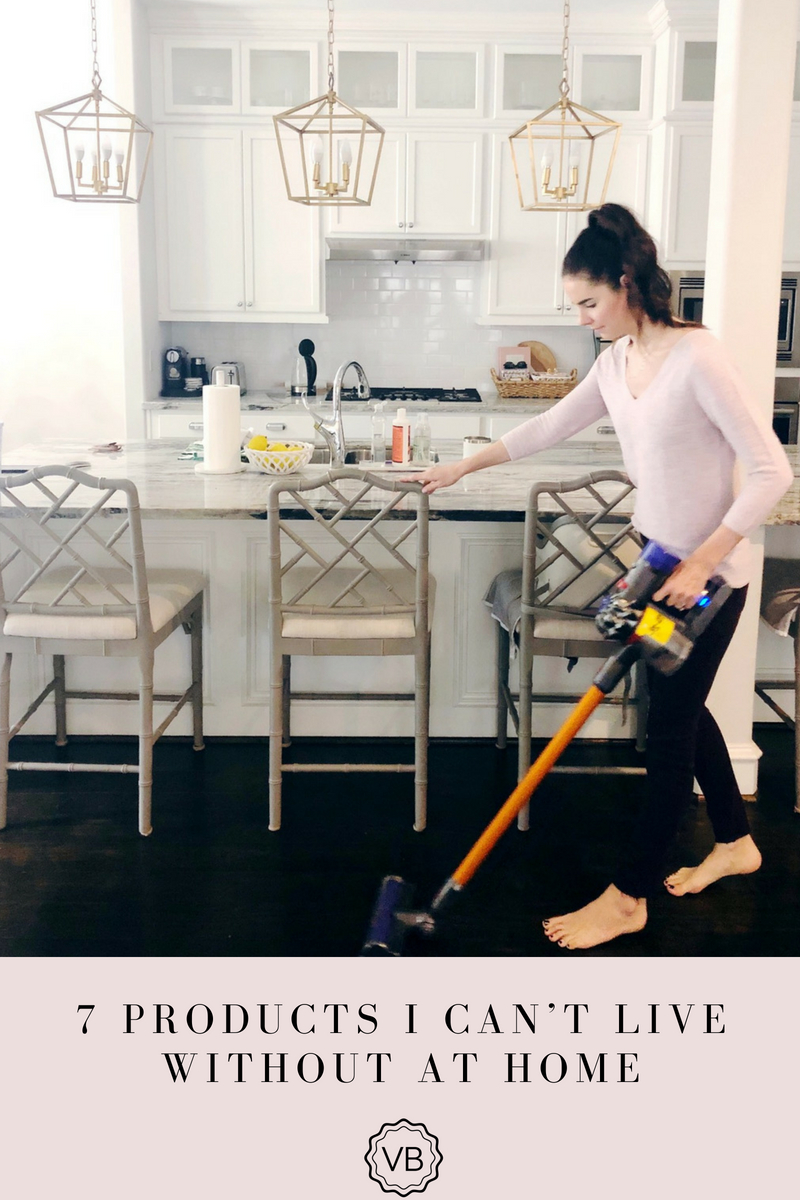 Shop the Post