Sephora's annual sale is the best time of year to stock up on the essentials and splurge on skin care and hair tools (you can get 20, 15 or 10% off based on your status). I always use this sale as an opportunity to purchase pricier skin care items, holy grail makeup products I would buy anyway and sometimes a few new items I want to try out.
This post will focus on products I love, recommend and use on a regular basis. I only want to share the absolute best-of-the-best, tried and true products that I use daily or weekly plus a couple of new ones I'd like to try. I'd love to hear your recommendations too!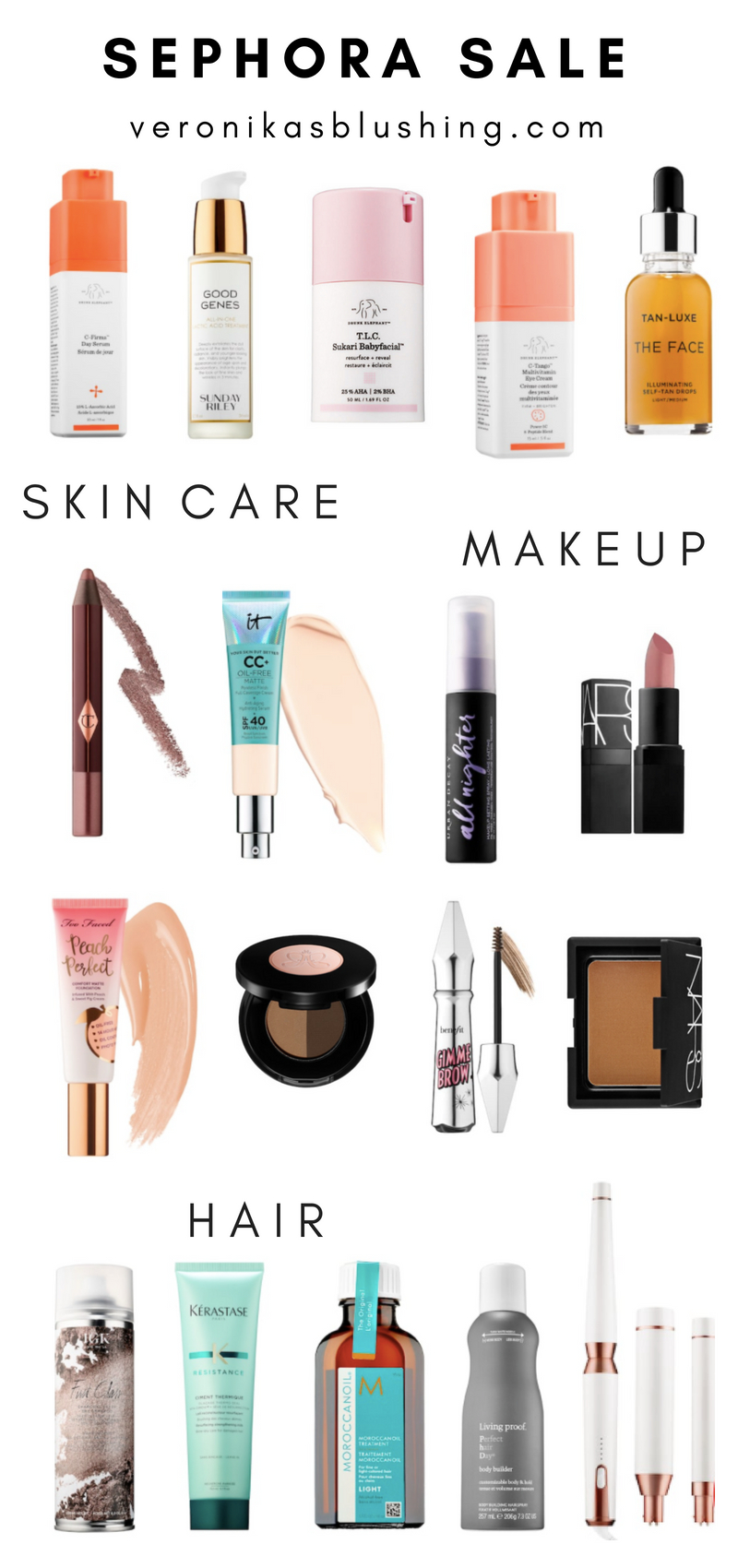 ---
S K I N  C A R E
Drunk Elephant's vitmin C serum
The best vitamin C serum and some say it's comparable to Skinceuticals, which is much pricier. It's still a splurge, but I promise adding a quality vitamin C serum to your skin care regimen will make a huge difference in your skin's tone, brightness and overall appearance. I apply mine every morning, before makeup.
Sunday Riley's Good Genes
This lactic acid based serum makes skin look radiant and glowing. I use this as part of my night time skin care routine and adore it. I'm purchasing another bottle since I finished my last one (I'm using a mandelic acid right now that's also great!) I also adore Drunk Elephant's Framboos – I used this while we were on vacation since I have the travel size and my skin loves it. I felt like my skin looked so great while we were at the beach.
Drunk Elephant's T.L.C. Sukari Baby Facial treatment mask
If you buy one skin care item from this post, have it be this. Baby Facial is like a gateway drug to skin care. I use the mask once a week and it sloughs off dead skin and reveals smooth, even-toned, baby soft skin after just one use. You can feel it tingle as soon as you apply it and when you wash it off 20 minutes later, your skin looks and feels incredible. Well worth the splurge and you don't have to use a lot for one application.
Drunk Elephant's C-Tango eye cream
I've been using this for several months now and it's the only eye cream I've truly been consistent with. I enjoy the texture and I do feel it helps brighten the under eye area.
Drunk Elephant also has this $100 starter kit that allows you to try several of its best-sellers! An amazing value before you invest in full sized products.
Tan Luxe the Face illuminating oil
I bought this a couple of months ago and it's genuis. It's a facial self tanner you can add to your skin care regimen and does not interfere with serums. You wake up with a glowing tan, no streaks and no weird color. It comes with a dropper and you can add it right into your serum. Love.
VIEW MY UPDATED SKIN CARE ROUTINE POST + REVIEWS ON THESE PRODUCTS, HERE.
---
M A K E U P
Charlotte Tilbury color chamelon eye pencil
This is my most recommended makeup product from this entire post – my favorite colors are dark pearl, golden quartz and amber haze but they're all so beautiful. I use this to line my lower lash line every single day and it's the perfect liner for that area. The pencils have a slight metallic shimmer to them and are created to enhance your eye color. They're just stunning and 100 percent worth it.
urban decay all nighter setting spray (mini)
I don't use this daily, but makeup setting spray is so crucial when you need your makeup to last and to prevent meltdown in the summer heat. I prefer the mini size because you don't have to use a lot and it's easier for travel.
IT Cosmetics cc cream (new matte formula)
I love the CC cream as well as the bye bye foundation and am intrigued to try the new matte formula. Another foundation I'm eager to try but need to match myself in store is the Peach perfect matte foundation.
Benefit gimme' brow brow gel
This brow gel is like what $90 sweatpants are for your body, for your brows. It's the lazy girl way to get better looking brows. Easy to use and just the right amount of definition – but no shaping of sculpting involved. Just swipe over brows to fill in areas that need it.
NARS Lipstick in the color "crusing"
The best "your lips, but better" shade
NARS bronzer in "laguna"
My holy grail  bronzer that I've been using for a decade
Anastasia brow powder (my color is "brunette")
I use this most days – it's such a great powder set and I love that it includes two colors. I use the darker color on my outer to mid brow and the lighter on my inner brow area to fill in gaps. Makes brows look fuller and more defined.
Laura Mercier translucent loose setting powder
If you need an excellent setting powder, I love this one. It's NOT cheap, but I love the finish it gives to the skin and have been using it for a couple of years now.
---
H A I R
IGK charcoal dry shampoo
I've been using this formula for several months now and love it. It's quite powerful and really cleans the hair since it's a charcoal formula. If you like Living Proof's dry shampoo, you'll love this too.
Kerastase blow dry primer for damaged hair
This is one of the best hair products I've ever used and I'm about to purchase another bottle.
Morrocanoil (light) treatment
Recommended by my colorist, Brigitte – she said it's a great hair oil that doesn't add weight to your hair.
Living Proof Perfect Hair Day body builder
This product is touted as a mix of full dry volume blast and hairspray which sounds like a winner to me. I plan to order this as soon as I finish my bottle of dry volume blast.
T3 whirl trio
This curling wand is everything and my fave hair tool, quite possibly ever. Creates the most perfect waves.