Prepare yourself for a mish-mash of things…this post is all over the place but I wanted to share my latest finds, purchases and some Instagram Q & As.
Every year when it gets cold, I realize I need to buy more pants, leggings and long-sleeved tops for the kids – they're getting so tall! I ordered a ton of stuff from H&M – I'll share the full list below:


I need some new jeans and I'm planning to order another pair of my holy grail denim – AG. My favorite is this style. I also still love colored denim and would love a red pair.
I ordered these PJs for the holidays and I have a feeling they'll go fast. More fun PJs here!
I finally ordered a new electric toothbrush and ended up going with this Oral-B. I'm waiting for it to arrive and can't wait to have a functioning toothbrush again. By the way – once you go electric, you can never go back to manual. It's just not on the same level. Highly recommend.
My holy grail vacuum cleaner is on sale for $119, down from $249.99 – read my full review here.
Beyond Yoga has the BEST matching legging and sports bra set with metallic speckles.
BB Dakota has the cutest sweaters in stock right now – love this one and this one.
Love home decor? I ordered this book and it's lovely. Also on my list – this, this, and this book. More books with style here.
By far my top-selling tops recently are this one (so great for the office) and this one (perfect for casual wear and weekends!) Both fit TTS! More wear-to-work options here and more tops by one of my favorite brands that I buy every season, here. For casual options that also work for the office, I love Madewell tops.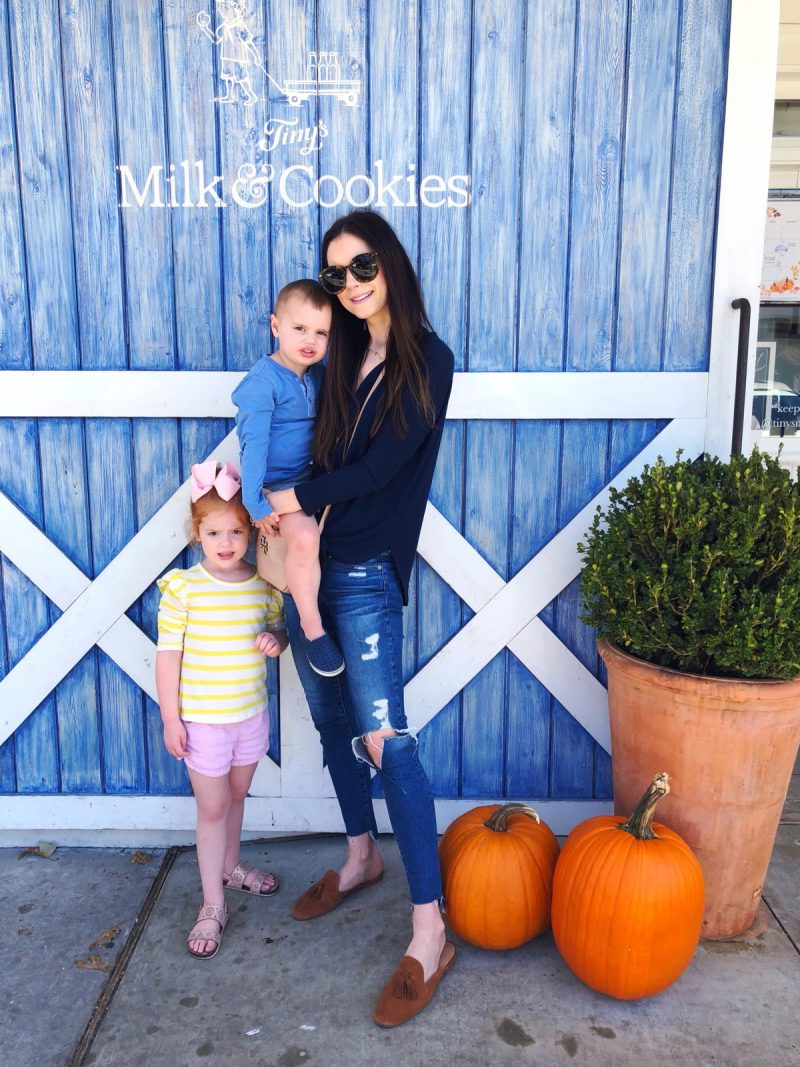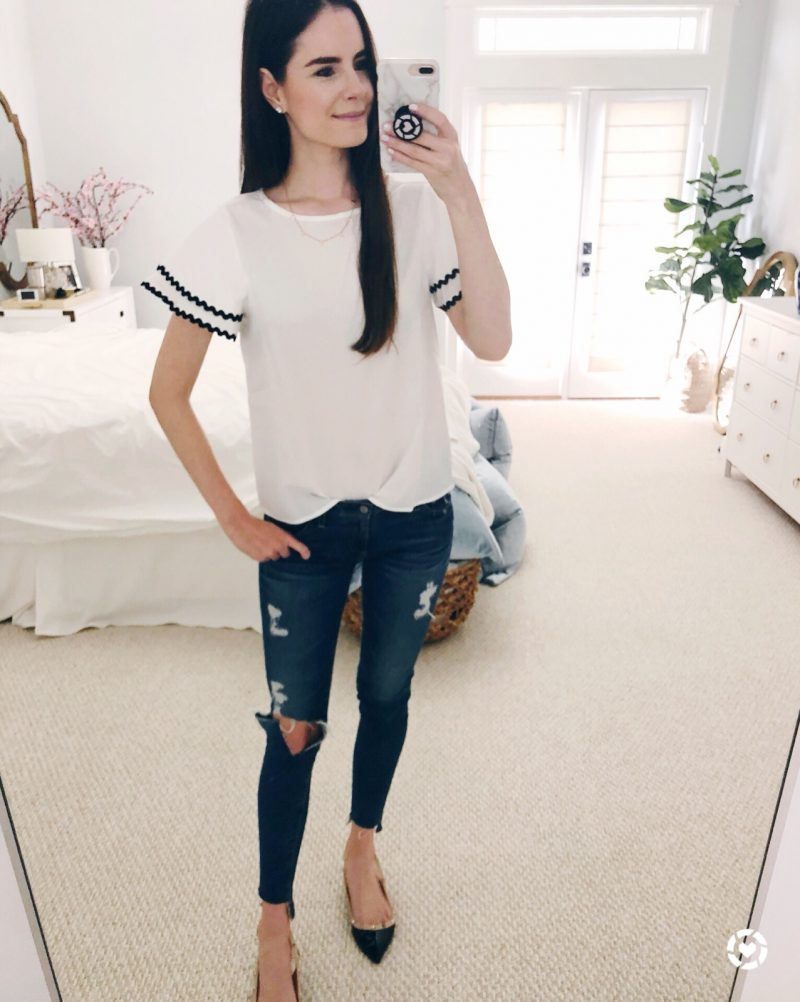 Have any of y'all tried APL running shoes? I'd love your feedback if you have – I want to know if they're worth it! More here.
I think I need this mini tassel wallet in my life (on sale here, too!)
I love leopard print – this tee was splurge but fits so well. I also found a dupe for under $15 here.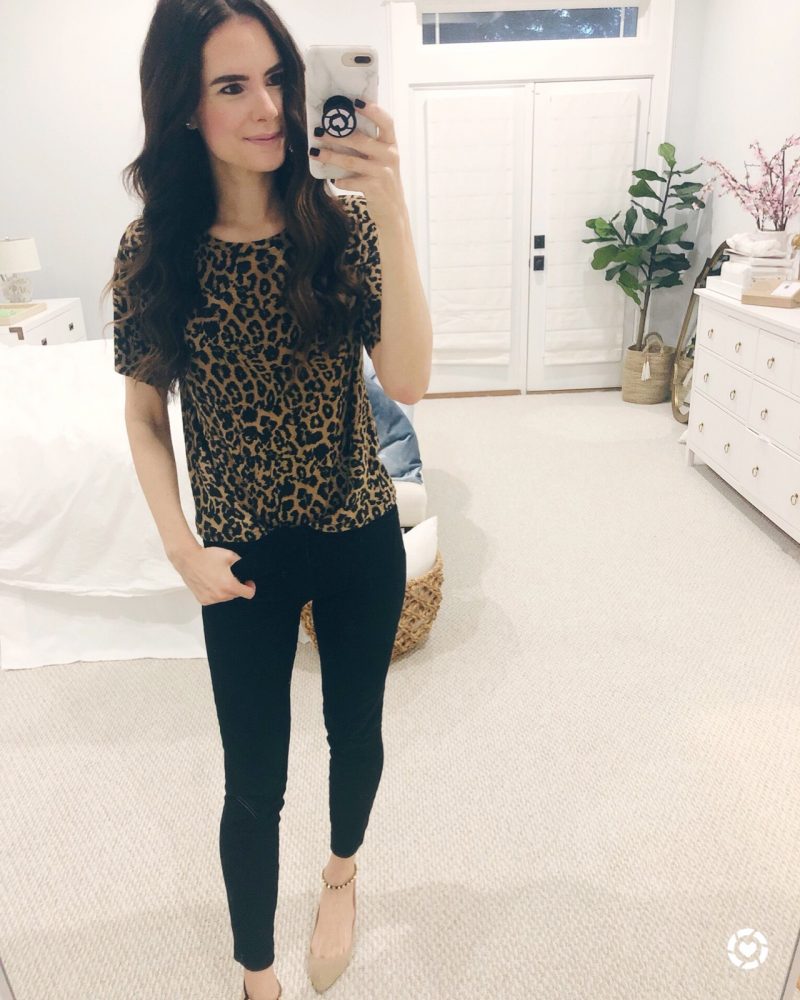 My Tory Burch flats  continue to make me swoon – but I also found some inexpensive options here and I think I need to buy these under $20 mules ASAP. Love this dark green color. More bow mule options here.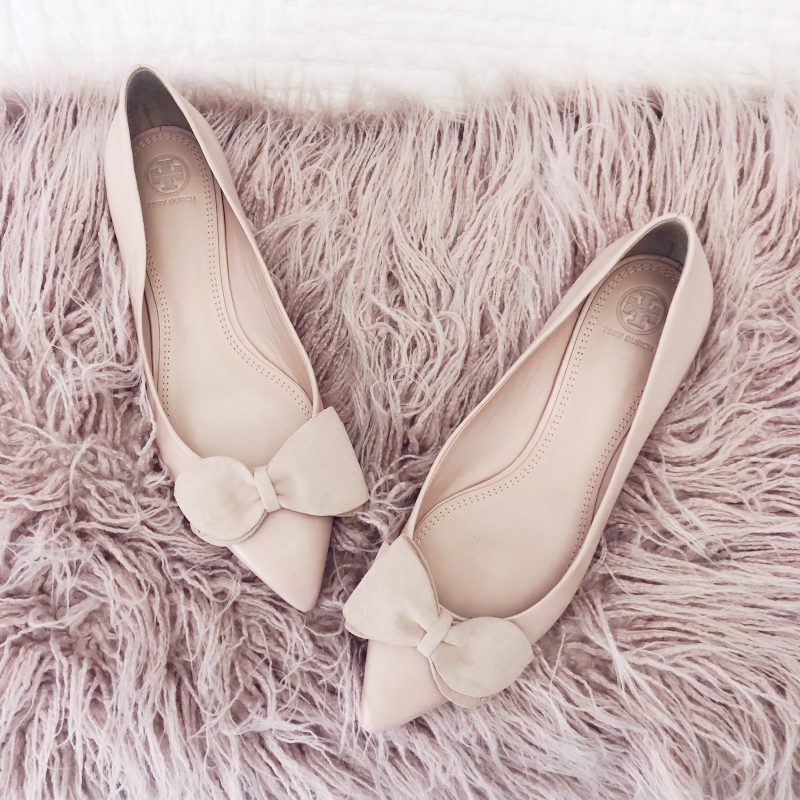 Q & A STARTS HERE
Where do you like to shop for boy's clothing?
I love this question! Most of Lincoln's clothes are from Zara kids, Gap, Old Navy and H&M.
Do you ever consider chopping your long (gorgeous) hair?
I cut my hair when I was pregnant with Lincoln – it's the most I've cut it in a decade. While I don't regret it (hair grows back) I prefer how I look with longer (and darker) hair. I love shorter hair on others, it just doesn't feel like "me." I guess you can say I'm a creature of habit and prefer to change my clothing and accessories rather than my hair and makeup. I'm going for a trim and color this weekend 🙂
What happened with your neck and shoulder pain? Was it from using your cell phone? I think I have the same issue.
PT helped a bit with my neck and shoulders and mine was primarily from two years combined of pumping breast milk (I would hunch over and look down at my phone). Things I do now to combat the issue – I raised my computer monitor at work to be above eye level, I try to hold my phone at eye level or prop it on top of a pillow so I don't look down as far and I try to be more aware of my posture. My PT said this is quite a common problem now with how much we are using computers, laptops and phones.
What are the top 3 places you shop for yourself that are affordable (less than $100 mostly)?
LOFT, Old Navy and Nordstrom! I also love J.Crew and buy everything for 40% off – in fact, I wait for sales from nearly every retailer I shop.
I'd love to know how you made the change in your mindset to start eating healthy?
I wanted to feel better. I had such low energy, was irritable, bloated and felt the need to constantly eat sweets and carbs – the cravings were so strong. I didn't want to feel that way anymore and at 35, I knew if I didn't do it now, I never would.
I also remember feeling really shocked when I weighed myself one day and wondered how I had gained over 20 lbs without realizing it (I'm tall and my clothes still fit, so it crept on a little less noticeably).
It was hard in the beginning, but I also started doing BBG when I was eating healthier and that was a huge motivator to me. I wanted to change my mindset from food being a reward and something to crave constantly to food being about nourishing your body and giving it energy. I still splurge once in awhile, eat dessert, etc. I'm just much more congnisant about eating real, whole foods, limited processed foods and much less sugar. Read more about my diet here.
What is your favorite thing to order at Local Foods?
My top menu items are the harvest salad (no cheese and no beets for me, but I add chicken), the crunchy chicken sandwich with posole soup and the truffled egg salad sandwich. I also love their taco salad (I sub the vegan taco meat for chicken) and the Asian chicken salad – but 90% of the time, I order the harvest salad. It has flash-fried Brussel spouts in it and they're killer.
Favorite date night restaurant in Houston?
Hands down, Coltivare. It's the best.
Have you been to Magnolia?
I haven't and I'd love to go! Definitely planning to take a trip in 2019! I'd also like to go to Roundtop in the spring.
What do you miss most about Canada?
Paid maternity leave, haha. But on a serious note, my friends and family. I wish all of our kids could play and grow up together. I also miss seasons. While I think Ontario's winter is way too long, I sometimes miss the fall leaves and a white Christmas.
Shop the Post