The Sephora sale is now live for VIBs and depending on your status, you can get 10-15% off of your order. I'm going to share what's in my cart and which tried-and-true products I love, recommend and re-purchase all the time. I use these sales to stock up on essentials like my favorite dry shampoo as well as spendier skincare products, like Drunk Elephant.
Rouge Members get 20% off purchases in store and online. Use code HEYROUGE
VIB Members get 15% off purchase in store and online. Use code HEYVIB
Insiders get 10% off. Use code HEYINSIDER
WHAT'S IN MY CART (new items I've never purchased):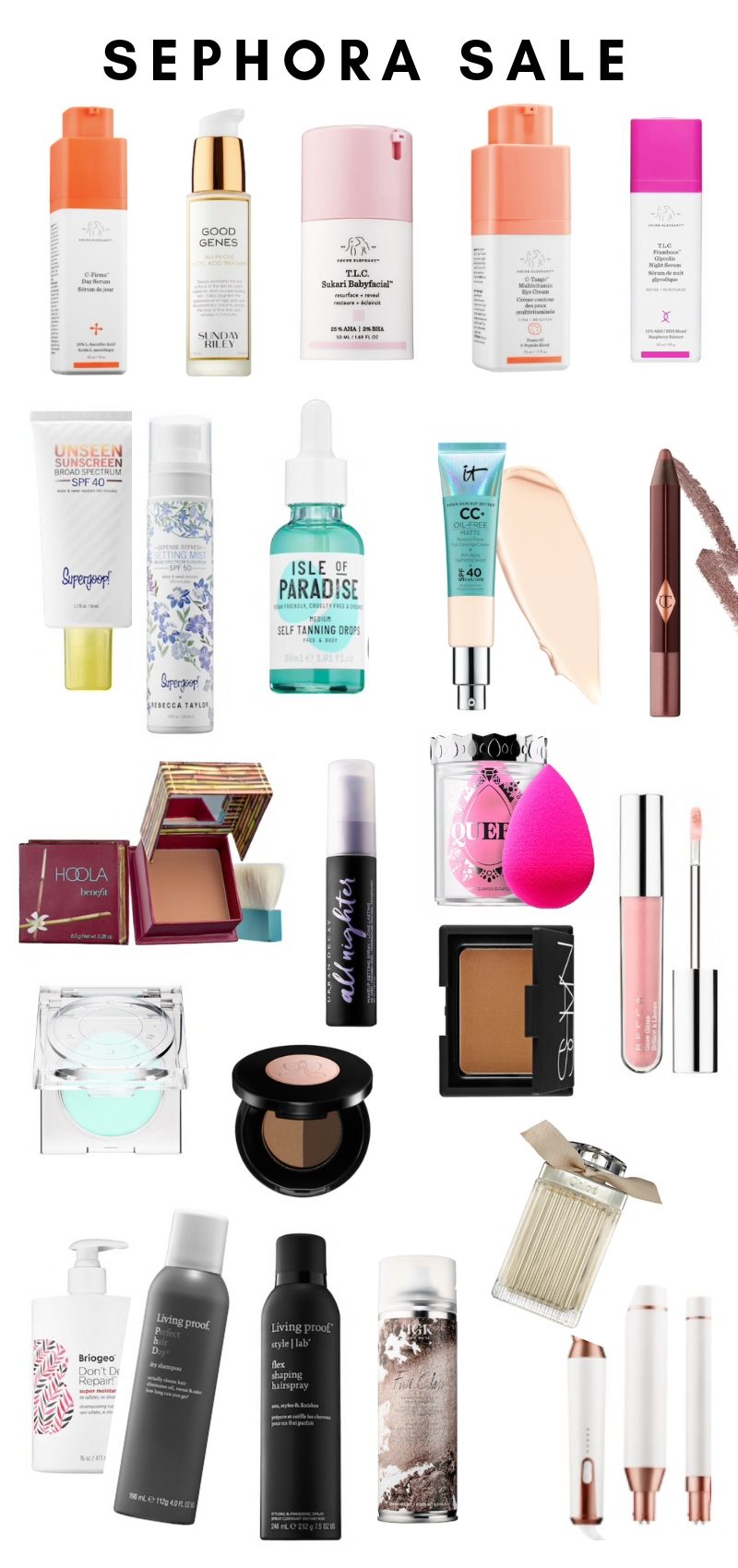 SKIN CARE RECOMMENDATIONS:
Drunk Elephant Framboos glycolic night serum – I use this every single night – I love the way it makes my skin look and feel – bright, smooth and helps with dark spots. I also recently got DE's retinol but am only using it once a week to start to build up my tolerance. Framboos and DE's retinol can be used together – just alternate the nights you use them.
Drunk Elephant C-tango eye cream – the only eye cream I've ever used with any consistency – I love the texture and that it has vitamin C to brighten the under eye area. I use this at night only.
Drunk Elephant TLC Sakuri Baby Facial mask – My favorite mask by far (I always follow it up with DE's marula oil). It makes your skin so soft, smooth, poreless and overall brightens and makes skin more even. I use this every Friday before bed, leave it on for 20 minutes and rinse away.
Sunday Riley Good Genes – If you'd like to try a lactic acid product (similar to what AHA/BHA does for your skin), I adore this one. Makes skin glow, gets rid of dead skin cells and gives your skin a bright appearance.
Supergoop – my sunscreen of choice – I love their unseen sunscreen for under makeup (it feels like a primer) and their setting mist which is great for SPF reapplication over makeup (or bare skin!) while you're out and about. I keep this in my beach/pool bag all summer long.
Isle of paradise tanning drops – I've been embracing my paleness for some time now, but I love a little color on my skin in the summer. I don't spend a lot of time in the actual sun except on weekends, so self-tanner is my only hope, haha! I love these tanning drops (they're so popular, they always sell out). I use the medium color. I also love St. Tropez self tanning mousse for the body.

MAKEUP RECOMMENDATIONS:
Charlotte Tilbury color chameleon eye pencil – I use this pencil every single day to line my lower lash line – I have three colors –dark pearl (my most used), amber haze and golden quartz. I need to re-order the dark pearl since I'm almost out! They do last a long time and really enhance your eye color!
It cosmetics CC cream – It Cosmetics makes incredible foundations – great coverage, doesn't feel heavy, blends well – I love and recommend their CC cream to anyone. I use their Your Skin But Better foundation, which is actually sold at Ulta, but the formulas are very similar.
NARS Laguna bronzer – My HG bronzer – have been using it for over a decade. Perfect color, applies well, lasts all day.
Benefit Hoola bronzer – I've used Benefit's hoola bronzer on and off for years and used it exclusively in college. It's a fantastic matte bronzer and a great option if you want a totally matte formula.
Becca anti fatigue under eye primer – I've been using this for about six weeks now – it helps your under eye concealer stay in place and not get into any fine lines. It also helps brighten – I love its smoothing effect.
Becca glow gloss in rose quartz – I LOVE this gloss – so subtle and makes lips look plumper! Feels amazing on the lips – I keep one at my desk at all times – has a subtle shimmer, but not glittery at all – just enhancing!
Anastasia brow powder duo – I use the medium brown and have been using it for over five years now. I like to apply it with this brush and use the darker color on the tail of the brow to the middle and then lighter color on the inside of the brow, blending out towards the middle. Stays on all day.
Urban Decay all nighter setting spray – a must-have for summer, keeps makeup on and fresh for like 18 hours. I also find that it helps keep makeup in place in the summer when it's humid – I use it nearly daily in the hotter months. This set comes with my favorite eyeshadow primer as well (I don't wear eyeshadow, but use it on my lids daily to even them out and keep them matte).

HAIR PRODOCT RECOMMENDATIONS:
Briogeo moisturizing shampoo – I've been using this for months and adore it – makes hair smooth but doesn't weigh it down whatsoever!
Living Proof dry shampoo– My holy grail dry shampoo – actually cleans hair. I buy this in bulk because I can't bear the thought of running out in a time of need, LOL. I also love IGK dry shampoo, which is charcoal based and really gives your hair a ton of volume!
T3 curling wand – I literally use this curling wand almost every day – it's truly the best and gives you perfect, beauty waves! SEE MY CURLING TUTORIAL HERE!
Living Proof hairspray (flex and humidity sheild) – these hairsprays are both fantastic – light, you can brush through them, etc!

OTHER PRODUCT RECOMMENDATIONS
Chloe perfume – I recently tried wearing perfume again and love this one – such a fresh and clean scent with a floral hint. It's truly one of the best perfumes I have ever smelled. Other ones I love: D&G light blue, Burberry Brit. Marc Jacobs Daisy and V&R Flowerbomb.
Beauty Blender – I use this to blend out my tarte shape tape – love the finish it gives!
It cosmetics heavenly skin foundation brush – I purchased this recently when my last brush fell apart and I love it! It's a little pricey, so I would only buy it during this sale. Really gives that airbrushes finish to the skin!
HAPPY SHOPPING!