Happy Friday! There are so many things I haven't updated y'all on here so I thought today's Friday Five would include some life updates that I've talked a little bit about on IG stories.
Chiropractor
I had never gone to a chiropractor in my life – in fact, growing up, I was very much taught that chiropractors were not good for your health, unfortunately.
Since having children, I've had a lot of lower back, shoulder and neck issues/pain. It all started when I was pumping around-the-clock, always hunched over and looking down at my phone (because really, what else is there to do while you're attached to a pump) and I did go to an Airrosti clinic after having Harper which helped a bit. Then I started to notice I'd have intense lower back pain when I had to stand for long periods of time (it doesn't happen often, but I remember one day in particular where I was in the OR for a three-hour surgery with a media crew and the pain was so intense it took my breath away).
You might remember I mentioned also doing about 8 weeks of physical therapy last year to deal with some ongoing neck pain/strain issues. I was actually feeling pretty good for a while. I was exercising regularly, staying consistent with P.volve, etc. I haven't worked out since August, initially because we have been so busy and I haven't been prioritizing my workouts, but then because I pulled something in my neck/shoulder and the pain was too ongoing to exercise through it.
I had a co-worker injure her back recently and she sang the praises of her chiropractor and encouraged me to go. She too had never been to a chiropractor before, but I later learned that a few people I know go to this same chiropractor and have all had good experiences.
My friend's husband who is a chiropractor in Toronto was also kind enough to call me and walk me through everything and answer my questions before my appointment, which was so reassuring. Like in any profession, there are good and not so good practitioners.
I've had three appointments so far, the first of which was a conversation about my issues, a full exam and my first set of adjustments. What I liked about Jeremie Pederson, is that he really takes the time to discuss your issue and then talks you through every adjustment he is going to do, makes sure the position is comfortable, etc. After the adjustment, you lay on a table and have a 10-minute session with one of those machines that helps relax your muscles with the little electrode leads on your skin (I don't recall the name).
I do feel it has helped me. I was given exercises to do at home to strengthen my upper body and core in specific ways to help eliminate some of the issues I'm having. I hope to get back to my P.volve workouts as well, but with the holidays around the corner, I'm not going to put too much pressure on myself. Traditionally, I do take a few months off this time of year every year, to focus my attention on this space and holiday content. Okay, that was long winded…sorry!
Sleeping on my back
I've been a stomach sleeper my whole life. To be honest, the only time I ever slept in another position was when I had my breast augmentation surgery and when I was pregnant and had to sleep on my side. I'm trying to train myself to sleep on my back to help better my neck issues and so far, it has actually been working. The first few nights, I surrounded myself with pillows to keep me from moving positions and also put a pillow under my knees for lower back support. Now, I sleep with a pillow under my knees, one for my head and one to hug/over my chest. I think it helps me feel the sensation of stomach sleeping because I'm used to my body being flat against the mattress. I'm hoping sleeping this way will, over time, help with my neck issues and/or not make them worse.
Invisalign
I've had my Invisalign aligners on for one week now and there have been so many ups and downs – but overall, it's been totally manageable. I plan to write a much more in-depth post and chronicle my experience on a regular basis, but I'll talk about the first week today.
I also want to clarify that I'm paying for the treatment myself (if it was sponsored, I'd indicate that, as I do with all content that is) and that I am able to get Invisalign for a flat fee through the orthodontics program at the hospital where I work. I was not aware of this employee benefit until some of the nurses I work with told me they had done Invisalign through the hospital – that's when I decided to really pursue it. I had been curious about it over the years, but the ease of being able to do all of my appointments at my place of work sealed the deal.
Thank goodness for my friend Amanda – she really prepared me for this journey and I'm so glad that she was totally transparent about how difficult this experience can be. Neither she nor I had ever had orthodontic treatment as children/teens, so it was the first time we've ever experienced what it's like to move teeth.
The first few days, I was taking Advil in regular doses, but if I'm being honest, it didn't really help. That's because my pain for the first few days was more of a nerve pain – like the intense sensitivity you feel when you whiten your teeth… 24/7. There is truly nothing you can do but power through it. Tooth pain is a unique kind of pain. I was not my best self over the weekend, it makes you kind of irritable.
On day 4, the sensitivity had faded (not completely, it's still ever-present, but at a much more tolerable "just barely there" level) but my two front teeth felt so sore/tender/like paper when biting into food. I still have that sensation when I eat, but it's also becoming more tolerable.
The biggest adjustment of course, aside from the pain, has been the lifestyle adjustment of taking the aligners out every time you eat, flossing, brushing and putting them back in. I am a very regimented eater (eat at the same times pretty much every single day, save for weekends) and I'm not a huge grazer or snacker, so this wasn't too hard for me.
What I miss most is drinking my lattes slowly or having a random cup of afternoon coffee on weekends. Because you're supposed to wear the aligners for 22 hours a day, I've really been trying to cram as much food as I can into the 20 minute time slots I give myself for my main meals. I've even started eating my typical afternoon snack right after lunch so I don't have to take the aligners out again to eat at 2 or 3. I've often heard that they call it "the Invisalign diet," because people eat less since they don't want to take their trays out and brush, but I have to stay consistent with my eating because I want to maintain my weight, not lose any.
So that's the first week, in a nutshell. I think every single tray may yield different levels of pain/discomfort. Mine are changed out every two weeks, and I was advised to change them out at night to sleep through the pain, so that's my plan! I will continue to update on this.
Things I purchased recently
I don't want this entire post to talk about my aches and pains, haha, so let's add something fun! Here's what I ordered this week:
You guys loved my Abercrombie & amazon fleece review and comparison – here it is on my blog if you missed it! The gist: the Abercrombie and amazon fleeces are nearly identical. The Abercrombie may be a smidgen (like 5%) softer. If you're going to wear it a ton (like you don't have an office job where you can't wear a fleece all day), the investment may be worth it. But if you're like me, and can only wear it on weekends, then the amazon is a great one to try!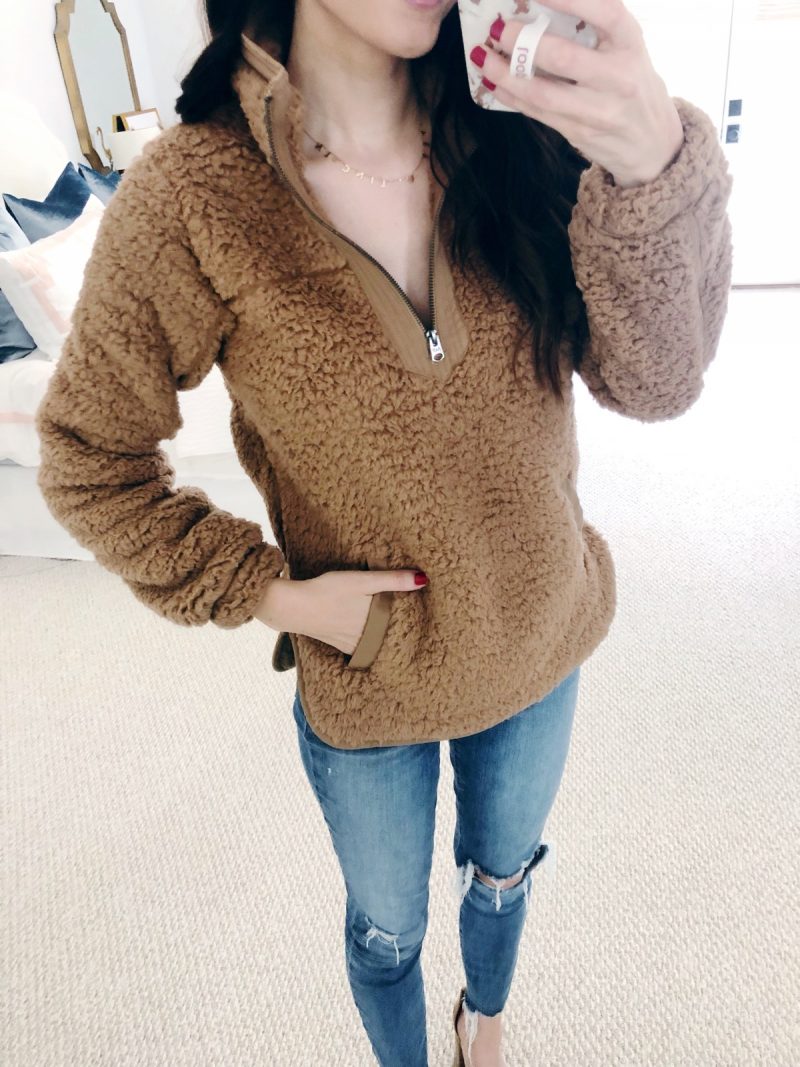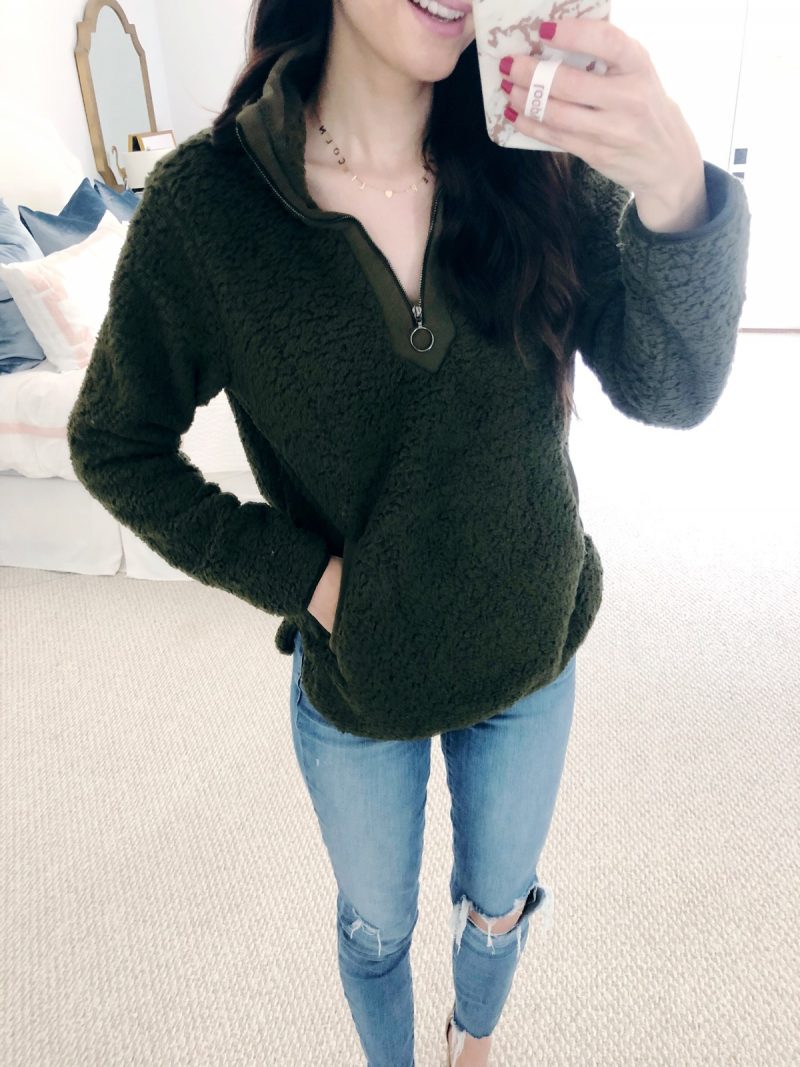 What I'm reading/listening to:
I started The Frist Mistake on Audible – so far, so good. Here is the book description: From Sandie Jones, author of the Reese Witherspoon x Hello Sunshine Book Club Pick and USA Today best seller, The Other Woman, comes an addictive new domestic suspense audiobook about a wife, her husband, and the woman who is supposedly her best friend. The Wife: For Alice, life has never been better. With her second husband, she has a successful business, two children, and a beautiful house. Her Husband: Alice knows that life could have been different if her first husband had lived, but Nathan's arrival into her life gave her back the happiness she craved. Her Best Friend: When Alice met Beth, her best friend, it was the icing on the cake. A friend without judgement, to celebrate with, commiserate with, Beth is the most trustworthy and loyal person that Alice knows. So when Nathan starts disappearing for stretches of time, Alice turns to Beth. But soon, she begins to wonder whether her trust has been misplaced…
Have a great weekend!