I started doing P.volve last summer and it was one of those workouts I truly got addicted to. It's low impact, focuses on the results I want to achieve (long and lean muscles) and was so easy to do at home via their streaming program. I wrote a full review of the program, here.
After returning from our family vacation in Seaside last summer, I took a few weeks off from exercising and then finally sought an evaluation for a neck problem I was having. I ended up in physical therapy for three days each week for a couple of months. During this time, I was focused on improving my neck issue and so I didn't exercise at all outside of PT.
Then, Q4 came around and I was so slammed with content creation during the busy holiday season that there was no way I could also fit in workouts since I was spending most nights after the kids were asleep working on my blog (this is the time I usually exercise).
If this all sounds like a crop of excuses – you're right! I know myself and I know that trying to do too many things at once is not good for my mental health. I took a much-needed break – but I knew it wouldn't be forever. It was time to get started again – I missed the way P.volve makes my body (and mind) feel.
The P.volve team and I connected when they saw my blog post (it's the #1 search result in Google for P.volve review, which is kind of cool!) and I'm a P.volve ambassador now! What does that mean? Just that I'm sharing P.volve with you the same way I was before (I'm not being paid, but P.volve sent me their new slant board and some accessories – I purchased the rest of the equipment myself when I first started the program). I also make a commission if you sign up for the program – which you can earn too when you refer a friend. I want to make it clear that I would share this content regardless of whether or not I made a commission. I know a ton of you signed up when I first shared my love of P.volve and I didn't make a cent.
The streaming costs $29.99 per month (way cheaper than most gyms) and it feels like you have a trainer with you! If you'd like to stream for $19.99 a month (this is the plan I signed up for) you can purchase a P-ball (it's totally worth it and one of my favorite pieces of P.volve equipment!)
This post will focus on what I love about P.volve and why I hope you'll join me – if you sign up via this blog post, you can try it for free for 15 days!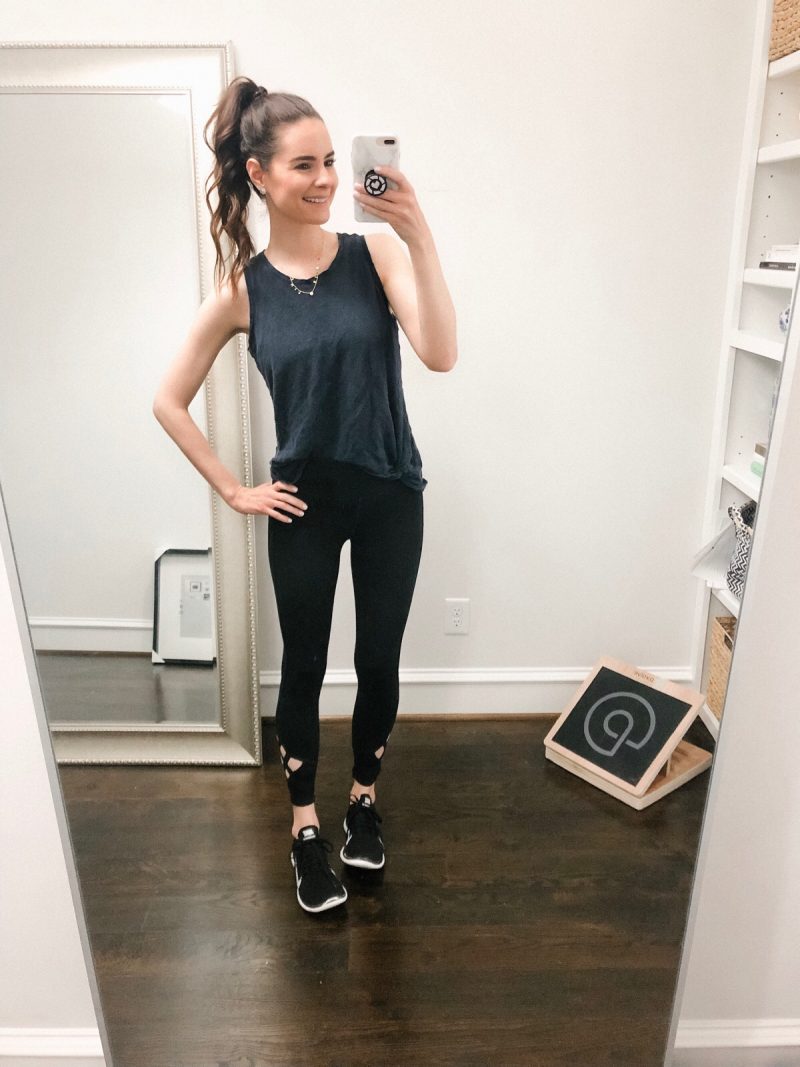 I took this photo after my third P.volve workout after re-starting the program!
THE COMMUNITY
Even when I took a break, I stayed active in P.volve's dedicated Facebook group and I'm glad I did, because seeing other women post about their results and the new workouts was a huge motivator for me.
Since I started P.volve, they've introduced new equipment like the slant board (for more advanced P.volvers) and they've also significantly increased their online content – Stephen's wife Rachel has created awesome food videos with healthy recipes – I can't wait to try her blueberry crumble and they have a ton of content on their blog as well. The sense of community and support you get when doing P.volve is incredible! People are always willing to answer questions and the P.volve team, including its creator, Stephen Pasterino, do Facebook Lives that address frequently asked questions and offer workout and nutrition tips.
THE FOCUS ON IMPROVING THE WAY YOUR BODY MOVES & FUNCTIONS
P.volve is a very different workout than others I've done. It's both low impact and intense at the same time. You may be surprised the first time you do the workouts – they seem almost too simplistic – but trust me, if you're doing it right, you feel it. Because the workout is based on physical therapy principles and working all kinds of very specific muscle groups, it challenges you in very different ways than most workouts you've done (which is actually what I love about it). You may also think the 2-3lb weights are a joke – I promise you, when you're doing the moves with proper form, even 2 lbs. can feel intense.
THE GUIDANCE
I love how Stephen narrates the videos. He is so focused on form – explaining each move and what muscles you should be feeling while doing the work. I can't stand doing workouts that go so quickly you have no idea what's going on or how to do the exercise properly. Stephen is so detailed that you will never question whether you're doing a move correctly. It feels like you have a personal trainer in the comfort of your home! I recommend starting with the 30-Day Evolution program to learn the proper form before moving on to the more advanced workouts. It's what I'm re-starting the program with too and I just completed my first week!
YOU CAN DO IT AT HOME
The fact that all of these workouts can be done at home is a huge – I don't have time to drive to and from the gym – I set up my laptop in my office, have my equipment and mat ready to go and start streaming. You don't need a ton of space to do these workouts either – a small nook works just fine.
You do need to purchase some equipment as the workouts get more complex, but you can start off with the hand weights, ankle weights and bands. Visit this post for links to all of the equipment.
SHOP EQUIPMENT HERE: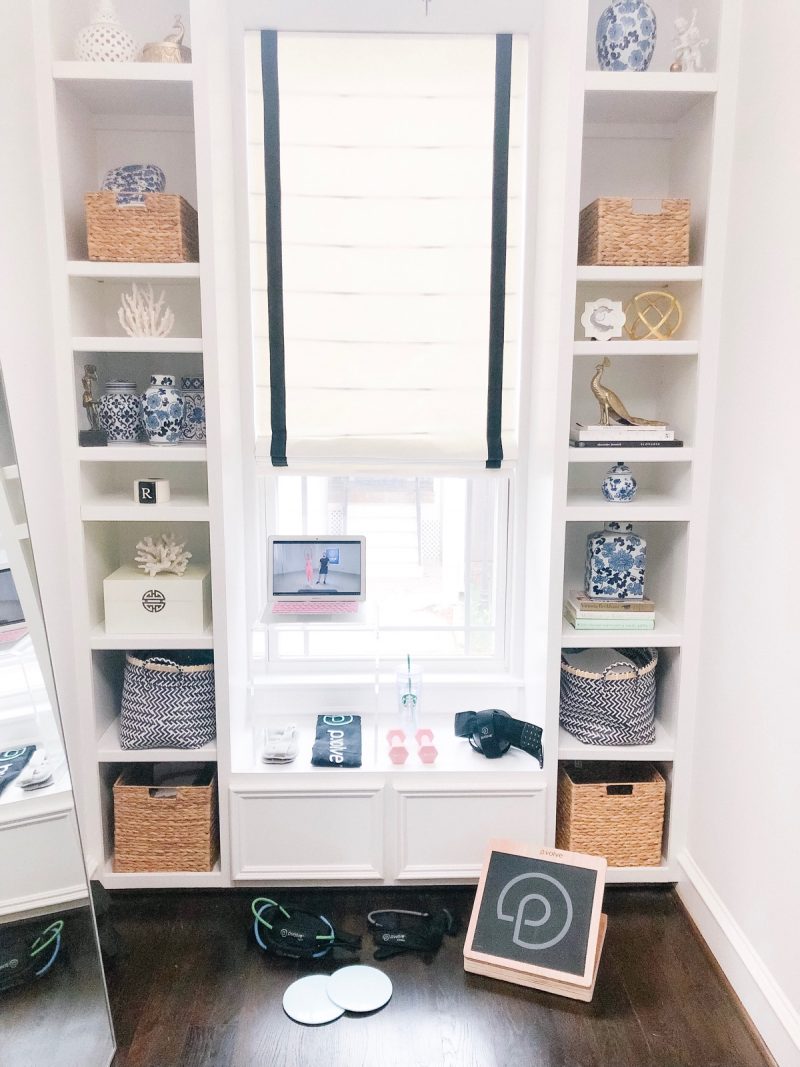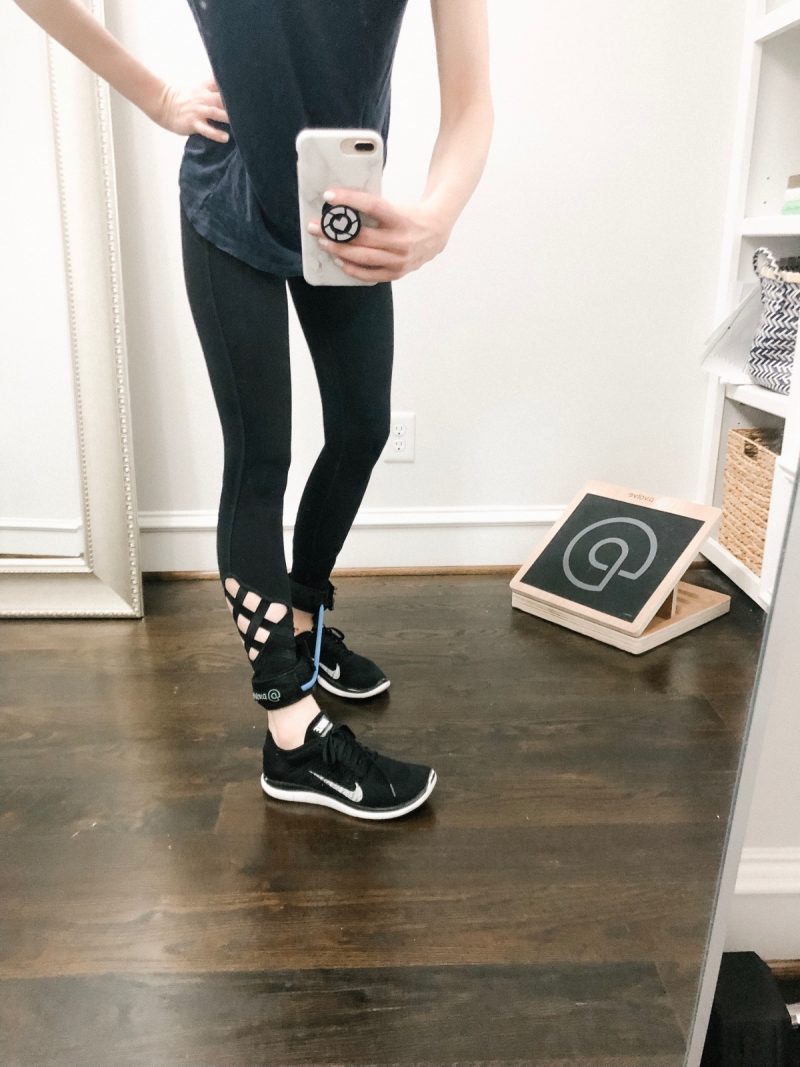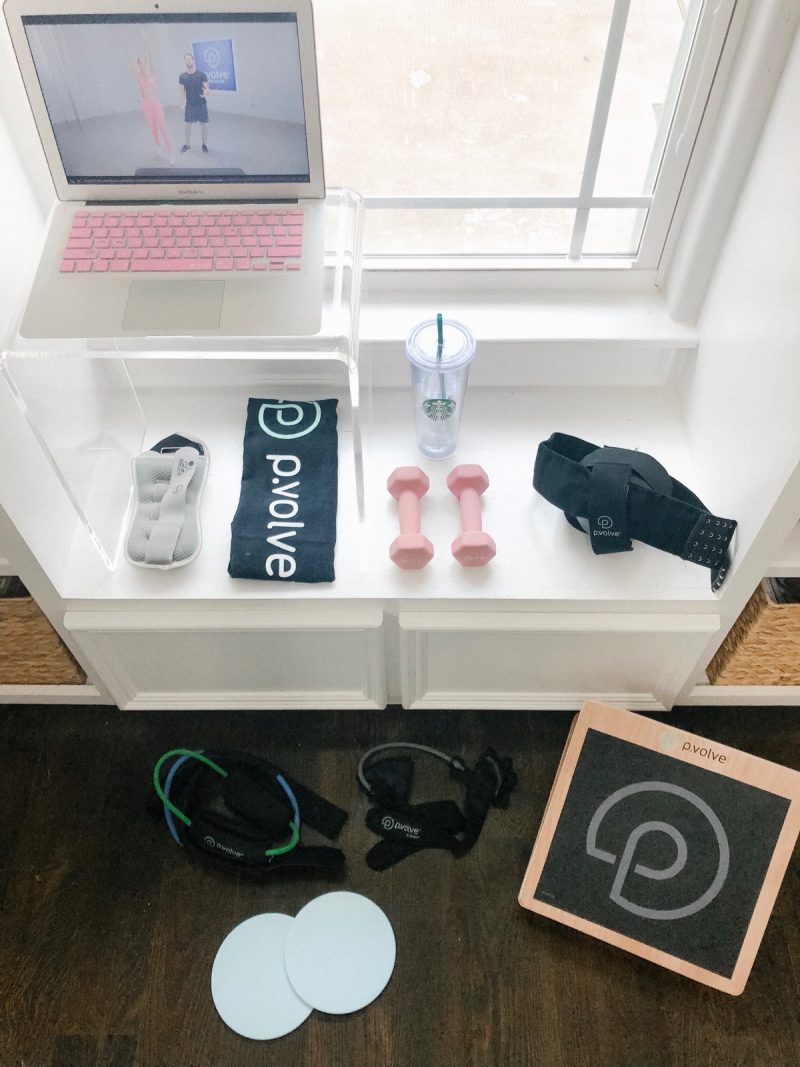 thick workout mat
, gliders , light ankle weights (here and here), 2 or 3 lb dumbbells, P.volve resistance bands (here and here) and P-ball.
THE RESULTS
When you are consistent with P.volve , you'll start to see the "lines" Stephen always talks about during the workout videos (having said this, everyone's results are different based on body type, current weight, genetics, etc.) For me, doing P.volve was the first time I started to see some subtle definition in my body, especially that line down the center of my stomach. I also felt better – more flexible and strong.
As I said earlier, the best way to start is to do the 30-Day Evolution which will teach you the basics of the movements so that you can master them and then move to the more intermediate/advanced programs. The beginning feels a bit repetitive – but you have to get the positions and movements right in order for the workout to be as effective as it's intended to be, so I don't recommend skipping it.
MIND-BODY CONNECTION
Something I most appreciate about P.volve is that it really strengthens your mind/body connection. Learning the proper way to do the movements takes patience, practice and consistency – but I find myself feeling more connected to my body when I do this workout because the precision of the movements forces you to really think about and feel every small movement. You focus so much on your form and which muscle you're feeling the movement in, that you really start to better understand your body.
THE RESOURCES
P.volve has so many great blog posts, YouTube videos and information about clean eating – I love that they have those additional resources to support you through the program. I also heard Stephen and his wife Rachel are coming out with a book about nutrition – I can't wait!
So many of you have reached out to me wanting to try P.volve and I thought it would be fun for all of us to do it together and motivate one another.
You can get a 15-day free trial using my P.volve link and you can join the Facebook group here to ask questions and connect with other women in the program. I'll be sharing my P.volve workouts on IG stories so we can encourage one another!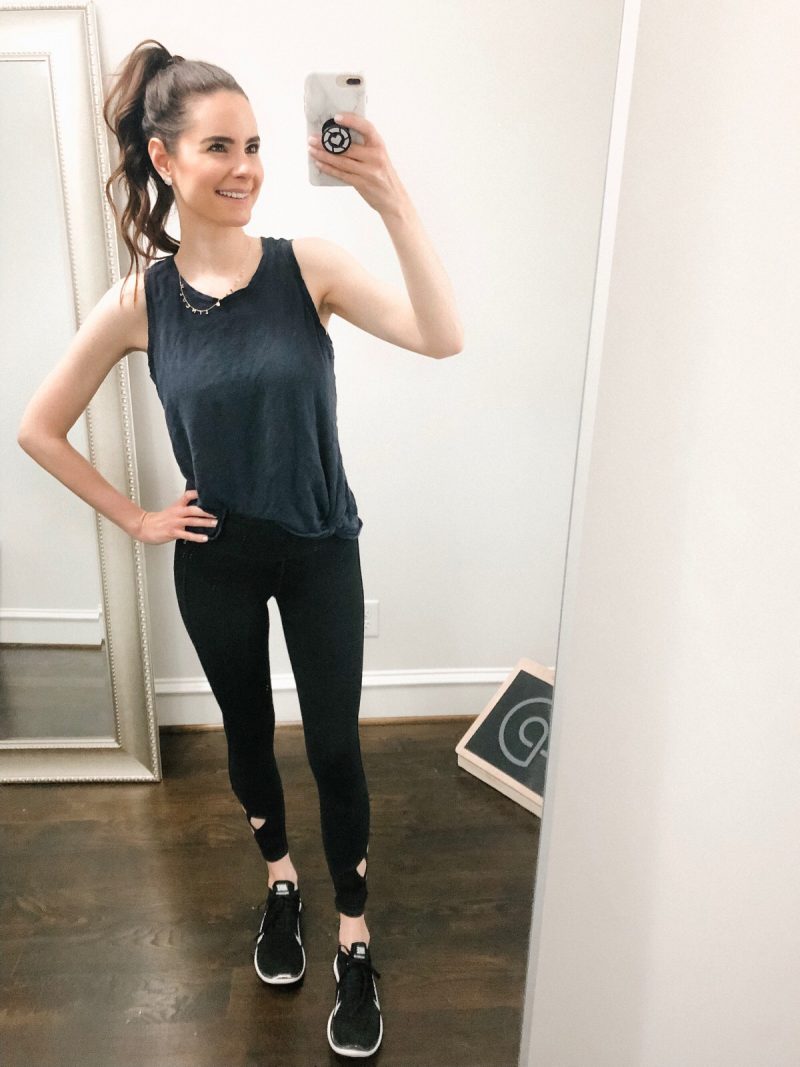 BTW- when I share this room on Instagram stories, I get a lot of questions. When we purchased our home, it was not under construction yet, so we had them remove a random hallway closet and extend the length of this room so we could use it as an office. It ended up being used as a glorified storage room for two years until I converted it to a workout room when I started exercising at home. I keep it pretty minimal but styled the shelves to match the rest of our home. It's small, but large enough for my workouts – I've never had an issue doing standing or mat work for any program I've tried.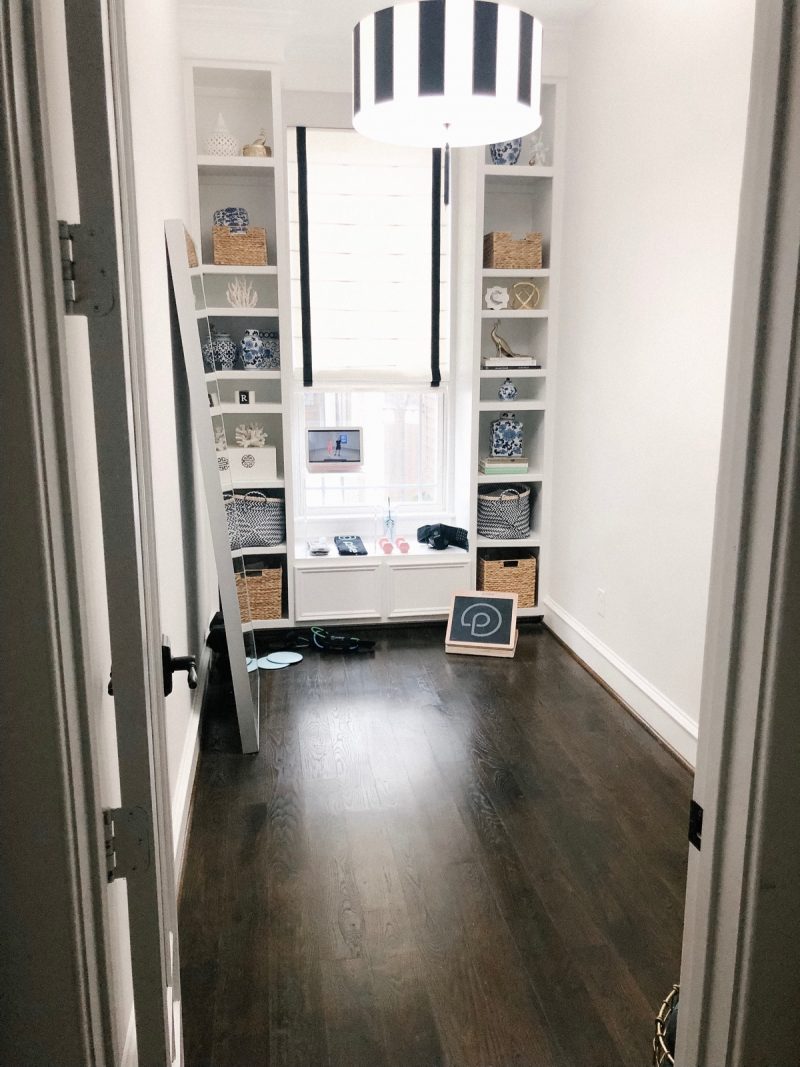 Here are answers to your questions from my Instagram stories that you asked last night:
How long is each workout?
It depends! Anywhere from 15-45 minutes usually. Once you're logged in, you can select a workout based on how many minutes you want, what area of the body you want to focus on or which equipment you want to use. Or, you can use their calendar system to make a workout calendar for you to follow. I love how much P.volve has listened to their users and implemented things we've asked for, like workout planners, etc.
Do you see a difference between this and BBG? Do you like one better than the other?
I cover this in my initial P.volve review post, but I prefer P.volve because it's low impact and really makes you focus on your body and its movements. It's not fast and sweaty, nor does it involve heavy lifting. It's basically an effective way to train and tone your body that is based on physical therapy principles, so less risk of injury. The main difference is that P.volve is intense in a different way. BBG is more high-intensity, plyometric, jumping, lots of sweating, cardio, etc. P.volve is a very focused toning program – it's not like pilates or barre, but if I had to liken it to anything, that might be the closest type of exercise I can think of.
I found BBG to be repetitive – does P.volve vary?
After you complete the beginner and/or 30-day evolution (to learn proper form), the workouts vary a ton. P.volve uploads new workouts every single week, too, so there is always new content. As I mentioned above, you can also search workouts based on what you want to work or which equipment you want to use.
How many days a week should I do P.volve?
As many as your schedule allows! My goal is 3-4 days per week – but you can do 5-6 days since P.volve is a lower impact workout program.
Which streaming is best?
Once you sign up for streaming, you can stream all P.volve content and have access to the full library of workouts.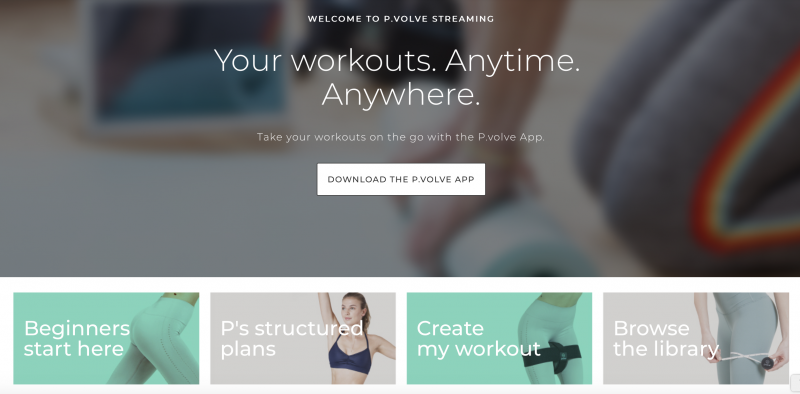 Are there always new workouts?
Yes, new workouts are uploaded every week. There are also programs such as the 6-Day Total Body and the 3-Day Body Burn that you can try. I've done both and they're amazing.
Do I need all of the equipment?
You can do the beginner workouts and 30-Day Evolution with just a few pieces like ankle weights, ankle bands and a set of 2-3lb weights. If you want to do the other more advanced workouts, they do require things like the P-ball, P-band, etc. I honestly love the workouts so much that I purchased the rest of the gear a few weeks into the program. Start small and build your gear as you advance in the program.
How effective do you think the program is on actual weight loss and not just toning?
Weight loss can only be achieved if your body is in a caloric deficit. If you want to lose weight, I recommend doing it via nutrition, complemented by exercise, since it's always good to move your body. However, you can't out-exercise a poor diet. 90% of your results with all workout programs, including P.volve, come from your diet. Read more about my diet and meal planning here.
Is there a cost involved in doing the program?
Yes! Depending on which promo you take advantage of, you can pay anywhere from $19.99/month or $29.99/month for unlimited streaming. You can try P.volve for FREE for 15-days too!
Why did you decide to switch from BBG to P.volve?
I did BBG in combination with major dietary changes, which allowed me to lose the weight I had gained over time, so it was an ideal program to complement my fitness and weight loss goals. Once I finished the 12 weeks, I was ready for a lower-intensity program and wanted something focused on creating long and lean muscles. That's when I found P.volve, through The Skinny Confidential Podcast. Once I tried a few workouts, I was hooked. I loved BBG and was amazed at how I progressed over time, but I prefer a lower-impact program and love the mind/body connection I get with P.volve.
I tried the first class and it was so hard! Does it get easier?
I'm not sure which class you tried – but I always recommend starting with the beginner or 30-Day Evolution program. I didn't find them to be too difficult (the movements do feel totally unfamiliar and you can feel the burn though!) It does take practice to master the movements. Perhaps you did one of the more advanced workouts? I don't think P.volve gets easier – the workouts are meant to become more challenging as you do the intermediate and advanced workouts so you can further your results. Give it some time and see how you advance 🙂
It seems like such a calm workout – do you sweat? Does it support weight loss?
I do sweat a little bit when I do P.volve – but it's nothing like when I did BBG and was sweating like crazy. It's a nice, light "this feels awesome!" sweat. Any exercise program does support weight loss, but it's all about your diet. The biggest changes in your body come from a consistent "clean" diet (I hate using that word because I believe no food is "dirty" and that anything is OK in moderation – I just mean whole, real foods, less stuff from packages, less refined sugars and processed foods, etc).
If you have any further questions, please leave me a comment!
Shop the Post