Over the last six months or so, I've gotten a lot of questions about my diet and meal planning. I wish someone had told me in high school or college what a dramatic impact diet makes on your life, because up until this year, I pretty much ate whatever I wanted in unlimited quantities. I was always of the mindset that exercise is what keeps you healthy, and while exercise is important for mobility, strength and overall health, I've come to learn that diet trumps all.
For years I ate an "ok" diet, meaning I did eat lean meats, veggies and whole grains. But I was addicted to sugar, ate really large portions and over-indulged in everything, which caused me to binge, have intense cravings and very low energy from all of the blood sugar crashes. The only way for me to get back on track was to make a radical change to my diet and the way I thought about food.
I have been thin for my entire life due to genetics, but once I stopped pumping for Lincoln (which made me lose weight like crazy no matter how much I ate), I continued to eat the same way I had been (tons of sweets, carbs, few veggies, etc.) and the pounds packed on. Part of this is due to the fact that I was on a dairy and soy-free diet for the entire year I pumped for Lincoln and for some of that time I was not eating any of the "top 8" allergens (no egg, dairy, soy, peanut, shellfish, gluten, etc). So I was over-indulging both on foods I could have while nursing (like allergen-free cookies – I sometimes ate the entire box in one sitting) and subsequently was over-indulging in foods I was allowed to eat again when I was no longer producing milk. After not having things like ice cream, cheese, etc. for a year, I went a little crazy.
I thought joining a gym would make me drop the weight, but even after months of working out, I had never weighed more in my life other than when I was in my third trimester of pregnancy (I stepped on a scale at my annual, which is what made me realize I had gained so much). I was tired, always hungry and frustrated by my lack of progress. I didn't like how tight my pants were, how bloated I was and I just didn't feel good. That old saying "you can't out-exercise a poor diet" was ringing truer than ever.
I never used to weigh myself and didn't own a scale, but after quitting my weight training gym and opting to try BBG at home, I decided to purchase one to keep tabs on my progress. I was inspired by Rach's fitness journey with BBG and followed her friend Carli on Instagram – and that's when I finally realized that 90% of your results are from what you put into your body. It was like a switch went off in my head and I vowed that I had to stop eating the way I was. I told myself that if I was going to do BBG, I was going to change my diet alongside it to really see change. I did purchase Carli's diet plan and read through it, but decided to just eat real foods and see what happened.
Before I get into my journey, I want to clarify that this post is not intended as medical advice. Consult with your doctor or a registered dietician before starting any diet or fitness plan. I also urge you to think about what you eat as a lifestyle – I don't believe in crazy diets or avoiding any one food group. What I do believe in is eating real, whole foods, less stuff out of boxes and allowing yourself to indulge, too. Life is too short not to eat candy, cake, chips or chocolate. You can still enjoy all of these things in moderation.
Start with added sugar
The first thing I did was to reduce my overall added sugar intake. This is very important – added sugars are needless calories and don't have nutritional value. Plus, added sugars only cause you to crave more. You'll be surprised at how easy it is to reduce sugar in your diet (check out my post here for more info). Here are some easy switches to make: stop getting syrups in your Starbucks lattes, make sure you're using unsweet almond milk, switch to raspberries with dark chocolate chips as your dessert, don't buy yogurt with added sugars – get the plain kind and add berries for sweetness, make your own salad dressing, etc.
Here is the recipe I use to make salad dressing at home (recipe makes over 3/4 cup of dressing – you don't need to refrigerate it):
9 tablespoons of Colavita brand balsamic vinegar
6 tablespoons of Colavita Mediterranean extra virgin olive oil
3 tablespoons of honey
1 teaspoon of kosher salt
Try intermittent fasting
I only do  14ish hour fast, but I swear it has so many benefits. Read more about my experience with IF here. There's some really fascinating research about how IF allows cells to regenerate – I encourage you to look into this research and see if IF is something that would work for your lifestyle.
Eat more fiber
Think of fiber as fuel for your body. When you fuel your body with fiber, you will be fuller, longer, and experience a decrease in blood sugar crashes/cravings. I started following Tanya Zuckerbrot over six months ago and read her F-factor diet book. Though I never followed the actual diet, I apply F-factor principles to my diet: fiber and protein at every meal keeps your body full and balanced. I'm obsessed with GG crackers (I eat them with peanut butter from Trader Joe's that contains chia and flax seeds- more fiber) and I also eat a ton of vegetables that are full of fiber. If you eat bread, choose one that is high in fiber. Fiber has been a game-changer for me in terms of both weight loss and maintenance.
Eat more veggies
The most important takeaway from this post is to eat a diet rich in vegetables and colorful ones at that. I eat veggies as my side at every meal except for breakfast – they're filling, delicious and so good for your body and mind. If you currently eat a lot of refined carbs/processed foods, replace them with veggies. Instead of having chicken with pasta, rice or potatoes, fill the entire half of your plate with assorted baked or steamed veggies or a big salad. Instead of pasta, eat zoodles (zucchini noodles). You can buy cauliflower rice now, too, and it's awesome. My favorite veggies are: bell peppers (red, yellow, orange), zucchini, cauliflower, broccoli, asparagus, snow peas and squash. You can bake them in the oven with some olive oil and salt and pepper and it's so simple yet delicious! Once you start eating veggies a lot, you'll actually begin to crave them.
Be consistent
This may seem boring, but the easiest way for me to stay on track is to eat the same foods over and over. I LOVE the meals I eat, so this isn't a problem for me – plus, I go out to eat on weekends, so I get more variety that way. I find eating the same breakfast and lunch (and sometimes, dinner) keeps me full, satisfied and ensures I get all of my veggies and protein in. It may not work for everyone – but for me, it does. I like knowing what I'm eating every day. There's less of a chance for going off track when you're prepared and know what to expect. I've gotten a lot of questions about how I eat the same foods all the time without getting bored – and like I said above, I love the foods I eat and I love getting so many veggies in, so I don't really get sick of the meals. Plus, I still eat out every single week so that gives me a little variety and something to look forward to.
Eat more real foods/overhaul your pantry
If your pantry is bursting at the seams, try doing an overhaul and instead, focus on stocking your fridge. Perishable foods tend to be healthier. Think lean meats, veggies, eggs, fruit, etc. Shop on the outer perimeters of the grocery store – buy less things that are processed or come in a box.
Stop buying trigger foods
There are certain sweets I can't keep in the house simply because I find it hard to have just a couple (I'm looking at you, Oreos). Though I've made a ton of progress in my sugar consumption, the easiest way to not binge on certain foods is to simply not purchase them.  I used to go to the store and buy family-size bags of sour patch kids, Oreos and order 20 boxes of Thin Mints every year. I know myself, so I don't do that anymore. If it's not in my house, I won't be tempted. There are many sweets like my raspberry dark chocolate and Trader Joe's gone bananas bites that I both love and can eat in moderate portions, so I'm fine keeping those in the house.
Caloric deficit
Weight loss, simply put, is about caloric deficit. I never counted calories, but it's safe to say I was eating two to three times the amount I actually needed given how much sugar I used to consume. I still don't count calories, I just make sensible choices and keep a consistent/clean diet 80% of the time. You could lose weight eating Twinkies all day as long as you were in a deficit, but that's  obviously not sustainable. It's so much more liberating to eat and love real foods that make you feel good – because that is what will give you lasting results.
Meal plan
Have you ever heard the quote, "if you fail to plan, you plan to fail?" Well, it's true. In order to stay on track and not wonder what you're eating for breakfast and lunch, you have to plan it all out. I always keep peanut butter and GG crackers at my desk and I use these glass meal planning containers to take my lunches to work. I chop up chicken breast and top it all the way with veggies and warm it in the microwave at work. I usually bring all 4-5 of my lunches into work on Monday and that way no matter what comes up in my work week, my lunch is always waiting for me in the fridge.
I just cooked these chicken breasts and veggies last night – so simple and it's a filling and tasty meal!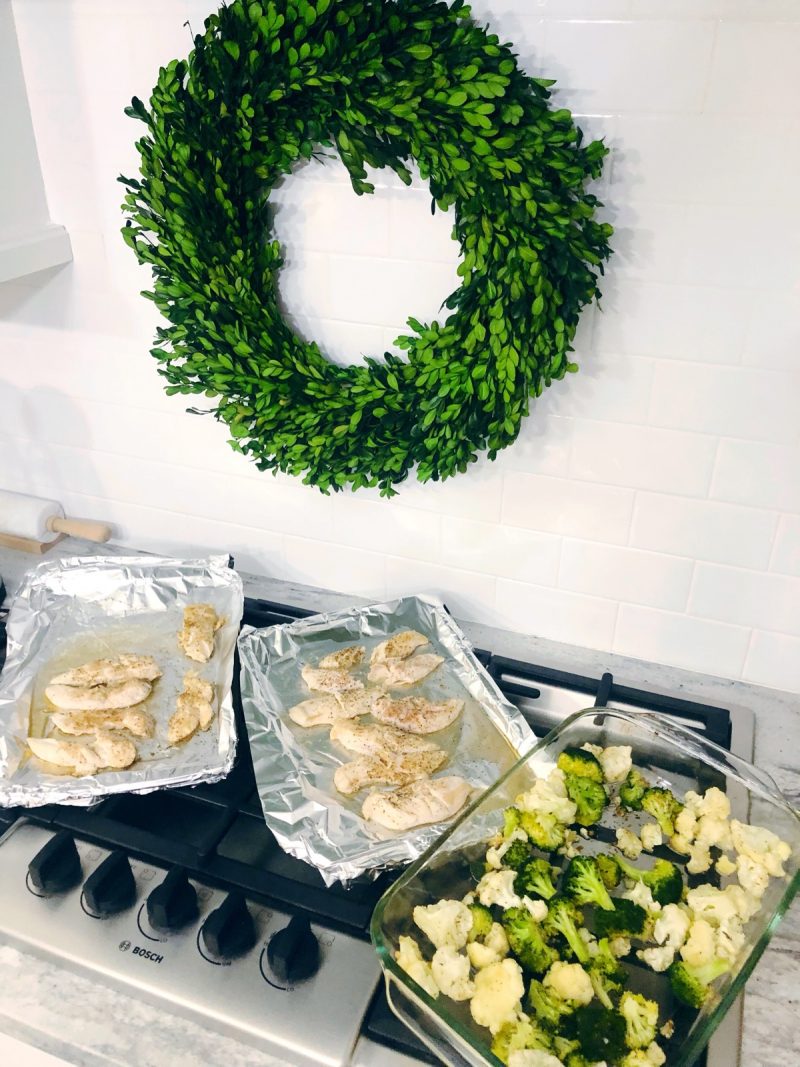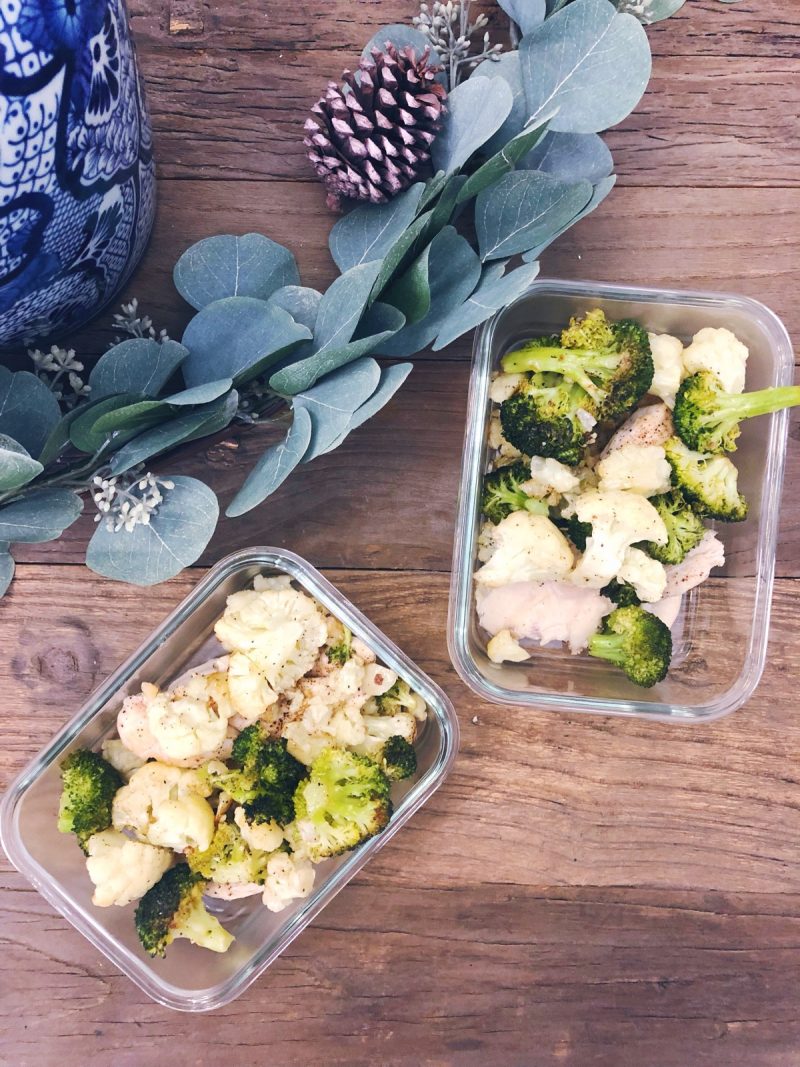 I use this chopper knife to cut up my chicken into strips to make it easy to eat. The lid for the glass meal planning containers snaps right on – and though you have to hand wash the lids, the glass container is microwave and dishwasher safe.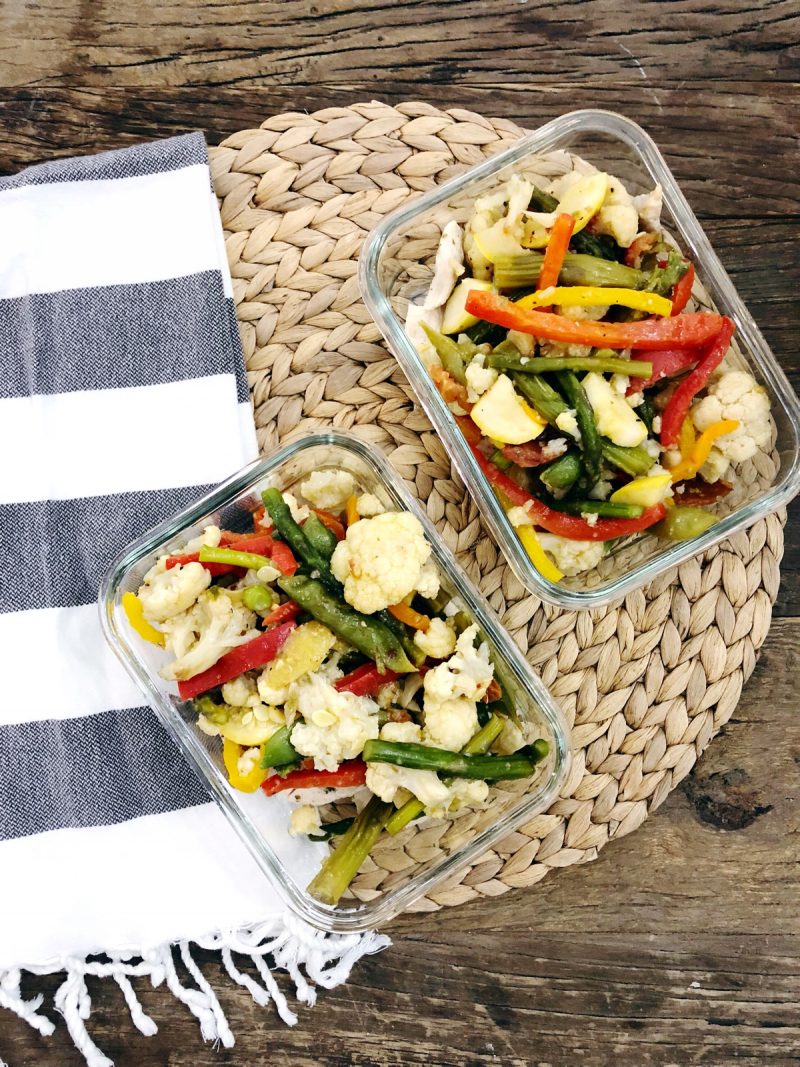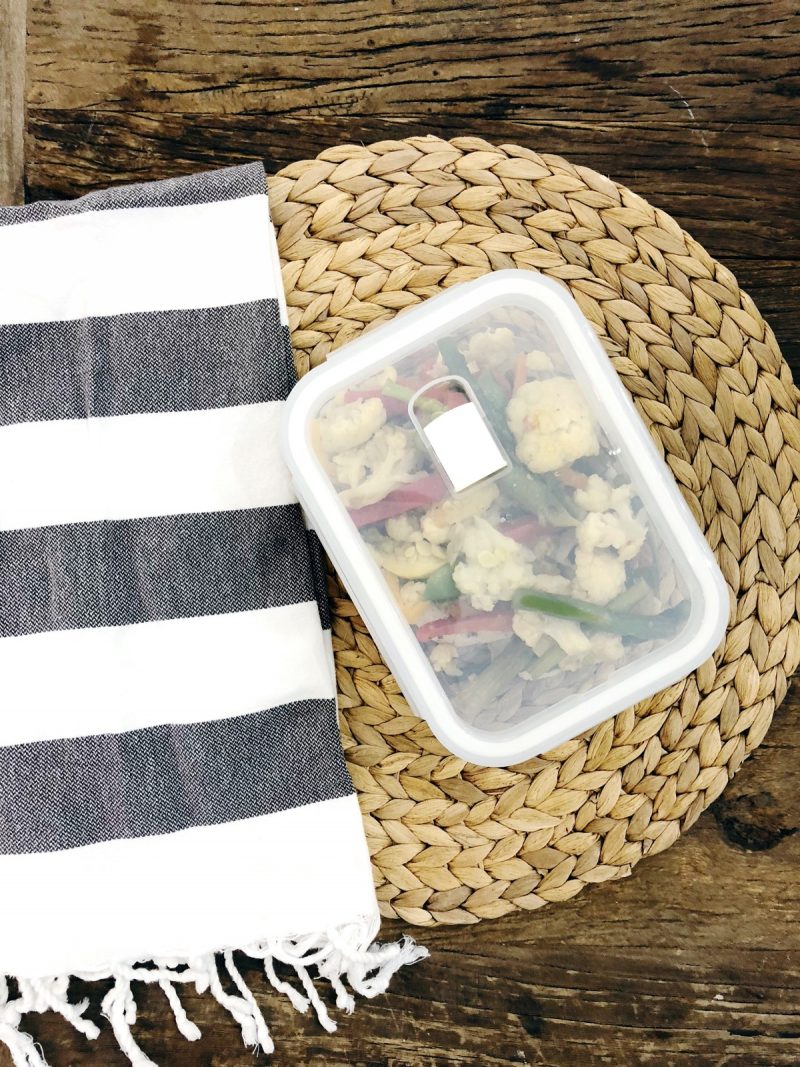 Here are your FAQs from Instagram stories, answered:
How much weight did you lose?
By changing the way I eat, I was able to lose nearly 25 lbs. Yes, that seems like a lot, but I'm 5'10 and I had been at my heaviest weight ever (other than when I was pregnant) and I was ready to be at my normal weight again.
How often do you snack?
I usually have a snack at about 3:00 every day at work. Usually it's an RX bar, almonds, plantain chips or an apple.
Do you eat dairy?
I don't consume a ton of dairy. When I was dairy free for a year due to Lincoln's MSPI, I got used to not having cheese, milk, etc. I drink almond milk only now and I still eat pizza and have cheese on my salad sometimes, but I don't really eat yogurt or snack on cheese like I used to. I LOVE queso when we eat Mexican food though.
Do you drink coffee?
I usually have two Nespresso almond milk lattes per day. I use unsweet vanilla almond milk and blend cinnamon powder into the milk frother. You can see my Nespresso machine, here.
Do you eat the same thing every week?
Pretty much. I eat my GG crackers with peanut butter and an almond milk latte for breakfast on weekdays. I usually have a chicken and veggie combo for lunch, but the veggies are a slightly different mix each week. It just works for me – I know it's not for everyone, but I thrive with consistency and I don't get sick of it. If I do get sick of it, I can always switch it up with other healthy options.
How do you navigate holiday food at work?
I have some! I figure the holidays are a time to have a little more flexibility. I just watch my portions. I remember there were times where we would have cookies delivered to work or something like that and I would eat them throughout the day. Now, I just have one.
What are your favorite ways to roast veggies
I have all of this info saved to the "food" highlights on my Instagram page, but they're cooked with olive oil, salt and pepper and sometimes some seasoning like Mrs. Dash. You can cook them in a glass Pyrex dish. My friend has an air-fryer and I've thought of getting one.
How do you stay on track and not give into cravings?
I allow myself to eat chocolate every.single.day. I don't believe in deprivation – I know if I eat clean 80% of the time, then it's okay to eat out on weekends, have ice cream, eat chocolate after dinner, etc. The 80/20 approach allows me to feel balanced. Also, if you DO give into a craving, the best thing you can do is move on and eat well at the next meal. Don't say "well, I ate two cookies, I might as well finish the box" or "I just ruined a week of eating." One cheat meal or one indulgence doesn't "ruin" anything.
How are you balancing eating and staying active?
I have not been exercising for several months. Q4 is extremely busy for me with my blog, so I have to prioritize different things in different seasons. I'm able to maintain my weight simply by eating well.
Do you eat fast food?
Sometimes! Usually I will order one of the salads at places like Chick-Fil-A and I love eating at places like Zoe's Kitchen because there are so many healthy options, but we do eat out and I order whatever I want. Sometimes that's a salad with protein and sometimes it's tacos and chips with queso. Because I eat so well during the work week, I'm totally game for burgers and treats on weekends. I try to continue to be mindful of portions and I stop eating before my stomach feels really full (I used to eat until my stomach literally hurt from being so full).
How often do you have dessert?
Every day! I eat this chocolate after dinner or the Trader Joe's gone berries or gone bananas. Since Halloween I've been having mini Twix bars 🙂
Can you please share recipes and sample meal plans?
You can see my saved recipes in the "food" highlights on my Instagram page. I love Skinny Taste for recipes – she also has free weekly meal plans. You can find Gina's cook books, here.
What do you tell yourself to avoid over-indulging?
No one should feel "bad" about food. Food is just food. Focus instead on why you make good choices – to fuel your body, have energy and for your overall health. I remind myself that one day of indulging doesn't make you a failure and I also remind myself how much progress I've made in both how I look and more importantly, how I feel. I think it's important to give yourself permission to have things you love without guilt, while also being cognizant that it's possible to enjoy these things in smaller portions and still be satisfied.
Do your kids eat the same foods as you?
The kids usually eat chicken breaded with almond flour and a side for dinner – Harper started liking cauliflower recently but they will usually eat carrots and peas. They also love humus. Lincoln is pickier than Harper. We try our best to expose them to different foods but they also like the typical kid things like peanut butter, grilled cheese, etc. We try to make sure they're eating a good protein and some veggies for dinner. Even when we order them the kids grilled cheese at Local Foods, we get them to add chicken to it and usually get s side of fruit.
I hope this post is helpful – please let me know if you have other questions!