Today's post has been one I didn't know if I'd ever write – would I stick to a workout program for 12 weeks? Would I stay motivated enough while working out at home? The answer is YES and I'm so excited (and I just can't hide it) to share my BBG 1.0 results with you!
In my 12 weeks of BBG, I've seen so many positive changes in myself and my body that it's hard not to shout from the rooftops about it. I have never seen such dramatic changes to my body with any workout program I've ever tried. The only thing that comes close is when I was doing personal trainer-led a boot camp class five days a week before we had kids. More than the physical results, I've seen a change in my emotional health as well. I feel more confident, have more energy and even sleep better.
One reason I love BBG is because it's something I do for myself. I work a lot and devote time to our family and household and this is the one thing I do three days a week for myself to get the energy and stamina I need to do everything else. Before BBG, I was always exhausted, gaining weight, my mind felt foggy and I had no strength.
In terms of my personal results, in 12 weeks, I have lost over 15 lbs. (I'm at my pre-pregnancy weight) and lost inches (my clothes fit better). I have some visible tone that I didn't have before and have more energy.
When we went to Disney World last September, I saw some photos of myself that really made me realize that:
a) the workout program I had been doing was not a good fit for me
b) my eating habits were awful and
c) I was not happy with my weight
I want to include a disclaimer here – the weight I was at then and the weight I am now are both within a healthy BMI range for my height. I did not look "bad" in my before photo and didn't hate my body – but I feel better at the weight/fitness level I'm currently at – probably mostly due to the fact that I'm getting more sleep, eating more nutritiously and challenging my body.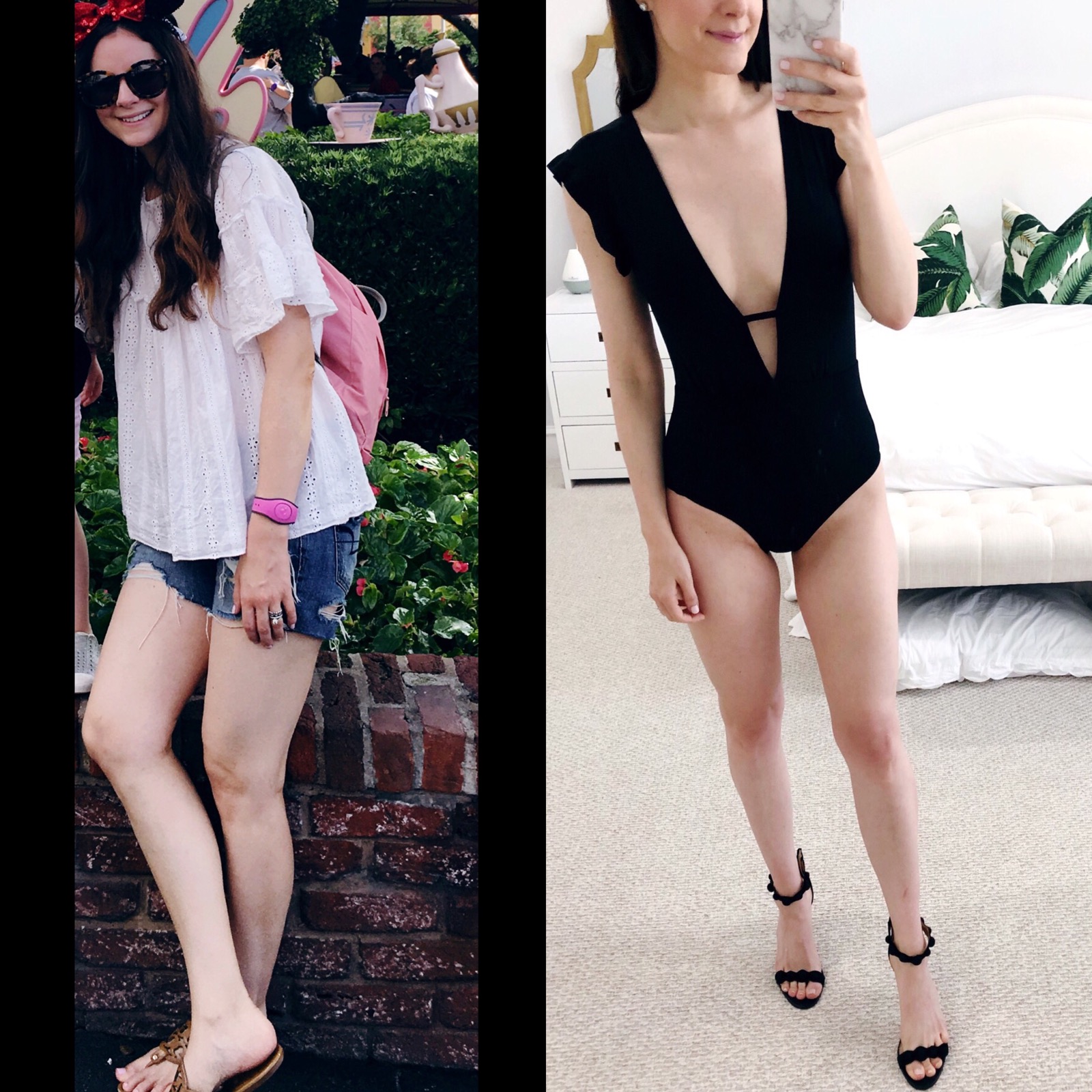 (left  – Sept, 2017  |  right – April 2018 after 12 weeks of BBG 1.0)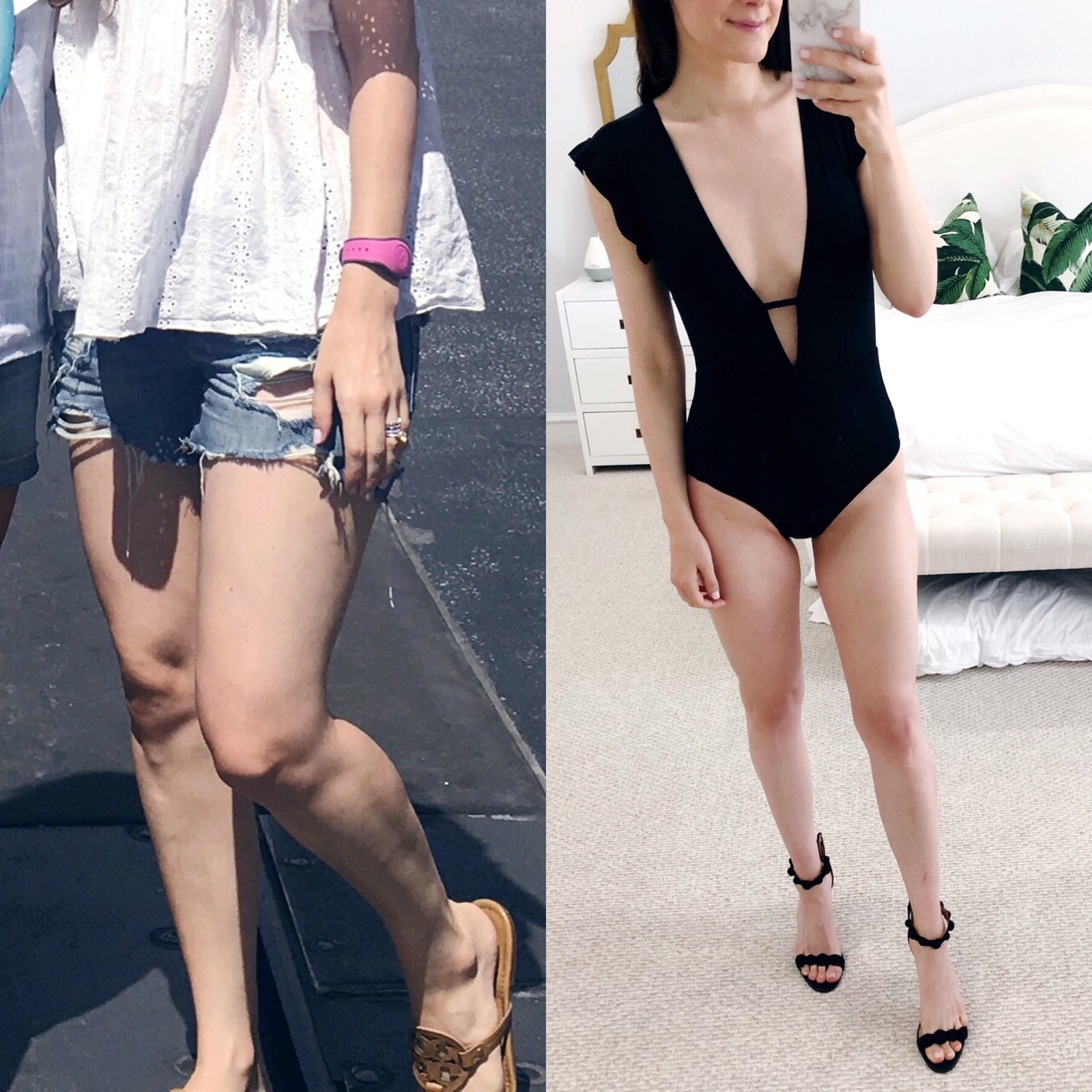 You can really see the difference in my legs — granted, the photo on the left is super unflattering — but I wanted to show a photo that made me realize I wanted to start a fitness program.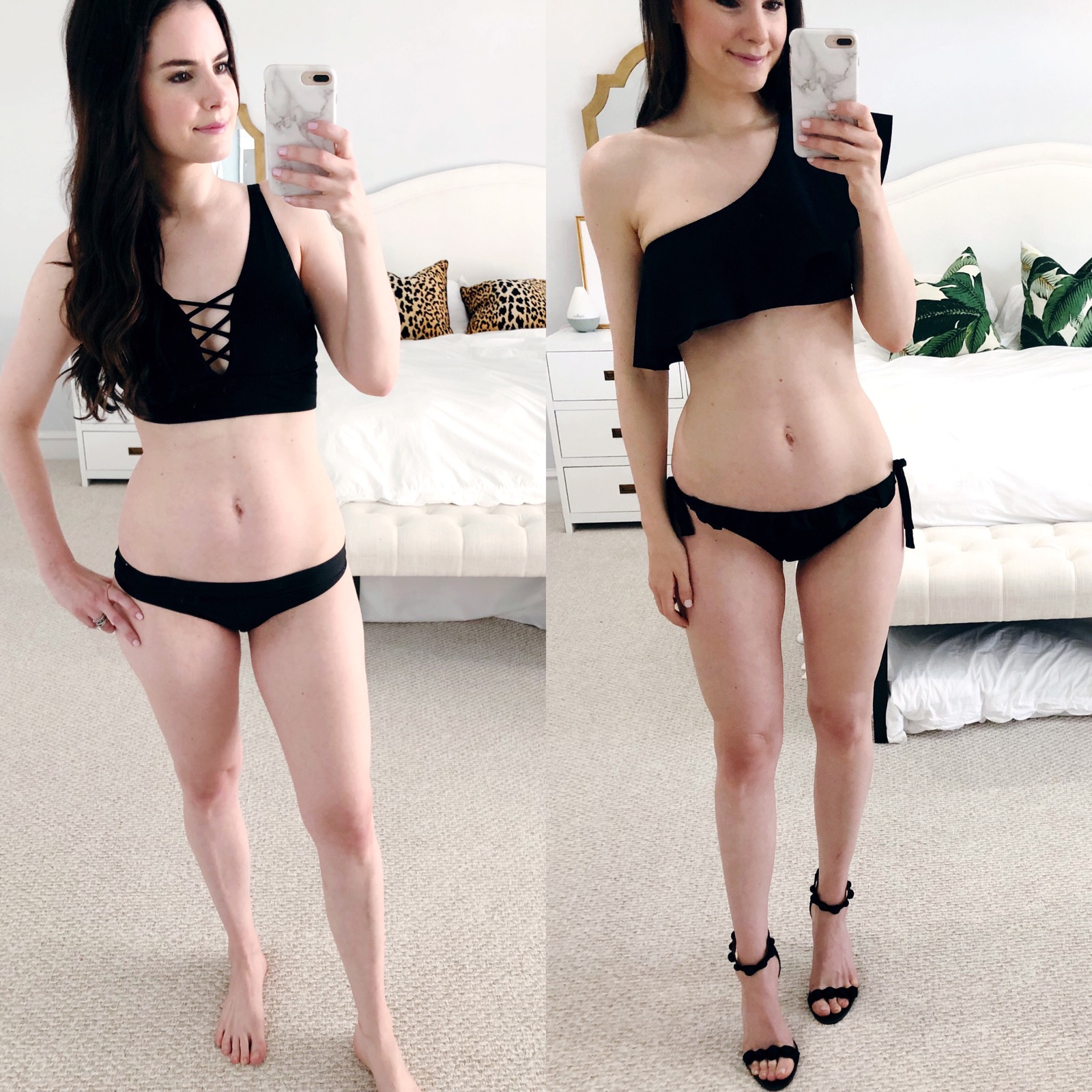 (left — during BBG  |  right- after 12 weeks of BBG)

---
Below I'm sharing some reflections on my BBG journey as well as encouragement for you if you'd like to start the program. You can read all of my BBG content on my blog, here.
You'll never sweat more
I was shocked at how much I sweat during BBG. I have done intense workouts in boot camp gyms with no A/C and didn't sweat as much as I do with BBG. These workouts are intense – so bring a towel and plenty of water. I usually drink 31 to 46 oz. of water per workout. I use the Starbucks Trenta size reusable plastic cup with a straw.
You will lose weight
If you pair BBG with healthier eating, you will lose weight. I was not overweight when I started this program, but I was heavier than I ever have been while not pregnant. The resistance workouts are packed with plyometric and cardio elements, so you're moving the entire time, which gets your heart rate up and helps you get results faster. Prior to starting BBG, I didn't even own a scale but decided to purchase this one to have extra accountability and motivation while doing the program. I was totally shocked that I was able to get down to my pre-pregnancy weight with this program. Something I wish I would have done it take measurements prior to starting BBG so I could see where I lost inches – I highly recommend doing this!
But diet is everything
You know how they say that abs are made in the kitchen? So is weight loss. You can't exercise away a bad diet. I don't count calories, but I try to eat a lot of fiber and protein at every meal, make better snack choices and indulge in smaller portions of sweets. I used to have a major sugar addiction and what's worked for me is reducing added sugar in my diet (not having it in my coffee/Starbucks, not eating candy all the time, not using high-sugar sauces or spreads) and instead eating rich sweets like dark chocolate – a few squares after dinner and I'm satisfied! I don't believe I would have had the results I did from BBG if I had continued eating like I had been. You can read more about what I eat in this post and I love this website for healthy recipes.
1.5 hours a week
If you do the three resistance workouts like me (28 minutes each), you're only spending 1.5 hours a week exercising, that is 1.86% of your entire week spent on exercise. A lot of people (myself included at various points throughout my life) think they don't have time to exercise – and maybe in certain seasons of your life you really don't (I never felt I could when I was still nursing/pumping). But think about exercise as an investment and ask yourself if it's worth less than 2% of your time each week.
I also want to add a clarification point here – a lot of people have messaged me saying it takes them a full hour to do one BBG resistance workout, because they're trying to complete a certain amount of "rounds" or "laps" for each circuit. This is not the correct way to do BBG – you do as many laps of the circuit within the 7 minute timeframe that you are able to. If you are only able to do 1 or 1.5 laps, just move on to the next 7 minute circuit. You don't "have to" finish a certain amount of laps in the 7 minutes – you just do as many laps as you can in those 7 minutes. You will notice after a few weeks that you will build the strength and endurance to do more laps, depending on how challenging the workout is that week.
Be realistic
If you want to start and stick with any program, you have to be honest with yourself about where and how it fits into your life. If you're not a morning person, don't wake up at 5 AM to work out. I tried it and I was always exhausted, over-eating and overall just irritable. When I started BBG, I did my first ever workout in the evening and I realized hmm…I think I can really make this work! I know it seems overwhelming to add one more thing to your list at the end of a long day, but I find that I actually look forward to my workouts now because I know it's just three days a week – and I give my all in those three workouts. I know a lot of moms do BBG during their children's nap time or they wake up an hour early to squeeze it in before the day begins. Whatever works for you and will make you stick to the program is the best approach.
Sleep
Speaking of getting sleep, there is a ton of research that not getting enough sleep leads to weight gain. I was killing myself waking up at 5 to go to the gym and I did that for six months. I didn't lose a pound and was freaking exhausted and ate sugar constantly to try to get energy. No wonder I was gaining weight and not seeing results. Now, I sleep until 6:45 and my body isn't stressed and tired anymore.
Hit start!
A lot of the feedback I get from women is that they want to do BBG but just can't seem to start or that they do it for a few weeks and give up. My advice? Stop telling yourself you'll start on a Monday and just start any day of the week. Get your workout space prepared, make an upbeat playlist and go. If you've given up on BBG in the past, join an accountability or check-in group (I have a BBG check in on my instagram every Sunday). The BBG/Kayla Itsines community is huge and there is a ton of support and inspiration there.
You will get stronger
I still can't do a full push-up and I'm not ashamed to share that. I've always had difficulty with upper body strength BUT I can see more tone in my arms and I can feel that I'm getting stronger in every area of my body. My endurance is a lot higher too – I used to really struggle through the workouts and now I feel like I power through them (though they're still super challenging).
You'll be happier
I feel really proud when I think about how I really put my all into this program and I've seen a huge emotional health payoff with BBG. In addition to exercise endorphins, I feel really accomplished each time I finish a workout. I think because they're so intense, you really get a sort of "high" when you complete the 28 minutes.
If you have any questions about the program, please leave them in the comments! Thank you for all of your support and encouragment! Don't forget to see my BBG FAQ post, here!
---
Before you go, don't forget that we are on the WEEK 3 arms challenge! I'm partering with Heather of My Life Well Loved and Jess of Happily Huges to bring you this arms challenge!
Day 1 – 3 sets of 20 push-ups (knees as modification)
Day 2– 3 sets of :45 of burpees 
Day 3– 3 sets of 20 push ups + 3 sets of 20 tricep dips
Day 4 – 3 sets of 1:00 burpees, 3 sets of 1:00 planks
Day 5– rest
Day 6– 3 sets of 20 push ups + 3 sets of 20 triceps dips + 3 sets of 20 bicep curls
Day 7– 3 sets of 20 burpees, 3 sets of 1:00 planks, 3 sets of push ups to exhaustion.