Ever since I moved to Houston over a decade ago, we've always lived in homes with an open-concept floor plan. Newer builds in particular tend to have floor plans where the kitchen, living room and dining room all share one open space. I recently saw that one of my favorite designers, Shea McGee of Studio McGee opted not to have a formal dining room in their custom-designed home and instead built an area off of their kitchen to serve as a kitchen nook and dining room in one (obsessed with all the windows!)
During our house hunt last year, we did look at several homes that were 50/50 floor plans meaning the living room and kitchen shared an open space and an office or dining room (or both) were separate from those spaces, often near the front entry of the house – I think those mixed floor plans are probably pretty ideal because you get the best of both worlds. Realistically though, I doubt we'd ever use a dining room that was not a part of our main living space since we didn't use any of our dining rooms in previous homes, except for at Christmas. Even now, our dining table is only getting used frequently because I'm using it as my remote workspace. I keep wishing we'd eat at our table, but the kitchen island is king in our home – it's so easy to clean and convenient for serving food. I do wish we had an extra room downstairs to use as an office or flex space though!
We also looked at some older homes during our house hunt, but most of them had all been remodeled into completely open-concept floor plans. If you watch HGTV shows like House Hunters, you probably know the running joke that everyone wants an open-concept house "so they can entertain," but there are definitely cons to this type of layout too. I love our new home and open-concept floor plans have plenty of benefits, but there are some limitations too.
After living in 4 open-concept homes in 12 years, I'm sharing my perspective based on the homes we have lived in – it certainly doesn't account for all open-concept homes and layouts, so keep that in mind.
Before I begin, I'm going to share our real estate listing photos from all three of our last homes, so you can see the main living area floor plans we've lived in:
Our first home: 2 stories, 2 bedroom/2 baths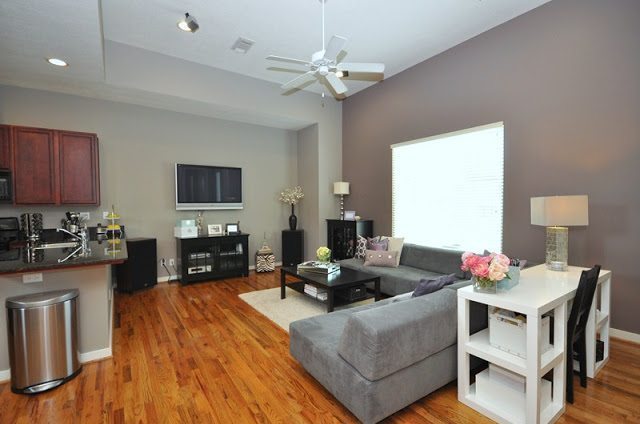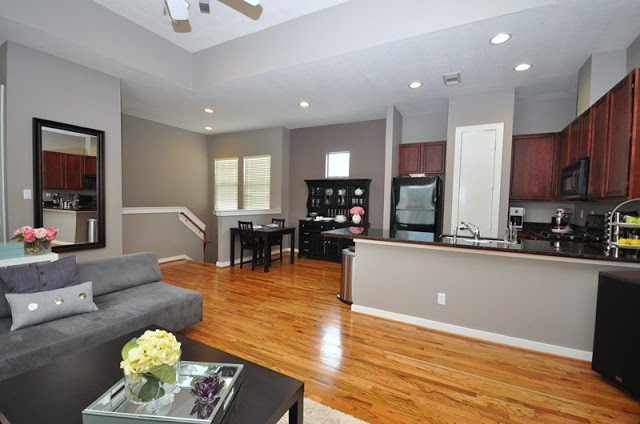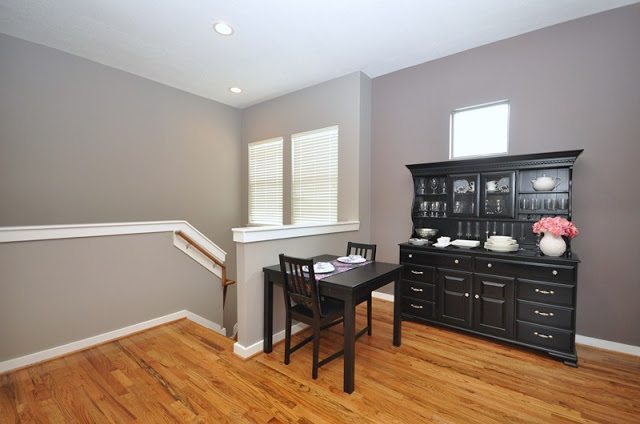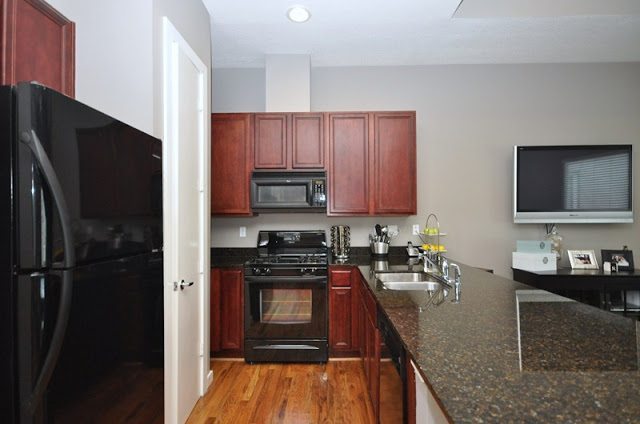 Our second home: three stories, 3 bedrooms, 3.5 baths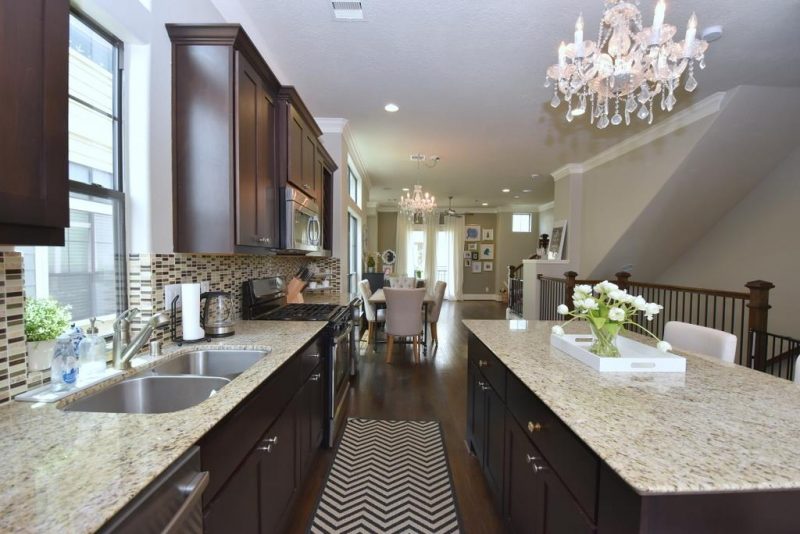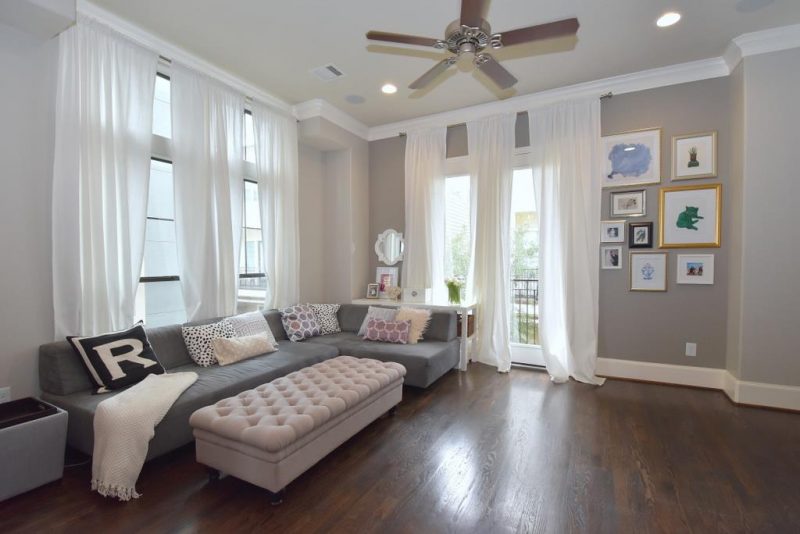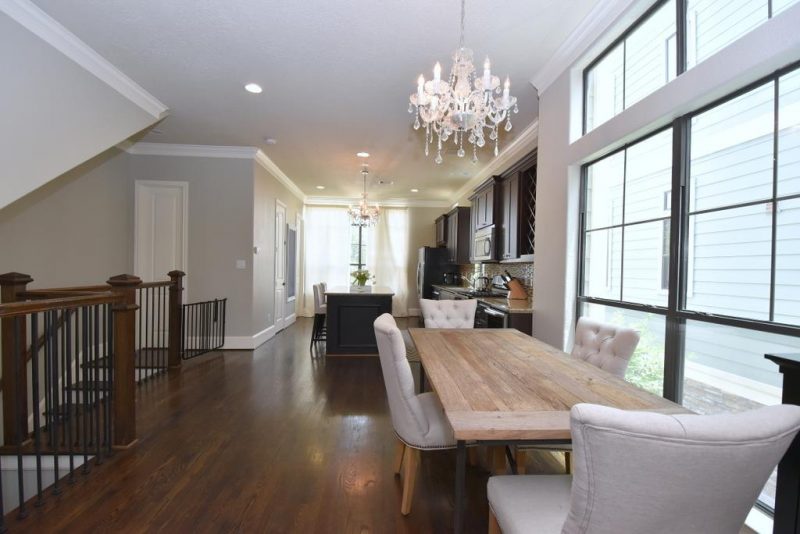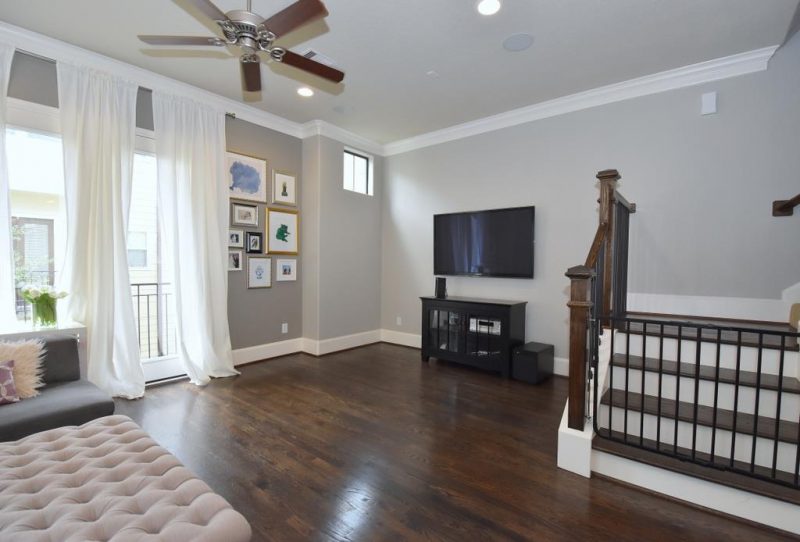 Our third home: 3 stories, 3 bedrooms, 2 full baths/2 half baths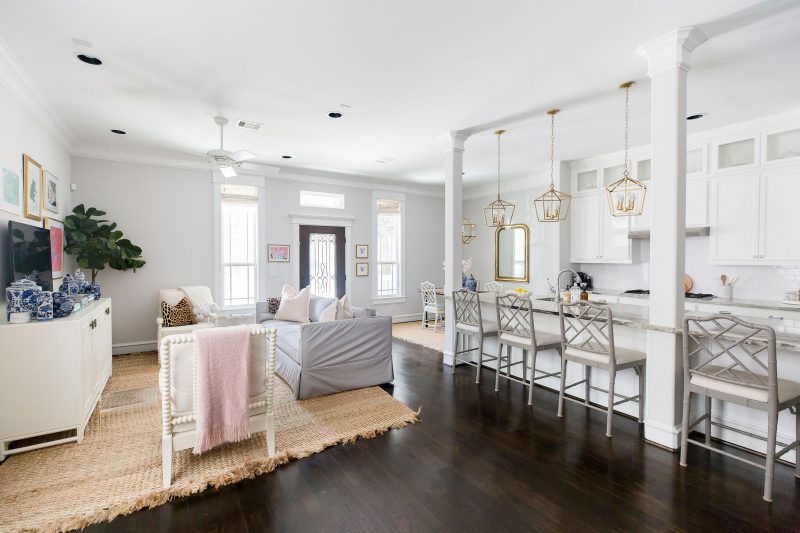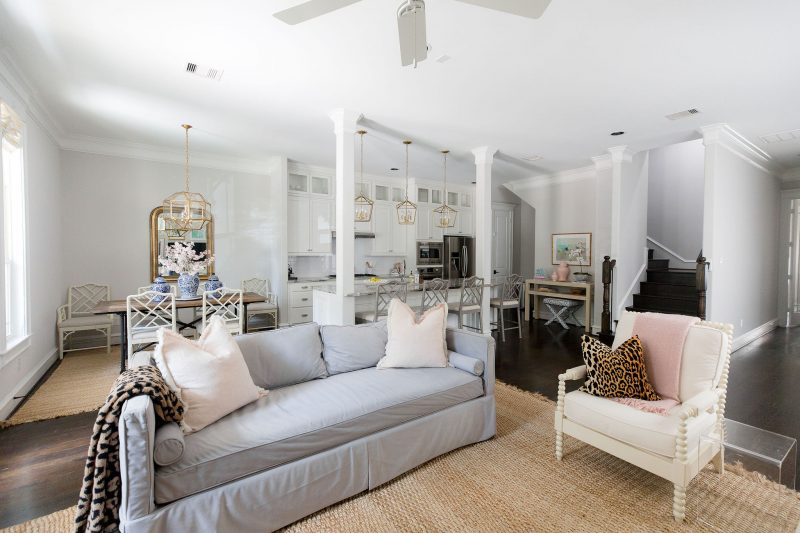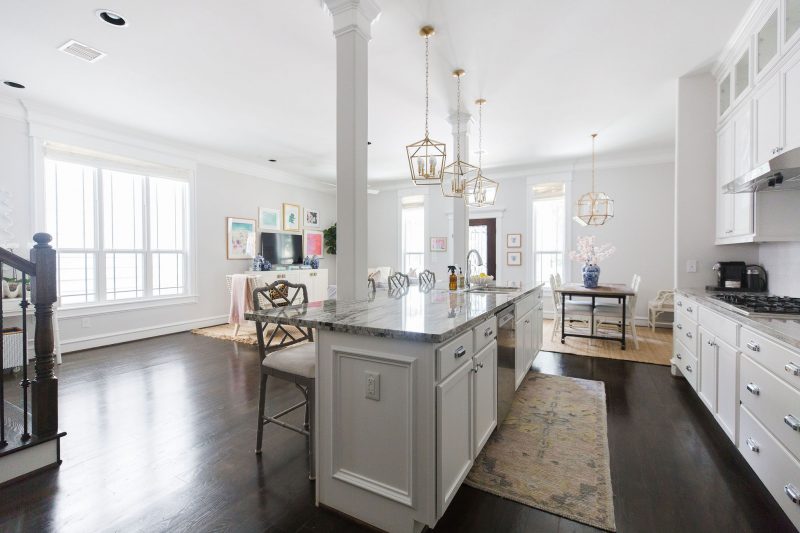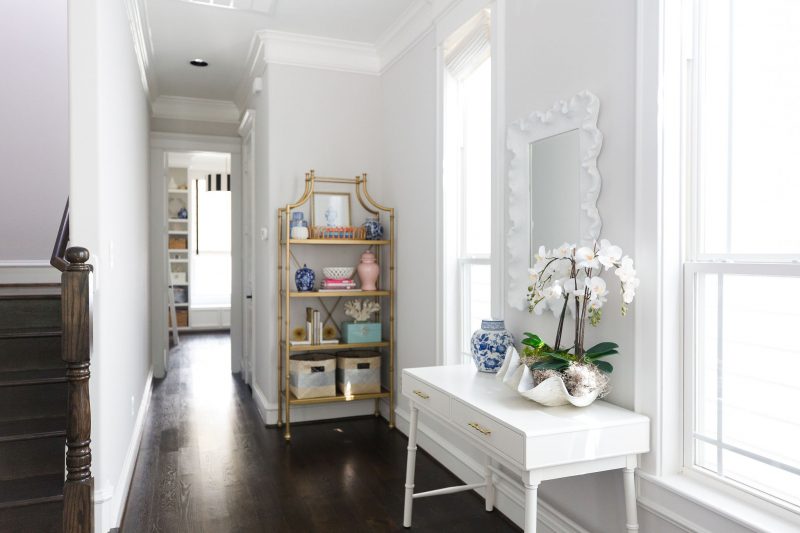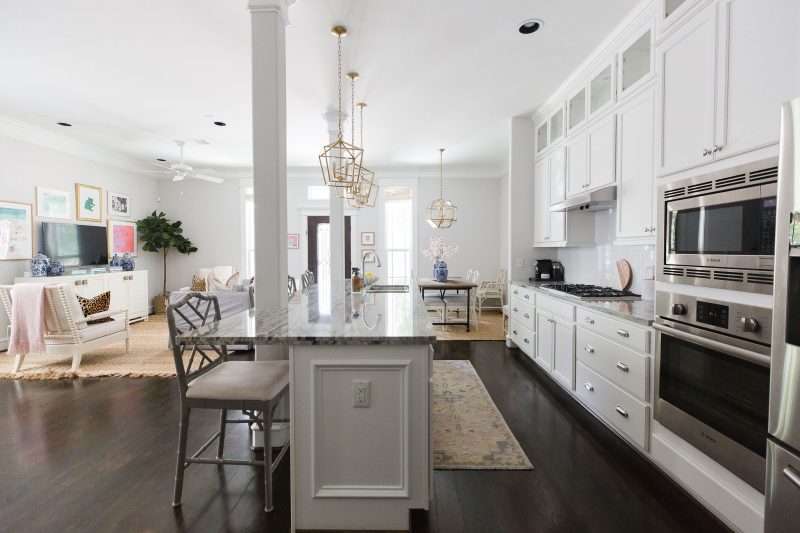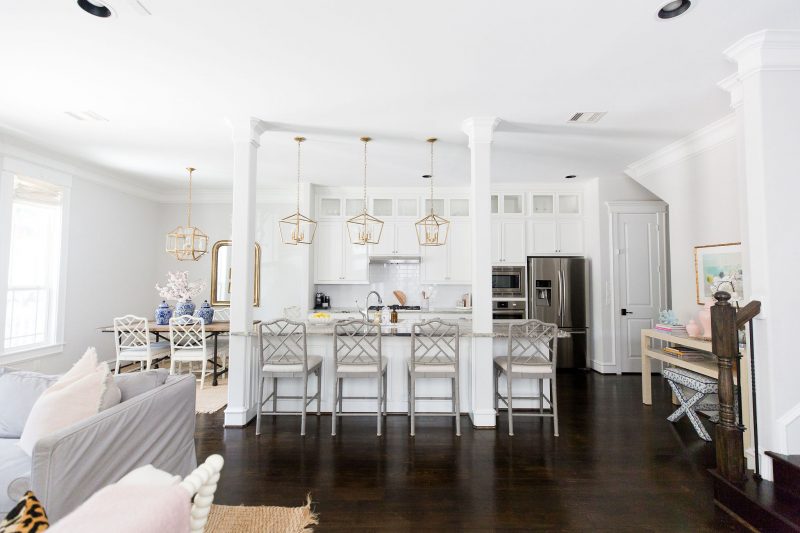 Our current home: 2 stories, 3 bedrooms, 3.5 baths

Note: Our current home's floor plan is most similar to our second home, but a bit larger/wider. Our first and third home were more of a "square" living space and our second and fourth home are more rectangular/linear. In our experience, the linear open floor plan feels more spacious than the square open floor plan. Even though both floor plans have the kitchen, dining area and living room all sharing one large space, the linear open floor plan makes each space seem "further" from the other, if that makes sense. In our third home, we felt like the living room was literally IN the kitchen, whereas in our current home, it feels totally separate from it physically, even though visually it's one large space.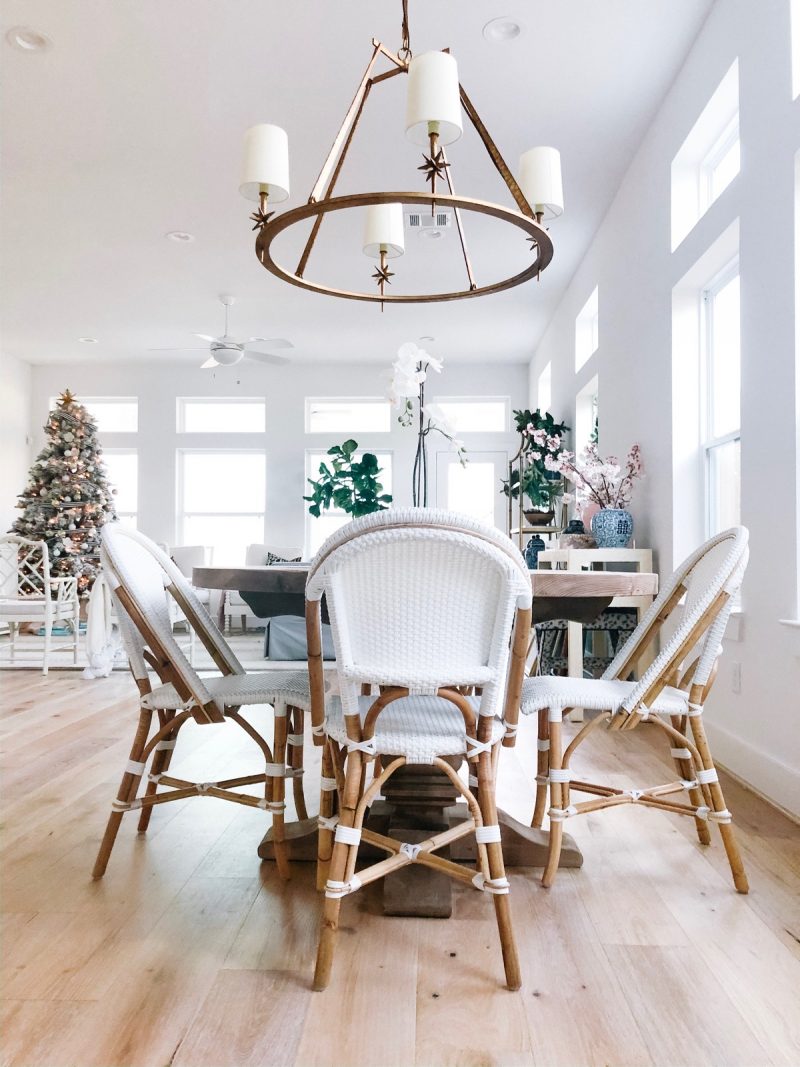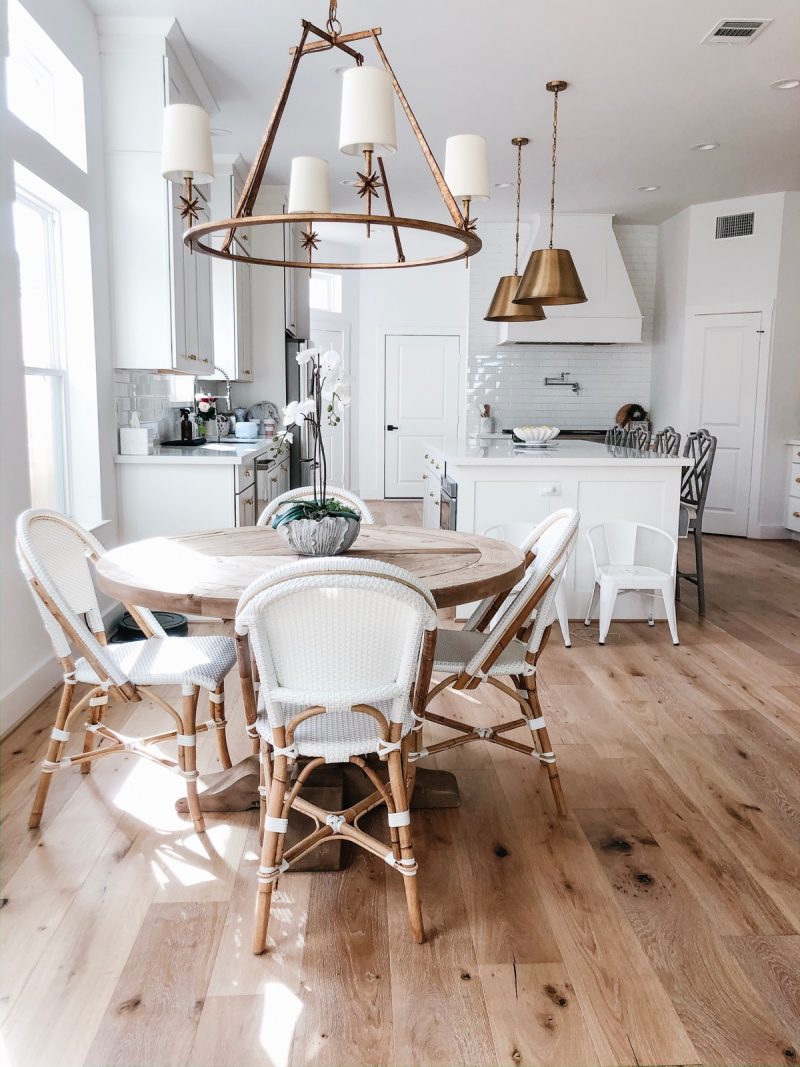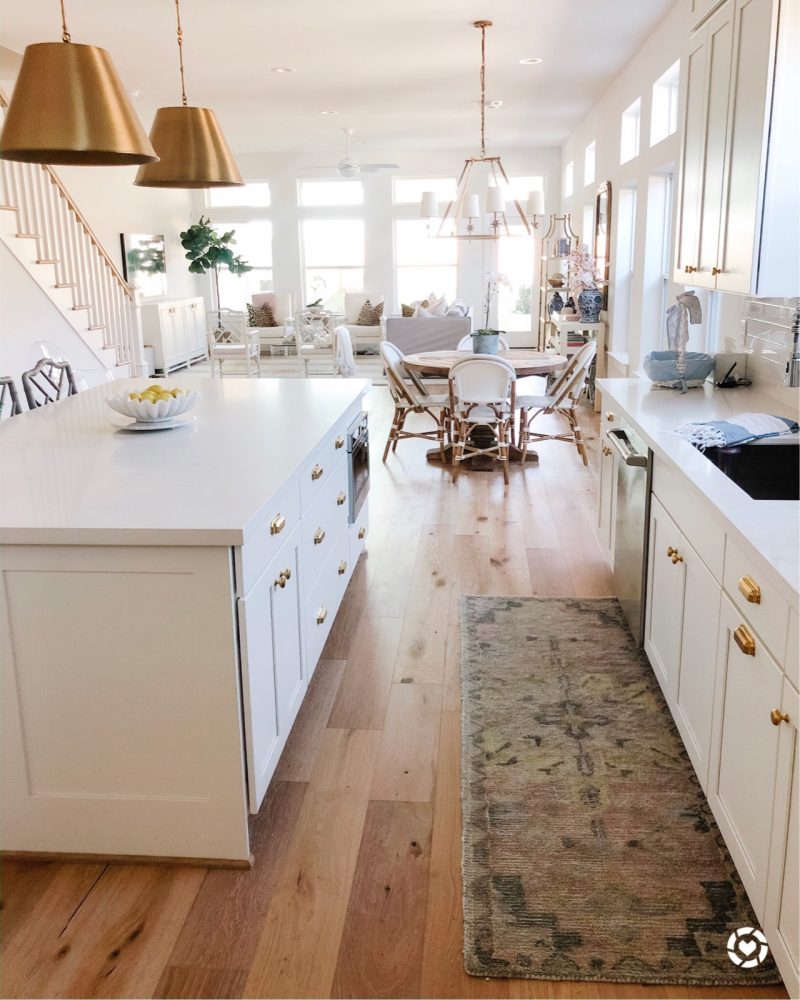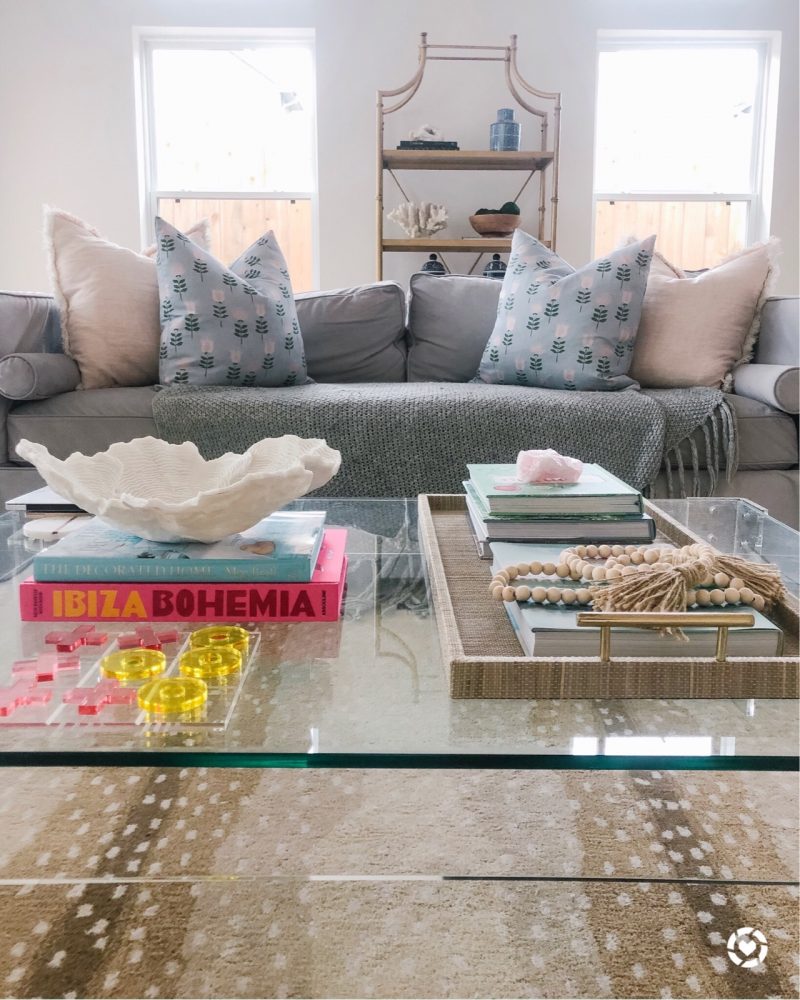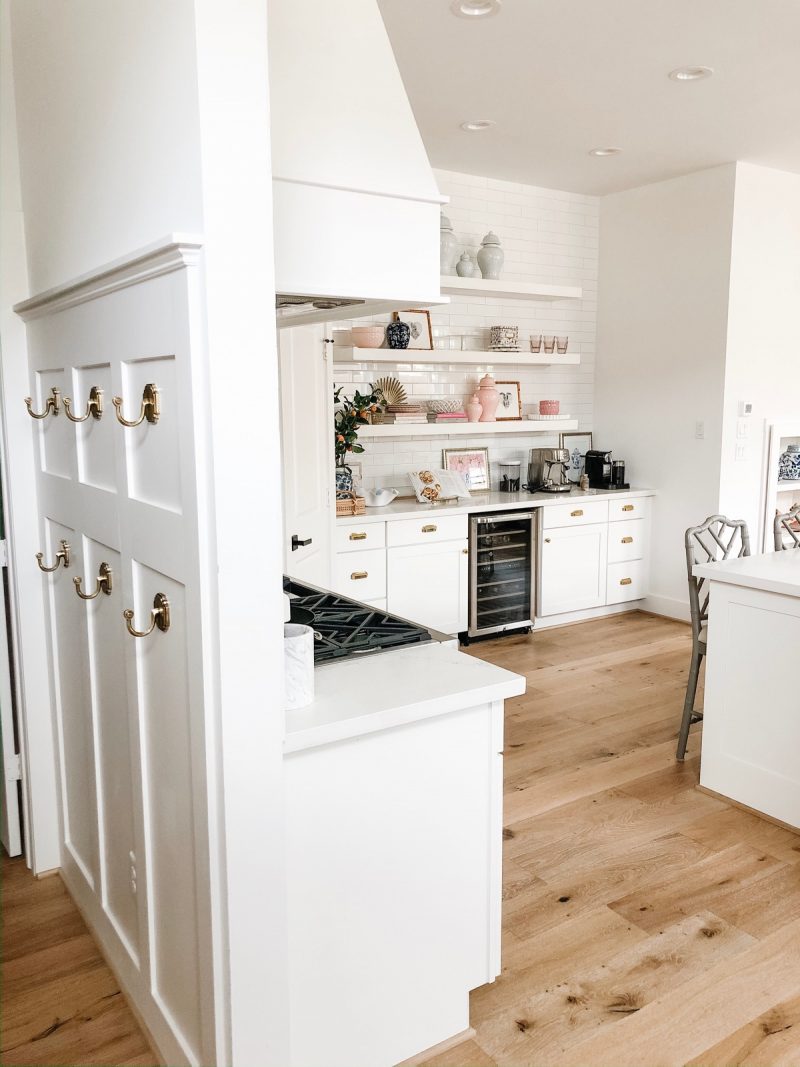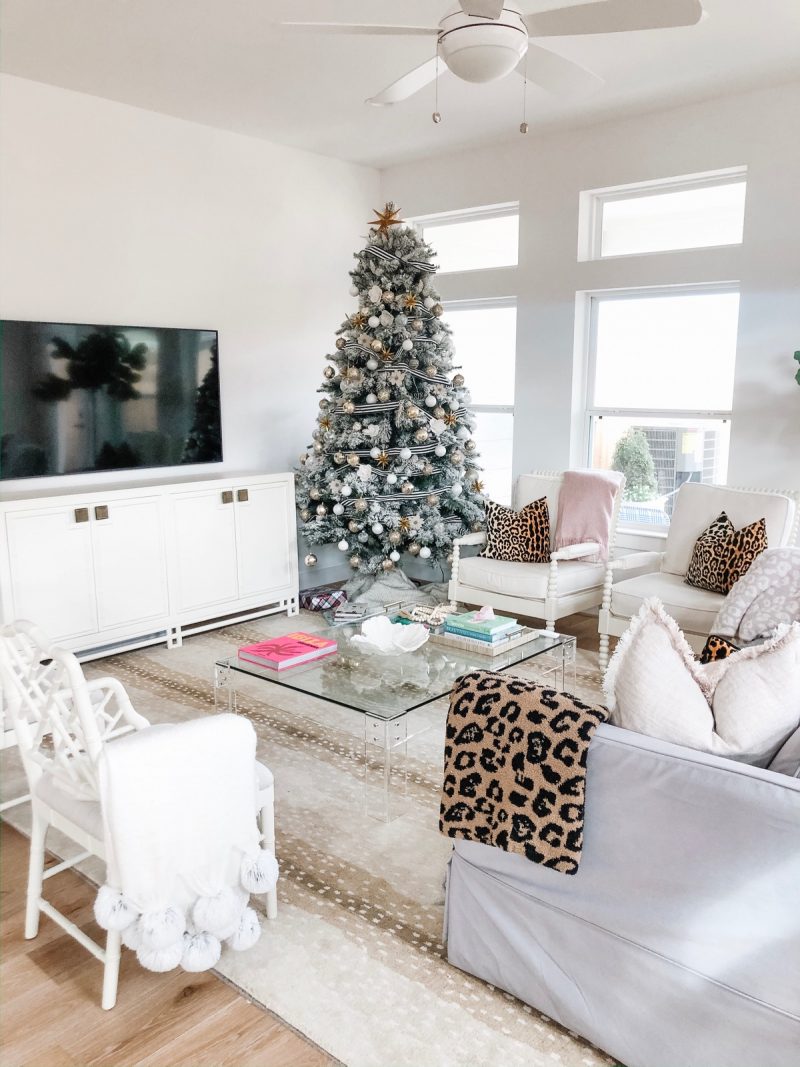 PROS of an open-concept floor plan
SIGHT LINES: Open concept floor plans are nice when you have young children – we can easily see/monitor our kids from all areas of our main living space. Since we both work outside of the home, it's nice that we can all be in the same space and see one another when we do get home from work/school.
LESS CLUTTER: Since you can see every space all the time, I'm more motivated to keep things uncluttered so the space looks light and airy. I'm also more thoughtful about what we have in our main living space.
HIGH CEILINGS: Newer homes tend to have 10 ft. ceilings, so the open space feels even larger. We get a ton of natural light, too, which is a huge bonus.
COHESIVE DESIGN: It can be easier to define your design vision for an open-concept space since everything has to "go together," as it is all seen at once. For example, you wouldn't do a mid-century modern look in the living room and a glam dining room – everything has to be cohesive (which is also a con!)
I'm also more apt to invest in quality furniture and décor pieces because you can really see every single element in the space no matter where you're standing. It's worth it to splurge on things like lighting, for example, since you can see/enjoy those statement pieces from everywhere in the home.
ENTERTAINING: Whether it's having friends over or play dates with kids, everyone can congregate throughout one large, open area and feel like they're part of the event.
MODERN FINISHES: Open concept homes tend to be newer builds – so they oftentimes have more modern finishes and feature the latest design trends.
EXTRAS: Every open-concept home we've lived in has been a newer home or new build and all of them had separate water closets in the master bath which are nonnegotiable for me. Sometimes open-concept floor plans have really generously sized master bathrooms, laundry rooms and things like that. One home we made an offer on before buying our current home was an older home that had been renovated to be open-concept, but the master bedroom and its closets were tiny, it didn't have a water closet and there was no laundry room (just a washer/dryer in the garage).
CONS of an open-concept floor plan
DESIGN LIMITATIONS: Homes with separate rooms and spaces can have various looks in each space – while you still have to think about the overall vibe/style of the home you don't have to worry as much about making bolder choices in say, a dining room or office, if it doesn't open up to the rest of the house. You could also choose a light fixture that doesn't have to "match" the rest of the ones in a space if it's in a totally separate room and can't be "seen" at the same time as the others in the rest of the home.
WALL COLORS: Your main living space typically has to be all one color – because the rooms aren't divided or separated, most open-concept homes are all one color. I've always loved this, personally, but it also has its downsides if you love color and defined spaces.
CHALLENGING FURNITURE LAYOUTS & SPACES: Our last home's layout was such a challenge – our main living space was very small and everything felt really squished together.
Open-concept layouts can be spacious (our new home feels much larger since the layout is more linear) but sometimes placing furniture can be a challenge, especially in smaller spaces where everything can feel like it's "on top of" the last space.
NOT IDEAL FOR LARGER FAMILIES: Many homes in our area have open-concept floor plans with one bedroom on the first floor, kitchen/living/dining on the second and master plus 1 bedroom on the third floor – not ideal for families with more than one child. However, there are also a ton of homes with open-concept floor plans that have all the bedrooms on the same floor (like our current home and our third home).
LACK OF PRIVACY: As we're working from home now, we're seeing how open-concept floor plans can be limiting for privacy. If one of us needs quiet to be on a call, we usually have to go upstairs to our bedroom since we are both working in our main living space (me at our dining table and Kevin in our living room).
ENTERTAINING: Many hosts don't like for guests to see the "messy kitchen" as they prepare a meal – you can't hide anything in an open-concept home.
PRESSURE TO KEEP THINGS ORGANIZED: More pressure to keep you home looking neat – it can be stressful to always be picking up – in homes with defined spaces, it can be more "out of sight, out of mind," which would be nice sometimes!
LESS WALL SPACE: There is less wall space for art sometimes in open-concept plans because there aren't the tradition four walls in each room. You have to strategically place art and mirrors.
Do you live in an open-concept home or a home with separate spaces for everything? What do you prefer? I'd love to hear your feedback!
PS- YOU CAN SHOP OUR ENTIRE HOME/FURNITURE SOURCES HERE.