We had a shower niche built into our shower when our home was under construction and it has been the most wonderful thing! I love that it has two ledges to hold our products and blends in with the subway tile (they also used marble on parts of the niche). I didn't want any extra storage in our shower (like the stainless steel hanging one we had in our last master bath) so having the niche forces us to only keep the products we use most in the shower.
Welcome to our shower…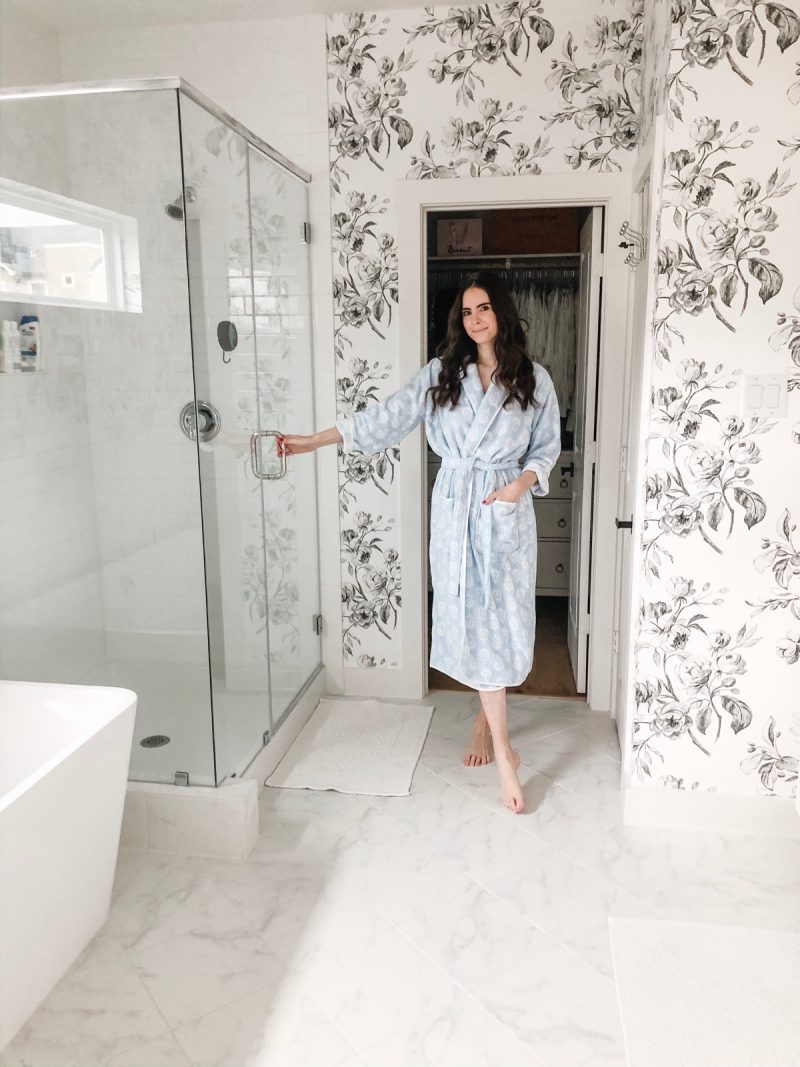 Come on in (in a not at all weird way…) PS – my robe is by Weezie.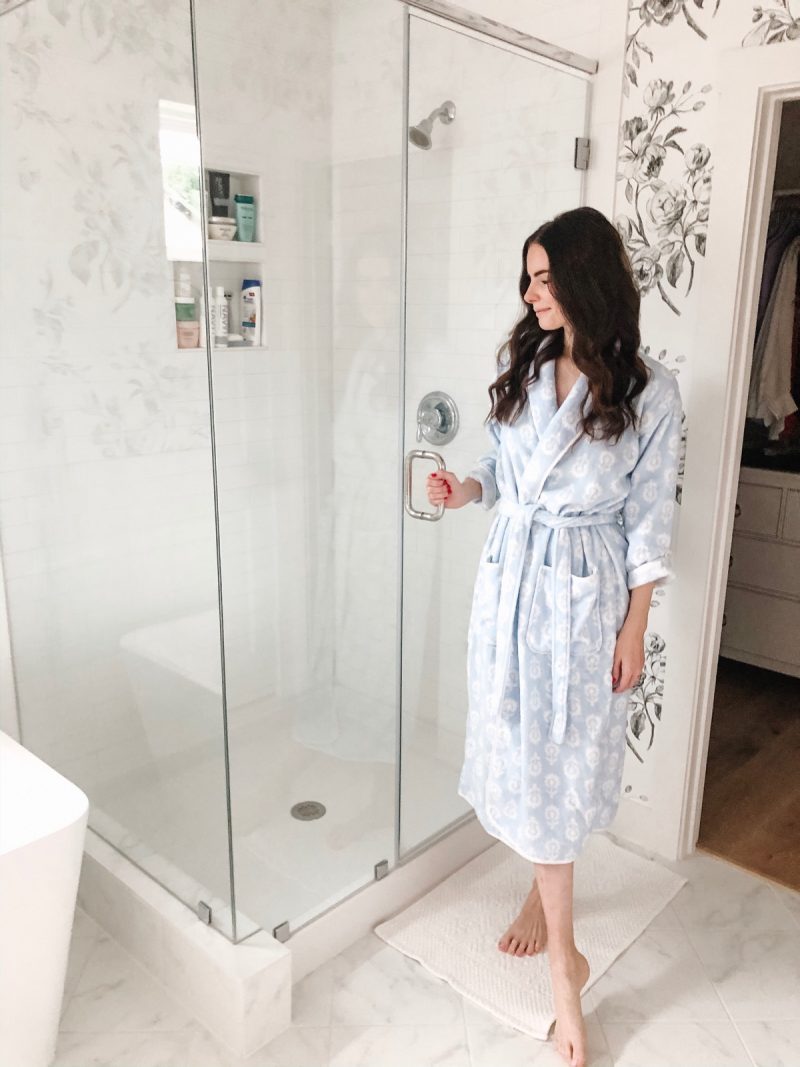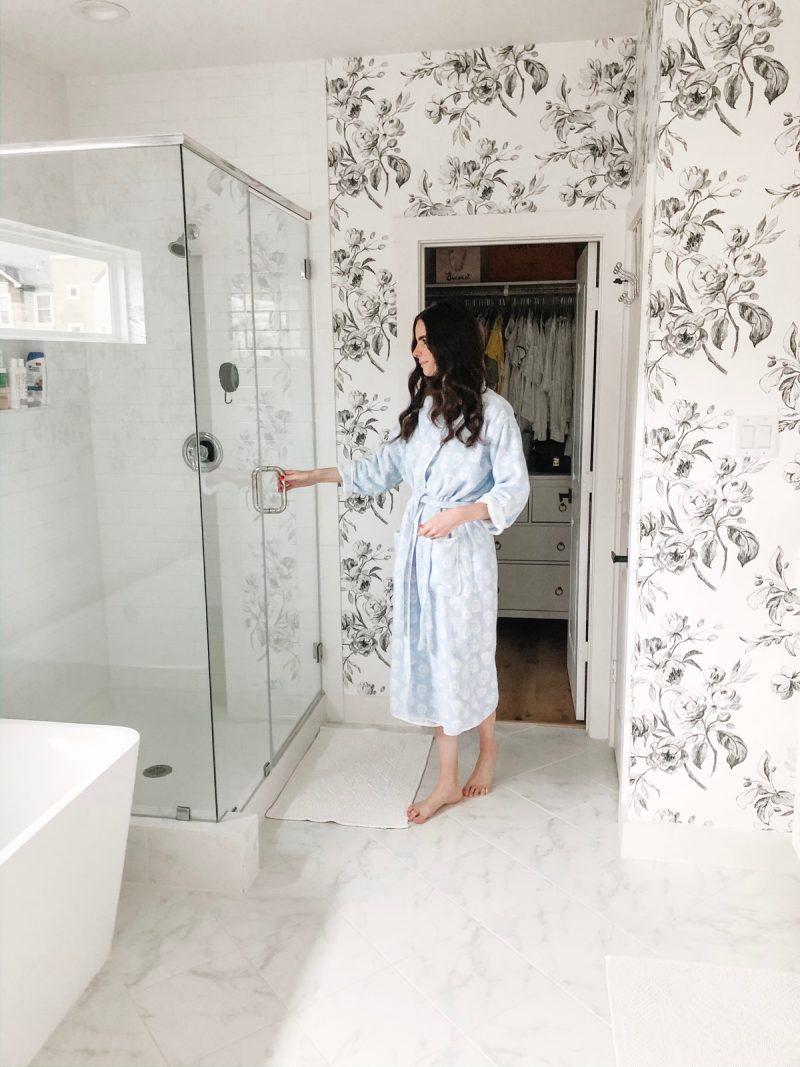 Now, let's break down everything in it: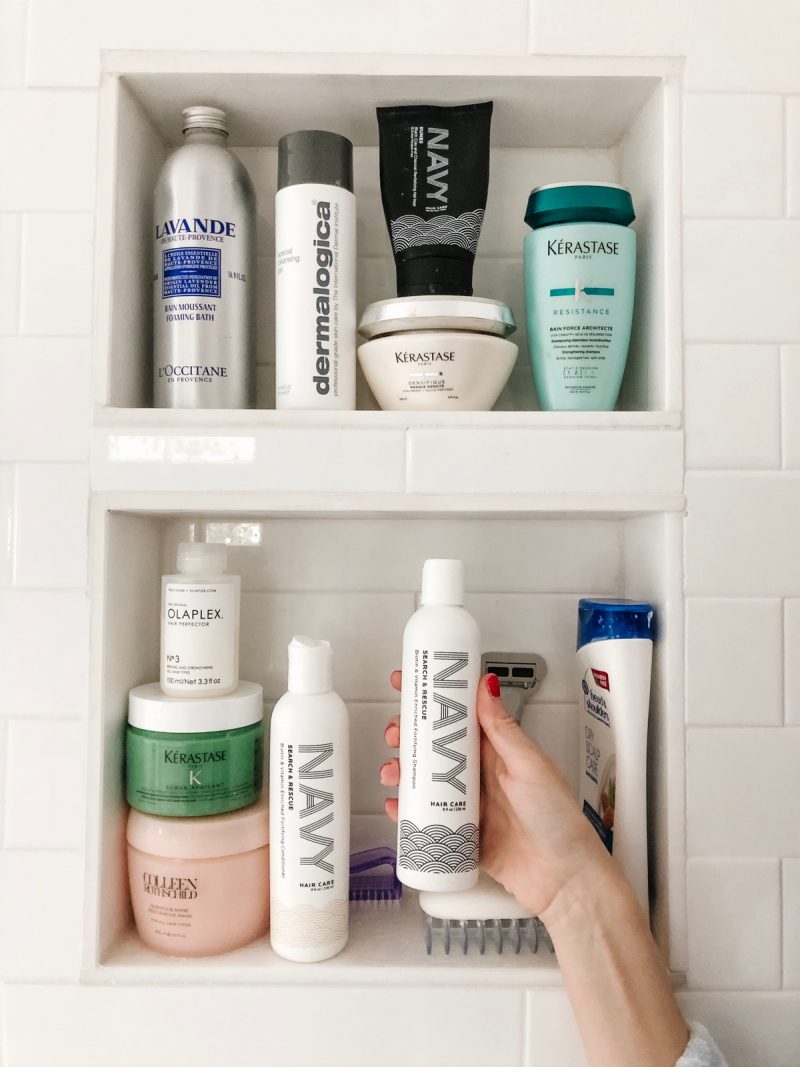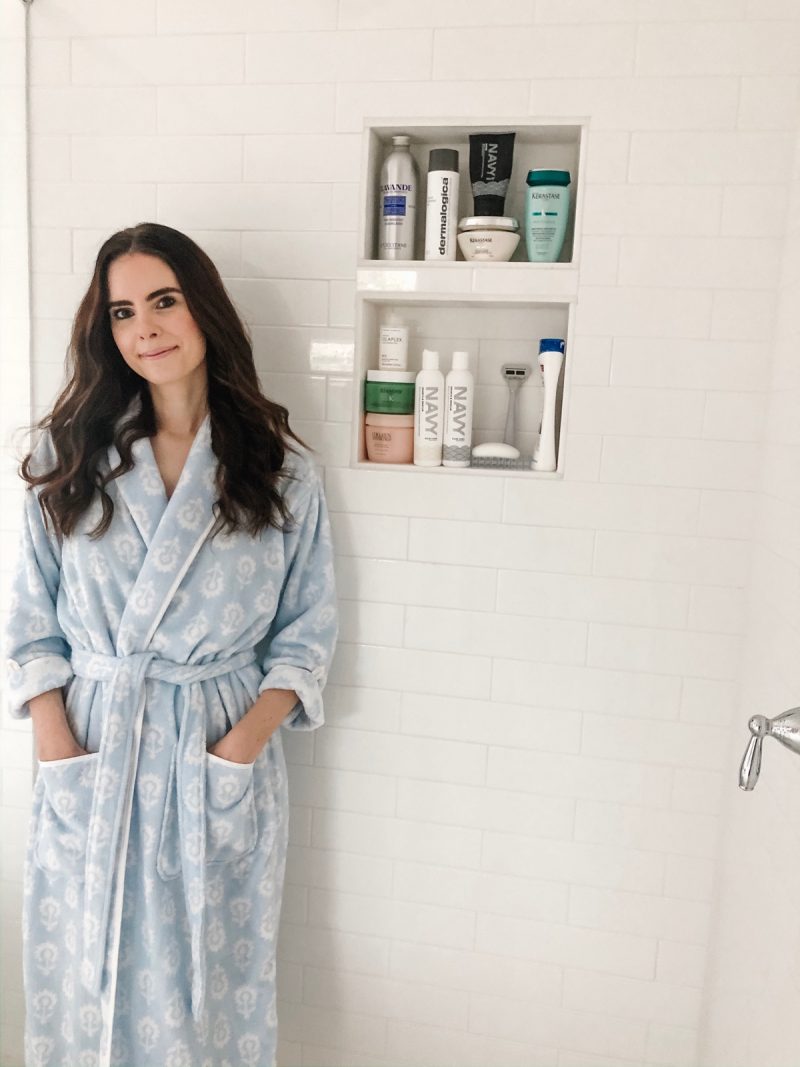 L'Occitaine Lavender foaming bath: This is actually a bubble bath, but I use it as a body wash. Just a tiny bit and it smells devine and lathers well.
Dermalogica special cleansing gel:I wash my face in the shower every time I wash my hair too (twice a week) and I adore this cleanser. On days I don't wash my hair, I wash my body but wash my face in the sink so I don't get my hair wet (I wrap it in a towel turban-style to keep it dry when I shower).
Navy Hair Care Black Clay and Charcoal Revitalizing Hair Mask: (Use code BRIT at checkout for 30% off of any Navy Hair Care product). This mask is special. You use it after shampooing your hair. The consistency is very clay-like. I remember the first time I used it, I didn't believe I'd able to rinse it out of my hair. But it does rinse our totally clean and the magic of this mask is that it removes all of the build up in your hair and once it's dry, it will be softer than ever. It lasts a long time because I use it about every 4th or 5th wash.
Kerastase Densifique Bodifying Mask: I use this as a deep conditioner to hydrate my hair and make it appear fuller. It feels great in my hair and doesn't make it feel heavy or weighed down.
Kerastase Resistance Shampoo for Damaged Hair: I use this shampoo about every 4th or 5th wash. I mostly use my Navy shampoo, but like this one as well! Now that I don't lighten my hair, it's not as damaged, but it does help fortify hair from heat damage which is wonderful.
Olaplex Hair Perfector No. 3: I'll be the first to admit I don't use this a lot. Maybe once every few months. I feel like Olaplex is best for blondes who color their hair, but I will use it as a treatment once in a while, applying it on damp hair for a few hours before washing my hair. My hair dresser actually told me my hair was in good condition and that I don't need Olaplex, but I have heard it's a game changer for blondes in particular. Wish I would have had this 12 years ago, haha!
Kerastase Relaxing Scrub: Soothing Scrub for Dry Scalp: This scrub is formulated with jojoba beads, sweet orange peel, madecassoside, and vitamin B5. It cleanses the hair while providing a soothing feeling on the scalp (site description). I find it's like a mini exfoliating spa treatment for your scalp. I use this about once a month to keep my scalp healthy.
Colleen Rothschild Quench & Shine Restorative Mask: I like to use this conditioning mask about every third wash. It's super rich and creamy and makes hair feel very smooth when you rinse it out. A great mask for a fair price – lasts a long time!
Navy Hair Care Shampoo & Conditioner: (Use code BRIT at checkout for 30% off of any Navy Hair Care product). By far my most used combo. I LOVE Navy's shampoo. It's a standout product to me. It contains a powerful combination of enriching ingredients including Panthenol for elasticity, Rosemary leaf extract for growth promotion and Vitamins A, C & E. It also contains biotin to make hair stronger. It is SLS & Paraben free, but lathers so luxuriously, without leaving hair feeling heavy. In fact, my hair gets great volume from this shampoo, yet it feels nourished. I have been consistently using it for a year and it has a permanent spot in my shower. I have heard a lot of women have very good results with postpartum hair loss with this particular line as well.
Dove soap for sensitive skin: We keep a bar of Dove sensitive skip soap in our shower. I like to use it on my underarms and feet, etc. I use a scrub brush to clean my toes with it too (maybe that is TMI, but my feet get sweaty in my shoes and I like to thoroughly clean them).
Head & Shoulders shampoo: Kevin likes this shampoo and once in a blue moon I use it too, just for fun, haha 🙂
Flamingo Razor: I've had these razors for over a year and they're good! It's $9 and the replacement blades are less expensive than most in-store brands of the same quality.
That's it! My most-used shower products. I also have to mention there are other shampoos I have used and loved over the years, like this one and several drugstore brand formulas, but I always enjoy trying new ones. I even started using regular (non-kids) shampoo on Harper's hair since I get so many wonderful PR samples. Right now I am using this shampoo and conditioner on Harper's hair. It's a gentle and clean formula so I feel good about it!
SHOP THIS POST: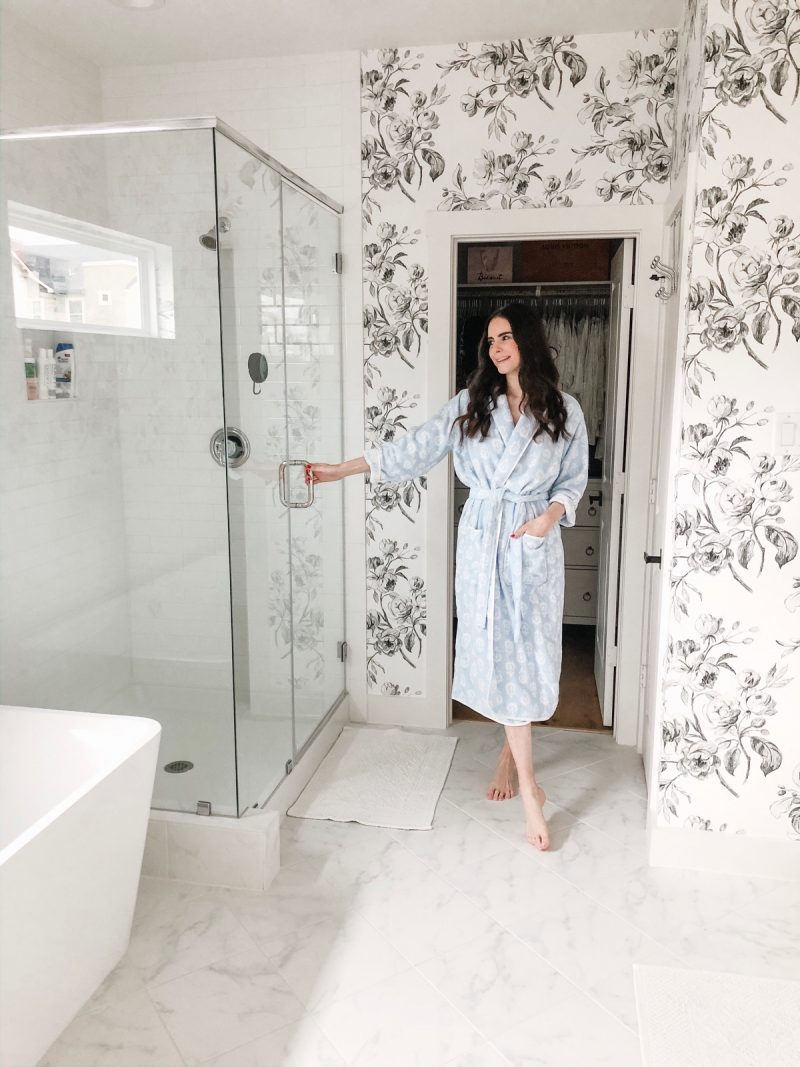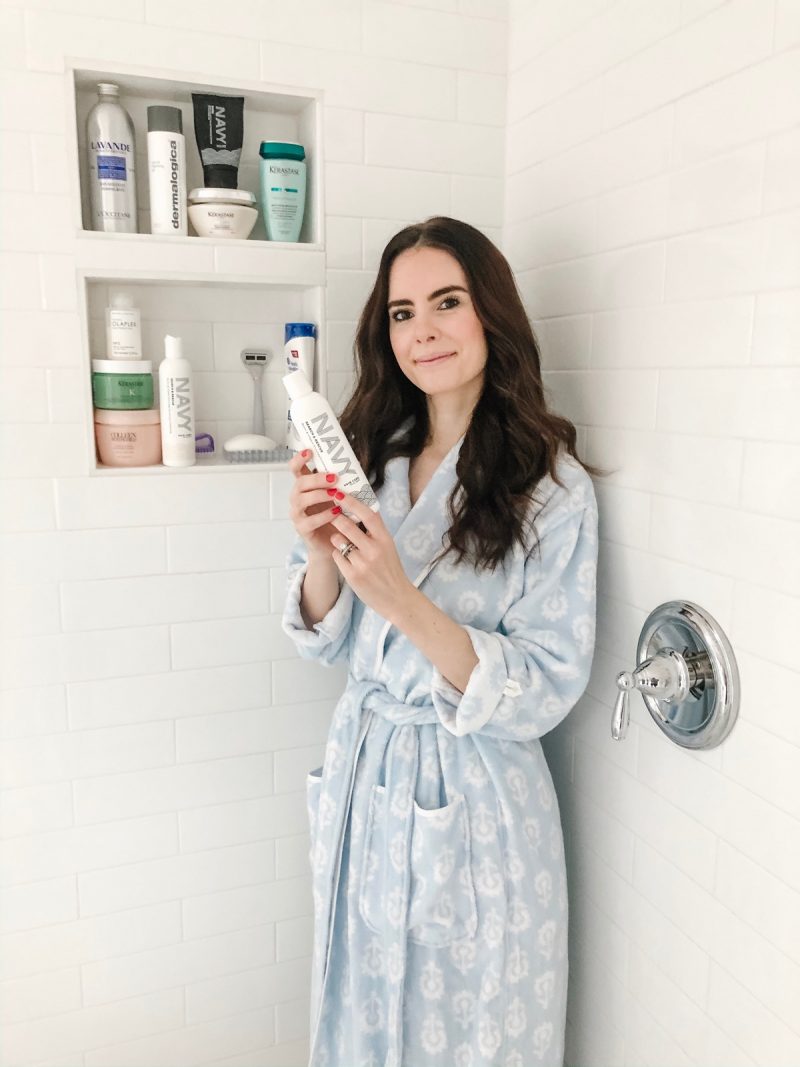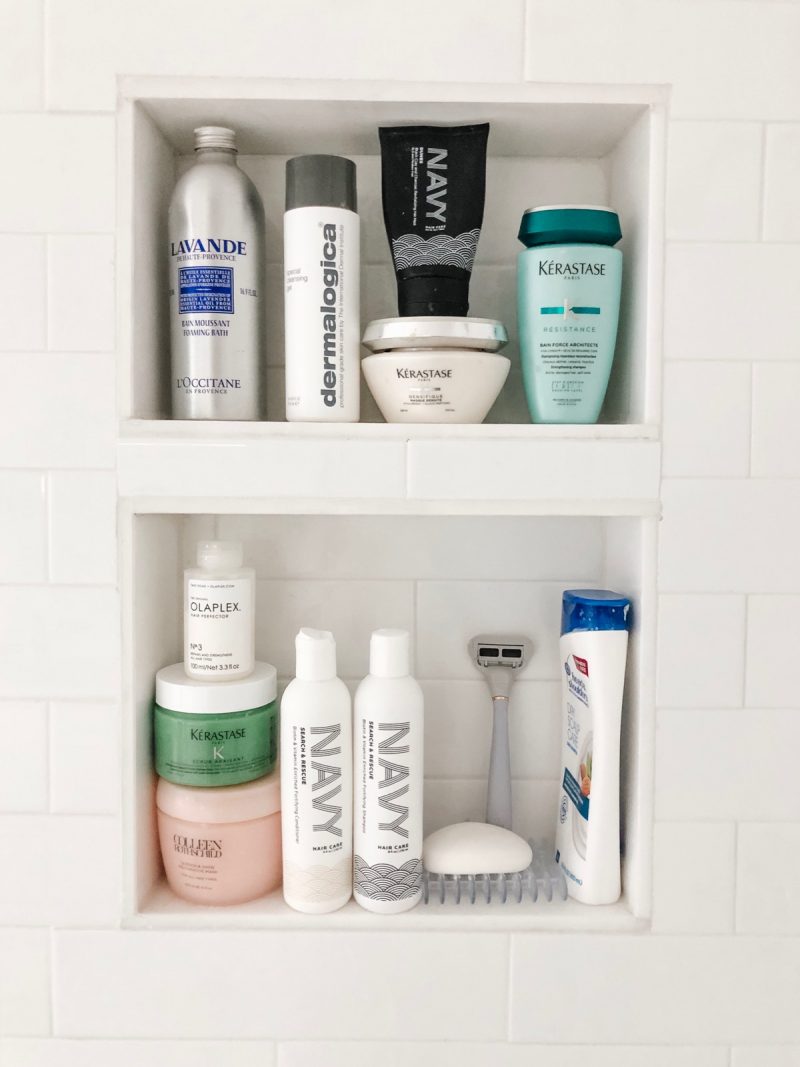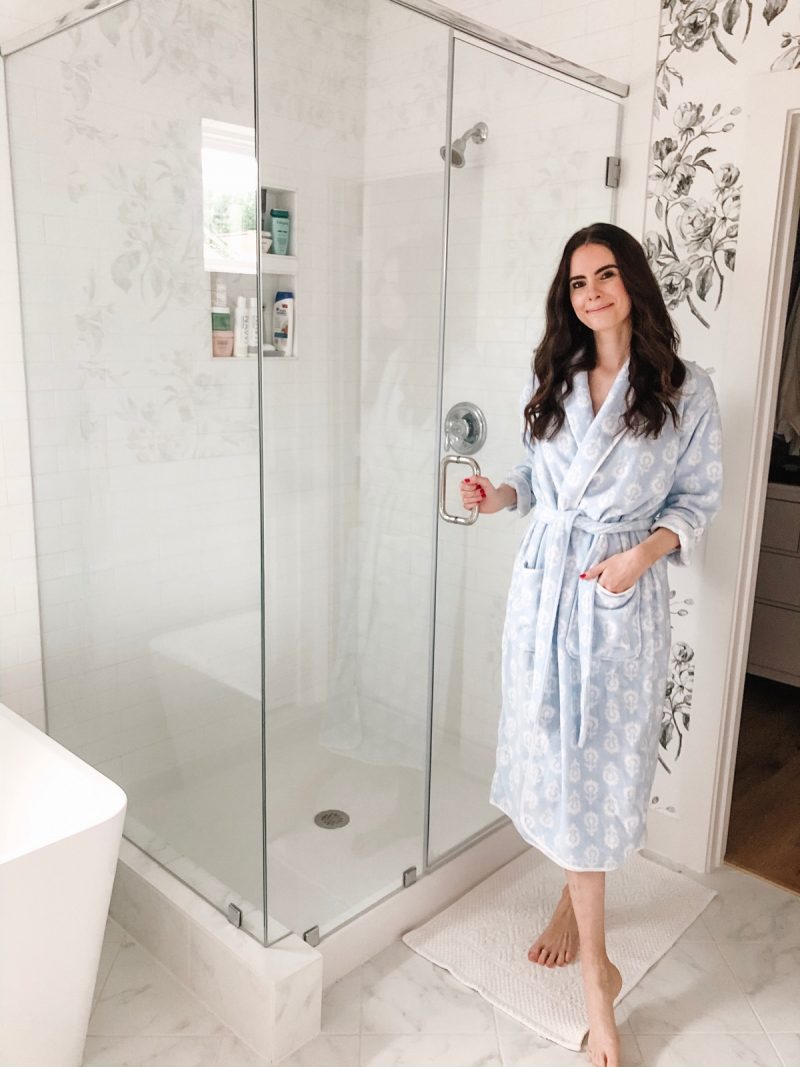 Thanks for reading!
SHOP THIS POST:

Shop the Post