Good morning! I was able to shop the Nordstrom Anniversary Sale this week and I'm sharing my actual purchases with you here (I will also likely place a small online order).
NORDSTROM IN-STORE EXPERIENCE
I went to my local Nordstrom on Tuesday and it was so empty, I honestly felt safer there than going to a grocery store. First of all, the store is massive (three stories) and there weren't a ton of people working or shopping – I probably saw 40 people total, including employees, the entire time I was there. Everyone was wearing masks, there was hand sanitizer everywhere and plexiglass at every checkout area. I was not planning to go into the store (I haven't been to a "real" store since March), but a lot was sold out online so I decided I'd go and if it was super busy when I walked in, I'd turn around and drive back home. I went during the end of the workday, so perhaps my timing was just right? I also didn't use the fitting rooms at all – I just purchased everything without trying it on. I was in the store for just under an hour and was able to shop all three stories in that time because it was so empty. I wanted to share my experience because I've been very conservative since the pandemic started, so going to a store for something nonessential felt like a big deal to me, but it ended up being fine and I felt at ease with all of the precautions in place.
2020 NORDSTROM ANNIVERSARY SALE THOUGHTS…
In this season of my life, with no end in sight to our working-from-home situation, I'm not buying jeans, cute tops and sweaters during this year's sale. I'm often tempted to buy a really cute dress or shoes I see online – but then I ask myself – where would I wear them? As you may have noticed, I've been much more focused on investing in home projects during this time.
This year, I'm focused on essentials like bras and underwear, athleisure (leggings + sweatshirts), pajamas and replenishing beauty products I use regularly. I'm sure a lot of you are in the same boat, so don't feel pressured to buy things that will sit in your closet for six months if your current reality is the same as mine. Invest that money in your home instead – things you can enjoy seeing and using everyday. I sleep with my Barefoot Dreams blanket every night and have one on my lap everyday while I work, so that's my #1 recommendation from this sale.
Here are some of my favorite HOME items from the Nordstrom Anniversary Sale:


If you're working in an office setting right now and have your sights set on work items, I have really loved this Gibson blazer and have owned it for several years. I also really love this cashmere sweater and would have tried out these work pants if I was working in my office.
Here are some of my favorite office wear items from the Nordstrom Anniversary Sale:


I also want to THANK YOU in advance if you decide to shop through my links, from which I earn a small commission. Your support helps me run my blog and create the content I do – I appreciate you all so much, today and always!
WHAT I ACTUALLY BOUGHT


Wacaol wireless bra (size M)
I love True & Co. wireless bras and own several already – they're fantastic and I recommend them! I was intrirgued by the Wacoal wireless bra because they also make a traditional wireless padded bra, which is one of my favorite bras of all time (and part of the sale!)
IMO, the Wacoal wireless bra is higher quality and offers more support than True & Co., so it's a better fit for bustier gals or women wanting more support. Originally $58, it's $37.90 during the sale – so now is the time to buy for such a great price. Mine is a medium and I wear a 34D, but I would size up in this one if you're unsure or busty. The material of this bra is smoothy and buttery, but thicker than True & Co. and the sides are sewn in a way that makes it a more supportive wireless bra. It also comes with insert pads, but I usually take those out (I kept them in for the photos). I love True & Co. bras and will continue to wear them, but I wanted to offer this Wacaol option for those who typically don't find the stretchy style bras to be supportive enough.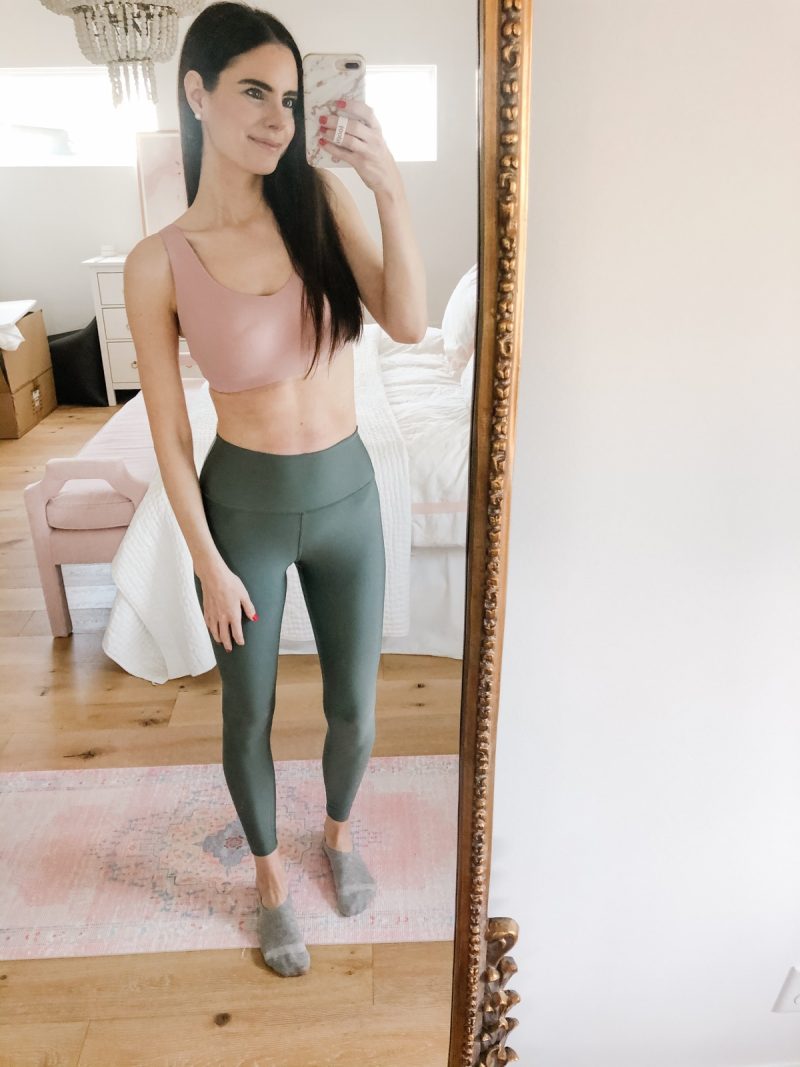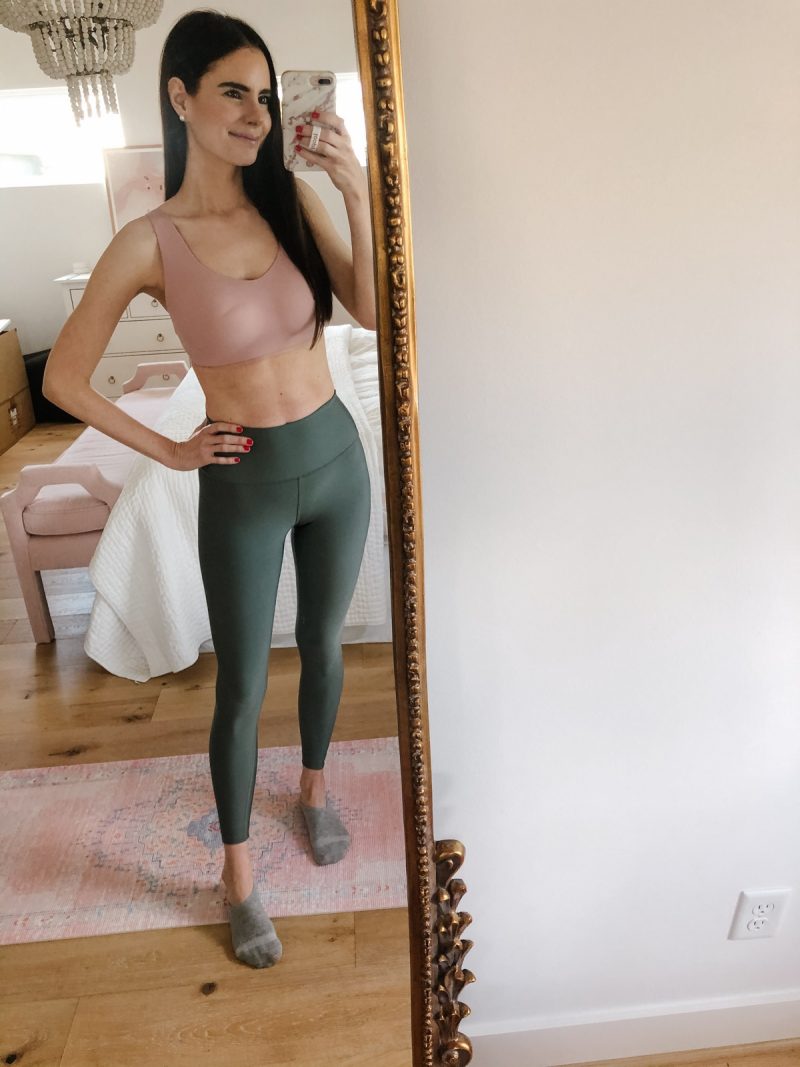 ALO AirLift high-waisted leggings (size S)
These leggings were the #1 reason I went to my local Nordstrom store. They were already selling out online and they were the one item I really wanted this year because they're among my all-time favorite leggings. They are so flattering, the waist is super high, which I love and they feel buttery smooth. Definitely a splurge, but at the sale price ($78) comparable to what you'd pay for LLL, Athleta, etc. I wear a small in these.
Natori Bliss cotton briefs (size S)
I've never purchased these, but loved the purple color and truthfully, I wanted to see how I liked a $20 pair of undies (on sale for $14.90) versus my usual $5 Target ones. TBD.
Malin + Goetz Eucalypts deodorant
I had heard some buzz about this aluminum-free deodorant and I love the smell of eucalyptus so I was sold! It smells amazing and goes on clear. I can't provide any longterm feedback since I just got it, but so far, so good.
NeuBrow brow enhancing serum
Revitalash is my go-to lash serum, but their brow formula didn't do a ton for me, IIRC. One of my friends with amazing brows said the NeuBrow is the best one, so I'm giving this formula a go! I already have thick brows, but they are a little sparse in some areas, so I'd like to make them thicker and fuller.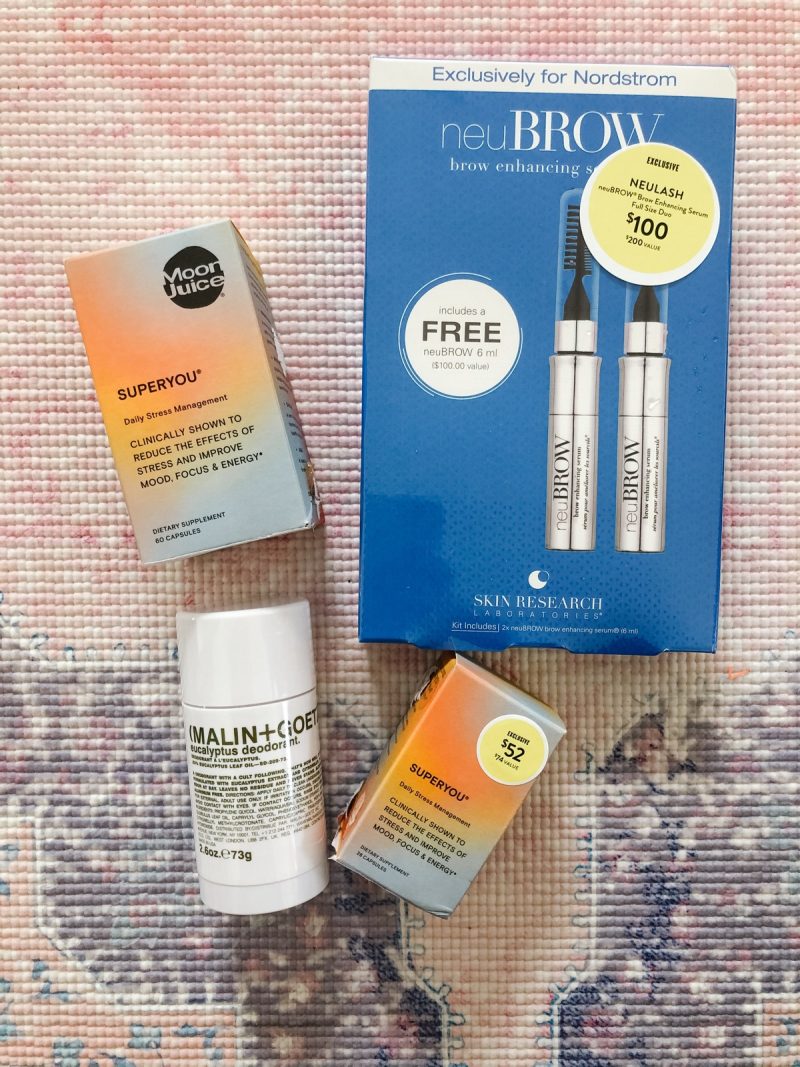 MoonJuice SuperYou
These were an impulse purchase, but with all the stress happening in this world RN, I figured it couldn't hurt to incorporate these into my vitamin routine. Ive taken ashwaganda before and this contains a bunch of other ingredients too, that are supposed to help with stress. I will report back, in the meantime, here is one positive experience I found and you can read more reviews, here.
Items I'm planning to order online if they're in stock or restocked:
North Face jacket for Harper if sizes re-stock (FYI, I buy each child a North Face winter jacket about every other year. I always buy the next size up and usually get two winters out of it – L's will still fit him this year).
THINGS I PURCHASED FOR THE KIDS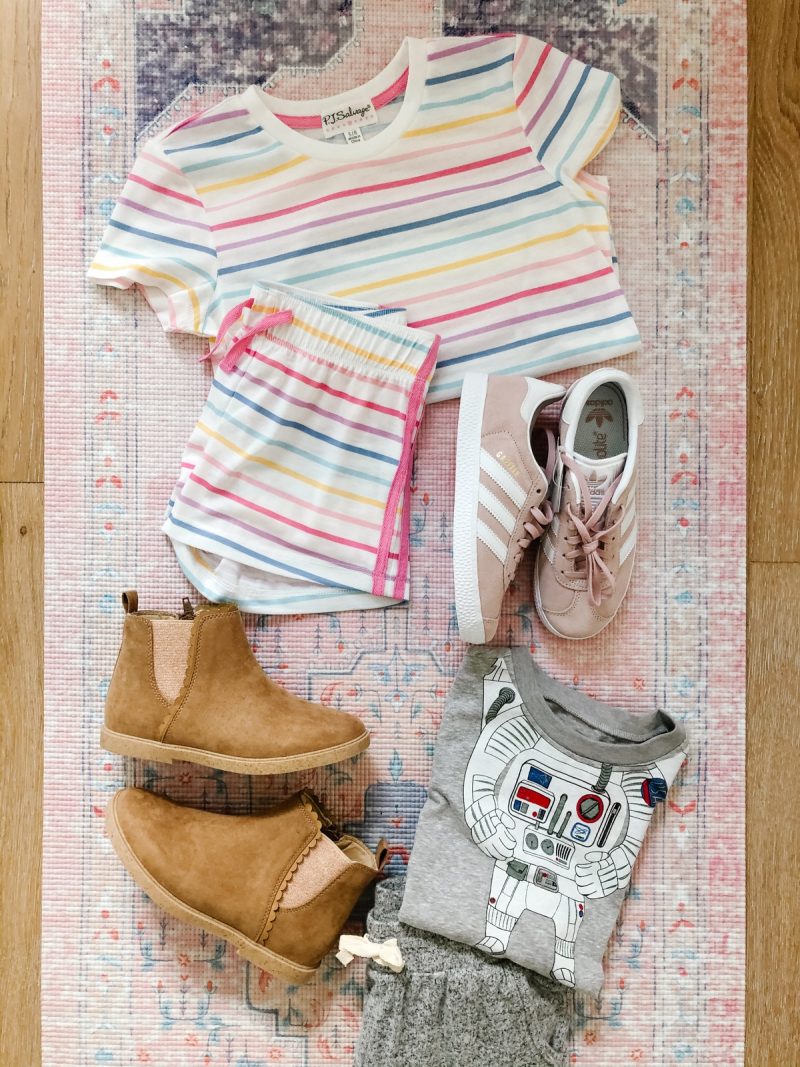 Adidas sneakers
I got these for Harper but they're too big, so I have to order the next size down online if they're still in stock! A great deal a $34.90 down from $55.
Scalloped Booties
Harper has the glitter version of these from last year and they're so cute I got her this neutral pair in her current size. They look darling with leggings and dresses alike!
Rainbow PJ set
Sadly these are sold out for now – but I got the last set in store and it happened to be a size up from what we needed!
Astronaut t-shirt
Lincoln was SO excited about this t-shirt, he put it on immediately! Such a great deal at $9.90!
CLICK HERE TO SHOP MY OTHER NORDSTROM ANNIVERSARY SALE PICKS – ITEMS I OWN + LOVE WITH FULL REVIEWS: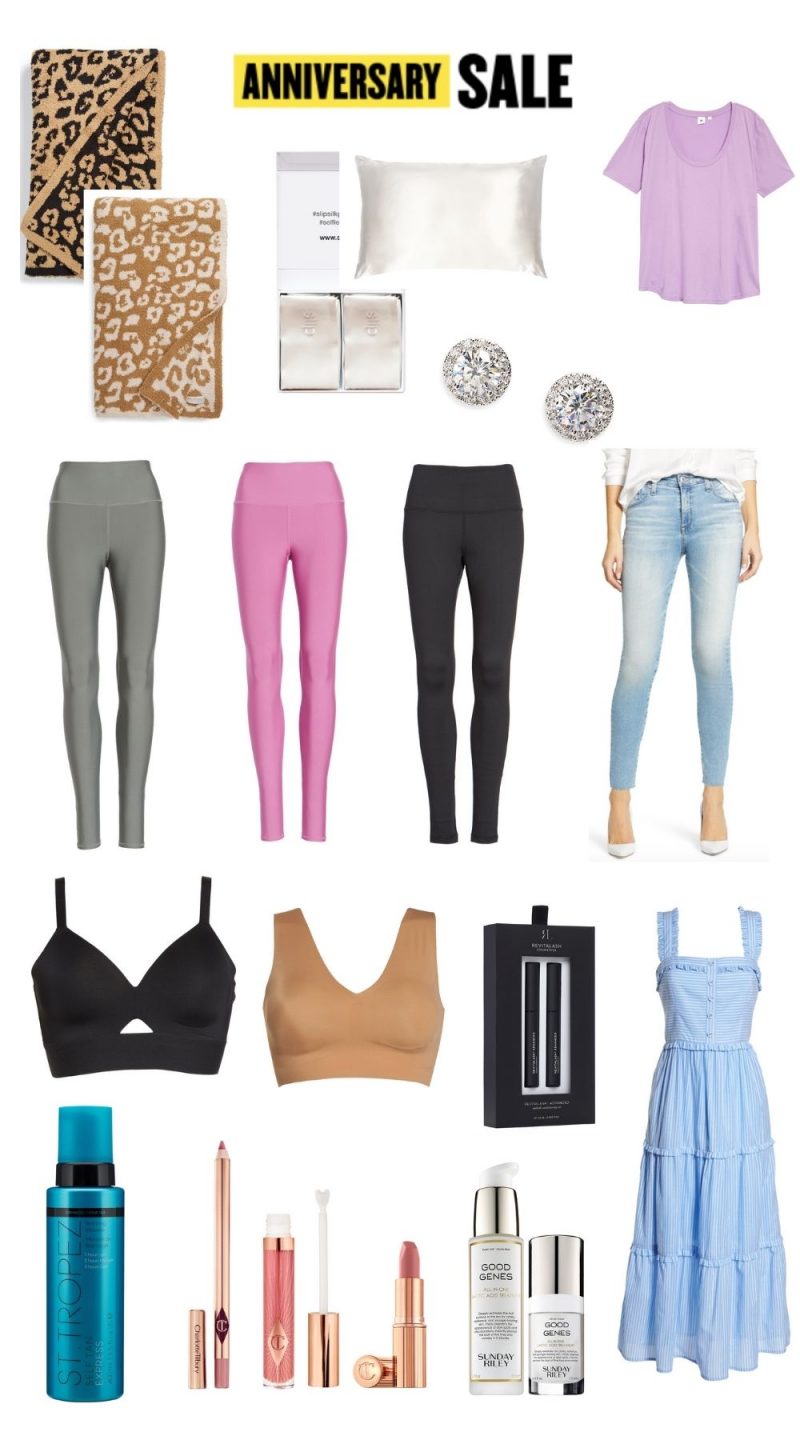 Thank you for reading and enjoy your Nsale purchases!
Shop the Post