I've been working since I was 14 years old – through all of high school and college. When I moved to Houston as a Canadian citizen and was unable to work (legally), I was an almost full-time (32-40 hrs/week) "volunteer" at a local nonprofit, working in their PR department. I couldn't stand being at home "doing nothing" and not using my skills/gaining work experience, so I worked for free, for almost a year (I was hired on full time when I got my Green Card). Working/my jobs have always been such a huge part of my identity – I even spent the last 11 years (yes, ELEVEN!) building this blog/platform in addition to working full time at a traditional 9-5 job.
For the last nine and a half years, I've been working as a Sr. public relations specialist at a children's hospital. I love my job there, the work I do, and the privilege of getting to see miracles happen. I've actually never been at a job this long – but I have a true passion for the mission of the hospital, as cliche as that sounds.
Having said that, managing a full time job while also leaving breathing room to do other things I'm passionate about and are important to me has proven to be incredibly challenging. To be honest, I have no idea how I even did it this long. People always ask me "how do you do it all?!" and the honest answer should be "at the expense of my mental health and many other things."
Though I've been promoted during my time at the hospital, I have made it clear that I don't have an interest in moving beyond my current role. Some might think that's a poor decision because growth is the ultimate goal for many, but I know that at this time, I don't have the bandwidth to manage people, work longer hours and deal with more crisis situations/high-level decision making at all hours of the day and night. I simply couldn't take on even more work/responsibilities/stress and have time for my family, to run my business and honor my mental health needs.
I've always gotten so much personal and professional fulfillment from the success I've experienced running and growing this blog on my own. Of course I've had moments during my career in PR that have been incredibly fulfilling and thrilling (like a story I worked on for months getting a front-page placement in the New York Times!), but overall, I just don't have that need to get the majority of my professional fulfillment from my 9-5 job. I still strive to excel and the work is fulfilling, but it doesn't make up the majority of how I feel about myself as a professional.
Since having children, I've always wanted to work a 4-day per week schedule at my full time job (32 hours/week). It's something I never felt empowered to ask for, because in previous years, there was not support for transitions to part-time schedules. I always kind of just put that possibility in a little corner and thought "maybe one day."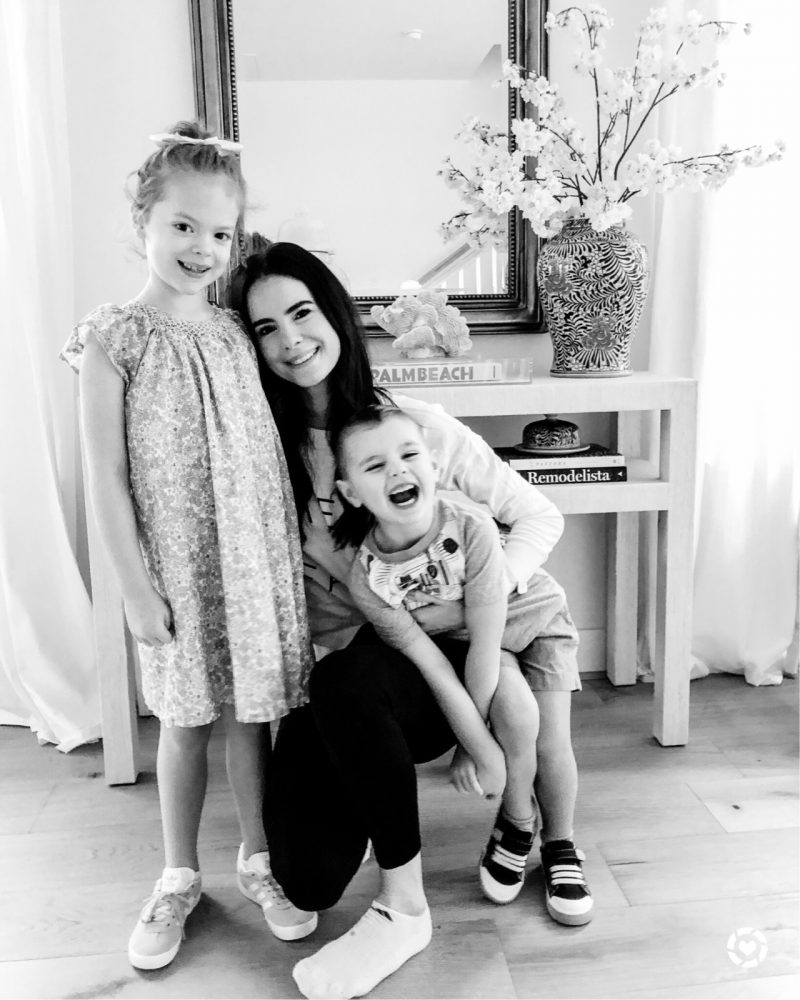 2020 has been a crazy/challenging year and I finally decided with the help and support of my family, friends, psychiatrist and psychologist that it was time to stop being scared to ask for what I wanted. In a recent virtual visit with my psychiatrist – he asked me, point blank, what was keeping me from asking for what I wanted (and needed!) after being a loyal employee for nearly a decade? I didn't have a good answer, other than fear. He prompted me to think about it – what's the worst they can say? No? Then I can have the proper information to make my decision.
After that conversation with my psychiatrist, I had a talk with Kevin and told him I was going to ask to reduce my hours. He was absolutely supportive of this and the moment I made the decision to make the ask, I started to feel sick. I became nauseous, my heart was racing and I felt all of my anxiety symptoms bubbling to the surface. I had such a physical response to even making the decision to ask for this, that I started to cry – half of the tears were from a sense of relief and half were from fear.
As an aside, prior to my current job, I worked somewhere that was very unstable and emotionally abusive (for which I sought therapy), so I have worked for years to mend the fear I always felt at work. Fear of failure, disappointment, being reprimanded, etc. A toxic work environment can really skew your perception of what's normal in a professional environment and though I had escaped it, some of that fear always comes with you to the next job. I also have some childhood trauma that has found ways to creep into my adult life – like lacking the confidence to advocate for myself, being "worried" about "getting in trouble" at work (which makes no sense – I'm a rule follower!), etc.
I kept coming back to the fact that I had too much on my plate and really needed one day a week off from my full time 9-5 job to have some breathing room. Whether that's to work on my blog/shoot campaigns/do backend administrative work, finish all of our laundry and groceries so I don't have to do those things on the weekend or taking a day for myself and my mental health – whatever it may be – I need the flexibility. I will note that Kevin is a very equal partner so the brunt of household chores and care-taking related to our kids is never all on me – but I have so many other deadlines, deliverables and responsibilities for my blog, which I do completely on my own.
I was on medical leave from work when I made the decision to ask to have my hours reduced, so I scheduled a call with my boss, made the ask, and she was supportive, which made me feel so valued at at peace. The reduction in hours was approved and I made the final decision to move forward to permanently go to 32 hours/week starting next month.
Even though I knew this is what I wanted – and have wanted for many, many years, I still second-guessed my decision before finalizing it. My anxiety has a way of making me feel insecure about big decisions or decisions that come with a risk factor. However, I told myself that I finally asked for what I wanted and got it – it would be crazy not to move forward and I would forever resent if I didn't. I knew in my heart this is what I wanted and needed – but anxiety has this way of tricking you into thinking disaster is around the corner, even when everyone around that corner is supporting you and cheering you on.
I also had some guilt about my decision because I kept telling myself "some people wish they had a job right now, and here I am, asking to work less hours." I know so many were laid off or furloughed during this pandemic and I want to be sensitive to that because I know they'd do anything to have full time employment right now. I had to work through this guilt with my therapist, who reminded me that this was a decision I made for my family and health and that while it's nice to have compassion for other's circumstances, my guilt can't factor into a decision about something I've wanted for a long time.
Something else I took into account is how I will be perceived when I go down to 32 hours a week. I worried that people might think I'm "not committed" or "don't want to work hard." Of course these thoughts are completely irrational and untrue, but I can't pretend they didn't pop up. I had to repeatedly remind myself that I have committed almost 10 years of my career to the same organization, proven myself time and time again and get wonderful reviews every year. I had to combat my feelings with facts and the facts always won.
Not much will change for me going down to 32 hours and important things, like my health insurance, will remain intact with no changes. There are pros and cons, but overall, I'm so happy with my decision.
"Why not just give up the blog," some might ask. The answer is simple. I LOVE blogging. I love this community. I love content creation, writing, taking photos, sharing parts of my life. I'm so proud of what I've built over the last 11 years and it's a significant source of income for my family as well – why shouldn't I have both? Running a business I built from scratch and never imagined could grow to where it is today isn't something you "give up."
I can't comment on how my new schedule will improve my overall wellbeing, family life, business and mental health at this time because I've just now transitioned to it, but I'm hopeful that this decision will give me some extra space to use one day a week whichever way I need to. One day doesn't seem like a lot in the grand scheme of things, but I know it's the right decision for me. I technically won't be working any less – in fact, Q4 is my busiest time – but now, I'll have the time in my week to do the work I need to do for this space with less stress, less pressure and less cutting into weekend time with my family, who I want to be fully present for.
Thank you for your support, as always. If you're like me and have a lot of fear about asking for what you want or need at work – I encourage you to take steps to build the courage to advocate for yourself – you might be surprised by the answer and you'll never get what you don't ask for.
Things that were helpful to me throughout this process:
Talking to friends and family about my decision
Talking to my therapist and psychiatrist
Reminding myself about the nearly ten years of work I've done in my career at the hospital and how I've proven myself to be committed and hardworking.
Combatting my anxiety with facts when I start to worry about how an ask like mine will be perceived or have fear about making the ask.
Recognizing that without asking for what I want, I can never even unlock the possibility of it becoming a reality.
Interrupt "worst case scenario thinking" with facts
Snuggle a puppy (okay this one is kind of a joke, but Teddy has been a Godsend and such a mood-booster during this time!)
Have a wonderful week.