This list is going to be hard to narrow down, but I'll try.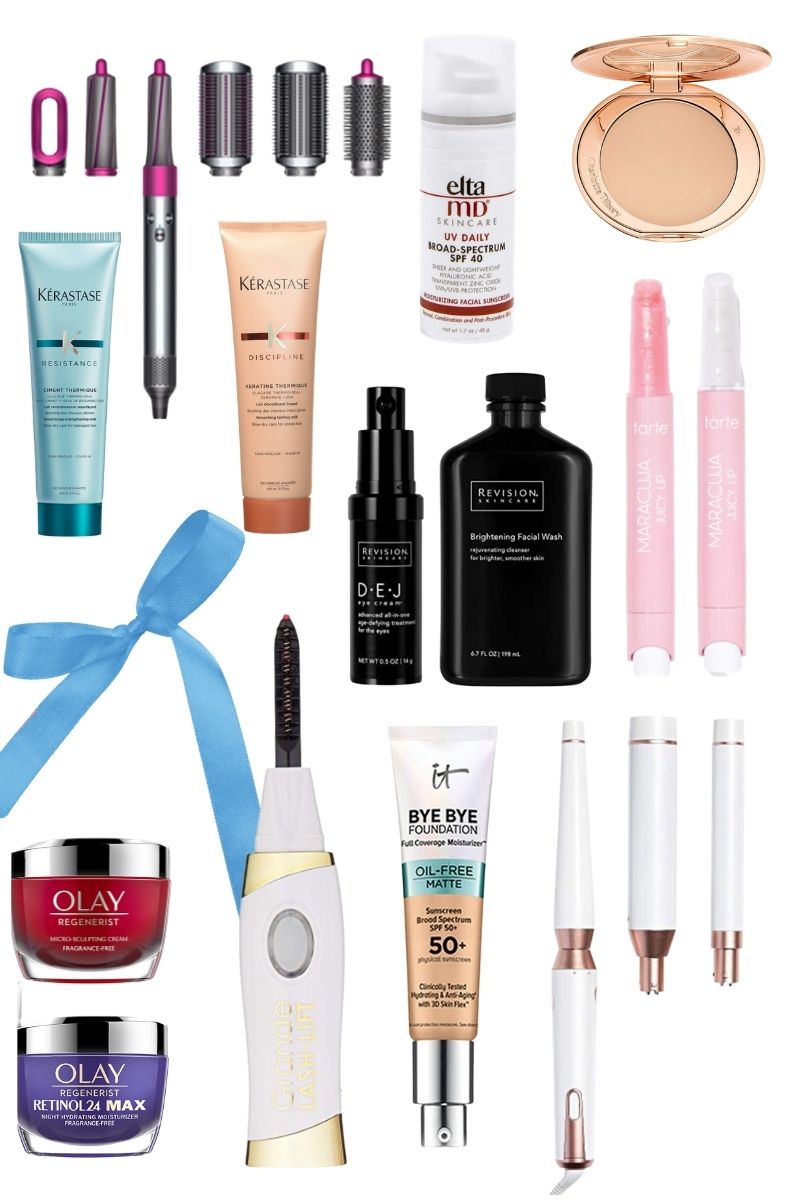 Dyson Air Wrap
The number one spot has to go to the Air Wrap because of all of the tools in my hair arsenal, I believe it has made the most difference in my hairs' overall condition, appearance and manageability. Dyson's technology simply cannot be compared to any other hairdryer on the market. It somehow dries hair with lower heat, smooths the cuticle like nothing I've ever seen and makes hair look shinier. I have never gotten more compliments on my hair than since I started using the air wrap. I use the hair dryer and the smoothing brush attachment 99% of the time – I'd say if you just need a hair dryer, get the original Dyson hair dryer. If you want all of the styling tools, the air wrap is great. If they sold the Dyson hair dryer with just the smoothing brush attachment, that would of course be my top choice, but alas, it doesn't exist.
Elta MD mineral clear SPF 40
I preached wearing SPF daily for years and always used a foundation with SPF and wore SPF under if it I knew I'd be in the sun. This year, I committed that I'd wear SPF every single day – no excuses, even if I'd just be working from home. The payoff of wearing daily SPF is cumulative – over time, there will be less sun dmanage, less discoloration, less worsening of fine lines. It's a commitment, much like retinol. I chose the Elta MD because it's a mineral formula (physical SPF) versus a chemical SPF. It's white, but turns clear as you apply it and my goodness it wear so well under makeup tha tit truly hasn't changed the way my foundation looks at all. It also contains nacidamine which helps correct skin tone imbalances over time. This is a product I'll never be without and I get why it has a cult following – it really is that good.

Charlotte Tilbury Pressed Powder
This pressed power made me wonder why I ever used loose powder to set my foundation. It's magical. It helps make your foundation last longer and refines the look of pores – and doesn't settle into fine lines. This powder is a bit of a splurge, but it does last me quite a bit as I don't have to use a ton and the finish is worth it.
It Cosmetics Bye Bye Foundation
This one almost doesn't feel fair to include because I've loved it for years, but I started to use it as my everyday foundation during the pandemic and I remembered why I love it so much all over again. The finish is skin-like, smooth and covers enough to make skin look even but not so much that you feel like it's full coverage. It is advertised as a full coverage foundation – but I only use a tiny bit and apply it with my fingers and it just gives the most beautiful, even finish on my combination skin and it lasts all day and doesn't oxidize. I wear the lightest shade.
Kerastase Hair Cremes
I have several I love in this category – so bare with me. For all three of these, I apply from the nape of my neck down to the ends of my hair every time I wash it. I then let my hair air dry for a couple of hours before blowing it out with the Dyson air wrap, mentioned above. I really find these cremes to be excellent heat protectants as well as smoothing styling aids. The ones I love are the Keratine Thermique and Ciment Thermique. I also LOVE this Oribe hair creme – I love using it pre-blowout and also to smooth ends between washes.
Tarte maracujá juicy lip
These lip glosses…balms…I don't really know what to call them are SO moisturizing. Every time I apply one, I think to myself "wow, this makes my lips feel GOOD!" The best part? They also have a little color to them, if you'd like a hint of that. I love the clear one too – it's actually the one I use most often – a "your lips but better (not peeling)" vibe.
Grande Cosmetics Lash Lift heated lash curler
This may fall under "most innovative." Listen – you don't NEED this, but it's so fun to have, especially if you don't wear a ton of eye makeup and want your lashes to "steal the show." This lash curler does not mean you can skip using your metal one – it is meant as an enhancer – meaning that you still curl your lashes the regular way, then apply mascara, THEN use this magical tool for more lift that is long-lasting. You may think it sounds like one extra step, but turn the heated curler on as you start to do your makeup and by the time you need it, it will be ready, in all its heated glory. I notice my lashes are even more lifted and "open" when I use it. It's truly a fun tool to use!
Olay skincare products
As a disclaimer, I do have a paid partnership with Olay, but this post is not part of it, and they have no idea I'm writing this. In order to provide y'all with in-depth reviews about products, I use them religiously. Olay's creams have really impressed me this year – from their new Retinol24 MAX that gives you the benefits of retinol without the irritation to their moisturizers, I've been reaching for them consistently. The winter air has made my skin so dry so the rich cream moisturizers has remained on my bathroom counter top and I mix it in with my nightly skincare concoctions on the regular.
Revision skincare
From the face wash to the eye cream to the neck cream (here too), I have been immensely impressed with this medical grade skincare line. I use the brightening cleanser exclusively now (BEST EVER!) after having run out of my La Roche Posay effaclar. I do think it makes skin brighter and the eye cream feels amazing on and it packed with anti aging ingredients. I love the hydrating serum too, but it's pricey for what it is!
T3 curling wand
I truly haven't found a better curling tool. It creates the most perfect curls and is easy to use (I promise once you use a wand, you will never go back to a clip). I do love the Hot Tools curling iron (with clip) as an affordable option for a softer, rounder curl look, but T3 curls last longer. As in, I can curl my hair, sleep on it, brush it out, and still have a really soft curl to my hair – in fact, I rarely re-curl my hair now.
What are your favorite beauty products of 2020?