I started decorating for Christmas on November 1st this year. After the collective challenges we've all experienced as a result of the ongoing and seemingly never-ending pandemic, I wanted to feel that holiday joy sooner and for longer, by adding festive touches to our home.
I started with re-styling my kitchen floating shelves and then hung wreaths on windows and mirrors (see my hanging trick, here!)
Instead of each child decorating a mini-tree this year, I thought it would be fun to decorate a large one, together, with all of their collective ornaments and some new ones. Harper's ornaments are a mishmash of ballerinas, flamingos, unicorns and all things girly and Lincoln's are a mix of Santa Claus, snowflakes, dogs and other animals. Our final result was a whimsical tree with pops of every color you can imagine, anchored by classic red and white in our ribbon and garland.
The kids loved decorating their own tree this year as a family -it feels magical and invokes those exciting feelings of Christmas being just around the corner.
Our tree is a pre-lit 2100 light tree from Hobby Lobby, standing at 7.5 ft tall (I can't find it on their website – it may be sold out). I love the LED lights on this tree because they are smaller, but abundant. They really give off such a sparkle –I actually love it more than our main tree, which is more of a "designer" look.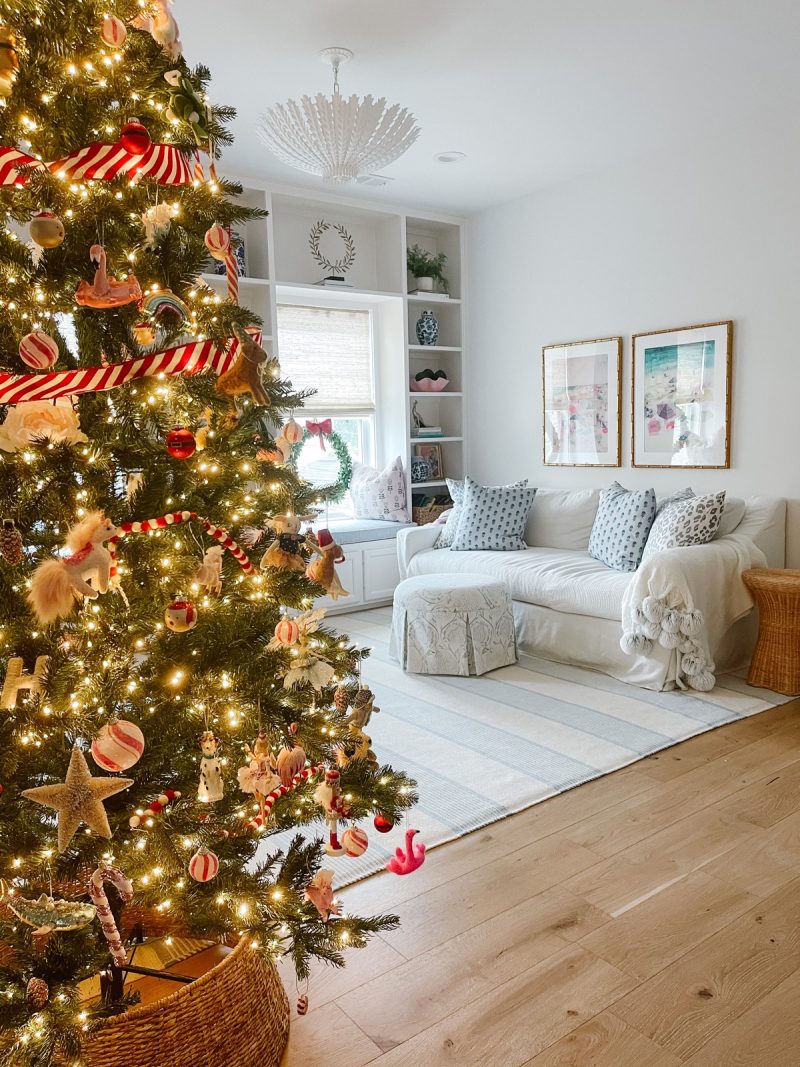 Our game room/upstairs family room has evolved recently with some finishing touches that really make the space feel complete: woven shades from DFW Shutter Shop (in the color natural jute), custom bench seat cushions in Thibaut fabric (in color Bristol/Sky with cord piping in Kravet/35517-112) via Tonya Sparkman Sewn, a new ottoman, art by Katherine Freeman, a new light fixture and sconces flanking the TV. I couldn't be happier with how this multi-use room turned out and wanted to shoot it during the holidays where it feels extra festive.
The room begins at the top of the stairs that go to our second level with a RH Baby & Child dresser (previously used in both children's nurseries) where we store art supplies and some other items for the kids and our trusty craft table that we've owned and loved for years. Above the mirror is the Aperture mirror – the gold is beautiful and it's 40 x 40, so it makes the perfect statement! The gold palm leaf can be found here.
The chairs are from RH baby & child and the art caddy can be found here. This little nook is all about the kids and their creativity – they love to draw, color and come up with all of their projects there. Nothing defines that space better than the beautiful abstract canvas by Katherine Freeman – the colors in the piece are beautiful and they remind me of my children's imaginations and their love of creating.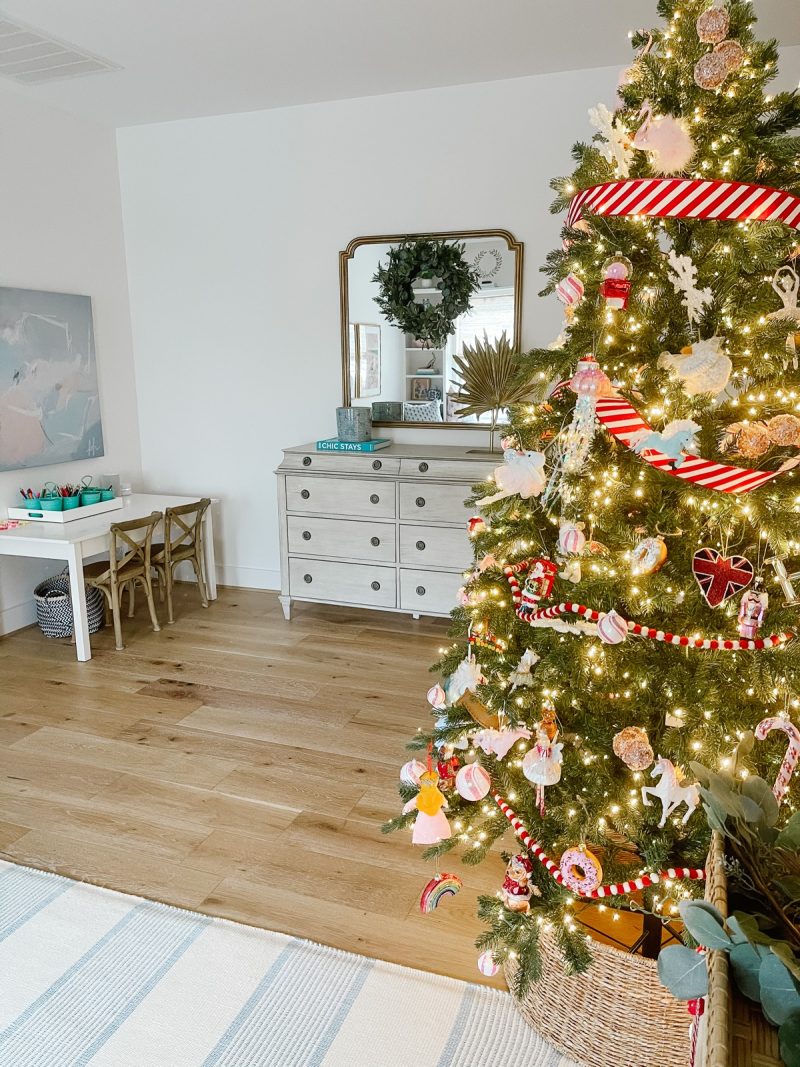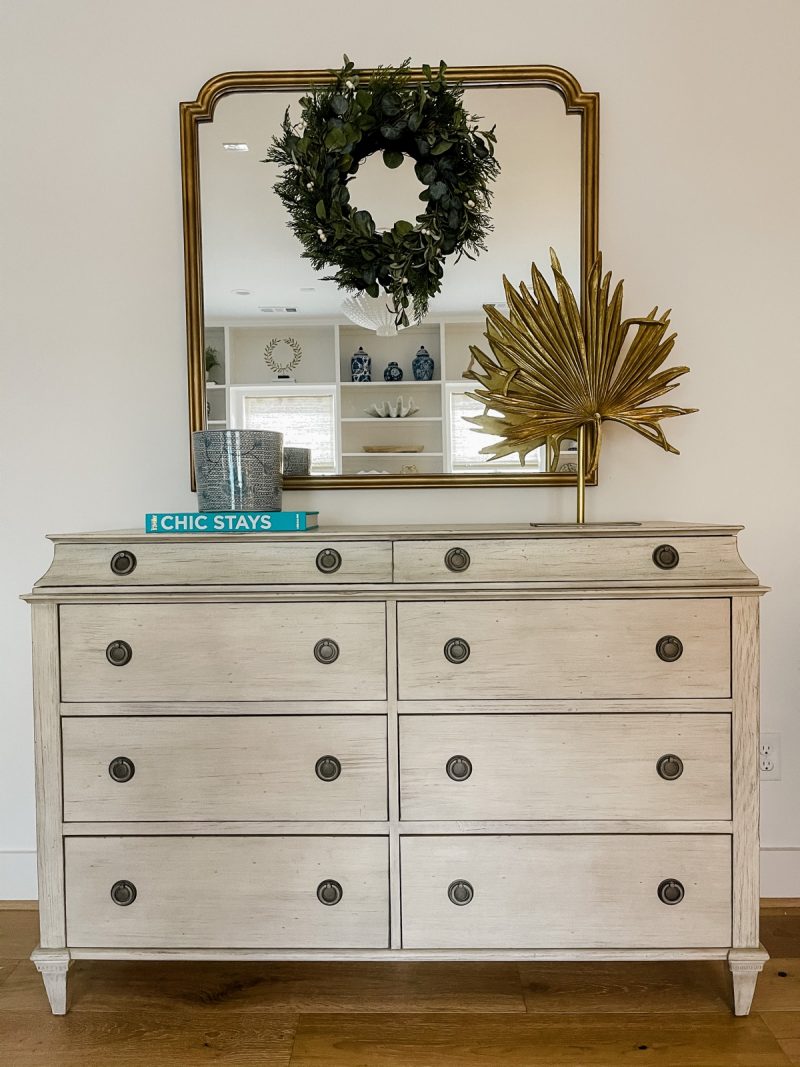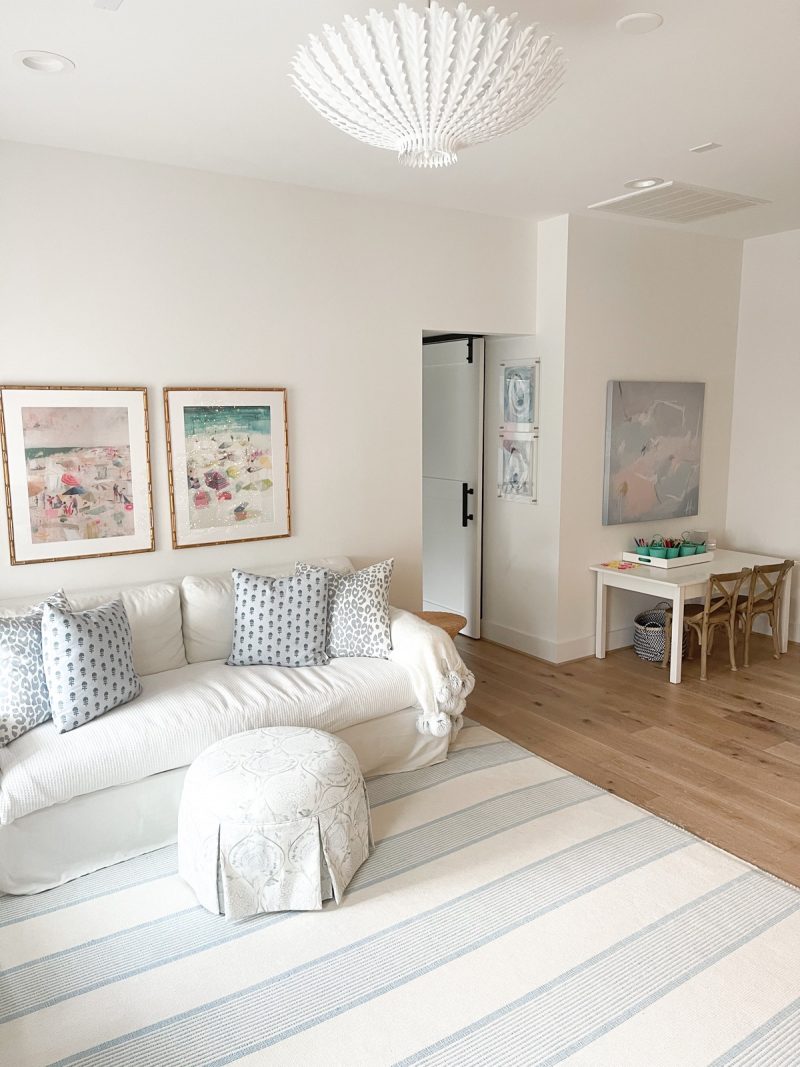 The rest of the open space is what we call our game room/family room. I designed custom-built ins with the carpenter who worked on our house to store all of the kid's toys and to create a visual accent where I could display some of my favorite pieces. The bottom shelves also store more toys in these hyacinth baskets.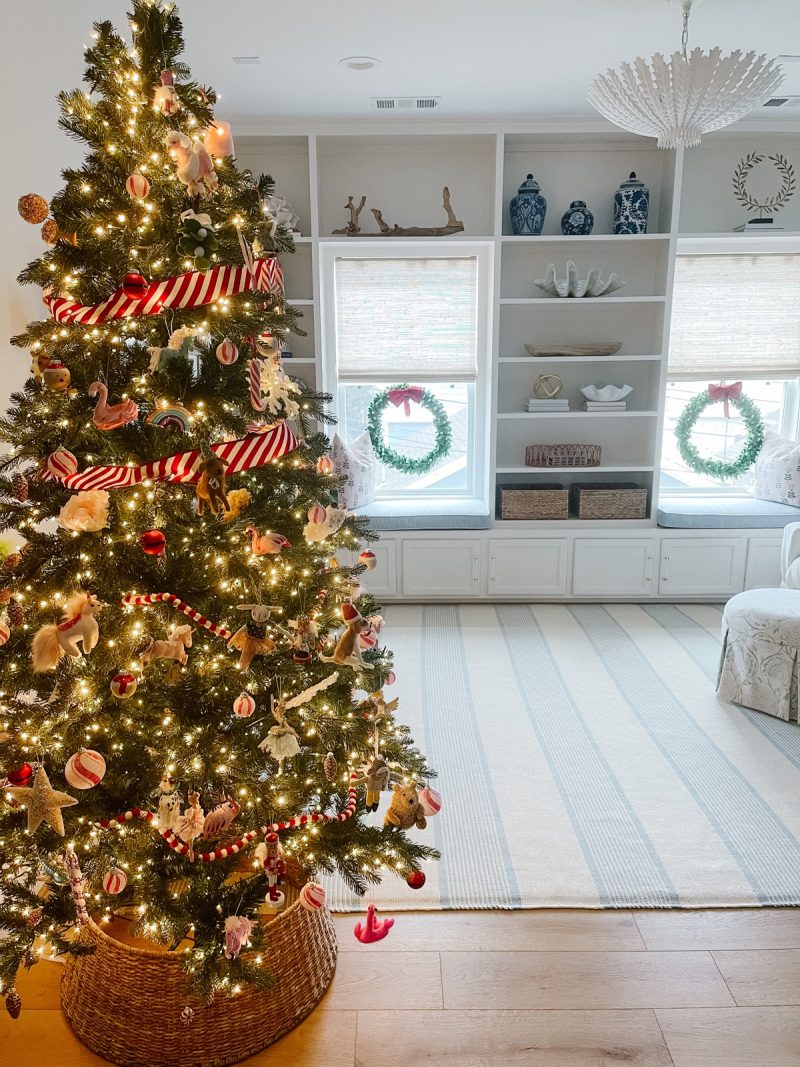 The space is anchored with a striped rug by Mark D. Sikes– many have asked how it's held up, and so far, so good. I vacuum it a couple of times a week on average – when the kids were home all summer, I did vacuum it almost daily (it takes just two minutes!) to keep it looking its best and free from random paper clippings, beads and bits of fabric and ribbon.
We chose the Pottery Barn York slope arm sofa for the space – it does come in an extra deep size, which I recommend for living rooms, but we chose the regular depth as not to take up more floor room (the same reason there isn't a coffee table in the space). The color we chose for the sofa is the performance linen in ivory and I keep the bench seat covered with this blanket. We don't eat, drink or do art on our sofas, so it still looks like new, though knowing it's a performance fabric gives extra peace of mind.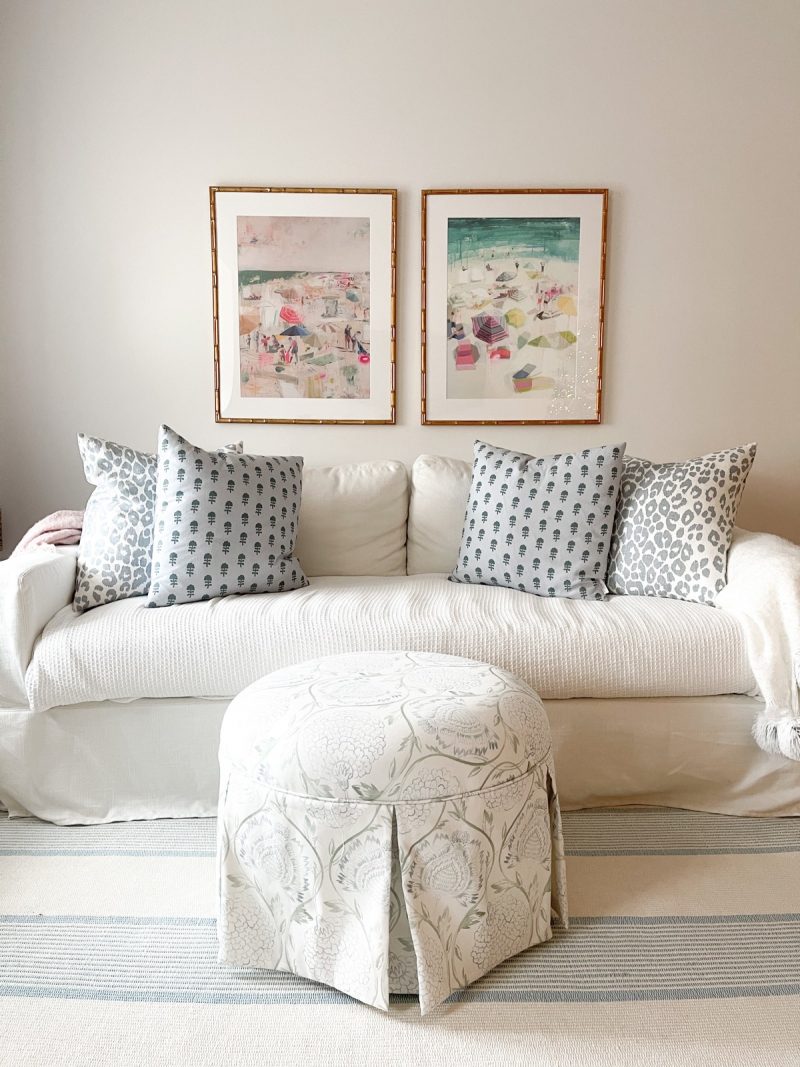 Under our TV, I chose the South Seas console – the natural rattan introduces a beautiful textural element to the space and plays off of the coastal elements of the rug and the touches of blue throughout. This holiday season, I added some greenery and a Merry Christmas felt letter banner (old, from World Market, but here is the new version), but typically I leave the top bare.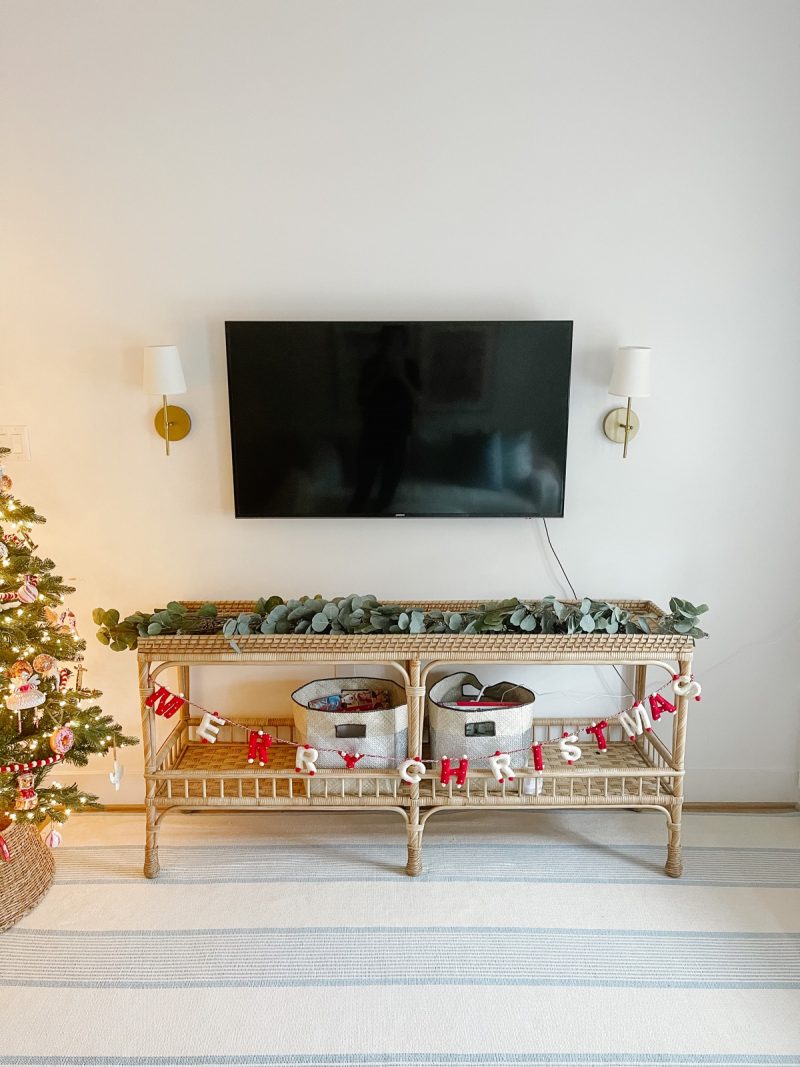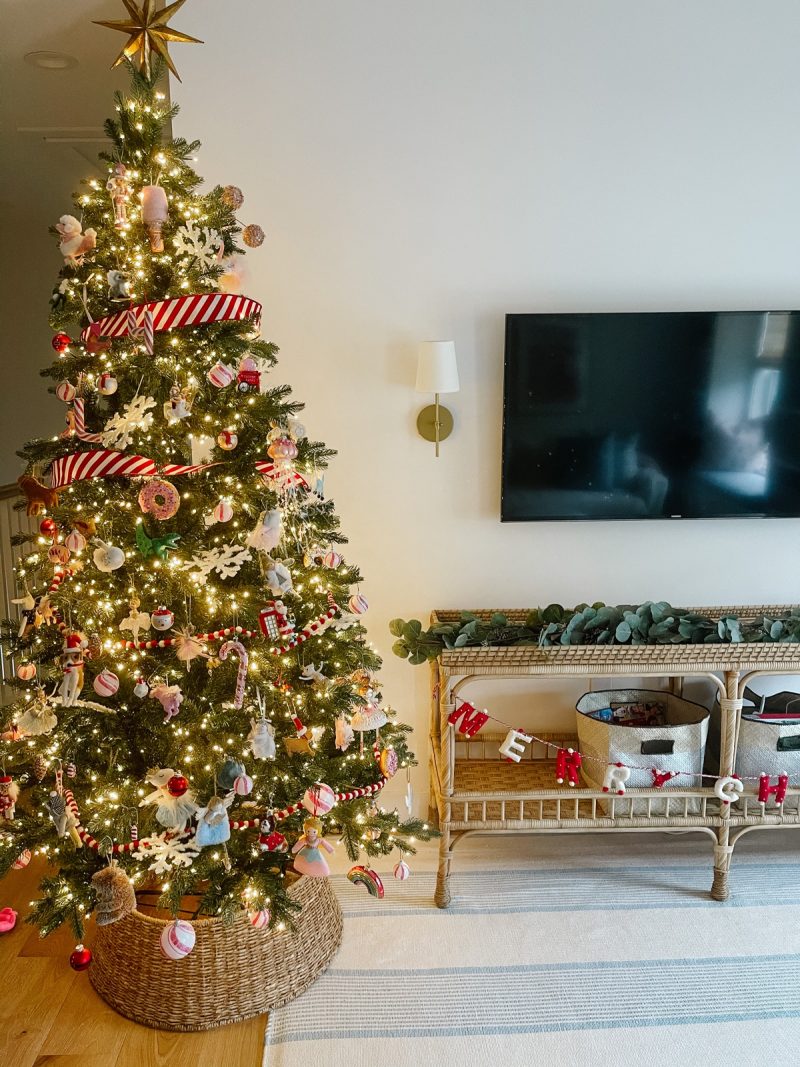 The biggest recent change to the room is swapping out our ceiling fan for the stunning Hampton light fixture – I love how the plaster white doesn't compete with the built-ins that are its backdrop, but still stands out in its own right. We also added these gold sconces flanking the TV – I will share a post on this soon as they're not hardwired but still light up!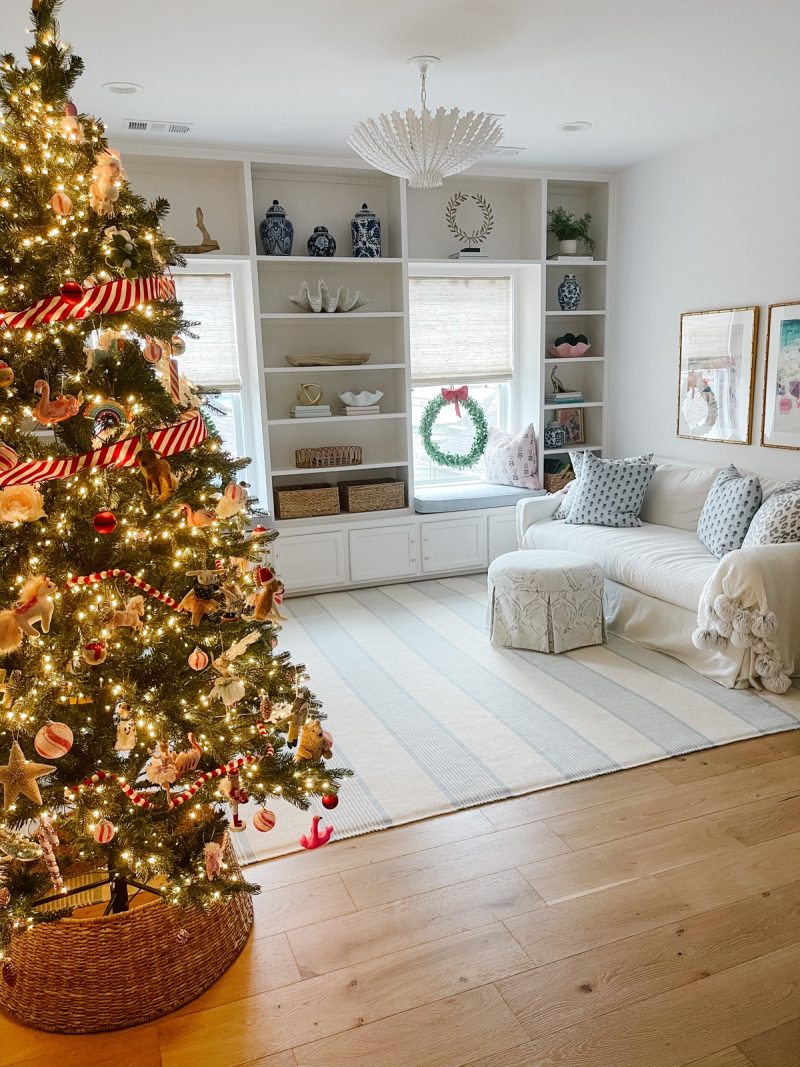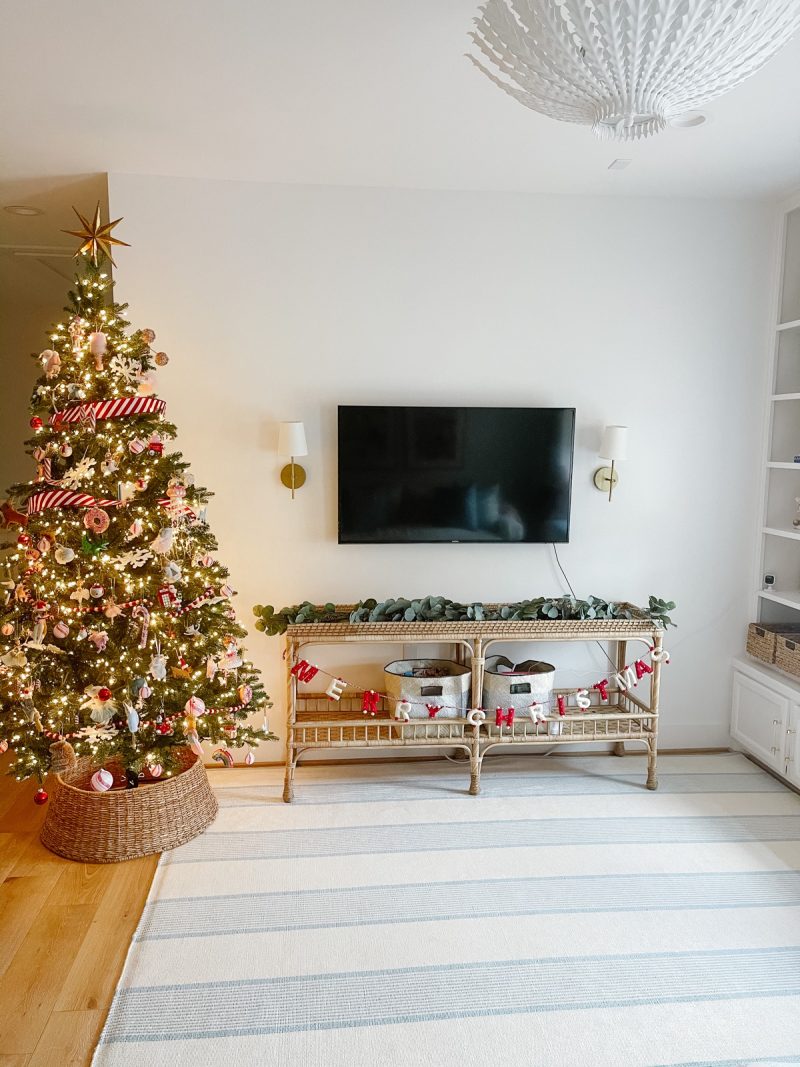 I've been asked a lot about the ornaments on this tree: most are from Hobby Lobby, Michael's, Anthropologie, Target, World Market and the Nutcracker Market, a holiday market in Houston. I will share options in this post in case you're interested in purchasing some similar ornaments!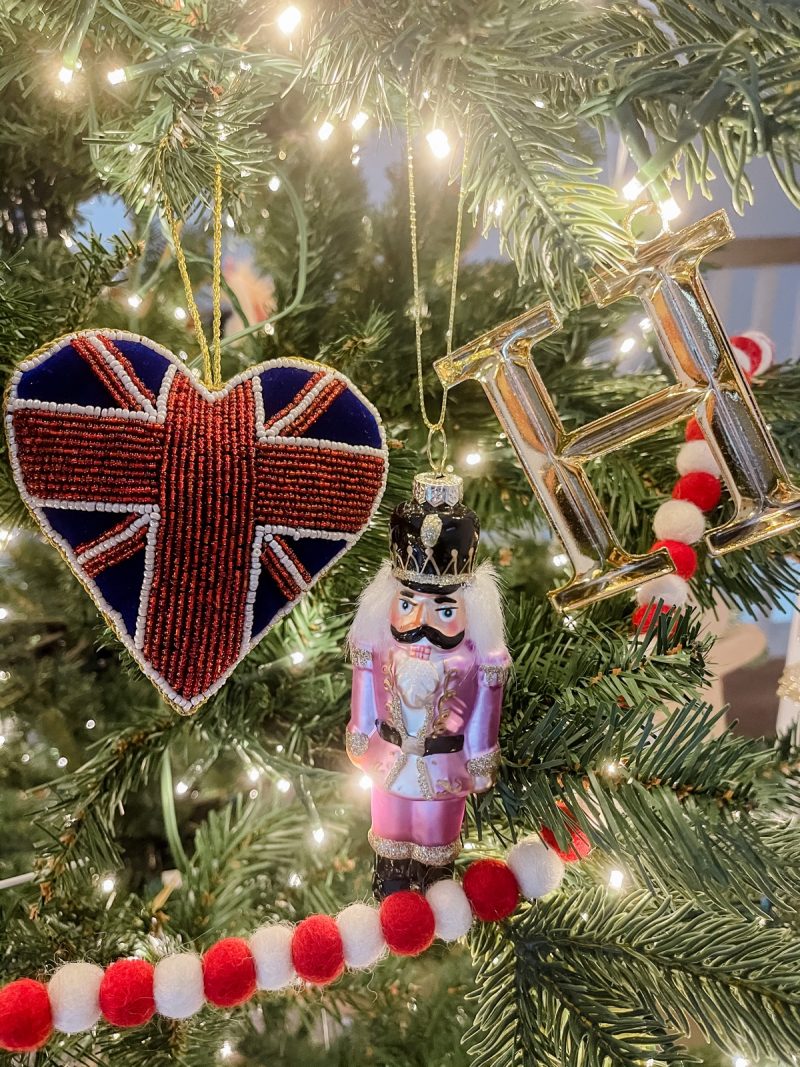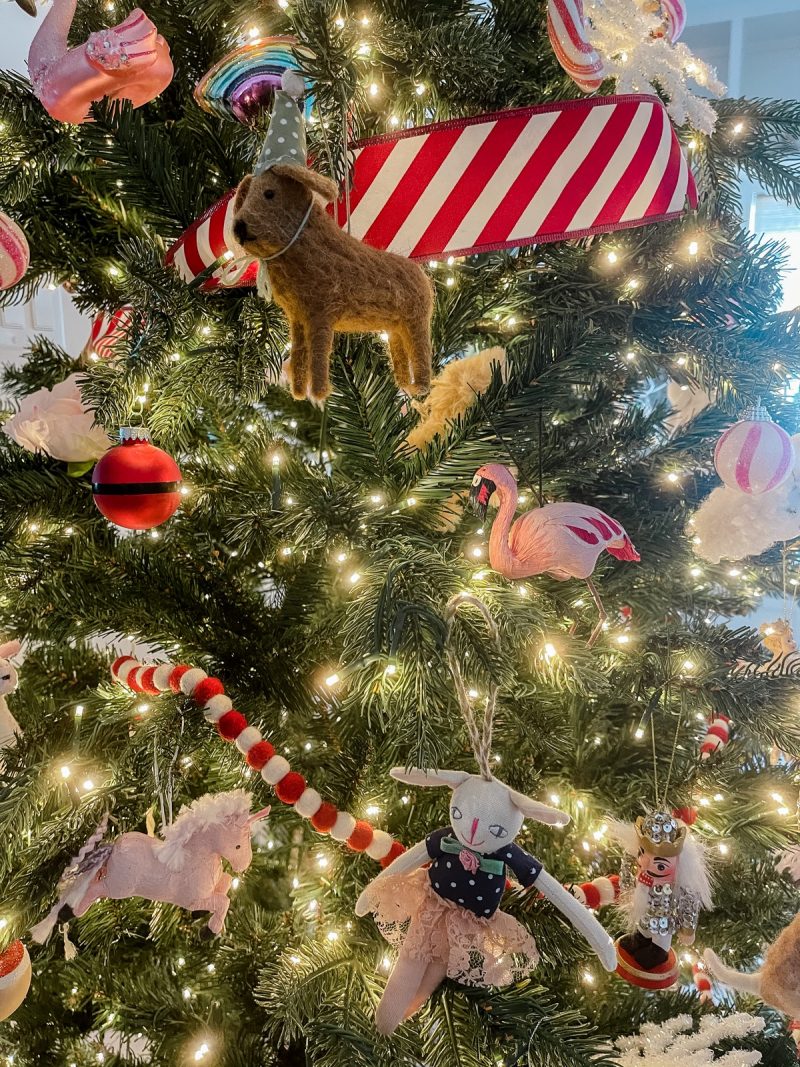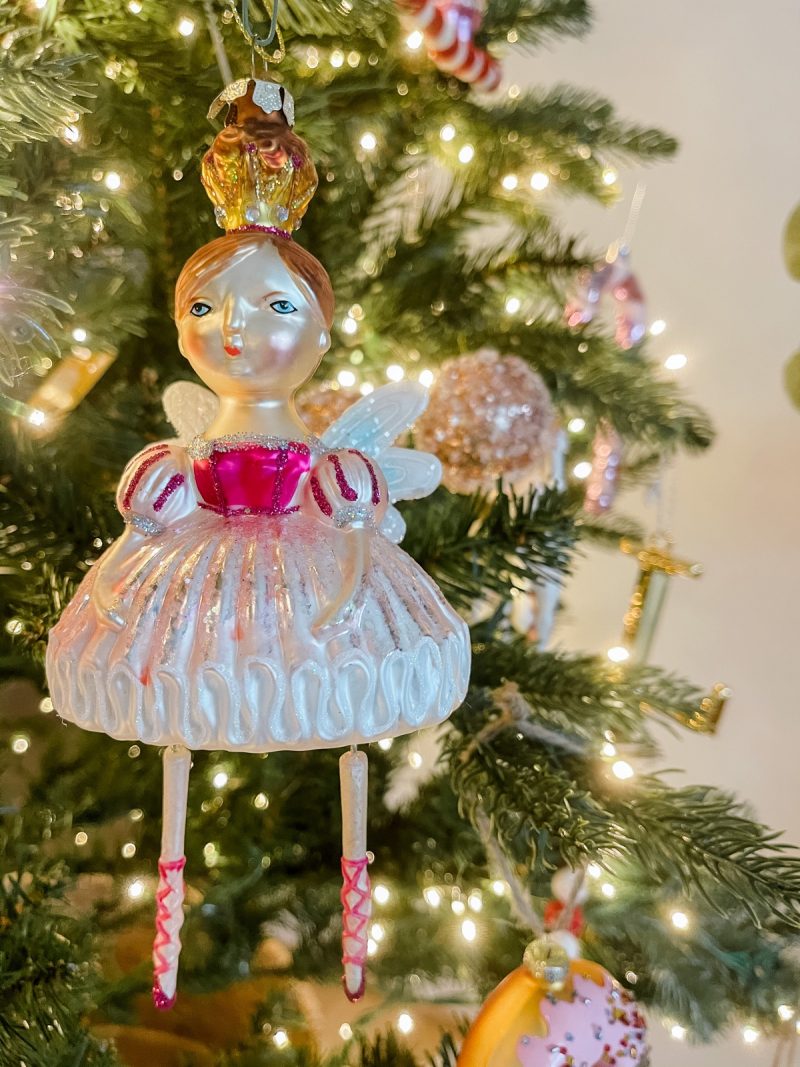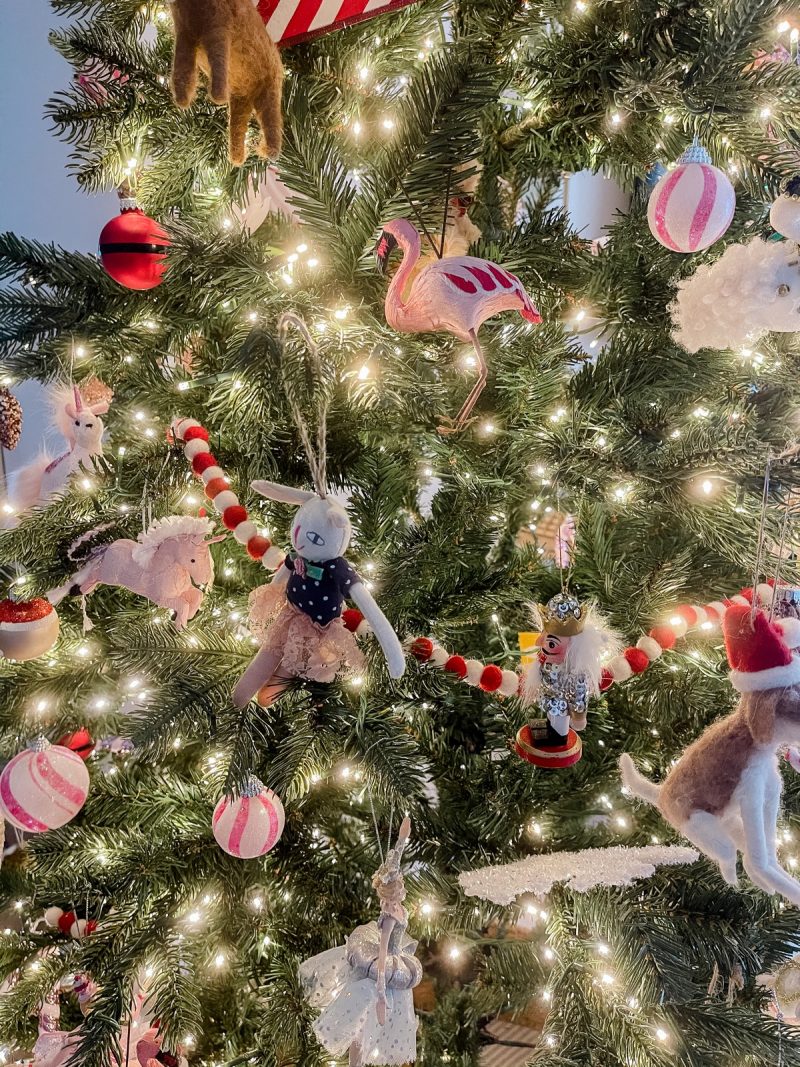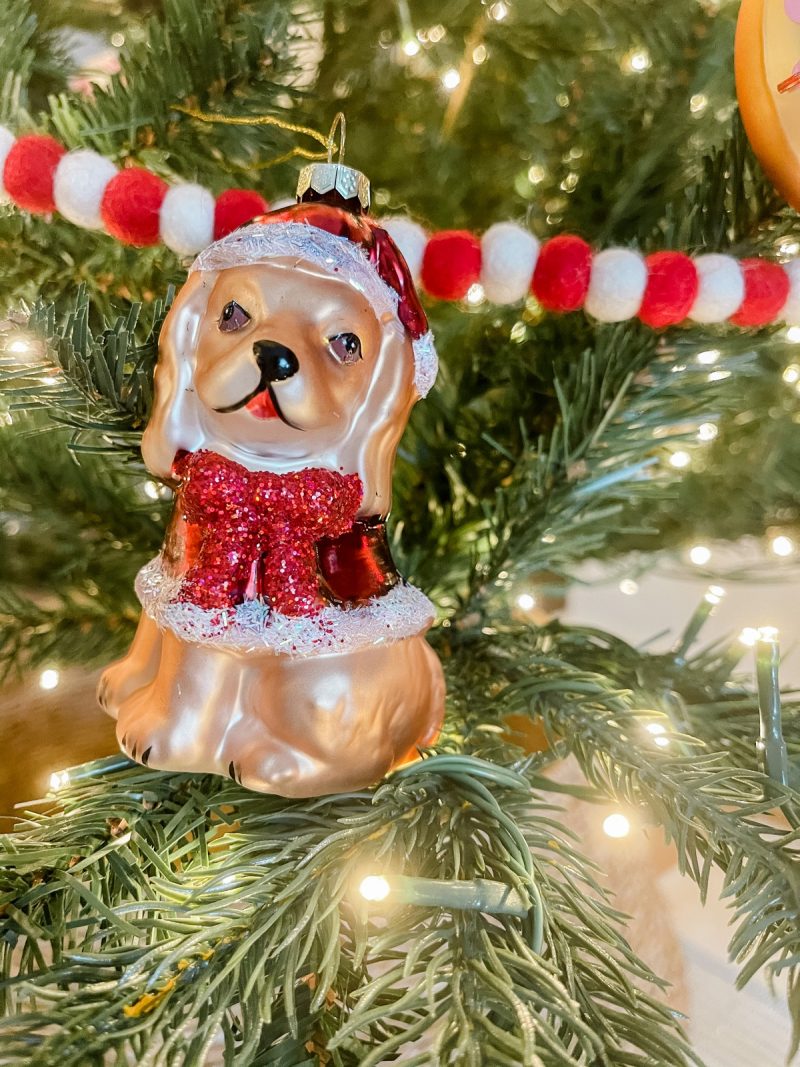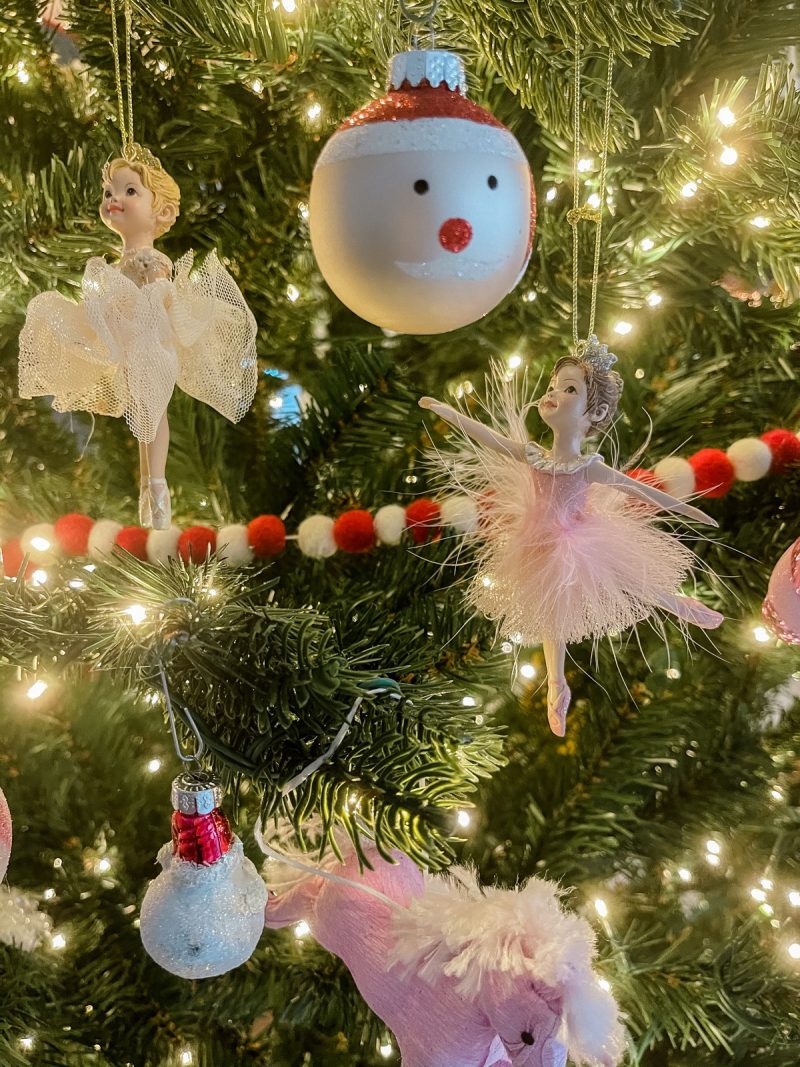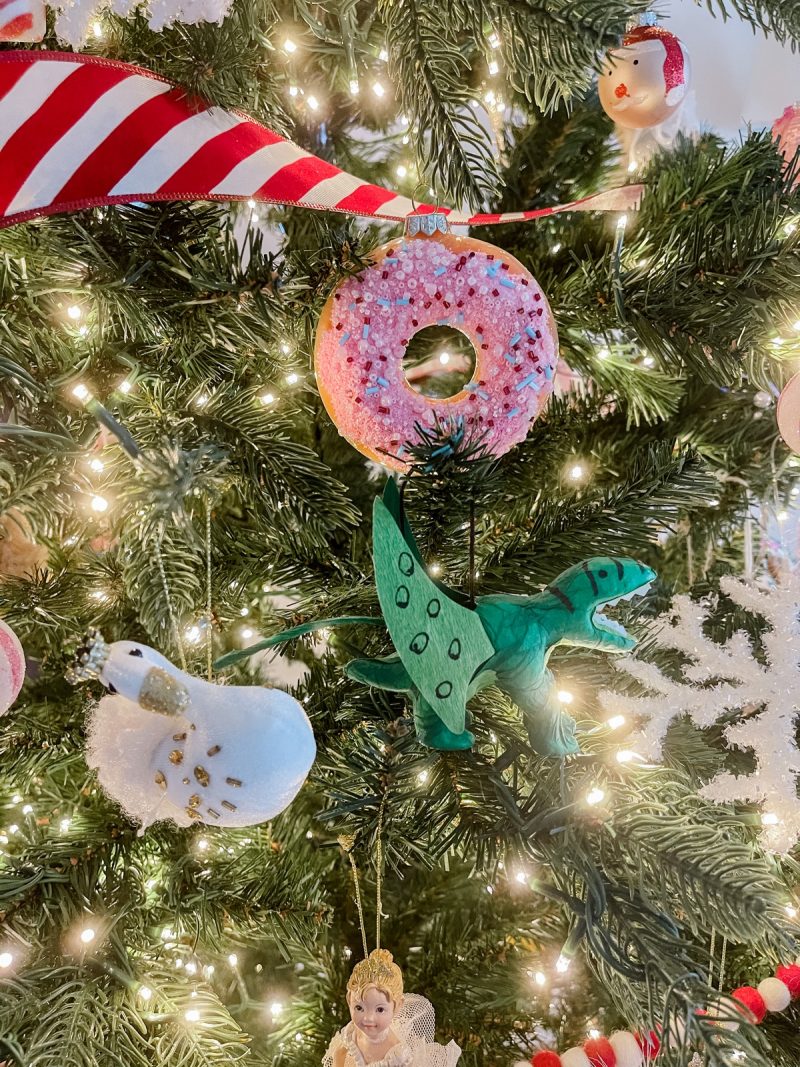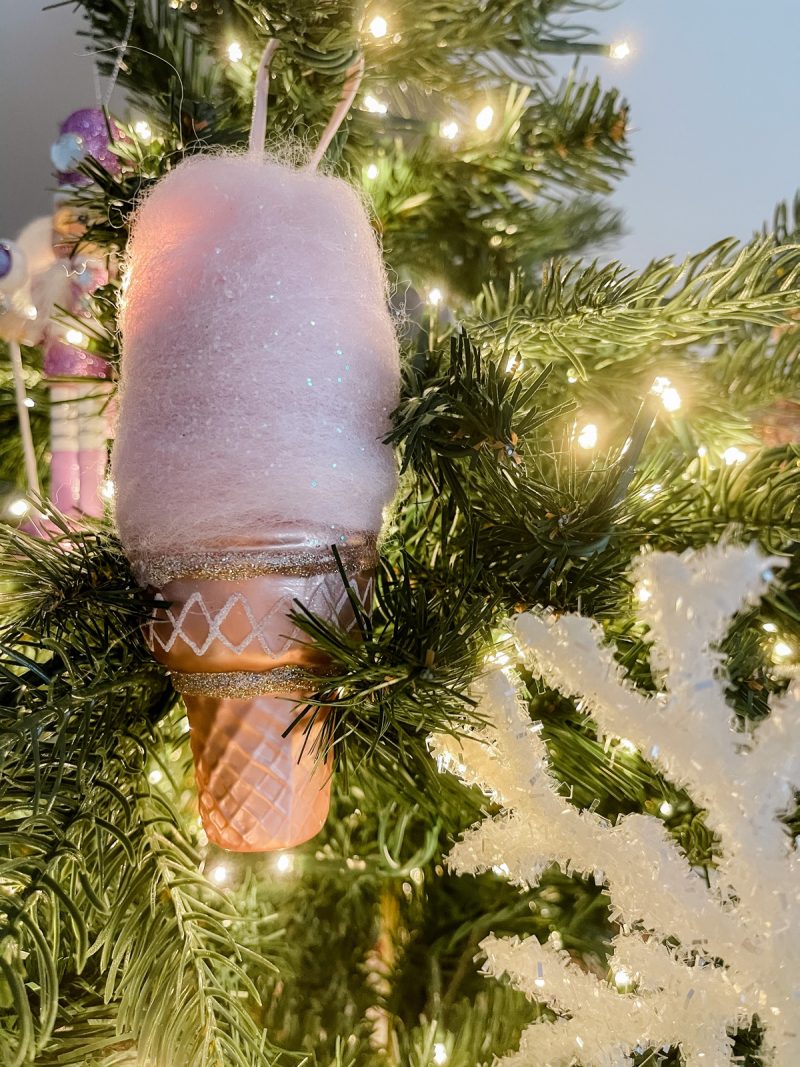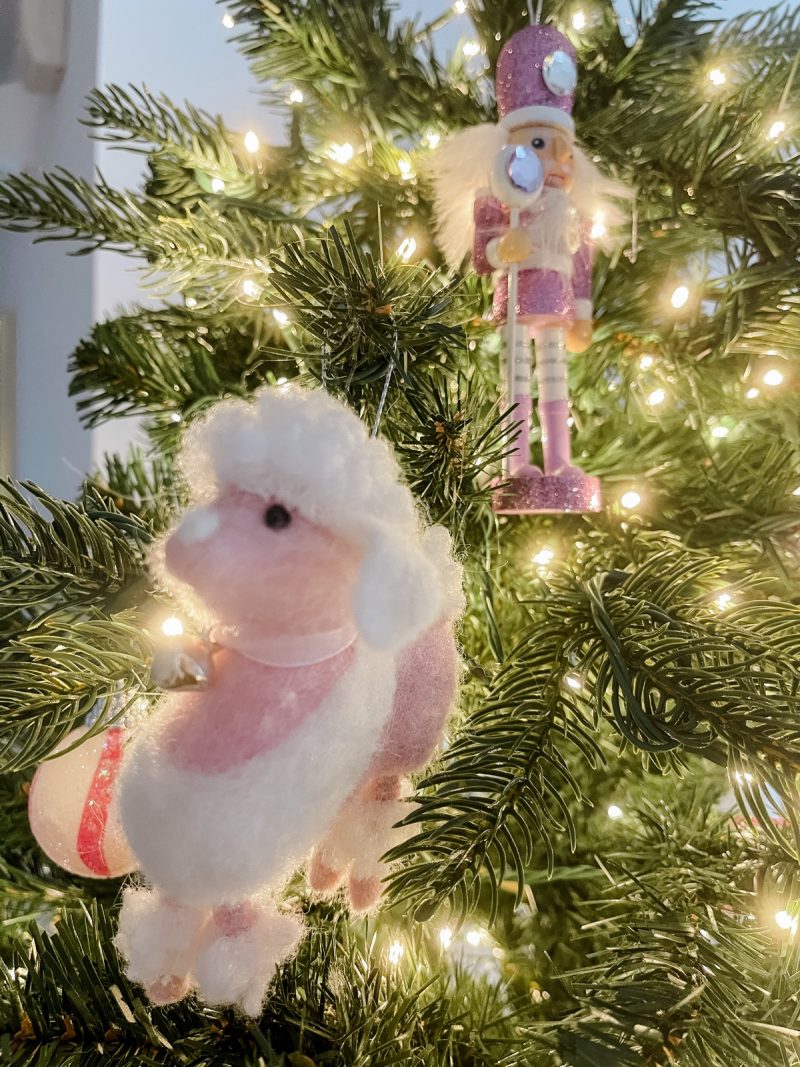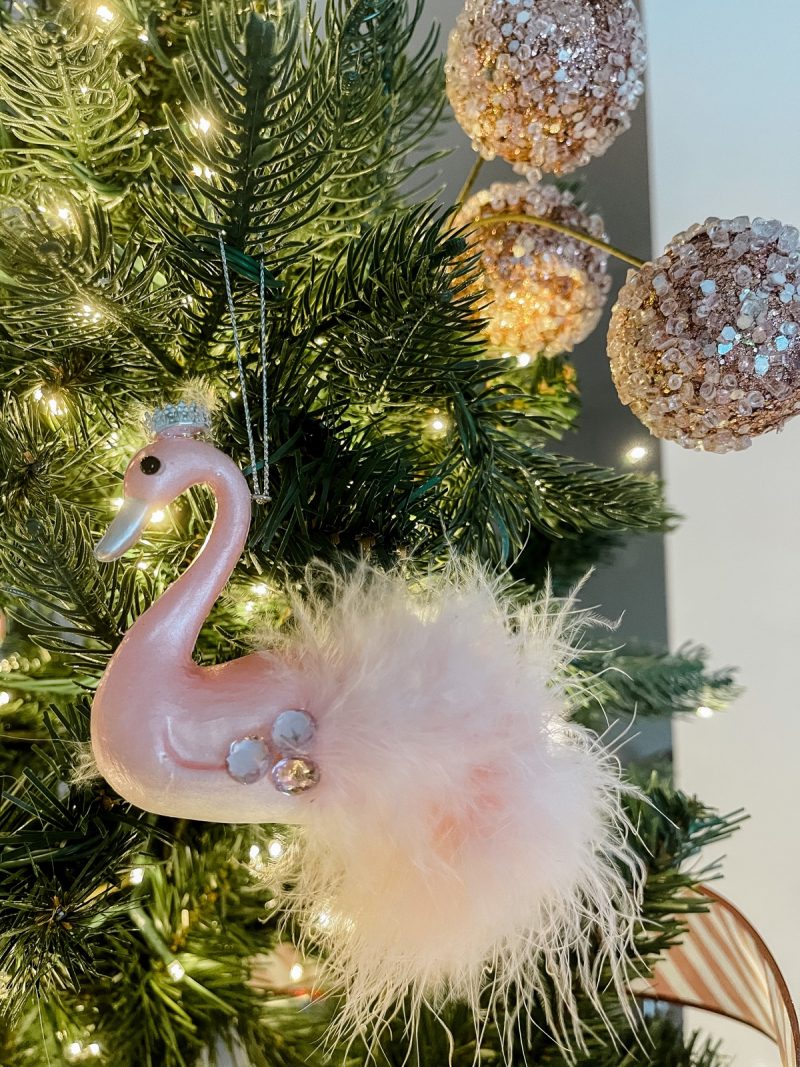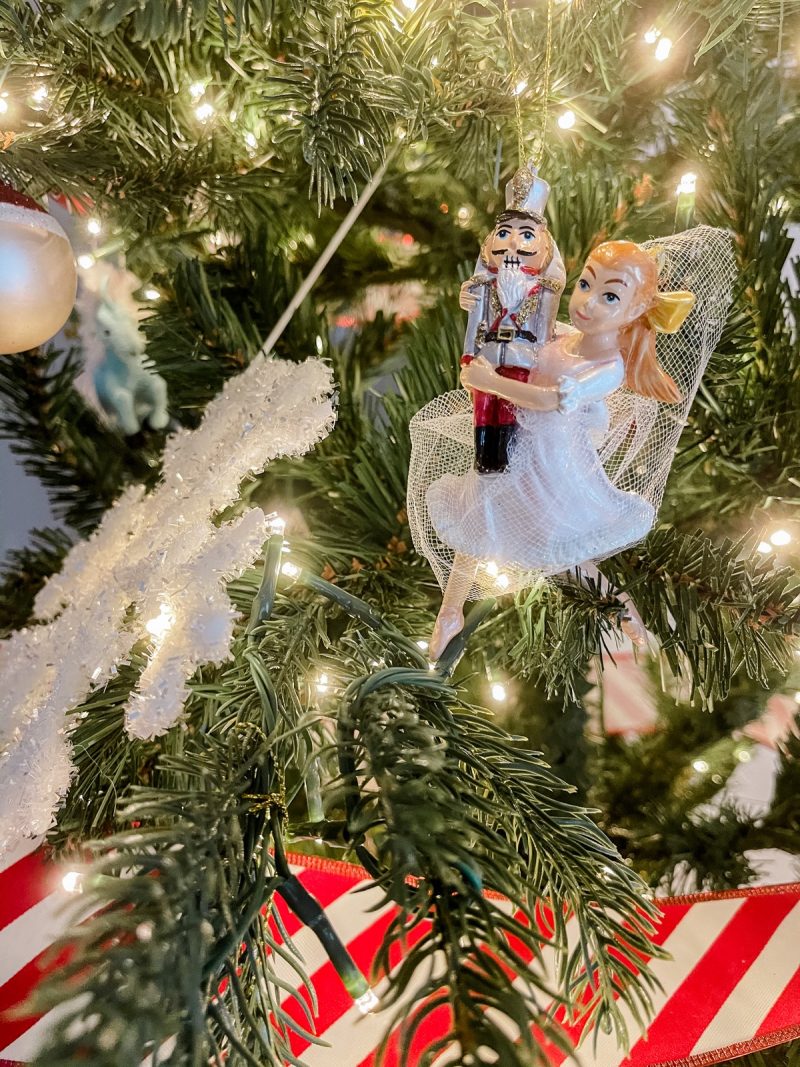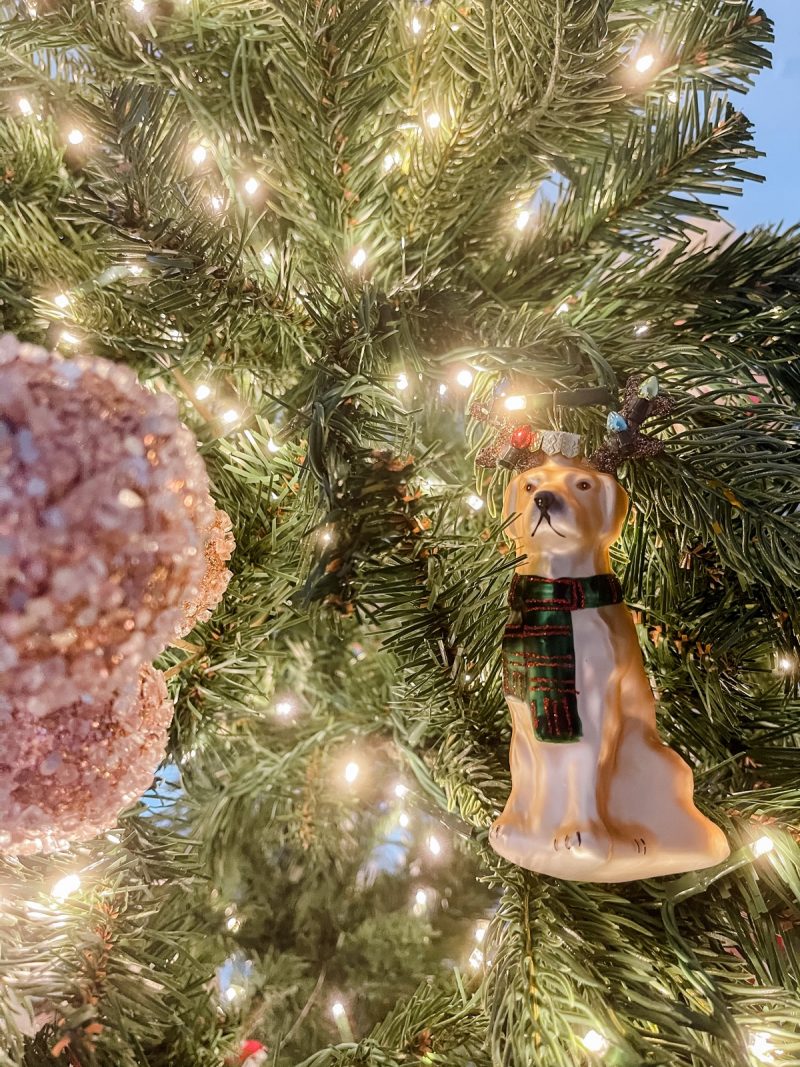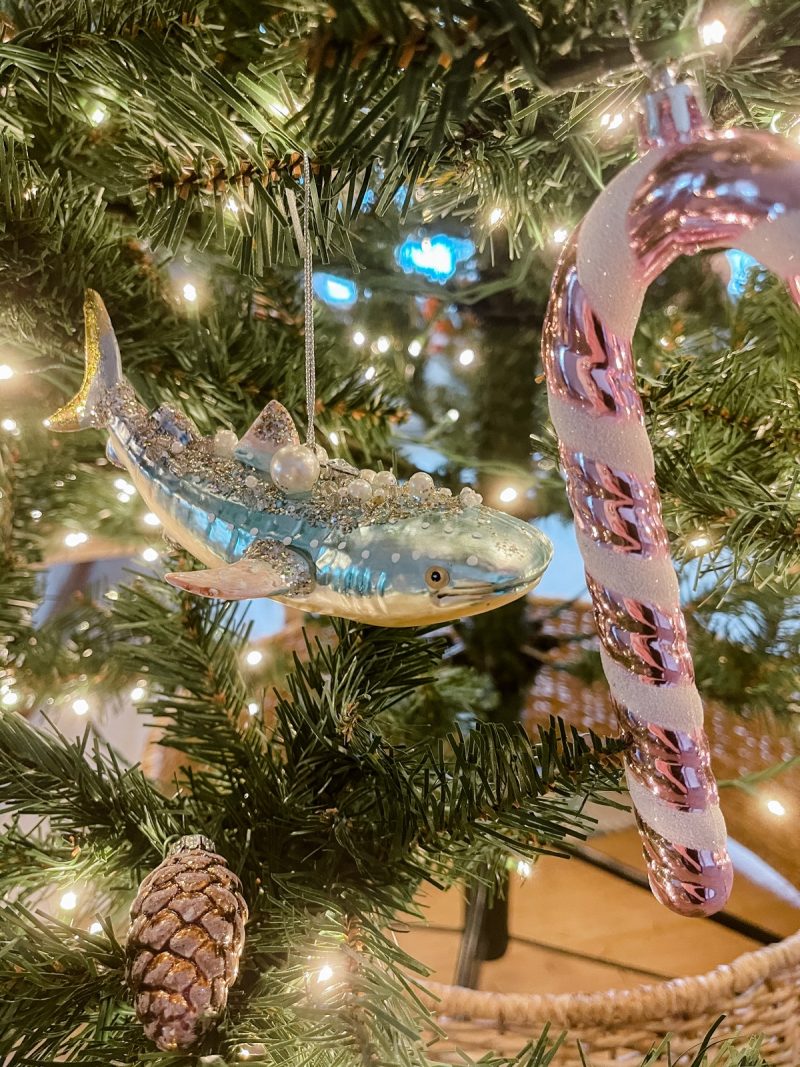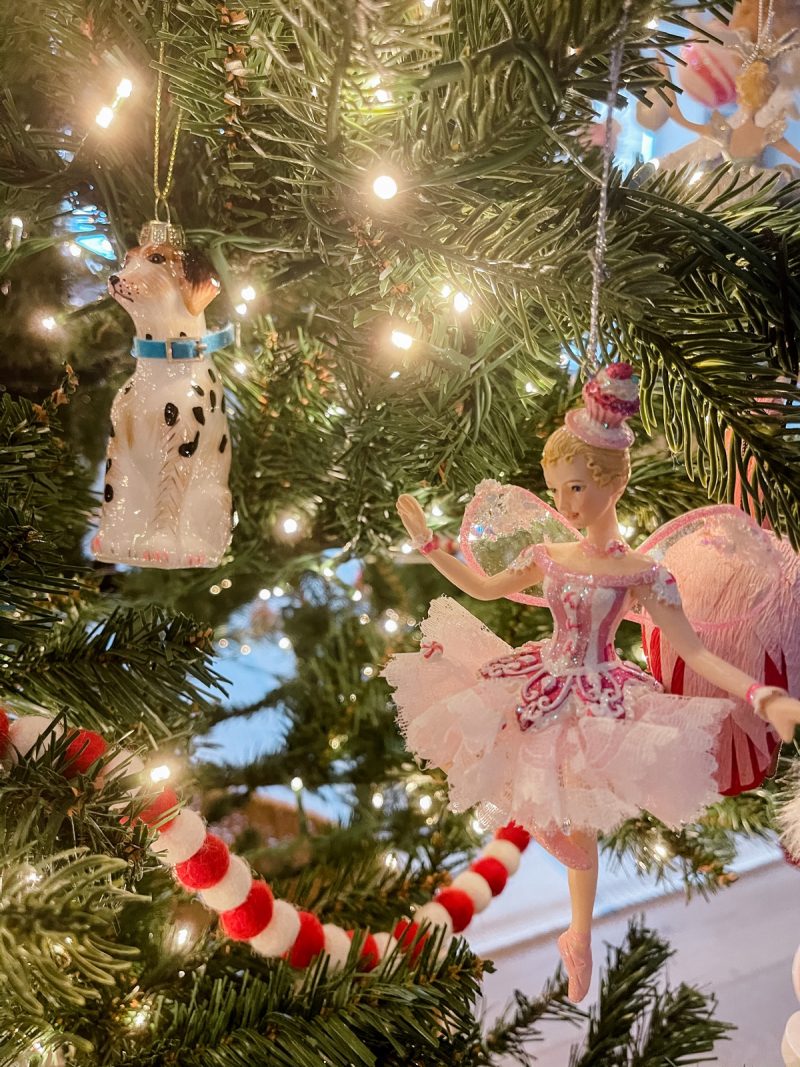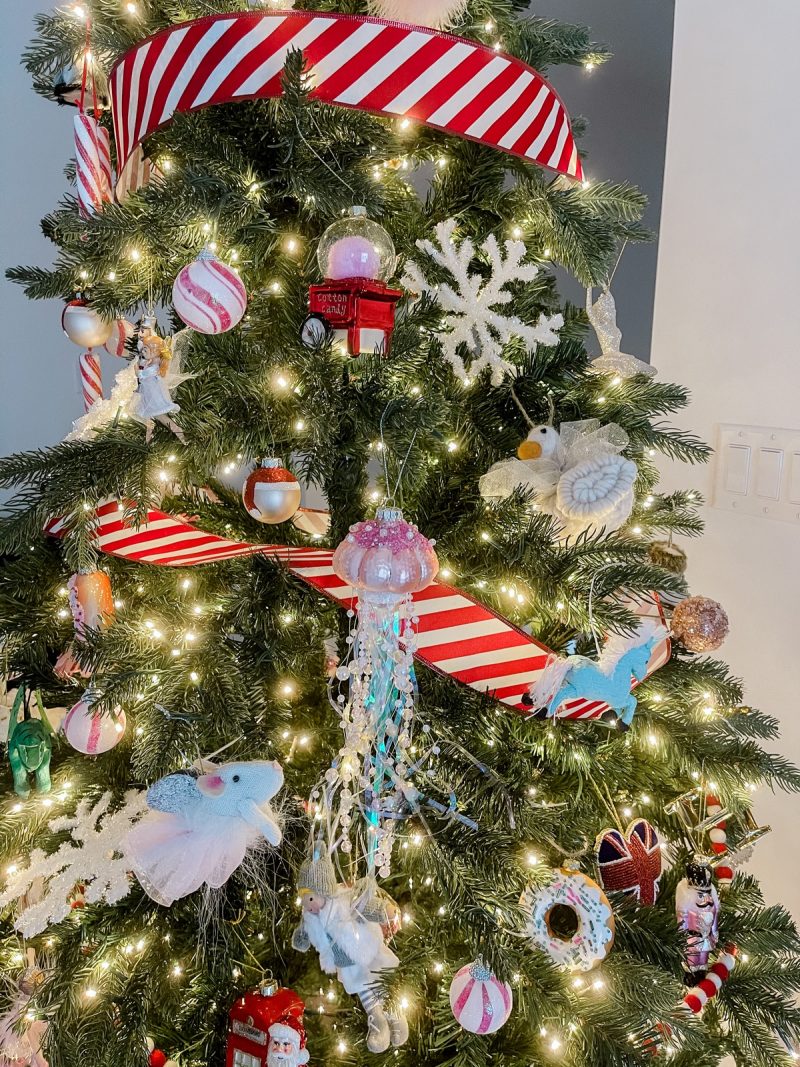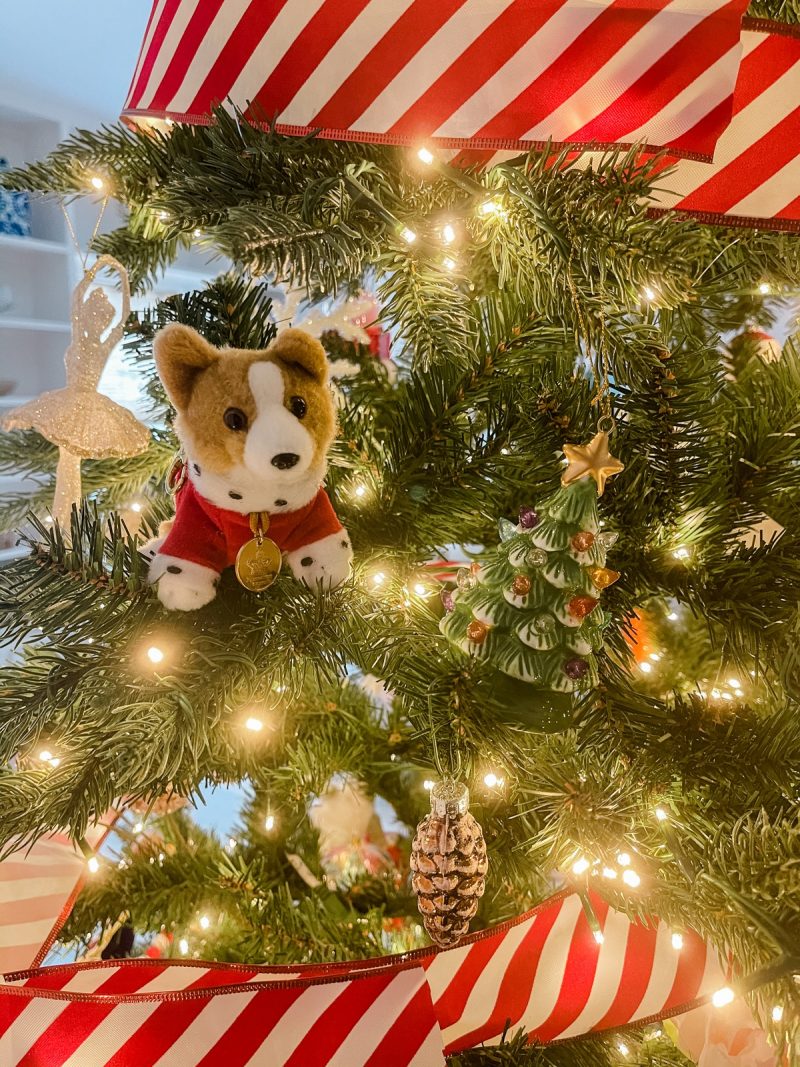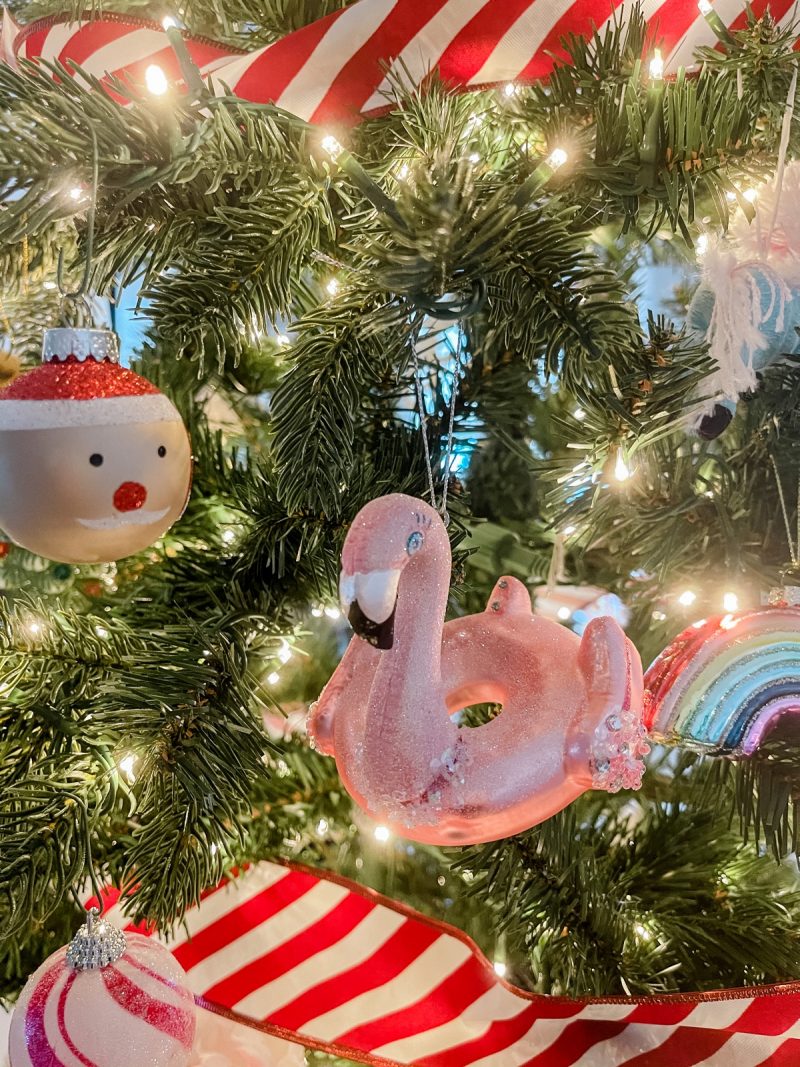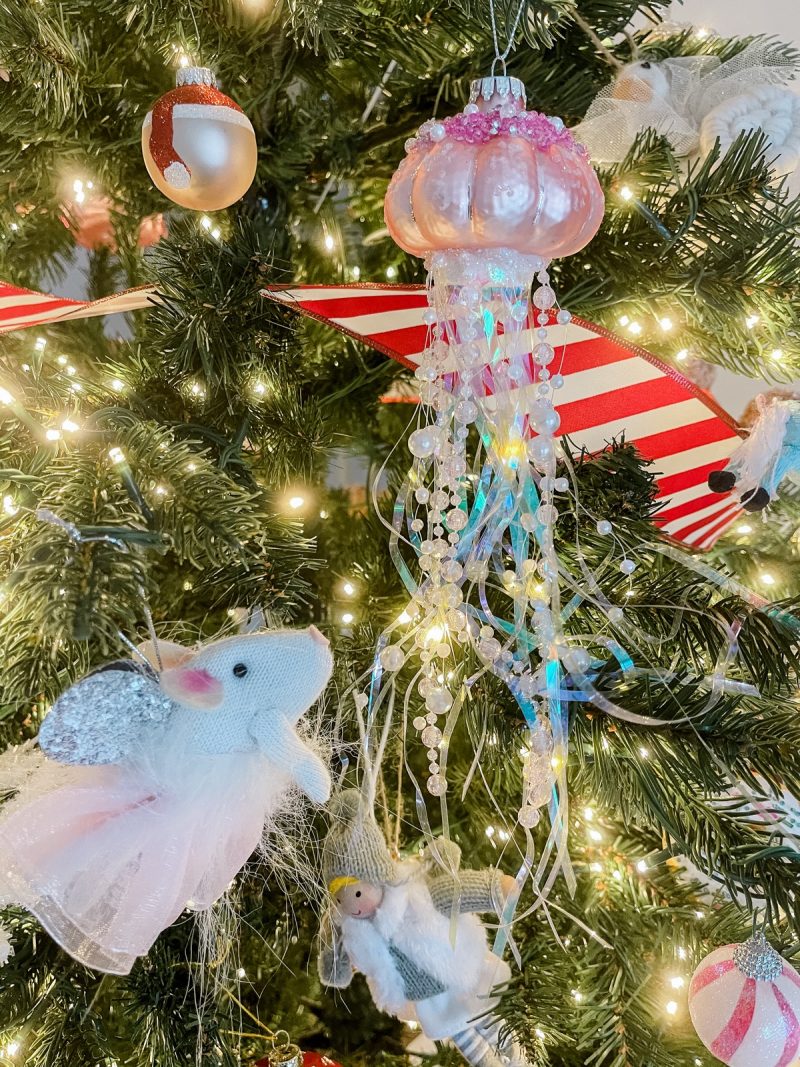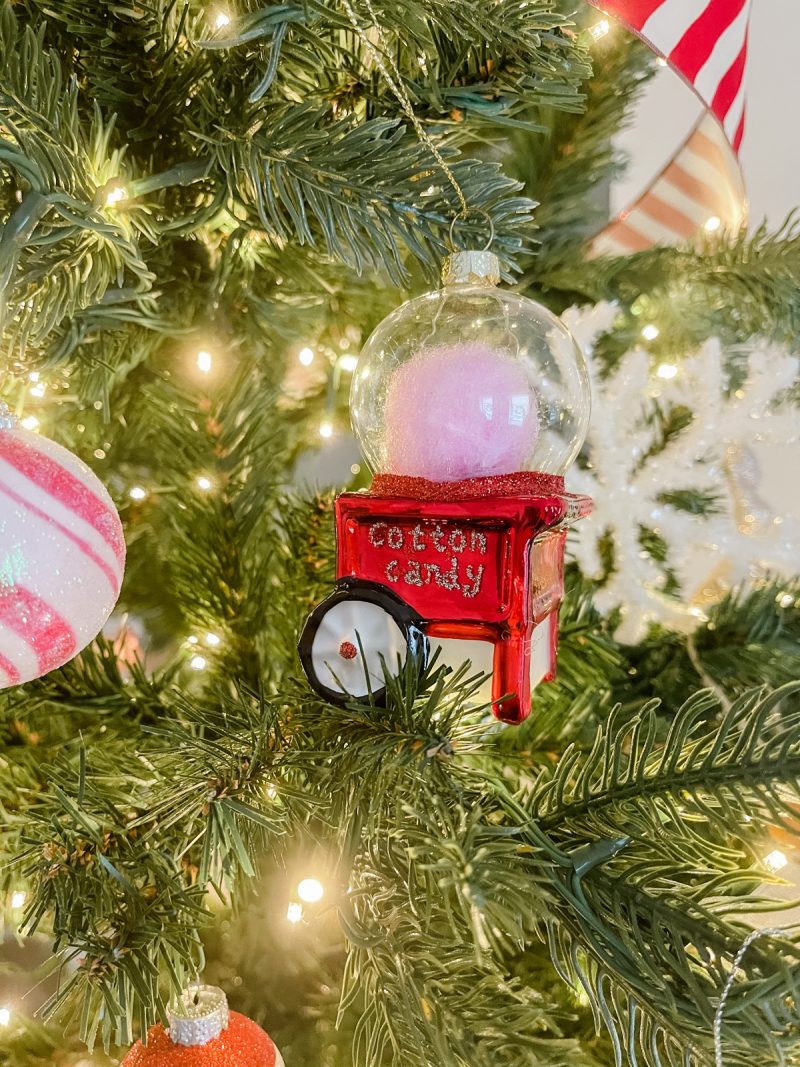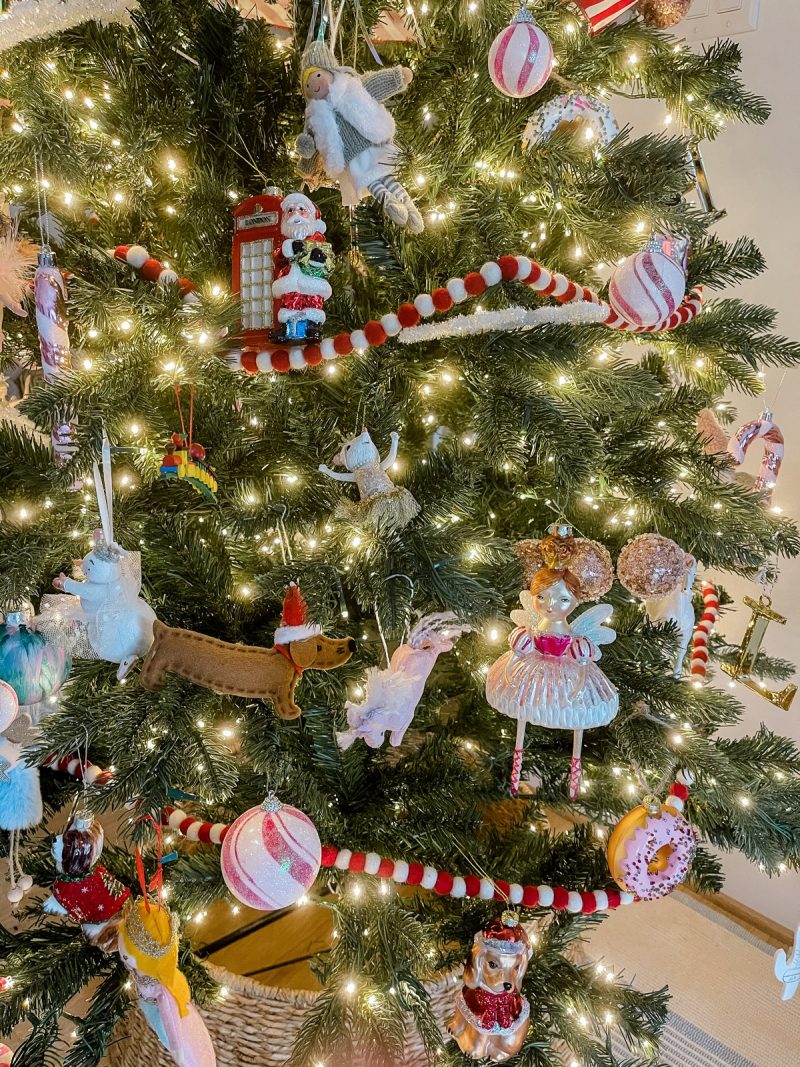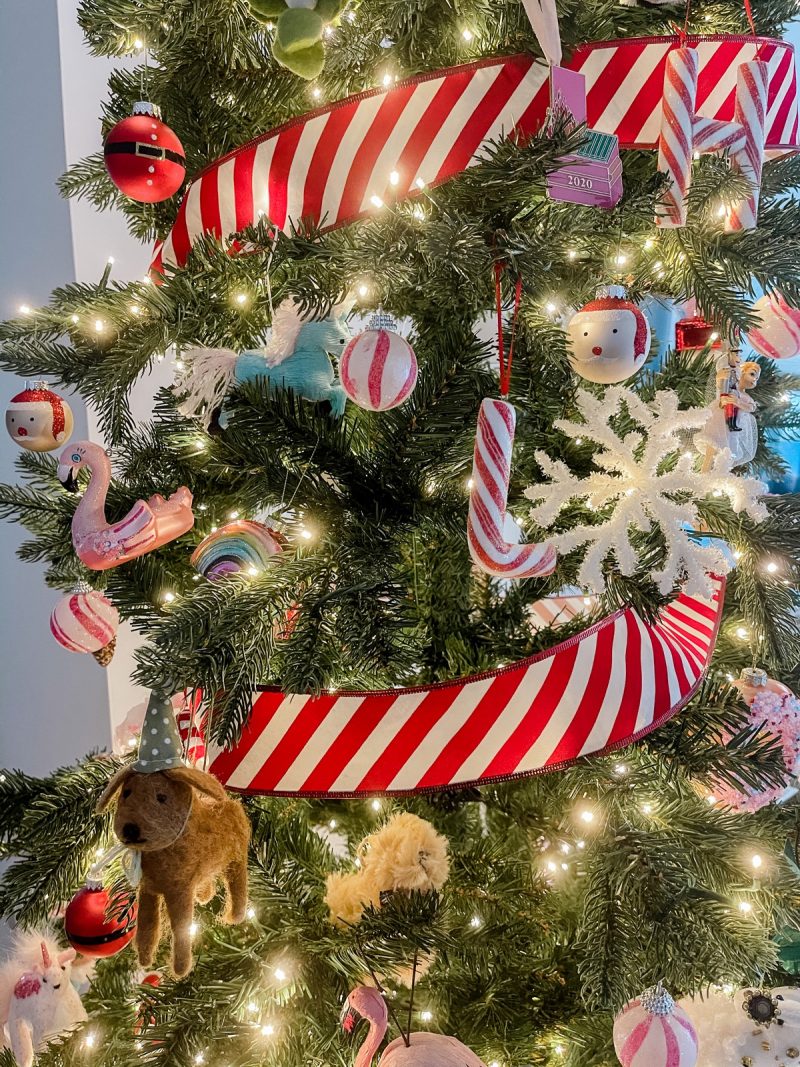 SHOP MY FAVORITE ORNAMENTS HERE:


I hope y'all enjoyed this post!