I missed last week's Friday Five, so we're doing a Monday Musings. I also want to acknowledge Martin Luther King Jr. Day today. Here are 9 ways you can honor his legacy.
ONE
In mid-November, I shared that I went back to work in my office (no longer working remotely), and that caused a lot of anxiety for me initially, though I fell into a good routine after a few weeks. In December, I was able to get my first dose of the Pfizer COVID-19 vaccine and two weekends ago, I received my second dose, so I should be fully protected (the vaccine is said to be about 95% effective a few weeks after the second dose is administered). For more information and FAQs about the currently approved and available COVID-19 vaccines, please visit the CDC's website. For FAQs about the Pfizer vaccine specifically, please visit this page on the FDA's website. Though it feels good to be vaccinated and it does feel like a weight has been lifted (less worry about contracting the virus and/or becoming severely ill), it doesn't really change much for me in terms of my day-to-day life. I will continue to wear a mask, social distance and not see many people/go many places, because I don't want to put my family at risk. To learn more about my person experience with the Pfizer COVID-19 vaccine, you can visit this story highlight on my Instagram page.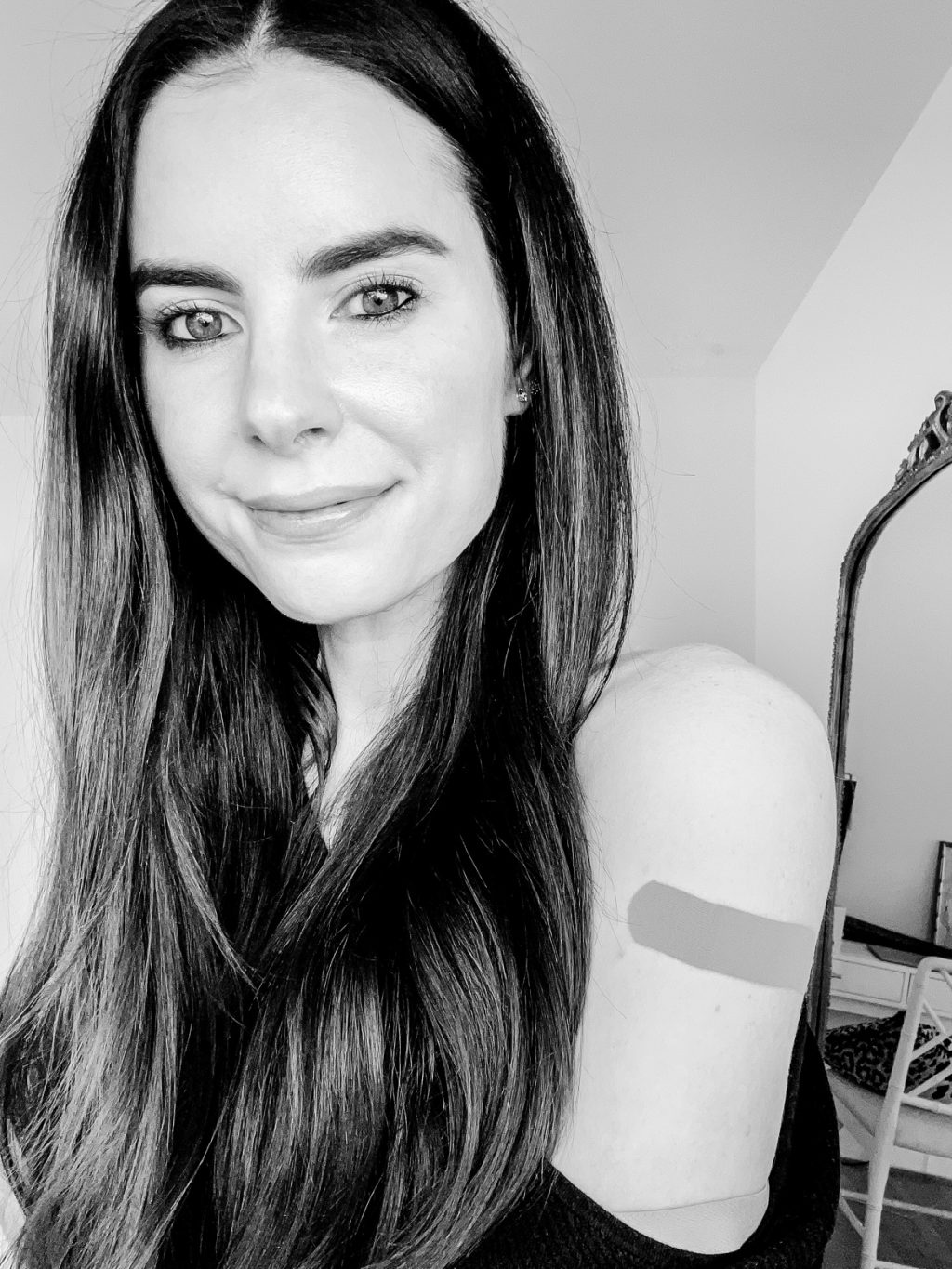 There isn't a lot of data right now on whether those who are vaccinated can transmit the virus to others: "…the Pfizer and Moderna trials tracked only how many vaccinated people became sick with Covid-19. That leaves open the possibility that some vaccinated people get infected without developing symptoms, and could then silently transmit the virus — especially if they come in close contact with others or stop wearing masks." (source: NYT)
TWO
I have so many projects on my list right now (wallpapering the dollhouse, painting Lincoln's room and Harper's bathroom, working on refinishing my China cabinet, adding Greek key trim to Harper's curtains, etc.)
I decided to wallpaper and paint Harper's dollhouse over the weekend. I can't believe how amazing it turned out! You can find the wallpapers in this shop and you can find some of my dollhouse sources here. I'm also planning to add baseboards and possibly crown molding now that the wallpaper is in, to give it a more finished look.
The paint colors are: SW extra white |farrow & ball lulworth blue | BM melted ice cream.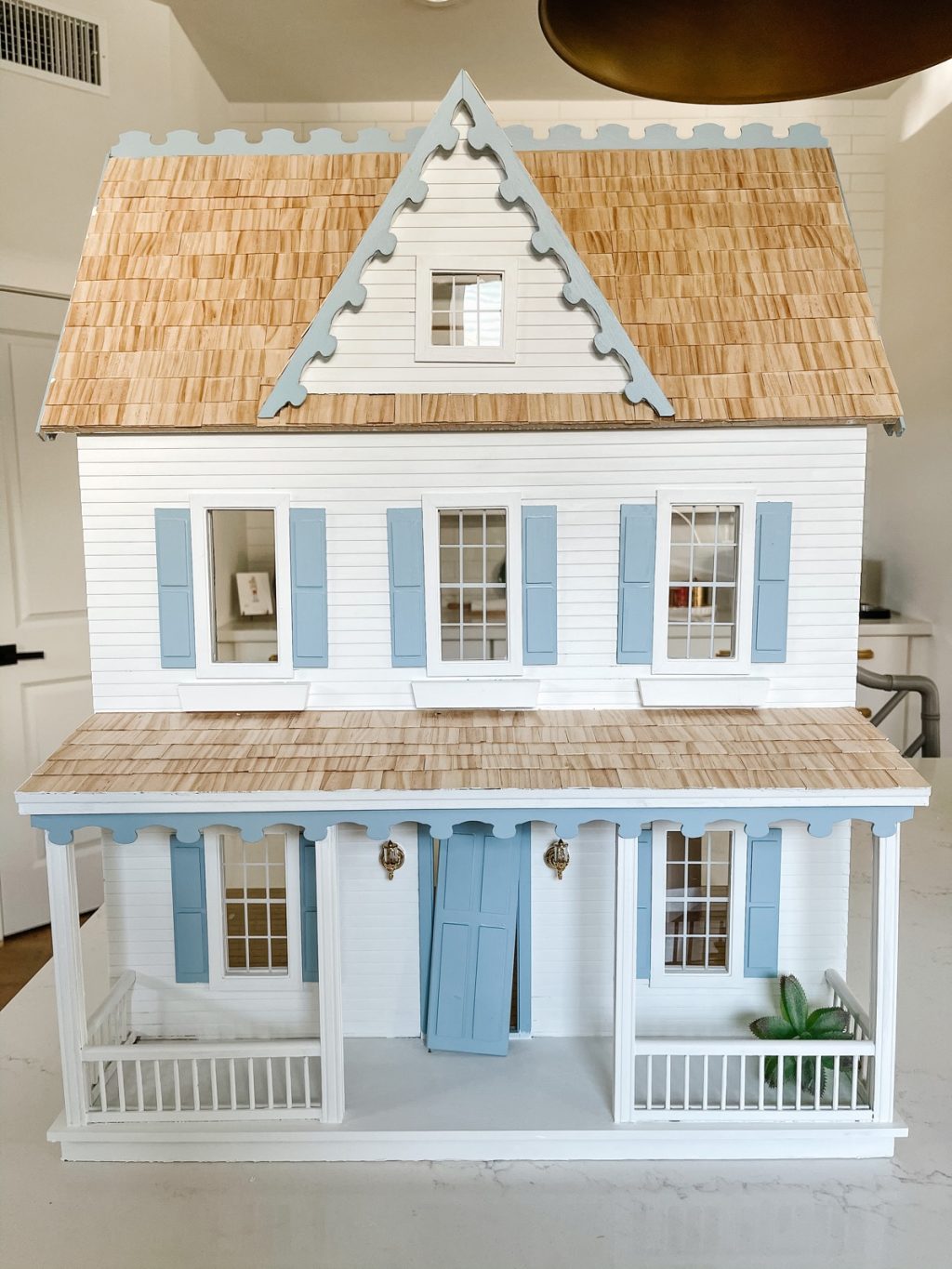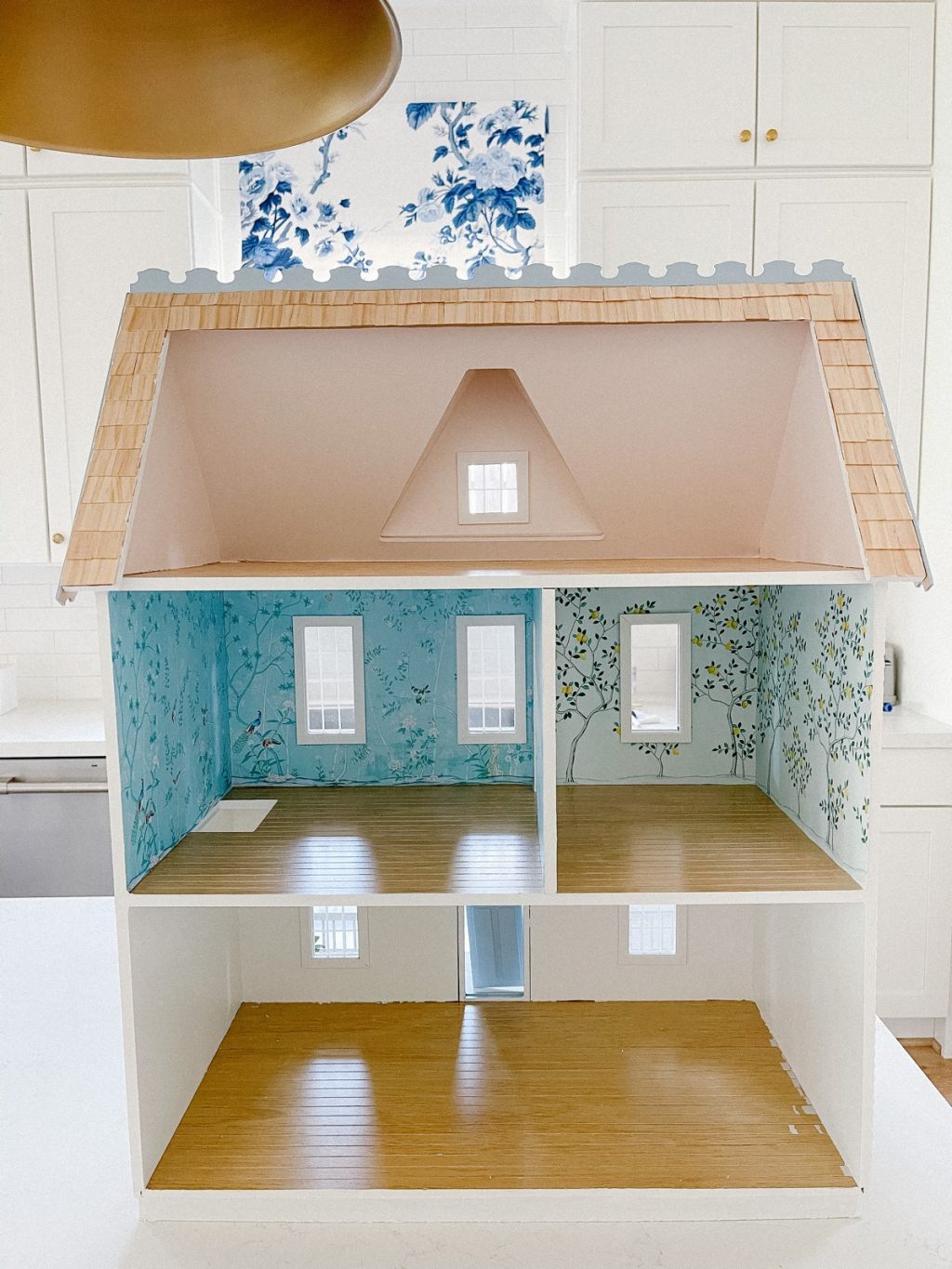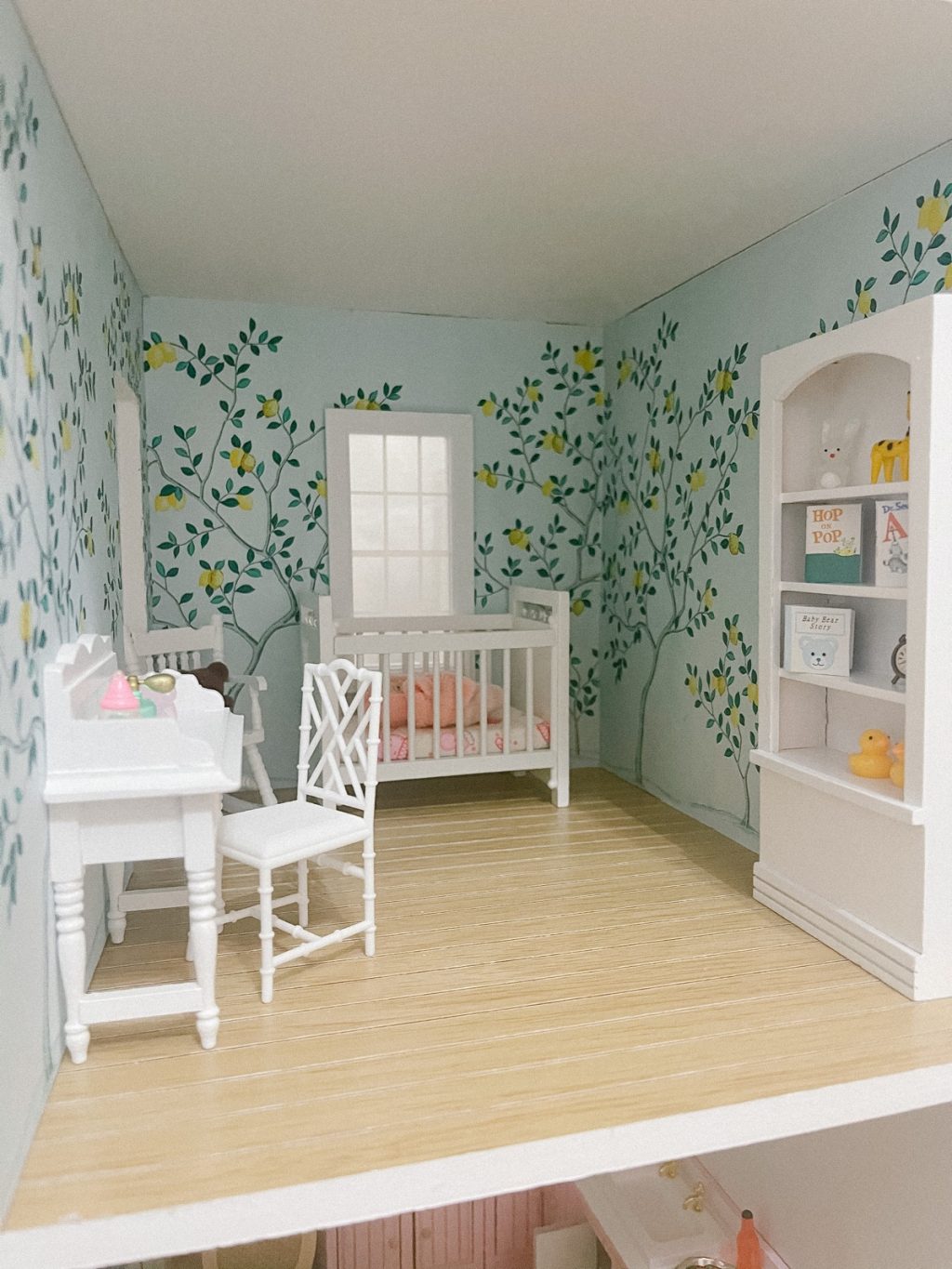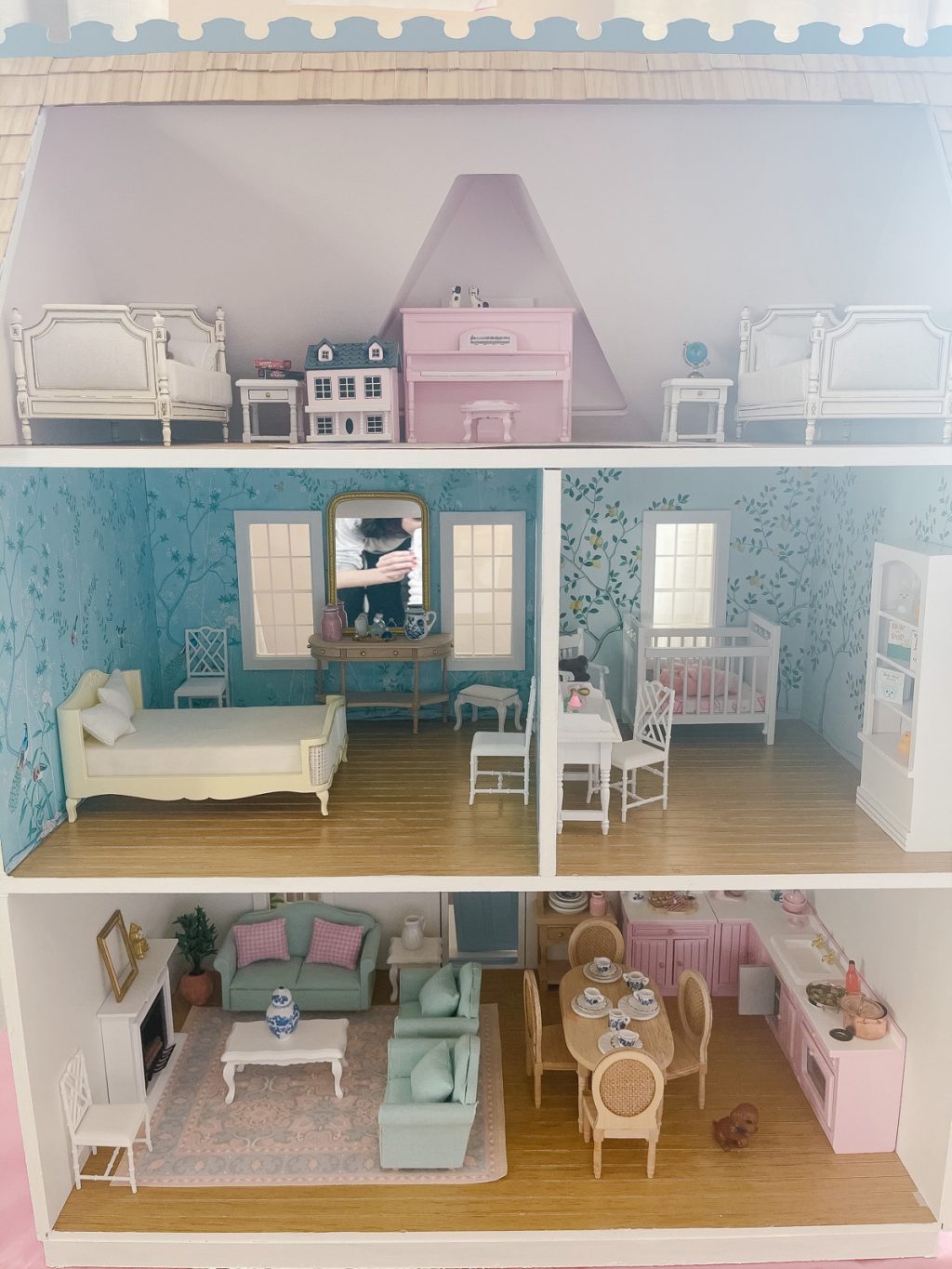 THREE
Painting Lincoln's room and Harper's bathroom will be our next project. We're going to use Farrow & Ball Parma Gray (which is actually a light blue) for L's room – I'm going to start with just the walls, but may end up painting his trim and doors too. I think we are doing Opal Essence for Harper's bathroom, but now I'm thinking of doing one accent wall of wallpaper. Sigh. I just can't help but want more.wallpaper.everywhere.
FOUR
I recently ordered these brass legs for my China cabinet. I wanted it to be a few inches taller, but it will also make it easier to paint, since it will be elevated off the ground a little bit. I'm hoping to drill those on ASAP because it may motivate me to get to that next step. Thus far, I've done some cleaning and sanding, but I need to do a little wood filler for some tiny holes and scratches before I even think about painting it. This cabinet is…a journey, ha.
FIVE
I adore our new kitchen runner – and so do y'all! I've gotten so many DMs about it so I thought I'd share some more details on where to source these runners. I had this runner in our previous home, but always planned to get a longer one for our new house and just never made searching for one a priority with the other projects I was focused on. I searched Etsy randomly one night and found some great options – I wanted something 9-10 ft long and about 3 ft wide, so that it would cover more of the space between our island and the area where our kitchen sink and upper cabinets are. Our old runner was pretty, but way too short and narrow for the space. The search terms you want to use on Etsy and sites like Ebay are "vintage Turkish runner" or "vintage Turkish oushak runner." From there, you will see what inventory various shops have and can narrow down your options based on the size and colors you like. You can also "heart" rugs you like on Etsy or add them to your cart – sometimes the shop owner will message you via Etsy and offer you a discount!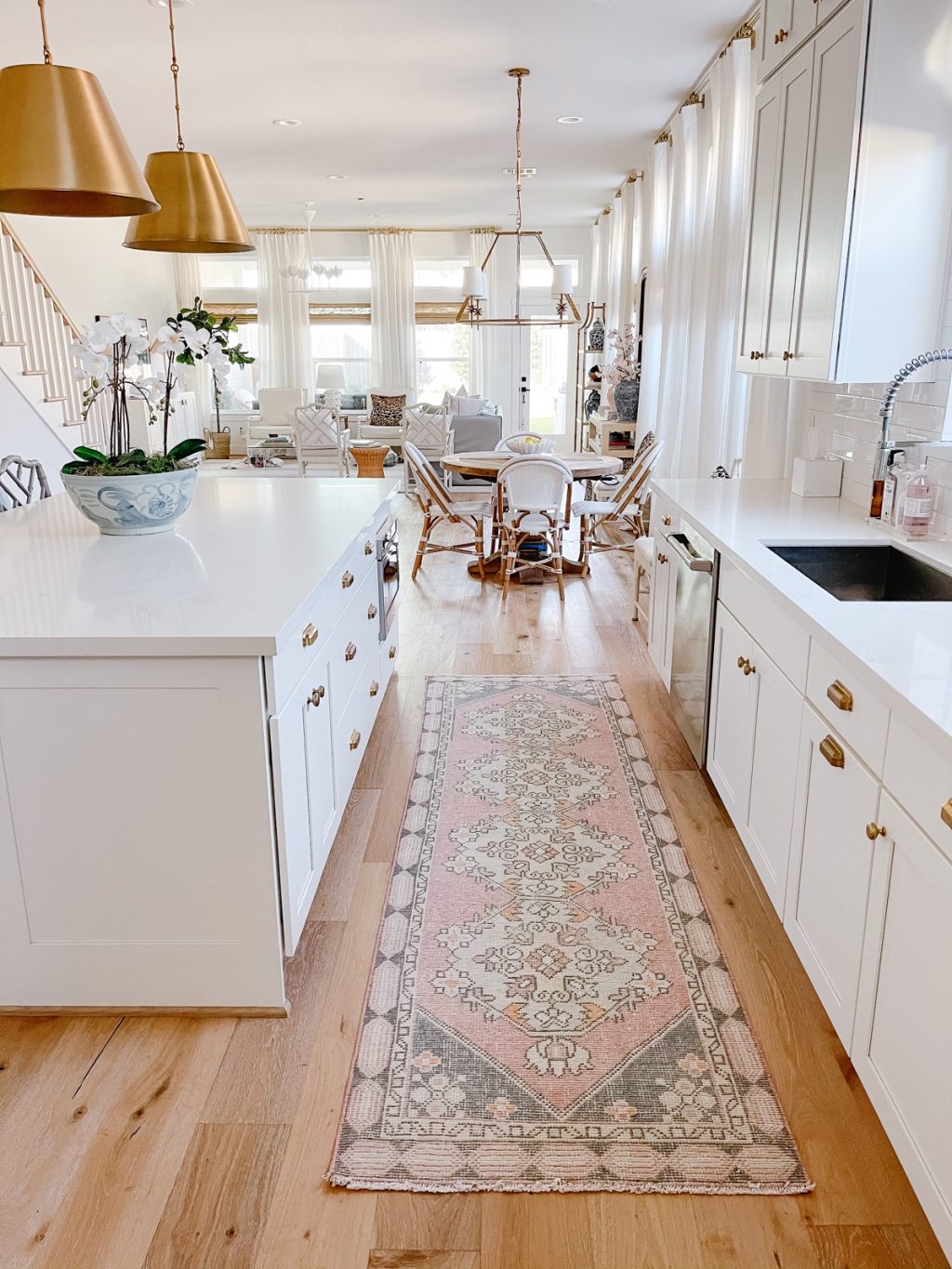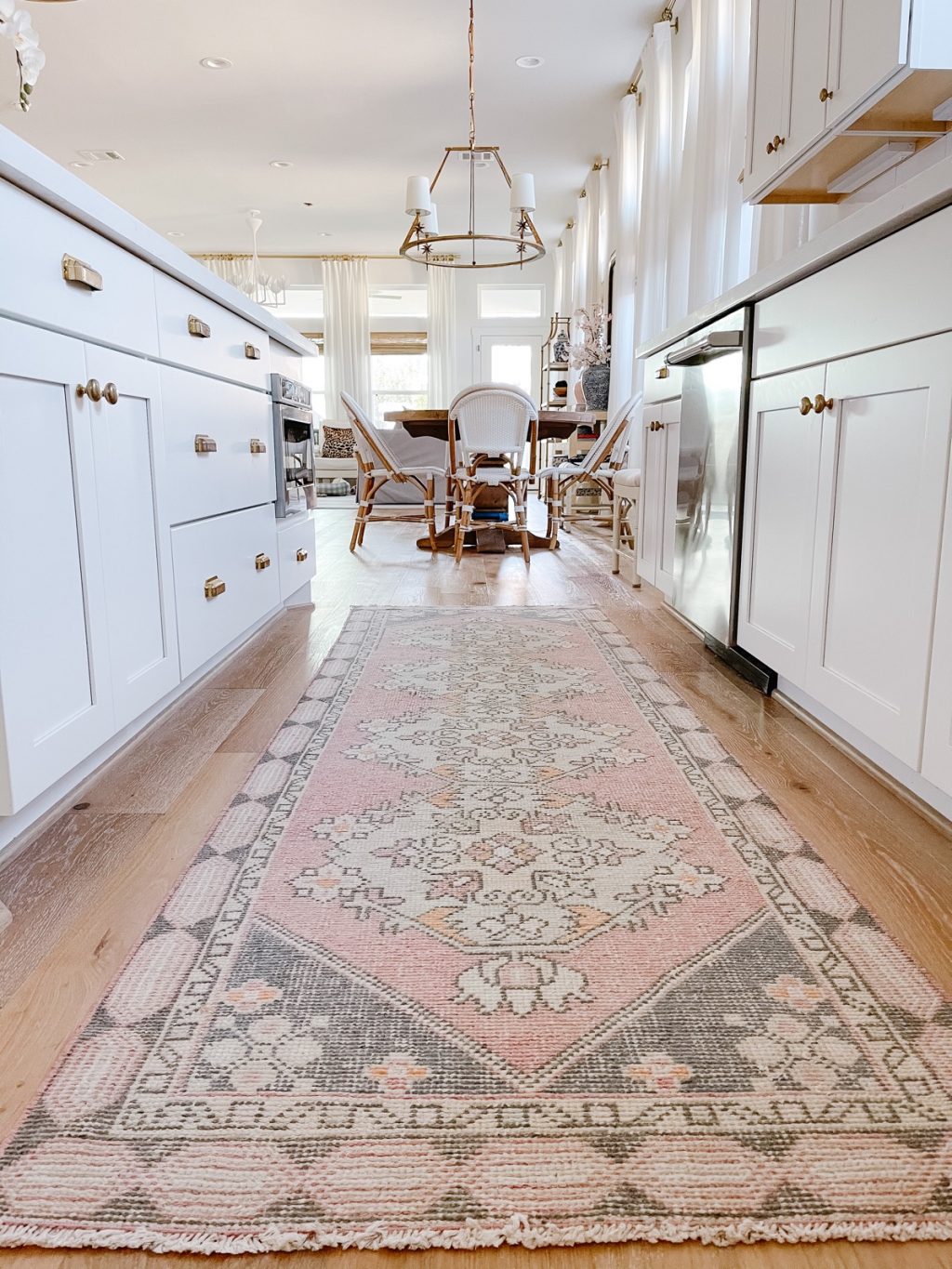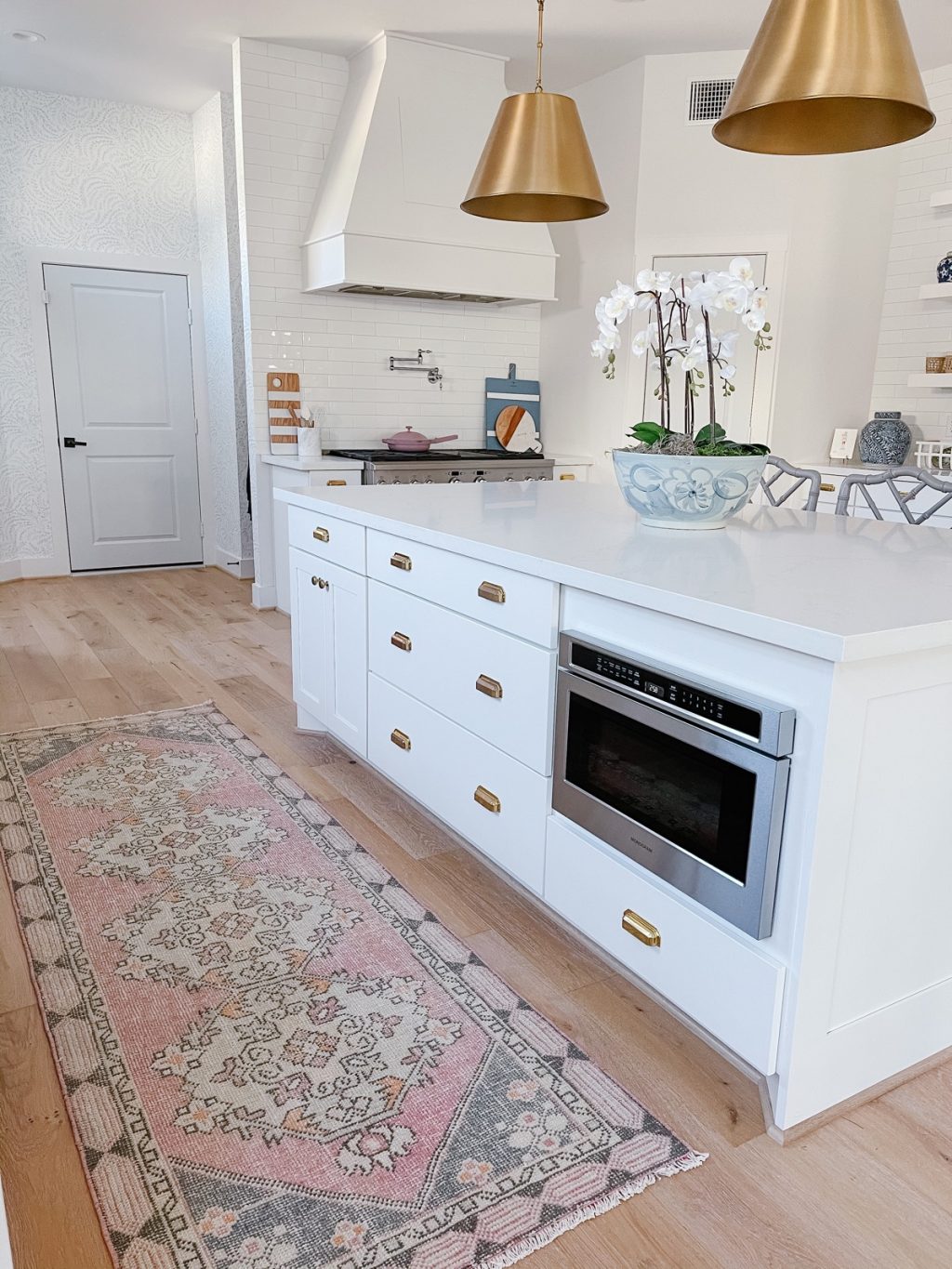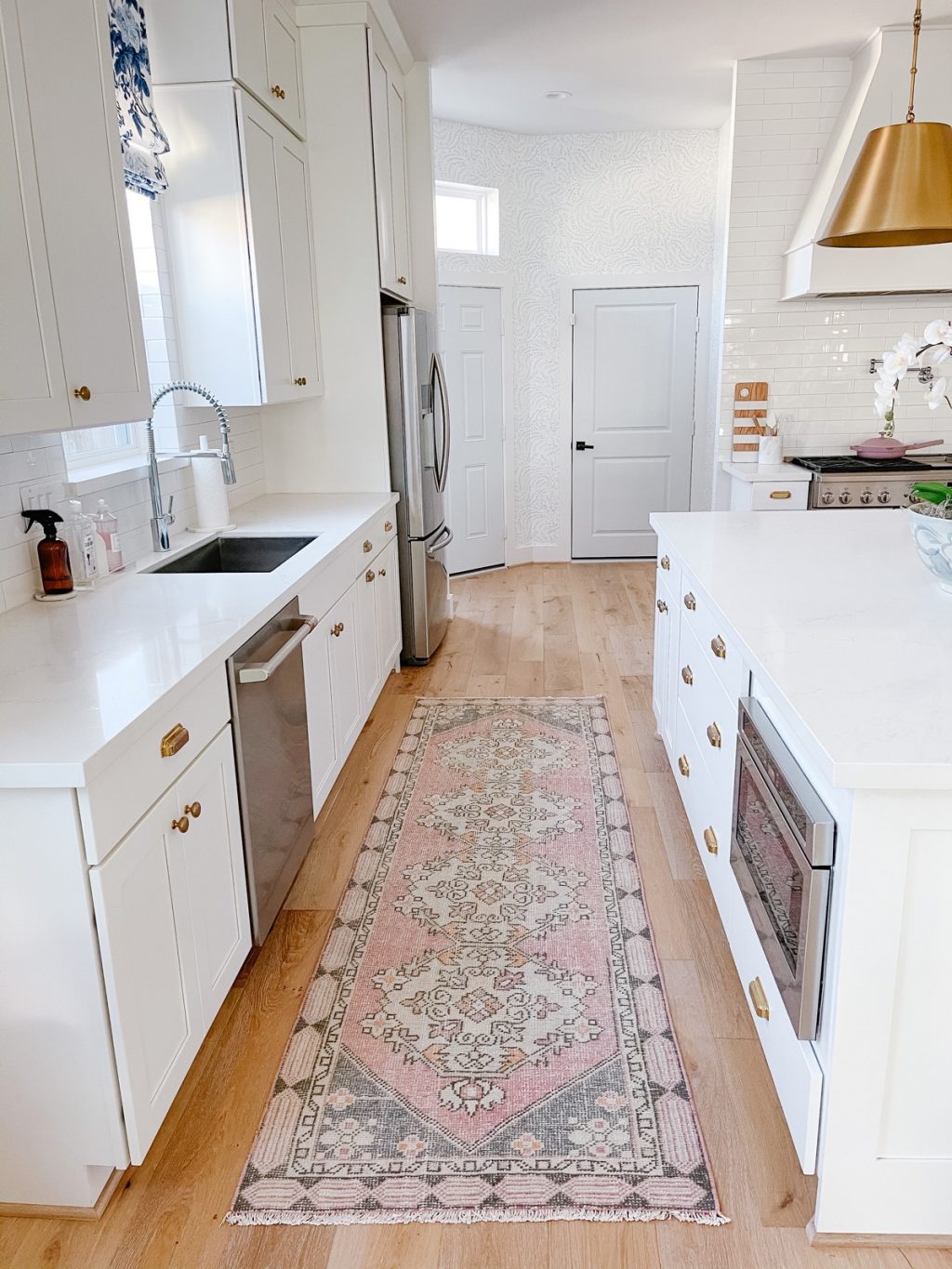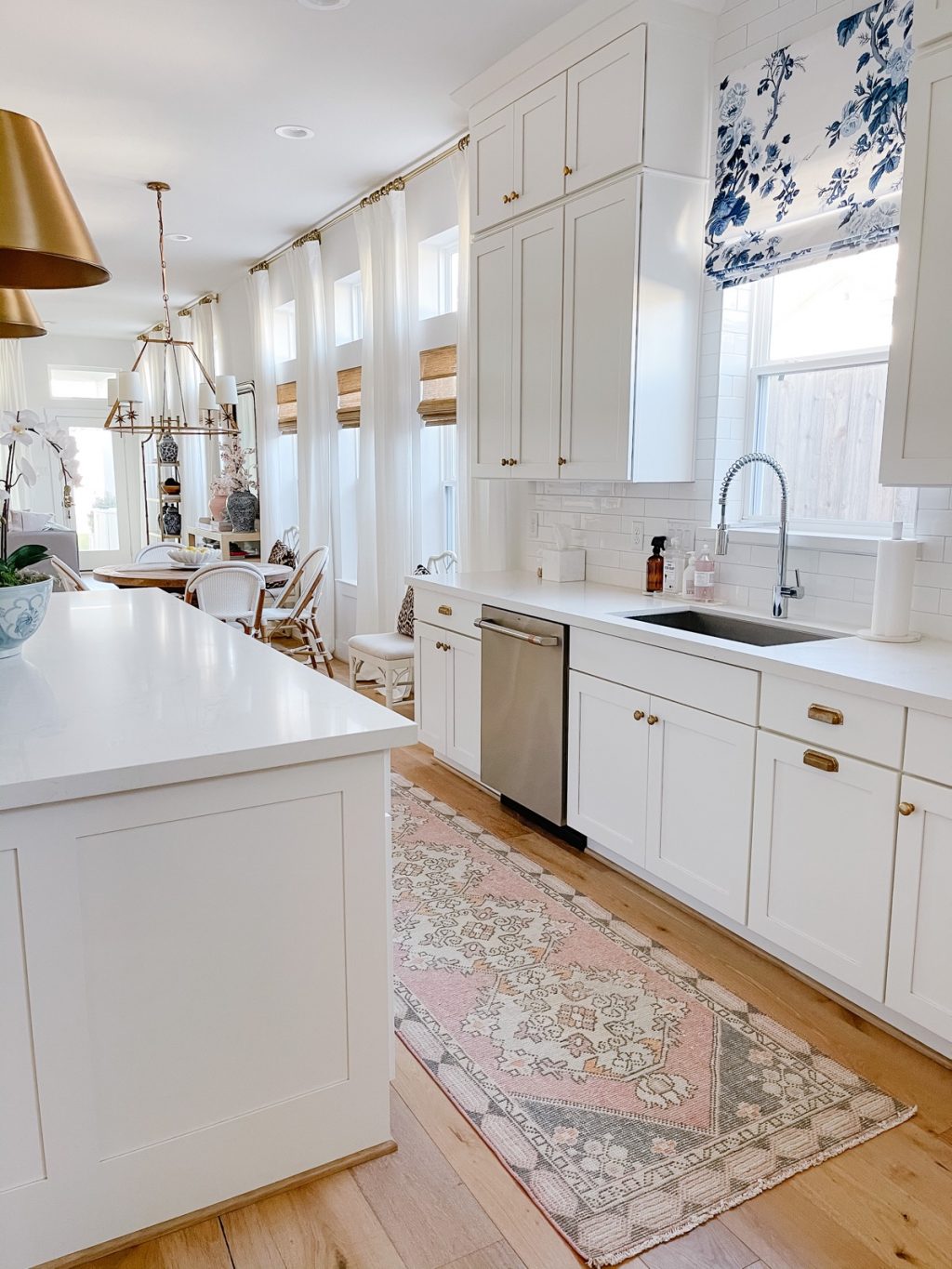 I purchased these rug corner stickers to keep the runner in place since it will slide all over if you don't anchor it down somehow. Right now, I'm on the search for mini vintage Turkish runners for our powder bathroom (about a 2 x 3) and the kids' bathrooms. The best thing about these rugs is that they're incredibly well made, durable and easy to clean. You can get most stains out just by using boiling water. They also have a distressed look already (which I love), giving that sort of "found" quality to the piece – it feels special.
WHAT I'M READING/LISTENING TO
I recently finished A Good Marriage (on audible) and really liked it a lot! You don't find out "who did it" until the very end. I also finished The Wife Upstairs and holy it's a page turner till' the very end! Right now I'm listening to Maybe You Should Talk to Someone.

We finished watching Bridgerton and I loved it! The costumes, the homes/decor, the story. I'm looking for a new series now – I will never quite overcome the sadness of re-watching Grey's and then it being over. It's like nothing quite compares to it
I hope you have a great week! Teddy is getting neutered Friday, so please pray his surgery goes well.