Last weekend, I attended the Round Top Antique Fair in Round Top, Texas for the first time. I had always wanted to go and have friends who went each year, but they typically went on weekdays and I always thought weekends might be too busy.
I'm a little bit sad I missed so many years of attending – it was a really fun experience and the perfect way to spend the day with a close friend. Candice and I even talked about doing an overnight trip next Spring so we can stay in Round Top, plan dinners out and just have a more leisurely schedule since we really powered through a nonstop day this time around.
Candice had gone to Round Top the weekend before we attended, so she had already been to a few of the venues which gave us a great starting off point.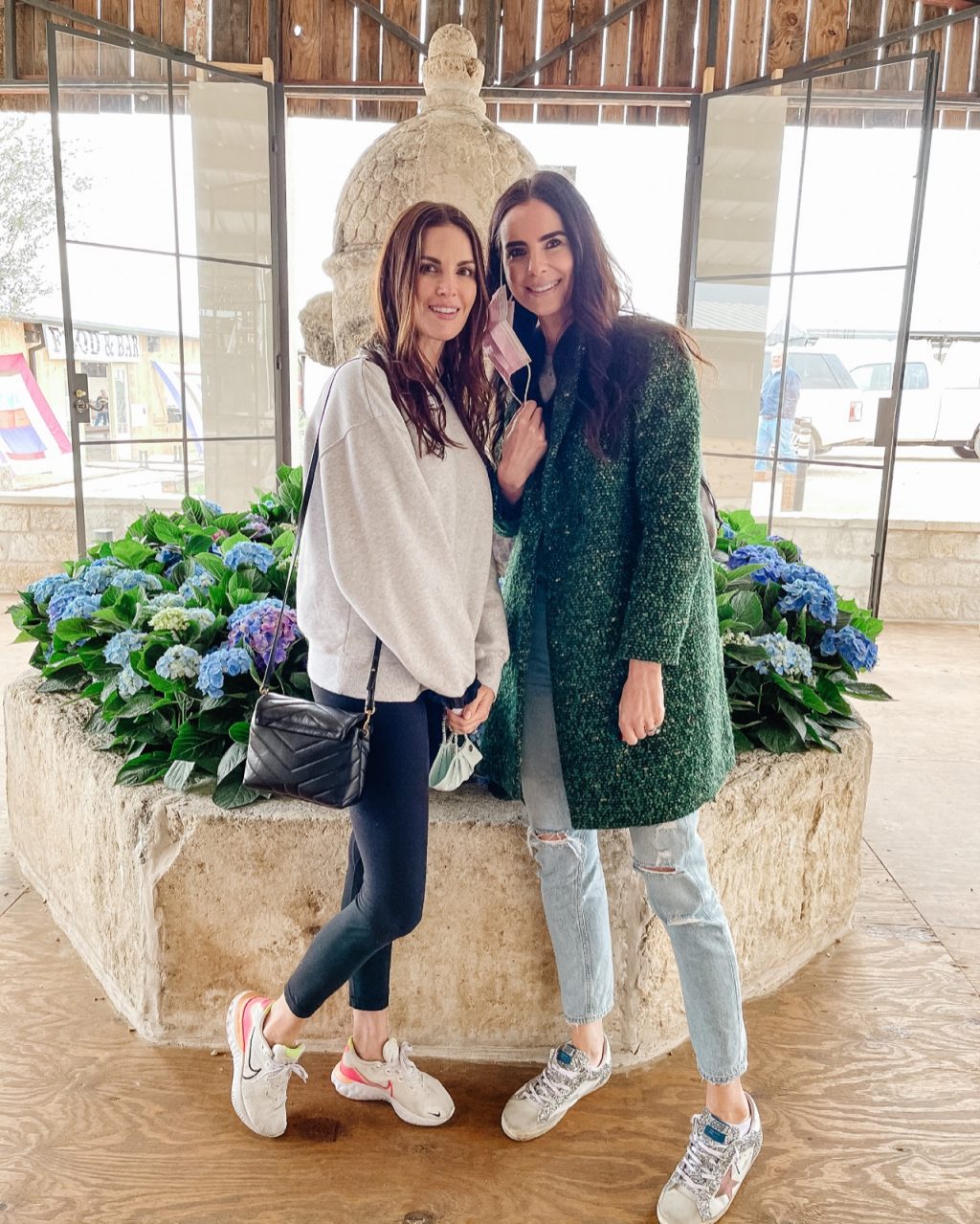 ROUND TOP PRICING: One of my most-asked questions is whether there are "good deals/bargains" at Round Top and my answer is…not really. A lot of designers shop for their clients there to get unique pieces and the dealers all come with a highly curated selection of antiques + tons of massive furniture pieces. I can't even imagine the cost of transporting all of the items to the show, unpacking them, setting up the booth and then re-packing whatever wasn't sold to take back to their warehouses or brick-and-mortar stores. There are of course some well-priced items at several of the retailers and affordable knick-knacks, but this isn't the place to get antiques for garage sale prices. Everything is very curated and the pieces are typically in excellent condition, so it's not really an opportunity for a discount.
For me, attending this antiques fair is more about the experience and the inspiration. I'm not there to buy a $5000 antique buffet or a $3000 table – but I took so many photos of pieces I love and styled vignettes, hoping to infuse some of that energy into my own home. The trip is worth it for the inspiration alone!
ROUND TOP FOOD: We didn't dine during our time in Round Top, but I've heard a lot of great things about the food in town including Mandito's for TexMex, Popi Burger and Garden Company.
ROUND TOP RESTROOOMS & COVID PROTOCOLS: We were impressed with the restrooms – they were very clean and accessible. Some venues had buildings with a bathroom and some had those nicer trailers with multiple bathrooms stall with real toilets in them. There was running water, soap, paper towels and hand sanitizer available.
We attended during the pandemic, so I want to add that though the Round Top website and some vendors have signs asking attendees to wear masks, it is not enforced (it's worth mentioning that at the time we attended, our state's mask mandate was lifted). I would say only 5-7% of attendees and vendors wore masks. However, for context, Texas does have a very high vaccination rate and opened up vaccines to anyone who wanted one recently. Candice and I did wear masks for the entire duration of our time there and we're both fully vaccinated, so we felt comfortable as most of the experience was outdoors or in outdoor tents. I would not have been comfortable going if I wasn't vaccinated due to the lack of mask wearing and how many people we encountered. I'm hoping that by the next show in the Fall, this will be a nonissue.
THE ARBORS
We started our day off at The Arbors, where we both purchased some mini vintage Turkish rugs and Candice picked up her custom finish nightstands from Le Chateau ATL. Le Chateau ATL is a Parisian DREAM! Gold Phillippe mirrors, dressers with stunning French details and hardware and so much more…it's truly a must-visit spot and their prices are surprisingly fair.
The Arbors have antique vendors, rugs, pillows and home décor, but also some clothing and jewelry retailers mixed in. I got my mini Turkish rug at a vendor there and that's where you'll also find Preservation Co., the vendor of the amazing raw wood doors I shared on my Instagram stories.
BLUE HILLS
Blue Hills was a great spot for antiques and a variety of other vendors. Some of our favorite spots in addition to all of the antiques vendors were Maison Sud, Maps & Art and Ettiene Market. See a full list of vendors here. I got a gorgeous planter at Maison 30A there – such a good buy! I've never seen anything like it.
THE COMPOUND
I don't remember many specifics about this portion of our visit but it was worth a stop! The Compound has a mix of vendors – most people highlight the shop Eneby Home which has a beautiful setup there. It's not my taste at all 9very MCM) but it's a really beautiful space. I believe theat's also where Maison Sud is, which was a cool home store.
THE HALLES
The Halles is where you'll find Joe Saab, who has an amazing assortment of vintage and modern Turkish Oushaks. There was also a store there that had a ton of very affordable farmhouse finds. Not my style, but if you're a Joanna Gaines fan, that store had everything you'll love. Candice did buy a gorgeous wooden bowl there that could truly work with any aesthetic.
MARKET HILL
Market Hill is year-round, but I have heard they do bring special vendors in during the Round Top Spring and Fall shows. You'll find the famous Paul Michael Company there (if you attend Houston's Nutcracker Market, you'll know exactly what I'm talking about). I think it's worth the visit as there are a mix of antiques vendors and other retailers, but it's not at the top of my list.
MARBURGER FARM ANTIQUE SHOW
The Marburger Farm Antique Show requires its own tickets, so know that before going in. It's a massive venue with multiple buildings and tents. At the end of our visit, we actually got lost and had to be escorted to our parked vehicle by a kind woman in a golf cart who assured us "this happens all the time." Plan to spend a chunk of time here as there's a lot to see. Again, it's a mix of antiques dealers and other small businesses and artists. Lots of tents and interesting items! Candice got a piece of art in one of the tents.
Candice and I plan to go to Round Top again either this Fall or for the Spring show in 2022. We've talked about staying overnight so we can space out our days more and enjoy some meals at the local restaurants. I can't wait for our next adventure there – it's the perfect girls day or weekend trip.
I hope you enjoyed this post – below are some of my favorite images I capture during our time at Round Top and at the various venues!