Over the years, I've become more and more interested in tablescapes and setting our table for special occasions. I've collected new dishes, flatware and table linens to create table settings with texture, pattern and color. I also just ordered these raffia bow napkin rings – hope they'll be here in time for Christmas! There's something special about setting the table for the holidays – it adds even more festivity to the day and makes it feel extra magical.
Most recently, I partnered with Addison of Carolina Dandy to create a custom designed embroidered cocktail napkin with a beautiful lilac bow and lettering in dark green. This color combo feels so fresh and fun! I wanted something sweet and feminine with a bow that was a little fancier and more vintage looking!
She also offers a wreath design with a bow that is beautiful for the holidays. What I love about her pieces is that they're washable and meant to be used and enjoyed. Sometimes it can feel like you want to baby these pretty cocktail napkins – but go ahead and use them as a coaster for your coffee or tea cup and wash them on delicate with gentle detergent. Their embroidery thread is chlorine bleach resistant – but to keep your linens from yellowing over time, they suggest only using bleach when absolutely necessary. Personally I use Miss. Mouth's stain spray for any and all food stains and it has never failed me.
Use code VERONIKA10 for 10% off of your purchase at Carolina Dandy !
SHOP MY PLATES & DISHES HERE.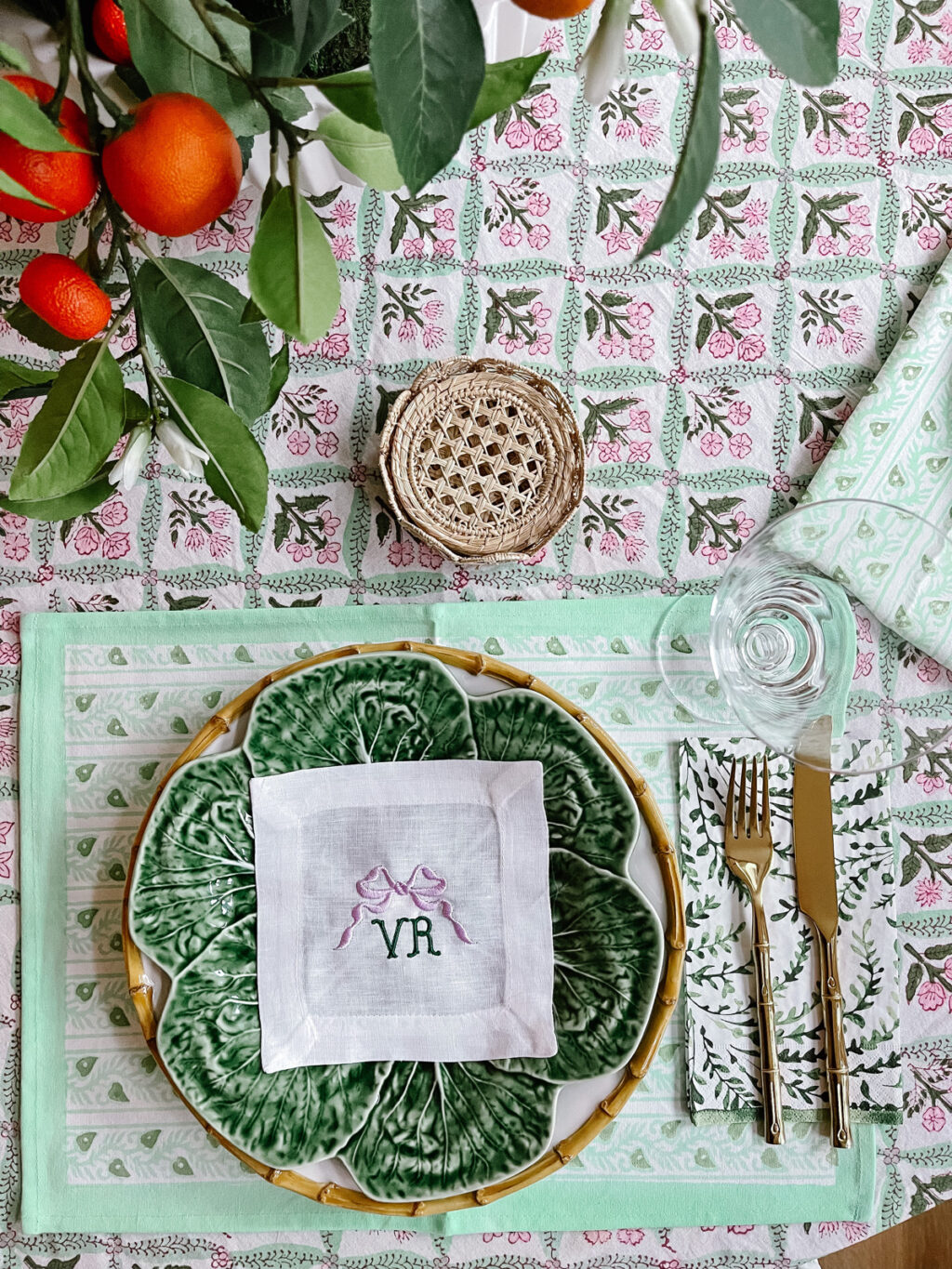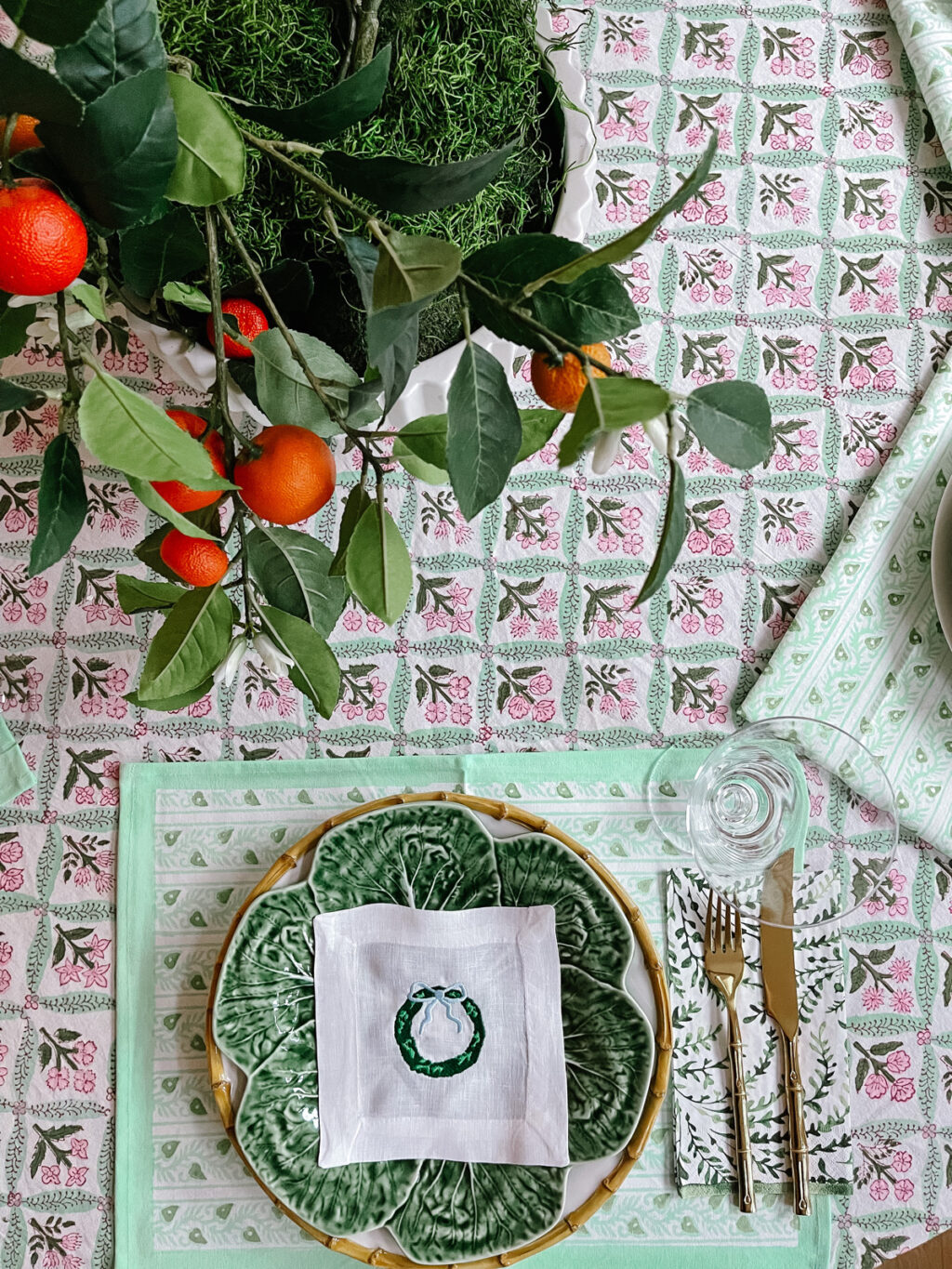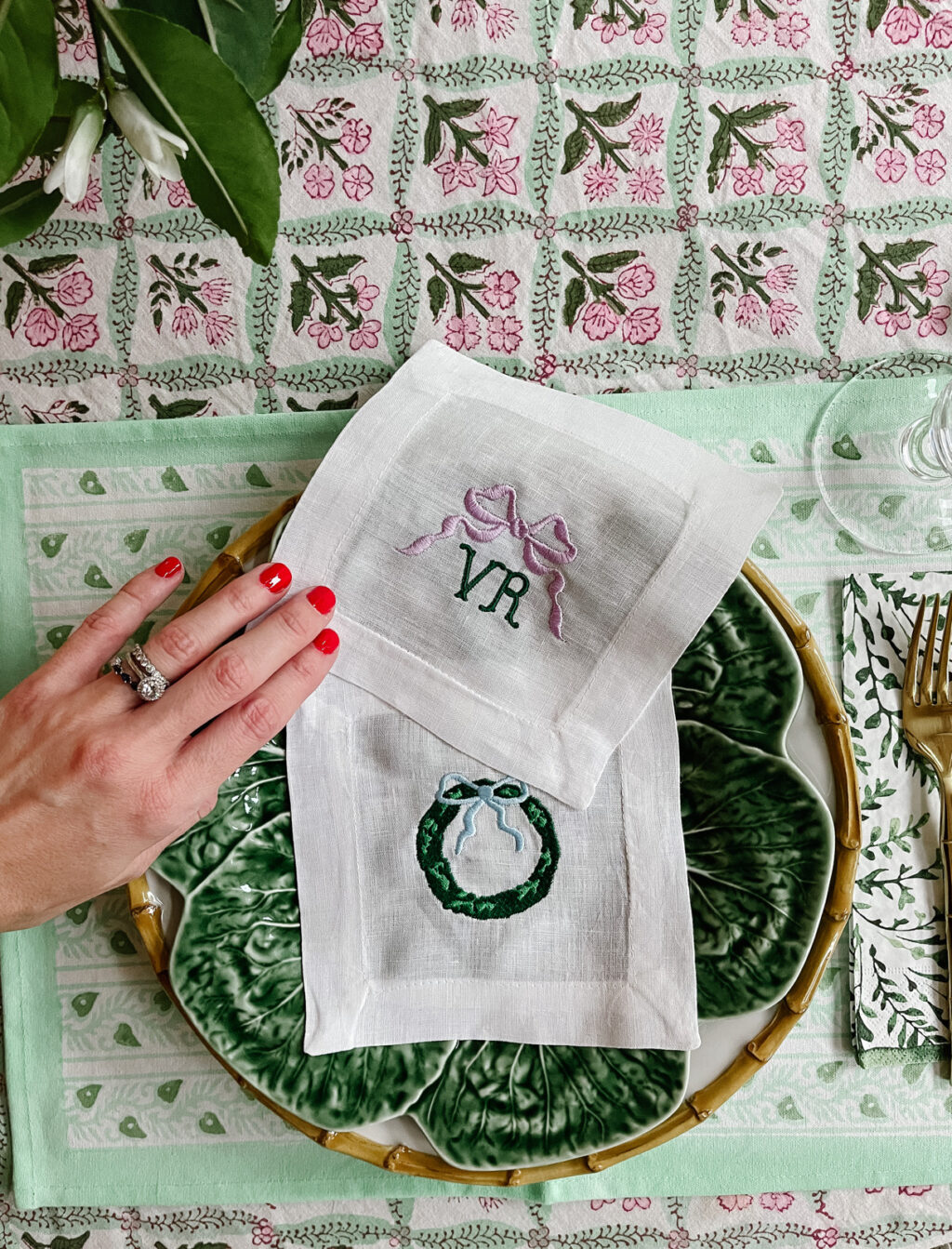 It took me longer to finish decorating our tree this year because I spent days making DIY fabric and painted ornaments. I'm thrilled with our how tree turned out this year and that it's 75% ornaments I made! I also ordered some of these darling gold bows on sale and a few ornaments from Anthro and terrain. These gold tree picks were also a big hit this year.
I also got some super affordable stockings from Target and added some green linen bows. I love how the print and texture is subtle but still makes a statement.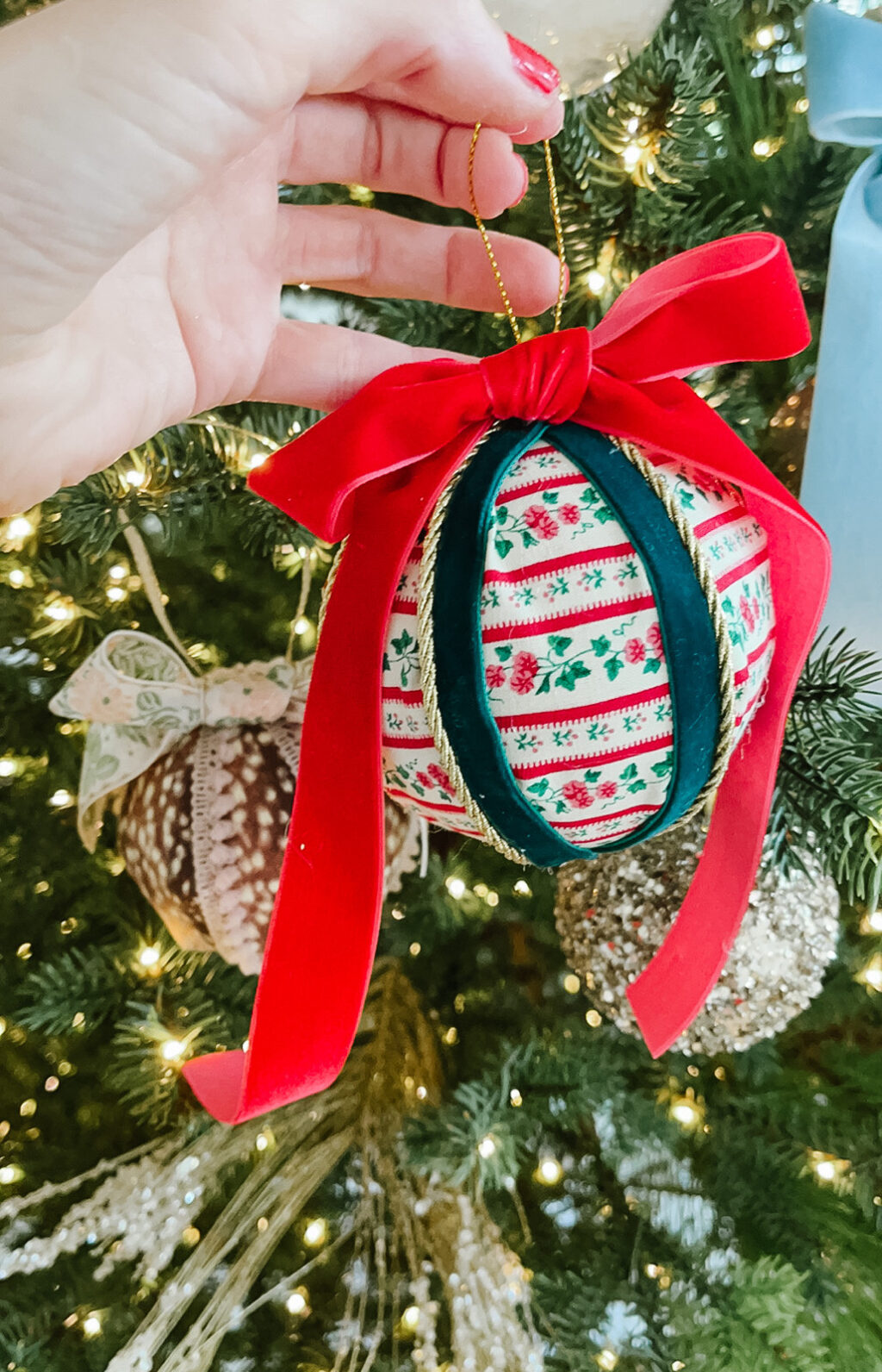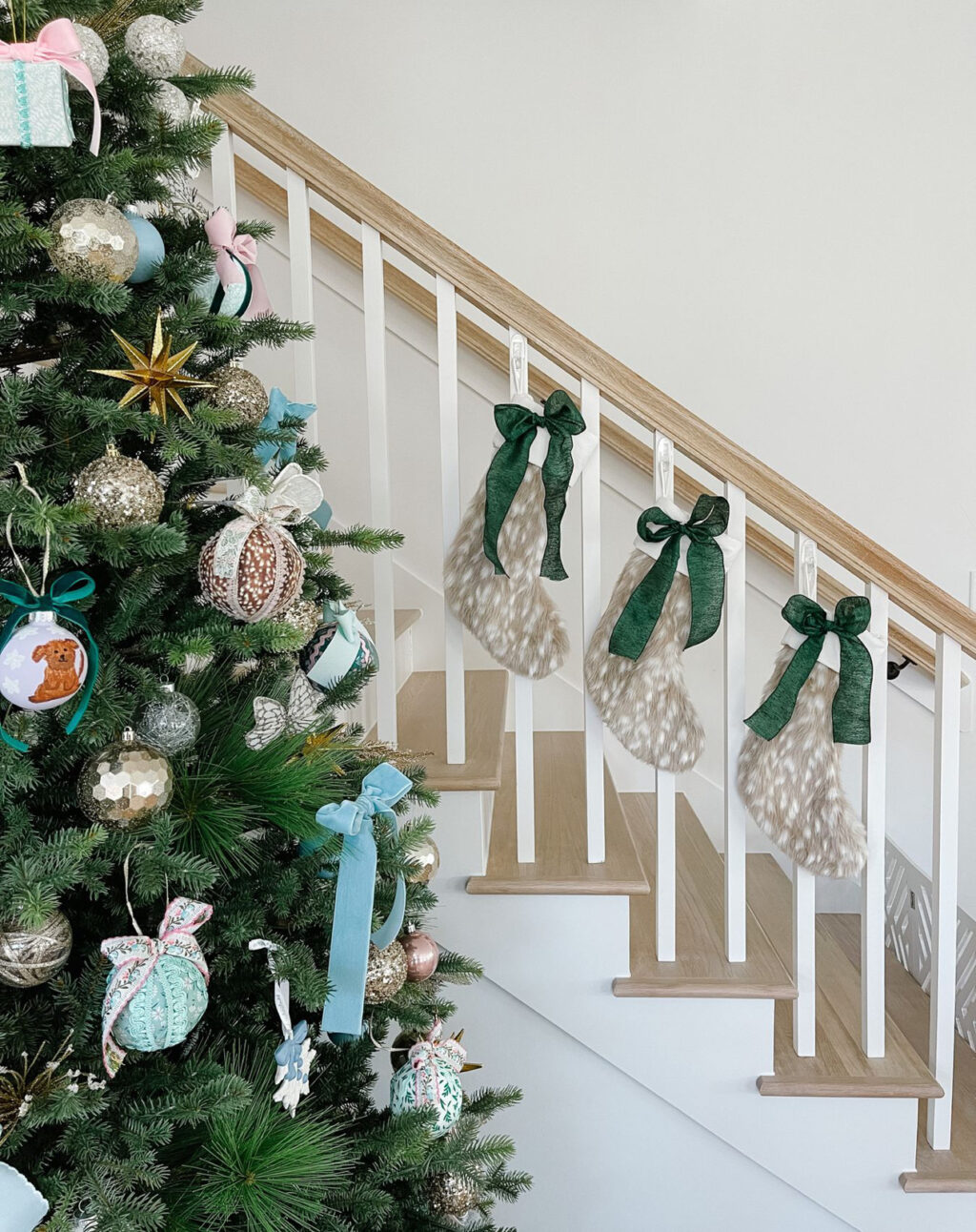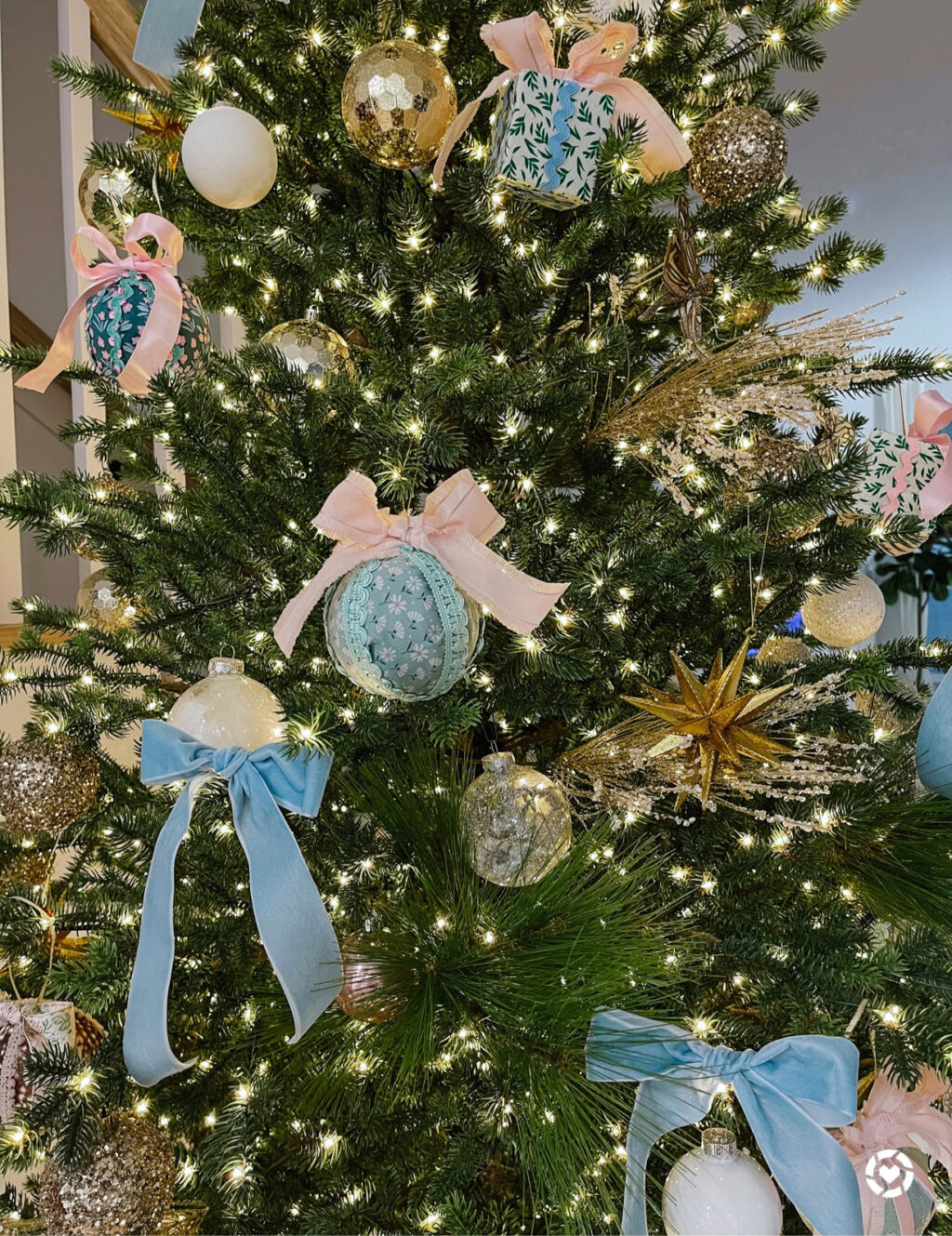 I've been searching for months online for a faux orchid that's a close match to the one I got at Trader Joe's last summer (the one you see in the first image of this series). I was never able to find one that wasn't too pink or too dark purple. Over the weekend, I found this one locally – at Kuhl Linscomb! If you've never been – it's a true gem here in Houston. It's a curated experience and they have everything from home decor, toys, stationary, clothing, makeup, furniture, dishware, etc. Essentially anything you could ever want for your home and entertaining and so much more. This faux orchid was in one of the side buildings – the one that sells a large assortment of the best-quality faux flowers you can find here in Houston. I'm very pleased with it!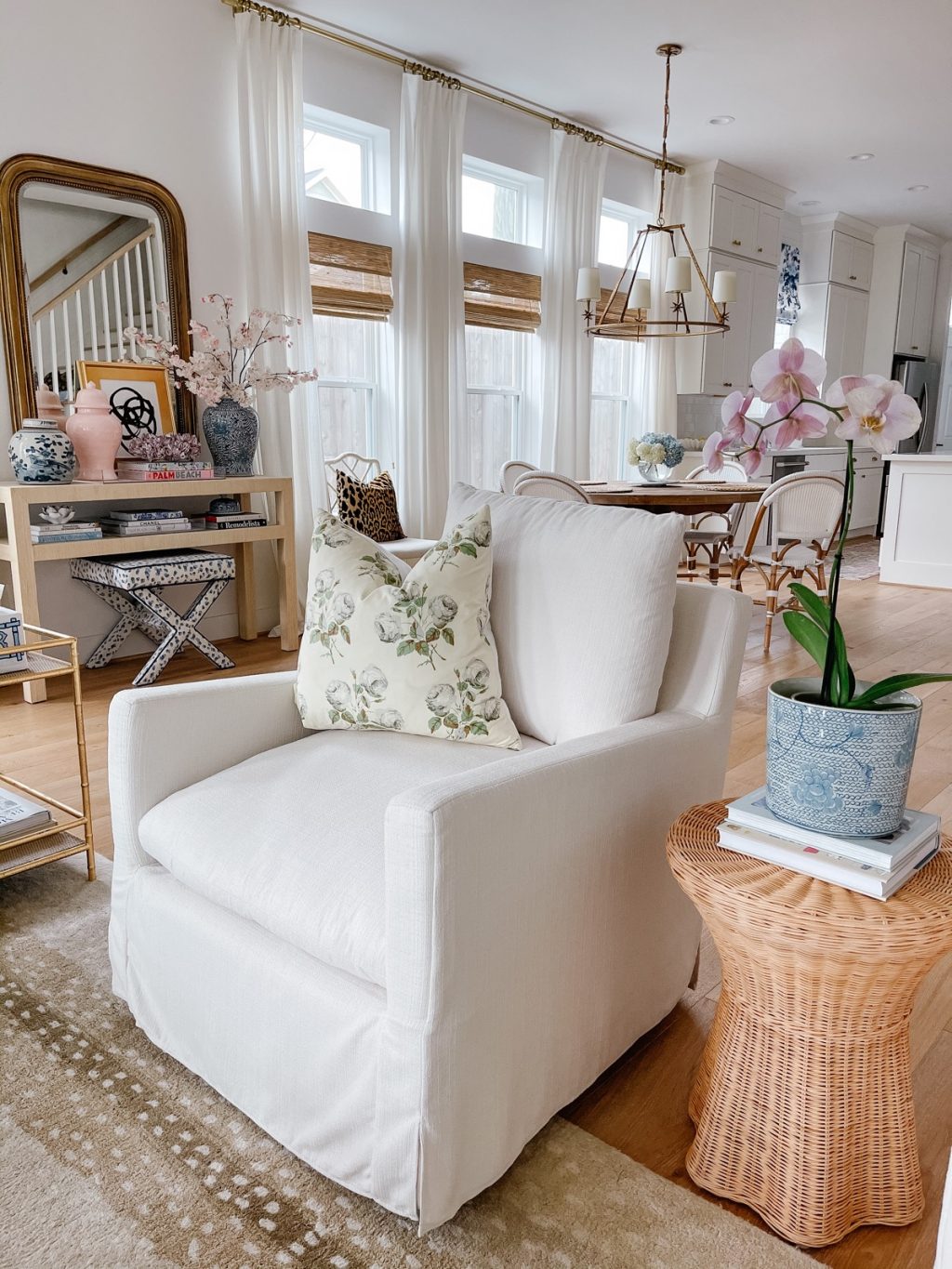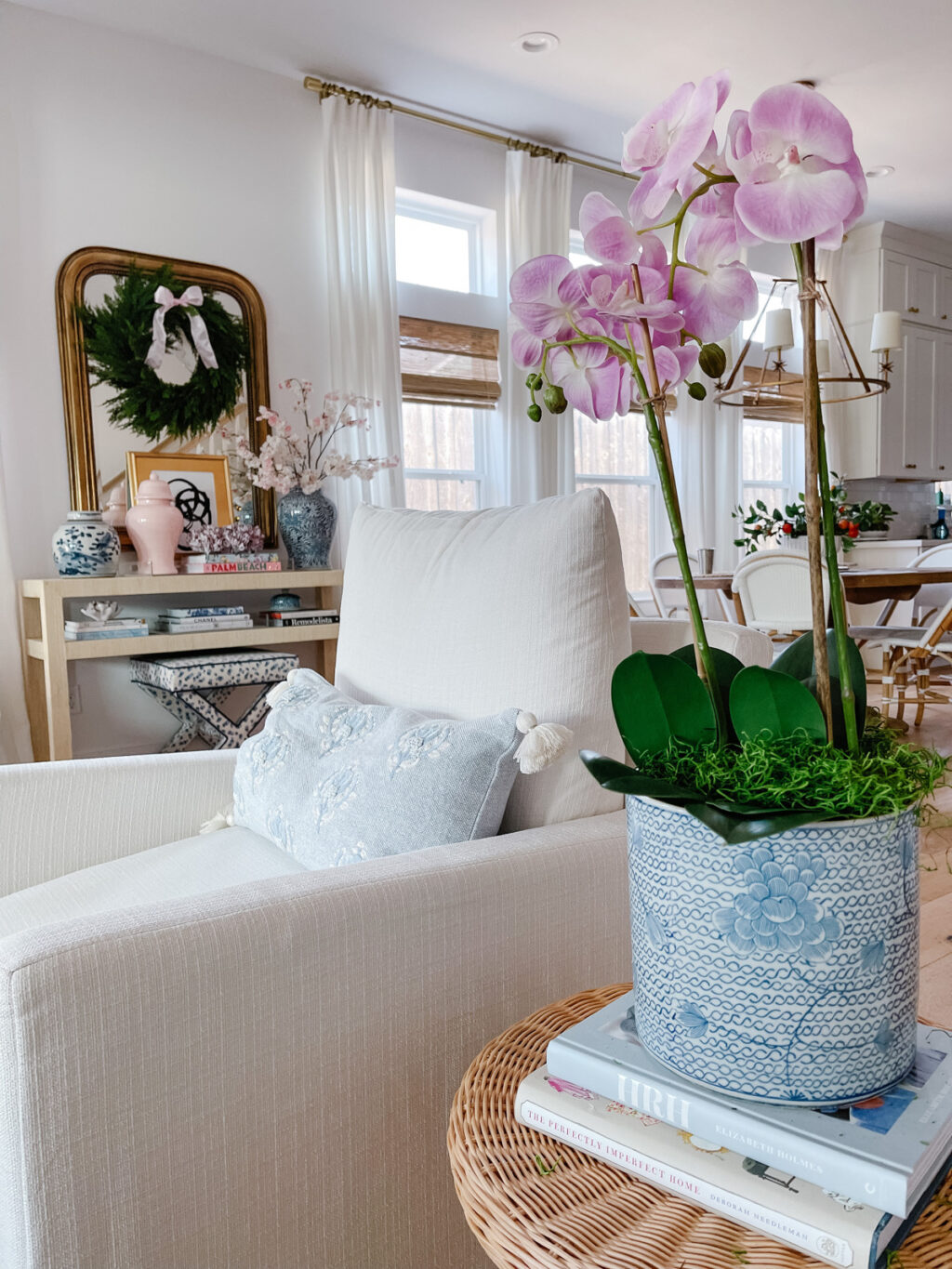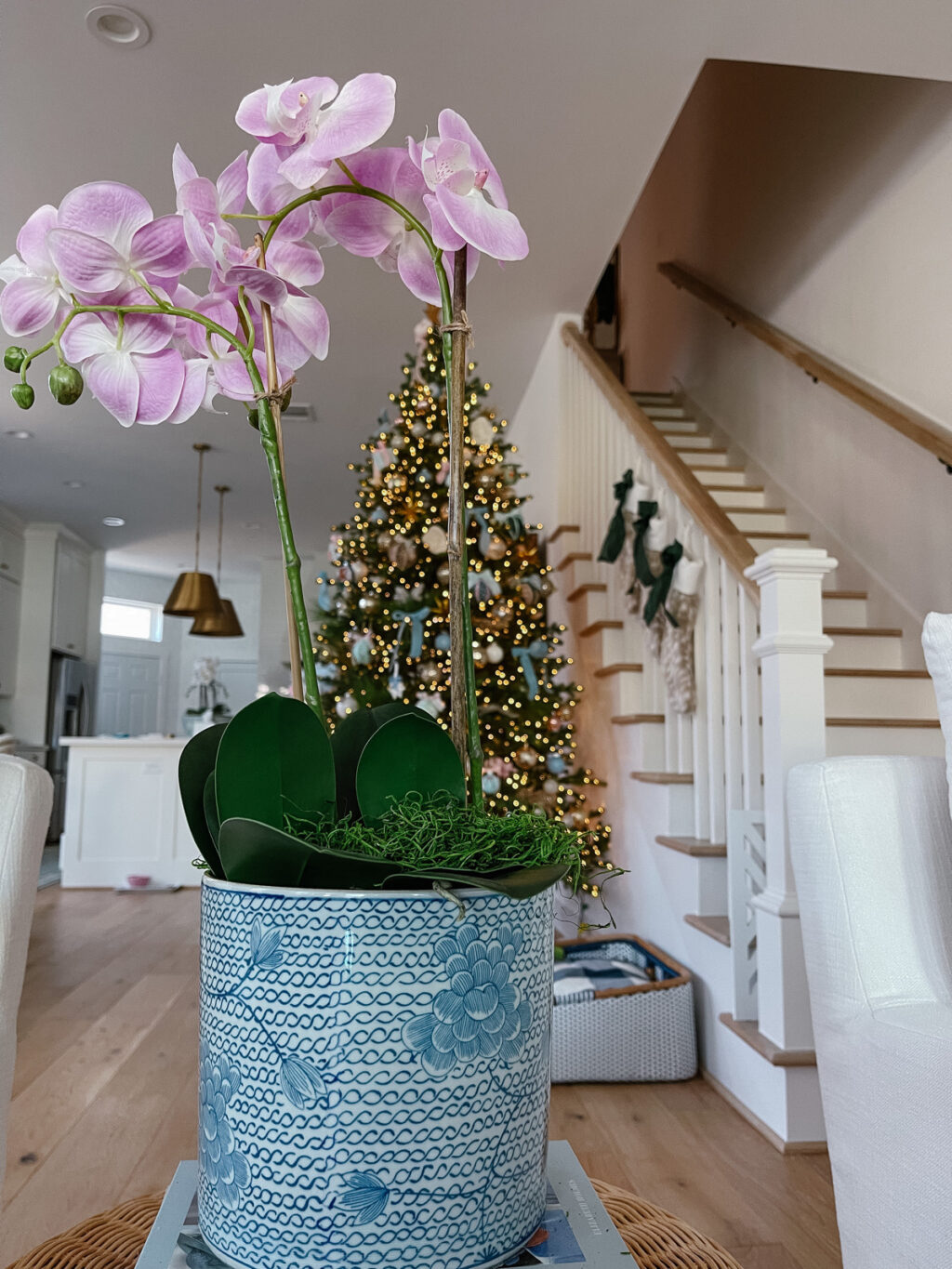 If you need a last-minute gift, I can't recommend Framebridge's burl wood ornaments enough! They look great on your tree and arrive quickly! A quick & easy gift idea at a decent price!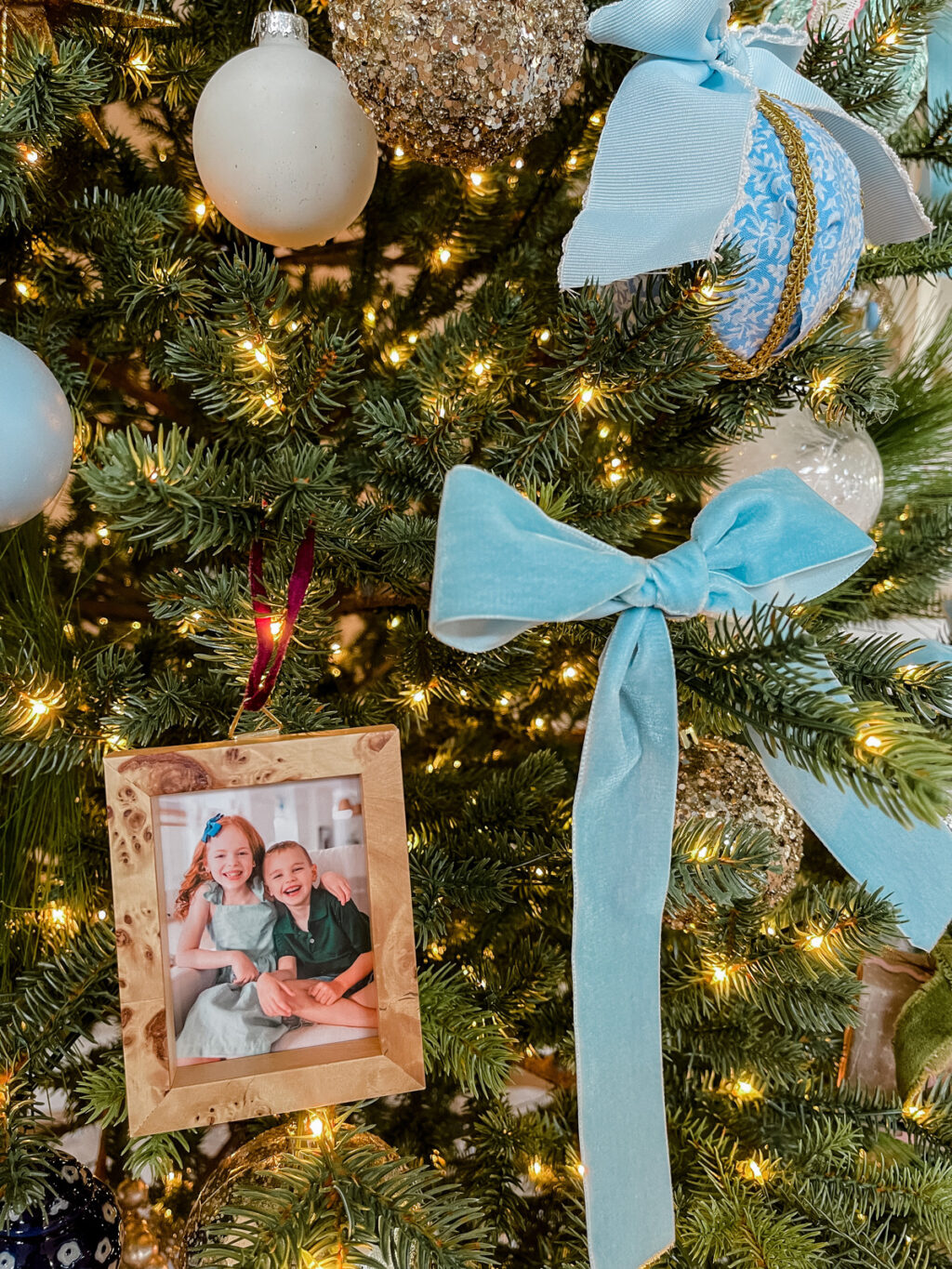 I love sharing small, woman-owned businesses I have the pleasure of working with and June St. George is no exception. She makes custom rugs, pillows and more. We were gifted this nutcracker pillow for Harper's room and it's darling! It has the prettiest shimmery mohair finish.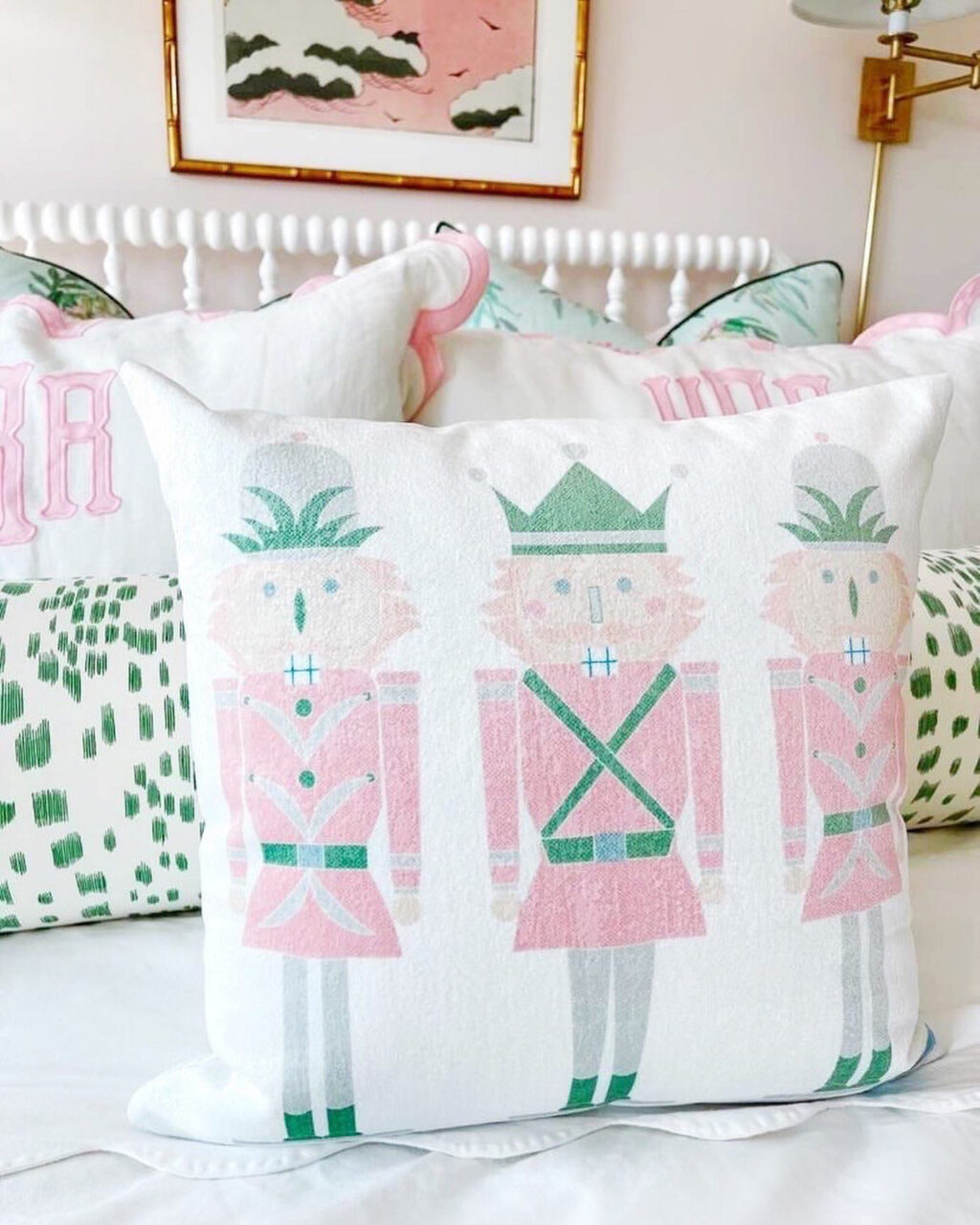 I hope you have a wonderful week!