I never in my life dreamed our pantry could look the way it does today – and can't wait to share the photos in this post! This is what our pantry looked like pre-makeover. Prepare yourselves, this is about the worst it's even been…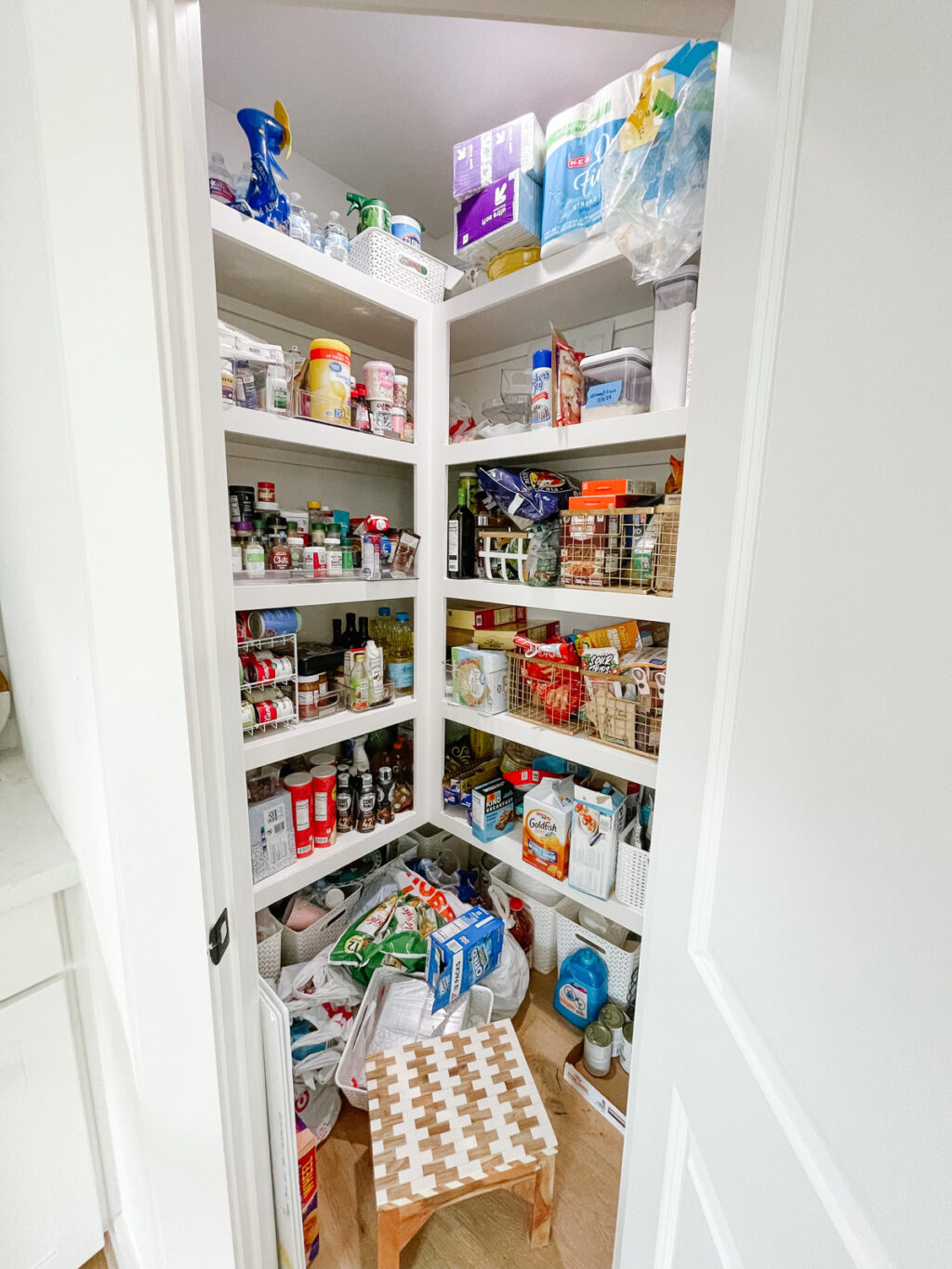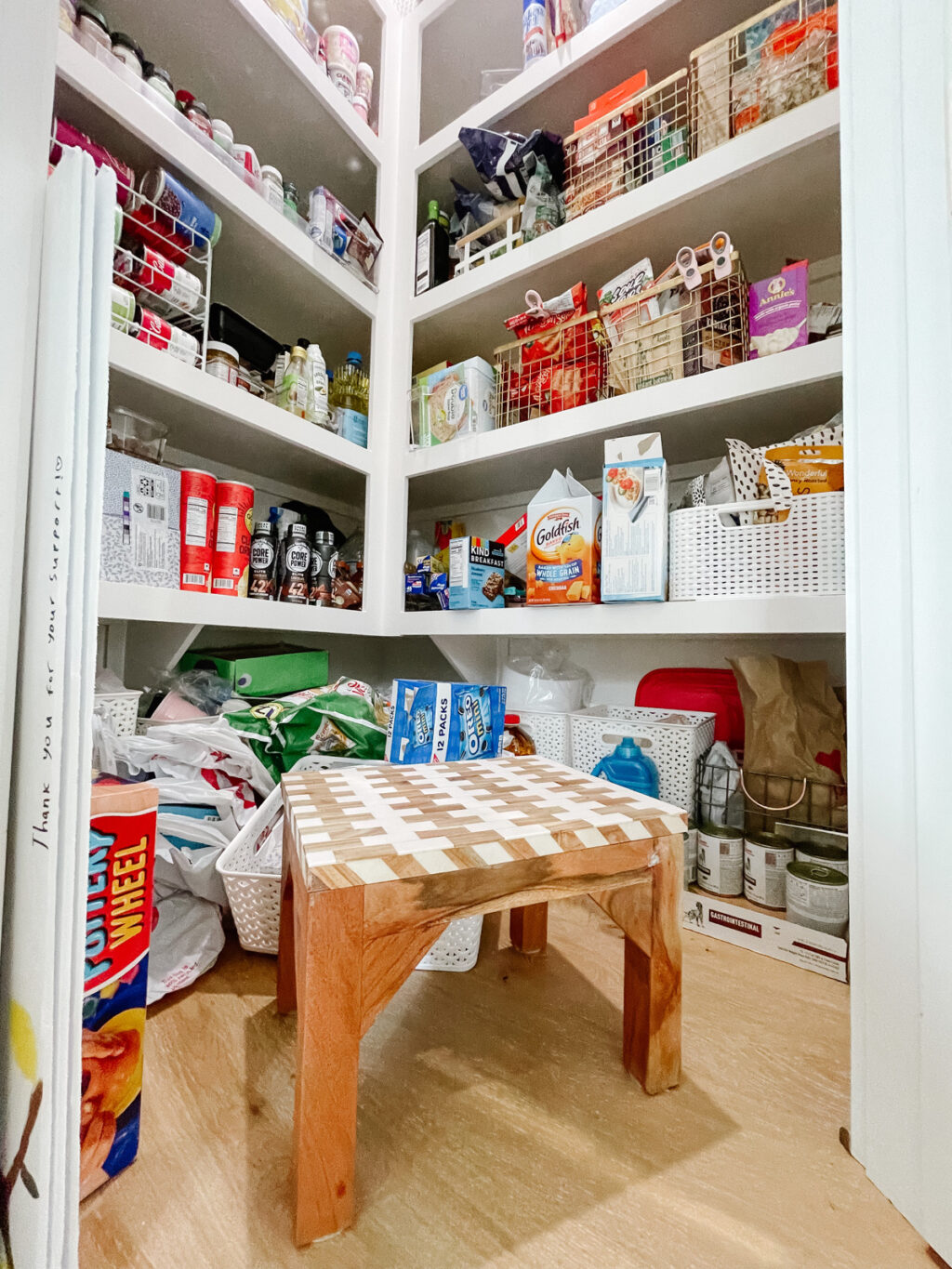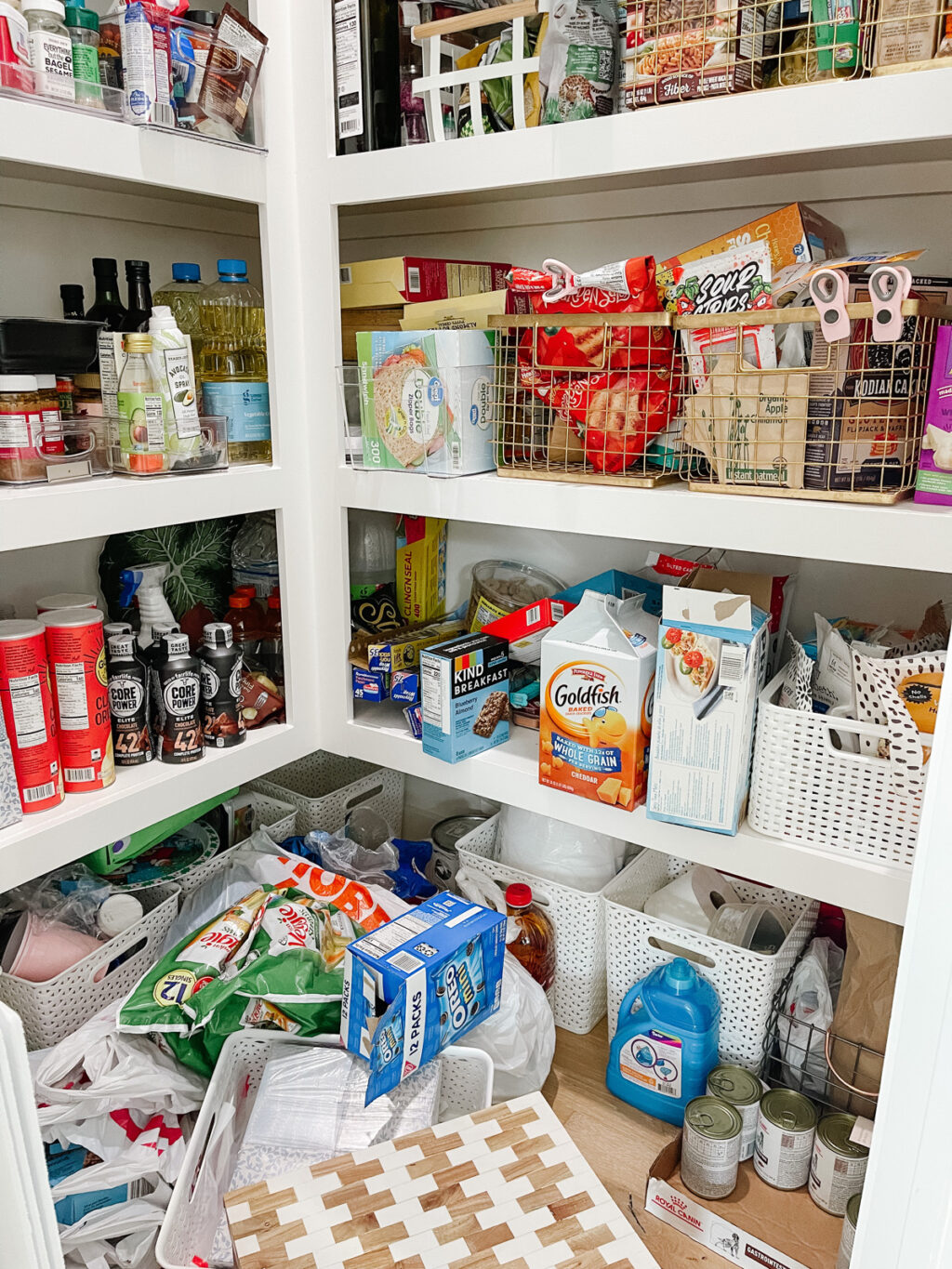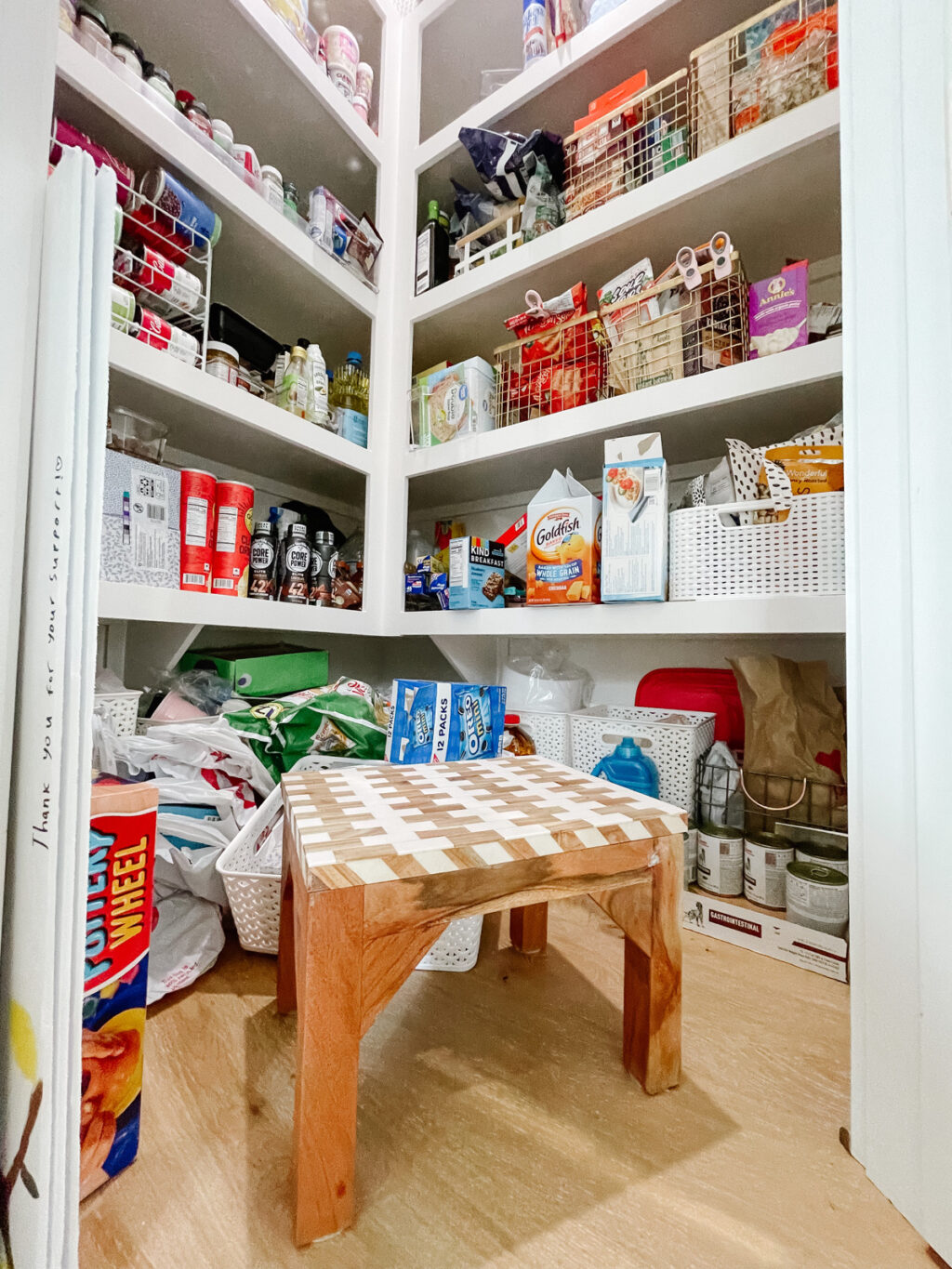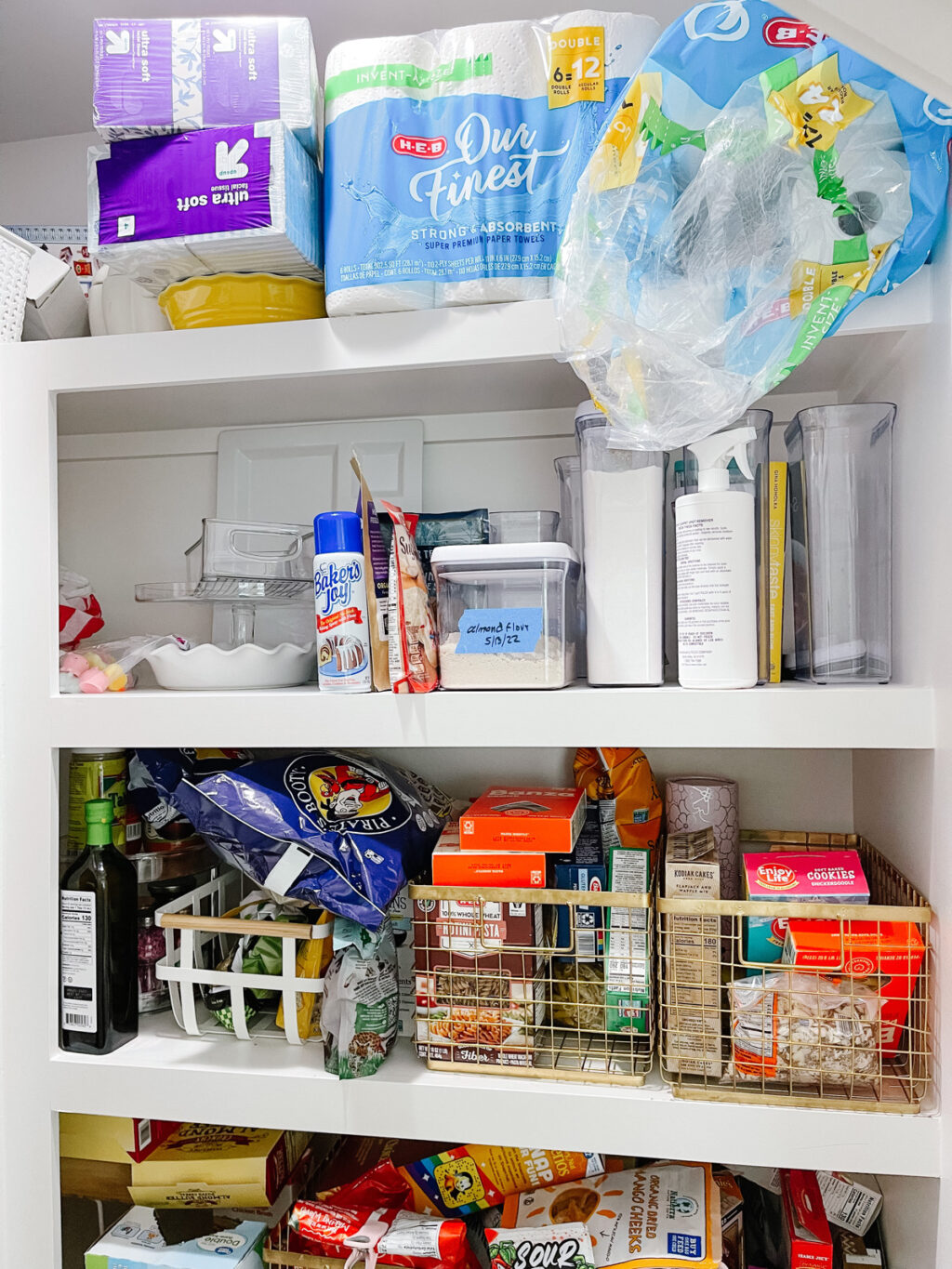 I've always struggled to maintain our pantry and I don't want to make excuses, but having ADHD makes it more challenging to keep spaces that are "behind closed doors" neat. I've always prioritized keeping spaces neat when it comes to my main living area because that's where I work and can't have visual distractions all over the place – but because I can close the pantry door, it always went from looking decent to being a cluttered disaster.
You may have read some of my previous content on organizing our pantry and while my attempts had the best of intentions, we all know that no matter what system I implemented, it for lack of a better term, "went to shit" after a while. No matter what I did, I just wasn't succeeding at creating a space that was visually what I wanted while also being thoughtful about the functionality needed for our family. That's where the The Organized Chaos Co. comes in.
For context/comparison, here's what the pantry looked like the last time I organized it myself: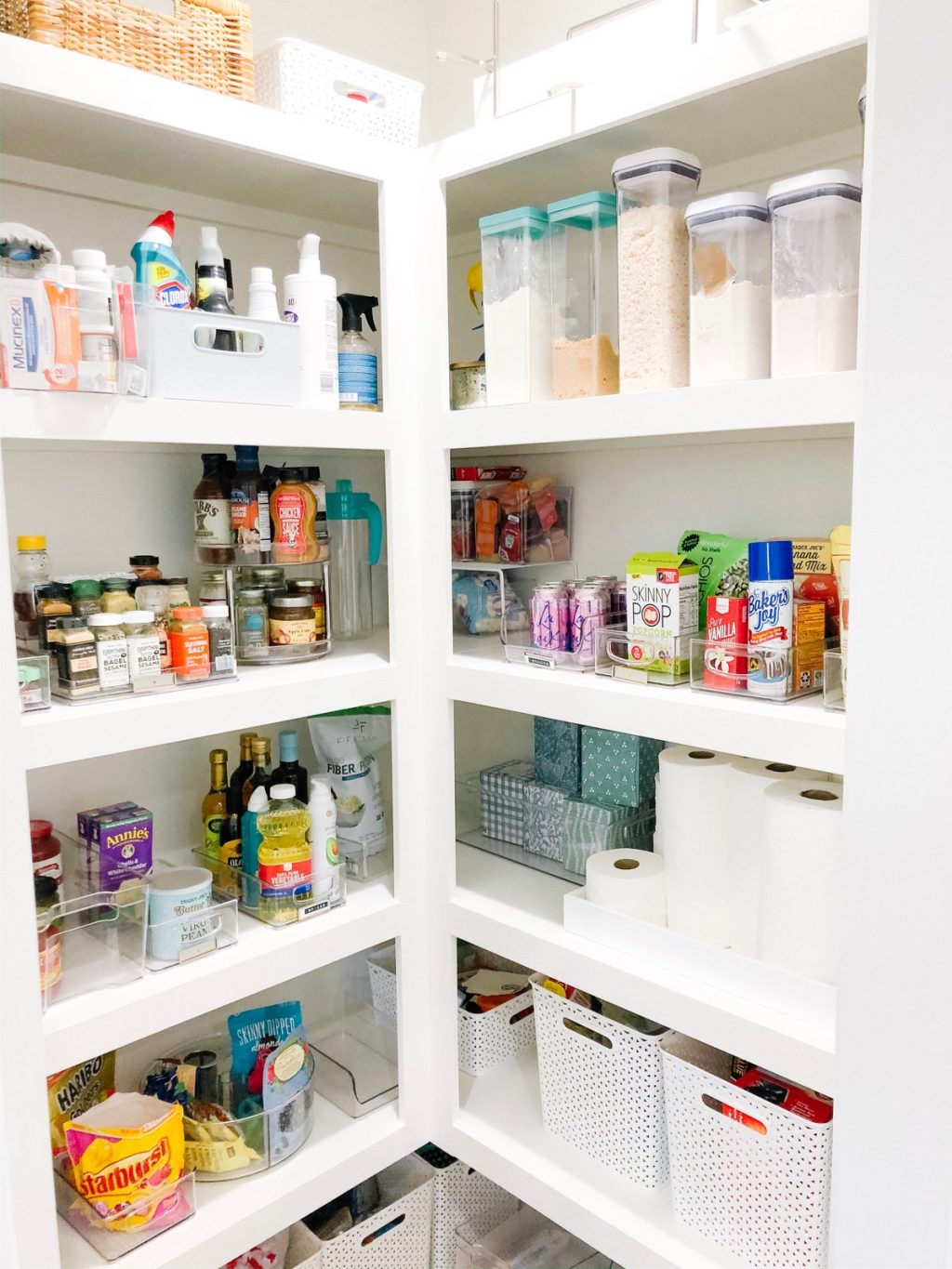 THE PROCESS:
Ashley and Katherine of The Organized Chaos Co. reached out to me on Instagram to work together on this project and it was a Godsend for me because as I mentioned above, my pantry is one area I've never been able to get under control no matter how many times I reorganized and purged it (as you've probably seen on my stories).
I needed professionals and an outside perspective. Plus, knowing they were coming was a huge motivator for me to order everything in advance and really get into the mindset of making this project one that would be successful for our family longterm.
Ashley, Katherine and I had two virtual meetings prior to them coming to install my pantry. The first meeting was an introduction/consultation where we discussed our current struggles and goals and the second was focused on the products they recommended for our space, discussing final details and their recommendations for things to do before they came to make the most of our time together.
I then purchased all of the products used in our pantry (the organizers do not provide the products, but they provide you with a presentation on what items to buy, how many, etc). They used a few existing items from our pantry, too!
MY PANTRY GOALS:
My goals were twofold, with the first being to create a functional and most importantly, maintainable system for our pantry.
The second goal was for the pantry to be aesthetically pleasing. Prior to this, every time I opened that door I felt a sense of dread – it was so cluttered, chaotic and overwhelming. I would often shut the door and think "I'll deal with this later."
Over the years, I've purchased all kinds of baskets and plastic containers for my pantry, but I realized that in order for me to keep it looking nice, I needed to treat it like the rest of our home and go "all in" on items that are functional and aesthetically pleasing. That meant purchasing matching jars, baskets, labels, etc. to keep it cohesive and visually peaceful and balanced. For me – that investment was worth it (most of the items are from amazon and Walmart btw, and linked later on in this post!)
Of course the "look" of the pantry isn't the most important part – after all, what's the point of a nice pantry if it's not functional? It's simply more motivating (for me) to maintain a beautiful, professionally designed pantry and I think that investing in (finally) having a beautiful pantry is what just might make this a lasting change for our family.
THE OUTCOME:
Ashley and Katherine were incredible and so lovely to be around – I really enjoyed our time together! They worked as a team with Katherine focusing most on the layout of the pantry and placement of each item and Ashley focused on facilitating the entire process by categorizing foods, placing labels, creating custom labels, etc.
Katherine would occasionally pop out and ask if something she placed was in a good location or how often we ate certain foods, etc. It was so helpful to be there and make these decisions in real time. Of course the client doesn't have to be there, but I loved the process and I was so pleasantly surprised when I saw the final outcome because I realized that I never would have thought to do it that way myself.
Some highlights of things I think make our pantry really functional and beautiful:
EVERYTHING IS LABELED. Yes, that needed all caps! We never had labels before so bins meant for certain items eventually turned into mishmash bins. I think having everything labeled will allow us to maintain the system – there's no excuse for not knowing where something goes – everything has a place and space!
All snacks are on the lowest shelves so kids have easy access.
Our dry foods like pasta, nuts, dried fruit, etc. are all decanted in glass containers with labels – so we can actually see what we have and how much. I would often overbuy thinking we were out of something when we had plenty because it was all shoved in bins.
Our cans are on marble lazy Suzans and situated in the middle corners of the pantry – it's so easy to find what we're looking for and to see how much we have and it's the perfect use of those corner spaces everyone has in a pantry configured like ours.
We have larger square hyacinth bins on the floor of the pantry for items like extra cleaning supplies and bottled water and other drinks.
The team utilized some of our existing gold wire bins to hold back stock of items that we can refill in our pantry. This includes things like spices, cereals, pasta, etc.
Everything is categorized down to our chick-fil-a sauces (lol!) they used to all just be thrown messily into a bin and now they're in a sectioned off basket so we can see exactly what we have.
We used the higher-up baskets to store items like all of our baking supplies, which we use only occasionally. It allows us to use the "prime real estate" space for the items we reach for most.
I still want to pinch myself every time I open our pantry door because I truly don't believe it's really ours! So without further ado, here is our made over pantry, in all its glory! I'm so grateful for The Organized Chaos Co. team and their incredible work and highly recommend reaching out to them if you're in Houston and the surrounding areas and have a chaotic pantry, garage, playroom, etc. They also help with moves!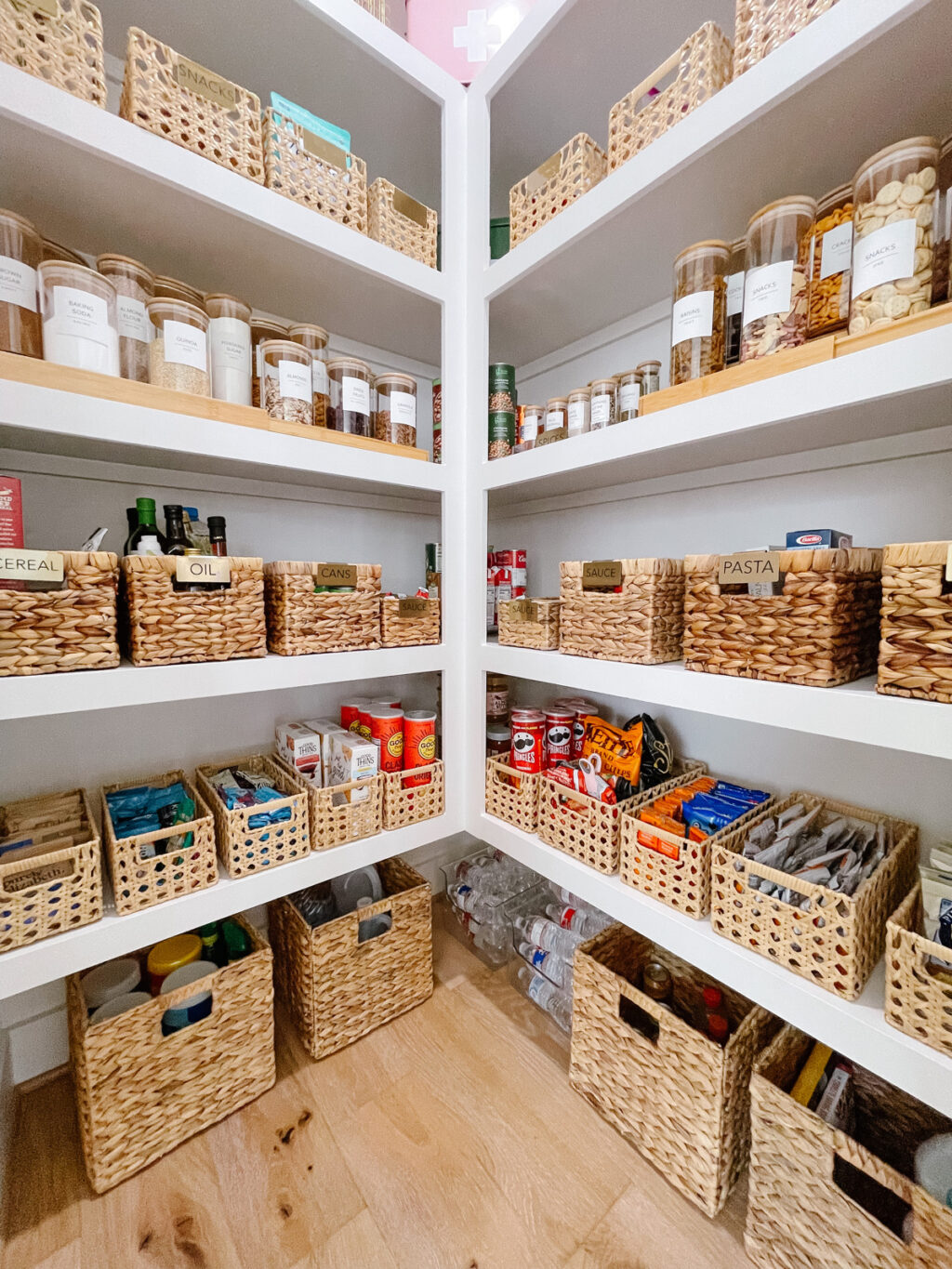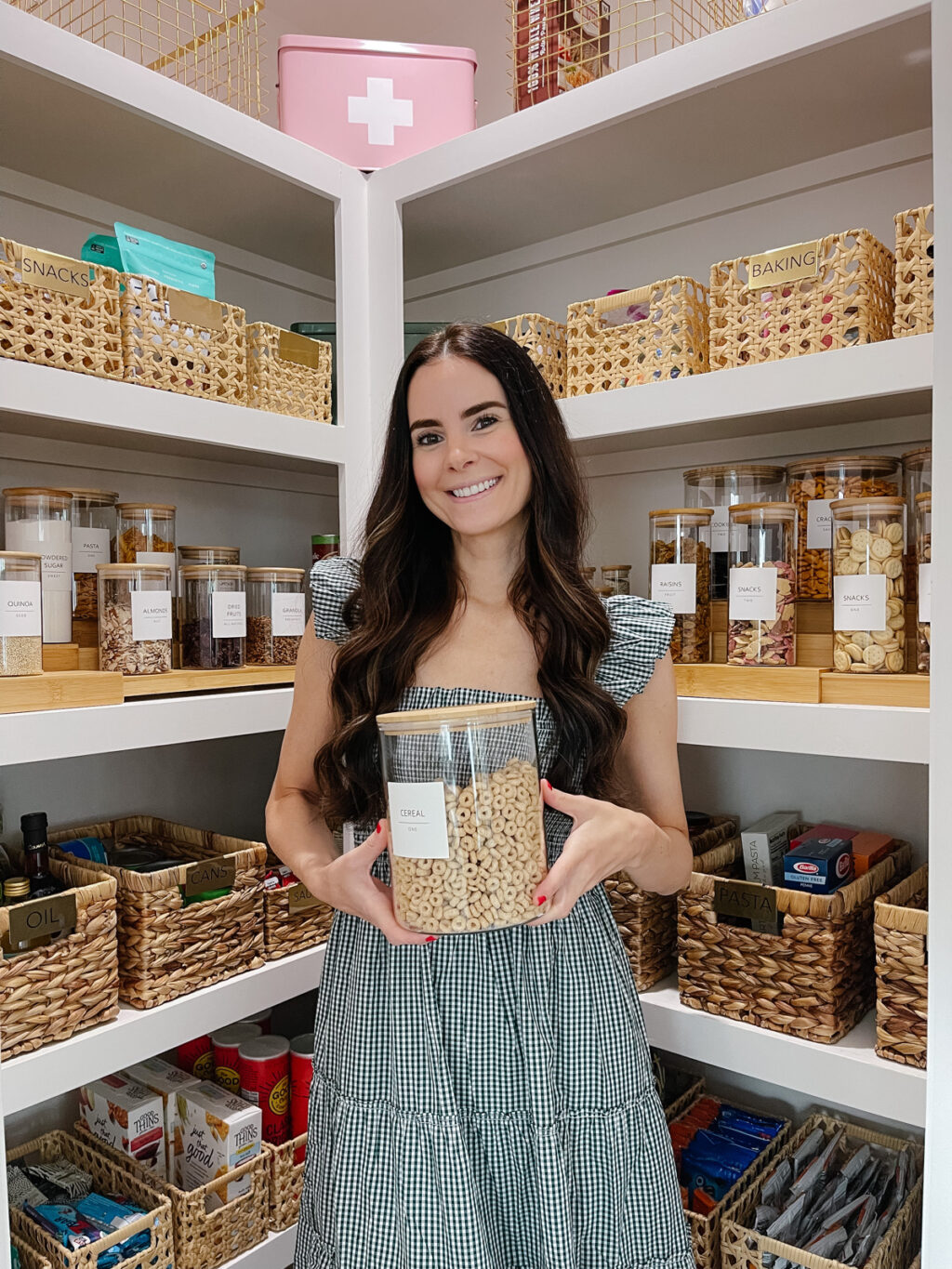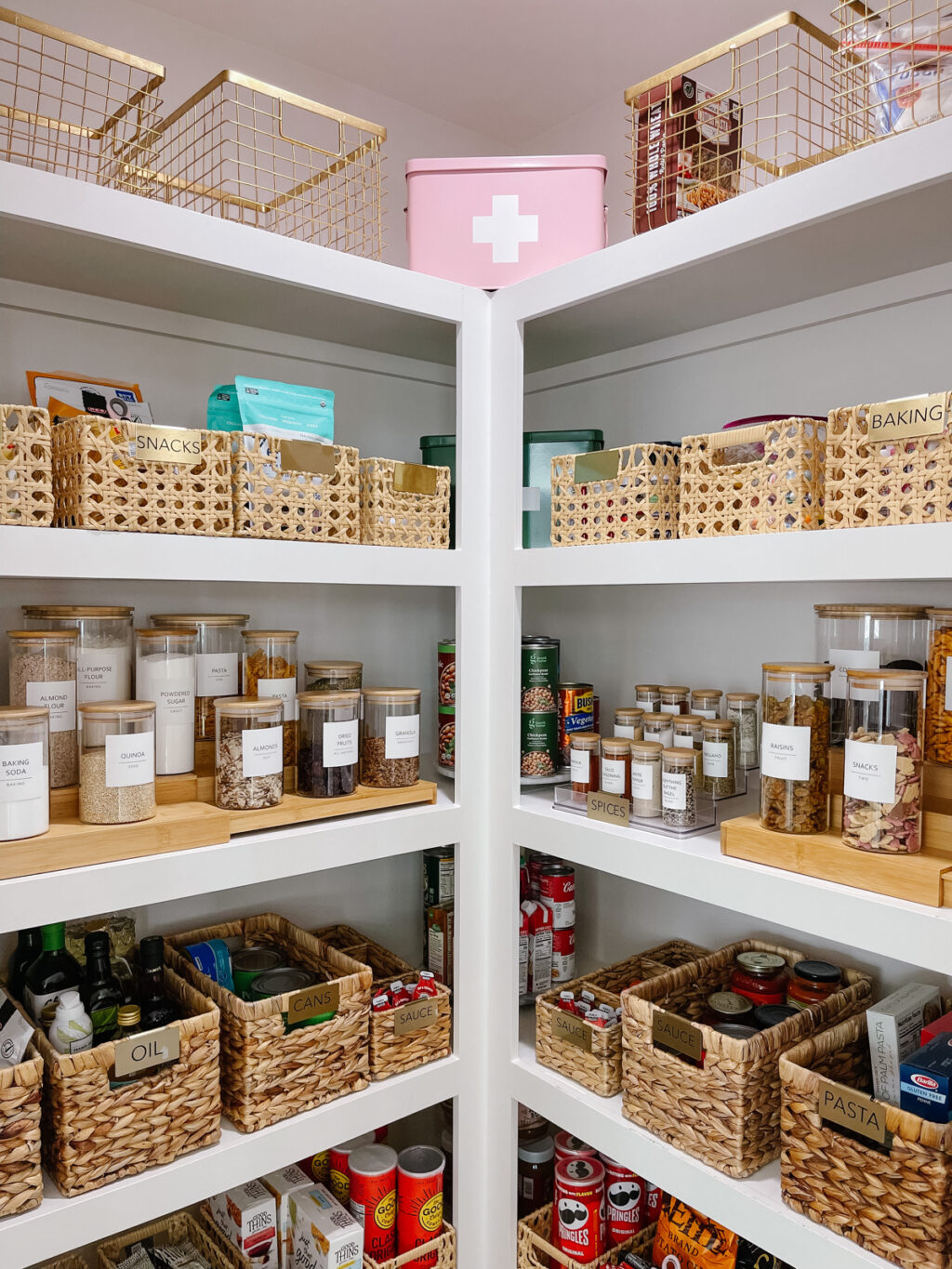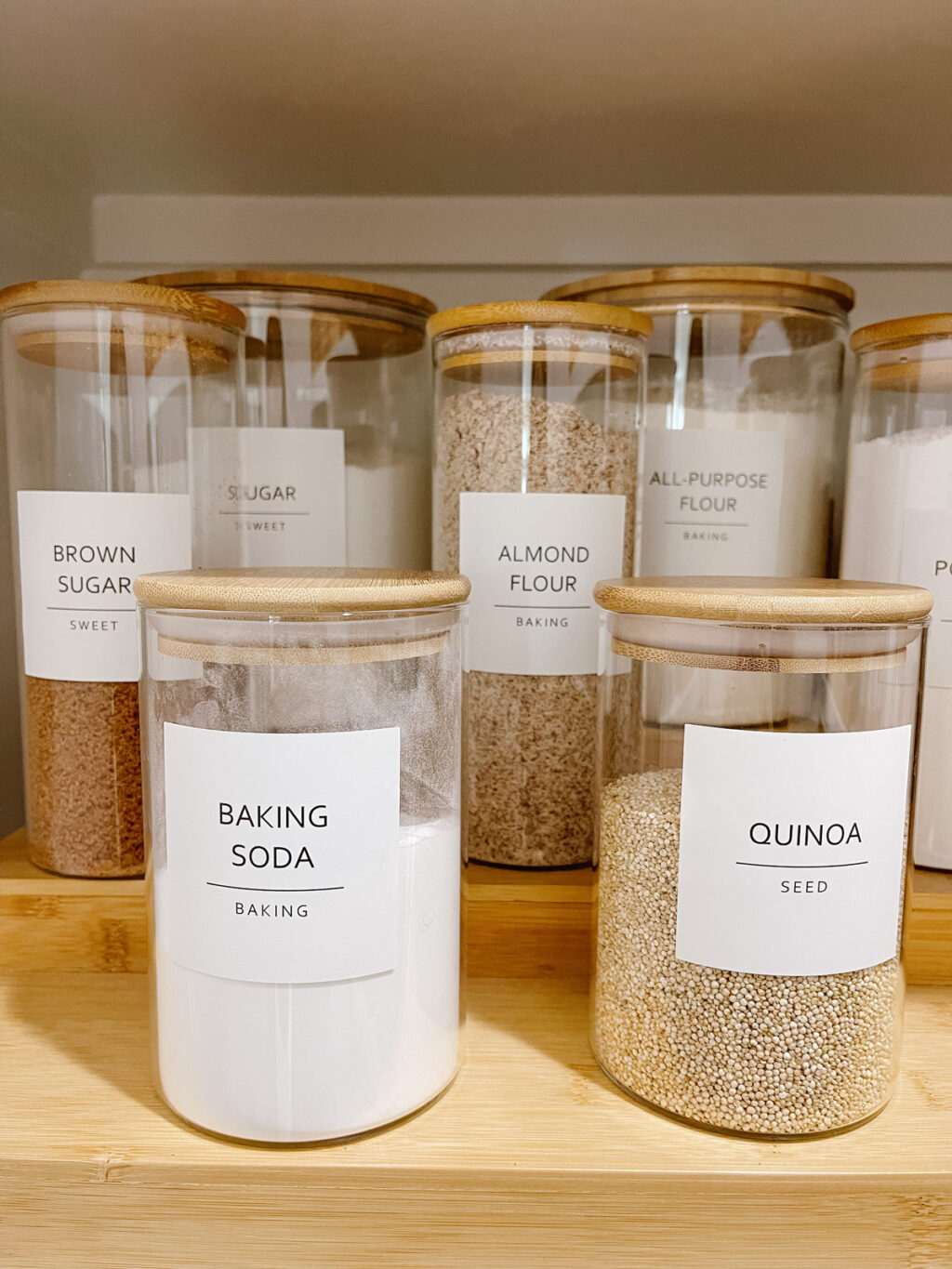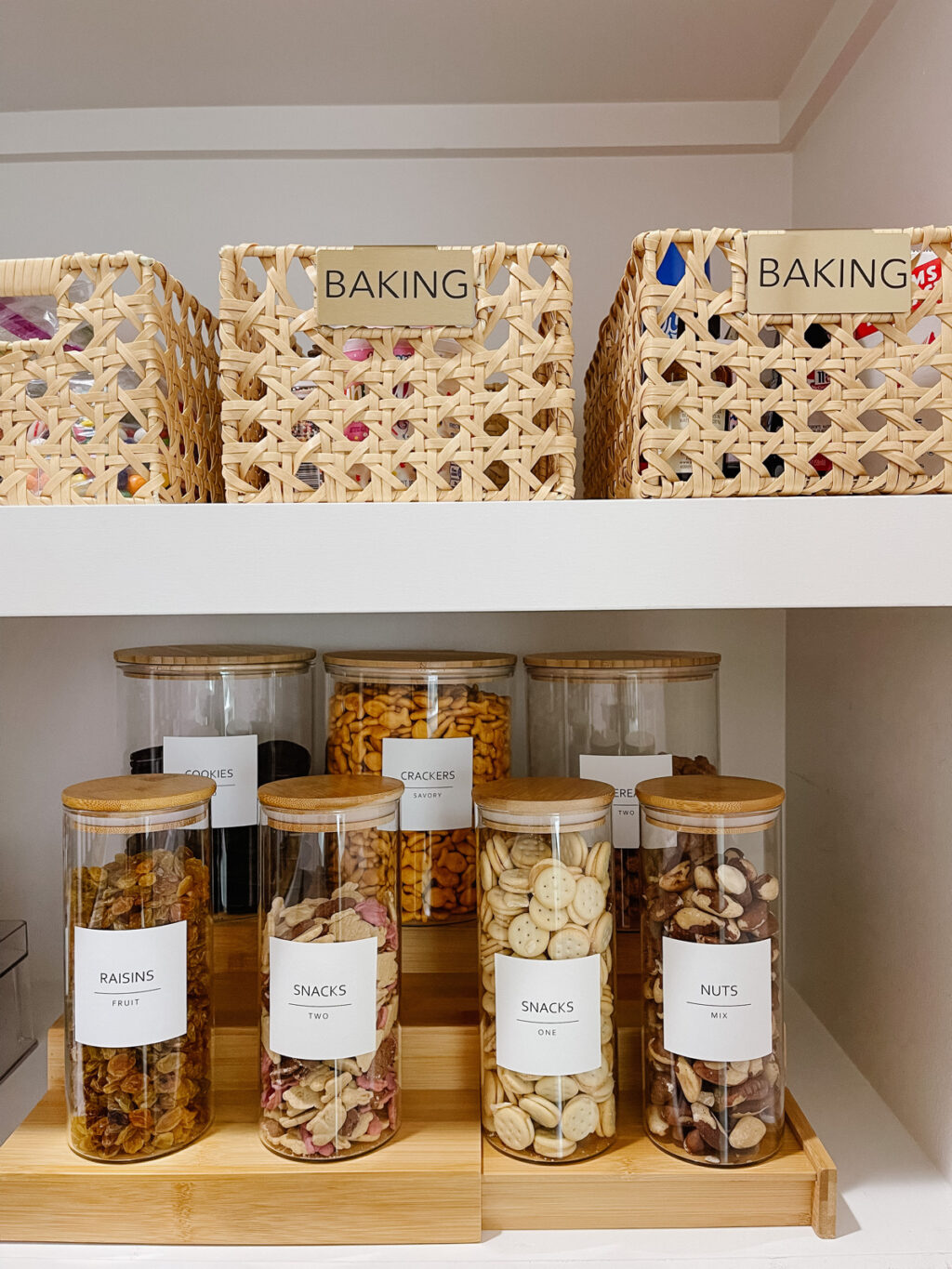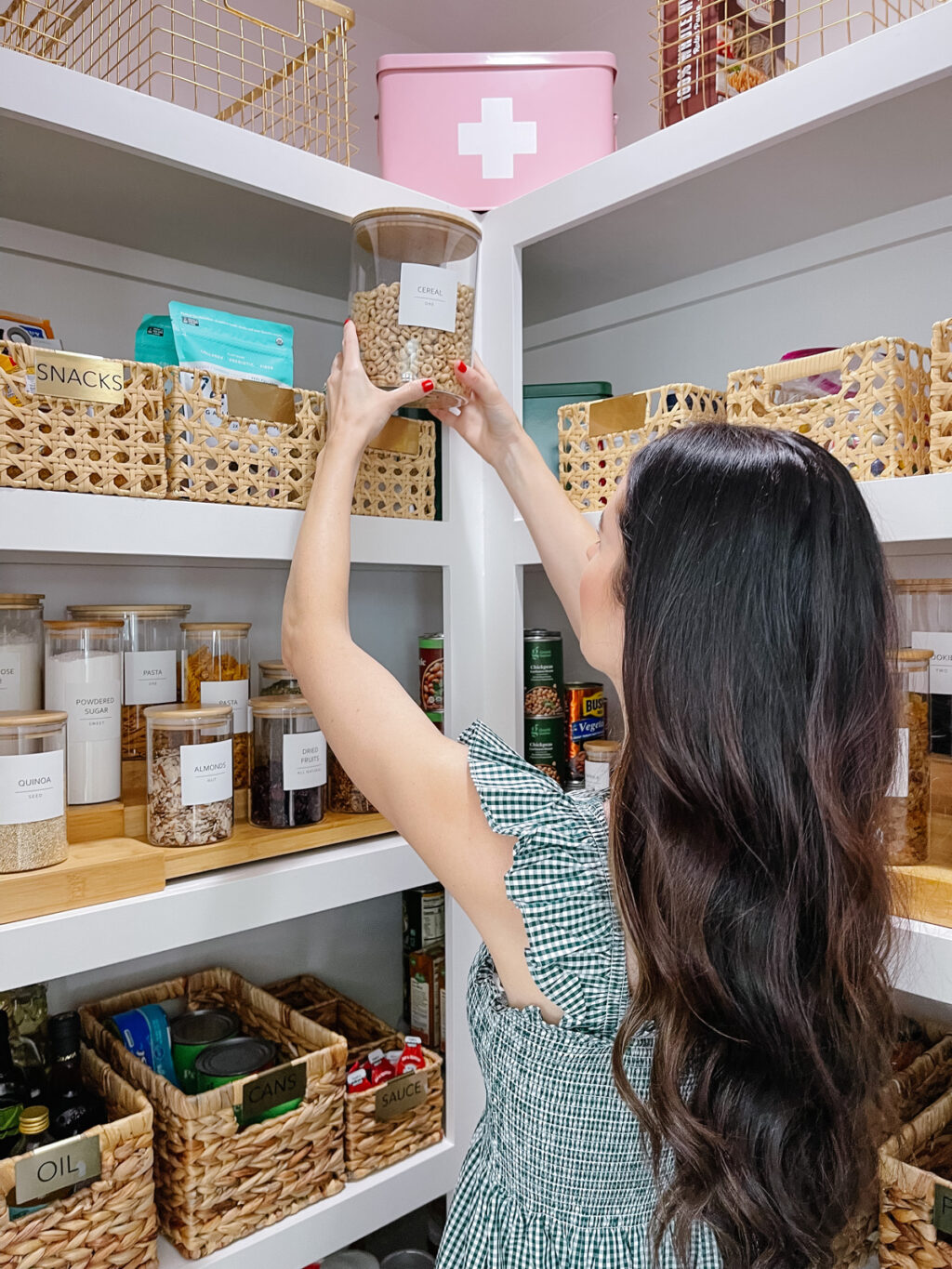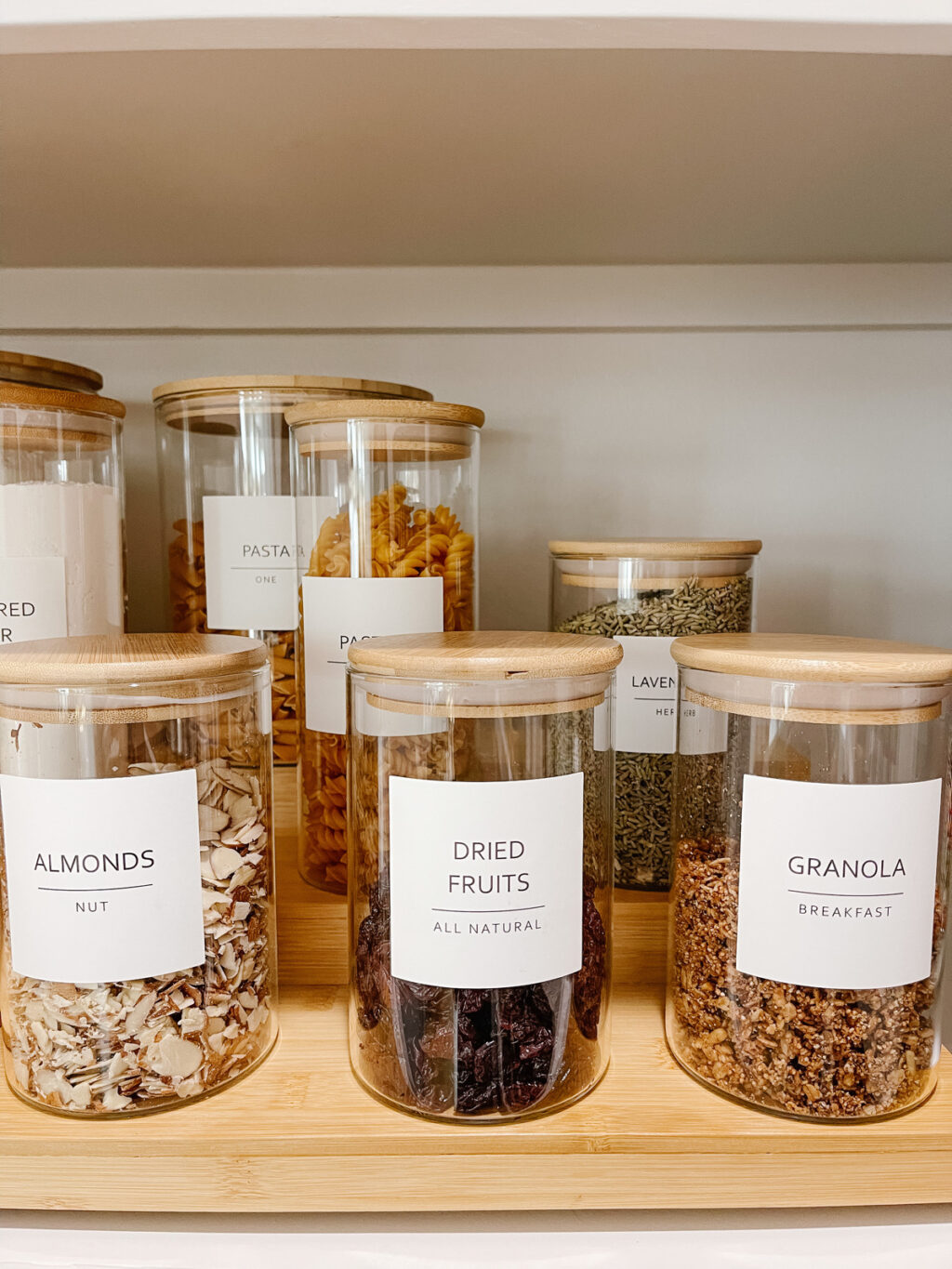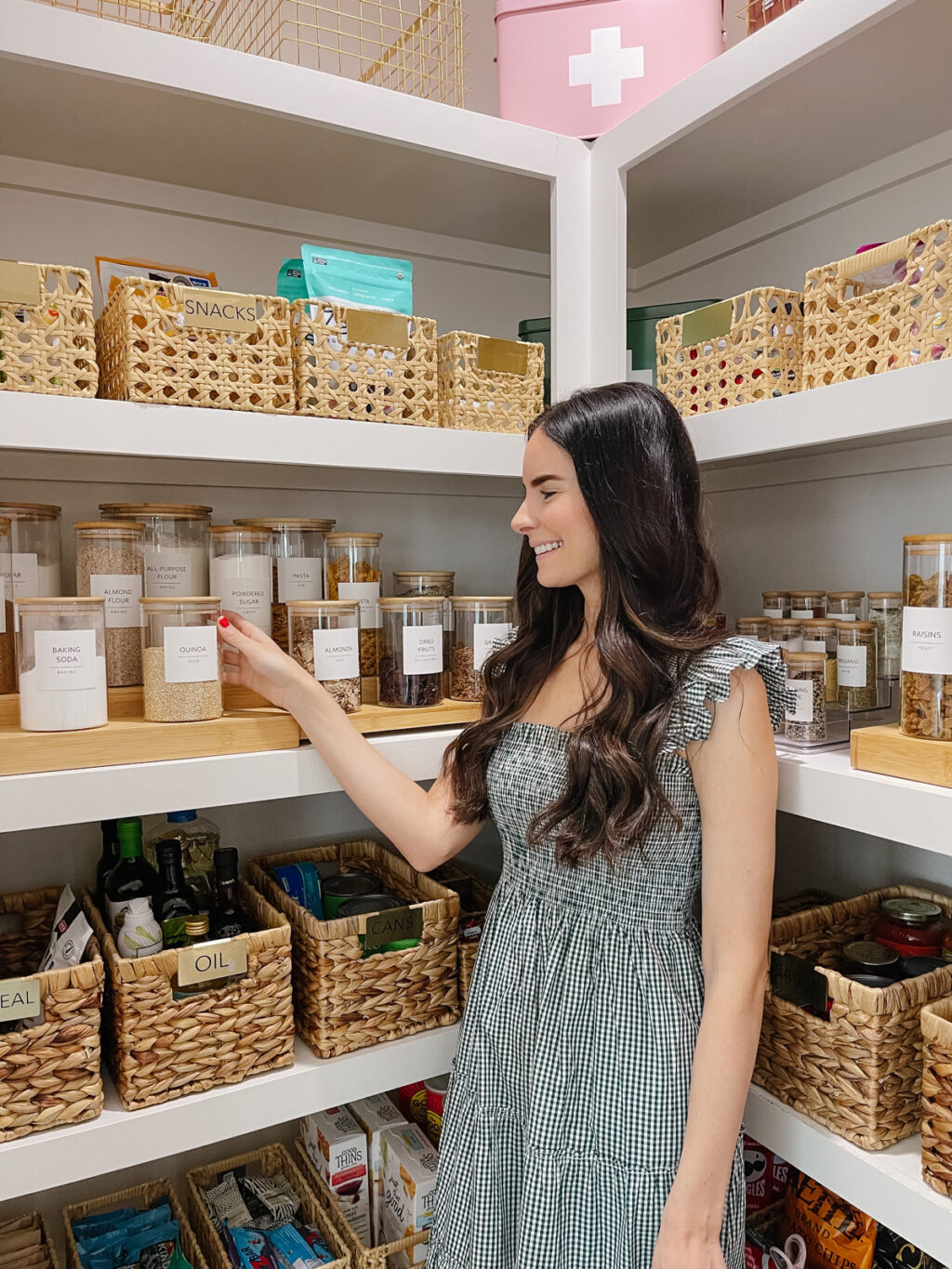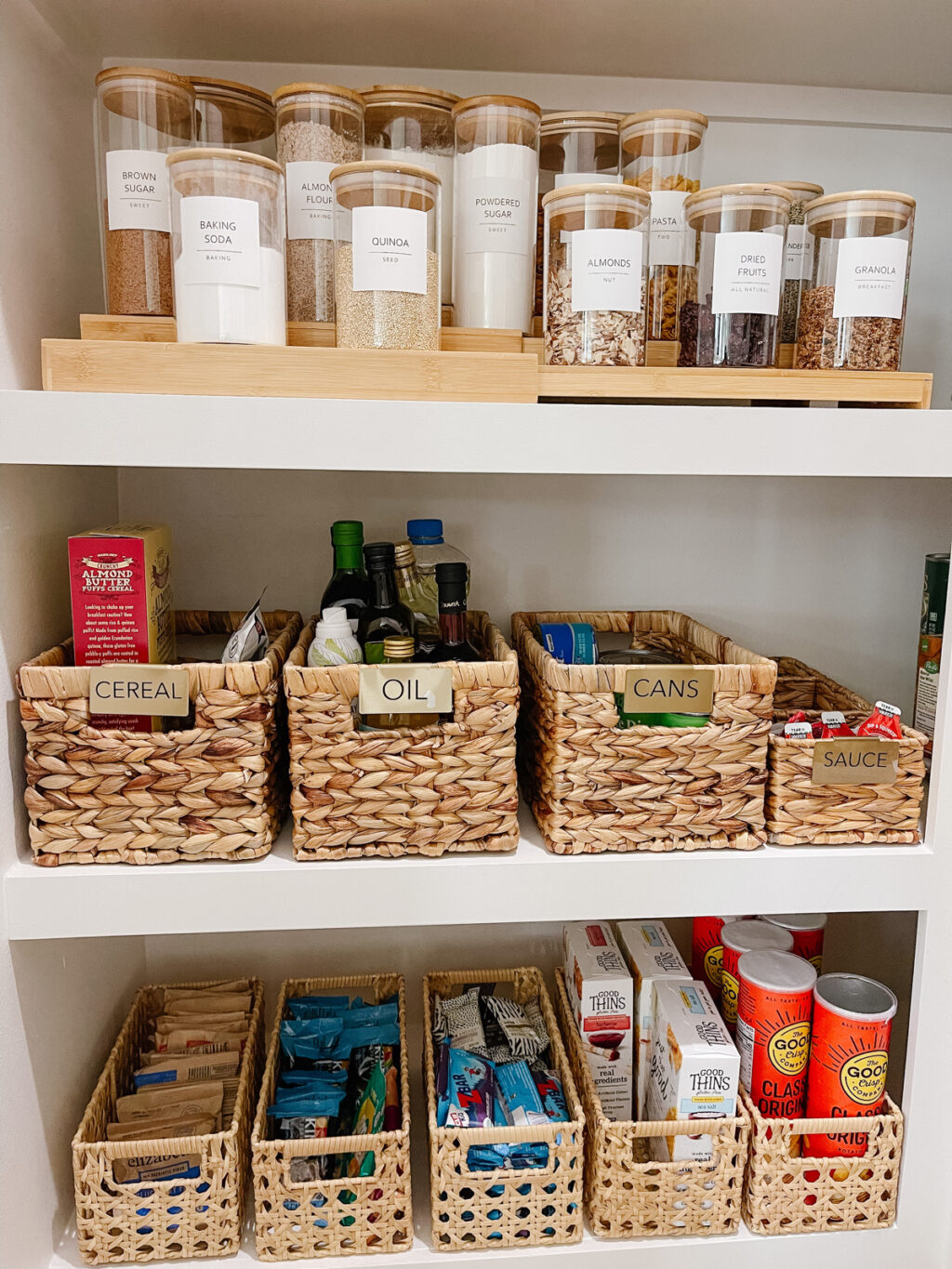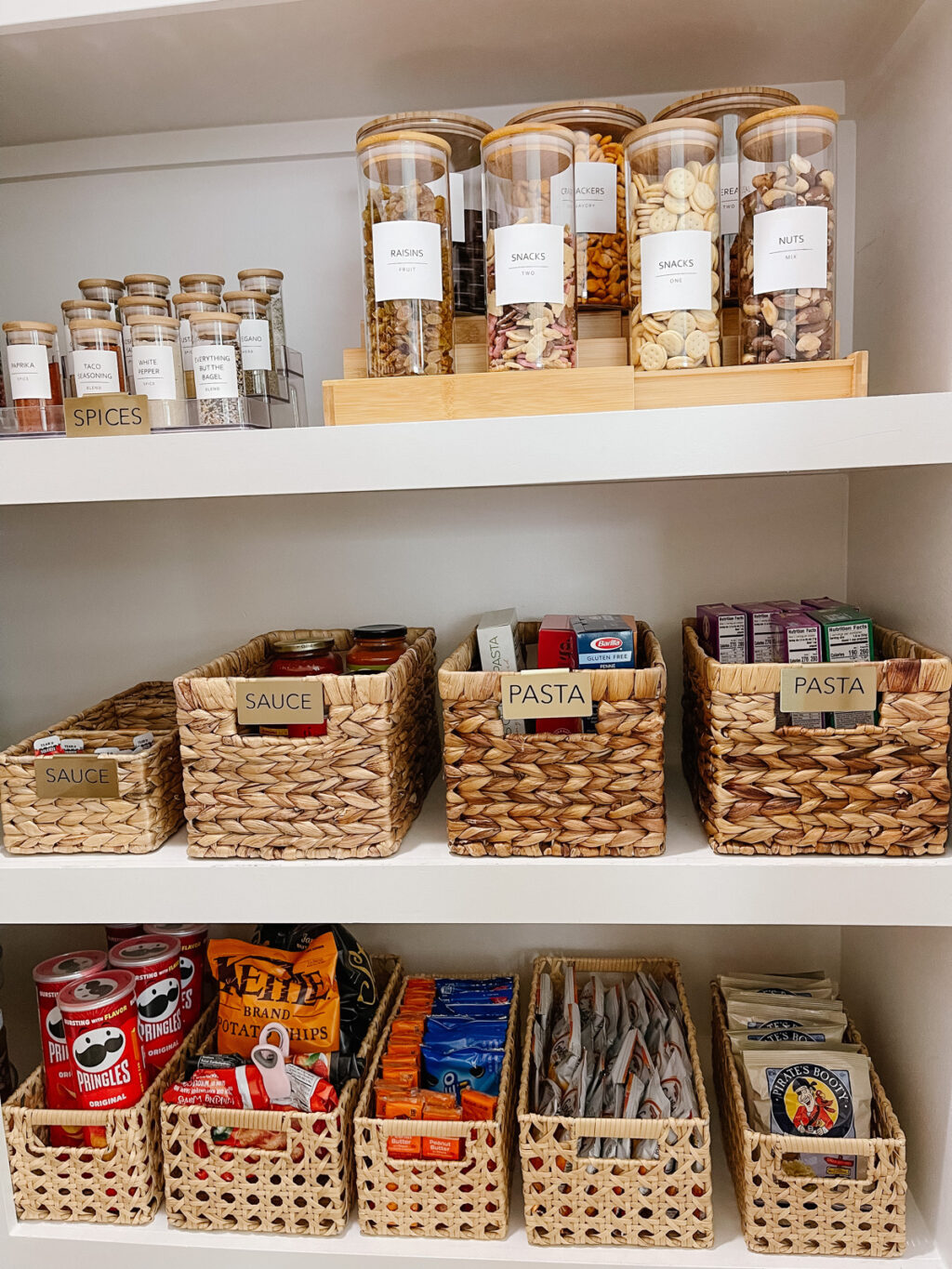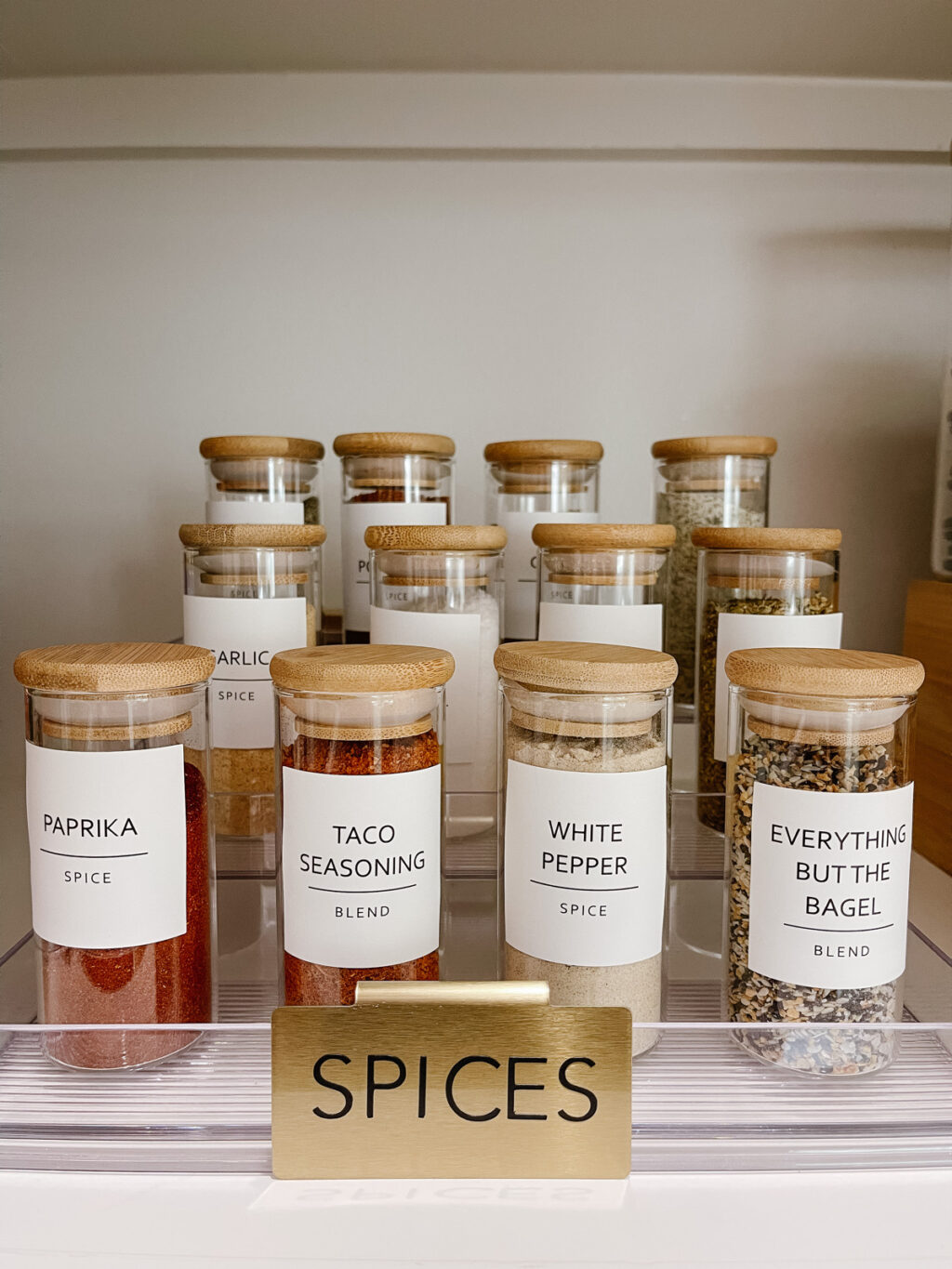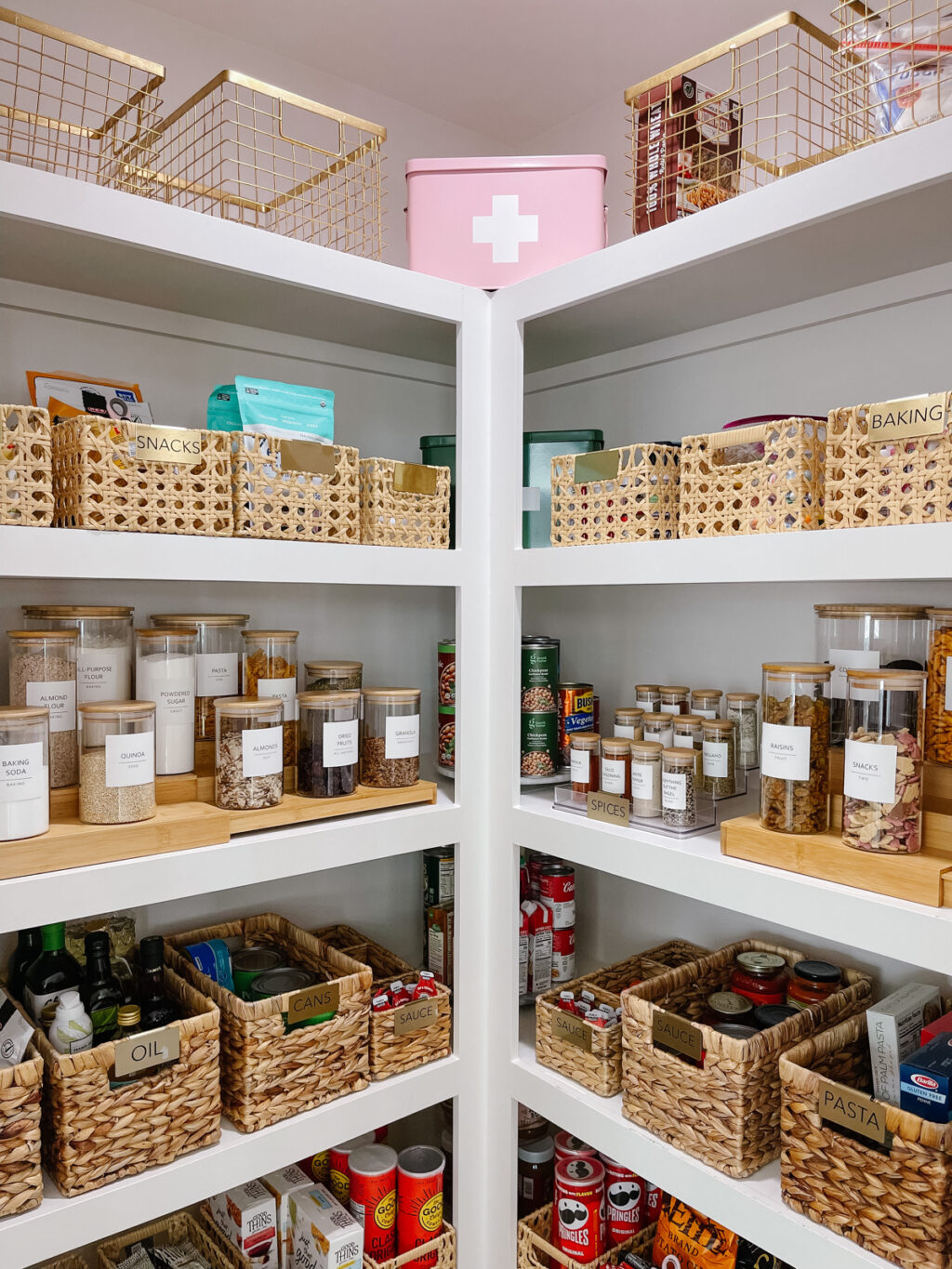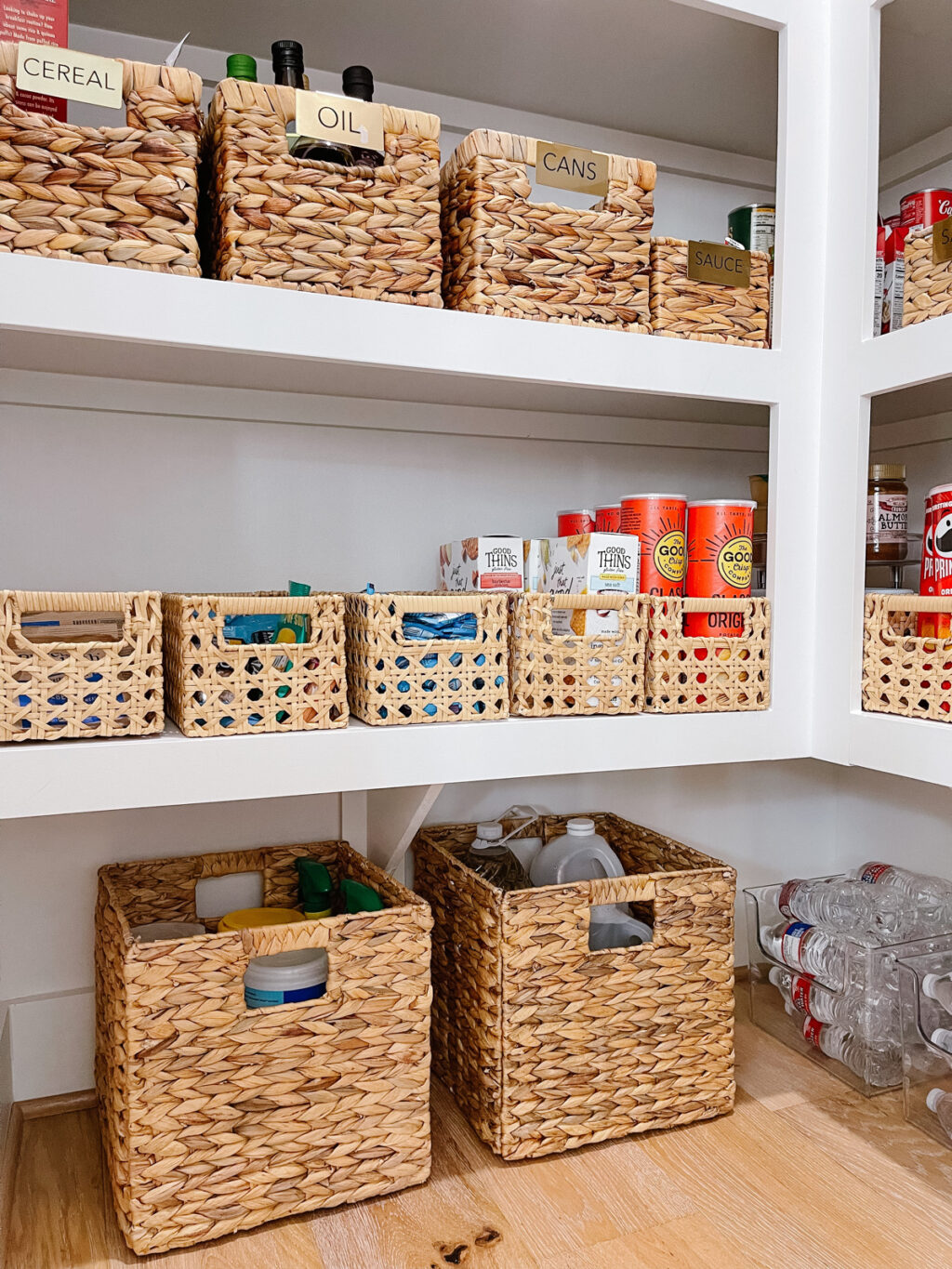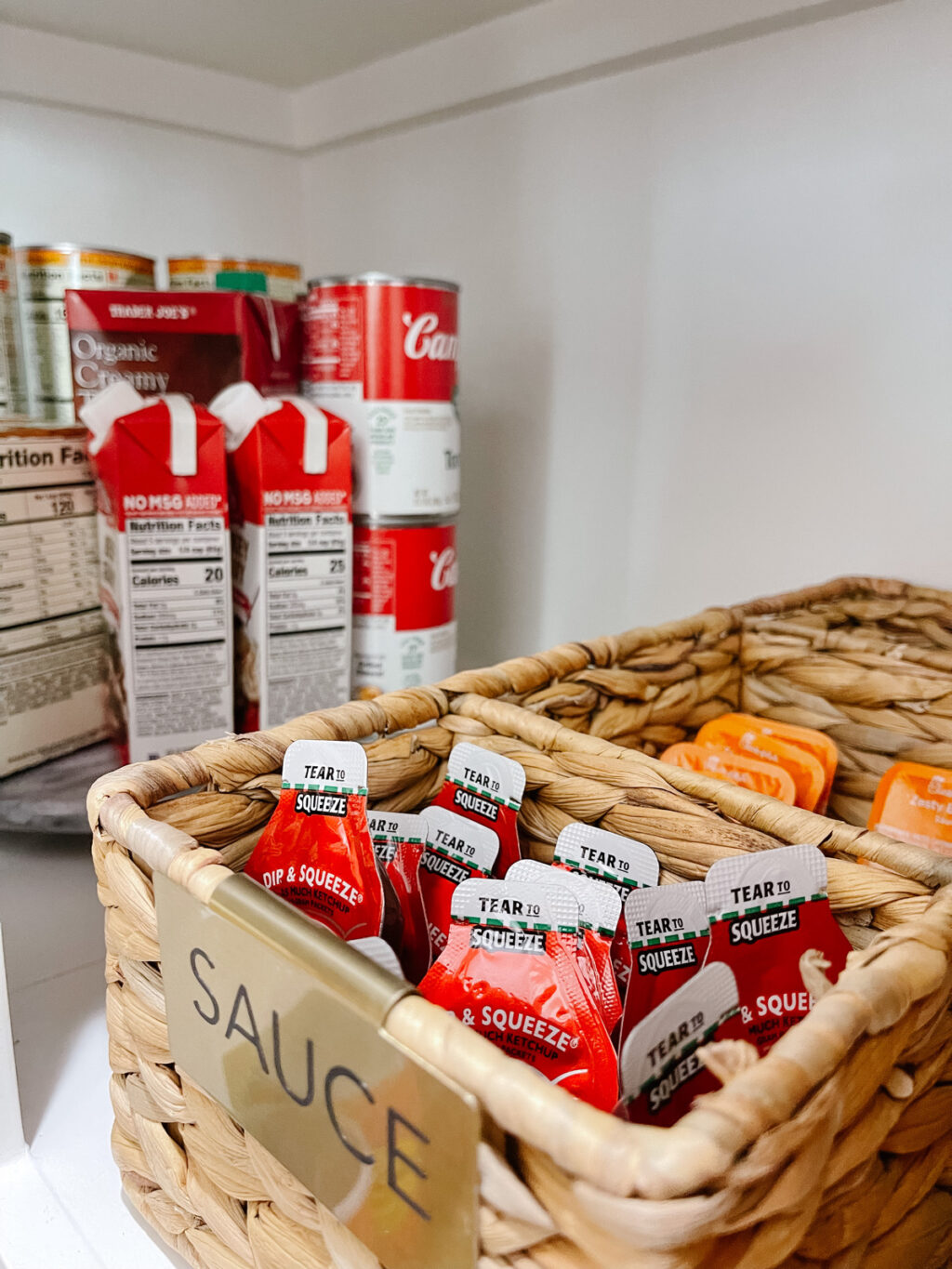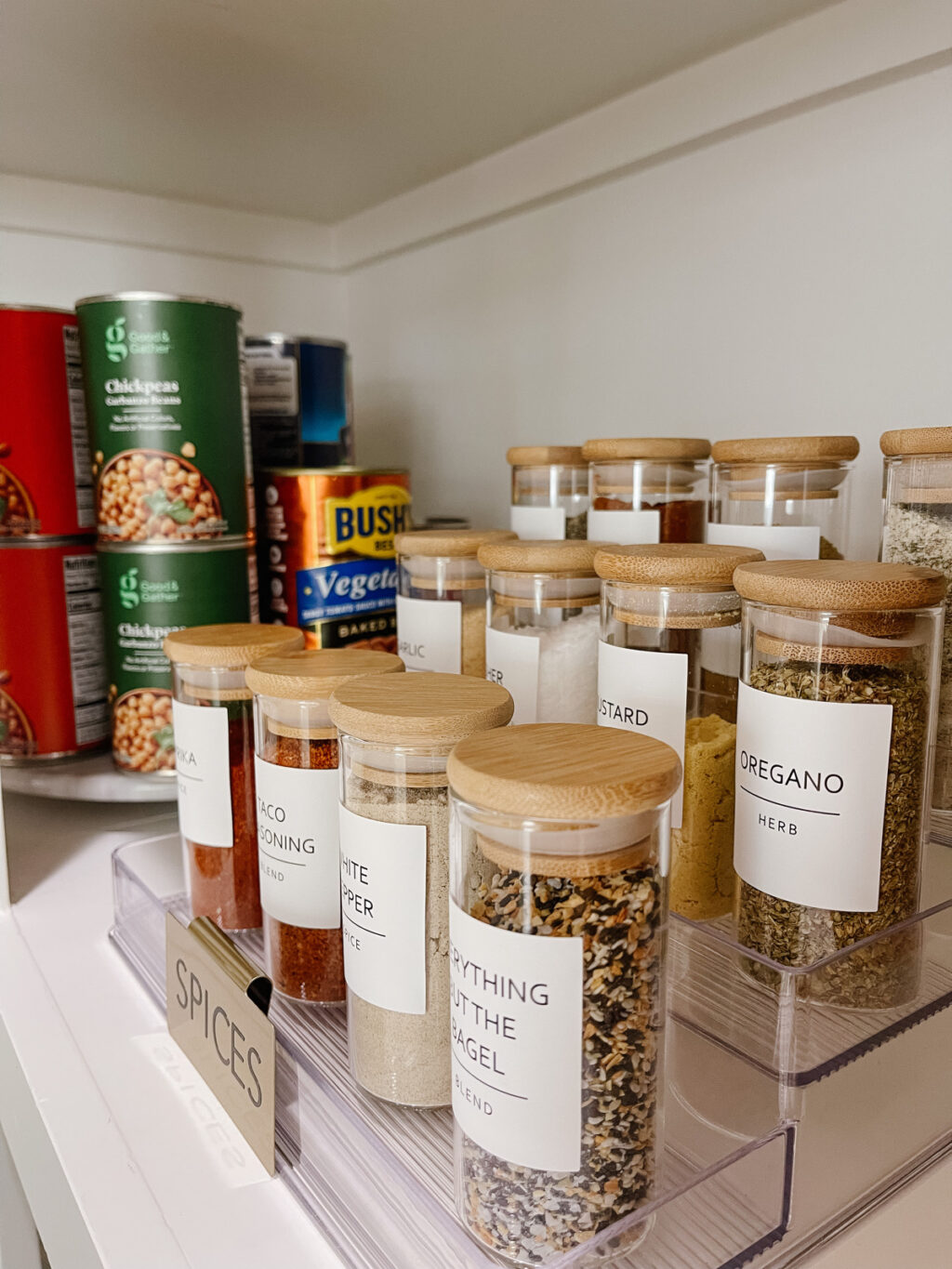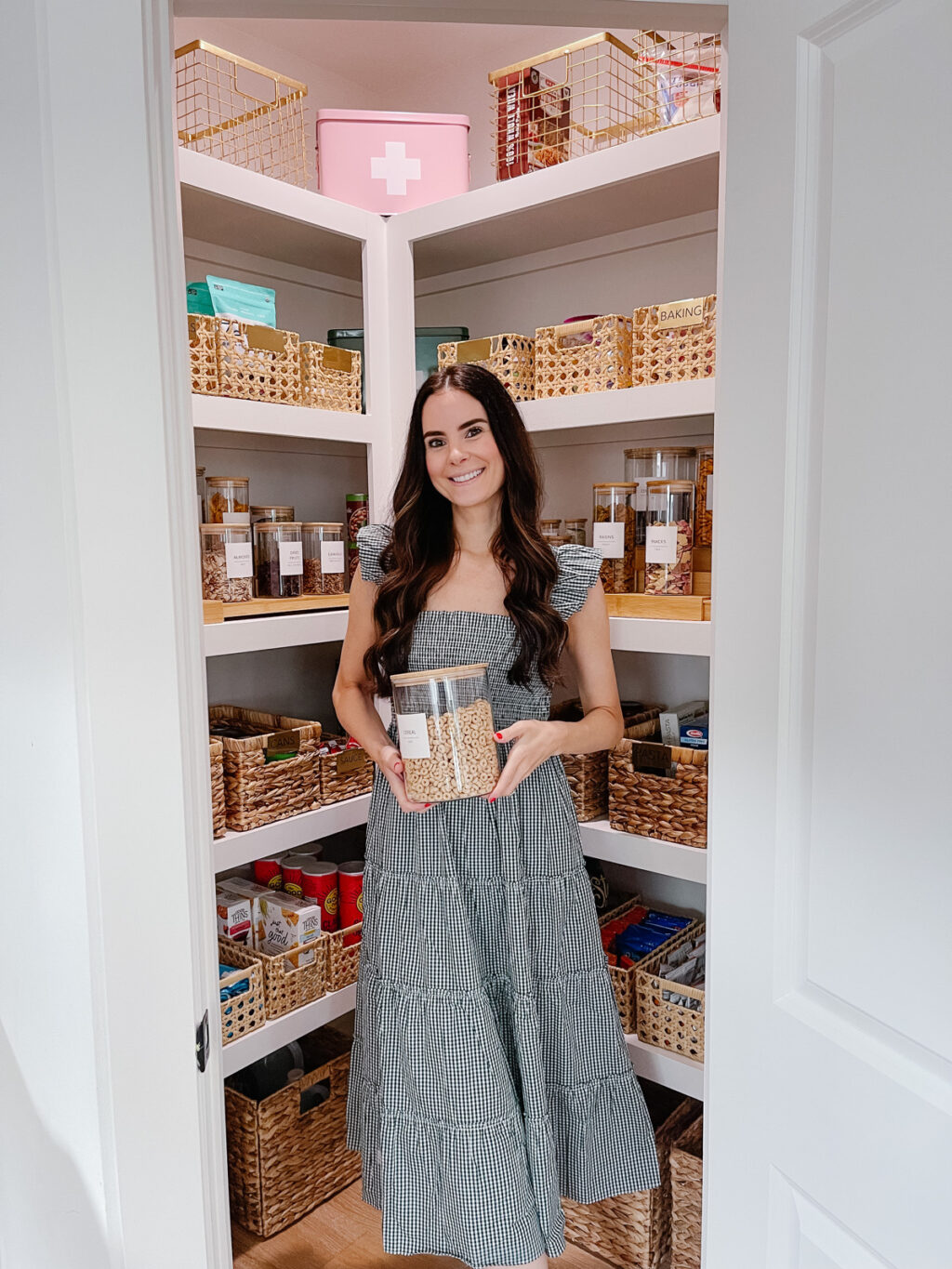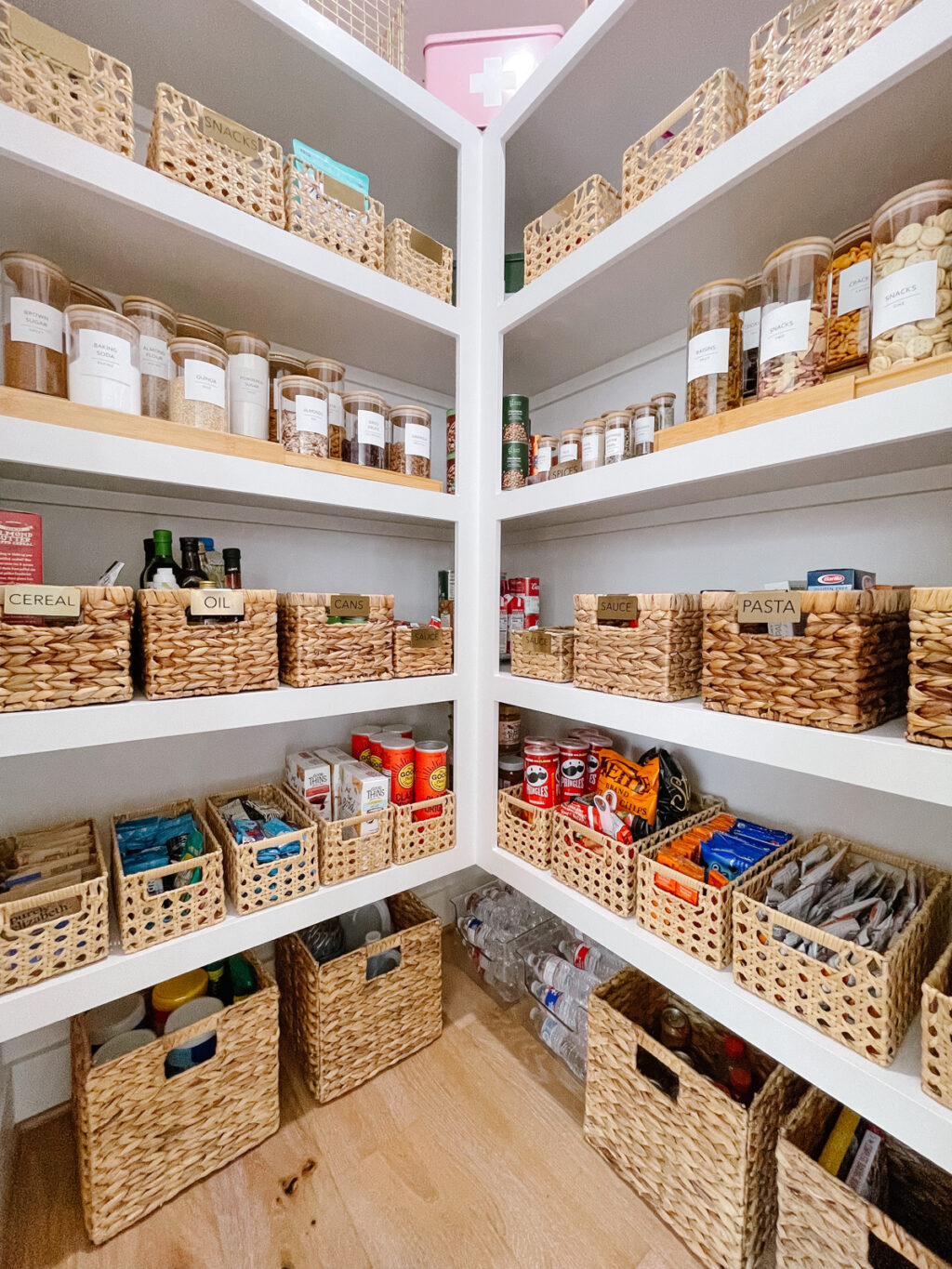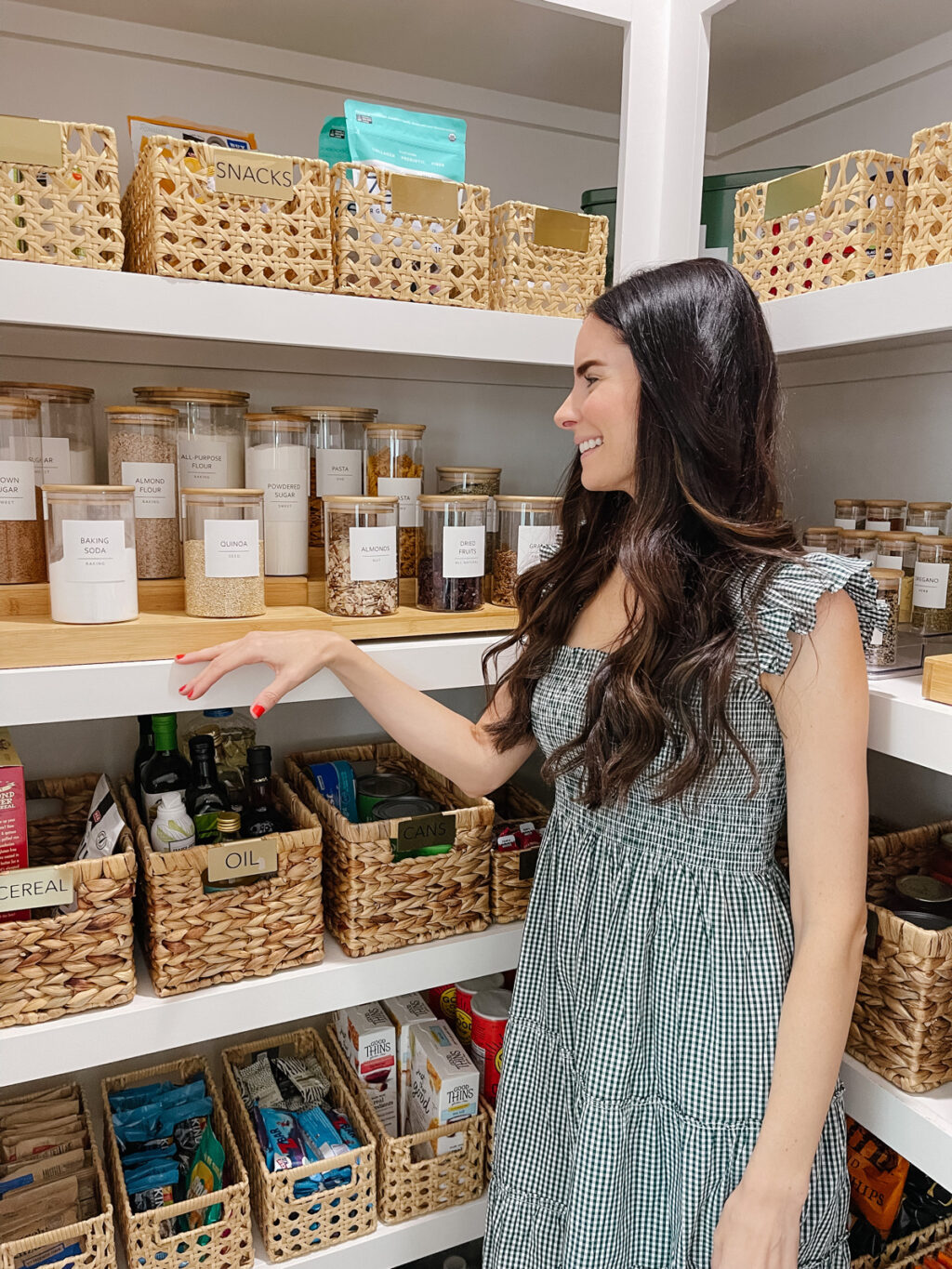 ITEMS USED IN OUR PANTRY MAKEOVER:
You can also shop these items directly from my AMAZON STOREFRONT, HERE.
HOW TO PREP FOR A SUCCESSFUL ORGANIZATION SESSION
To make the most of your time with professional organizers, I recommend doing the following steps prior to the organizers coming over (unless of course you'd rather just pay their hourly rate for them to do this – that's great too!) I had the time to do this prep work before they arrived and they communicated that sessions run more smoothly and their time is better used when this is all done in advance (if you're able!)
Remove and toss any expired food in your pantry.
Wash and dry all glass and plastic containers that dry food will be decanted into.
Take everything out of your pantry (I set everything out on our kitchen island).
Wipe down/clean your pantry shelves.
Decant some of your items (optional) – I decanted some of my spices before the team came over. You don't want to decant all of your dry foods because the organizers have amazing advice on which size jars to use for which foods once they see what you have, but spices are easy to do beforehand since they all go in the same sized glass jars.
I moved our toilet paper, paper towels, tissue boxes and a bunch of other items that were in our pantry to the cabinets in our kitchen island. Those cabinets were practically empty and it was the perfect use of that space – the organizing team actually suggested this to me during our second meeting and they were so right – it had never occurred to me before to store them there!
Ultimately, I knew I could do a lot of the prep work that can take hours beforehand and I felt the professional organizer's time was best used to actually plan out the look and functionality of the pantry and then add all of the items back in. If they had had to do the previously mentioned steps, the job would have taken 2-3 times as long as it did. Of course they're able to customize the service to your needs, but this prep work allowed us to focus more on design and functionality!
I highly recommend checking out The Organized Chaos Co. if you're in Houston or the surrounding area – they can help make so many areas of your home both functional and beautiful
*Thank you Katherine and Ashley of The Organized Chaos Co. for giving your time to me for this project. I am so grateful for your time and expertise!
Shop the Post