Easter has come and gone and even with Peeps, Cadbury Eggs and so much more surrounding me, I managed to make it through without cheating even once. I've been so proud of myself for the past 14 days, because I've really been committed to this challenge and it feels good to see that I can function without constantly eating sugar.
This post started off in a totally different direction, but as I put my fingers to the keyboard, my heart led me to share what is written below instead of my weekly diet for the challenge. Please bear with me, because I'm going to get a little personal in this post and go off on a tangent.
I've been feeling really overwhelmed for the past month or so and I couldn't understand why. I've been exercising regularly (which makes me feel amazing) and I'm seeing my therapist every two weeks which has been so impactful for me (I'm in CBT for anxiety and have had a post drafted for months detailing the entire journey, but haven't had the courage to hit publish yet).
A couple of weeks ago, I started to have trouble taking deep breaths. I even ended up in urgent care the first time it happened because I thought there was something seriously wrong with me. There wasn't and I'm fine. It appears that my anxiety is manifesting in a new way and it caught me totally off guard because I've been less anxious since I've been exercising and in therapy.
I shared this with my therapist during my session this week and she asked me "what does it feel like when you have trouble taking deep breaths?" and I told her "like there's something heavy on my chest and I want to push it off…like I just want to take a deep breath so I can feel relief, but I can't…"
"I think you're doing too much," she said. She told me that sometimes, even a healthy habit can turn into something that triggers anxiety because of the rules, desire to control, and adding something else to your already full plate.
I didn't understand what she meant at first. I love exercise, I love blogging and find it relaxing (most of the time) and this sugar challenge was something that's good for my overall health and wellness.
"Does the heaviness on your chest feel almost suffocating?," she asked me.
I thought about it for a moment. It does.
"I think your body is trying to tell you something," she continued.
My therapist told me that she sees a lot of women who are driven, successful and busy…but that of them all, there are few as busy as I have made myself over the last few months. This was a shock to me, if I'm being honest, because I don't view myself that way. But when I really took a step back to see her point of view (and the urgent care doctor and my PCP, who all told me I was doing too much) …I came to realize they were all right.
I'm a mother to two young children, a wife, I work full-time, I run this blog and create new content weekly, I work out four days a week and I'm in therapy every other week (the reason this is significant is because CBT requires daily action, relaxation practices and recording of stats— it's very different than talk therapy and is a consistent part of my day-to-day life). And yet here I was, taking on yet another "thing" that requires record-keeping and more of an investment than I'm able to give right now.
My goal for 2017 was for it to be a year of abundant, positive change. But I recognize now that in an attempt to do this, I took on too much (that includes everything in my life, not this challenge in particular). I was suffocating myself with too many goals and commitments all at once, without even realizing it. Just like sugar, too much of a good thing sometimes isn't good at all.
I still find it challenging to recognize myself as busy because I view myself as having an anti-busy mentality. For goodness sakes, a few weeks ago I was advocating for "leaning out" in the workplace. I truly believe people need to take more time for themselves to relax and slow down. But I haven't actually been practicing what I believe. I just tricked myself into thinking I was…but I know I'm fooling no one when three healthcare professionals tell me I have a ton on my plate and aren't surprised by my symptoms.
My "a-ha" moment was when my therapist asked me "what do you do to relax?" I paused and remember staring at her blankly. I didn't have an answer, which is embarrassing to admit. I wanted to say blogging, but while I love this space, it's still work and requires energy and focus. Then, I wanted to say watching TV, but I don't watch TV often and when I do, I'm usually also on my phone or laptop, trying to answer emails, keep up with social media or shopping/looking for something we need online.
My therapist challenged me to focus on BEING instead of DOING. It seems like a foreign concept, but I'm trying to do little things to make that happen. One thing I recently did was leave a ton of Facebook groups I was a member of (mom groups, blogging groups etc). They're so time consuming and clog up my feed— I just stayed in a few I loved and felt were a good fit/aligned with my goals. If you struggle with doing too much, I would love to hear about things that help you relax and be present.
I'm still participating in the sugar challenge, but without any record-keeping (like what I eat day-to-day) or pressure and I already feel a sense of relief just not tracking everything like I was. The goal of this challenge is learning to be more comfortable with moderation and to be mindful about what I eat — but what I've learned about myself is that it's really easy for me to become consumed with something. I'm a driven person and I want to succeed at everything that I do. But when I take on so much and am pulled in so many different directions, it doesn't allow me to focus on what matters most and actually contributes to the problem I'm trying to solve: anxiety.
I hope that if you identify with this post, it has helped you to know that you're not alone. If you too feel the "weight" of all you do becoming too heavy, know that it's okay to step away, to take a break and to re-prioritize or re-configure your goals. It's not a sign of failure. It's a sign that you're listening to your body and intuition and doing what feels right in your season of life.
G I V E A W A Y ! ! !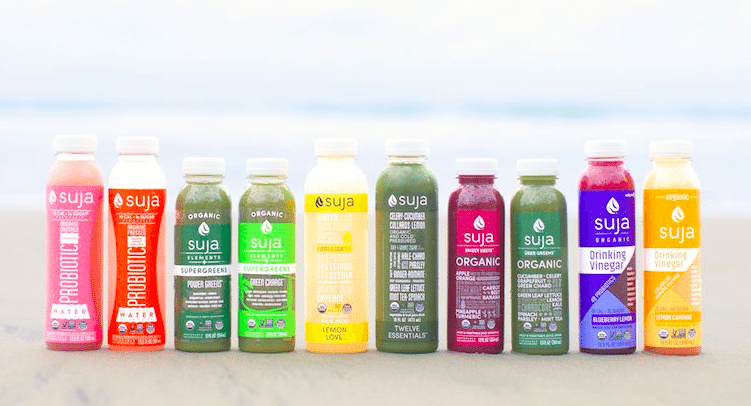 Before I go, I'm excited to partner with Jessica, Heather and Laura share a giveaway for a one month supply of Suja Juice for one of our readers! I tried them for the first time when we embarked on the sugar challenge and they have a lot of great options, including juices that are very low in sugar and contain probiotics. My husband is obsessed with them and drinks one daily, so he has basically claimed them as his own (which is good because he drinks the ones that have a little more of the natural sugars in them!) Suja juices are cold-pressured beverages that are USDA certified organic and non-GMO, certified by the Non-GMO project. You can read more about the cole pressure process here.
Don't forget to check out Happily Hughes, My Life Well Loved and Waking in Memphis in High Heels to read their 30-day sugar detox posts this week!