Hello friends & Happy Friday!
I started BBG this week — if you don't know what that is, it's a workout program created by Kayla Itsines. BBG stands for Bikini Body Guide — Kayla has said publicly that she actually regrets naming it this, but that's what it stands for.
I owned the BBG guide for a long time and even printed it out and had it bound, but I never felt motivated to do it (and I was going to the gym at the time so I didn't need additional workouts). However, after seeing so many people have success with BBG and the fact that you can do it at home (each workout is just 28 minutes and requires minimal equipment), I finally decided I had to commit.
I signed up for Kayla's Sweat app and paid for the year up front (it comes to about $9.99 a month, which is way cheaper than most gyms and the $175 a month I was paying for the gym I used to go to).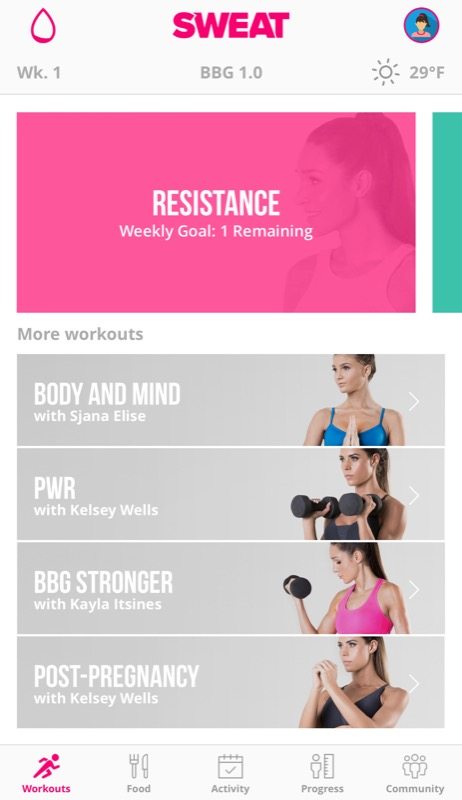 What I love about the app is that it has workouts for all fitness levels — even a program for postpartum. I'm doing the regular BBG program, week one. I was going to start with the beginner level, but decided to just go for it and start the regular program. It's three resistance workouts a week (legs, arms + abs and full body) and three LISS or HIIT workouts per week — this is the part I'm trying to do consistently. It's freezing here now so I can't go outside and walk like I intended to (yes, I grew up in Canada, but I'm not a fan of bone-chilling cold).
The real reason I had to start an at-home program is because I was not getting enough sleep when I was waking up at 5 a.m. to go to the gym. This New York Times article confirmed my instincts were right– sleep is important and not getting enough can wreak havoc, even if you're exercising. With BBG I can wake up a full hour later and still get a great workout in — with no commute and in 30 minutes.
I thought I would put together a post about how I set myself up to do these workouts at home. First, I cleared out most of my office and sold some of the furniture in it. We NEVER used it and it basically became a storage closet. I decided that it would be the perfect space for my workouts — and it is! Ignore some of the mess still in there, it's not 100% cleared out and I need to style the shelves.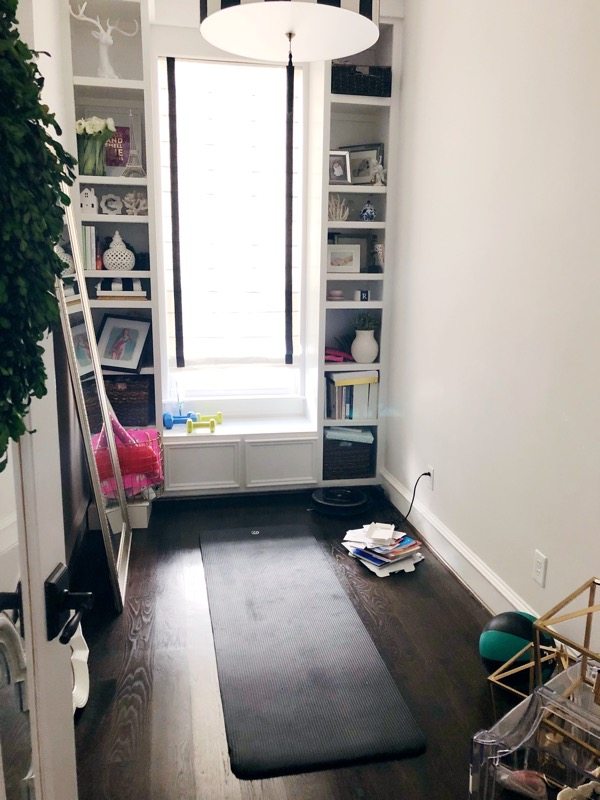 O N E 
The first thing I purchased was free weights — 5 lbs and 8 lbs to start with. You'll need these for some portions of BBG. You can buy them here, here or here.
T W O
You'll also need an exercise mat for a lot of the ab and arm work — I got a thicker one — much thicker tan a traditional yoga mat. Get one here or here.
T H R E E
I was able to use the built-in bench in our office to do all of the moves that require step-ups, however, this was just luck that I had something in the space that worked for this. Had I not had this, I would have purchased a workout bench like this one or this one.
F O U R
Hydration is KEY during these workouts. The app isn't called Sweat for no reason. I love straw cups because they help me get more water than I would without a straw. Check out these and these.
F I V E
I purchased this weighted medicine ball to use in my BBG sessions.
PS — if you need some new fitness gear to motivate you, I love this line and there is a lot of cute and trendy activewear here. I also found lots of great shoe options here.
---
Q U E S T I O N S  O F  T H E  W E E K
Where did you get the kids dress up clothing rack in your playroom?
Hi! You can find the dress rack here.
What camera do you use to take the great photos for your blog?
My phone is 99% iPhone photos. The only photos shot on DSLR are ones from family sessions with professional photographers. I have the iPhone 8 plus and use the app "A Color Story" to edit my photos.
How do you stay thin? Do you have a specific meal plan?
Part of staying thin is genetics, but I have put on some weight since I stopped nursing/pumping when Lincoln was a year old. I dropped a significant amount when I was pumping with Harper too, and then I gain it all back plus a few more pounds.
I don't typically follow any sort of meal plan, but after the holidays, I committed to eating less junk and more whole, real foods. I eat a lot of lean protein, vegetables, fruits, etc. I try to eat foods that are nutrient-rich and filling. I have been eating less dairy and stopped eating cookies, ice cream, candy, etc like I used to (daily). When I crave sweets, I usually eat fruit or a square or two of dark chocolate. Basically, I'm trying to make better choices without counting calories. I have thought about trying a meal plan and purchased Carli's after seeing it work really well for Rach. I'll update if I end up using the meal plan.
I hope you have a great weekend!