When I purchased IT Cosmetics Your Skin But Better CC Cream about 18 months ago, I knew I had found "the one." It gave me the perfect amount of coverage and has a ton of skin-benefiting ingredients + SPF 50.  I've been using this foundation exclusively since I purchased it after a more than 10-year run with MAC's studio finish powder foundation and a brief stint with Make Up For Ever's foundation.
IT Cosmetics Your Skin But Better CC Cream  has become my holy grail foundation – I haven't even cared to try another product. But then came along IT Cosmetic's Bye Bye Foundation. Marketed as a "full coverage moisturizer," it has the exact same packaging, SPF 50, same ingredients and a new "3D  skin flex technology" that is supposed to prevent the foundation from cracking or creasing on your skin. It is also marketed as "long lasting." Hmmm…color me intrigued!
Initially I thought I would bypass the IT Cosmetic's Bye Bye Foundation but Instagram kept showing it to me in my feed (thanks, algorithm/targeted ads) and curiosity got the better of me.  I went to Ulta and purchased my shade ("fair"). There is a very minor difference between the fair in the CC cream and the fair in the Bye Bye Foundation, but nothing that affected the finished look. Even over my self-tanner, the fair was fine. I find when I try to go darker with foundations, my skin can take on an orange-y hue or look a lot darker than my neck and the rest of my body, so I tend to stick with the lighter shades. My first CC cream was in the color medium (way too dark, made me orange and my second was the light, which I also found to be too dark).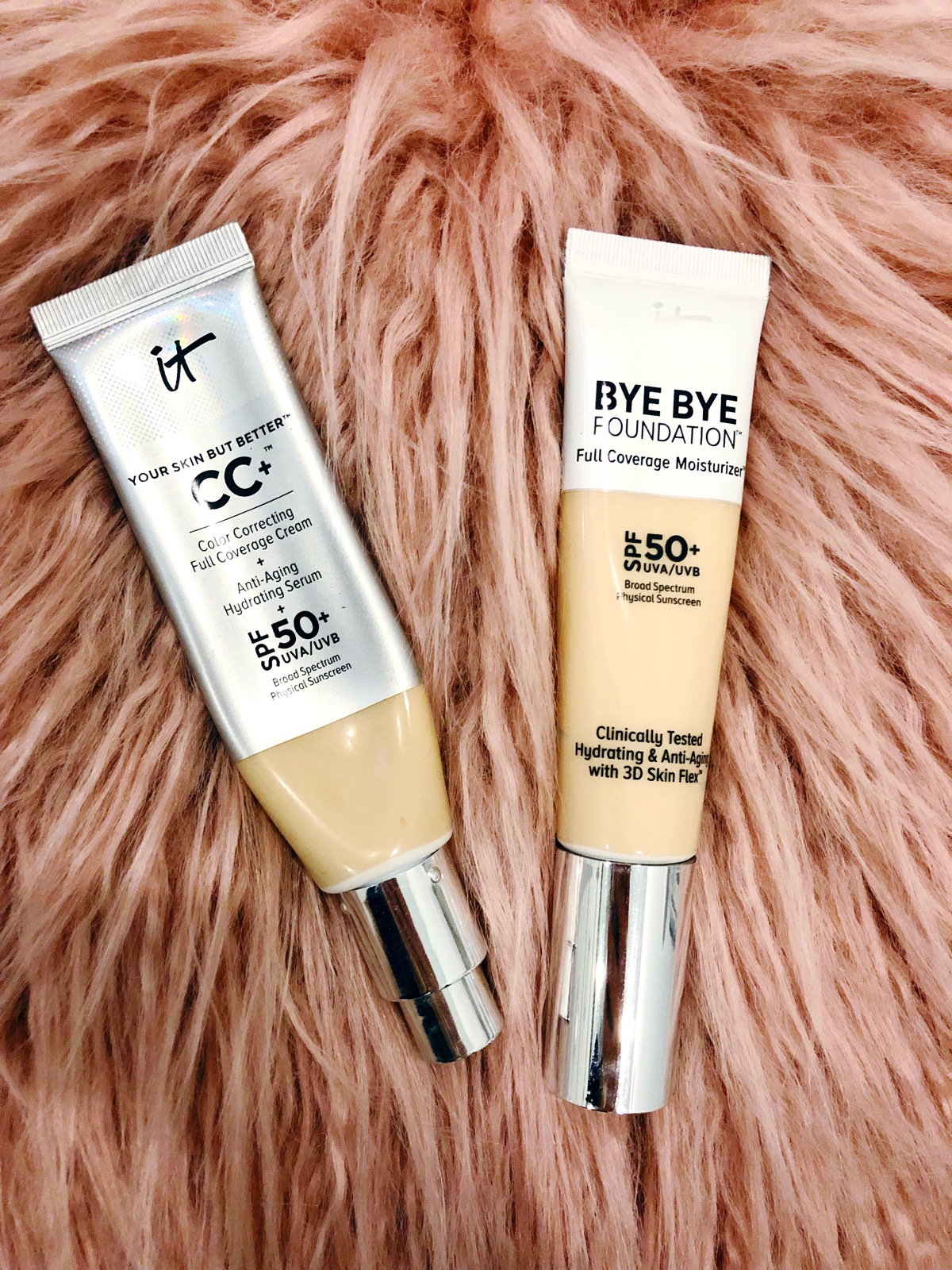 So now I'll officially say – I'm a Bye Bye Foundation convert. What sold me was the new 3D flex skin technology and that it's longer-lasting. I could tell from the first moment I applied it that there was a slight difference in the formula's consistency and how it looked on my skin. It gave me the same amazing coverage but with a slightly more matte finish. I also noticed it lasts longer and stays more matte throughout the day. With the CC cream, I noticed by end of the work day or into the evening, I had areas of my face where the foundation was definitely coming off or that got oily, especially around the sides of my nose and around my mouth and chin. I still adore the CC cream, but I have to say if I had to choose between them, I would choose the Bye Bye Foundation because it has the same great ingredients and SPF, but is longer-wearing and overall works even better with my skin type. What I love most about both products is that they contain anti-aging ingredients, so you're treating your skin as you even it out, which makes it worth its price tag. I also LOVE that it comes in a pump form — it's so much more hygenic.
As for products I use with this foundation, I apply it with IT Cosmetic's airbrush foundation brush which is, in my opinion, a must-have no matter what brand you wear. It applies and blends liquid foundation like a dream and truly does give that "airbrushed" appearance. I also think IT Cosmetics brushes are reasonably priced for the quality, which is excellent.
After I apply the Bye Bye Foundation, I use MAC studio finish concealer around the sides of my nose and mouth where I tend to have a little redness. It's also ideal for blemishes.
Then, I use my beauty blender to apply Tarte's Shape Tape under my eyes. I was always really big into pink-toned concealers for the under eye area  (and still love them) but I have to admit I haven't picked one up since I started using Shape Tape. This stuff is legit and makes under eyes brighter and more awake-looking. It applies smoothly and doesn't crease (just don't use too much and remember to use it all over your under-eye area – down to your cheek area almost to get the full brightening effect).
I always use a translucent finishing powder over my foundation – my favorite one is this  Laura Mercier transluscent setting powder and I've also been testing the waters with this  becca blurring setting powder and love the subtle glow it gives the skin. But for every day, this one is my go-to. To finish off my face (excluding eye makeup) I add bronzer (this one or this one) and this holy grail blush (the color is called "peony," how perfect).
I truly believe that starting off with great skin is key to any beauty routine. Of course you want skin care to be your focus so you don't have to work hard to achieve an even complexion, but using the right products makes my routine really quick and easy. You can read about my morning routine in this post.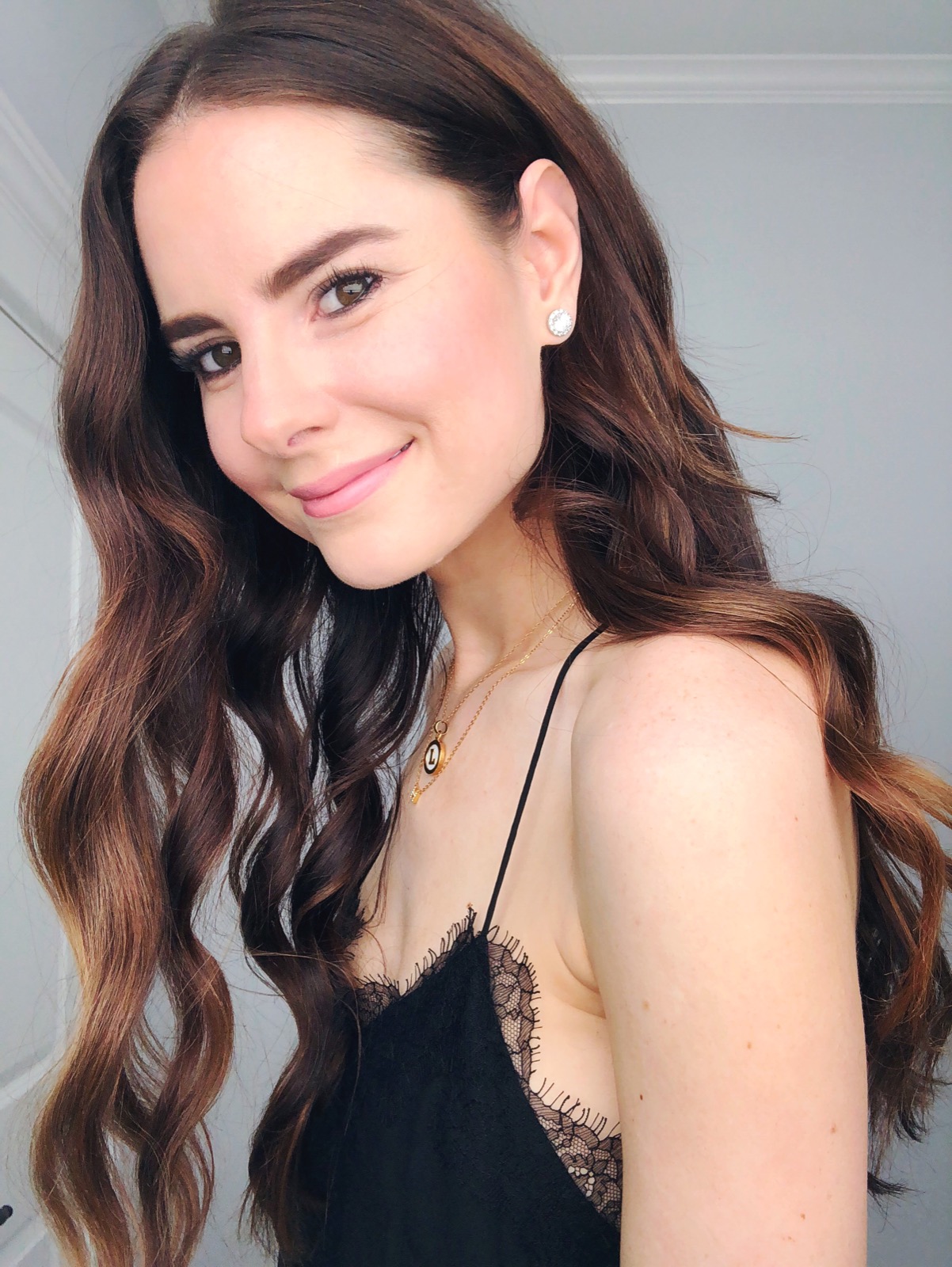 Here is a breakdown of all of my skin perfecting products: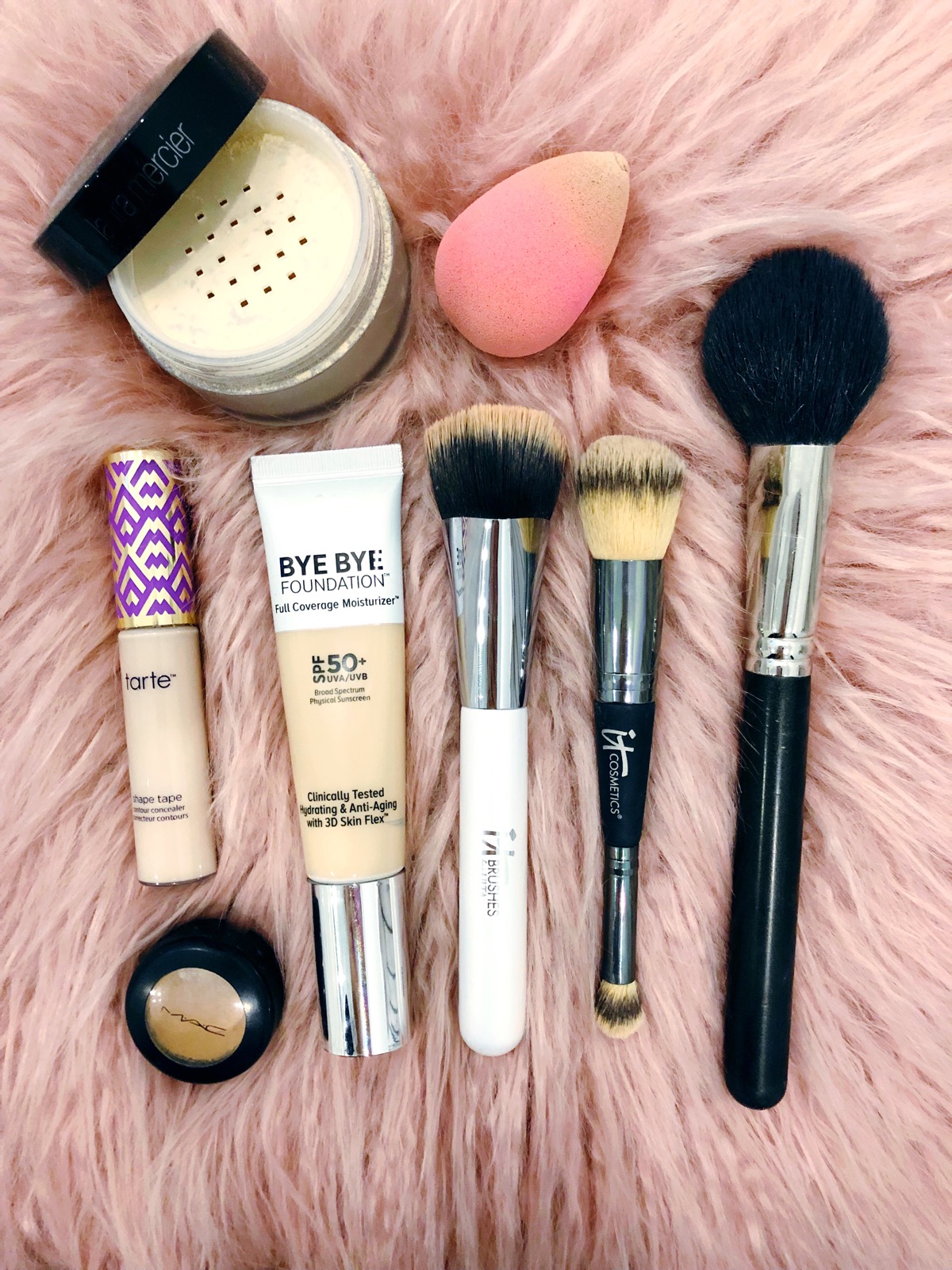 beauty blender- original   |   MAC 150 powder brush  |   It Cosmetics Heavenly Luxe Complexion Perfection Brush #7  | IT Cosmetic's Bye Bye Foundation |  MAC studio finish concealer (my shade is NC20)  |  Tarte's Shape Tape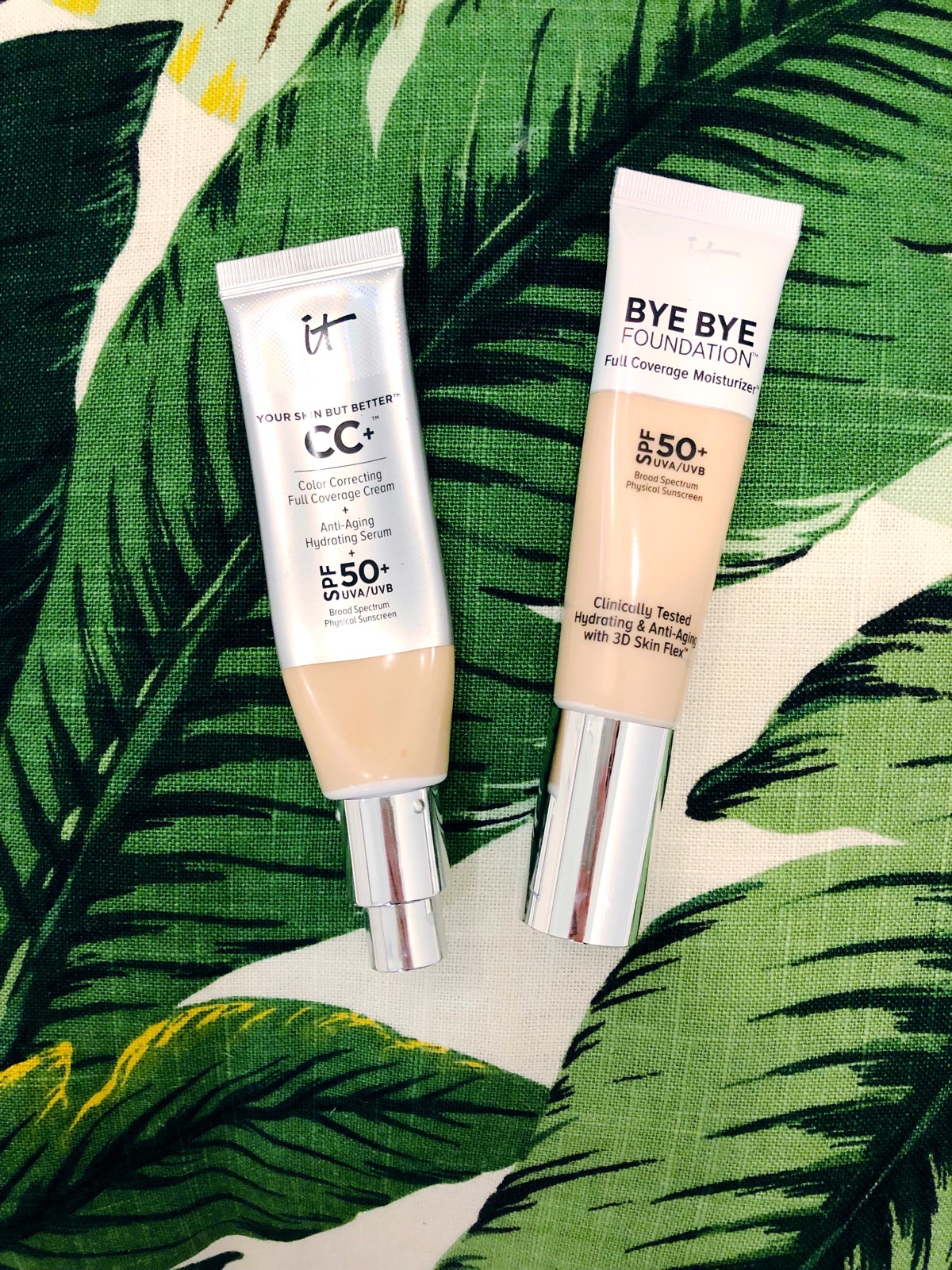 This is not a sponsored post – all products were purchased with my own money and all thoughts and opinions are my own.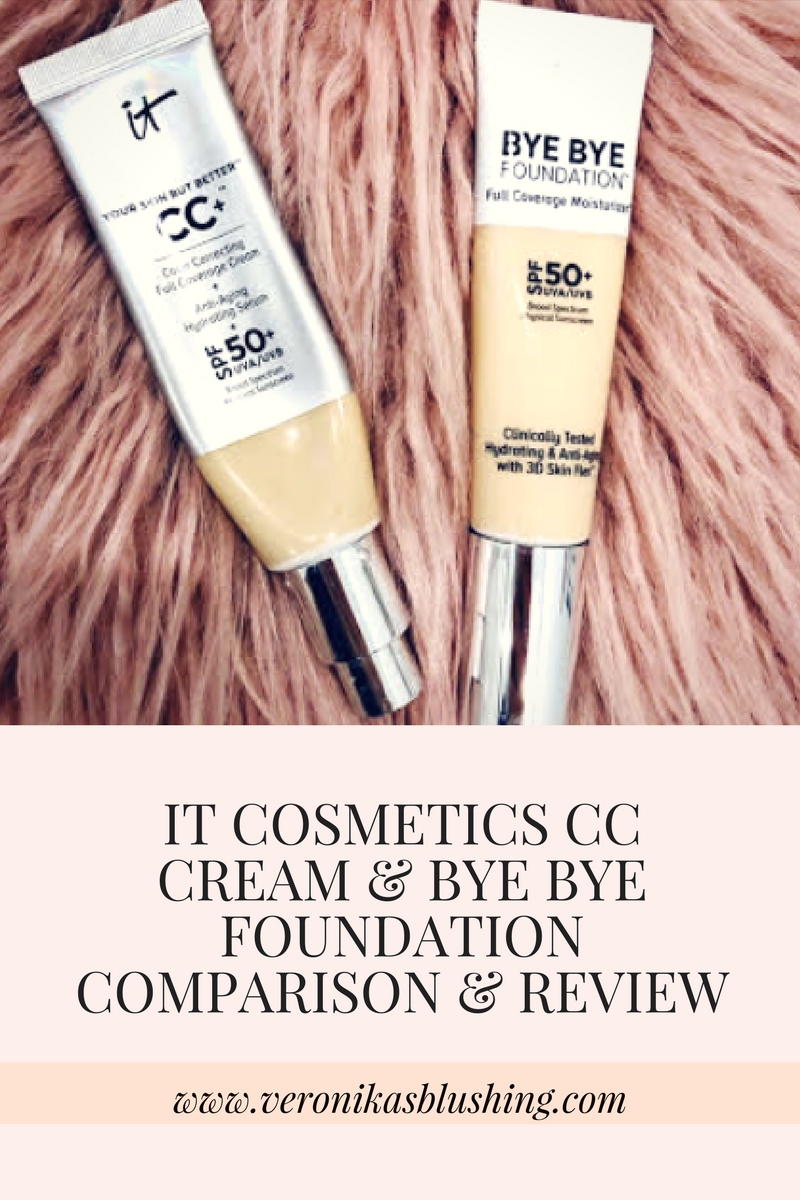 Shop the Post