Quite a lot of our furniture is from Ballard Designs and I get a lot of questions about the pieces we've purchased from Ballard so I wanted to create a dedicated post to review each item and provide more in-depth feedback.
BALLARD DAYNA COUNTER STOOLS (GRAY)
I think these counter stools were my first ever Ballard purchase and more than five years later, I still love them immensely. Not only are they extremely high-quality (we use them for nearly every meal since 90% of the time we eat at the island), but they really look incredible in any kitchen due to their open-back chippendale design.
A lot of people are hesitant to get upholstered counter stools, but we just use a kitchen towel own each child's stool and five years later, they look almost new. The few stains we've had over the years were easily removed with Folex or Miss Mouth's stain remover (great for food stains).
We find the stools to be comfortable and they were a very worthwhile investment.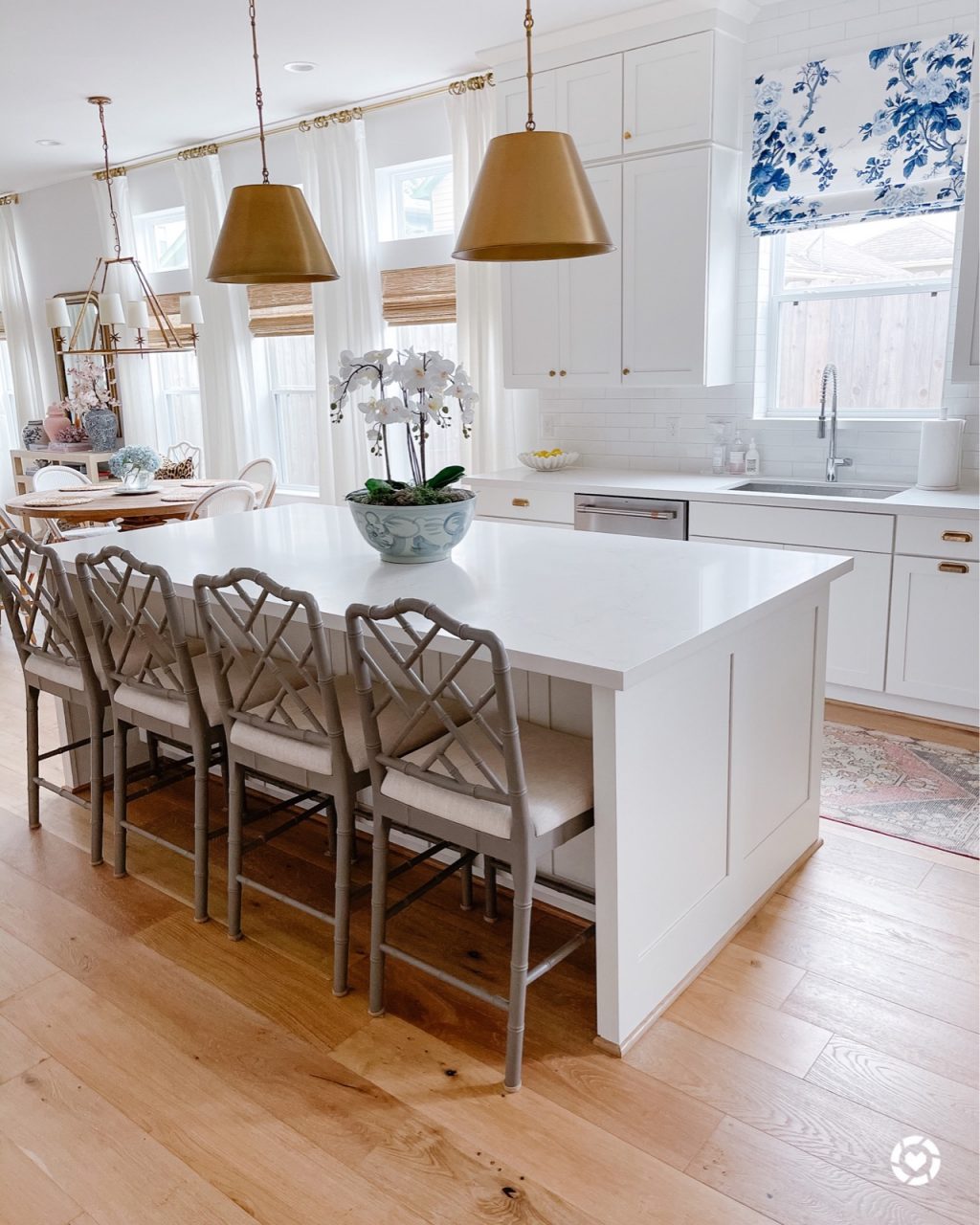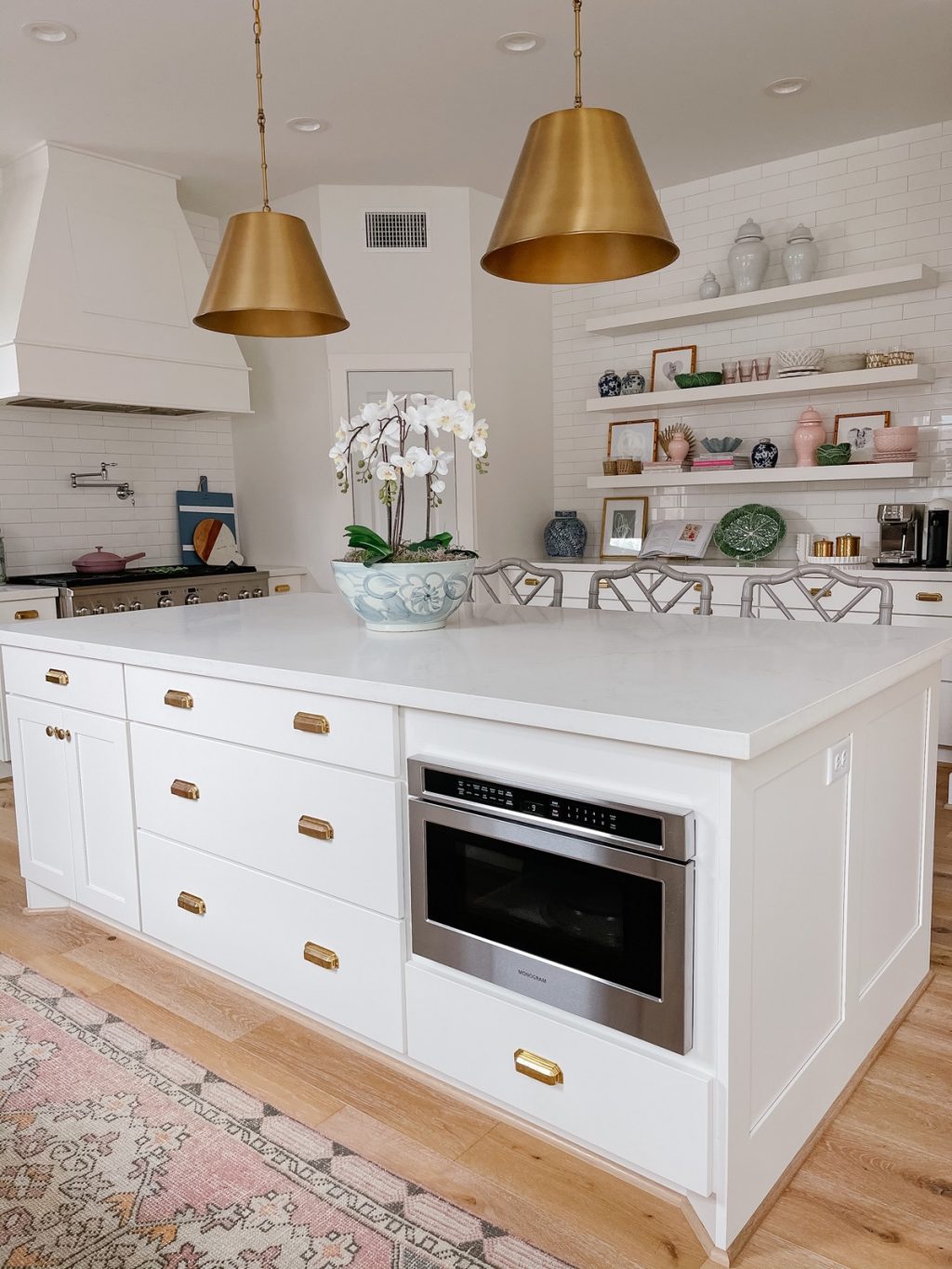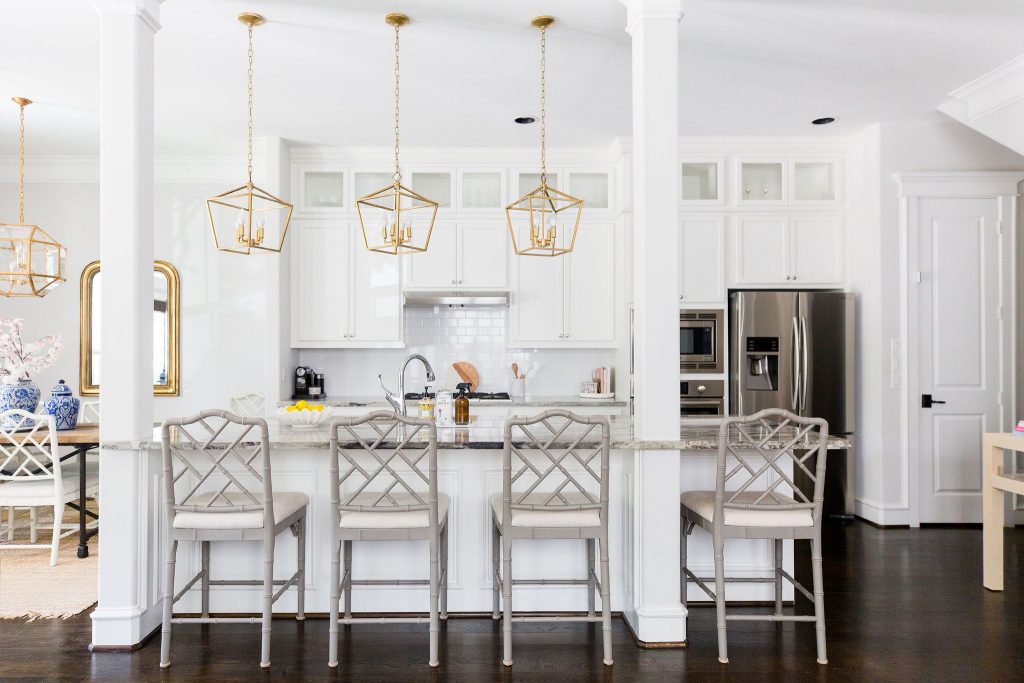 DAYNA DINING CHAIRS (RUBBED CREAM)
We purchased the Dayna dining chairs for the dining table in our last home and they're stunning. To be honest, we never ate at that table, but I adore how they look. A lot of interior designers use these chairs in client projects because they are so beautiful and really create a vibe in any space. The chippendale style is both classic and interesting.
In our new home, we opted for a round dining table and French bistro chairs, but I could never sell my Dayna chairs because they look good in any space. We ended up using them in our dining area as accent chairs and I also have one in our bedroom at the desk where my husband works from home. I also have one in Harper's room as an accent chair and in our game room for extra seating.
I kept them because I envision them in a future formal dining space (I'd love to have a breakfast room and a more formal dining space if we ever move!)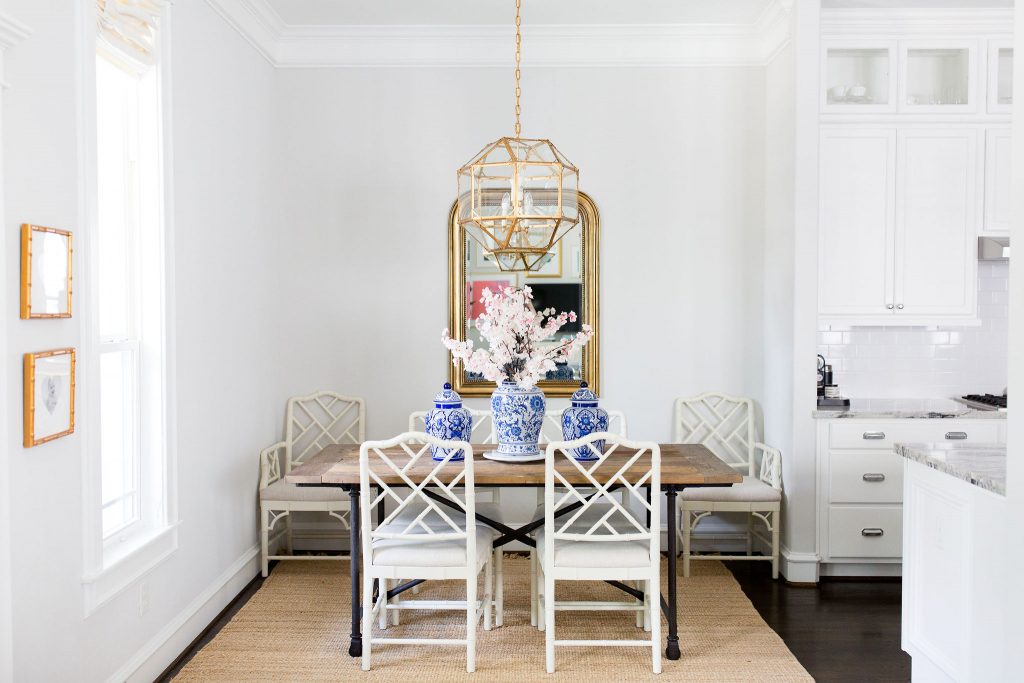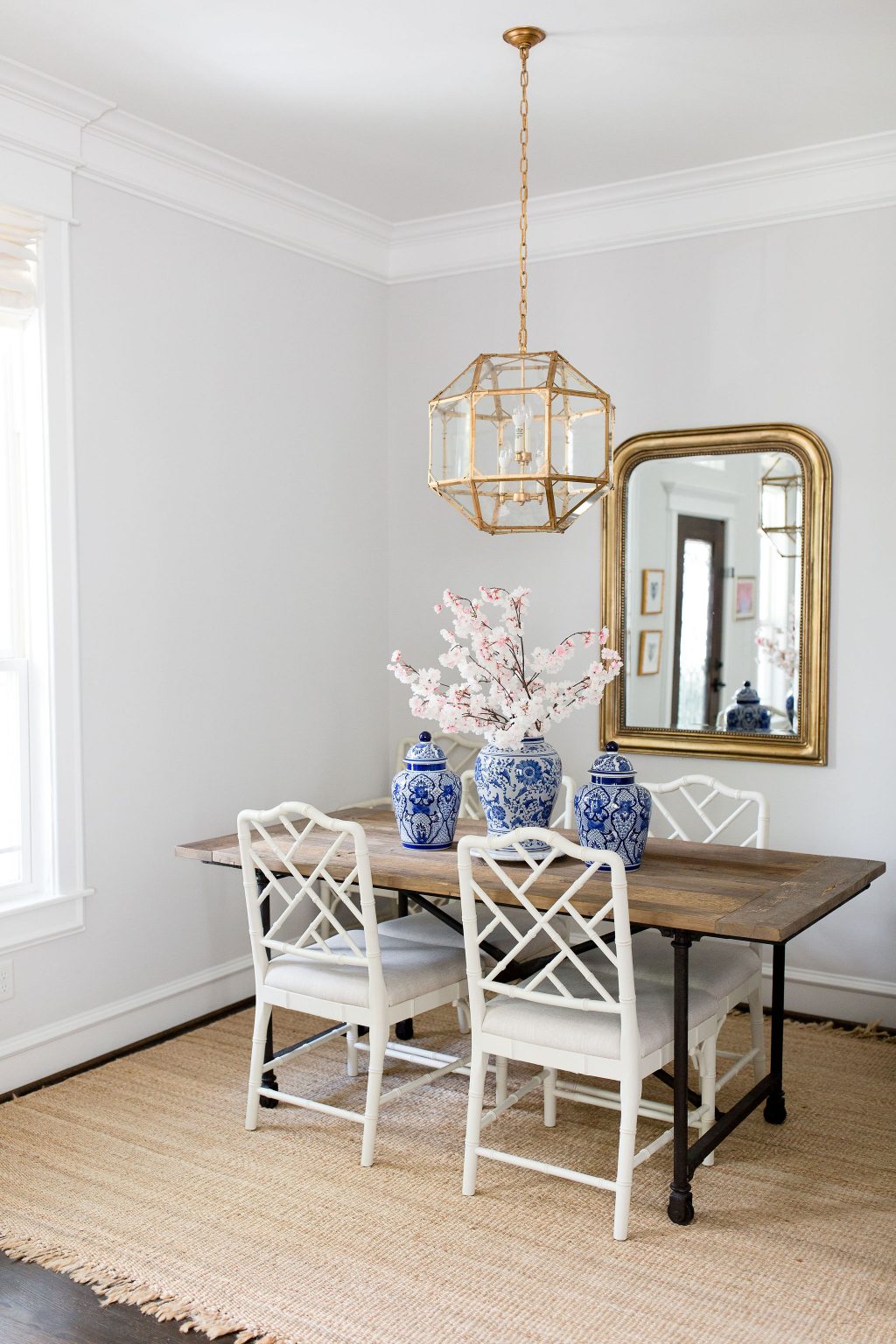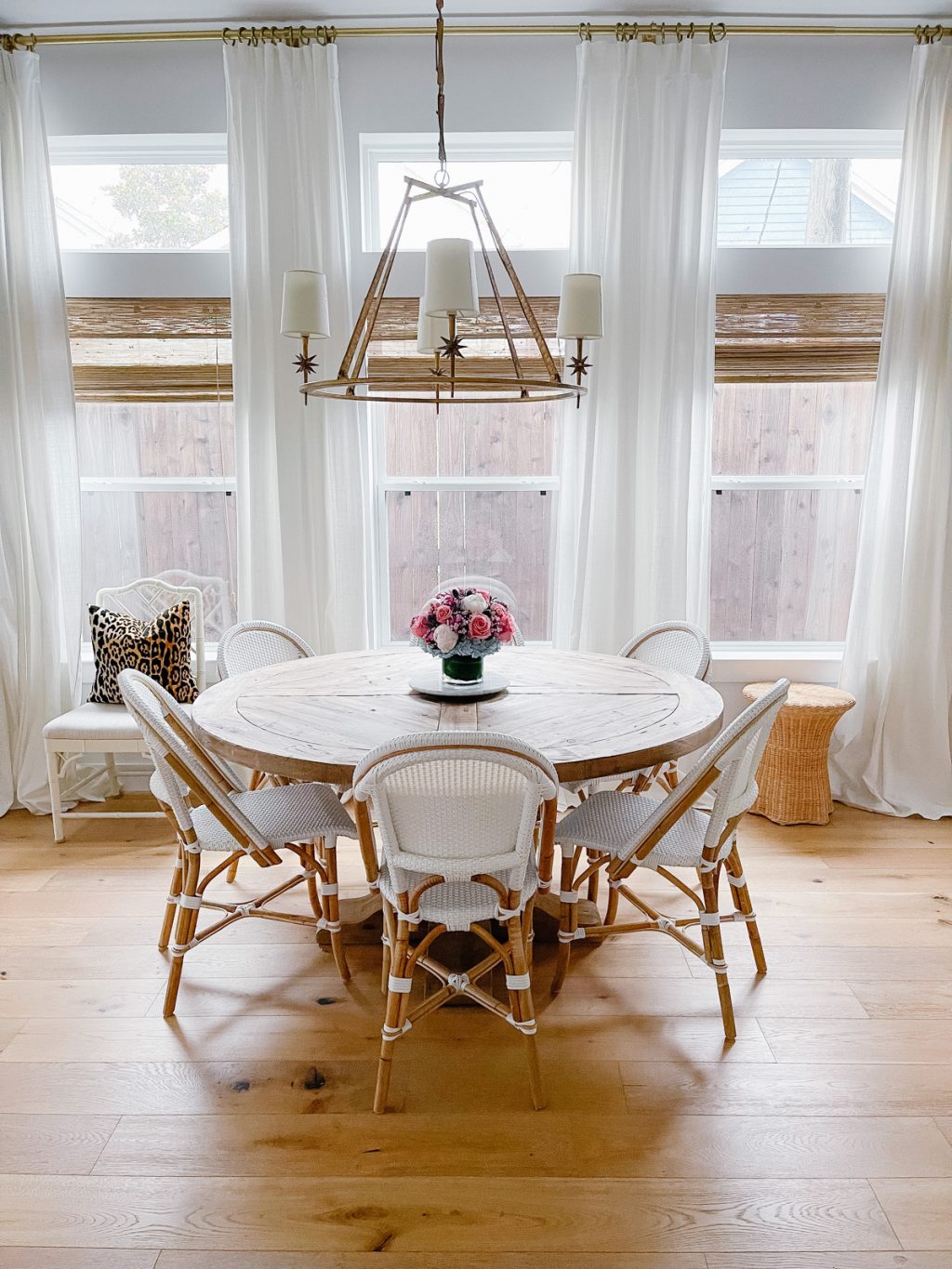 BALLARD ATOLL MIRROR
I purchased our first Atoll mirror when we lived in our last home and used it as an accent mirror above a desk. When we moved into our current home, I knew they'd be the perfect mirrors to flank Harper's bed once I got the right nightstands. I absolutely adore the beautiful shape and texture these mirrors give off. They really convey movement and have an air of femininity.
I purchased a second atoll mirror and now they flank Harper's bed, above her nightstands and I couldn't be more thrilled with how they look in her space. Ballard now offers this mirror in a full length size as well. I love this mirror in bathrooms and powder rooms – they're quite a popular pick among designers as well!
THE GIANT CLAMSHELL on this console is also from Ballard!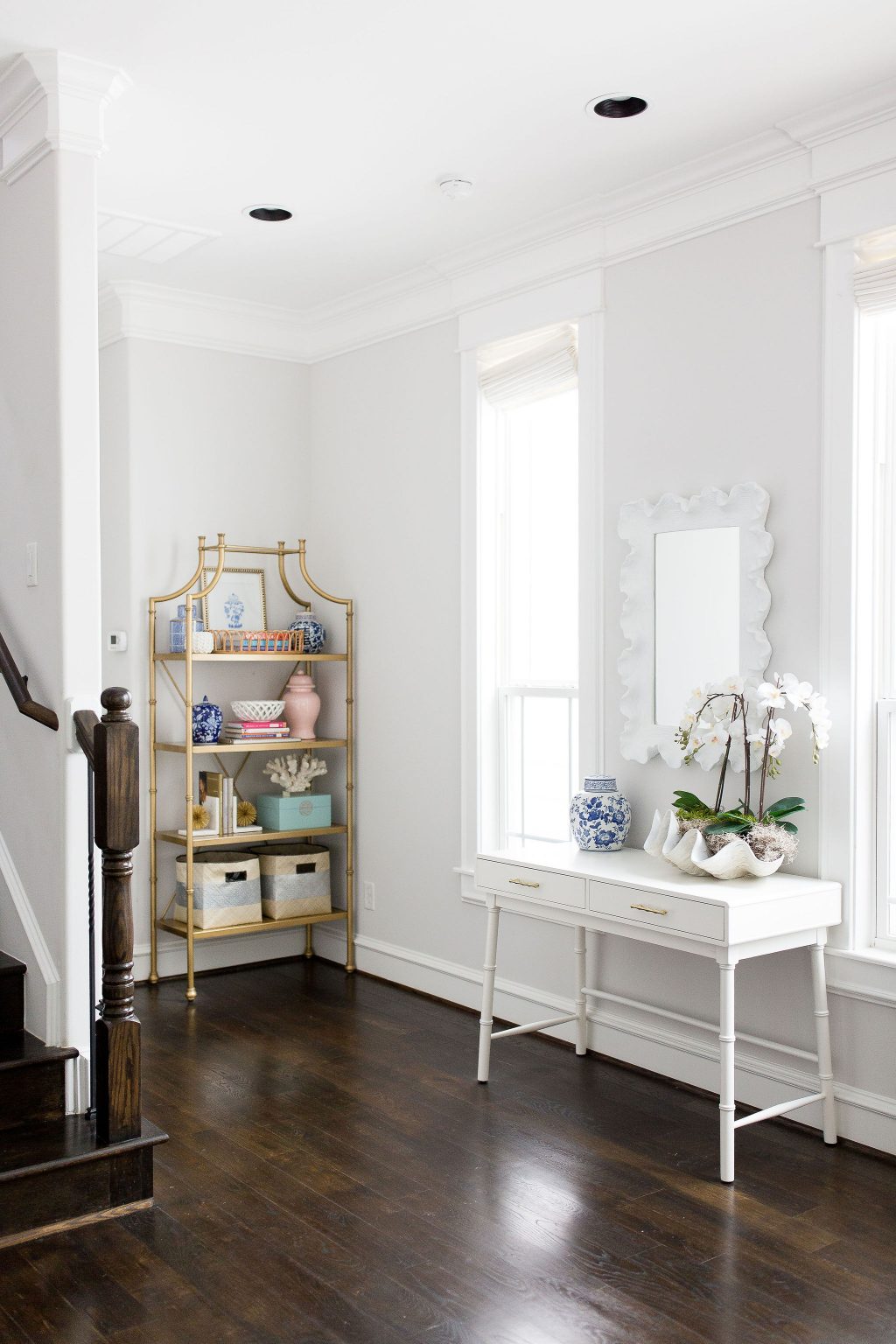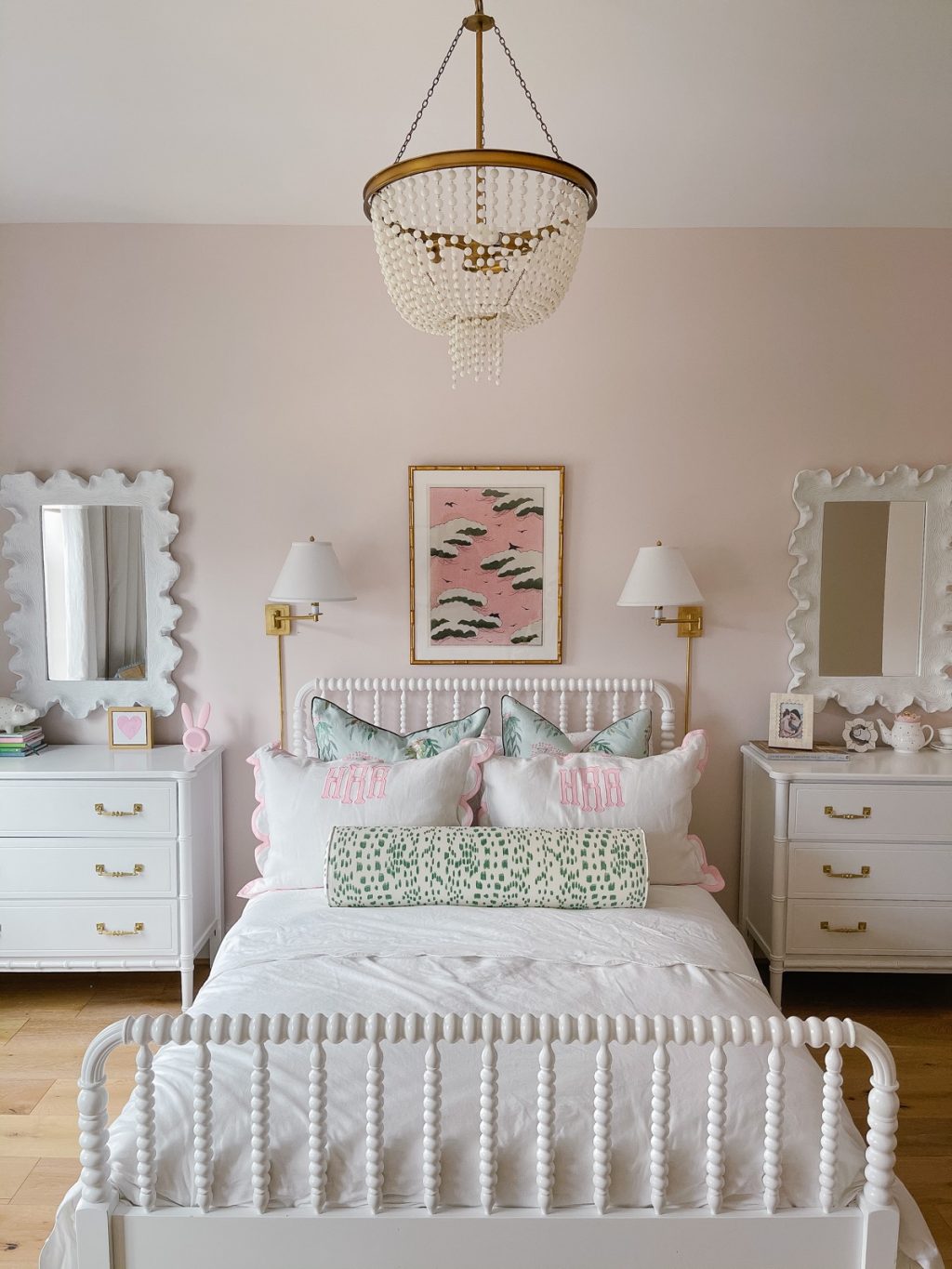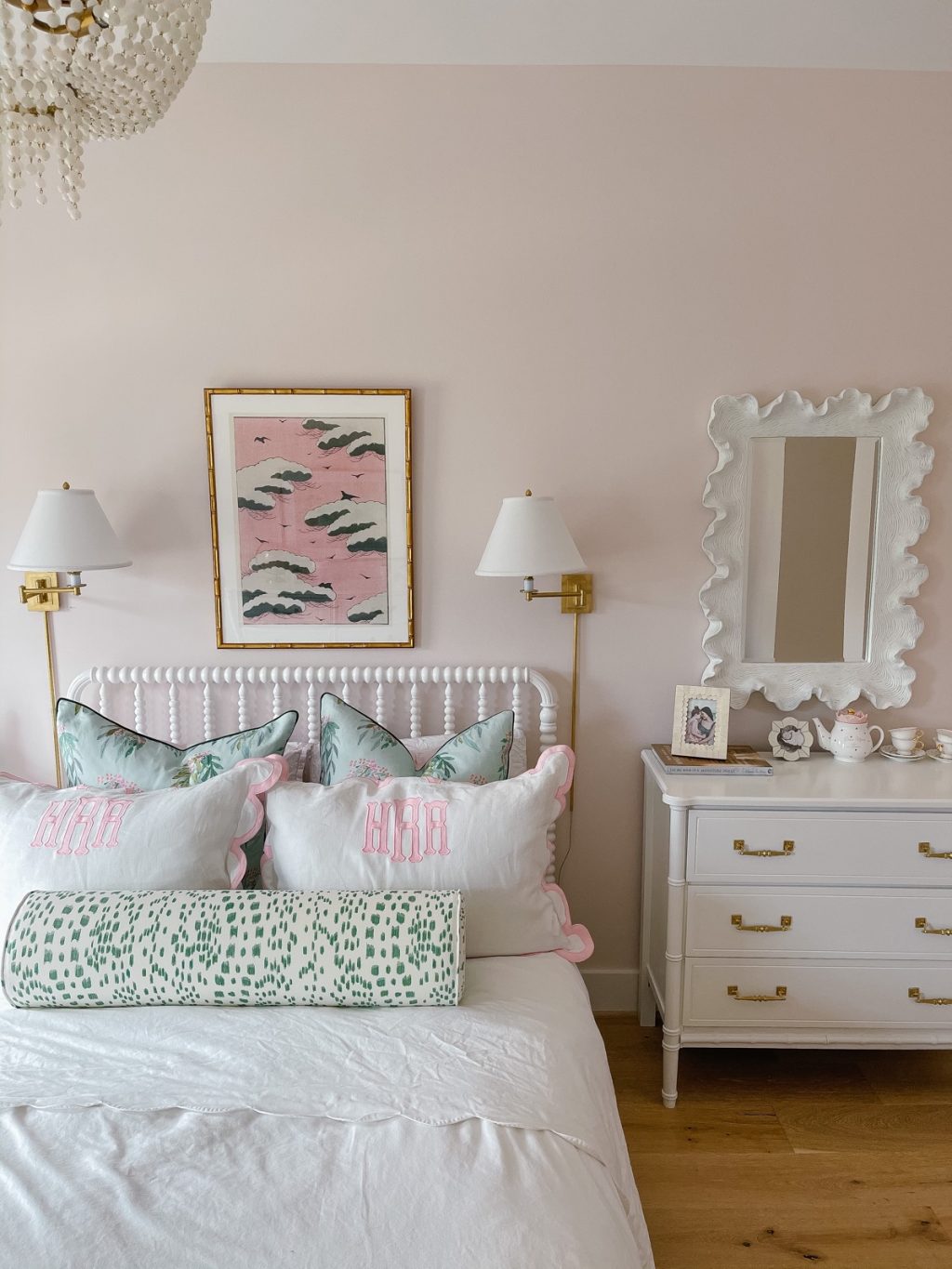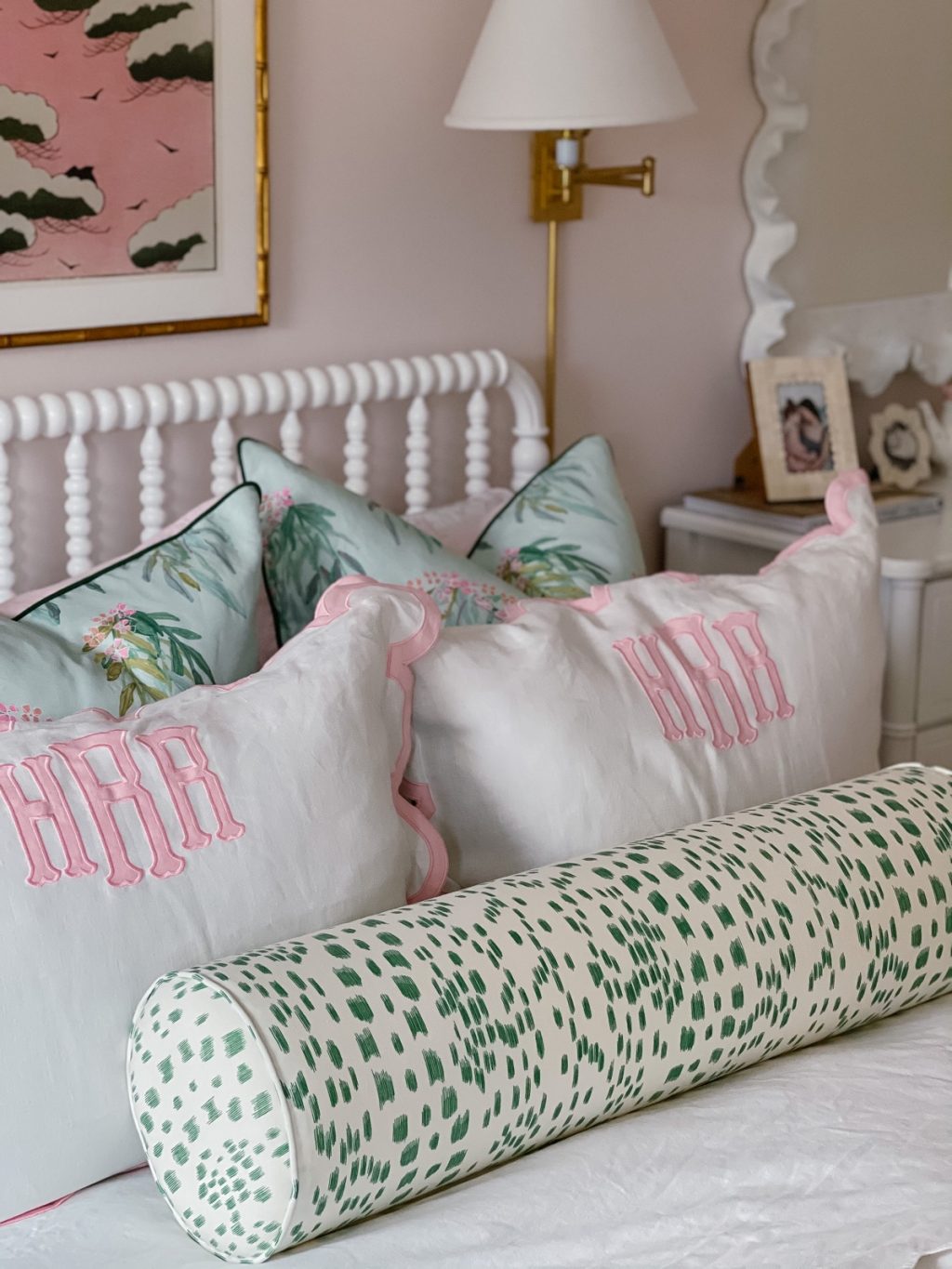 BALLARD CHERRY BLOSSOM STEMS
In my opinion, Ballard's cherry blossom stems are the best faux option. Some cherry blossom stems I've seen at other retailers are kind of weak and flimsy looking. I also love the color of these and that the stems are dark brown and thicker so they stand up. They appear more realistic to me. I have them styled in a ginger jar on our raffia console table and one in our primary bedroom on my nightstand. The Ballard set comes with three stems and that's how many I have in each of my ginger jars.
BALLARD X-BENCH IN MIRA BLUE FABRIC W/ CONTRAST TRIM
I adore x-benches – the styling possibilities are limitless! I've had this one form Ballard for several years now and I love the Mira blue fabric – it adds a fun print to our space while still complementing the rest of the prints we have in our living room. These are extremely well made and I'd 100% opt for the contrast trim as it makes it look so polished and custom (which it is!)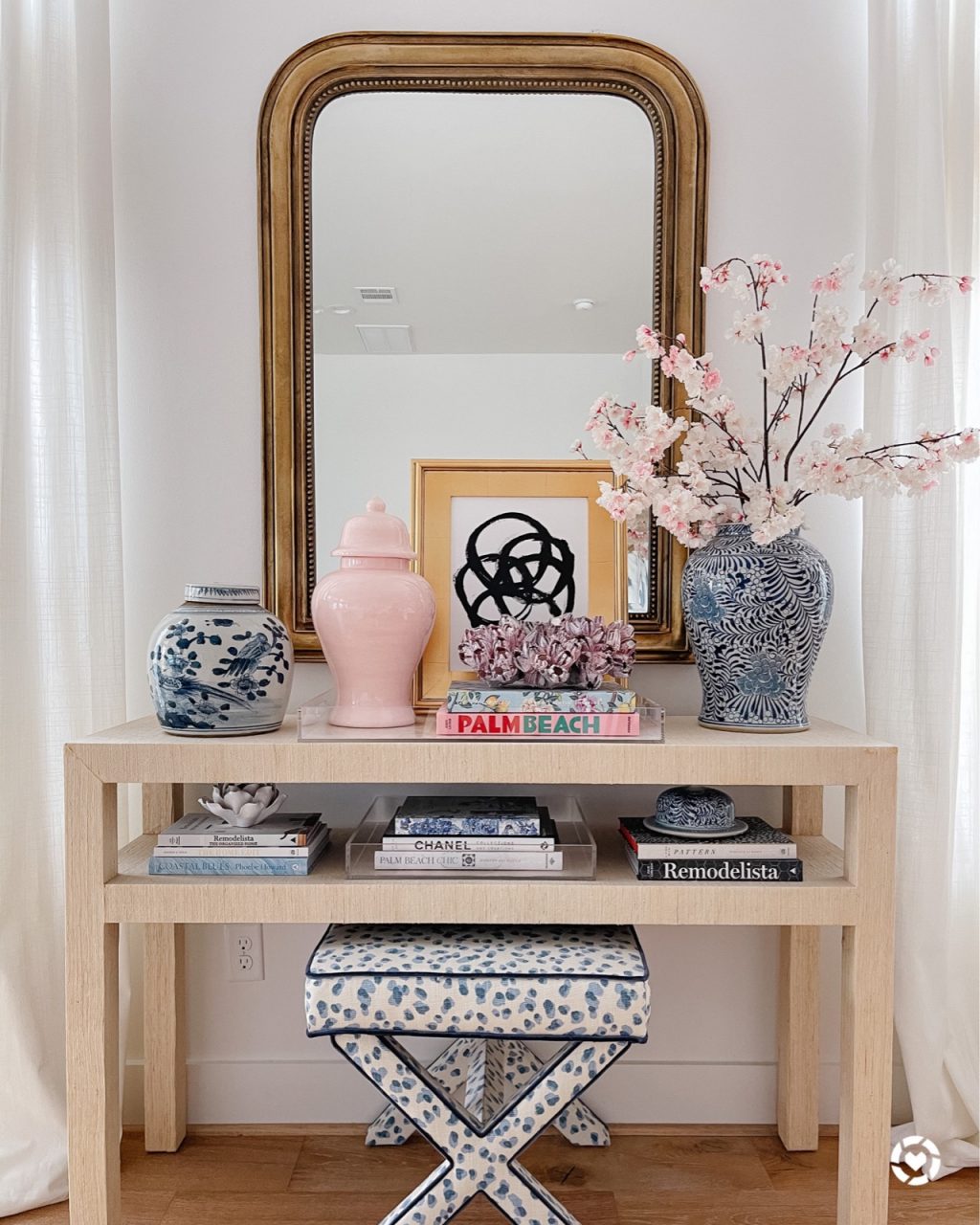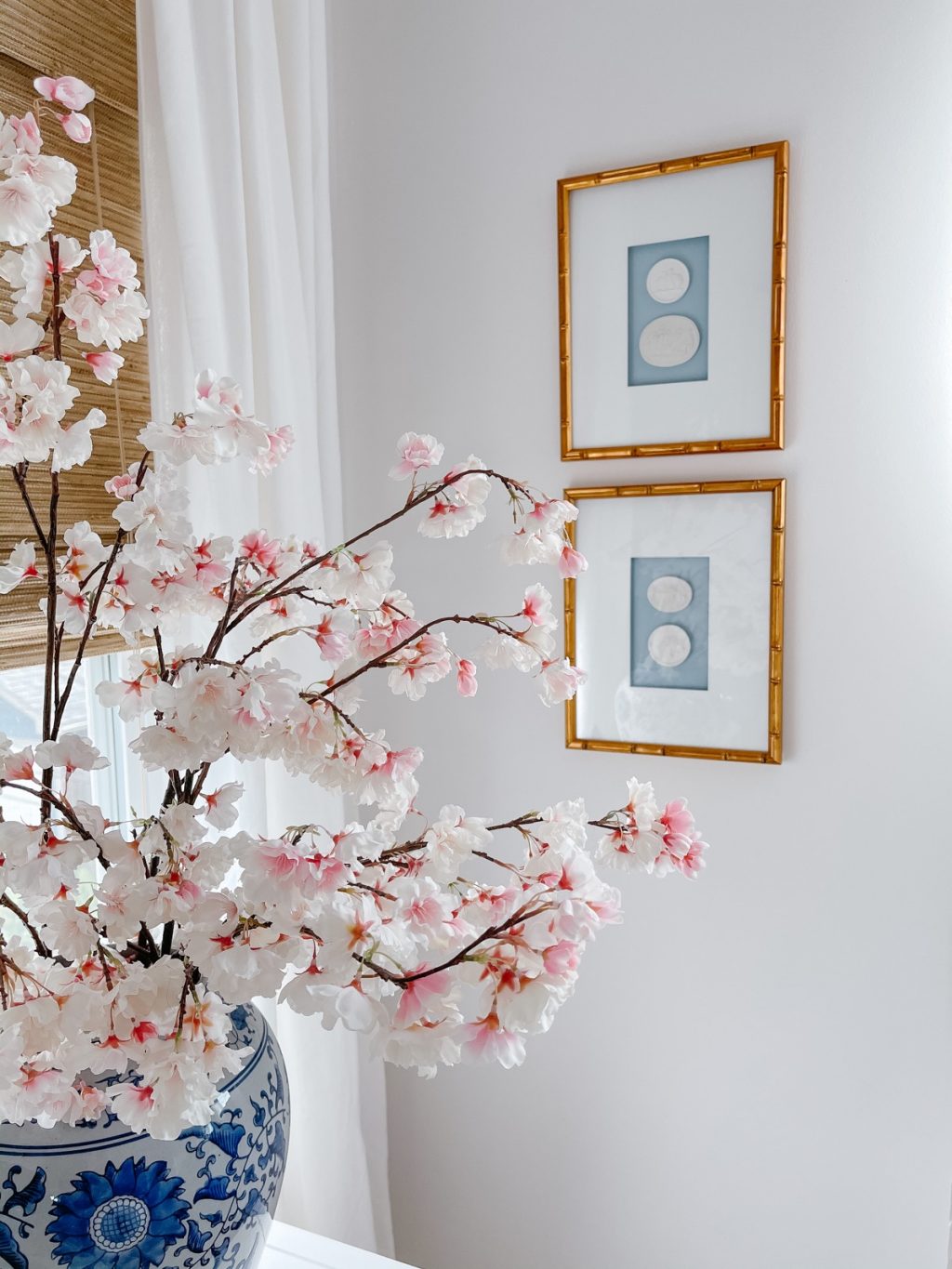 BALLARD ANTELOPE RUG
I purchased the 10 x 14 antelope rug and it arrived the DAY we moved into our new home! It's very soft and nice to walk on and I love the neutral colors and print. It does shed a lot – but the caveat is that it doesn't shed all over our floors or furniture – it's moreso that when you vacuum, you can fill the entire canister with fibers from this rug – it's crazy, but not unusual for wool rugs.
One thing I noticed about this rug is that our acrylic/glass coffee table legs did permanently dent the rug fibers and we had to move our table over a few inches so there is now a visible dent. It doesn't bother me too much, but just know it's a possibility. I do think this rug is a very good value for its size and design.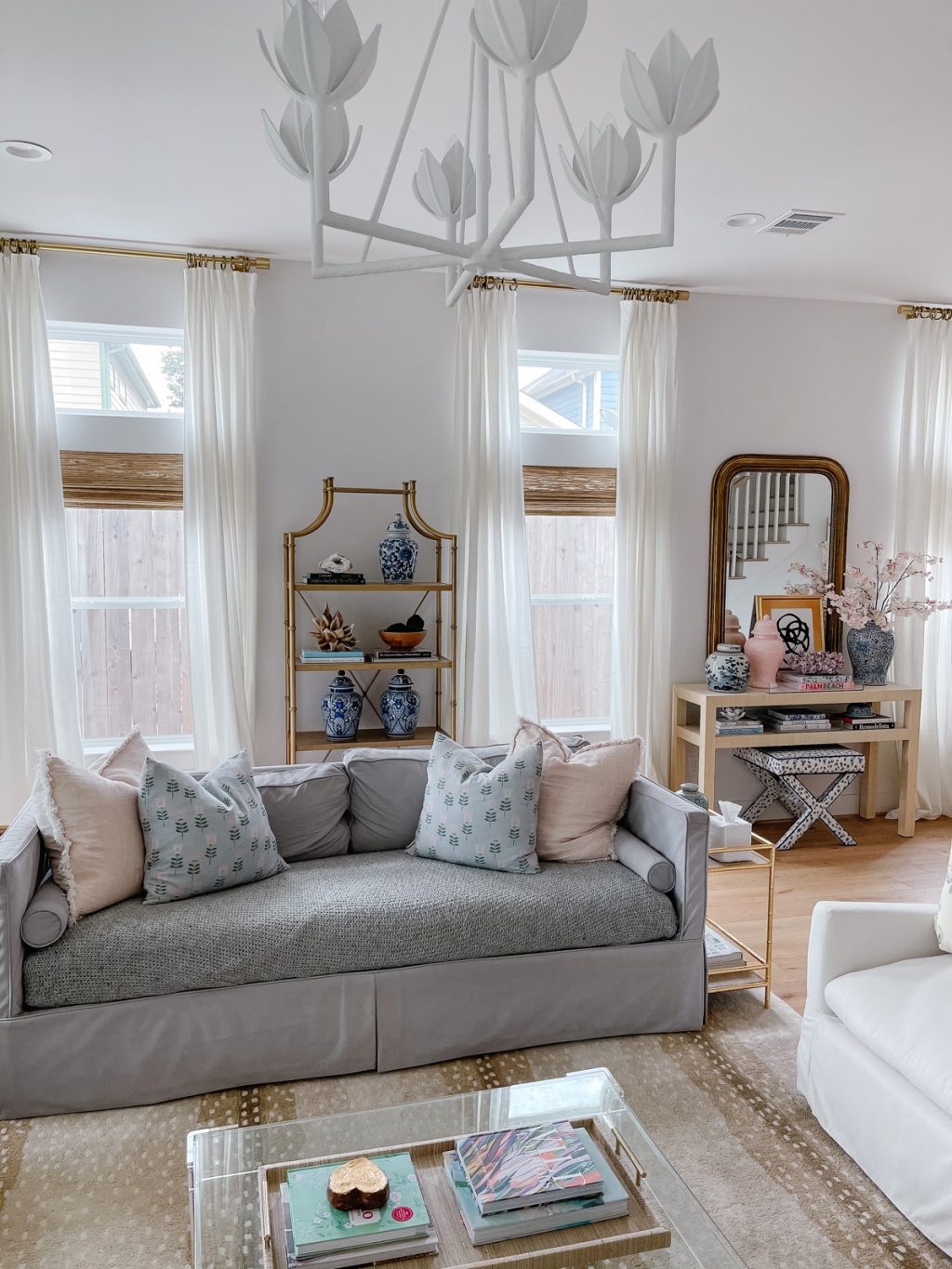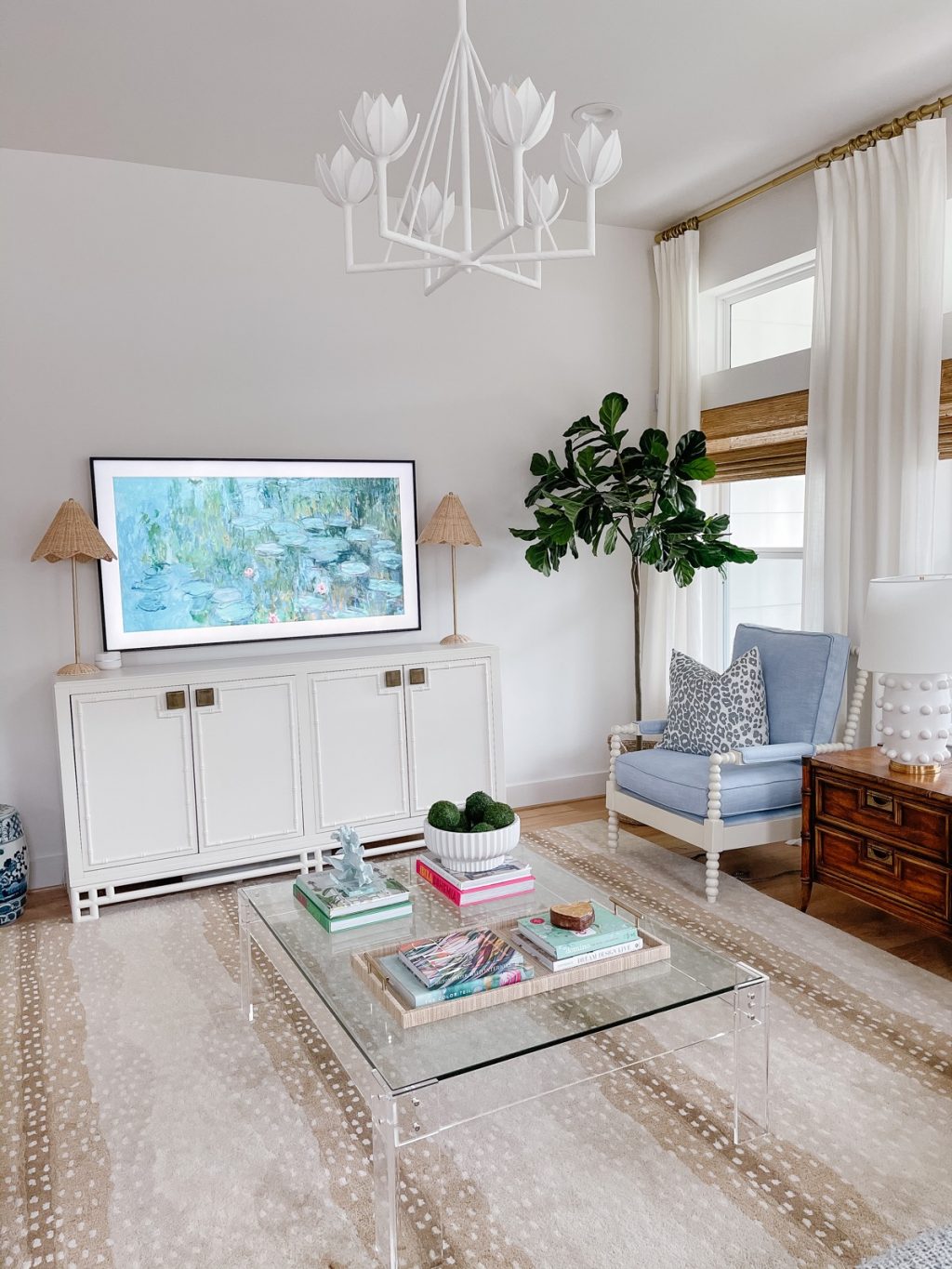 BALLARD EMMA SCALLOPED BEDDING
I originally purchased the Emma Scalloped bedding with black scalloped border for Harper's bedroom in our previous home. When we moved, I purchased a second duvet cover in the white so that it could work with any color scheme. This duvet cover is very "heavy" meaning that the material is thick and substantial. It feels like a softened cotton canvas. It's not a light and airy duvet cover, but I do think the thicker fabric lends itself better to maintaining the form of the scallops.
The Emma scalloped bedding now comes in different colorways, but I believe the white color is always part of the offerings. There's also an Emma scalloped bedskirt.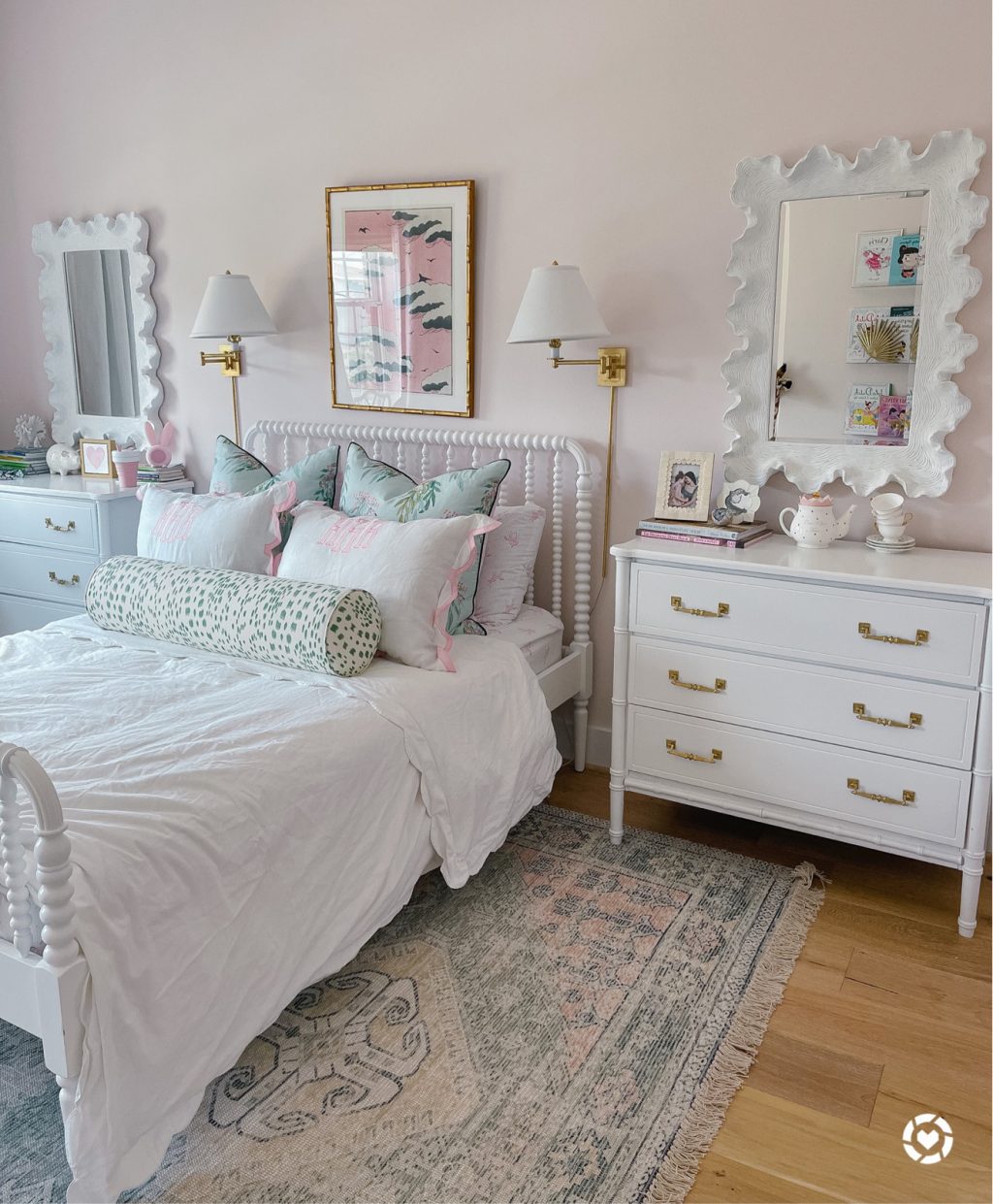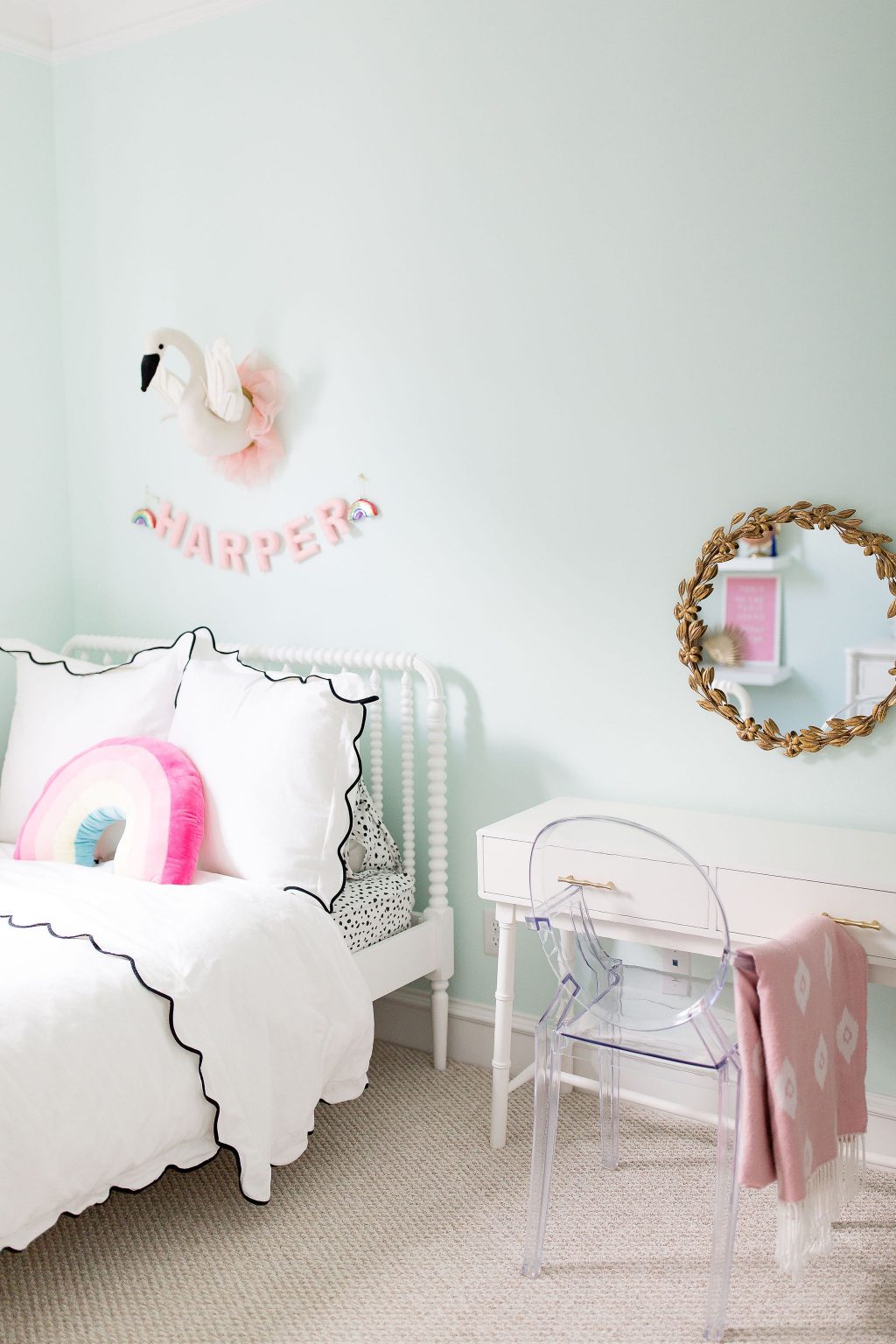 BALLARD SUZANNE KASLER SOPHIE HEADBOARD
We purchased this headboard for our bedroom in our previous home and I still adore it. It's such a classic style/design and it's very tall – it can be difficult to find headboards this height.
We chose the Suzanne Kasler ivory linen fabric. The one downside to an upholstered headboard is that my husband's side has yellowed a bit where his pillow is. I've heard this is a common issue – even if you shower before bed, the natural oils/sweat eventually build up and get on the fabric. I posted about this in my Facebook group and there were tons of responses from women who had the same issue with their upholstered headboard, so know this is a possibility. I am going to try to DIY clean it after watching some tutorials and see how it goes.
Having said this, I don't regret it because the pillows cover up the yellowing when the bed is made. The staining has nothing to do with the quality of the headboard or fabric, it would happen regardless of the brand or fabric, so I do want to clarify that.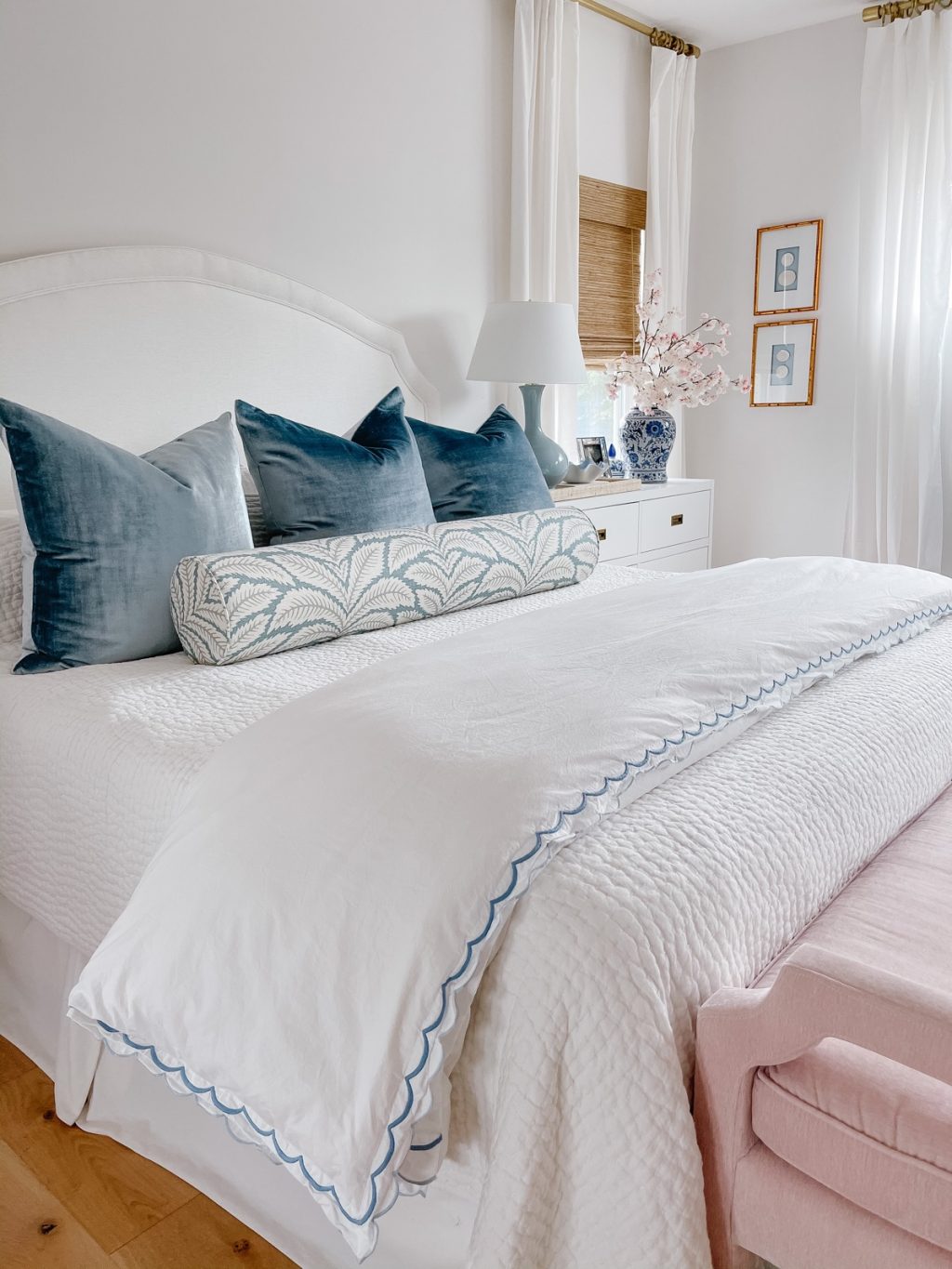 BALLARD SUZANNE KASLER GREEK KEY BEDDING
I purchased this duvet cover and king pillow covers for our bedroom in our previous home. I continued to use this bedding in our home, but have over the last year tried some other duvet covers and pillow combinations. Having said that, this bedding is well made, washes well and is completely timeless and classic. The blush is beautiful and complements the bench at the end of our bed. I am not selling this bedding as I'd like to have the option to use it on our bed whenever I need a change.
We also have this bedskirt from Ballard on our bed, in super white twill.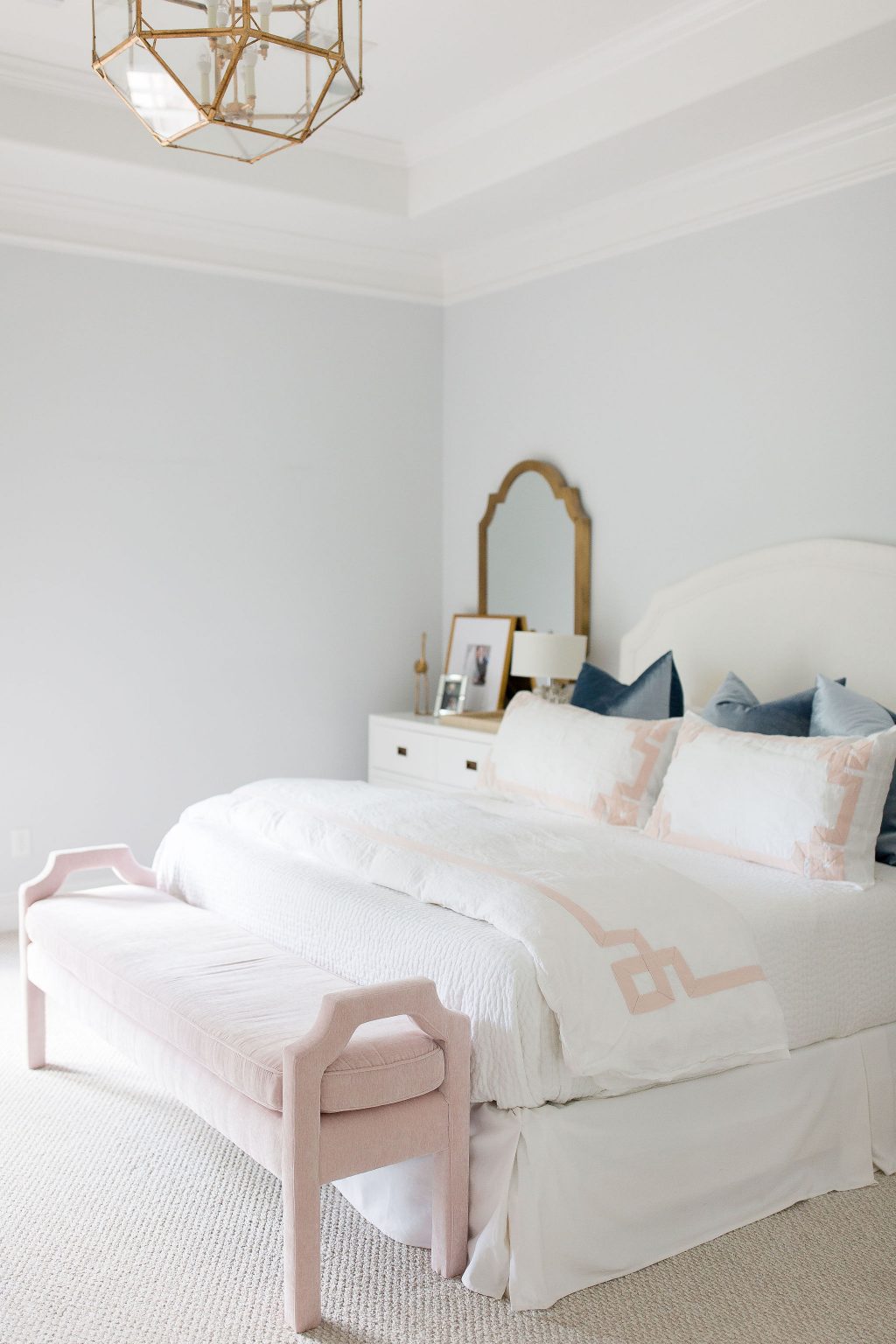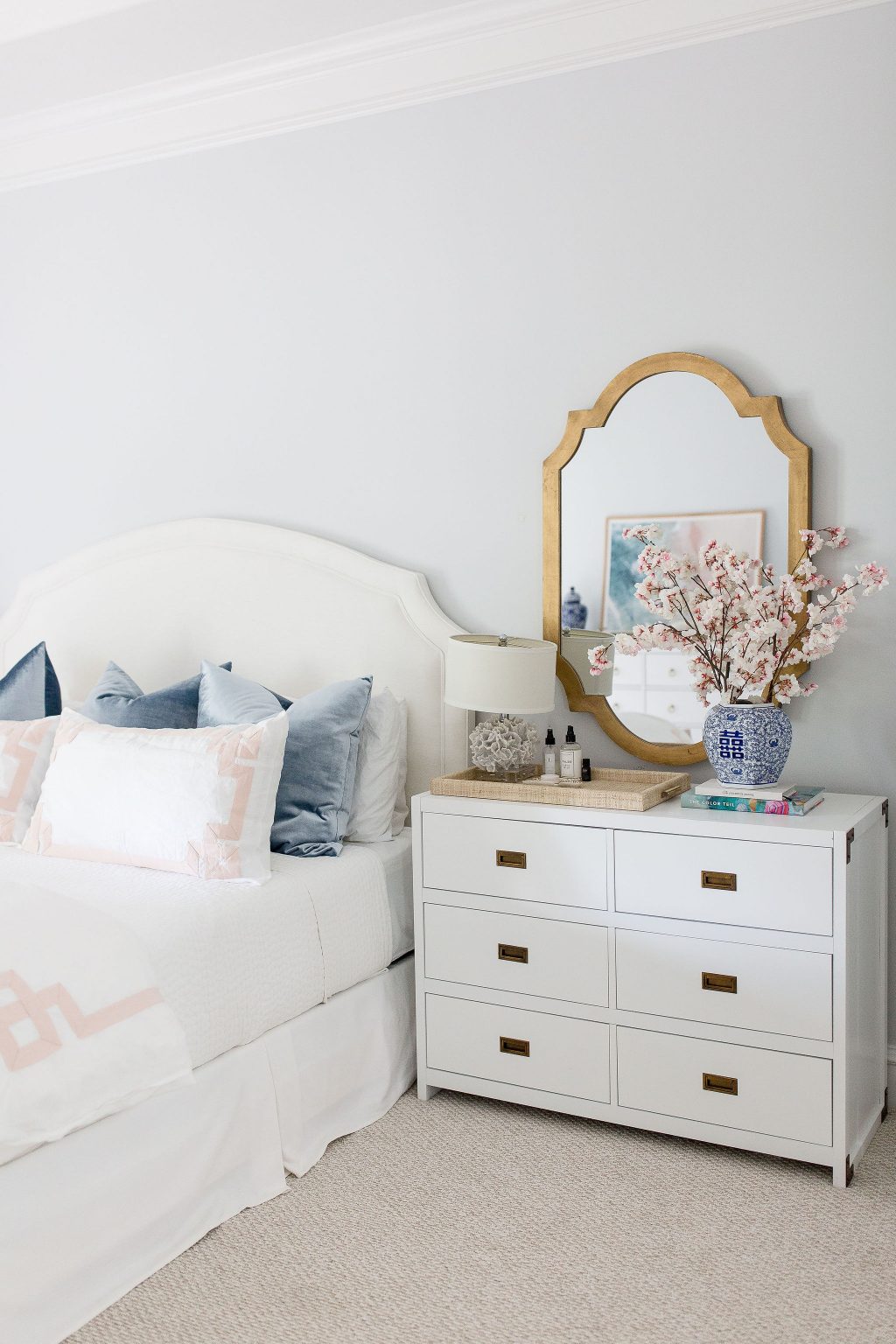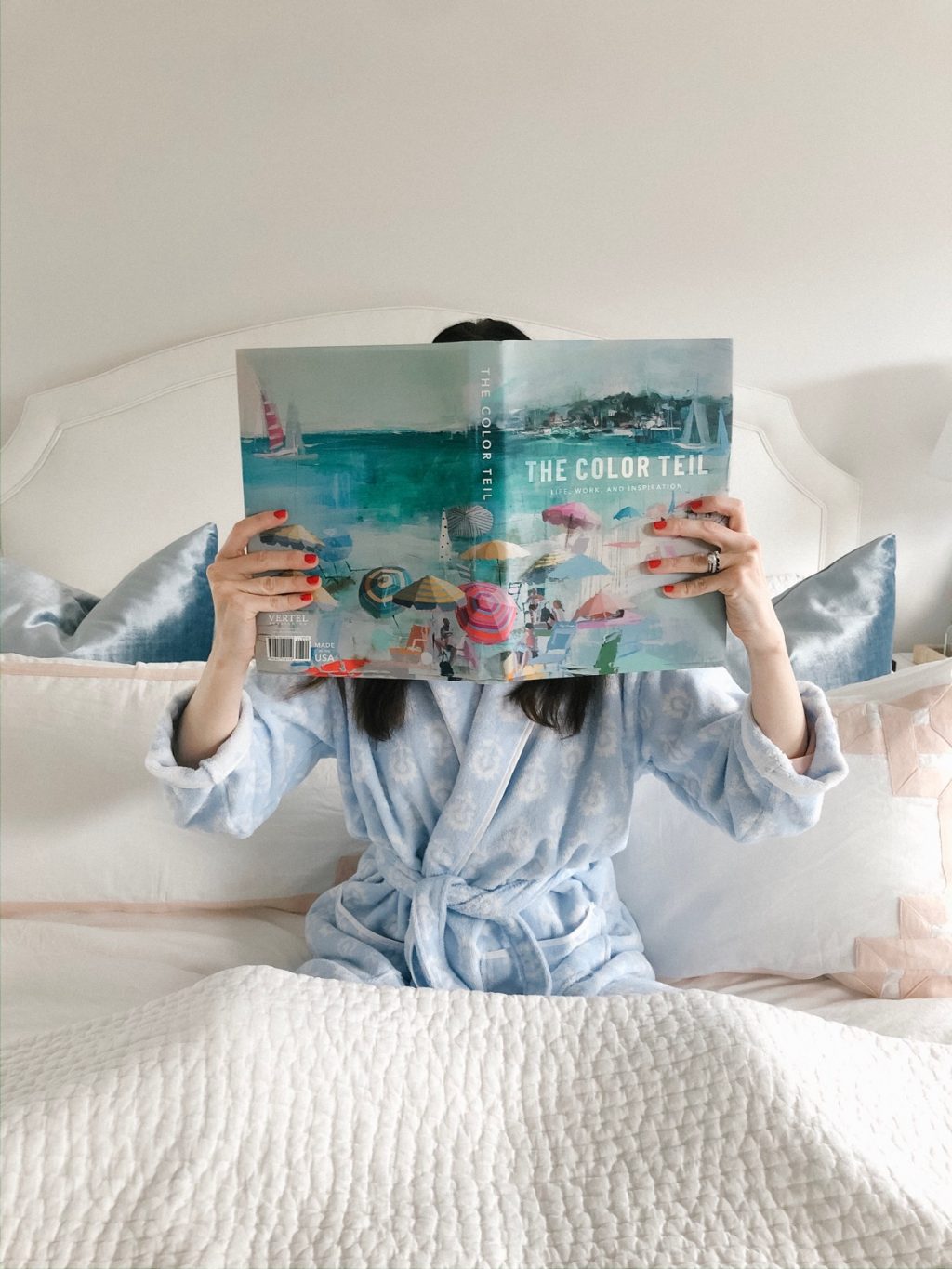 BALLARD SUZANNE KASLER GOURD LAMP (FRENCH BLUE)
A gourd lamp is classic – and I love Suzanne Kasler's take on these with a glossy blue finish. I got these lamps for our nightstands because I wanted larger/more substantial lamps since our dressers are on the larger side. I have since replaced them, but they're still in our bedroom on my larger lacquered dresser. They're fantastic lamps and come in two sizes.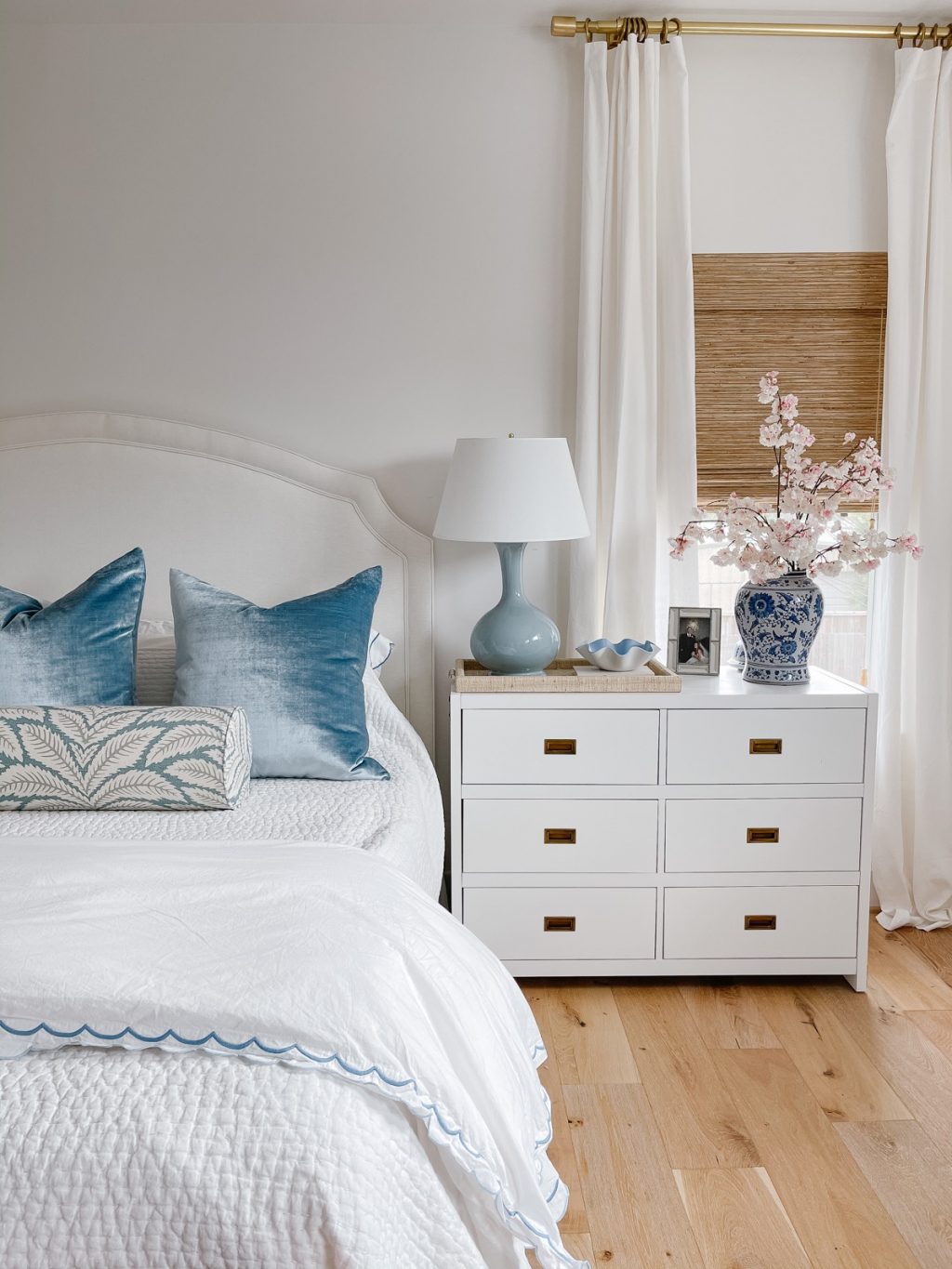 BALLARD KERRA SIDEBOARD
Ballard no longer makes this amazing console, but I have a full review of it, here.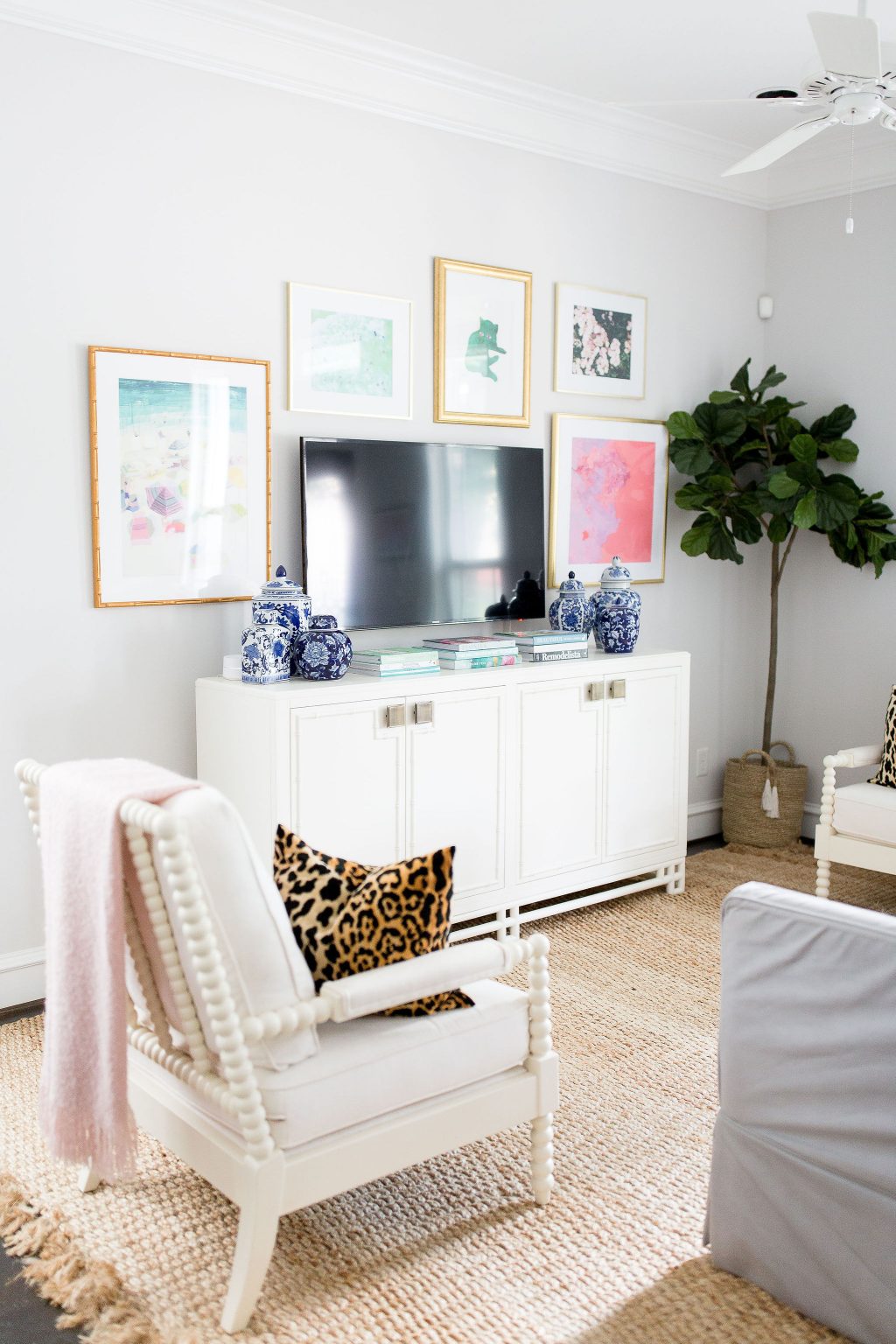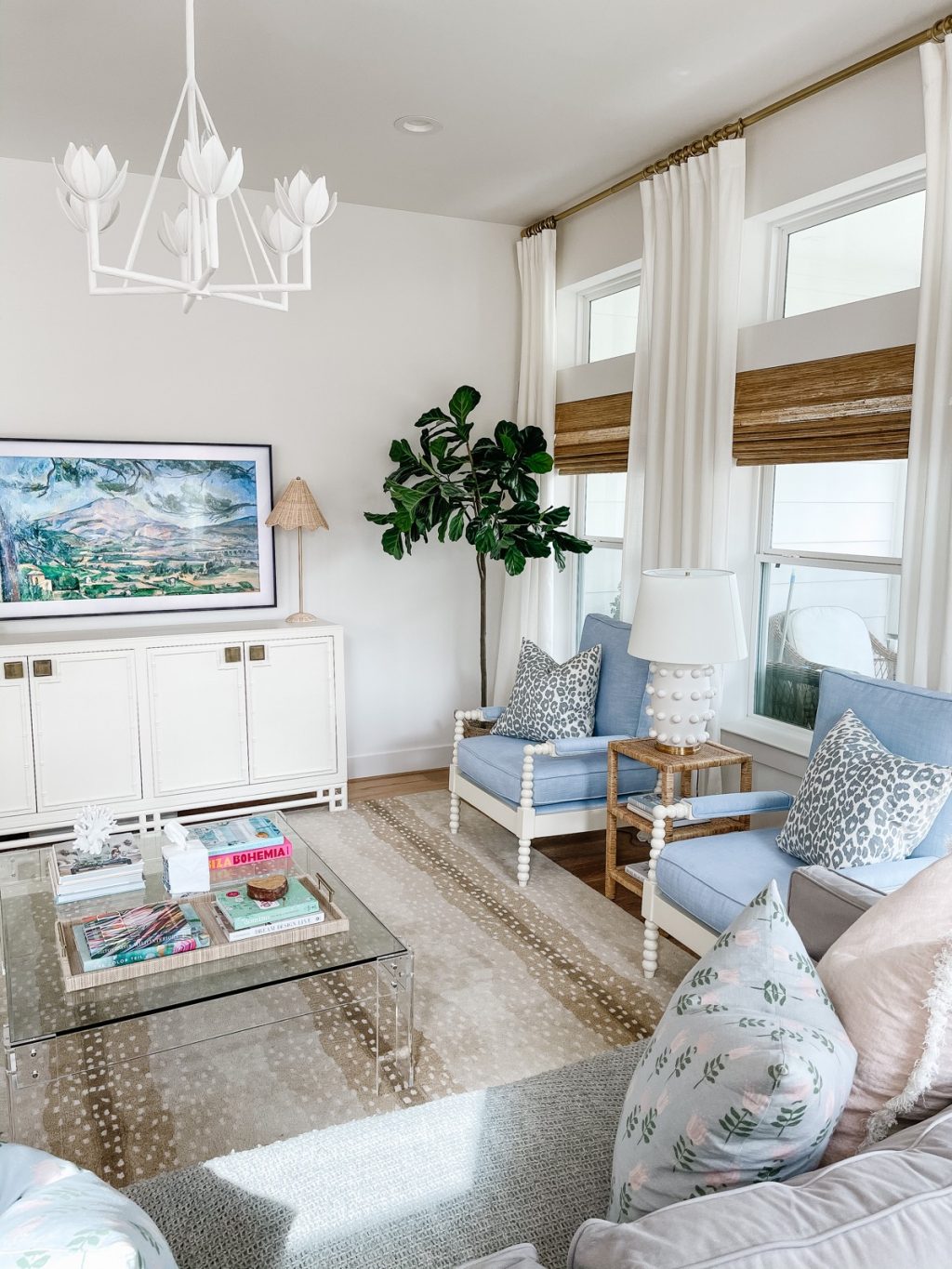 I hope you love my picks from Ballard! Please let me know if you have any questions!
Shop the Post