We've had our Pottery Barn York sofa for over a year now so I thought I'd share a review for those interested in purchasing. I'm also going to share how we keep our white sofa clean (and these rules can apply to any upholstery in your home).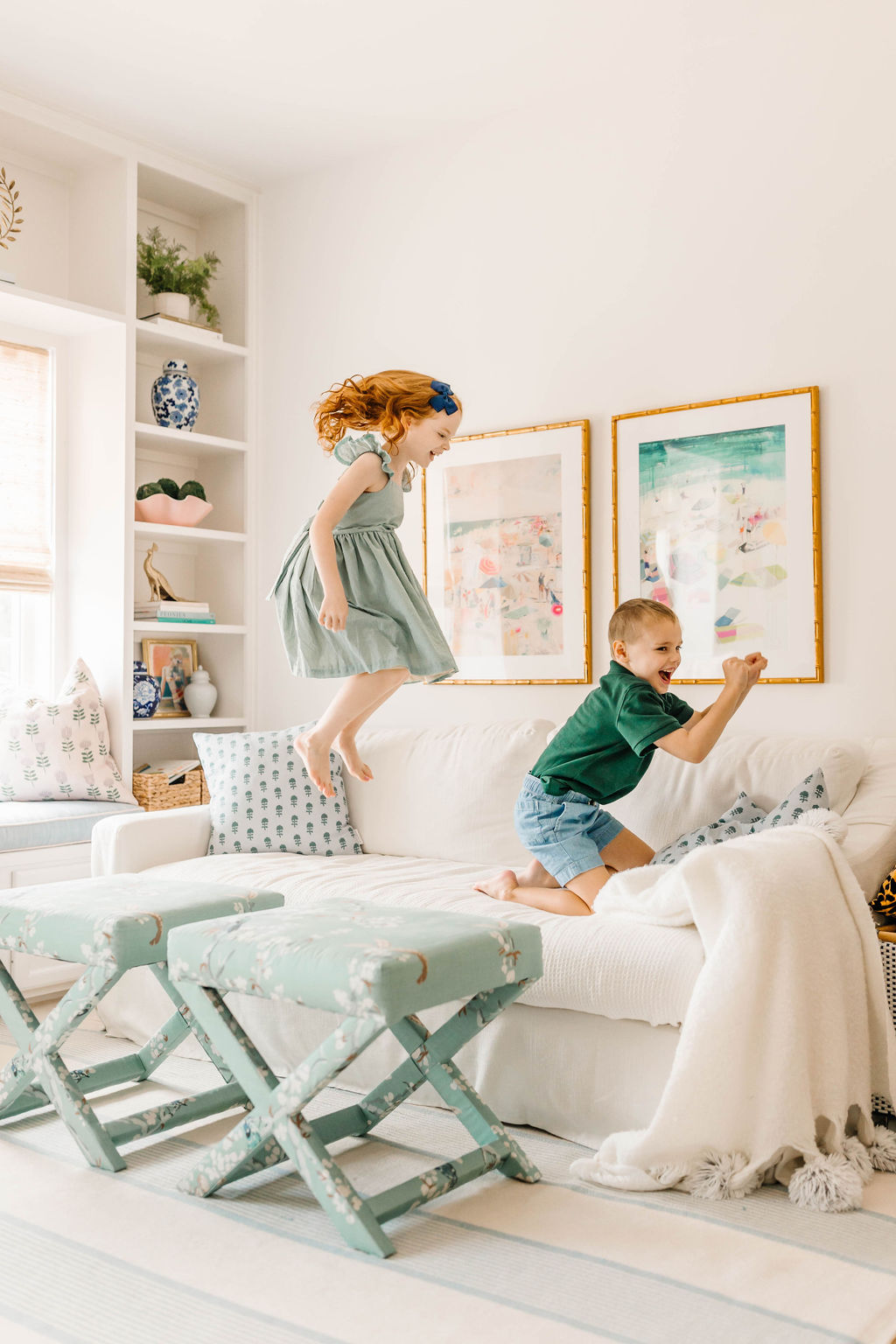 POTTERY BARN YORK SOFA DETAILS
Our sofa is the York Slope Arm Slipcovered Sofa 80.5″ with Bench Cushion (Down Blend Wrapped Cushions) in Performance Everydaylinen™ by Crypton® Home fabric (color: ivory). It looks like this exact style is no longer in stock, so I'm linking to the most similar configuration of this sofa, which now comes in four sizes, 60-95 inches long (the closest to ours is 81 inches, so half an inch larger than the one we have) and a deep seat.
Of note is that if we hadn't prioritized floor space for the kids to play on in this room, I would have had no hesitation ordering the deeper sofa. I chose the bench seat because I prefer how they look and like that there isn't a "gap" to slump into like you often have with sofas with two or three lower cushions. The sofa is slipcovered, but we've never removed it.
POTTERY BARN YORK SOFA REVIEW
We love this couch, but I do want to clarify it's not our main sofa. This sofa is in our upstairs family room/game room, so it is used primarily by the kids and occasionally by us. So, from a wear-and-tear perspective, we've had no issues, but it's also not used as often as our main sofa downstairs.
Having said that, a friend of mine has two of these sofas in the larger/deeper version in her main living space in the same fabric and loves them. She has three children and one large dog and says they're very easy to clean and maintain. Performance fabric is essential in homes with pets and kids!
The sofa is comfortable and the perfect size for our space, though as I mentioned earlier, I would opt for the deeper sofa if you have the room! I find the sofa to be really streamlined despite the fact that it's slipcovered, which can look a little billowy at times. It's well made and it's worth it to invest in the slipcovered version for those "just in case" scenarios.
Overall, we are very happy with this purchase and love the way it looks in our space. It took about 6-7 weeks from order to arrival, though right now lead times Are 12+ weeks for made-to-order items due to the pandemic (supply chain issues, shipping containers, etc. – read more here).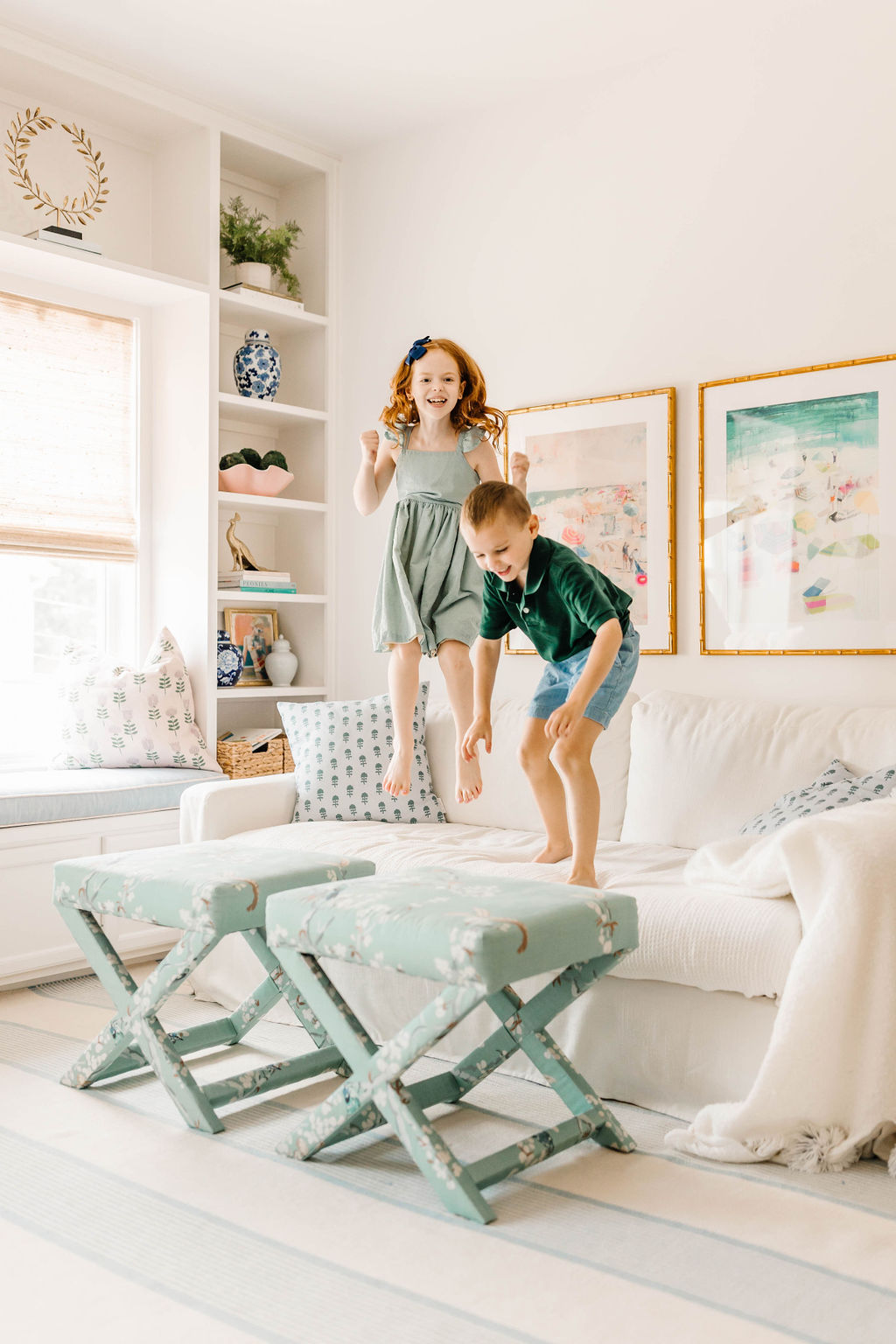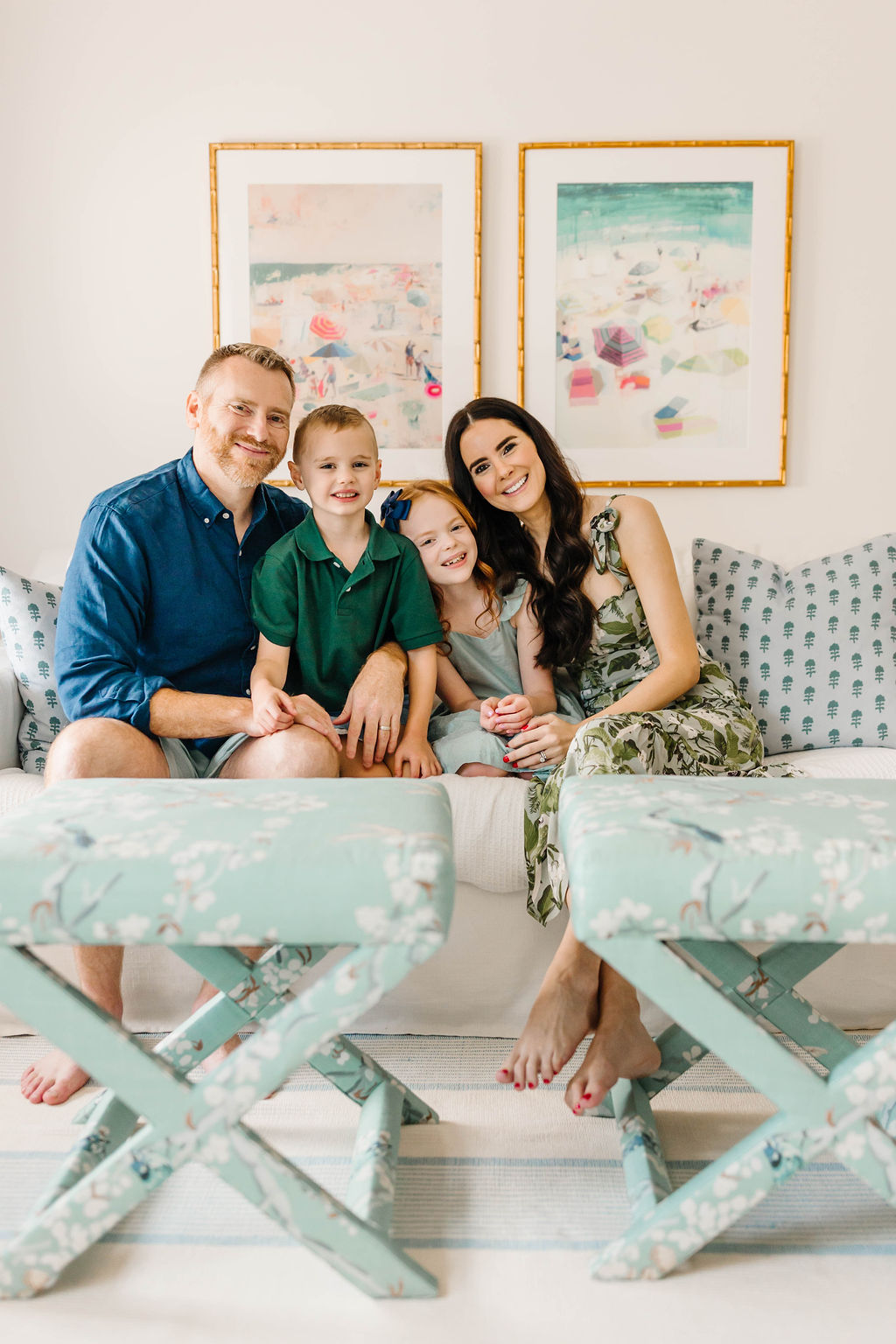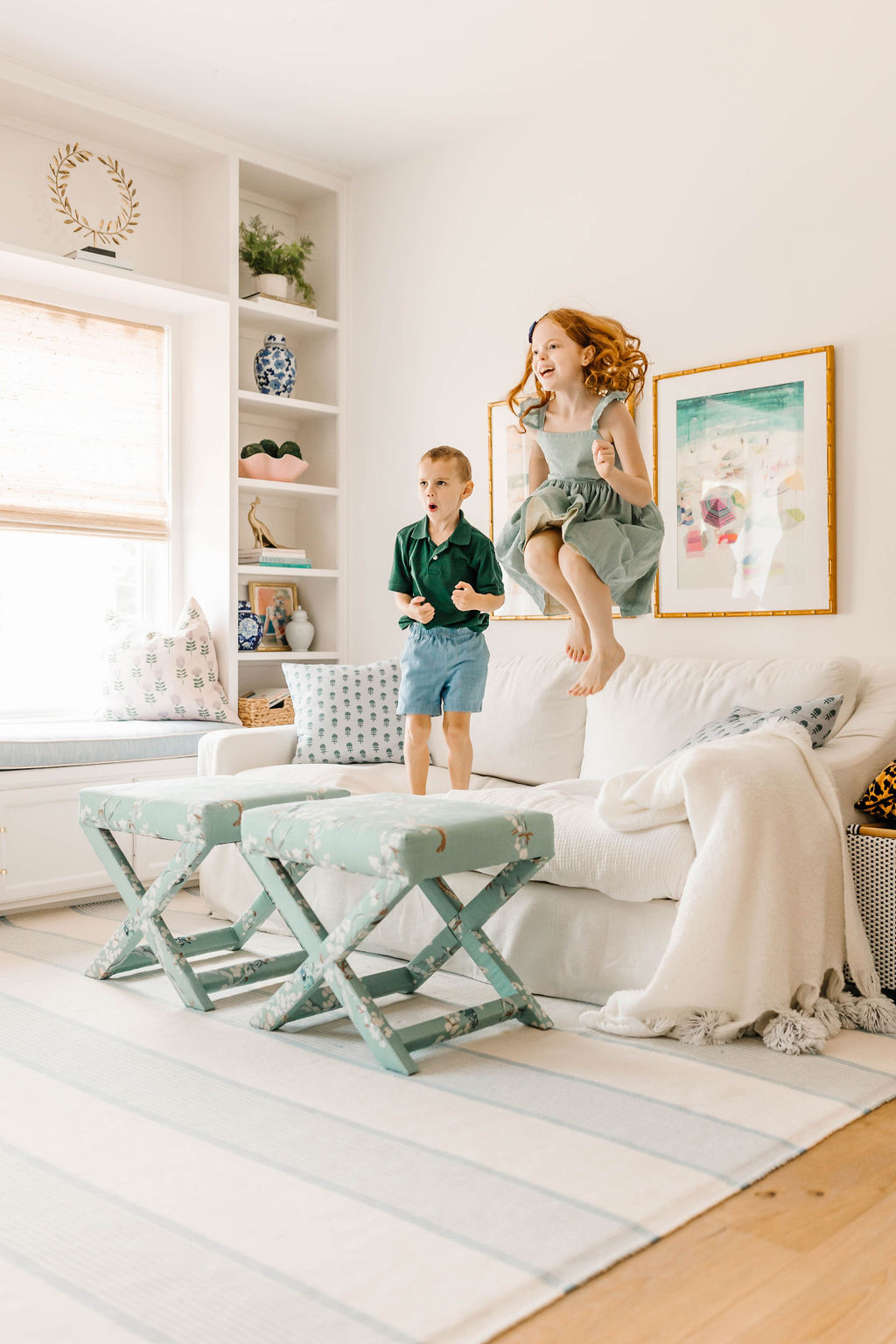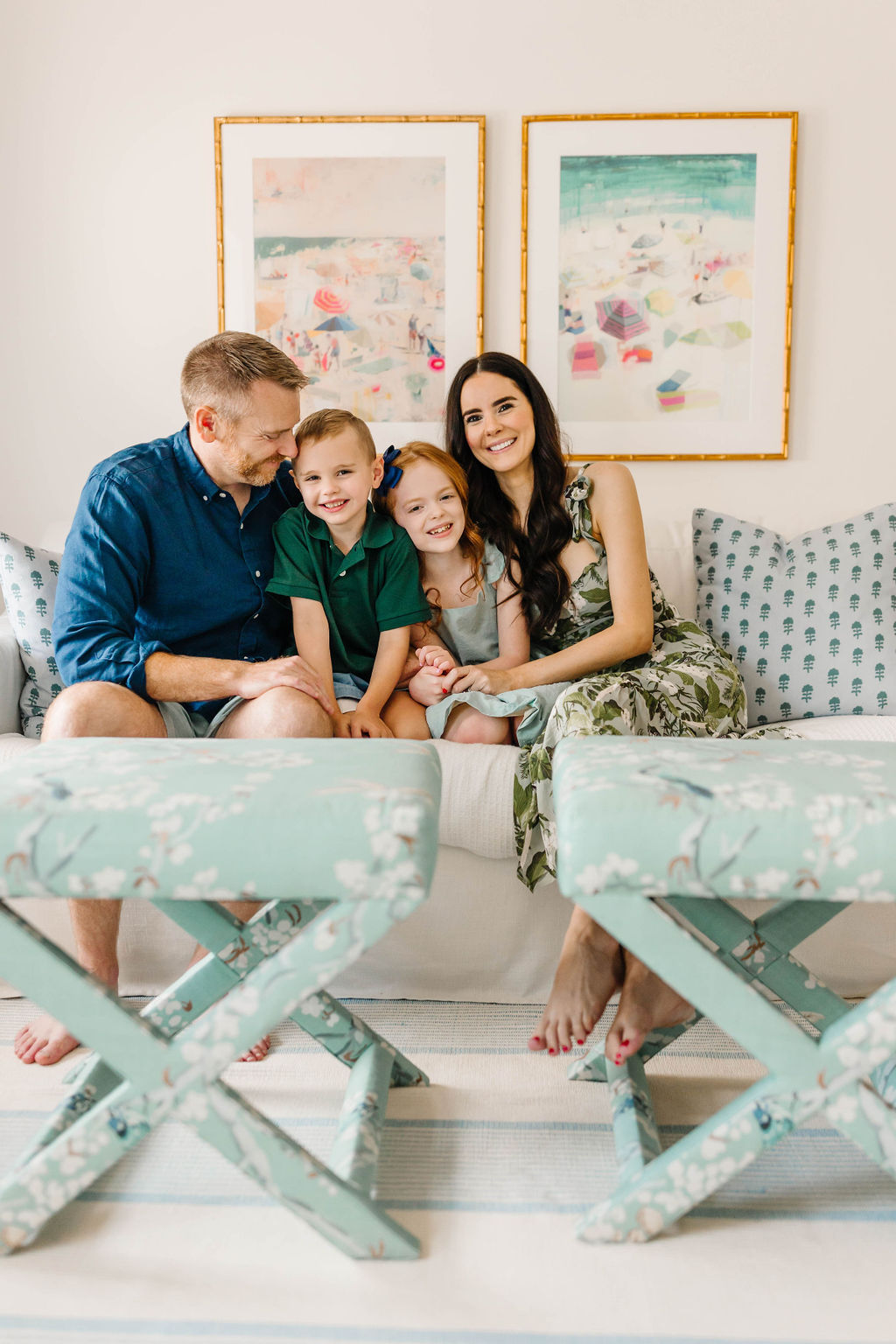 HOW TO KEEP WHITE COUCHES CLEAN
You may be wondering why in the world a family with young children and pets would get a white sofa – but if you follow some simple house rules, you'll be in the clear and can feel confident making the investment. Even if you follow them somewhat loosely, performance fabrics can withstand a lot of messes and can be cleaned up pretty easily. In my home decor group, Grandmillennial Style, there are a lot of us who have white or light couches with kids and the large majority have no regrets.
No shoes inside the house – not only will this protect all of your rugs and upholstery, but your entire home with remain cleaner and have less germs that dirty shoes track in. We have a shoe closet in our entryway, but there are so many easy and affordable shoe storage solutions for garages or entryways to make taking shoes off at the door a habit the entire family can get on board with.

No eating outside of the kitchen and dining area – we've always followed this rule because young children often lack the coordination (and desire!) to avoid spills and messes if they're allowed to eat in every room of the house/on all of the furniture. I prefer meals and snacks to be intentional so the child can focus on the meal and resume whatever else they were doing when they're finished. There are many benefits to this practice, but limiting meal times to spaces in your home created for that purpose also prevents lots of easily avoidable messes. If you start this at a young age, your children don't know anything different. Plus, their meal and snack times at daycare and school are also structured, so it makes sense to continue that in the home.

Always wash hands after eating – we don't even have to say it anymore. Our kids know to wash their hands after every meal (and wipe their face if it was an especially messy one like spaghetti!) Once this becomes a habit, you won't need to worry about greasy or sticky stains on your upholstery from unwashed hands after a meal.

Keep stain removers on hand – even if you follow all of these, accidents are bound to happen. In that case, I recommend keeping two upholstery cleaners on hand – Folex and Mrs. Mouth's stain remover. Mrs. Mouths is amazing on food stains – I once got out massive orange pasta sauce stains out of shorts that had already been through the washer and dryer with this spray – it's magical!

Cover the bench seat – I use this blanket to cover the bench seat of our sofa. It's not necessary do this, but to be honest, the idea of washing the slipcover and getting it back on doesn't excite me, so I'd rather have this extra layer of protection. Even just tossing throw blankets on the arms of the sofa can help prevent wear and stains over time – and they're great to have there anyway if someone is cold or wants to feel extra cozy!

Make space for creativity and fun – basically, I'm saying you can have your cake and eat it too. You can have rules and still make messes and have fun. We have a craft table upstairs for the kids loaded with supplies and they know they can do anything there as long as it stays in that area. They also get their own rolls of painter's tape so they can hang their art creations all over the walls without ruining the paint. We have a waterproof table cloth we roll out on our kitchen island for painting, play dough and any other messy projects. This ensures we aren't getting paint, dough or slime on our sofas, floors, etc.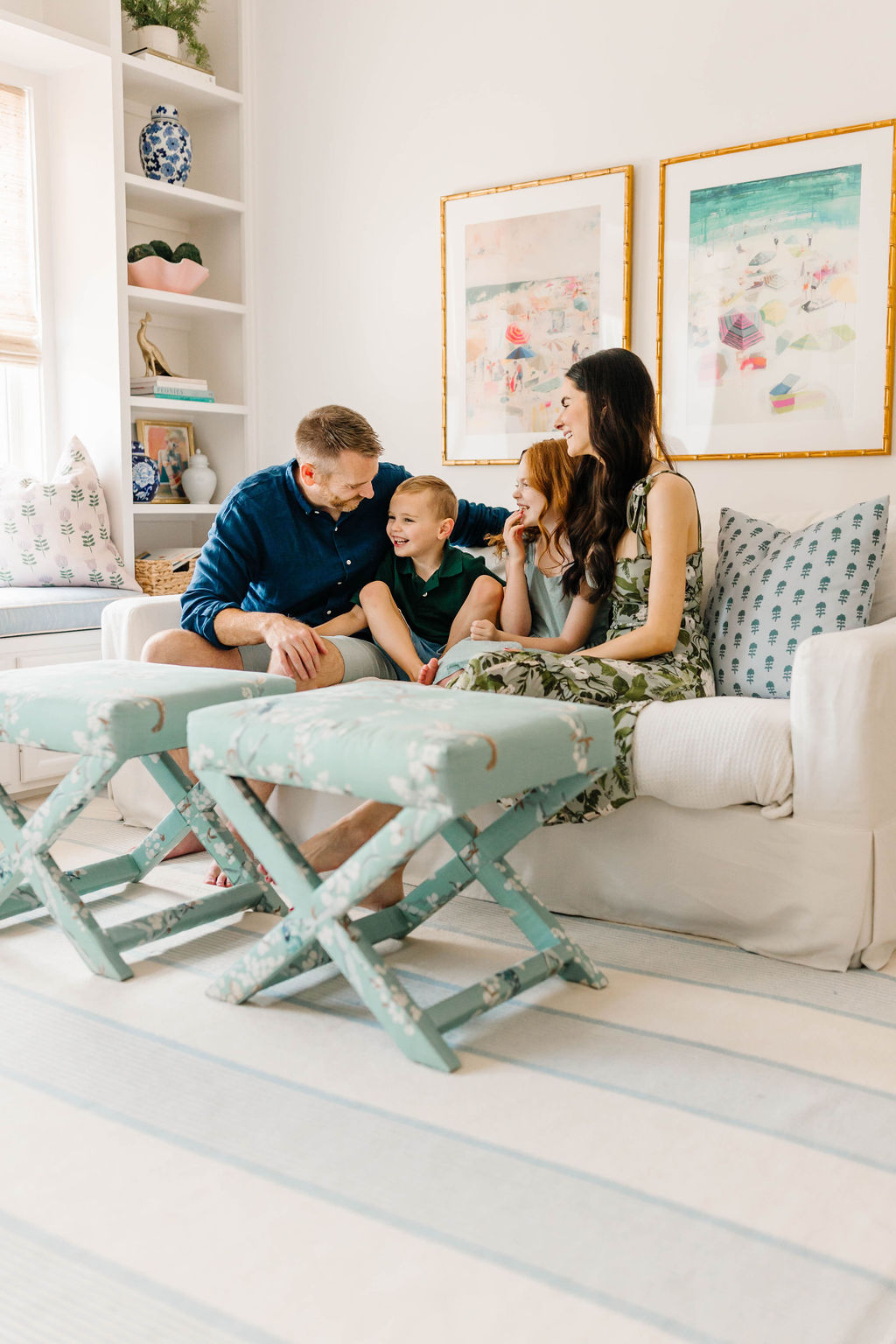 Shop the Post