I went back and looked at my entire Amazon order history from 2021 and this post will highlight the best, most useful/comfortable/enjoyable/practical finds from the past year! This tends to be one of my most popular posts each year and I love reflecting back on my purchases and brining you the best of the best.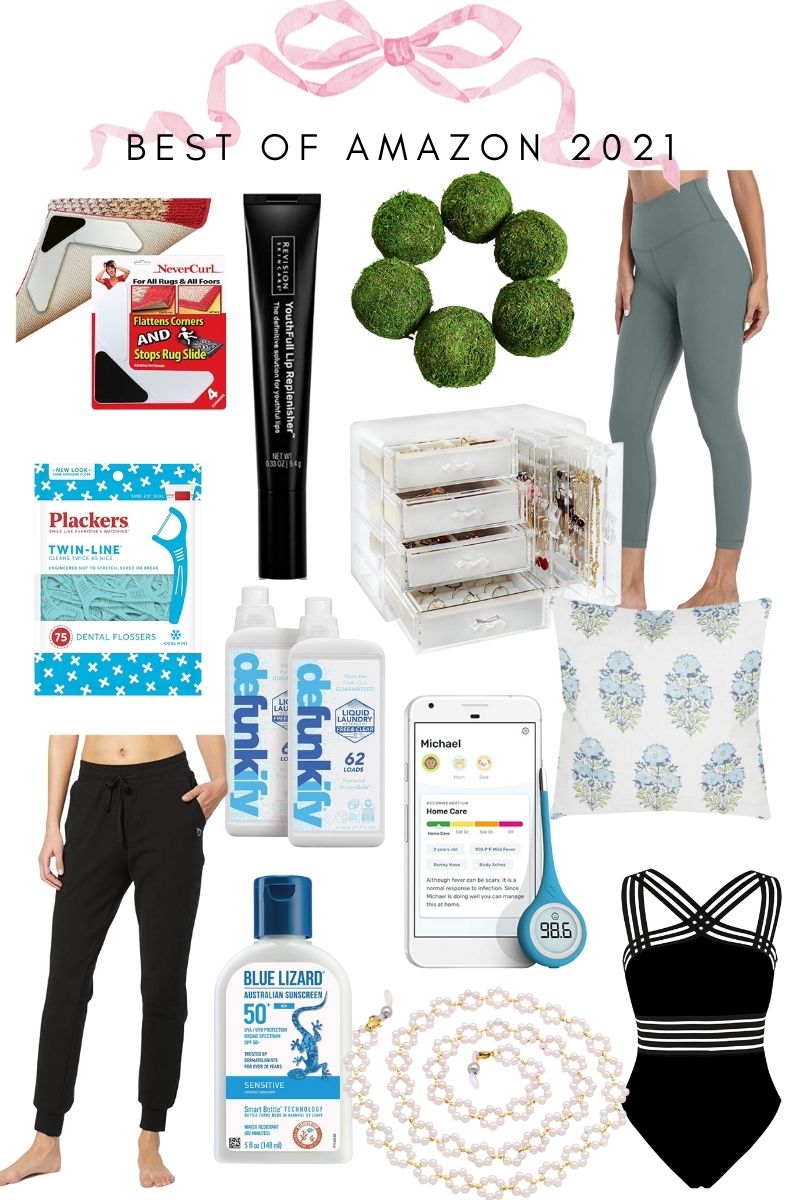 rug corner grippers – I couldn't live without these for our kitchen runner rug! They don't ruin your floors but keep your rugs in place.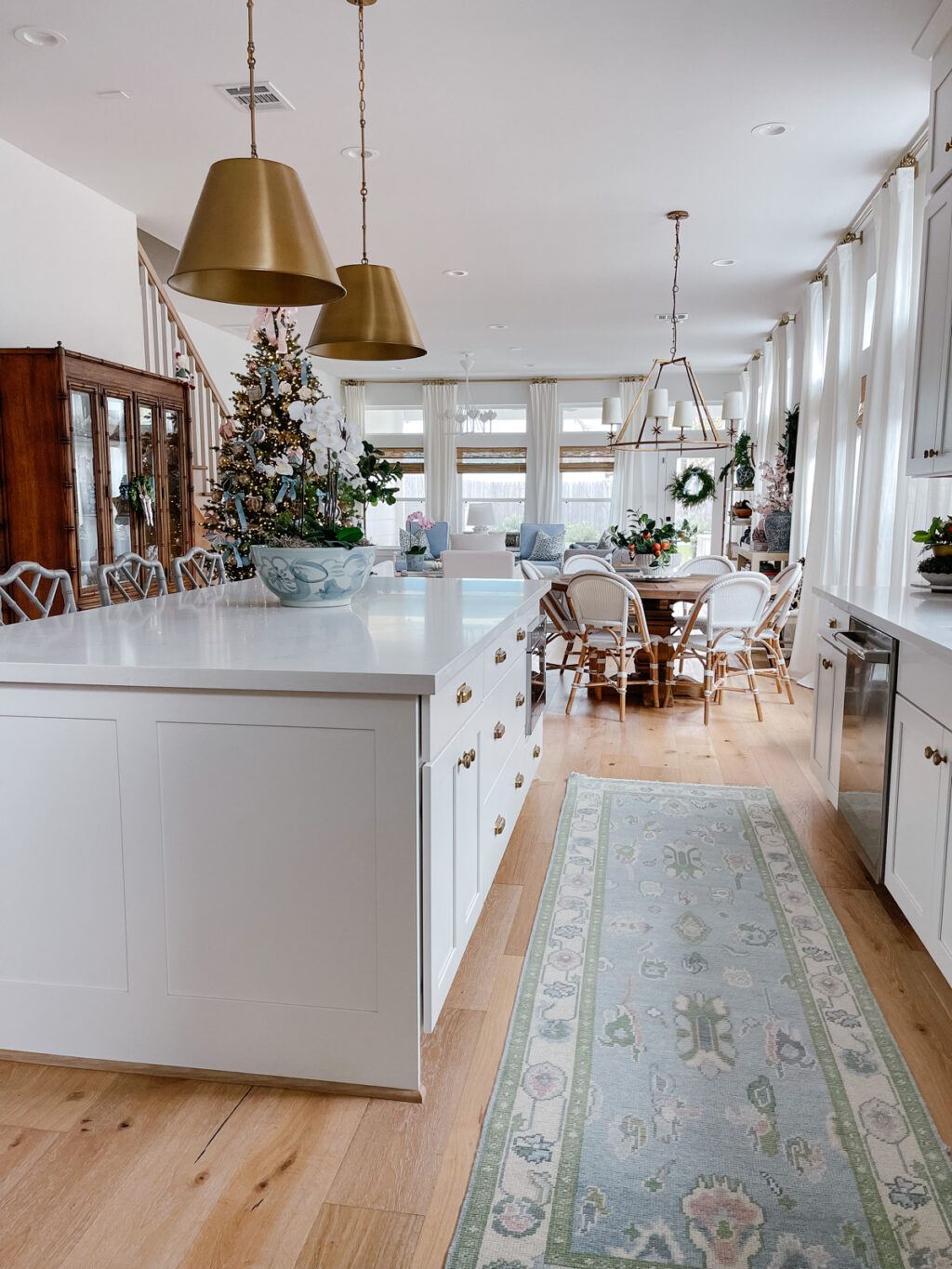 green moss balls (for decor) – I use these all over our home – in bowls, faux flower arrangements, etc. The perfect filler that adds color, texture and interest!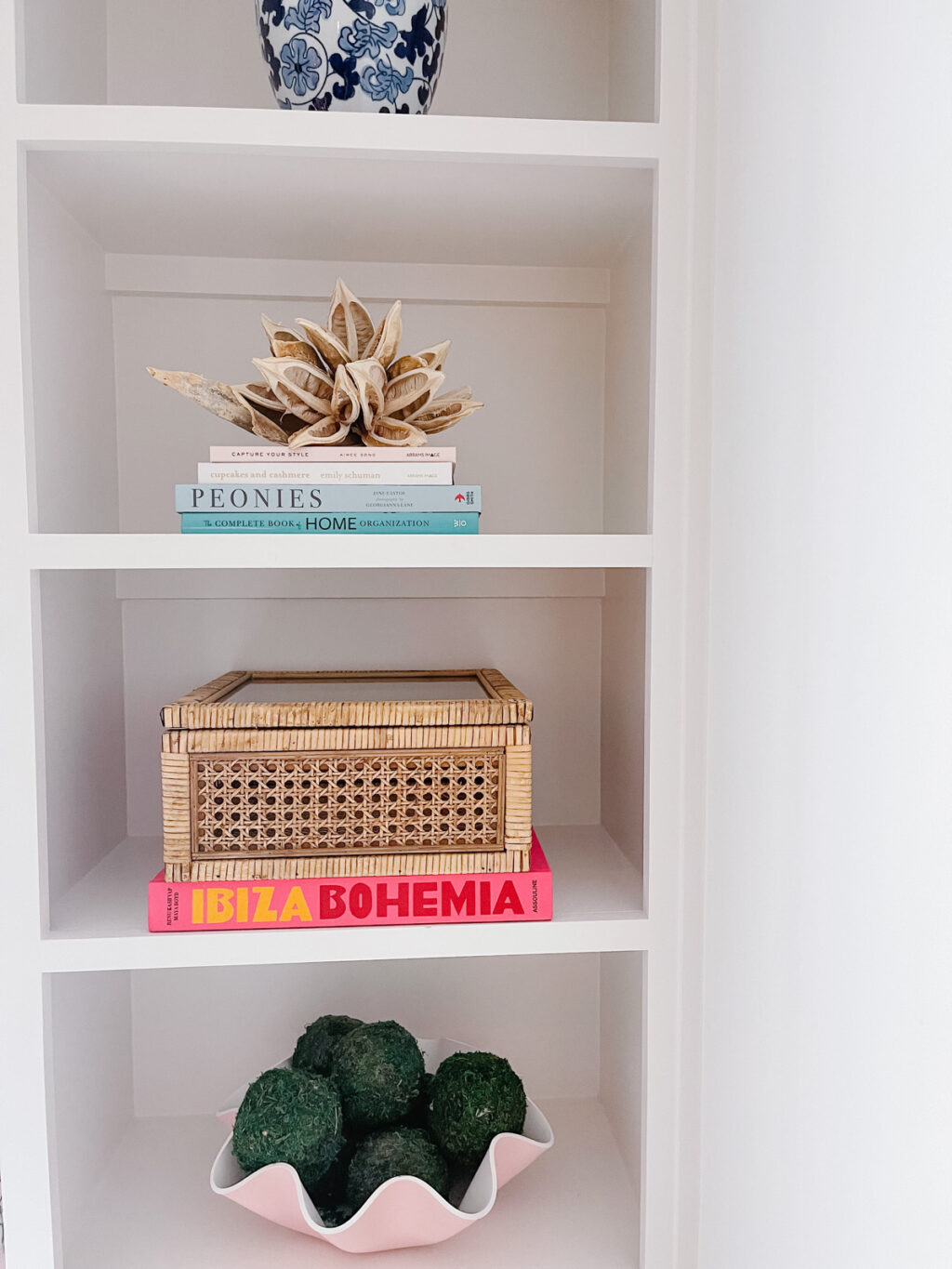 Revision Skincare lip replenisher – this stuff is the real deal. It kind of feels like MAC lipglass in terms of texture, but I swear it heals lips and makes them look so much smoother.
7/8 high waisted leggings (TTS) & 7/8 leggings with side pocket – both of these leggings are ones I wear most often. They fit amazing, are flattering, high-wasited, etc. They wash and dry well (I just throw them in the dryer most of the time). They're affordable and one of the few pairs of leggings I own in multiple color ways. See them here in my The Best Amazon Leggings post.
floss picks – these do NOT break – the best dental floss IMO for those who don't like using regular floss – these really get into ever nook and cranny.
defunkify laundry detergent – I tried this on a whim after I was served an ad for it. I really like the formula and I do feel it really cleans well. We don't deal with super stinky laundry, but I like that the formula is created to neutralize and remove smells.
pearl sunglasses chain – This is my go-to chain for my sunglasses all summer long. I just love the pearls, the floral shapes and how feminine it looks!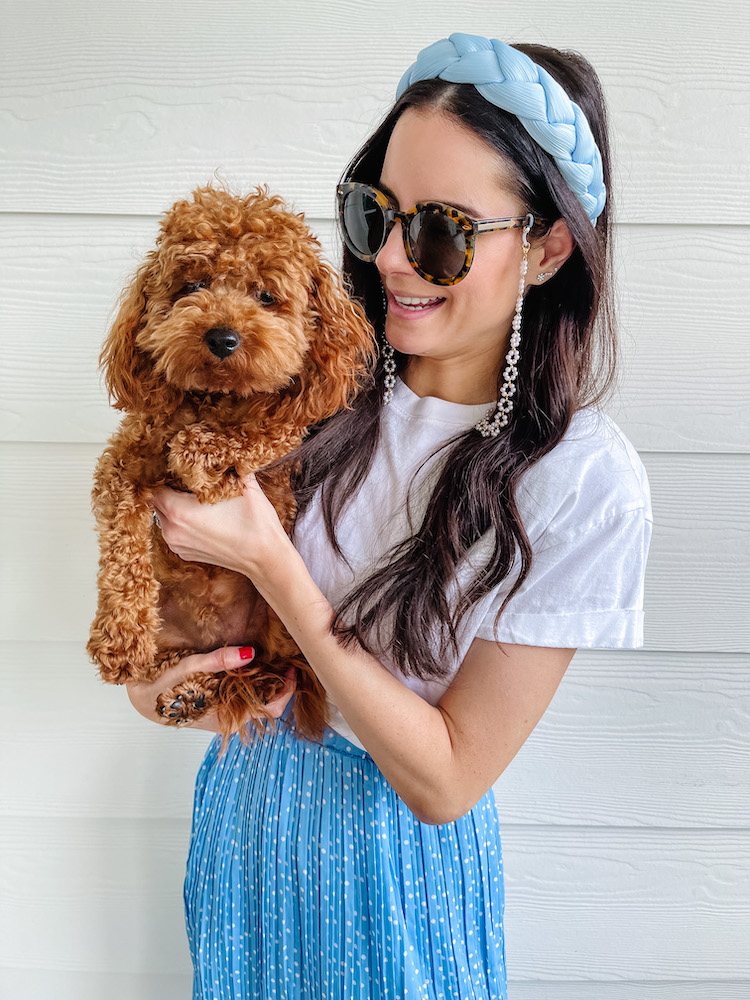 black joggers (size small) – you will not regret buying these joggers. They're more of a stretchy material than typical sweatpants, have pockets and are flattering. I wear a size small.
black one piece swimsuit – my favorite one piece of 2021! Flattering, looks high-end and fits like a dream. Go up a size in this one – I've seen so many women in it and it truly looks great on many different body types!
blue lizard sunscreen – I love this sunscreen for our kids – we use it on their faces all summer long!
kinsa smart thermometer – the ONLY thermometer brand we will use! I also have their ear thermometer.
acrylic jewelry organizer – I use this for all of my jewelry. You can see a video of it, here.
floral pillow cover – I have loved these pillow covers! They'll eventually go in our game room when I order new pillows for our main living space. They're nice quality for the cost!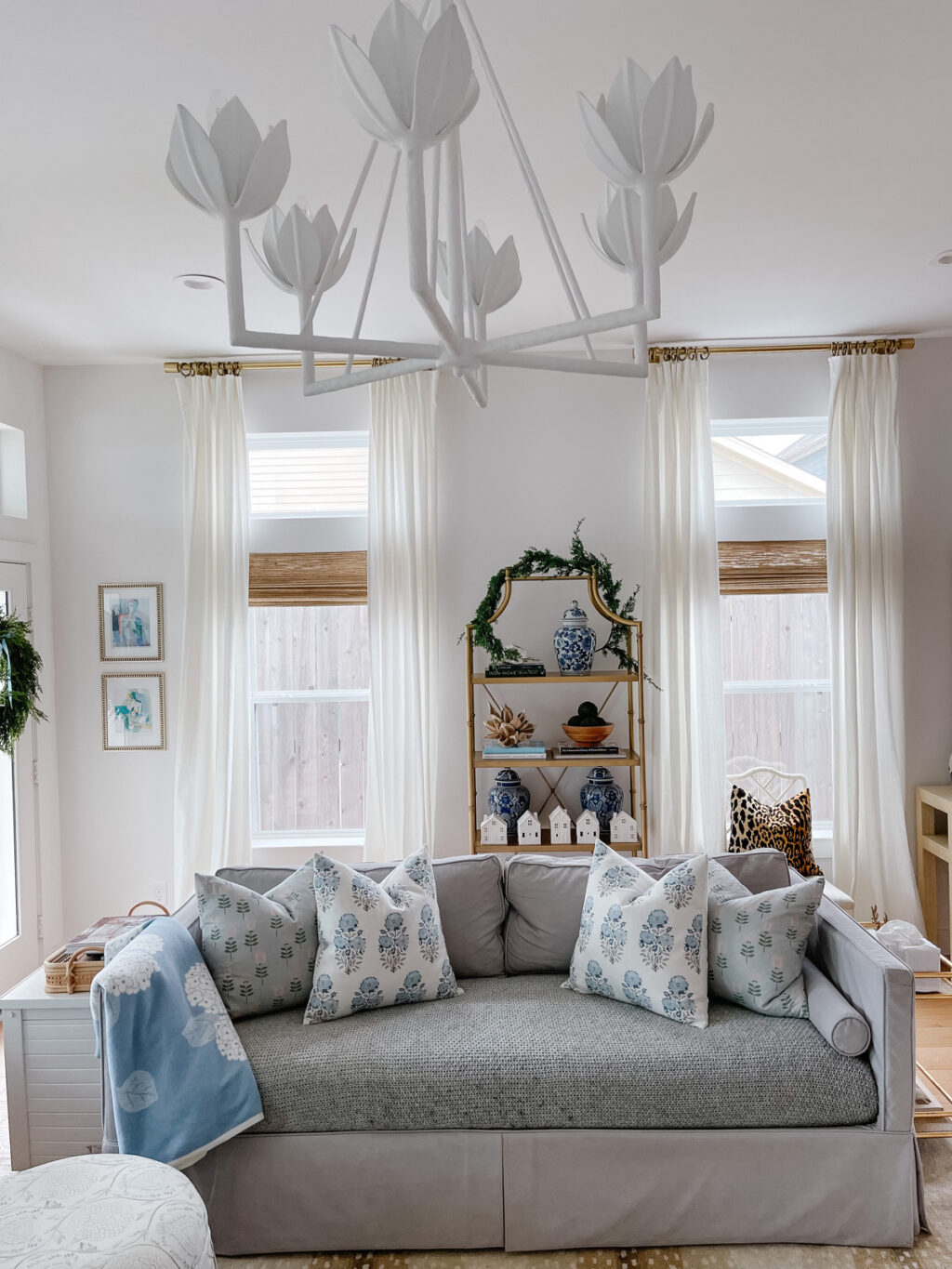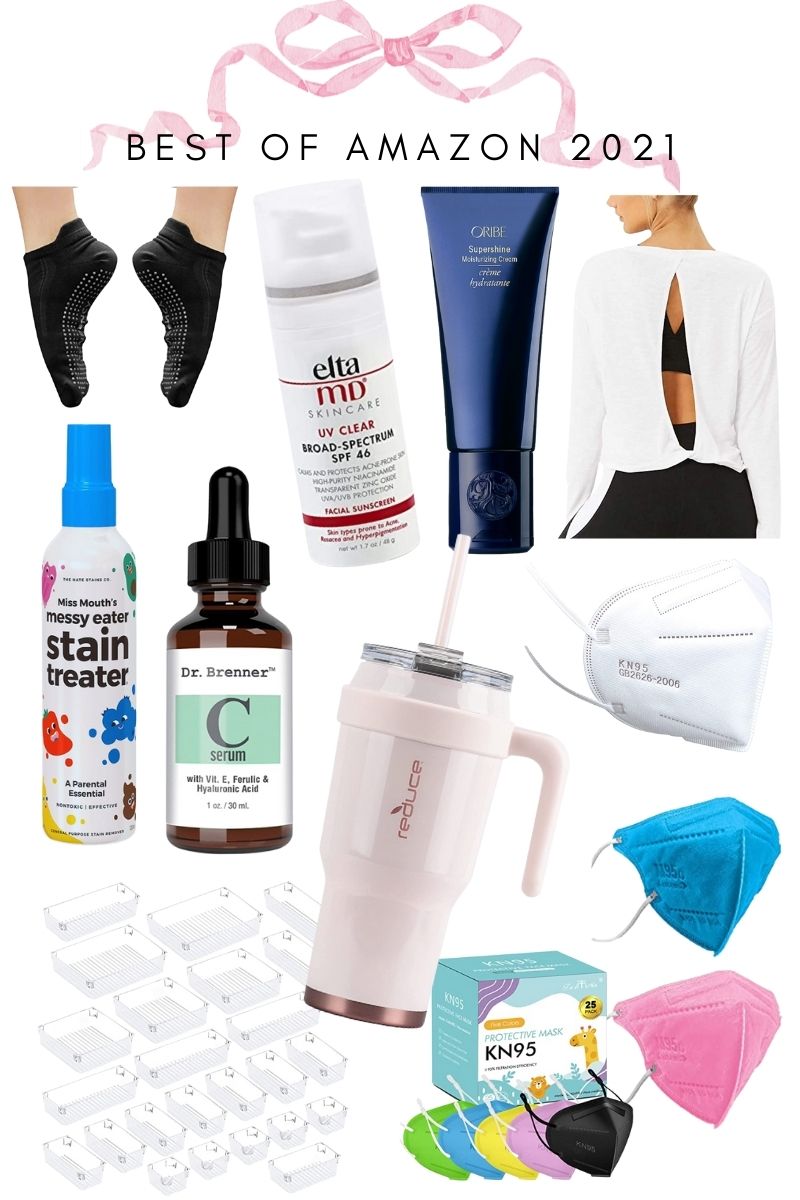 grippy socks – these socks fit well and are great for working out because they have grippy material at the bottom!
open back workout top – this has been meh favorite amazon athleisure top of the year. I also ordered it in black since I love wearing black. It's soft, stretchy and has an open back. I wear the small!
Elta MD facial SPF – I wear SPF every single day and this is my favorite. Wears beautifully under makeup and has made a huge difference in protecting my skin from sun damage.
Miss Mouth's stain remover – the BEST stain remover especially for food stains. It has removed old food stains (red pasta sauce!) from shorts that already went through the washer AND dryer! A miracle spray.
Dr. Brenner's vitamin C serum – this is the vitamin C serum that is said by skincare experts to be the closest match to Skinceuticals CE Ferulic. I have purchased two bottles and it's wonderful! I alternate between this serum and Timeless vitamin C serum now. I still love Skinceuticals, but this is much more affordable and I haven't noticed a difference in my skin being "worse" using a less expensive serum.
Kn95 mask (we also love these Kn94 adult masks) & kids masks (these kids masks too) – the past two years have been all about masks and we've liked all of the ones I linked. I also wear the kids masks because I have a smaller face and they fit better than the adult Kn95s.
pink 40 oz tumbler – What would I do without this thing? I drink a lot of water and this allows me to do it easier and more efficiently with less refilling throughout the day. By the way, the irony of wanting to drink a lot of water for my health, but not wanting to get up to refill my water frequently is not lost on me.
24 piece organizer set – the best thing for makeup and junk drawers – you will not regret these as you're taking on organizing projects in 2022. See how I used them, here and here.
Oribe moisturizing creme – one of my favorite hair products for in between washes. Helps hair look smooth and with flyaways. Worth the splurge as one tube will last like two years.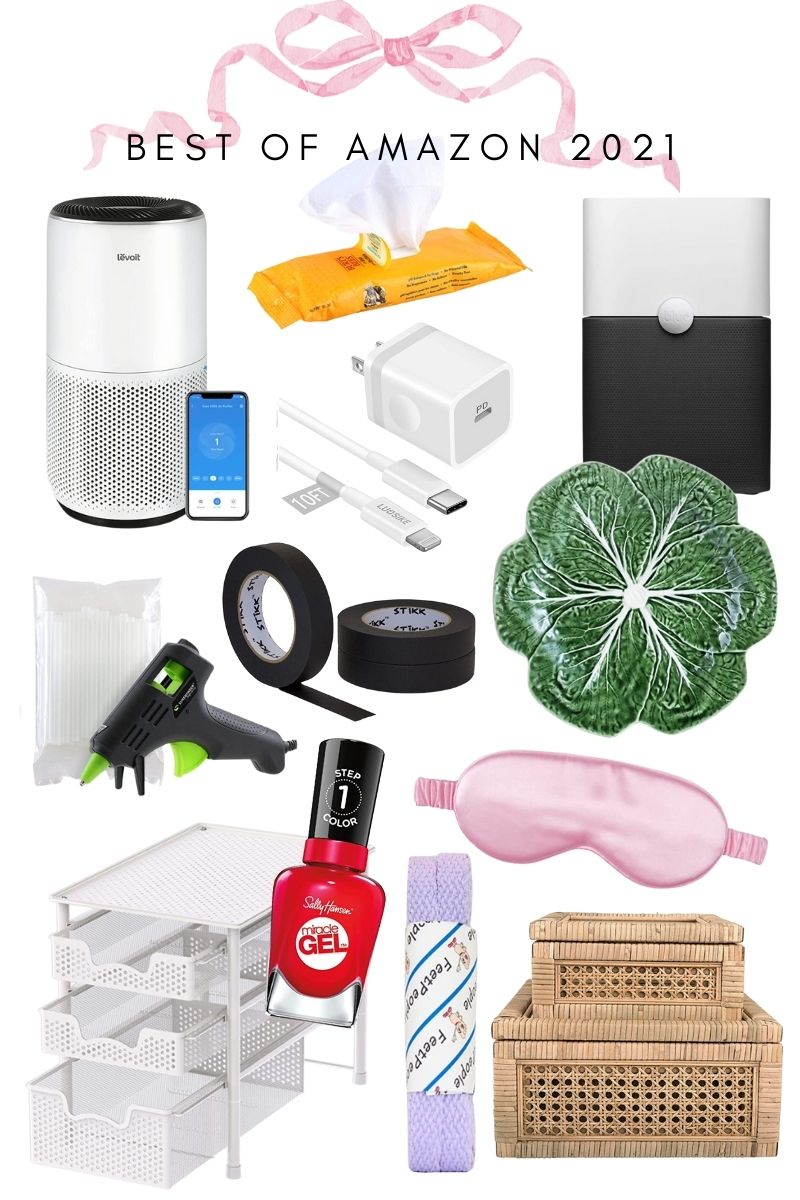 Blue Air air purifier and Levoit air purifier – it was so worth it to add these to our home. I vacuumed the cover of our BlueAir recently and it was caked in dust. It really makes you see how much the purifier is processing. Both kids have Levoits in their bedrooms as well. We all have allergies, sp breathing cleaner indoor air is great for us!
Burt's Bees dog paw wipes – we use these every single day to wipe Teddy's paws after his walks. They don't cause any irritation and work really well to get the dirt off.
10ft phone charger – we love these because the cords are so long, they can be used anywhere. Good quality!
black painter's tape – I've got creative kids who love to display their work – but I don't want our walls torn up, so I give them this tape. It holds super well, but comes off easily without ruining your paint.
high temperature hot glue gun – how the heck would I have survived without this glue gun when I was hunched over for hours making Christmas ornaments? My last glue gun was on the fritz and this high temp one made all of my ornament fabric stay on perfectly!
sally hansen nail polish in red eye – one of my favorite reds of 2021. It's a perfect, bright, bold red that isn't too orange or too blue toned. Just a nice, true bright red.
sliding metal basket organizer – truly the best organizer for under your sink. I use mine for skincare, hair items, hair styling tools, etc. I promise these are live changing because they keep everything neat and stored away, but easy to access.
lilac shoe laces – I love changing out the laces on my Golden Goose sneakers and this lilac color is so beautiful and looks great on my neutral GGs.
silk sleep mask – I can't sleep without a silk sleep mask & I've been happy with this brand an it's much cheaper than the $50 ones I've purchased before.
decorative glass top cane boxes – these are a newer purchase but they're SO GOOD I had to include them. You can use them to store TV remotes and more. Perfect on a coffee table or shelf.
bordallo pinheiro plates – my favorite dinner plates of all time! They're so beautiful and truly season-less.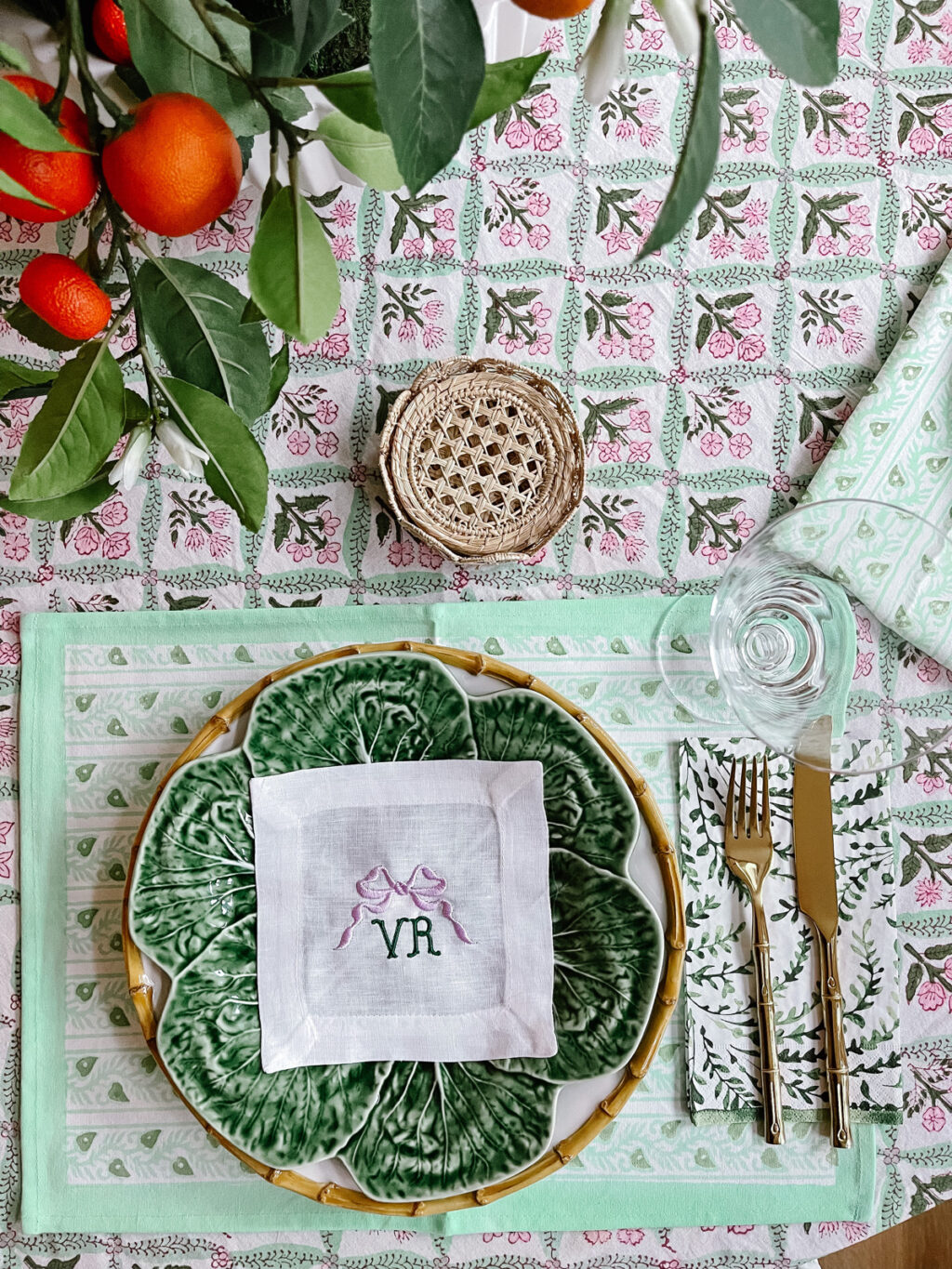 I hope y'all enjoyed this post! Happy shopping!