I've been so blown away by y'all's interest and questions about the BBG program/Sweat App (see my BBG FAQ post here), so I put together this post about 9 things I've learned about BBG in 9 weeks.
 O N E
It's okay to modify exercises that are too difficult for you. I still struggle with getting through 40 reps of jump lunges, so I aim for 20 jump lunges and 20 step-back lunges. I also modify ALL of the ab exercises to ones that are safe for diastasis recti (see DR safe ab exercises here and here). Sometimes I even sub-in moves I prefer doing or to target certain muscle groups. There is nothing wrong with modifying — you still get a great workout in and you don't get discouraged if the workout is too difficult to complete. As you build strength and increase your endurance, you can do fewer modifications.
T W O 
BBG is made for women's bodies. I kept wondering why I wasn't seeing the results I wanted when I was working out at a training gym — I was doing the same workouts on the board as the guys were. There is absolutely nothing wrong with that if that's what works for you, but my body just wasn't responding (I wasn't losing weight or getting the tone I had hoped for). BBG is a quick workout (28 minutes) yet incredibly intense — it really pushes you and makes you sweat like never before. There's no other way to say it — the exercise combinations just WORK. I feel like Kayla's workouts are designed for women's bodies and that's why the results are so good.
T H R E E
The Sweat app is 100% worth it. It's $9.99 a month if you pay for the entire year up front — that's less than 2 Starbucks lattes (it's $19.99 if you pay monthly, which is still a great deal).  I have the PDF guide, but guys, trust me when I tell you the app is SO motivating. It's so awesome to see Kayla Itsines right there with you and seeing exactly how to do each move in video/GIF form. Plus, I LOVE hitting the arrow to go to the next exercise when I finish my reps. It adds that accountability and it also has the timer so you don't have to think about anything or pause — you just GO! I cannot rave enough about it.
F O U R
Measure or weigh yourself — every woman's body responds differently — I saw weight loss pretty quickly whereas my co-worker didn't lose weight but was losing inches. Make sure you're measuring or weighing or both — the last thing you want to do is get discouraged if you don't see the scale moving. BBG is a very results-driven program. so make sure you're documenting your progress in a tangible way.
F I V E
Take photos. The camera doesn't lie! I was shocked to see the difference in my photos. I did feel smaller in my clothes, but it wasn't until I saw the photos side-by-side that I realized I could really see the weight and inches come off. I encourage you to take photos every single week — it's so motivating to see your body looking stronger and more toned.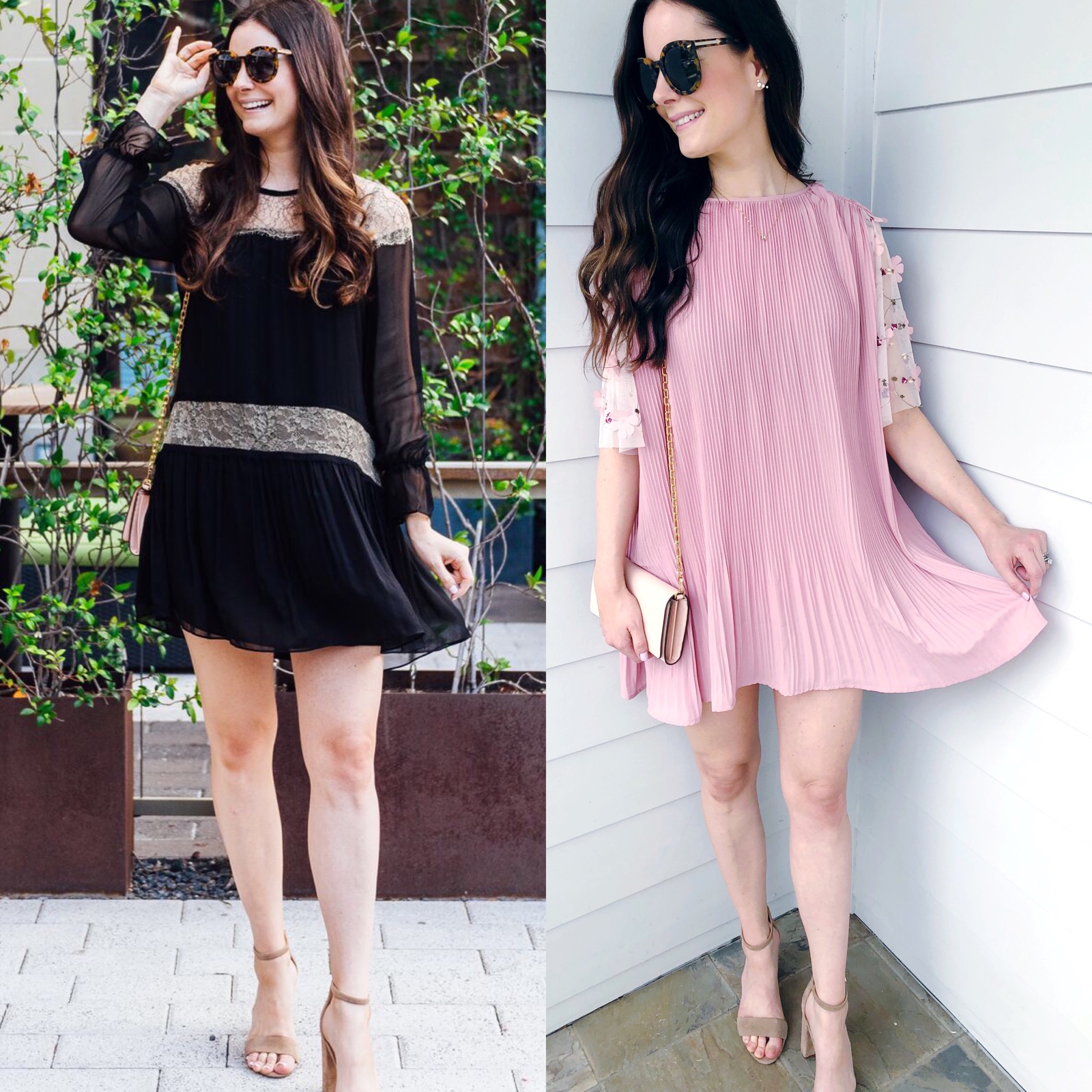 BEFORE  // AFTER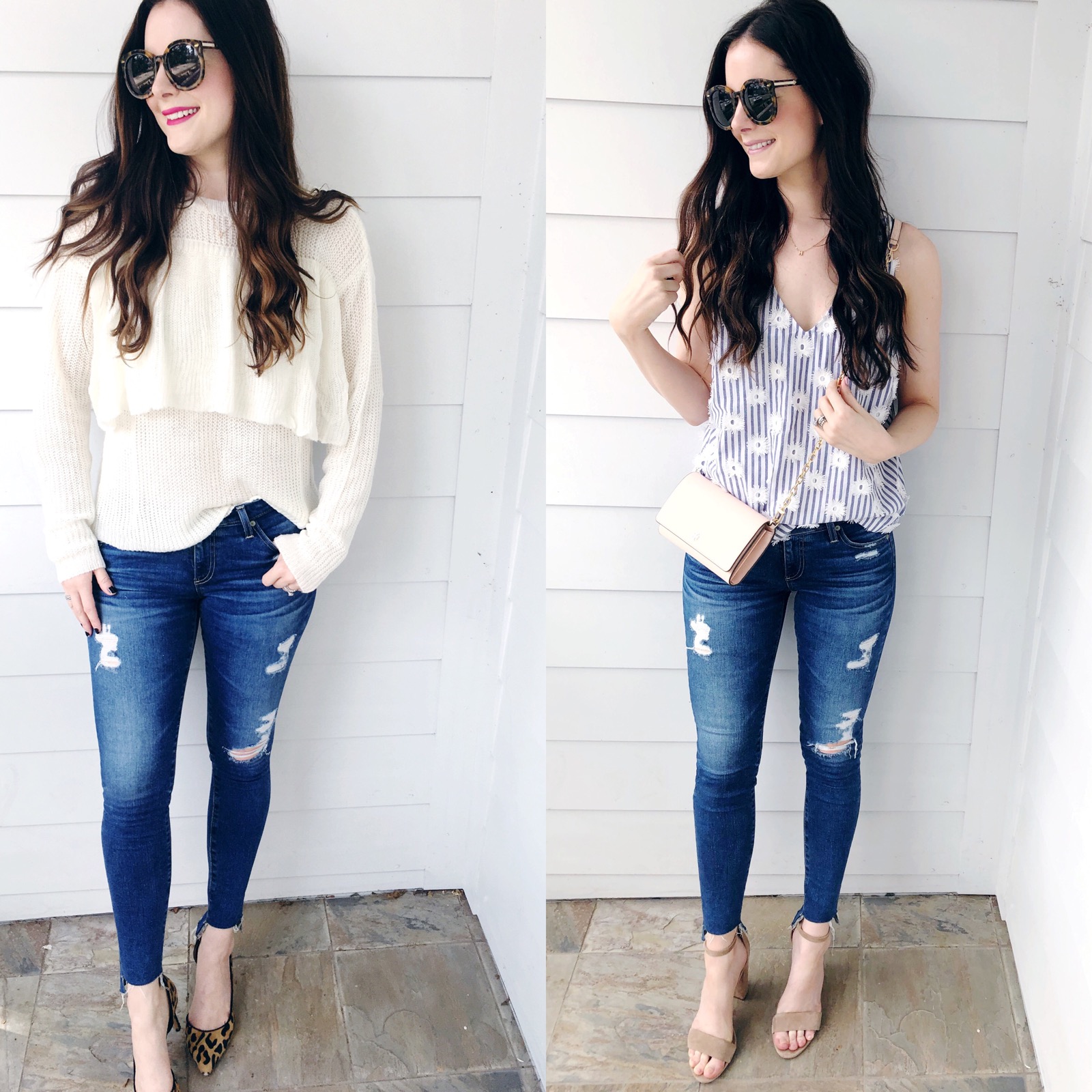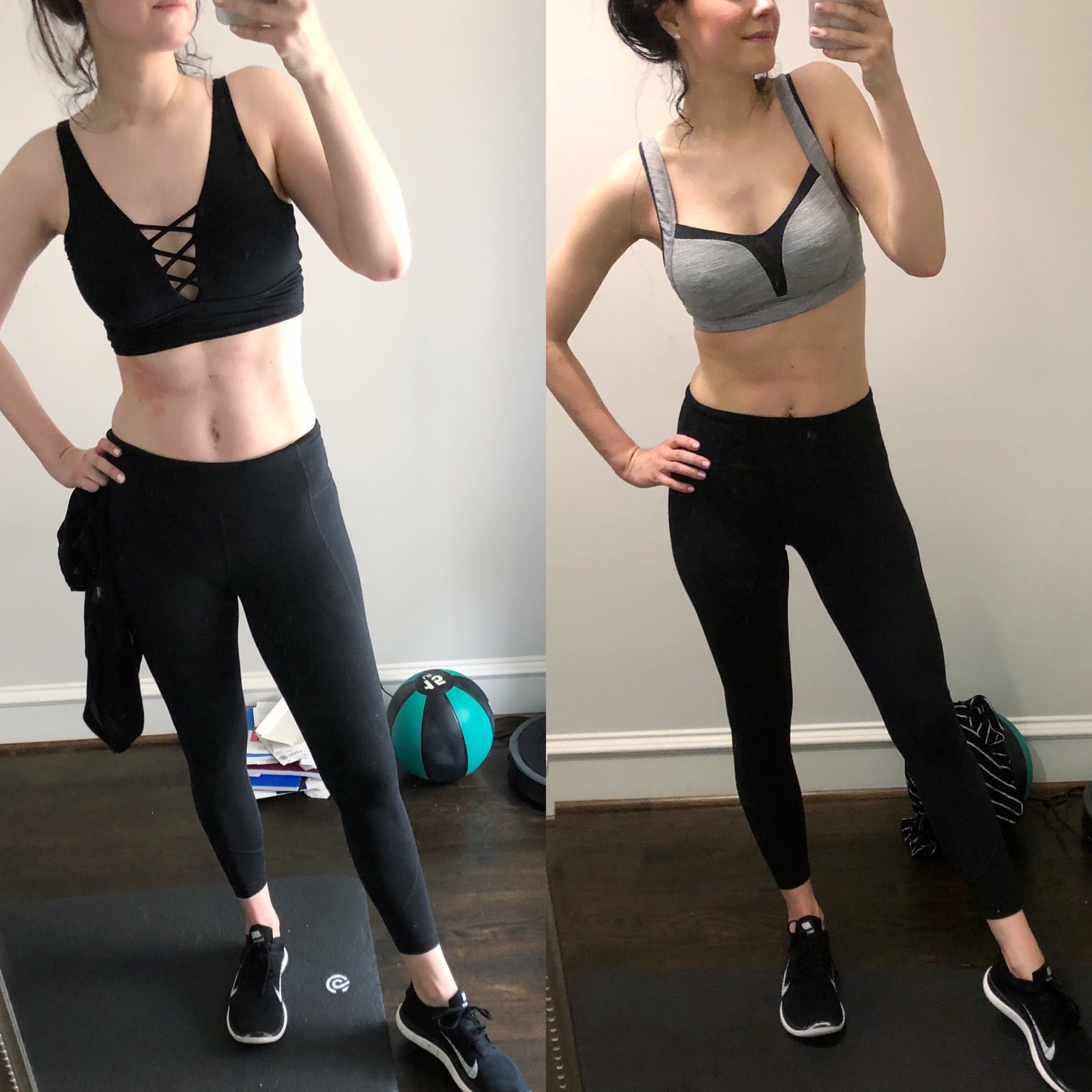 DURING BBG — PHOTO ON RIGHT WAS TAKEN DURING WEEK 8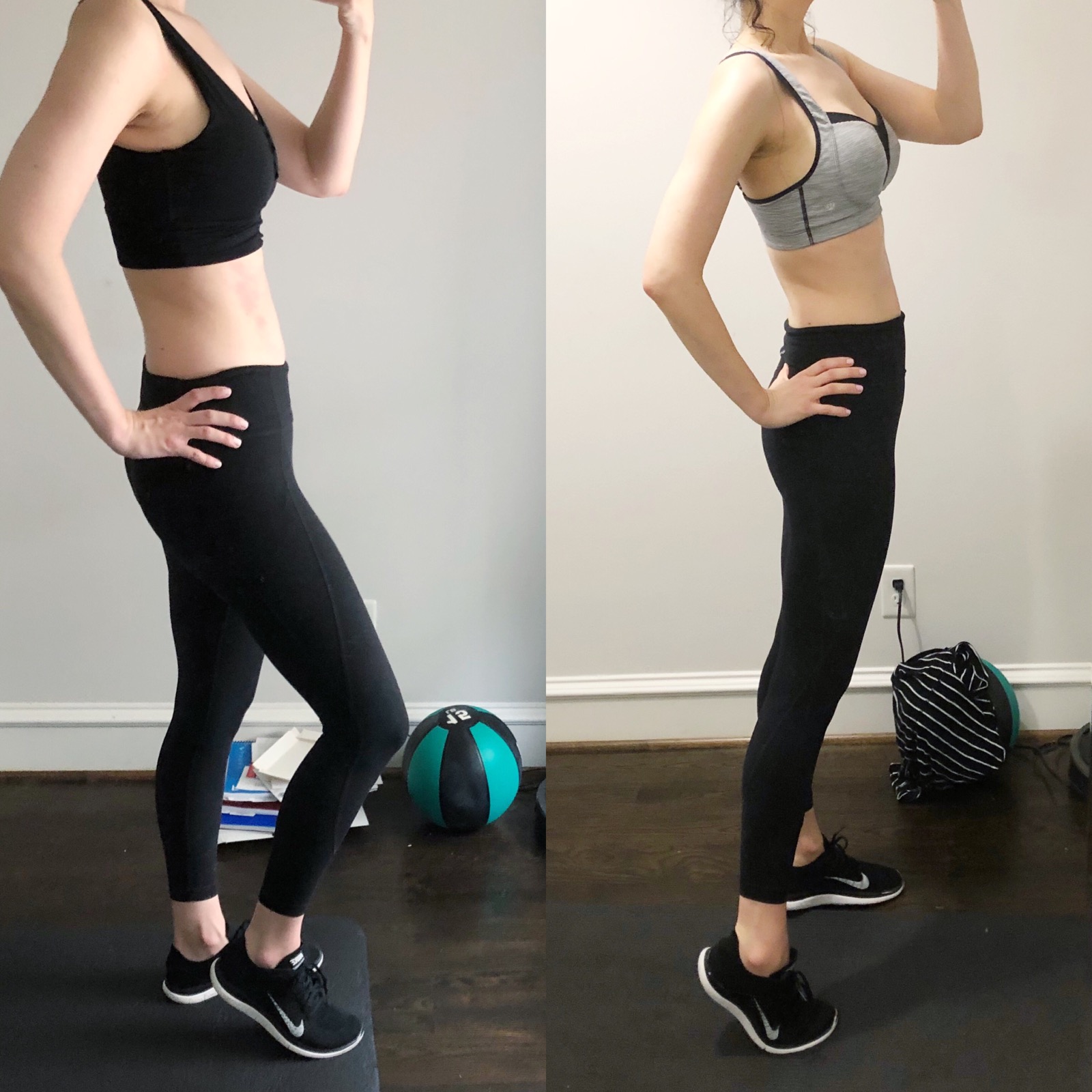 S I X
The right gear is key! As I mentioned, BBG is a very sweaty workout — you can totally wear just a sports bra and leggings. My two favorites are this one and this one (find more sports bras here, here and here). You can find my favorite workout leggings here. I wear my Nike Free RN shoes (with no socks) to do my BBG workouts — they've got good cushion and spring to them which is important because BBG has a lot of jumping/plyometric movements. You can find the shoes here, here and here too. You'll also need the right equipment — see what you need for BBG here.
S E V E N
You know that saying that it's 80% what you eat and 20% exercise? Well, unfortunately, it's true. I've heard the saying that you can't exercise away a bad diet and I've come to see it's true. I think I would still get results with BBG if I wasn't eating like I am now, but the results are quicker, better and longer-lasting when your diet is right. See how I improved my diet and cut out excess sugar, here.
E I G H T
Music is so important for me when I'm working out. I like rap, hip-hop, top 40, dance, etc. I'm not going to lie, I love me some tunes with a little colorful language — they just pump me up!  This is a great list of workout songs and I'll also share one of my playlists below.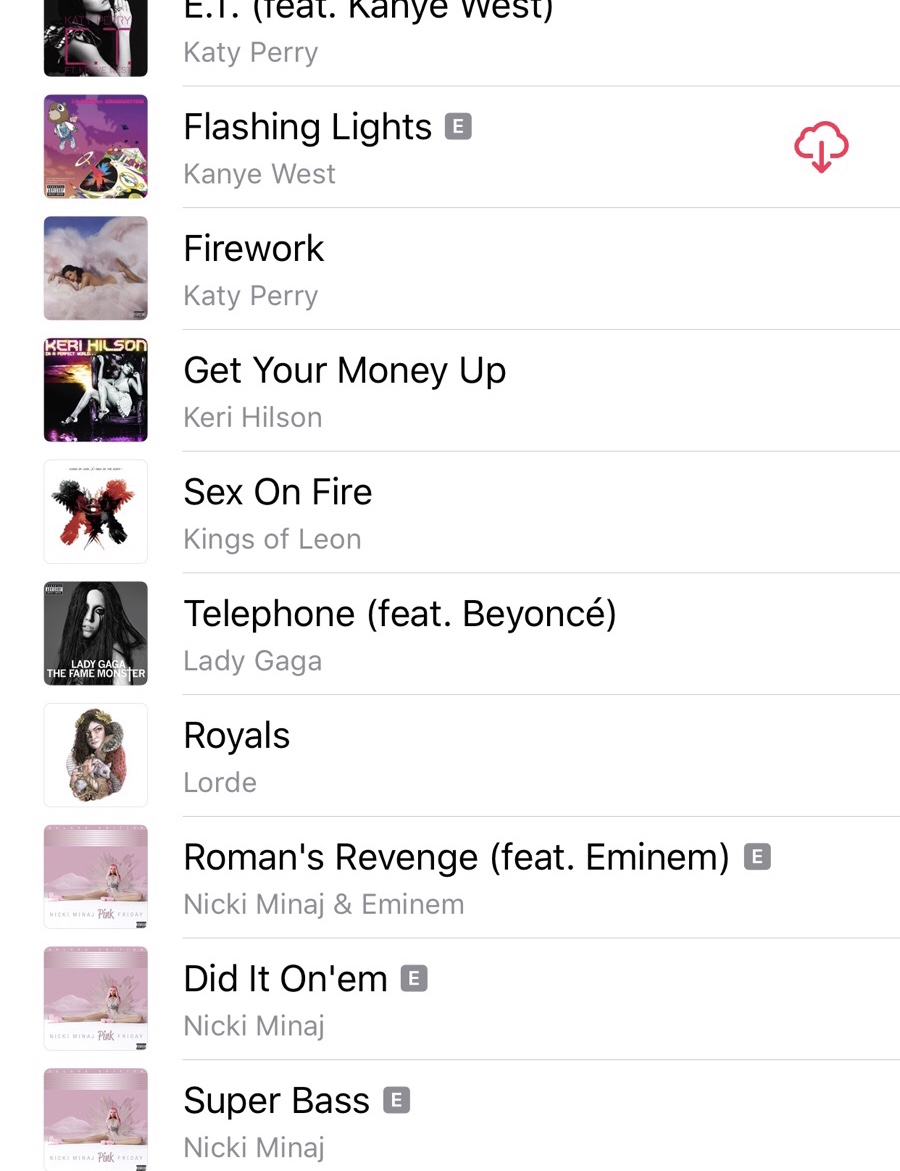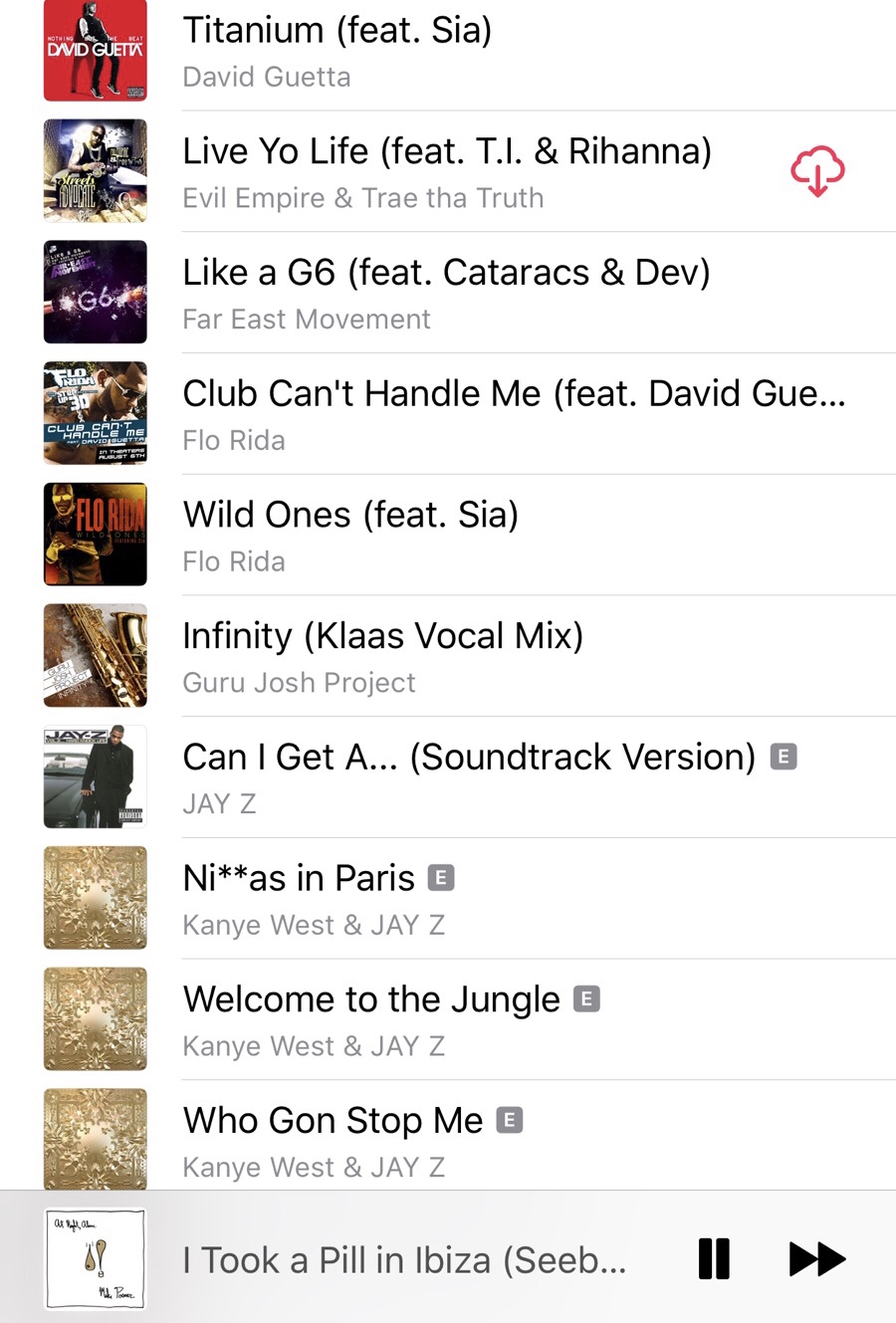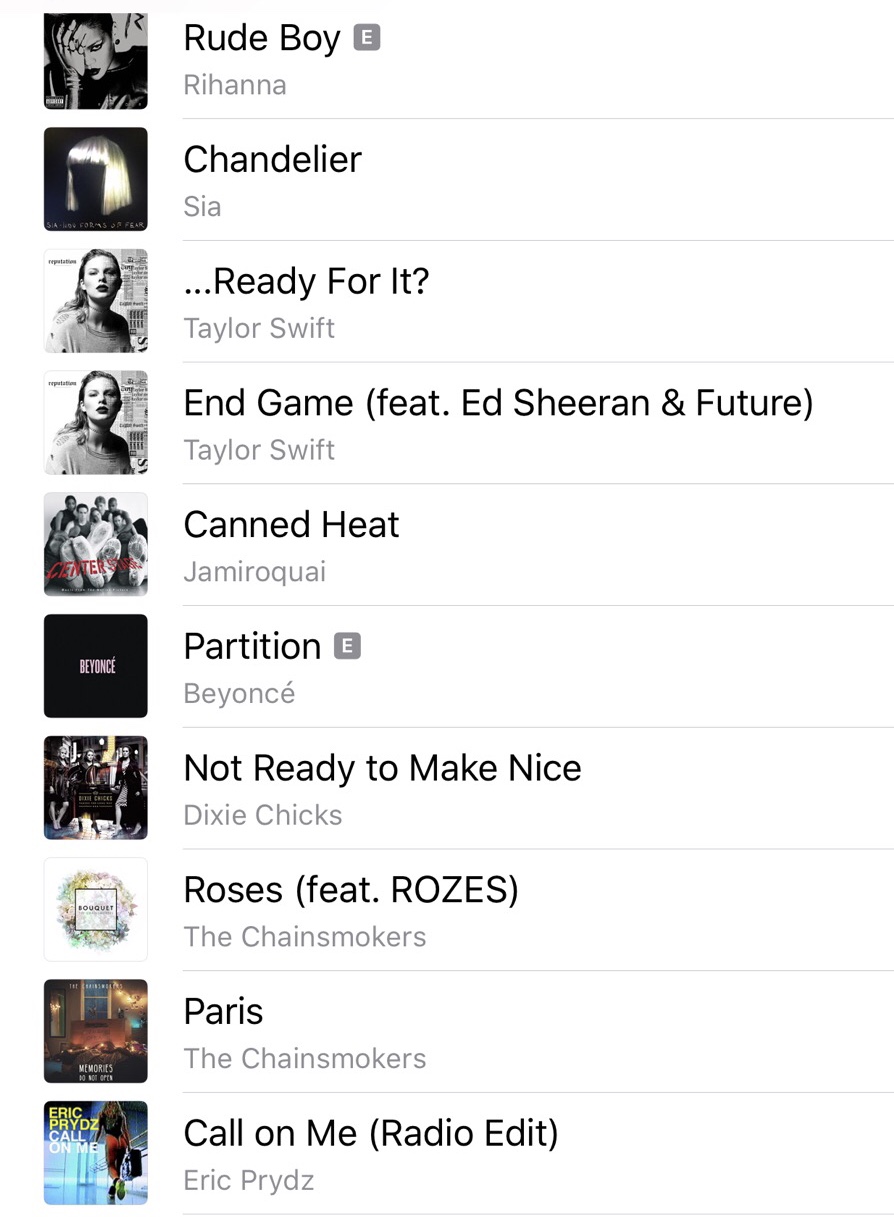 N I N E
Get a support system — whether it's friends, co-workers or the online community — stay motivated by having people to "check-in" with who are also doing the BBG program. It's so nice to be able to commiserate about the resulting soreness of leg days and ideas on how to modify, etc. I'm doing BBG with co-workers and we always check in throughout the week and discuss our results which is really motivating!
If you have any questions, please leave them in the comments and I'll answer! Thank you as always for reading!