Wow! That's all I have to say after finishing all 12 weeks of BBG 1.0/Kayla Itsine's Sweat App program. For those of you who might be new to BBG, check out my FAQ post here for more details about this program and my "9 things I've learned about BBG in 9 weeks" post, here.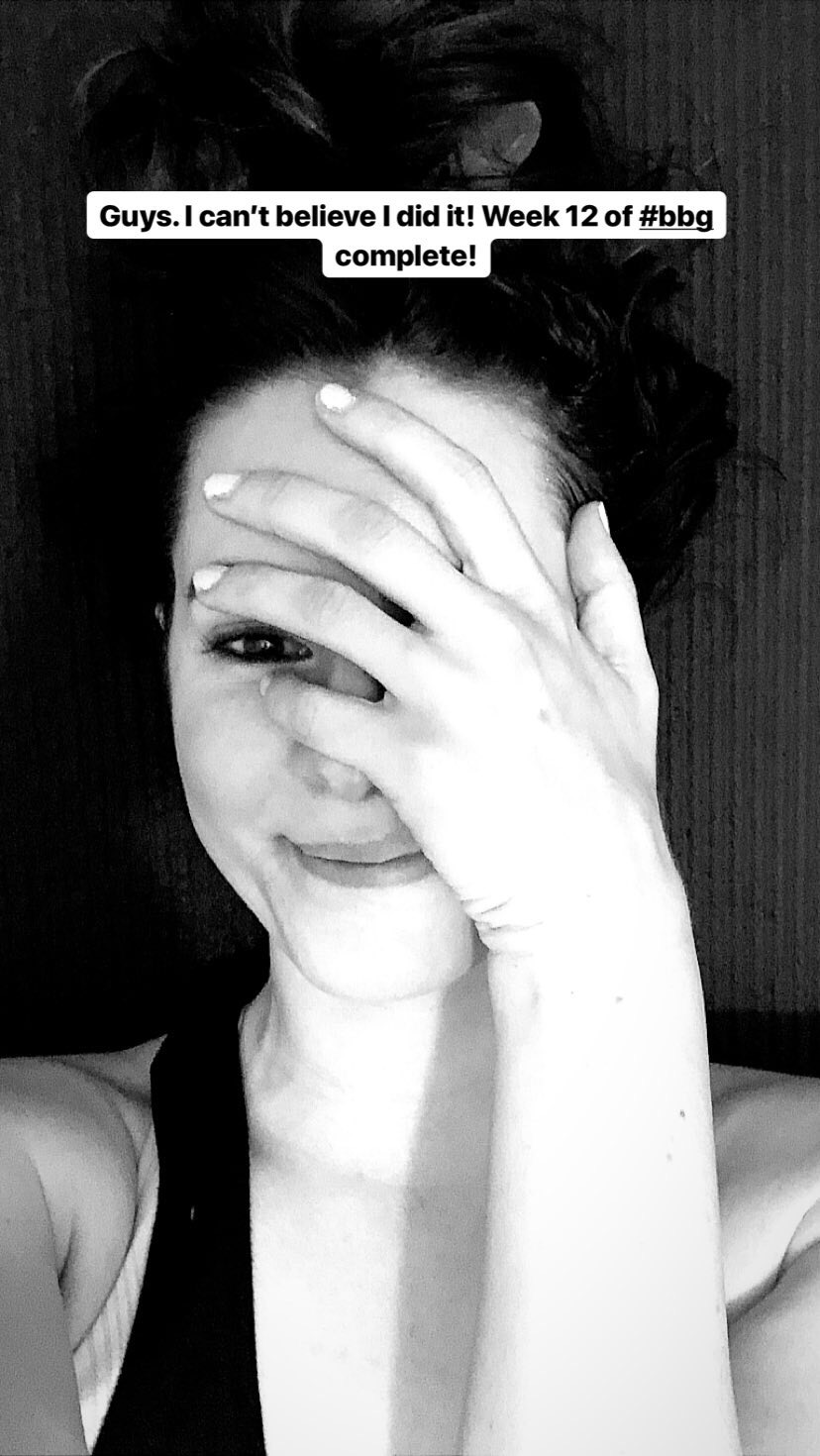 I'm working on a more detailed post to share my results as well as a full review of the program now that I've completed it, but today I want to invite YOU to start BBG with me! After reading all of your feedback, questions and general level of excitement about the program, I've decided to start an "official" BBG check-in each Sunday on my Instagram page. This will be a place for all of us to discuss (in the comments) our progress, ask questions and encourage one another.
It doesn't matter if you're new to BBG, already started BBG or if you're doing one of the other programs in the Sweat app (BBG stronger, BBG 2.0, PWR, Post-Pregnancy, etc.) All are welcome to join in this check-in!
I never thought I could stick to an at-home workout program but this one is different. It's 28 minutes with resistance workouts 3 days per week. There are LISS and HITT days in the BBG program, but I opted to do the three resistance workouts per week as they're pretty intense and three days a week is easier to commit to. I'm still considering purchasing a small treadmill so that I can do some LISS at home.
I also want to take a moment in this post to thank all of YOU for your encouragement and support – I've gotten so many messages saying that sharing my journey has inspired others to start the program and it's a pretty incredible feeling to know that. I also feel excited that you'll see the benefits of these amazing workouts soon and feel happier, healthier and stronger.
With all of this said, I thought I'd answer some more BBG questions here!
Why are you re-starting BBG 1.0? Why aren't you doing 2.0?
I still feel like I have a lot of work to do in terms of getting stronger. I had a hard time not modifying the BBG workouts, especially with things like push-ups (I have to do them on my knees) so I'd like to build more strength in round 2 versus moving to a more challenging program. I'd also like to work on increasing my endurance to get through certain sets (like jump lunges…OMG the jump lunges).
Do you have to be doing a BBG/Sweat App program to participate in the check-ins?
No!  I want everyone to participate – you can share your fitness/diet wins regardless of what workout program/fitness routine you follow. I know a lot of you have started BBG or want to, so it's just called the BBG check-in since a lot of us are doing that program.
 What days do you work out?
I typically do the resistance workouts on Tuesday, Thursday and Sunday, allowing myself flexibility when needed. I like doing one of the workouts on a weekend because then I don't feel too overwhelmed during the work week.
Will do you any other workouts besides BBG?
I do incorporate moves from other programs into BBG sometimes – mainly ones to help correct diastasis recti (I use moves from Natalie Hodson's program which you can purchase online – there are also free videos on YouTube) and also some of John Benton's moves. John is a Dallas-based personal trainer who specializes in hip, waist and thigh reduction and primarily works with models (though he sees other clients too, obviously, as I am def. NOT a model). I discovered him via a few Dallas bloggers I follow that have trained with him and I had a phone consultation with him recently because those are the areas I really want to target via my workouts. His workouts incorporate moves that are focused on building really long, lean muscles and though you can't technically "spot reduce," his techniques are proven to build lean muscle without adding bulk to your frame. I definitely plan to be more flexible in my second round of BBG – still doing three resistance workouts a week, but swapping in some of the moves John recommended. I really want to make sure that the time and energy I'm investing is working towards what my goals are. We all have different goals, but now that I've hit my weight goal, I'm a little more focused on building strength and having a visible tone.
What are you doing diet -wise?
I feel like I'm in maintenance mode right now, since I met my weight loss goal by completing BBG. I wouldn't mind losing a couple more pounds, but I'm also comfortable with my current weight. I plan to eat the same as I have been since I started BBG – protein and fiber at every meal when possible, lots of veggies and fewer processed foods. I've seen the dramatic difference a cleaner diet makes and I'm totally sold.
I still enjoy life – I have cheat meals, eat out, enjoy ice cream and chocolate, etc. I'm just glad I'm no longer bingeing, eating so many sweets and constantly having sugar crashes. You can read more about what a typical day looks like for me in terms of diet, here.
Looking back, I'm really glad I started eating well as soon as I started BBG because it made the program easier to stick to when I was seeing such incredible results after just 6 weeks or so. I highly encourage you to examine your diet as you start BBG because your results will be quicker/more noticeable if you get the diet part right, too. I recommend Tanya Zuckerbrot's the F-Factor Diet book – not because I'm into formal "diets" but because she's a registered dietician and her diet is science-based and not a bunch of fake food. I don't actually follow this diet as described in the book – but the information and recipes have given me a lot of great ideas. She is also very active on social media and posts a ton of great food ideas in her IG stories. 
What is your best advice for starting BBG?
It's hard to try anything new – especially working out – you really have to pump yourself up for it. My advice is to go in with a PLAN. First, set yourself up for success by purchasing the items you need for BBG (see below). At the same time, you should identify a space in your home to do the workouts (clear out a space, set up in your basement, etc).
Then, download the app and start ANY day of the week. Don't stress about starting on a Monday. If you do the LISS workouts in BBG, you will be exercising six days a week, or, you can ease into it like I did and just do the three resistance workouts. Do what is realistic for your life – you're more likely to stick to it. If working out six days a week is not doable for your schedule, then don't do it! You can still get results doing three workouts a week and improving your diet.
Lastly, connect with others doing the program – either via my check-in or via the #bbg hashtag on Instagram. It doesn't hurt to look at the Kayla Transformations IG either – lots of amazing results shared there featuring various body types!
What equipment do you need to do BBG at home?
NEED
Free weights ( here, here or here) weighted ball (medicine ball), jump rope (here), exercise mat (here or here) workout bench (I use a bench that is part of my office built-ins, but you can get this one or this one.)
NICE TO HAVE
cell phone stand, wireless headphones
Before you go – Don't forget that I'm still doing the April Arms Challenge with Heather and Jess. Here is the plan for WEEK TWO!
Day 1 – 3 sets of 15 push-ups (knees as modification), tricep dips & side shoulder raises (25 reps if no weights used)
Day 2– 3 sets of 10 burpees, 40 seconds mountain climbers, 40 seconds star jumps
Day 3– 3 sets of 15 bicep curls + bent over reverse fly (palms face in, go back and around) +3 Point Plank with 15 seconds on each one (Left, center, right) and Wacky Jacks
Day 4 – Rest
Day 5– 3 sets of 15 push ups + 3 sets of 15 tricep dips + 3 sets of 30 seconds see-saw planks shifting your weight forward and back
Day 6–3 sets of 10 burpees, 3 sets of 30 second straight arm planks with feet jumping out and in, 3 sets of 30 seconds jumping jacks
Day 7– 3 sets of 15 wide shoulder presses + Elbows at 90 degrees, holding at the bottom for scapular squeezes + Push-ups + Tricep Dips
Thanks for reading – I'll be back tomorrow with a huge sale post + everything I ordered!