I got a little sad when starting to draft today's post. I used to share all of our weekend adventures and write monthly updates when Harper was a baby and I miss documenting those things sometimes. Instagram stories allow me to share our day-to-day lives and moments, so it feels repetitive to share it here on the blog. However, I thought I'd include some "life lately" snapshots along with today's Q & A.
We spent Thanksgiving at Candice's house and had the best time! It was so nice to have all of our families there and enjoy so much incredible food and desserts (FYI, get the gingerbread cookies from World Market and use Blue Bell's Christmas Cookie ice cream to make ice cream sandwiches – thank me later!)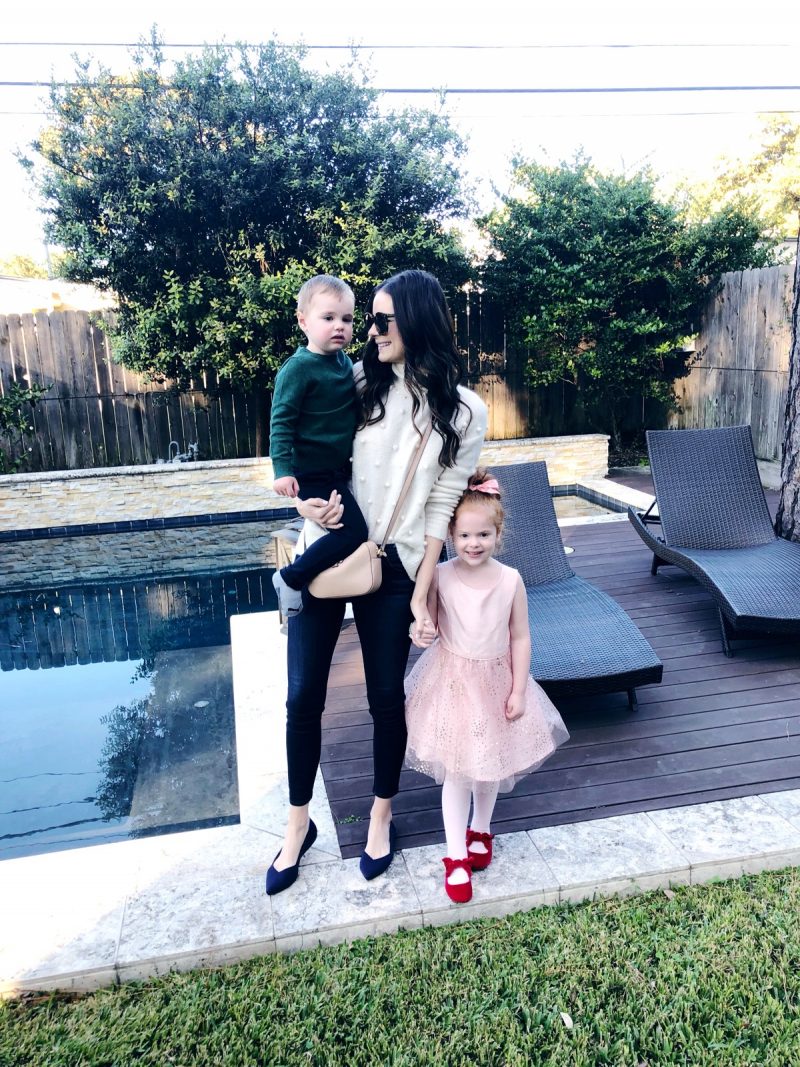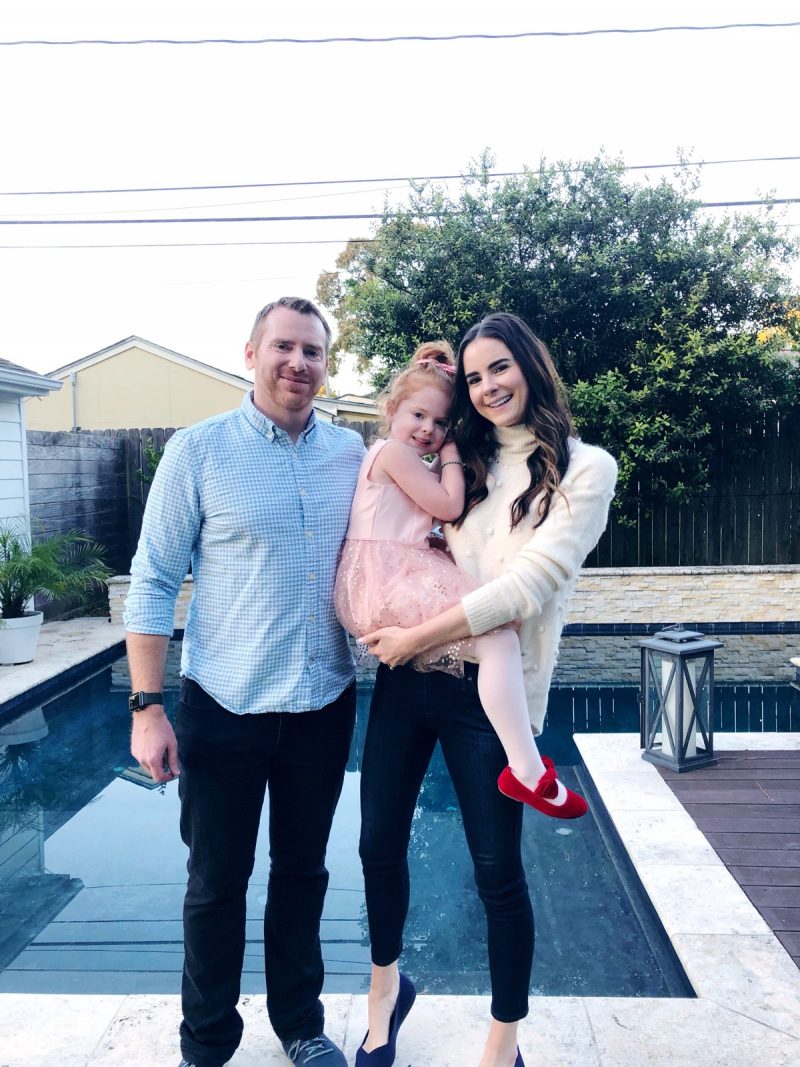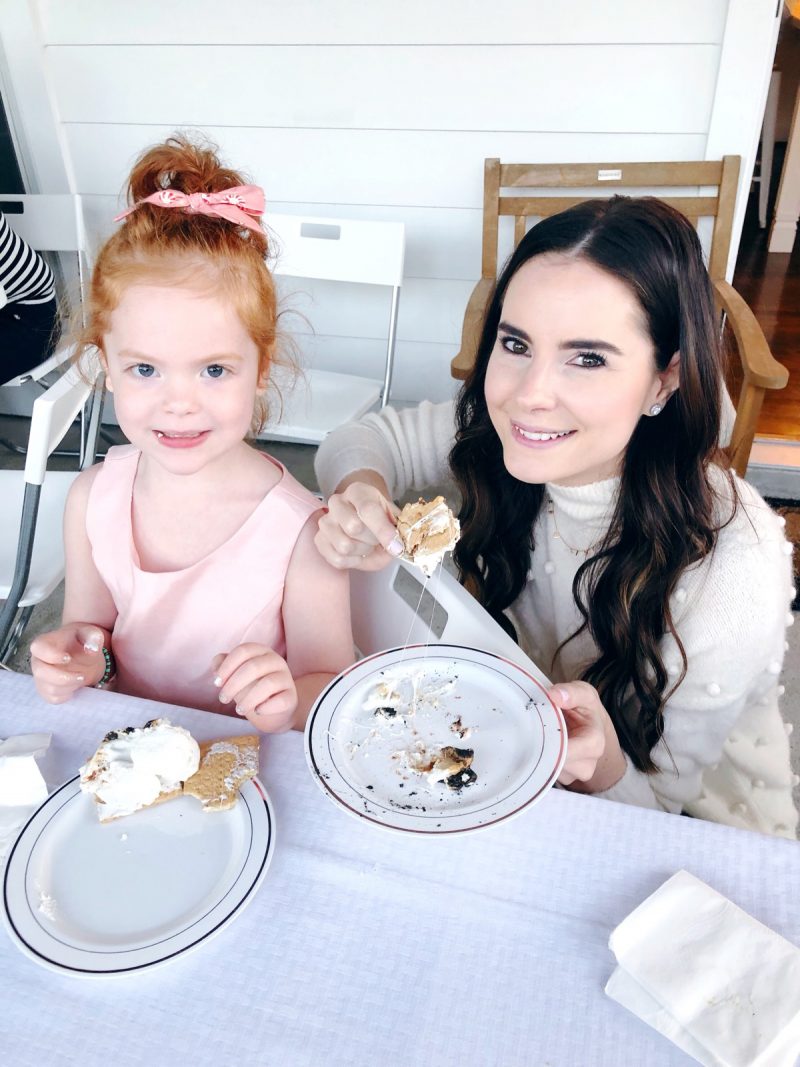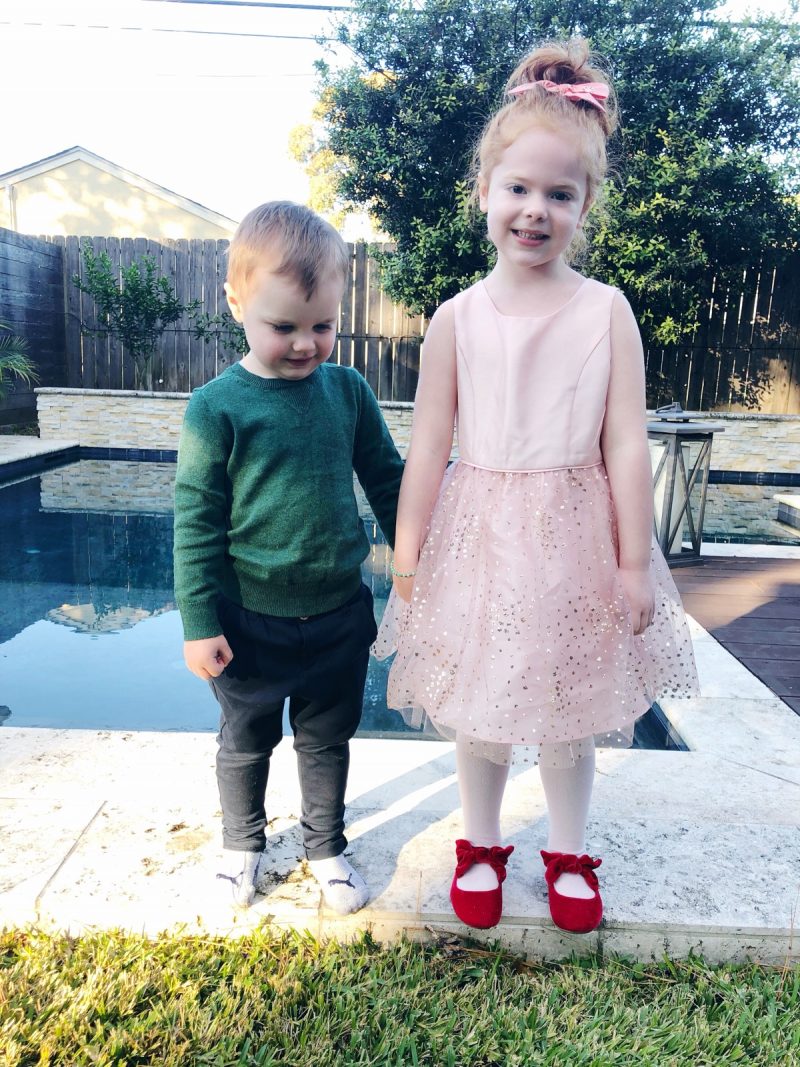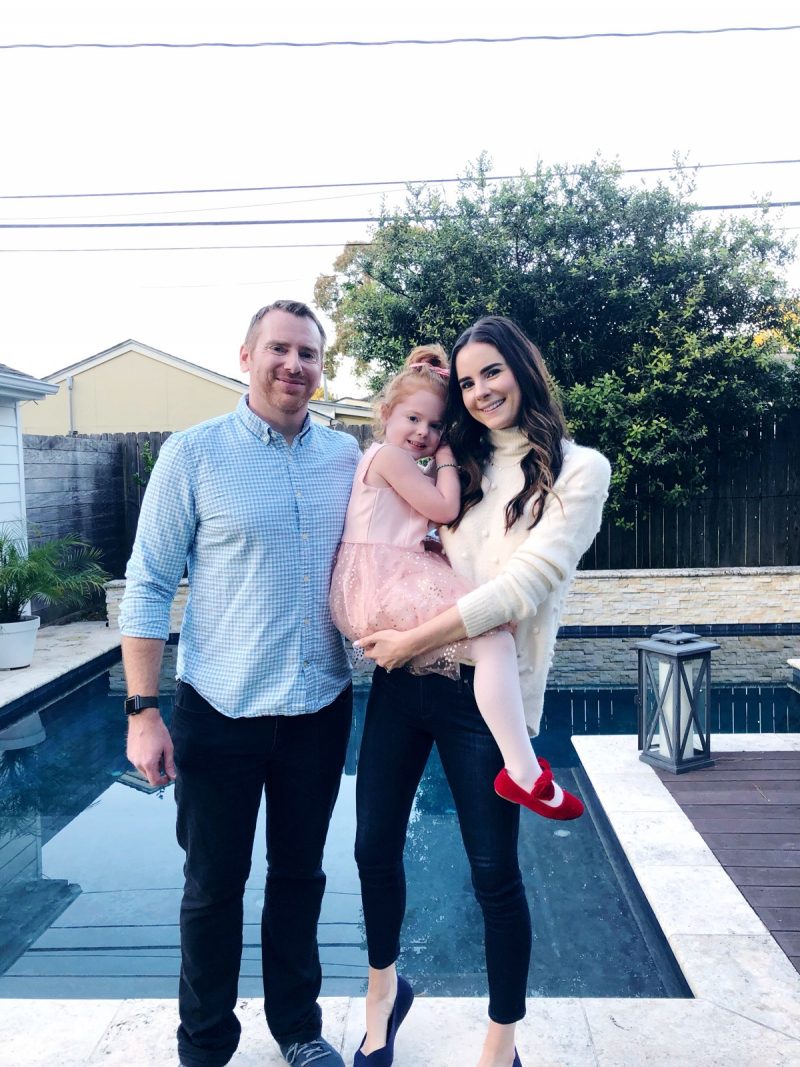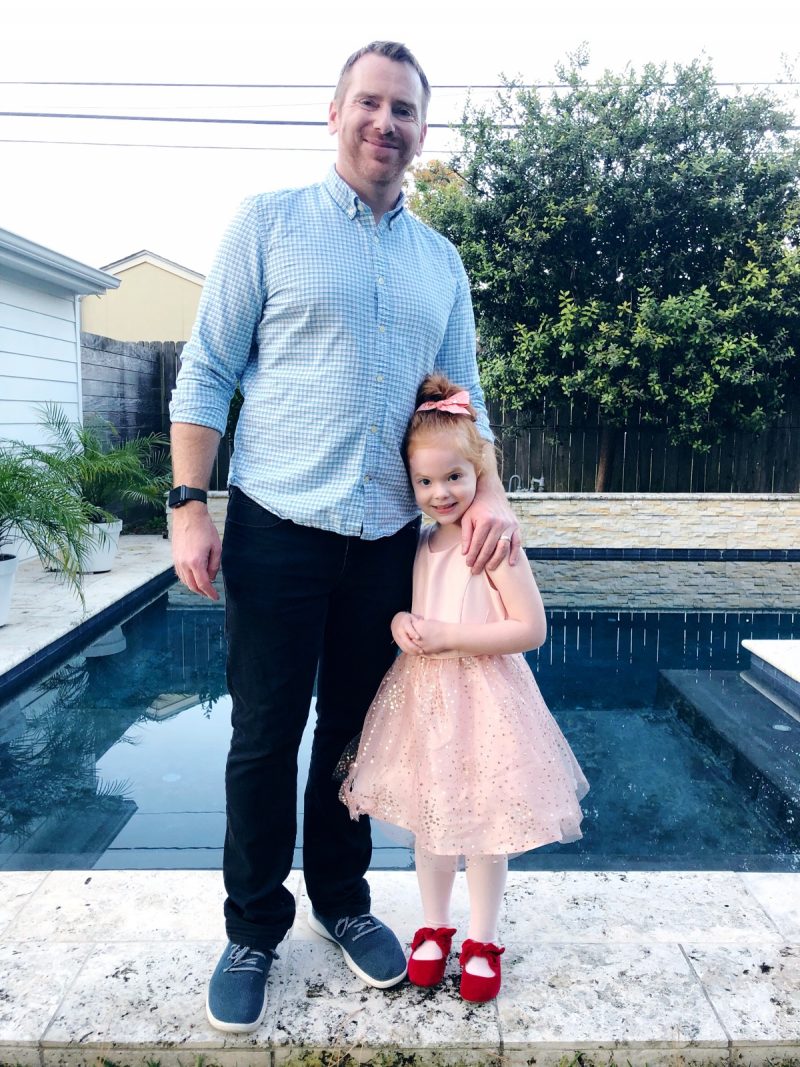 harper's dress | harper's shoes| my sweater| my flats
We shared some exciting news last week- we're spending Christmas at Disney World! We've been talking about going away for Christmas since last year and never settled on anything – but in October we started to discuss possibly going to Disney Land or on a Disney cruise. After consulting our awesome Disney planner, Lori, we decided Disney World would be a better fit for such a busy time – there are more parks and more to do. We can't wait!
We really wanted to travel at Christmas to focus on having experiences together. We're doing a relatively present-free Christmas this year – each of the kiddos will get one gift from Santa and one gift from grandparents (they're coming too!) and we're just going to enjoy the fun, excitement and togetherness of being in such a magical place during the holidays. Last year, the amount of presents was a bit overwhelming (obviously pointing the finger at ourselves here) and we wanted something different.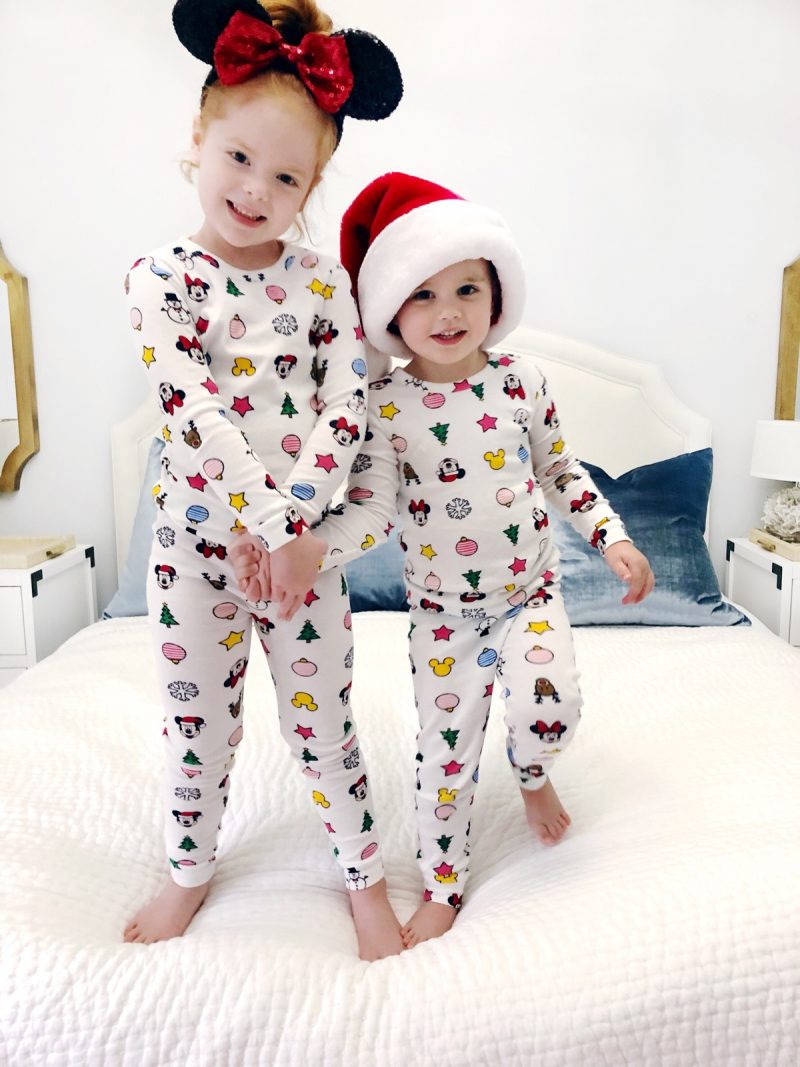 kids Disney pajamas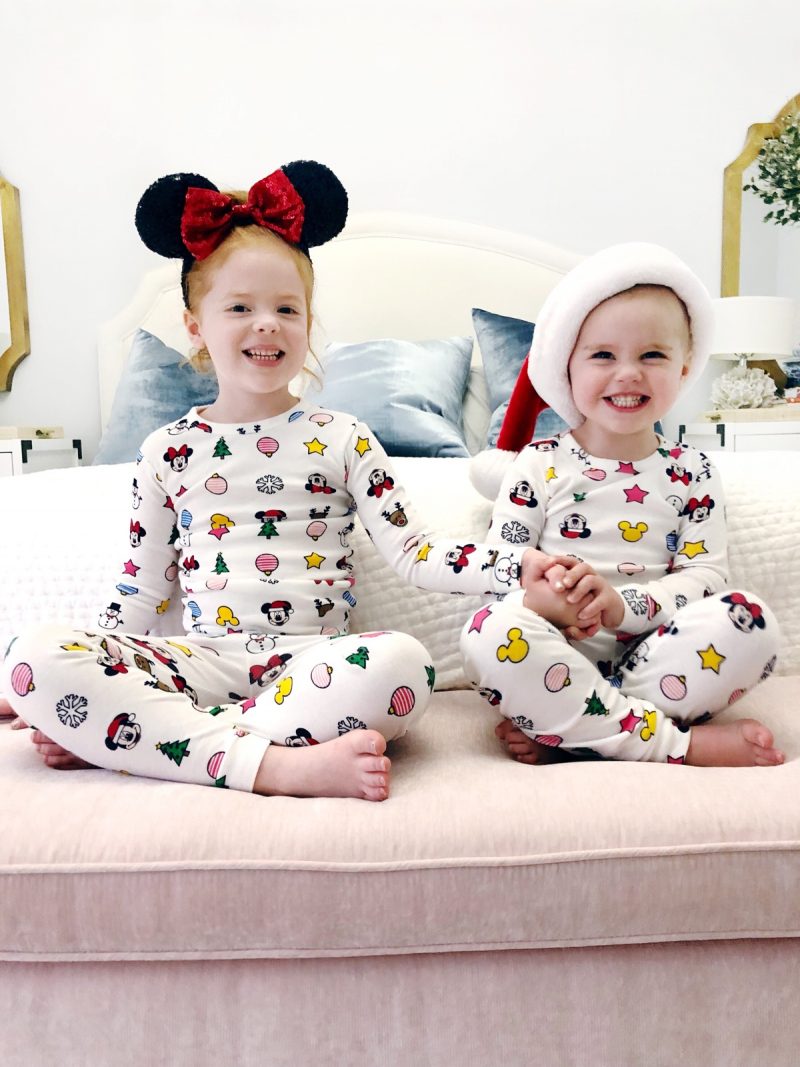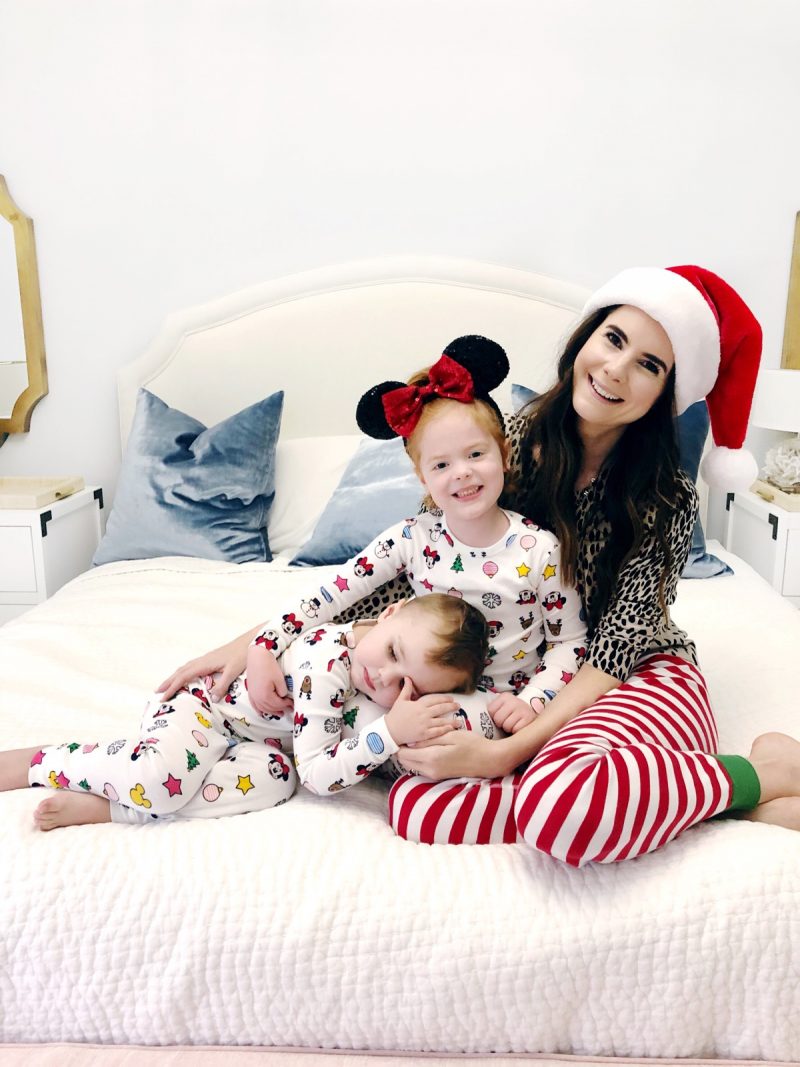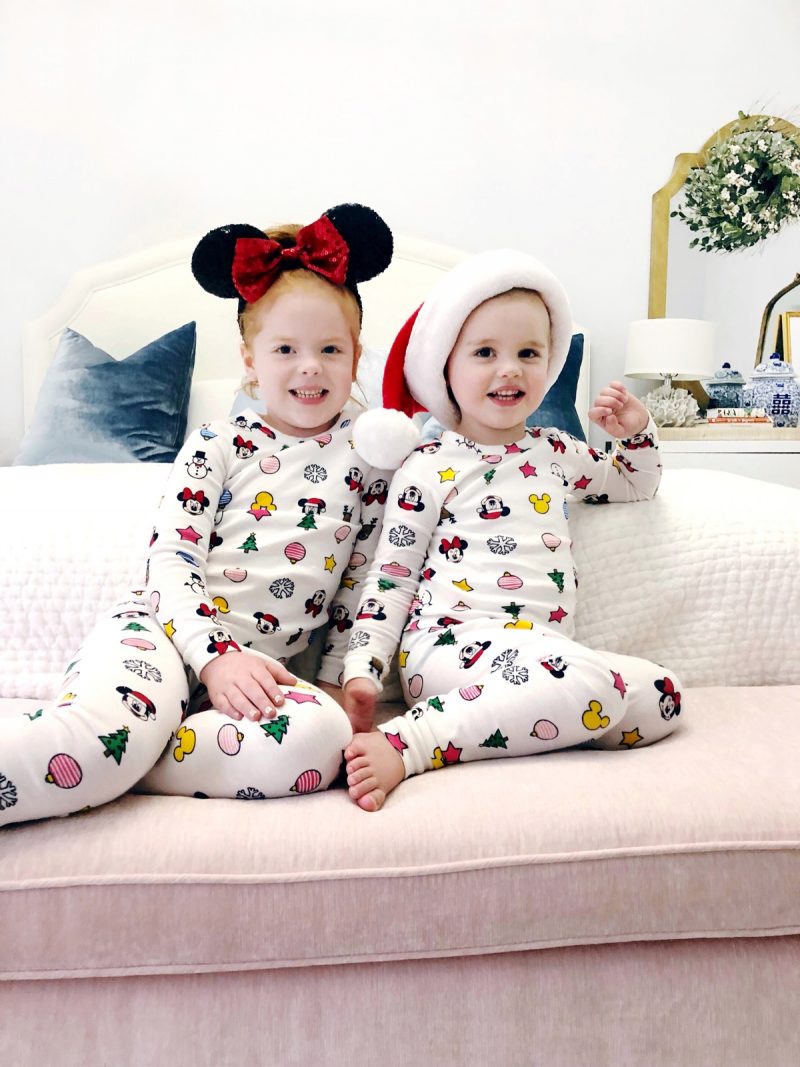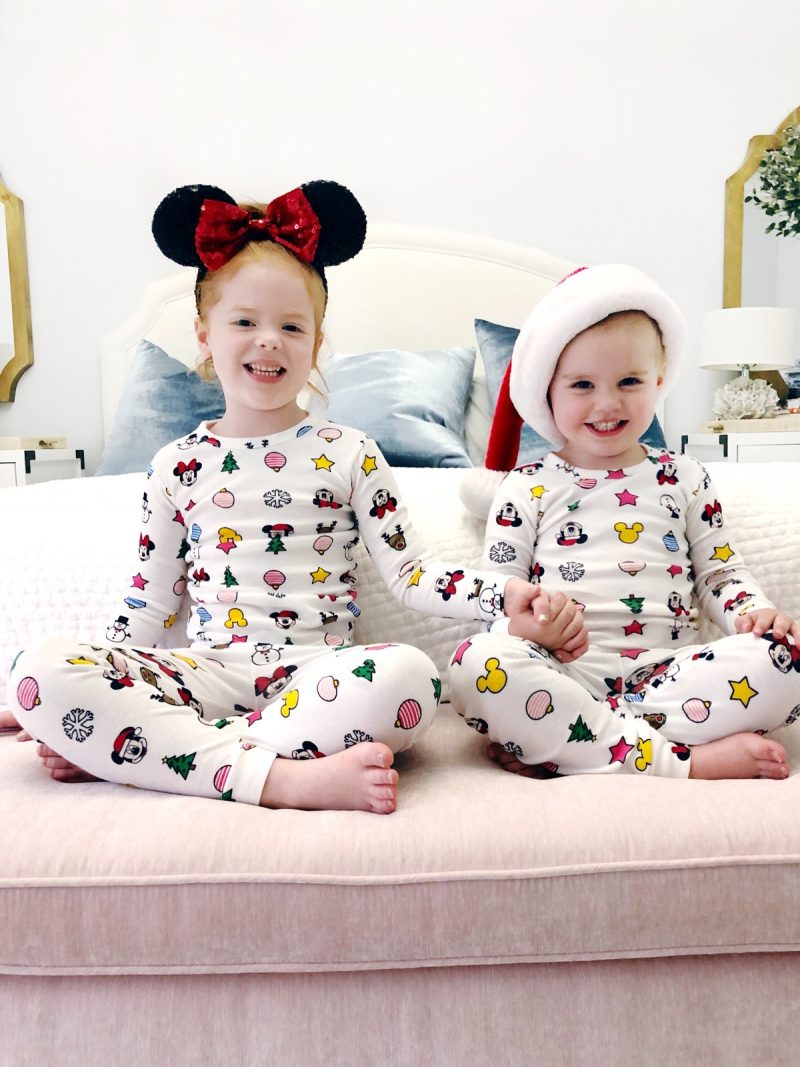 Our master bedroom design is almost complete! We recently added the Gleaming Primrose mirror, a new custom bench and all we have left is curtains, new lamps and some new bedding (which I just added over the weekend). I may also add some artwork in the future. I just love the way the space came together. If you're local, Aryn from Oyster Creek Studios is amazing for interior design help.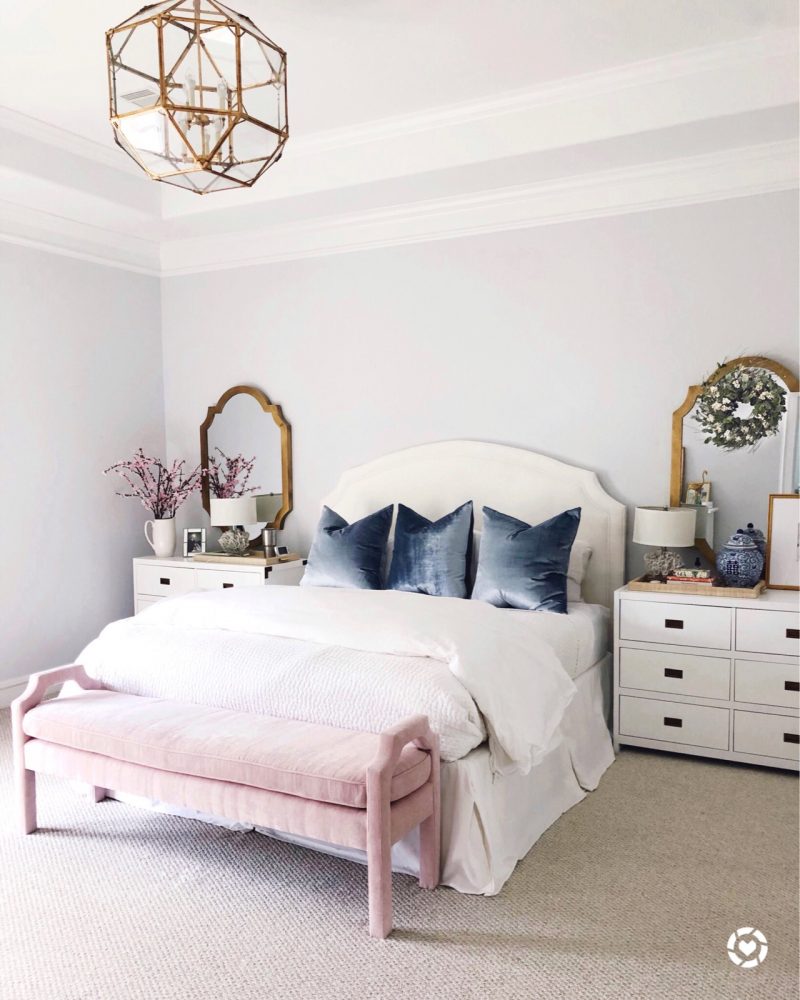 Q4 has been incredibly busy, but I'm also working on not biting off more than I can chew. I'm trying to take on less work by really filtering through the opportunities that come my way (I already turn down 90% of them). Not only does this help me ensure the content I create is a great fit for y'all, but it allows me to spend more time publishing content "just because." Here are questions y'all asked on Instagram last week.
Please tell us about your scheduling/organizational system. I need hacks!
I always wish I was one of those people that had a pretty planner with colorful pens and cute little stickers, but the reality is that I'm all digital. If it's not on my calendar, it doesn't happen. My work calendar is synched to my phone, so I use that calendar for absolutely everything. Depending on the task or event, I always add a 15min -1 hr. alert/reminder. I also ask Siri to remind me of stuff all the time. I'm like "Siri, remind me to drop this off at the post office today at 1 p.m. or remind me to call swim class to schedule a make-up lesson" Siri helps a lot with those "in the moment" reminders that don't need a spot on my calendar.
In terms of organizing, I try to set aside time once or twice a month to focus on an area of our home. Clutter and disorder trigger my anxiety, so this ritual is important to me. Last week, I re-organized our kitchen cabinets – tossing, donating and selling things we no longer need or use (I had some old pans that were in horrible condition, so I tossed them. I was able to sell our Boon lawn drying racks to another local family since we no longer need them). I had a garage sale recently too, which is always a great way to eliminate things you don't want or need. I always recommend the books A Simplified Life and The Life-Changing Magic of Tidying Up. I think both books explore the concept of freeing yourself from the things that no longer serve you and teach you to keep your home free of clutter and chaos.
How do you encourage your kids to be thankful during the holiday consumerism of this season?
I love this question! We do a few things – we have been sponsoring a little girl in Guatemala for six years now and every quarter or so, we get letters and photos (from her via the organization we sponsor through). At Christmas time, we have the option to pick from a list of gifts that the organization provides to her, so we make them part of that process and let them ask questions and explain how our support helps her go to school and have food.
We also sponsor two children each year who are in CPS custody or foster care, to fulfill their holiday wish lists. We always select a boy and a girl, and we take the kids shopping and have them help us get the gifts on the child's list. We use this as an opportunity to talk about giving back and to discuss why it's our duty to help others.
We're also doing a present-free Christmas this year, as I mentioned above (other than one gift from Santa and one from the grandparents). We're focusing instead on family and experiencing a fun vacation together.
On average, how many hours a week do you devote to your blog?
During Q4 – a lot, haha! Honestly it ebbs and flows and I've never really calculated it because things like time spent on social media posts, angering DMs, Instagram stories, answering emails, invoicing, etc. are hard to track. There is so much that goes on with blogging that readers never see – all of the backend stuff that falls outside of content creation. I've never really sat down to calculate how much time I spend  – but what I can say is that content creation is always on my mind and I consider my blog to be, at the very least, a part time job. The best part about blogging part time is that I have the flexibility to blog as much or as little as I want to and be very selective about the partnerships I take on.
How is kindergarten going for Harper?
She loves it! She's always been in daycare and preschool, so it wasn't a difficult transition for her. We've seen so much growth in her – she's recognizing sight words, reading by sounding out words and her art is getting to be so detailed and fun. She thrives in a social environment.
How has your schedule changed since Harper started Kinder? Where does she go after school?
It hasn't really changed much other than now, she needs to be at school on time. In pre-K 4, you could drop off whenever, but now we arrive a little earlier. I actually love it because then I get to work earlier and can end my day earlier (traffic tends to be slightly better). Harper's school has an after school program, so she stays there until we pick her up.
Can you share an update on P.volve and BBG?
I wish I did have an update to share – but I haven't been exercising for several months now. I plan to start up again, but Q4 is incredibly busy for me and I choose to invest my time elsewhere during this time each year. I also had six weeks of PT for my neck and didn't work out during that time either to focus on my therapy. I still love P.volve and have a membership and will resume my workouts in the New Year (cliché, I know, but we will be traveling during the holidays). One of the best parts about my lifestyle change to healthier eating has been that I continue to feel good and maintain my weight, even when I'm not able to exercise.
How do you store and backup all of your photos?
Oh man – I'm embarrassed to admit that I just recently started paying for upgraded iCloud storage. I have over 32K photos on my camera roll (deep breaths). Since I just got a new MacBook, I'm taking a much more organized approach and starting a new system. We do have a dropbox account where we store photos from professional family sessions and I also have many images and videos on an external hard drive. My current plan is to have a folder for my blog only – and add images to that folder like outfits, product shots, home décor, etc. and then a separate folder for family photos and personal photos. I will have those folders by month "December 2018, January 2019, etc. Every few months, I will backup these folders to an external hard drive. Also, tip of the day: every time you're on an airplane, delete photos you don't want from your phone. We take so many outfit shots and I only ever used the edited ones, so I delete all of the shots that won't ever see the light of day so they're not taking up space on my phone anymore. I find flying is a good time to do this since you're kind of limited in what you can accomplish.
What is on your Christmas wish list?
Nothing! I know, that's kind of boring. I did all of my personal shopping on Black Friday and we're going to Disney World – so my greatest wish is a safe and happy vacation! I did share a gift guide of my favorite items recently, here.
How long do you go between pedicures?
I usually go every 4-6 weeks or so depending on the season and just maintain them myself in between. I do my own manicures at home, weekly.
Are you done with your bedroom re-do? The bench looks great!
Thank you so much! I'm in love with our space and am so glad we hired Aryn to help us execute my vision. Aryn has a fantastic vendor who can custom make almost any upholstered furniture, so we were able to take a design concept I loved, but have it custom made to the specific dimensions I wanted. A similar bench online was nearly half the size of the one I had made and wouldn't have looked right in front of a king-sized bed. After this experience, I would definitely consider having more pieces made in the future (like having a chair covered or a custom headboard made).
We're almost done with the room! The bedding has arrived and we just got this curtain rod. I will probably add some art at some point too, on the same wall as the French doors are. One last touch is changing out our bedside lamps – I love our current ones, but they're too small.
Can you share your hair color info?
My colorist, Brigitte, shared all of the info on my Instagram stories – just head over to my "beauty" highlights and screenshot the color mix info to share with your colorist. 
Best leggings for a growing bump?
I LOVE my Athleta 7/8 leggings, but I didn't wear them while pregnant. I consulted my friend Ashlee who recently had a baby boy and she said these leggings are the best!
How is intermittent fasting going?
Great! I stay on track 90% of the time with it. Occasionally (right before my monthly cycle usually) I will sometimes eat a snack after dinner outside of my IF window. I don't do a full 16 hour fast, so I still eat breakfast in the morning which works for my lifestyle and schedule. Read more here!
How long do you plan to stay in your current house?
I always joke that I get "the itch" after three years – but we have no current plans to move. Having said that, we're always looking at real estate in our area. We get daily emails with new listings and we monitor the market closely. I've kind of put myself in a box and said I won't move again unless the house is really a perfect fit and we don't feel like we're compromising (no house is perfect, of course, but there are certain things we want in our next home). Our current home is such a great fit for our family and though there are things I would change/add, we're enjoying making it ours. I keep telling Kevin we are moving as soon as I'm done with every room, but it's in a joking way…or is it? Ha 😉
Are you enjoying your journals?
I've actually decided to start them January 1st.  I know that's totally cliché, but I thought it would be the perfect time to start new habits after the busy holiday season is over. We have been doing Harper's Q&A a day journal every single day and she LOVES it! At bed time, she always says "it's time for the question of the day!" and she even tries to read them herself first!
How is potty training going?
Lincoln is fully potty trained in terms of staying dry – he doesn't even use a pull up at night anymore. We are still on the struggle bus with #2. We've tried different incentives and no success so far – so we've just realized that he will do it one day. We basically keep pull ups at home and he asks for one to go. My friend said her son wouldn't go #2 on the toilet until he was 4, so it may be awhile before he realizes that the toilet is, in fact, the most awesome place to poop. We're so proud of him for consistently going pee on the potty and staying dry all night!
Do you shop at Ann Taylor, Talbots or other stores along that aesthetic? Why/why not?
I used to shop at Ann Taylor a ton – I recently got a few pairs of shoes there too. I love the classic, feminine style and all of the tweed! I don't shop at Talbots, but I've seen some very cute stuff there. I tend to gravitate towards J.Crew for work wear and casual wear, because so many of their pieces can go both ways, whereas Ann Taylor tends to be more business/office wear only (though they've got some great casual/versatile pieces too).
Have a great week!