"A day in the life" is one of my most requested posts! I get it – I've seen other bloggers do these posts and I'm always so intrigued by how people schedule their days, whether they work from home, in an office or stay at home. It's always interesting to get a peek into other people's lives, routines and schedules.
My workday is different every day, but I'm going to share a more general day where I'm mostly in the office, because not every day is full of excitement – I don't want to give the perception that I'm always working with a well-known reporter or on a really major story – those things are part of my job (and I love those days!) but this is a more average day.
6:37 AM (yes, I'm weird and really like the number 7)
Wake up. Wish it wasn't time to wake up. Check my phone for a couple of minutes or share the link to my latest published blog post in my stories. Head into the bathroom to start my morning getting-ready routine.
6:45 AM
Wash my face, apply skin care products, brush my teeth, do my makeup, style my hair and get dressed for work – in that order. While I do this, my husband takes the kids downstairs to start breakfast. I always listen to a podcast while I get ready in the morning.
Key products: face wash | toner | vitamin c serum (here too) | curling wand | makeup routine info & products here and here | skin care routine, here
7:05 AM
Check the weather app on my phone (the weather is all over the place this winter), go to the kids rooms and pick out clothes for each of them. Bring the clothes downstairs and prep anything I need to take into the office or that the kids need in their backpacks.
Key products: kids backpacks: Harper's is here and Lincoln's is here
7:10 AM
Kevin and I help the kids brush their teeth, get dressed, etc. I also use this time window to post on Instagram if I have content to share that morning. We try to be out of the house by 7:35-7:40 at the latest.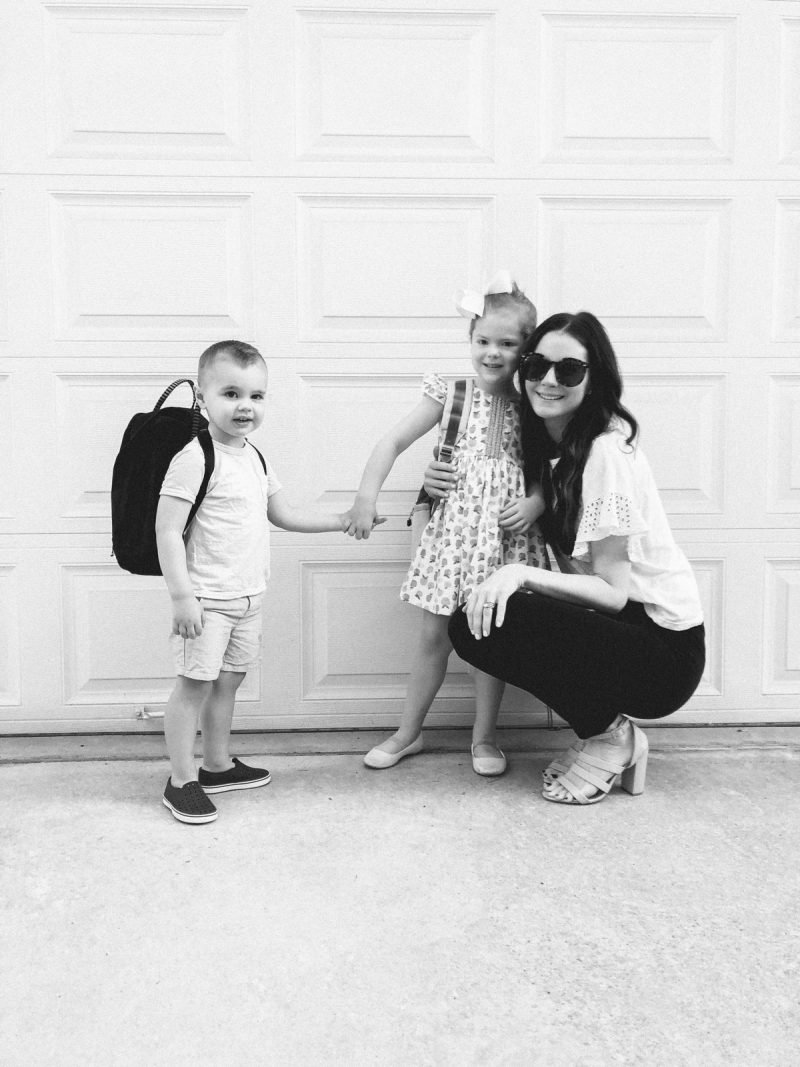 7:50 AM
Drop the kids off at school. Get into my car and turn on my latest audiobook or Podcast to listen to during my commute into the office.

Read about my favorite podcasts here and here. I just finished All We Ever Wanted, on Audible. Read about my favorite audiobooks, here.
8:30 AM
I usually get to my office between 8:30-8:35. When I get to my desk, I set my bag down, find my Yeti and start to brew a double espresso pod in my Nespresso. I get my almond milk out of the mini fridge and steam it with some cinnamon (I have the Nespresso milk frother). I check/respond to emails and then I get two GG Crackers and top them with some peanut butter. This breakfast is my fave and the fiber keeps me full until lunch. I also LOVE PB. Yum!
I also always put on my blue light glasses right as I sit down at my desk. They help with my digital eye strain and I haven't had a retinal migraine once since I started wearing them. They've been a game-changer for me.
Sometimes, I'll drink a cup of mint or regular green tea an hour or two after my latte.
Key products: Nespresso machine (here, too) | Yeti tumbler (with handle, here) | silicone straw | GG crackers | blue light glasses (frames – you need to have the lenses made at your optometrists office – ask for "blue light protection" or "digital eye strain protective coating")
9 AM -12:30 PM
Every day is different – sometimes I'm answering emails, scheduling media interviews (reaching out to our experts, seeing who is available, etc). I email with reporters, doctors, nurses, patients, etc. Sometimes I go to meetings with our medical teams to discuss story ideas and programs or initiatives, sometimes I'm at a shoot or interview with a doctor and/or patient family. Sometimes I'm at my desk, writing pitches, taking calls, planning out my week, etc. You can read more about my job here.
12:30 PM
I usually eat lunch around this time. It's typically baked chicken and veggies or a salad with protein/healthy fats (read more about my diet here).  I usually make myself another latte after lunch or drink regular coffee or tea, depending on my mood. I continue to work through lunch most days at my desk.
Key products: meal planning containers (I only use glass now) | Four Sigmatic coffee
1 PM
Depending on the day, I either have meetings, emails to answer, interviews to coordinate, pitching to do or calls with patient families scheduled, so I spend my afternoons doing those things. Sometimes, I have a meeting or two at the hospital.
3 PM
I turn on my "happy light" for 20 minutes while I continue to work. It's something new I'm trying to get over that mid-day slump. The NYT recently wrote about light therapy for SAD. I also have a snack at this time – usually some almonds or an RX bar. I also love Trader Joe's plantain chips for a snack.
Key products: Happy light | RX bar
4:40-4:45 PM
Most days, I try to leave the office by this time.
5:20 PM
If I'm picking up the kids (whichever one of us gets there faster picks them up), it takes me about 25-30 minutes (#houstontraffic) to get there.
5:40 PM
We get home, put away our coats, bags and shoes, wash hands and start warming up dinner. I've been using our extra veggies to make omelettes for dinner lately and they're so delish. I usually have chicken and berries over arugula for dinner or sometimes I have ground turkey lettuce wraps or turkey meatballs with zoodles.
Key product: Wire baskets with hooks – to hang our coats and backpacks
6 PM
We usually go to the playroom and hang out. Sometimes we watch Paw Patrol or another show if everyone just needs to veg after a long day. We don't have homework right now, so we just focus on family time.
Sometimes I use our Dyson to clean the kitchen area
7:15 PM
We take the kids downstairs for a bath, brush teeth, etc.
Key products: bath tub toy organizer
7:30 PM
I read a few books to the kids together in Harper's bed and then we do "prayers and cuddles" (we switch off nights). Harper has been reading a lot lately, so sometimes we take turns reading pages – it has been amazing to watch her grow!
See some of our favorite books here.
7:50 PM
Usually, the kids are both asleep right before 8, we head downstairs, decide what we want to watch and I turn on my electric kettle to make a cup of tea. I either drink this bed time tea or this stress relief tea. Sometimes, I drink a glass of Natural Calm. This is also when I'd do things like wipe down the counters or attend to any other cleaning related task.
I usually crack open my laptop and work on blog content or edit photos on my phone while we watch TV. If I'm feeling particularly tired or don't have any blog deadlines I need to meet, I take the night off and just relax. I have weeks where I'm really driven to create content and I have weeks where I have a hard time publishing even one post. The ebb and flow…keeps things interesting (and takes the pressure off).
When I'm exercising, I go downstairs to my office (workout room) and stream a P.volve workout right after the kids are asleep. This is the only time I can fit it in. I aim to exercise three days a week. If you're interested in P.volve, click here for a free trial week. Read my P.volve review here. I'm re-starting P.volve this week so you can expect to see that on my stories and blog soon!
Key products: Natural Calm | bed time tea | stress relief tea | Four Sigmatic cacao| electric kettle
9:45 PM
We usually head upstairs for the night. I shower and do my night time skin care routine. Usually I unwind by watching Instagram stories or catching up with friends via text and DM. I also started using a weighted blanket recently, which helps calm me down before bed time. I'll do a full review soon!
Key products: Weighted blanket | daily journal  | my favorite pillow (the stuffing inside is adjustable to your needs)
11 PM
Lights out – it's a later bed time than I would like, but I got into the habit of staying up late to pump and I swear my body is programmed to stay up until 11. I still get about 7-7.5 hours of sleep this way, but I'd prefer 8.