It's been a long/busy week, so this Friday Five was especially fun for me to write! When I have weeks where I don't share a lot of content, I get really excited to write one larger post that covers all.the.things.
I've been prepping for my Dallas trip, so most of my evenings are spent exercising (I try to work out 5-6 times a week before an event) and culling through at all of my favorite sites, ordering options to wear (I have to over-order so I can try everything on in advance and only take the best stuff with me). Thank goodness we drive to Dallas so I don't have to be too conservative with packing, haha! We shoot a lot of content there, so I bring way more outfits with me than I really "need."
ALL ABOUT SKIN
Drunk Elephant sent me their new A-Passioni retinol cream which I've been wanting to try since it was released. I've been using their Framboos AHA/BHA serum for over a year now (and love it) but wanted to incorporate retinol into my skin care routine again since it has so many benefits for skin and anti-aging. I was planning to swap in the retinol for the Framboos – but I learned that you can actually use BOTH!
DE has the best customer service – I messaged them on IG and they responded and gave me this info: "Retinol, as one of the most well-researched ingredients in skin care, is capable of bringing balance to virtually any concern—regardless of your age—by helping to strengthen and repair skin from its deeper layers. This "bottom-up approach" of retinol is different than alpha hydroxy acids (AHAs) or beta hydroxy acid (BHA) leave-on exfoliants like T.L.C. Framboos, which work from the "top down," on the outermost layers of skin. For example, hydroxy acids step in to help skin manage its cell turnover by dissolving dead, built up cells on the surface layer, which triggers the development of new, healthy cells in the deeper layers. Retinol works in a similar capacity, helping trigger the development of new, healthy cells—but without the manual breakdown of dead cells on the surface layer of skin. This is why the benefits of retinol are improved upon by using it in conjunction with hydroxy acids. Having said all that, it's best to alternate A-Passioni with T.L.C. Framboos to start, then gradually ramp up to that same-day combination over time. The key is to listen to how your skin responds and to not rush anything."
My plan is to alternate the formulas as suggested! I'll do periodic updates. By the way, when I was at Sephora last week, I also picked up these wildly popular self-tanning drops that are literally always sold out. You can add them to any moisturizer or skin care/serum and wake up with glowing, bronzed skin! Yes, please!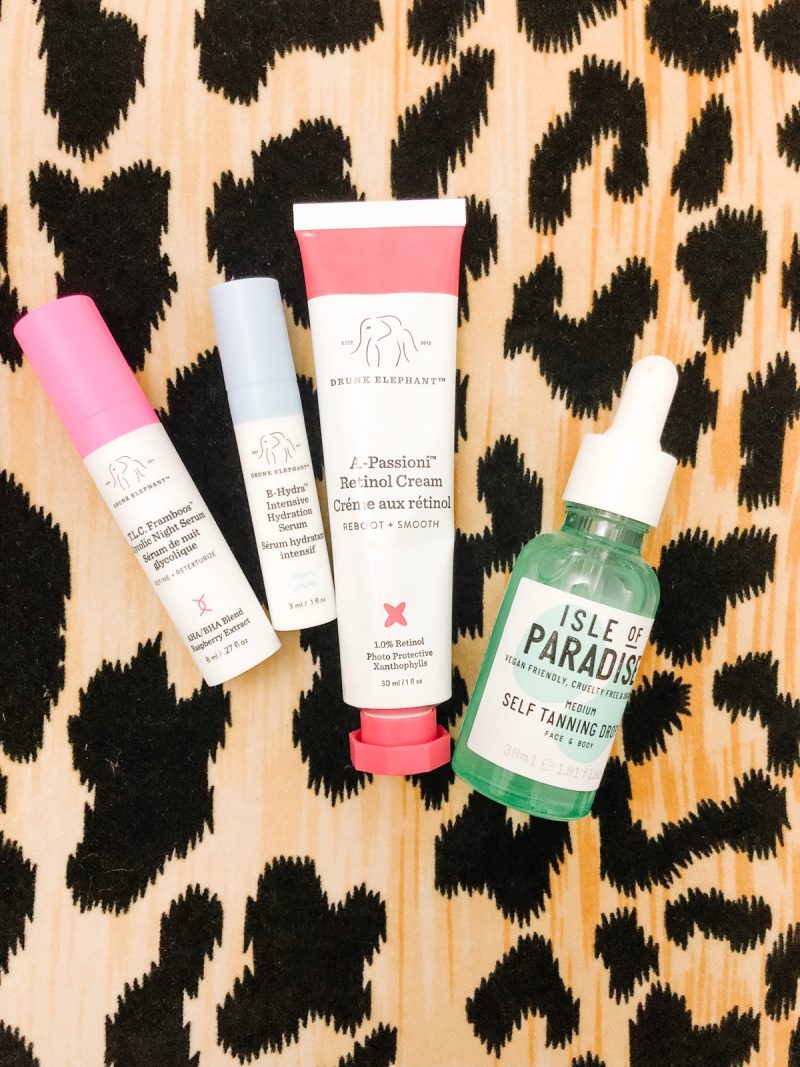 I've actually added a few new products to my skin care routine, so expect an updated post soon!


UNDERARM UPDATE
Another skin-related update: remember when I switched to Native's sensitive skin formula a few months ago? I ran out of it and went back to their regular formula with zero issues – yay! Then I saw they released a new scent, Rose Vanilla ,in their sensitive skin formula so I ordered it and the scent is SO good! I love both formulas, but I do well with the sensitive skin one (it doesn't have baking soda like the other formula, but I'm not a super sweaty person so it works for me). If you want to try Native, read my full review here or shop the new Vanilla Rose scent, here.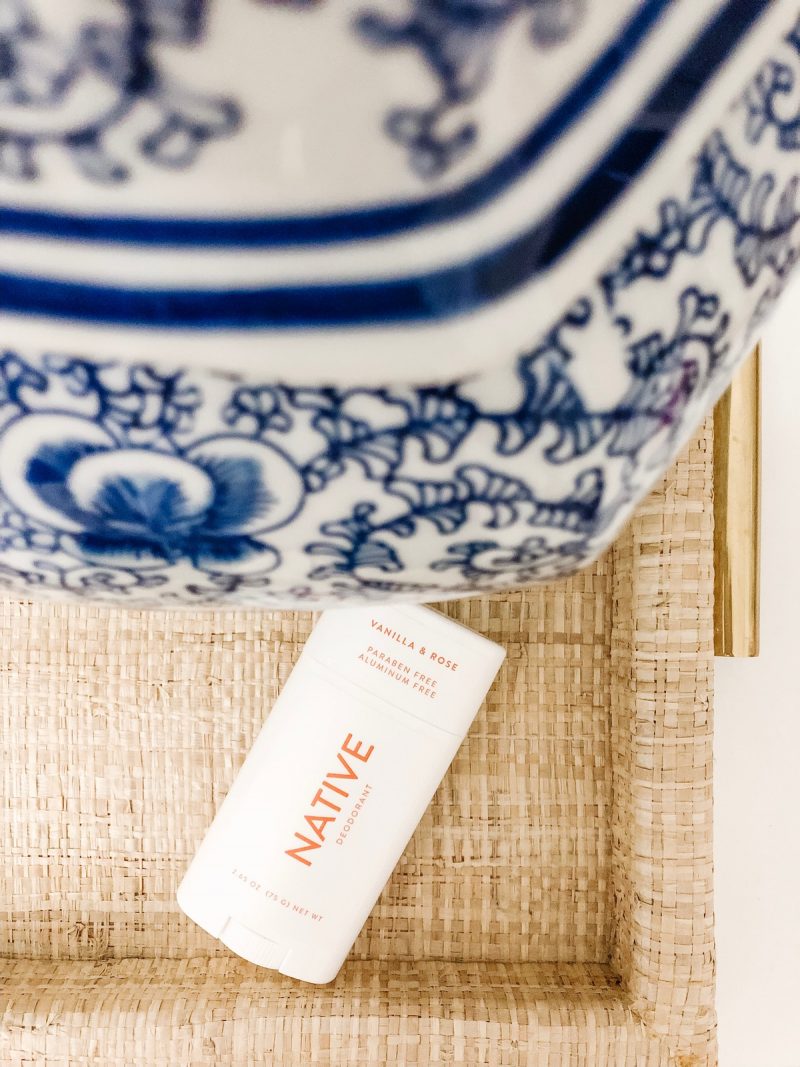 AROUND THE HOME
During Serena & Lily's 20% off sale last week, I finally ordered the Blake raffia console table. It's been on my wish list for some time now – it's a super versatile piece – looks great in an entry way, dining room, behind a sofa, etc.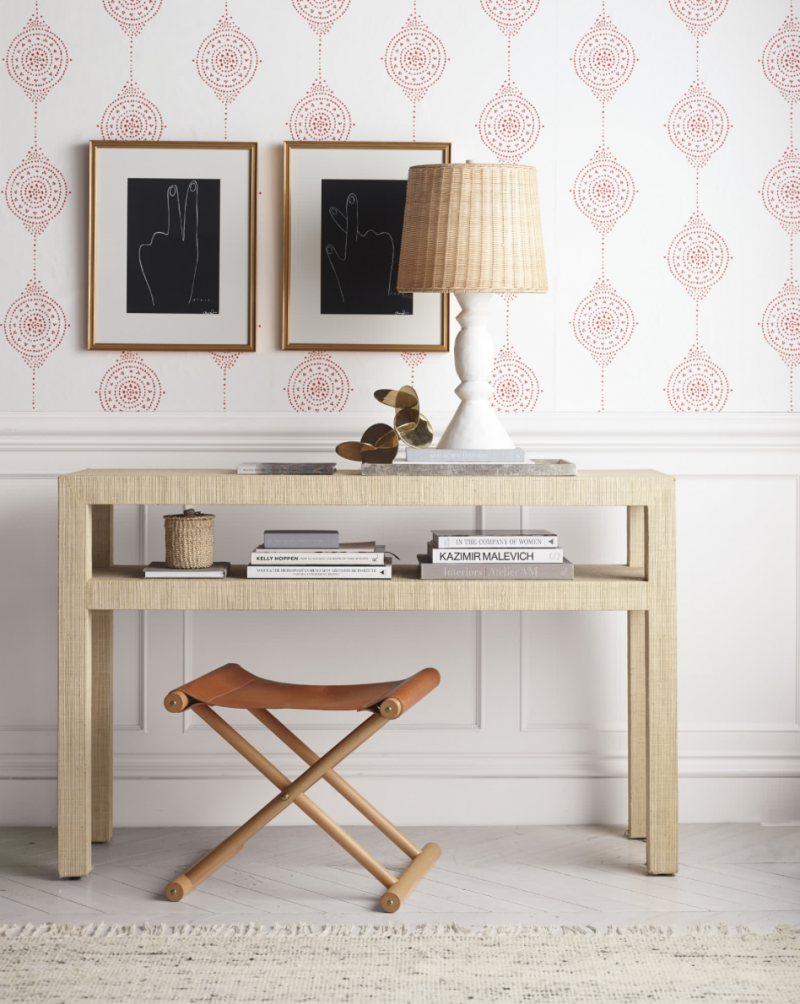 I always try to purchase pieces for our existing home with a future home in the back of my mind. For example, our Ballard Designs Kerra sideboard that we use in our small living room under our TV would also look incredible in a dining room. I'm really trying to invest in classic pieces I truly love (and saving to spend a little more on them) so we can fill our next home with items we've collected over the years that we truly love.
Having said that, I'm all about home décor bargains too – our lighting was all inexpensive and we have furniture from IKEA and Target – it's all about balance. Nowadays, I really think there are so many great dupes for pricier items (remember the RH replica light fixture I ordered?) My plan is to put this console table on an empty wall in our kitchen area – it just needs something simple to make that space feel not so…blank. I'll share photos as soon as it arrives! I plan to do a large piece of art over it as well – stay tuned!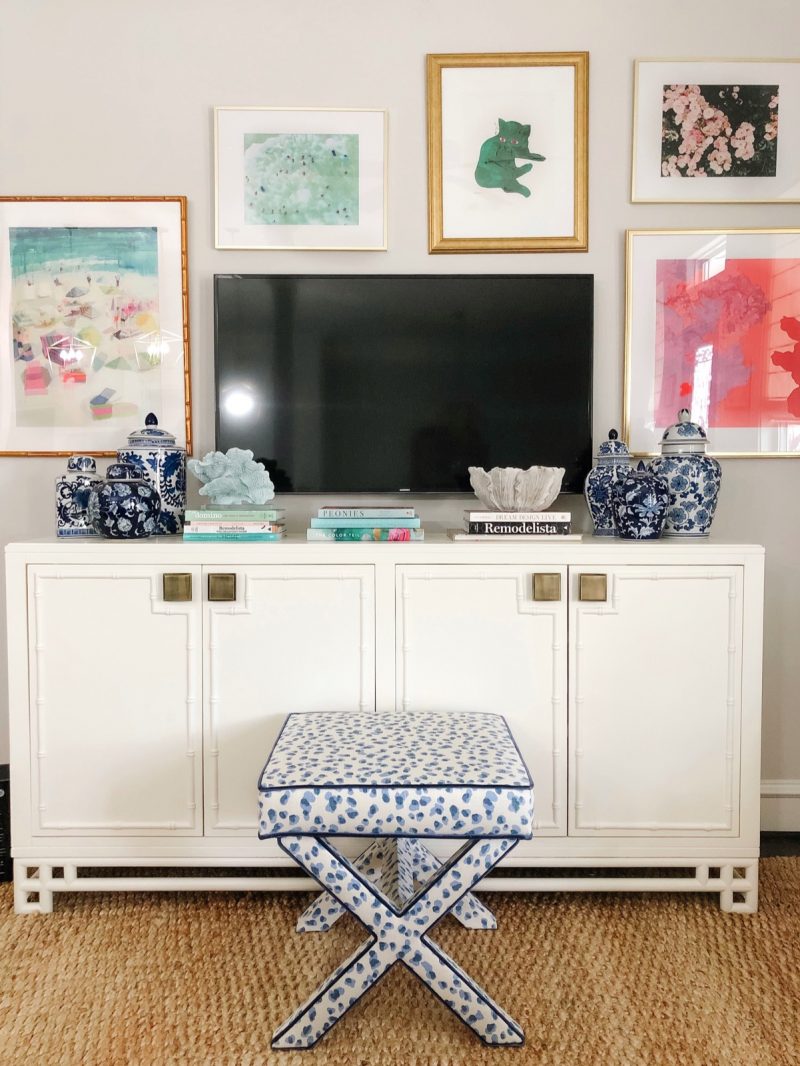 Speaking of the home – how amazing are these blush outdoor chairs? Oh my goodness, all the heart eyes. I love the natural color as well. We haven't done a ton with our front porch – we have some seating and a small side table, but to be honest, the mosquitos are so bad, we rarely spend time out there. My dream in life is to have a screened in porch like the house we stayed at in Seaside.


WHAT'S OLD IS NEW AGAIN
So hair barrettes are in again…and I'm totally INTO this trend. I found these ones (here, here and here) for super inexpensive – they're a collab with blogger Sincerely Jules and I'm looking forward to experimenting with these. When I first moved to Houston, I was wearing my hair in a deep side part, using a bobby pin to keep it secured. This evolved into a hairstyle I wore where I pinned the front of my hair back into a "pouf," also using bobby pins. It's funny how your hairstyle preferences change over time. Would you try this trend?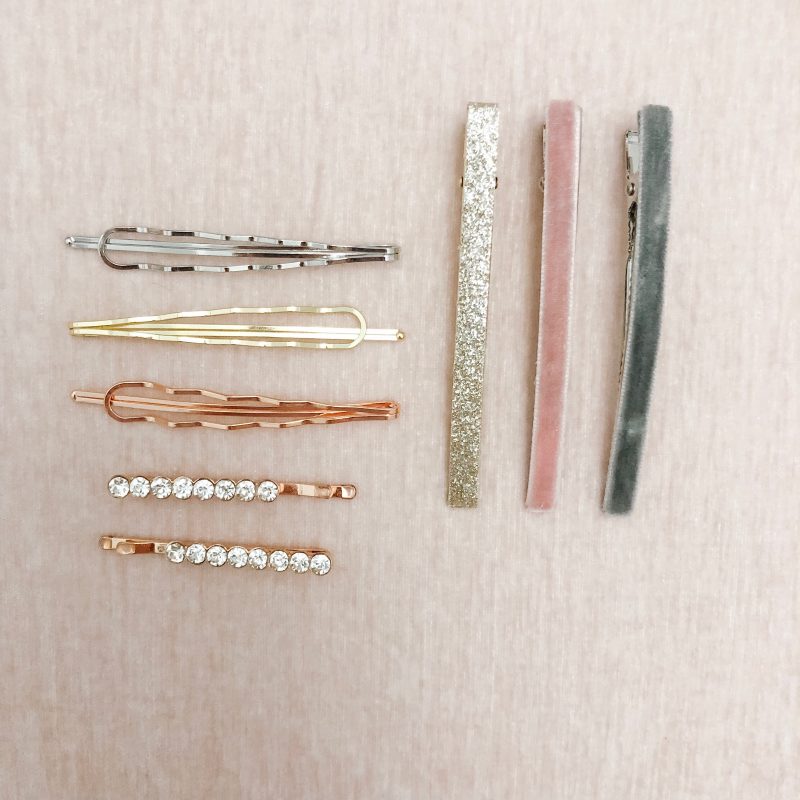 DALLAS, HERE WE COME!
I'm heading to Dallas next week for the annual rewardstyle conference (AKA my favorite girl's long weekend of the year!) and rooming with Sara and Natasha again – so excited! We're actually going up a day early this year to enjoy some extra time in the city. We're also squeezing in a workout with John Benton there, which I'm SO looking forward to. I'd love your Dallas recommendations! We ate at Mi Cocina last year and loved it – definitely going back!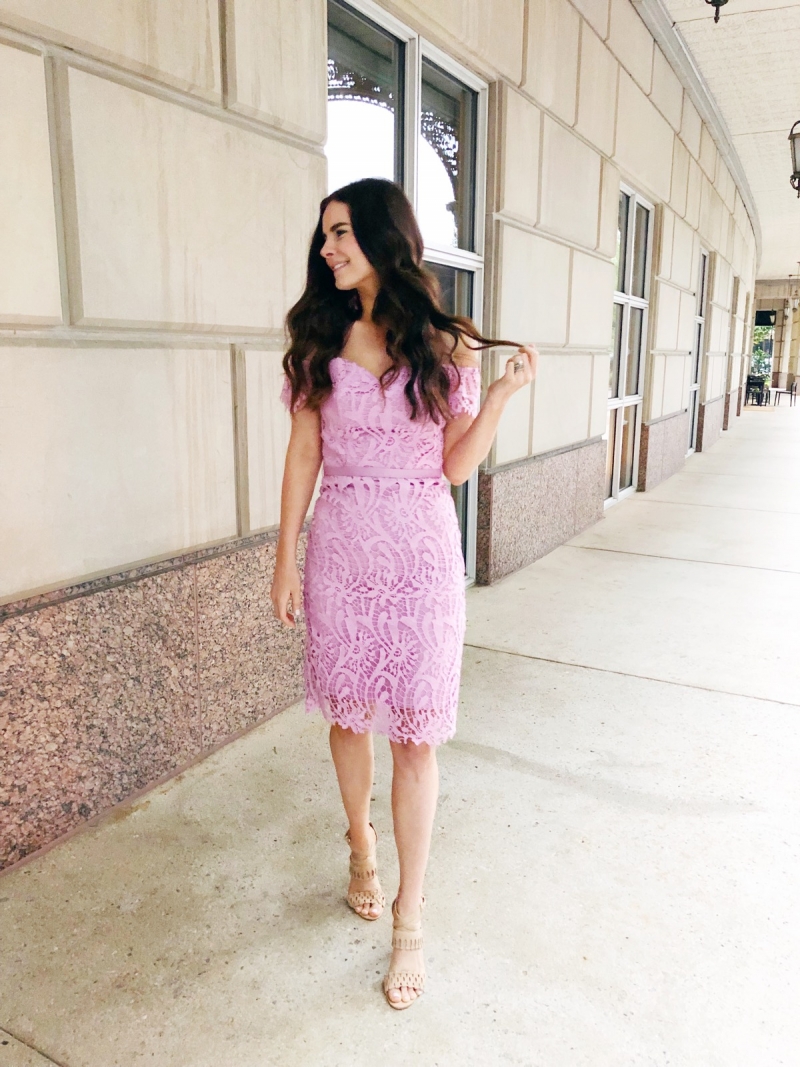 (last year's rsthecon LIKETOKNOW.IT party dress – on sale HERE!)
I don't want to reveal all of my conference outfits right now…but there is a lot of yellow – the color of the season – I just ordered this under $20 dress – it looks promising – I'll report back when it arrives.
Also, last year, y'all LOVED these studded sandals, but they sold out SO quickly! Well, the same brand came out with nearly identical ones this season – I love the added detail! Shop them here.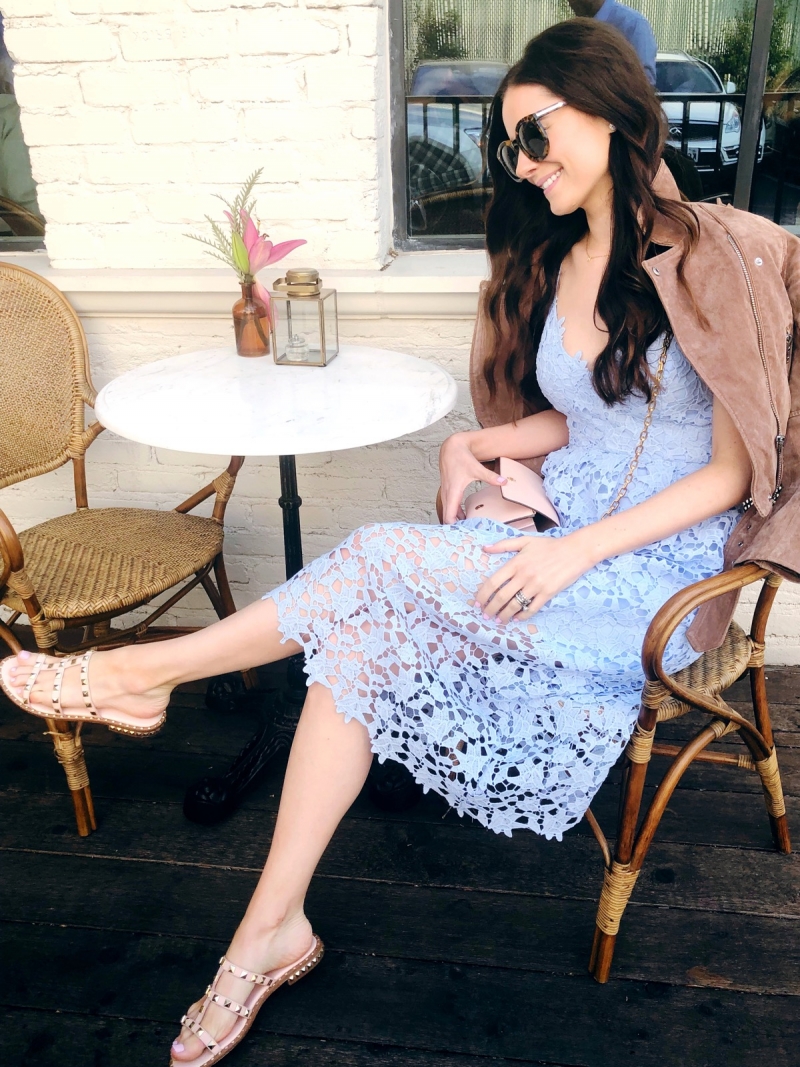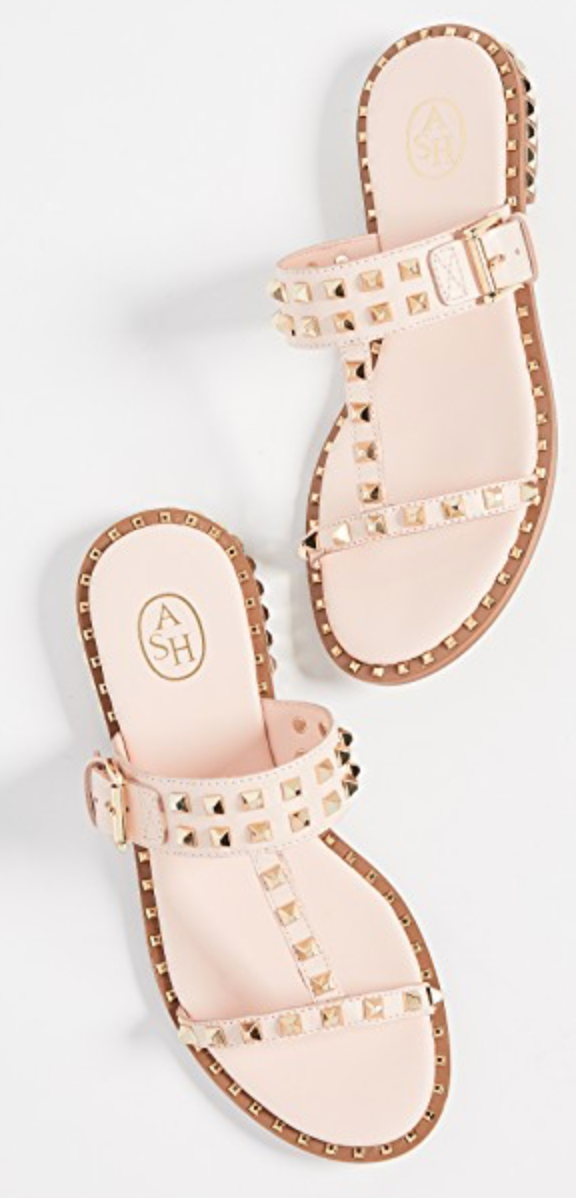 WHAT I'M LISTENING TO
New Podcast alert! I finished Over My Dead Body and am now listening to "To Live and Die in LA" which is a current investigation into the disappearance of a 25–year-old aspiring actress in Hollywood. This podcast is produced by Tenderfoot TV, creators of the Up & Vanished and Atlanta Monster podcasts.
WHAT I'M READING
While I prefer to listen to fiction books on Audible while I commute (see my fave books here), I'm obsessed with ordering home décor/organization books and cookbooks. Ones I ordered recently are: Elements of Family Style: Elegant Spaces for Everyday Life| IT'S ALL GOOD: Delicious, Easy Recipes That Will Make You Look Good and Feel Great | Skinnytaste Fast and Slow: Knockout Quick-Fix and Slow Cooker Recipes | The Home Edit: A Guide to Organizing and Realizing Your House Goals (Includes Refrigerator Labels). Have you enjoyed any of these books?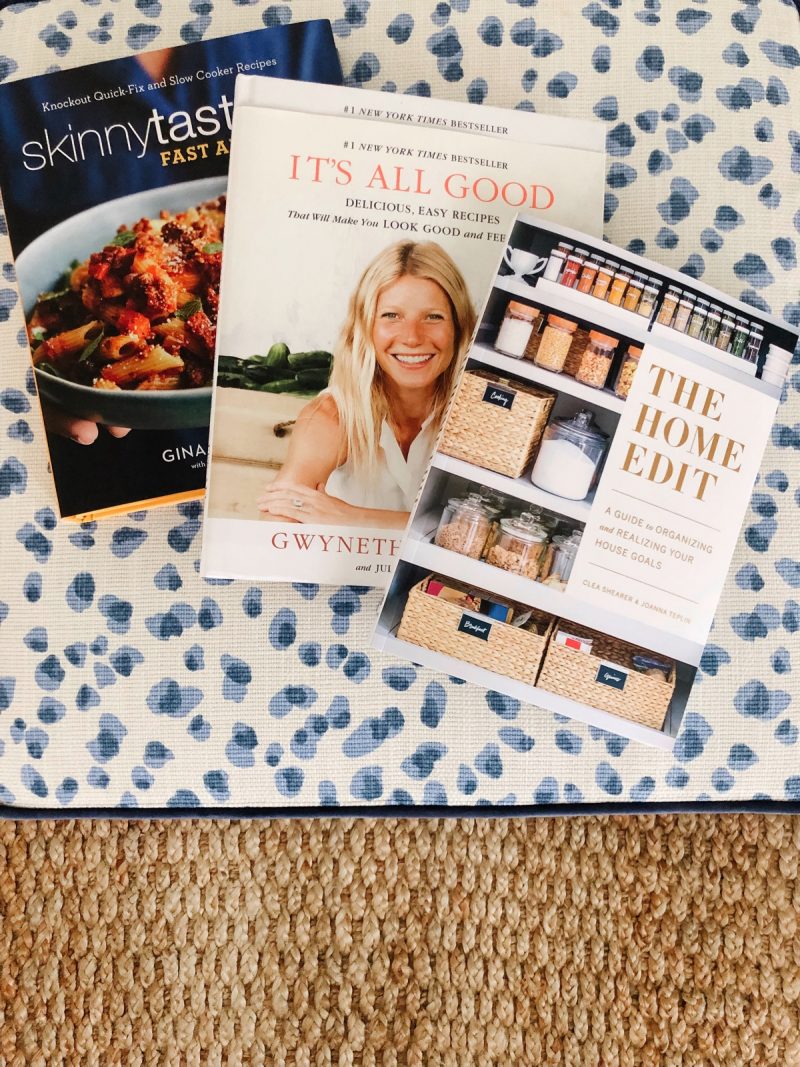 WORK IT OUT
I'm on day 3 today of the P.volve 6 Day Total Body program, which is what I do before special events or vacations (I took a rest day after day 2 because I needed t!) Basically it's 6 days of intense 50-minute long P.volve workouts – Stephen often does this exact workout with his clients before fashion shows, weddings, vacations, etc. If you want to try P.volve for free for 15-days, head to this post and click the link at the top of the post for the trial! This has been the one workout program I've really looked forward to doing – which allows me to stay consistent! I loved BBG at the time I was doing it – but it's very cardio heavy and so intense that I kind of had to talk myself into it the three days a week I was doing it. I actually crave my workouts now – it's my time to feel connected to my body and work on my strength. Don't let the low intensity nature of the workouts fool you – slow and controlled movements are often as hard or harder than super intense workouts that cover you in sweat. BTW, this new sports bra is AMAZING! Highly recommend.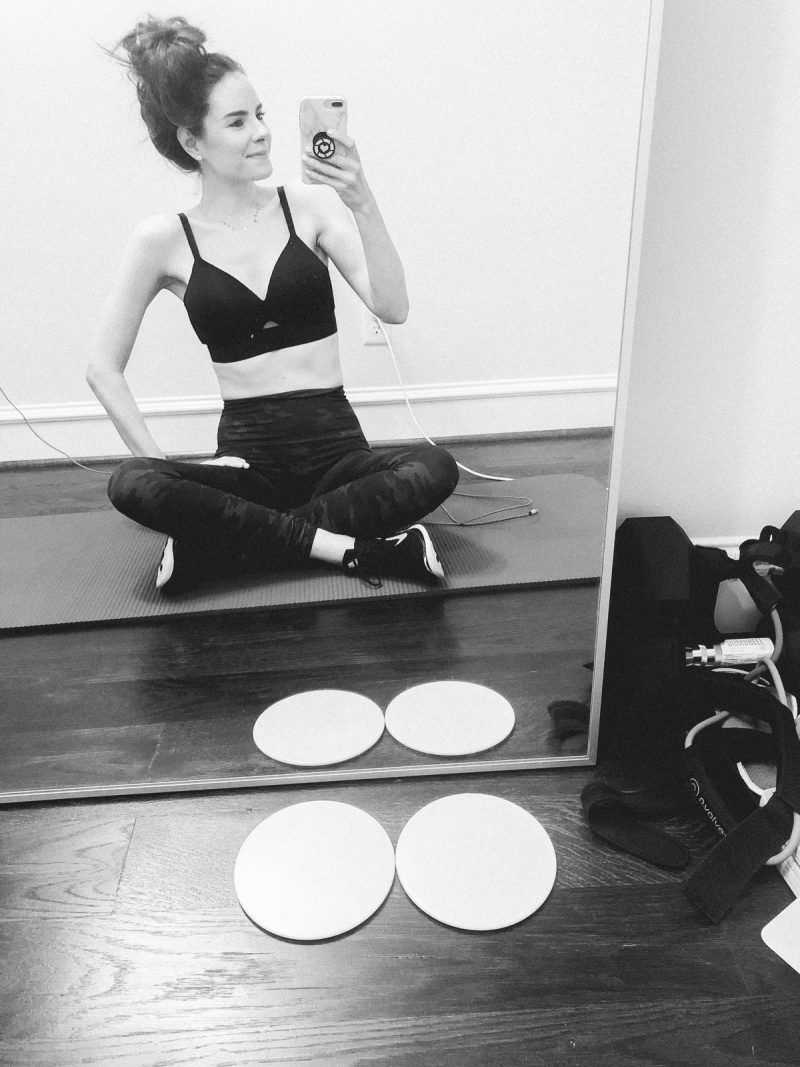 ---
YOUR QUESTIONS, ANSWERED
Where are your kid's bicycles from?
I got a lot of questions about the kid's bicycles – the kids have been riding after dinner since the weather's been so nice– Harper's is here, Lincoln's is here. The kids bike helmets are here.
I'm impressed with your daily salad eating! Do you get bored of the same foods?
I'm a creature of habit, but I don't eat salad every day. I do tend to eat the same foods, especially for lunch, since it's so much easier to just prep one type of meal for the week. I find myself eating more salads in the summer and adding fruits like berries and peaches along with a protein, but we also try recipes from SkinnyTaste – I love Gina's recipes! I try to eat fiber and protein at every meal so salads packed with veggies are a great way to do that –and healthy fats are important too! Salads can be so flavorful and full of awesome ingredients – check out some of Gina's, here.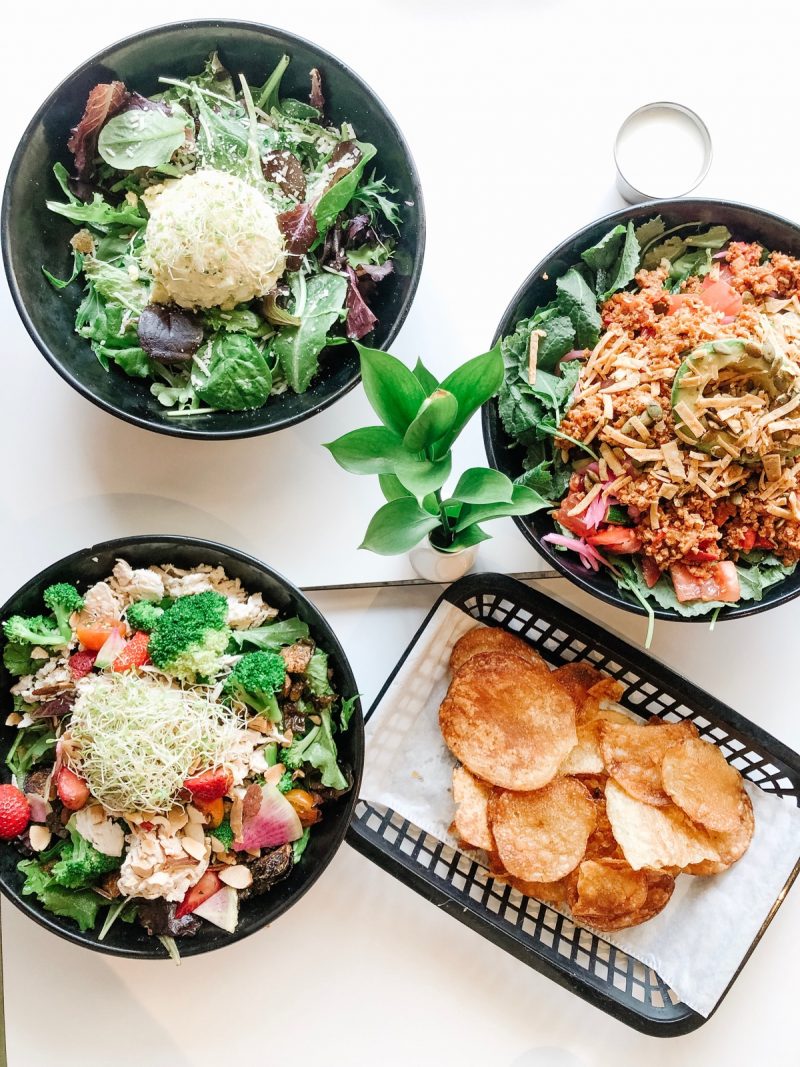 Does the back of your hair ever get in a giant knot? How do you prevent it?
I wear my hair down during the day and wear it up in a topknot at home and while I sleep. I've been using these scrunchies lately (yes, scrunchies – Harps loves them too!) and love them! I always brush my hair out in the morning before styling and at night before I put it up when I go to sleep. My favorite brush is this one. I also use this silk pillowcase now and it's a game-changer. It helps your hair stay smoother while you sleep and helps your skin care stay on your skin (doesn't absorb it as much as cotton does).
Have you ever had a keratin treatment? Thoughts?
I haven't! I know they have some now without the harmful chemicals in them (or less harmful) but TBH, I worry too much that it would either make my roots/hair flat (I have fine hair) or change the texture in a way that was undesirable for me (I wear my hair wavy a lot and my natural texture works well for this style). If you're reading and you've had this treatment, please leave your feedback in the comments of this post!
You try on a lot of new clothes weekly – where does it all go?
That's a great question! Part of my job is to order styles I think I'll love and then report back to y'all on what I like and is worth purchasing. Of course I can't/don't want to keep every single item I order – that would be totally overwhelming. My goal is to help you make shopping decisions – commenting on style, fit, quality, etc. Even though I may not need a wedding guest dress at the moment, I still love reviewing them for y'all to help make your shopping experience easier.
I wear everything I keep because I try to buy items I can wear to the office and on weekends (versatility is key!) I also sometimes buy dresses and vacation clothes that aren't worn as often, but those are occasion items, so I just keep them for when I need them. When I no longer wear something, I donate a lot of it and I also sell some of the items (I recently sold a bunch of clothes with one of my friends who is also a blogger, at a private party in her home). I also plan to send some of my clothes to The Saved Collection to be sold online for me since I don't have time to do it myself – so stay tuned to shop my closet!
Lastly, I give away a ton of PR product packages I'm sent to friends and co-workers. Every time we have friends over, we go to the "beauty drawer" (4 drawers full of makeup and skin care products) and my friends can take whatever they like. I also bring bags of products to work so that people in my office can enjoy it since there's no way I could possibly use it all and I enjoy giving the items to others!
How do you say no to work events and not feel guilty because you want to be at home with your kids?
I'm really fortunate in that I don't have a job where there are a lot of post-work events or happy hours. A large majority of the people in my office are also parents, so we're on the same page. If you're in a situation where you are invited to a lot of post-work events, I think you need to set a boundary and place a cap on what you're comfortable with. Maybe that's once a month or once every two months. The way I see it, I spend most of my day at work and with co-workers – they don't need more of my time – my family does – so I feel zero guilt about it. The more we set boundaries between our work and home lives, the more companies will begin to recognize the need for employees to feel like they have a healthy separation between the two.
How are you getting Lincoln ready for school?
Lincoln is in a daycare that has an amazing curriculum – he learns so much each week! I'm not concerned at all about any kind of preparation. I really believe kids need to be kids for as long as possible and that they learn through play and socialization (we also read to our kids, which I feel is very important). I don't think "prepping" kids for pre-k or kinder is necessary, beyond what they already learn at home naturally and at daycare in a more structured way. There are studies that show that it's better for kids to learn through play and that too much, too soon, isn't always better. I think we are a society obsessed with achievement and want to start that at a very young age. I want my children to be successful, but at 3 years old, I'm not focused on academics.
What does your work schedule look like? I'm struggling with this now.
Sorry to hear you are struggling – I hope you find some solutions! I blogged about our family life and my life as a working mom and schedules here, here and here.
I just started by business IG/blog – I want to work from home – any tips on how to make it successful?
Check out my blogging Q&A post, here.
Thoughts on BeautyCounter?
I haven't tried it!
What sheets did you end up buying?
I haven't purchased any yet – but we did get a new mattress recently – yay! I'll update when we make a decision – lots of options out there!
When were you certain you wanted kids? Were you resentful at all after having them?
I've wanted children for as long as I can remember. I wanted to have a baby by the time I was 30, and gave birth to Harper 3 days before my 30th birthday. I was never resentful after having children, however, I did experience postpartum anxiety. I'm so grateful for my family and that I got to fulfill my dream of being a mother. Motherhood doesn't come without challenges, but I wouldn't trade it for anything.
How long did you try before becoming pregnant?
With Harper we were really lucky and got pregnant on the first cycle. With Lincoln, it took four cycles – I got pregnant right after undergoing an HSG procedure.
Any dating advice? I'm at an age where everyone but me seems to be engaged!
I can imagine that is hard – especially when it's something you really want. I've never dated in the current culture of dating apps, so I don't want to give the wrong advice – but I guess if it was me, I'd be really open to going on dates, whether the person seemed like "my type" or not – you just never know.
I would also spend time focusing on myself – pursuing hobbies I love, spending time with family and friends, traveling, etc. Living a fulfilling, wonderful life can be done with or without a partner – and maybe you will meet that partner along your journey! Wishing you the best!
What are your top picks for drugstore makeup? I'm on a budget!
I'm glad you asked! My fave drugstore mascaras are here. I also LOVE this setting powder and use it daily. I also use products by NYX (here too!) There are so many great dupes out there nowadays, but I'm such a creature of habit – I tend to use the same products for years. Drugstore wise though, I still think mascaras are the top product and comparable to the pricey ones.
Have a great weekend everyone!
Shop the Post