Every single time I post about P.volve, I get a ton of questions about how it compares to BBG, a 12-week program I completed via the Sweat app. I wanted to create a post focusing on comparing the two programs so I could give a more thorough breakdown of the differences and have this post be a guide for anyone wanting to compare the programs or decide which one is the best fit for them.
See all of my P.volve posts here:
CLICK HERE FOR A FREE 15-DAY P.VOLVE TRIAL! (use code BLUSHING for 15% off of your P.volve equipment)
See all of my BBG posts here:
Please remember when reading this post that our bodies will all respond to workouts differently. Some people love super intense, sweaty workouts and other love yoga, pilates or workouts with slower, more controlled movements. One type is not better than the other – it's just what makes YOU feel your best. A workout that you love and most importantly, are able to do consistently, is the best workout of all.
This comparison is based on my experience and perspective after having done both programs. You'll notice in my earlier posts about BBG, I raved about the program – but after having done P.volve for almost a year, they're honestly not even in the same ballpark for me. P.volve is the best fitness program I've ever done and my body has never been better – even after having two children and not having exercised during either of my pregnancies. P.volve has allowed me to tone my body, chisel it down and has increased my strength, balance and mind/body connection. My core is so much stronger than before and I'm so thankful I found this program!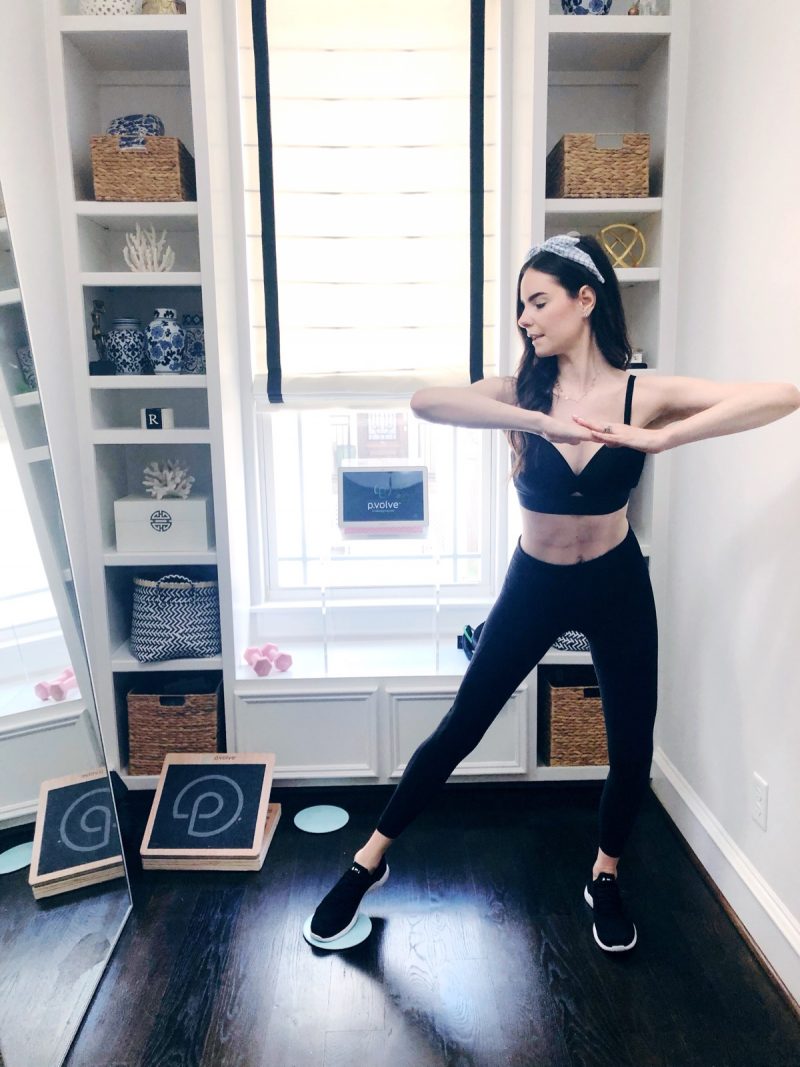 ---
BBG & P.VOLVE COMPARISON
PROGRAM GOALS
BBG is great for building strength, endurance and weight loss (if paired with a good diet – I don't mean "trend" diets, I mean good nutrition overall). There is a lot of cardio in the traditional BBG 12 week program. P.volve on the other hand I find great for balance, flexibility and toning – creating long, lean muscles. I have also increased my strength doing P.volve, especially in my core.
INTENSITY
I find these programs hard to compare in terms of intensity, because they're so different, it's not "apples to apples." BBG has a lot of jumping and plyometric movements that make you sweat like crazy. You feel out of breath and every single 28-minute workout feels very intense, like you would feel in a bootcamp class. If you crave intensity and a major sweat session, you'll probably like BBG.
P.volve, on the other hand is focused on small and controlled movements. You really have to work on your balance and activate very small muscle groups. Once you get to the intermediate and advanced workouts, P.volve does become quite intense – when your form is correct, you really "feel the burn." For me, BBG was more of a "let's get this over with" workout because it was just so intense, whereas P.volve is a workout I crave/look forward to. That's why I've been able to be so consistent with it – because I actually enjoy how it makes me feel.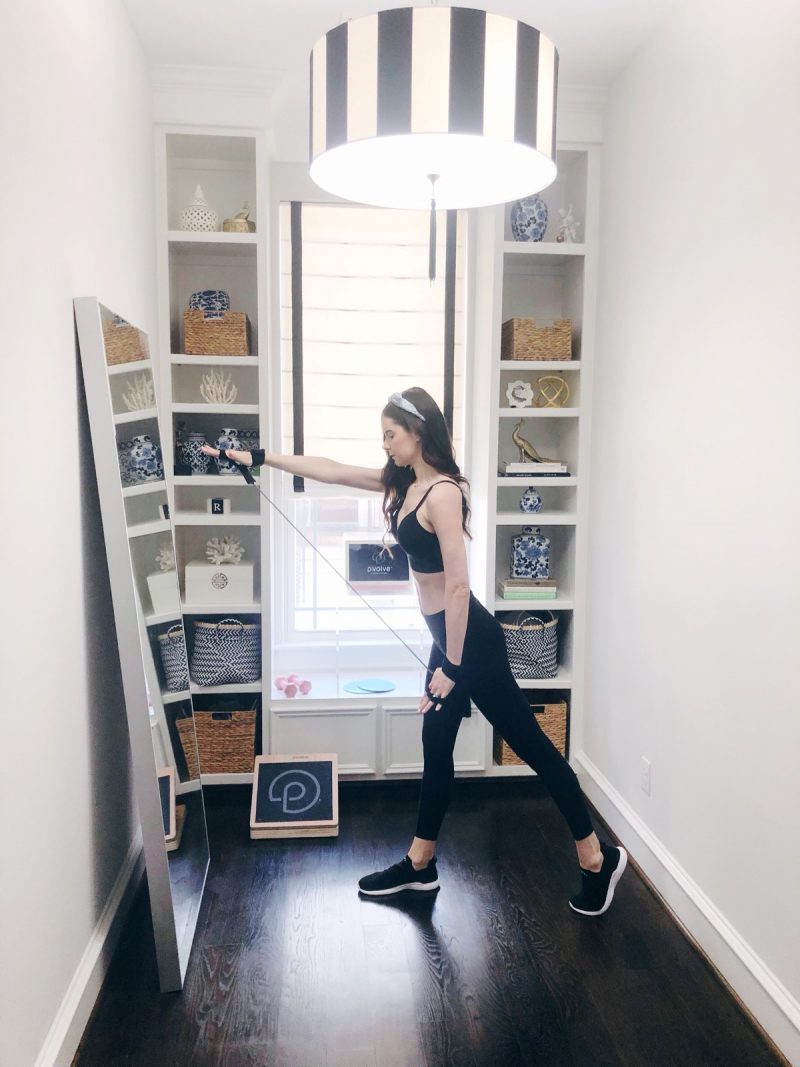 COMMITMENT
BBG has three strength workouts per week and recommends two LISS (low intensity steady state cardio) sessions per week, for a total of five days. I personally did just the three strength workouts in the app and didn't do any LISS at all. P.volve workouts can be done up to six days per week with one rest day, however, you can do as many as you like based on your schedule. When I first started P.volve, I aimed for 3-4 days a week and now I aim for 4-5 workouts per week. It sounds like a lot, but even with my insane schedule, I make it work because I feel so much better when I get that workout in, even if it's just 20 minutes. All BBG 12-week program workouts are 28 minutes long.
P.volve workouts are all between 15 minutes to 1 hour long. You can either have P.volve build a workout calendar for you, do one of their specific programs (like the 21 day butt lift, 6-day total body, etc.). Right now I'm on week two of their summer sprint challenge. P.volve is always hosting fun challenges to keep us motivated and engaged!
EASE OF USE
BBG has a 4-week beginner program that users can do prior to starting BBG if they were not exercising before and need to build some endurance to be able to complete the 12-week program. The Sweat app is pretty easy to use – it's 2 circuits, repeated twice each (so 7 minutes, 4 times = 28 minutes). Each circuit has 4 moves and there is a built-in timer that sounds when the 7 minutes are up. You tap the screen on your phone each time you complete the 4 exercises in the circuit and you keep going and going until the 7 minutes are up. I would usually be able to finish each circuit twice or 1.5 times within the 7 minutes, depending on the intensity. You can do BBG anywhere, since it's on your phone, so it's a super user-friendly program. A downside to BBG is that it's just GIF videos showing each movement in the circuit. With P.volve, an instructor is talking you through the entire workout/class which helps so much with feeling engaged and your form. Sometimes I feel like they're right there with me!
P.volve can be streamed from your computer or via their app. IMO, you need a laptop screen or you can use an app to view P.volve on a television screen. Because the movements are so specific and form is so important, you really need to see what they're doing. I stream via my 13-inch MacBook Air and it's perfect because I bring it onto the floor of my workout room with me when I do the mat work. The P.volve online portal when you login is easy to use – like I said above, you can have P.volve create a workout calendar for you or you can choose from their extensive library of beginner, intermediate and advanced workouts. You can even use their filter tour to find workouts that are a certain length, use certain equipment or focus on various body parts. I love P.volve's portal and haven't had any issues.I love that P.volve releases new workouts each week and that the library is full of workouts at all levels – it's a great system.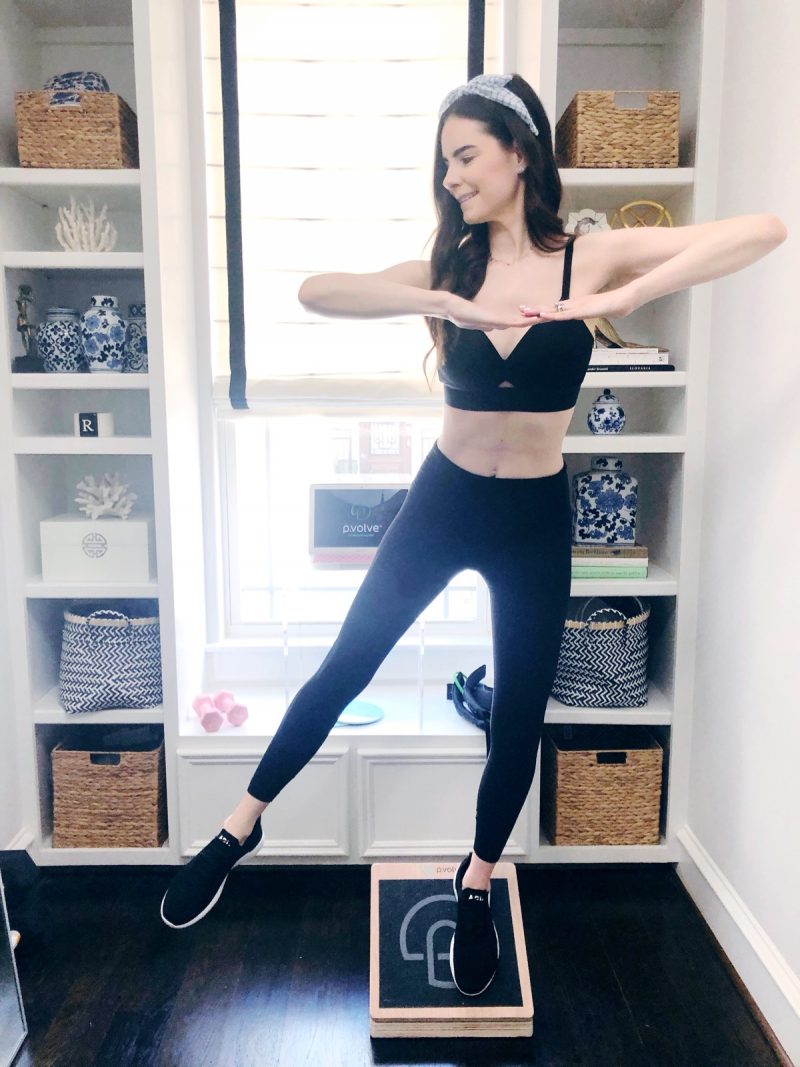 VARIETY
One of the great things about the Sweat app is that once you purchase it (I think it's about $100 for the year), you have access not only to BBG, but to other workout programs like Kelsey Well's postpartum and PWR program (a weight lifting focused program that can be done at a gym or at home). BBG gets repetitive. It's doable for 12 weeks, but once I started P.volve, I realized that I loved the variety of the workouts. BBG has a ton of the same moves over and over (and over). Push ups, squats, lunges, bench jumps, jump rope, etc. It's a ton of the same moves on repeat and I did try to do a second round of BBG, but I was just worn out and craving something different (that's when I found P.volve). To my knowledge, other than having different workout series available in the Sweat app, BBG's 12 week program is a "what you see is what you get" program – it doesn't change, so if you do multiple rounds, it's the same workouts over and over.
P.volve has a vast library of workouts and all of them are different. The exception to this is the 30-day Evolution program, which repeats a lot of workouts, but I do recommend doing that program FIRST because it teaches all of the movements and proper form – Stephen Pasterino really explains everything in detail and it will get you started off on the right foot with this program. P.volve is always trying to motivate its streamers to work out, so they do a lot of fun challenges. Their last one was the 90 day challenge and their current one is the Summer Sprint challenge – 10 workouts in two weeks. There is a Facebook group called P.volve Streamers where we will support and encourage one another, share which workouts we love most, etc. P.volve is also really good at listening to feedback from its streamers, so they take the suggestions from the group to heart! Though you will find the same moves repeated in P.volve workouts, there is such a huge variety of workouts that you truly don't ever get bored. They also release new workouts weekly.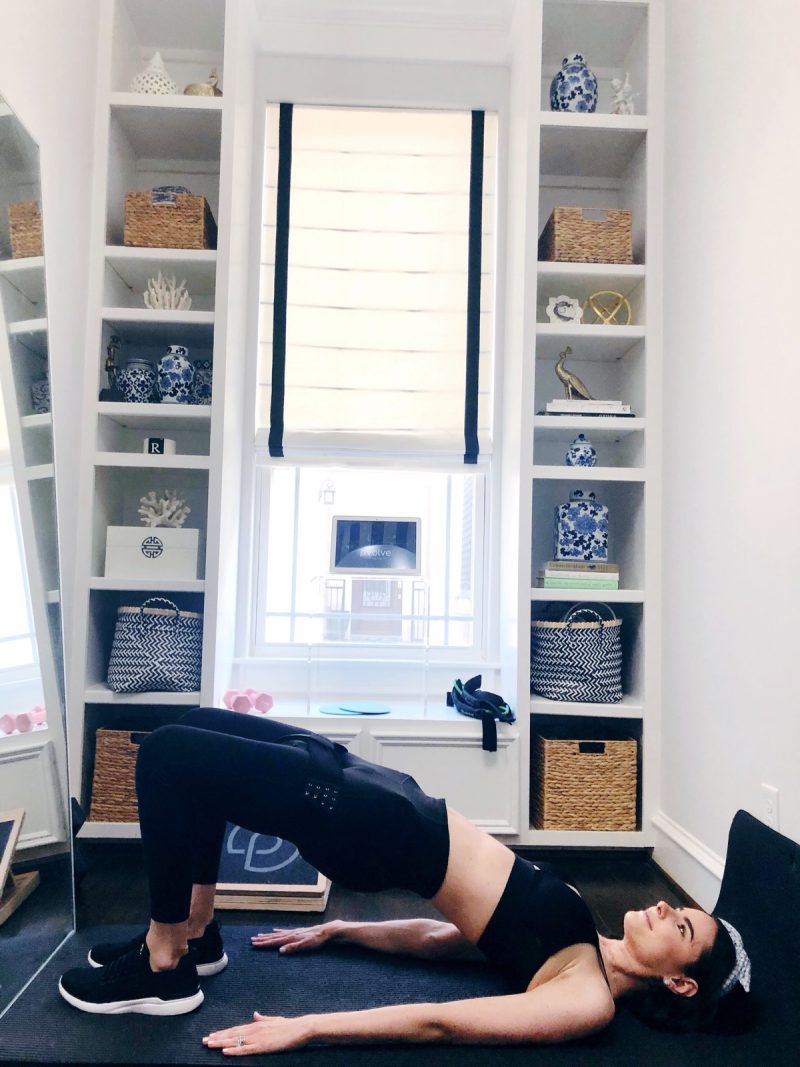 EQUIPMENT
Both programs require some equipment. Please reference this post for BBG equipment and this post for P.volve equipment I recommend. You can use the code BLUSHING for 15% off of your P.volve equipment.
Equipment cost seems to be something I'm asked about a lot – but how many of y'all have (or have had) gym memberships you never use? Yes, the equipment for both programs is in initial investment – but now, I exercise in the comfort and convenience of my own home and I've never had better results with my body, since working out at home allows me to stay consistent. I also hear " I could never work out at home!" All it takes is ONE workout to prove that's not true! When my kids are asleep for the night, I go downstairs, fire up my laptop and stream. Even if it's just a 30 minute workout, moving my body 4- 5 times a week feels amazing.
SHOP EQUIPMENT:


PHILOSOPHY
One of the biggest areas the programs differ in is their approaches to movement. P.volve doesn't believe in squats and lunges and traditional ab crunches. Basically, everything you've always done in almost every workout. P.volve movements are functional and really focused – which allows you to tone your body in a different way.
BBG is very much a mix of lunges, jumping, burpees, squats, crunches, etc. Basically circuits of the moves you've done time and time again. Those moves are totally fine – but my body responds better to the movements in P.volve and I find my body to be sculpted in the way I've always wanted it to be. BBG, as I mentioned earlier is high-impact, whereas P.volve is low impact and all about slow and controlled movements.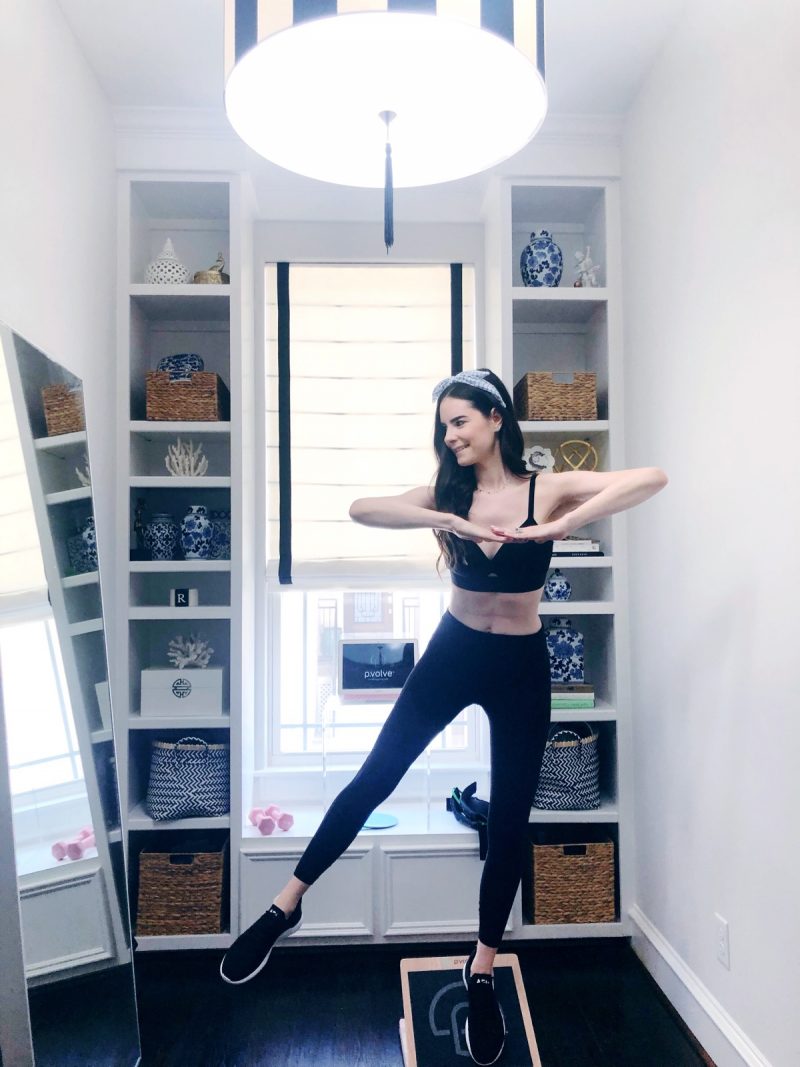 RESULTS
I was able to lose weight and build muscle while doing the 12-week BBG program and much of that weight loss was attributed to my diet (read more food related posts here). I think my body looked great after completing 12 weeks of BBG, but looking back, I can't say I felt great. Yes, I was stronger, but the moves are very hard on the joints and I don't love very cardio-heavy workout methods. I realized I always enjoyed barre and pilates type workouts more than boot camp/heavy lifting ones (I tried these too, for years, so I think I have a pretty solid idea of preference by now). I just find that high intensity workouts don't give me the same mind/body connection I'm able to have with other workouts like yoga, pilates and P.volve. Having said this, I do think BBG is a very results-driven program, when paired with good nutrition. I also think the 12-week program is motivating for someone who is very committed to starting a workout program because there is an "end in sight."
I started P.volve after completing BBG, so I'm often asked if it's a good program for weight loss. My response is always that any movement is better than none, but I don't view the P.volve method as the most effective program if weight-loss is your main goal. I would actually recommend a nutrition overhaul over any form of exercise if that is your goal. Having said that, there are tons of women in the P.volve Streamers group that have lost weight doing P.volve and continue to get incredible results.
I love P.volve because there are no squats, lunges, jumping, high-impact movements or any pulsing. P.volve is all about toning the body in a way that creates long and lean muscles, which is exactly what I want for my body. It focuses a lot on creating a plumper butt and toning the inner and outer thighs. You will also find that the abdominal work in the program is very different than the crunches you're used to – but I finally have a stomach with visible, sculpted lines, all from this method. The transformations I have seen in the Facebook group of women who have been consistent with the program are truly astounding. The workouts may look different or strange or "easy" but trust me, they are not.
OVERALL THOUGHTS
P.volve workouts are hands down a better fit for my body. They're lower impact, yield major results and I enjoy doing them/crave them. I think BBG is a good program, but it doesn't compare to P.vovle for me – they're so different. P.volve is based on physical therapy principles, so it is more gentle on the body while being effective. I prefer someone talking me through a workout like Stephen or the other P.volve instructors do. I love being guided on my form, where I should be feeling the movement, etc.
---
YOUR QUESTIONS, ANSWERED
Which program is better for someone who hasn't worked out in a while?
It depends on your goals – both BBG and P.volve have beginner programs, so even if you haven't exercised in a long time, the programs will ease you into the workouts.
How many days per week do you do for each program? Did BBG tone you?
Yes, BBG does help you build muscle. I prefer the way P.volve tones my body, however, that doesn't mean you will. For BBG, I did 3 workouts a week and didn't do any of the suggested LISS workouts. BBG was so intense, I had to really pump myself up to do the workouts. I do P.vove anywhere from 3-5 days per week – the difference is that I actually crave the workouts and don't have to talk myself into them. They actually make me feel good and thus I enjoy them more.
Do you recommend completing BBG before P.volve?
No, I don't – they're totally different programs and don't necessarily complement one another. I didn't hear about P.volve until after completing BBG, but I don't regret doing BBG at all! It was challenging, allowed me to lose the weight I had gained and got me on a great nutritional path. I think my weight loss from BBG allowed me to see my results from P.volve more quickly, so while I'm glad I did it first, I don't think anyone else should unless they want to.
Which program made you feel better/stronger?
P.volve, hands down. BBG is very hard on the body and workouts like that, over time, can cause inflammation. P.volve is so much more difficult than it looks – it requires building strength, balance, focus and you must be very mind/body connected to understand the movements and perform them correctly. I feel better doing P.volve because I enjoy it and my body feels good after my workouts, not worn down. P.volve is also incredibly focused on form, which I appreciate, because it makes all the difference.
What made you want to stop BBG and what made you want to start P.volve?
I wanted to stop BBG because the workouts were high impact and harder on the joints. They were also repetitive (which is OK for 12 weeks, but beyond that, I just couldn't keep doing the same workouts/moves over and over for months).
I wanted to start P.volve after listening to its creator, Stephen Pasterino, on The Skinny Confidential Podcast. His message resonated with me – that you don't have to be dripping in sweat doing burpees and lifting heavy weights at the gym to be strong, fit, lean and have the body you want. I like that P.vovle is based on physical therapy principles and functional movement –the science behind the program and why it works intrigued me. Overall, I wanted to do a lower-impact program that focused on lengthening and toning muscles in a more slow and controlled way.
Are you eating the same way now as you did when doing BBG?
Yes! I still eat the same way (more info here). I have an 80/20 approach with eating. I don't restrict any food groups (for example, I don't eat a ton of dairy, but will still have ice cream, pizza or cheese on my salad sometimes). I try to eat really well during the week, eat whatever I want on weekends and eat chocolate every night. My biggest tip to transform your body via diet is to make ¾ of your plate vegetables at lunch and dinner. They are full of nutrients, vitamins, fiber and incredibly filling, while being lower on the caloric side. Once you get used to eating this way (tons of colorful veggies), you will crave them.
Is BBG or P.volve better for fat loss?
I think diet is the most critical component if fat loss is your goal. Building muscle helps with fat loss, but either program will do that for you. In order to lose weight, your body needs to be in a caloric deficit. Consult your doctor or a RD if you need help understanding what your caloric intake should be. Personally, I don't count calories, I just focus on eating real foods and lots of veggies and healthy protein.
Which program is better for weight loss postpartum?
I don't feel I can answer this because every body responds differently, but I see workouts as being more about strength and mind/body connection versus weight loss. Diet and nutrition is the best place to start if you have weight loss goals. Please consult your doctor or a RD regarding healthy postpartum weight loss, especially if you're still nursing.
Disclaimer: I am a P.volve ambassador. I did not become an ambassador until over six months of doing the program and writing about it on my own. I am not compensated for posts I write about P.volve, unless indicated in the post (this post is not sponsored, nor am I being compensated for it). This post is based on my personal experience. Please consult your doctor before starting any exercise program.
Shop the Post